20 Lovely Dining Sets With Bench
Benches are commonly used outdoors. We can usually see it in a garden or in a park, hence, the garden benches and park benches. These are typically made of wood, but it could also be a combination of metal and wood, stone or synthetic materials. Nowadays, using it as part of a living or dining room even in bedrooms, is becoming more and more popular. It gives an instant eclectic look in the space and it makes a room feel more casual and inviting.
Since this unique style is gaining awe to a lot of people all over the world, looking for a thrilling design is not a problem. There are many beautiful furniture set with bench seating in a shop near your place and even here online. So if you are looking for something eclectic to give your dining space with, you are in luck. Below we feature a list of 20 Dining Set with Bench that will fit right in with whatever home decor style you have.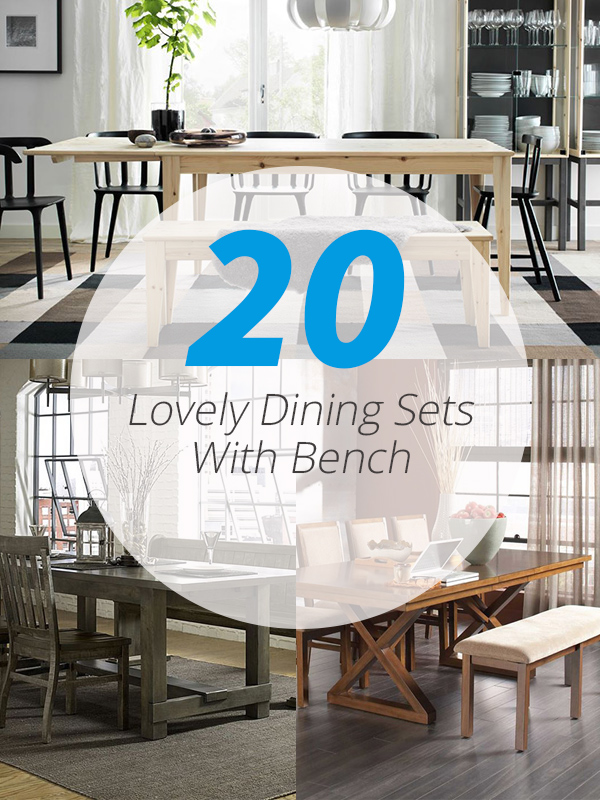 1. Urban Loft Reclaimed Wood Table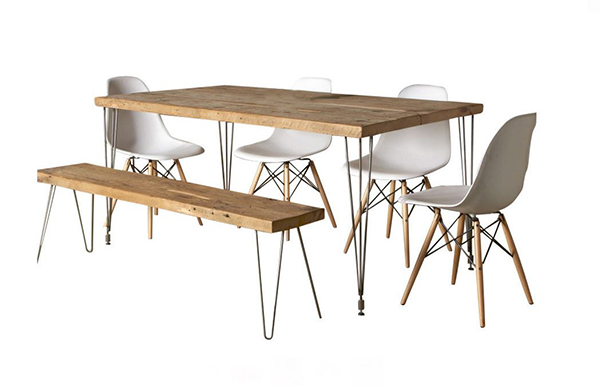 Give your home a centenarian touch with this striking reclaimed dining set with bench that uses a 100-year-old wood. Its wood tops and mid-century style steel hairpin legs offer a unique appeal.
2. Terra Vista 8 Piece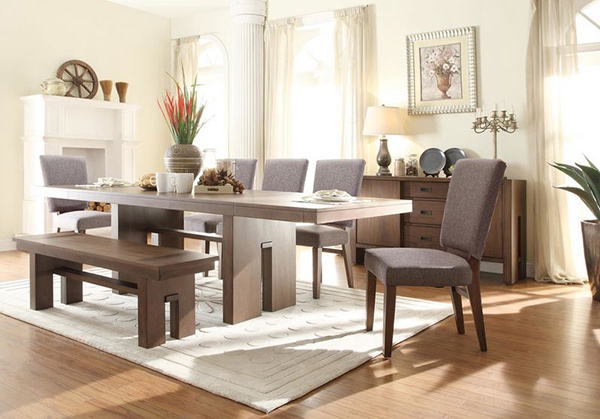 Its upholstered chair paired with wooden bench and table offer contemporary elegance to any space.
3. Margot 6 Piece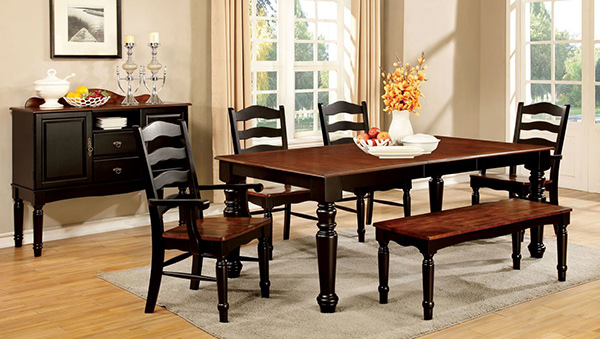 The cherry finish table top and seats, resting upon a darker espresso finish turned legs give a warm, rich contrast that is sure to give a captivating charm in your dining space.
4. Mikayla 4 Piece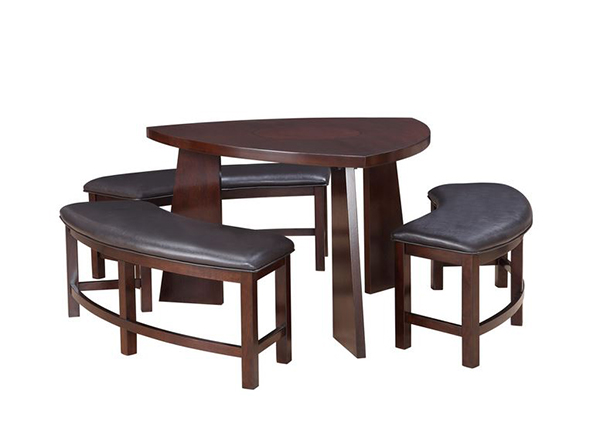 Add a unique, space-saving dining furniture to you home with this triangle-shaped dining table with three faux leather seat-cushioned-benches in masculine brown cherry finish.
5. Antique Black Verona Collection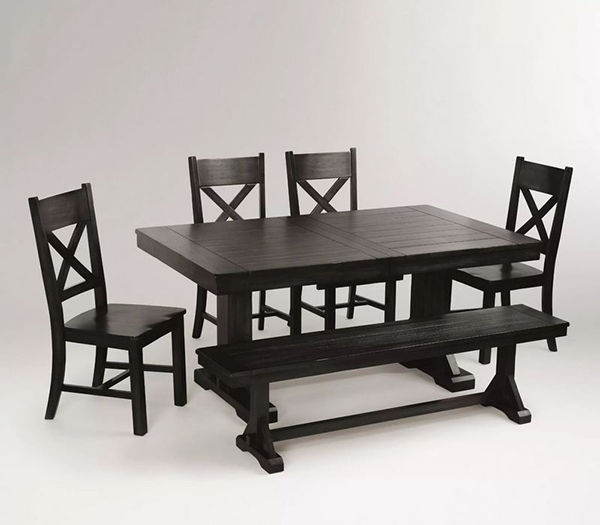 Bring some rustic, farmhouse charm in your home with this dining collection in distressed black finish.
6. Nornäs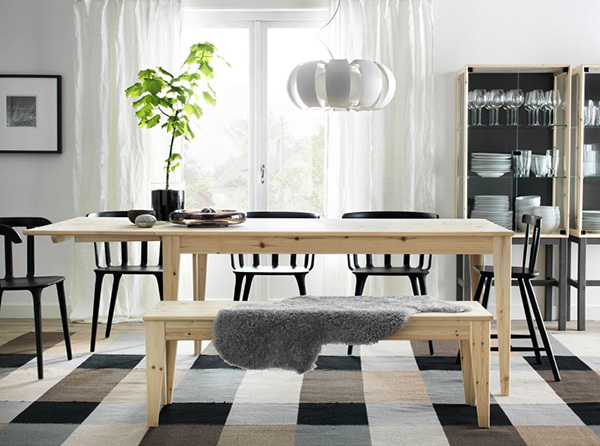 The combination of natural pine finish of the table and bench with the classic black IKEA chairs give a rather casual flair to a modern space.
7. Sauder Beginnings Trestle Table with Benches, Multiple Finishes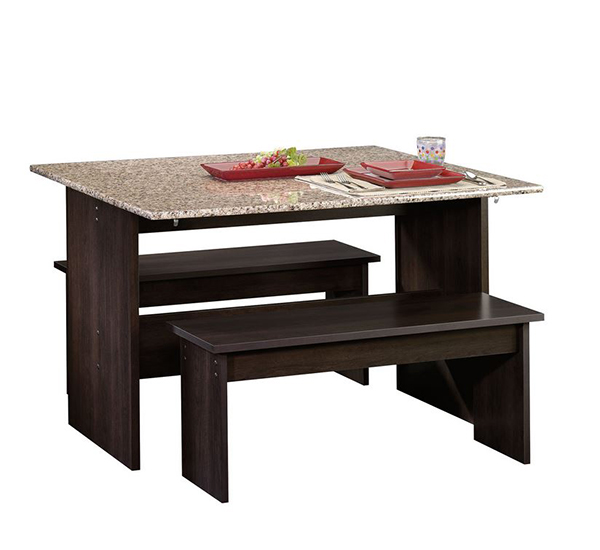 This beautiful furnitures feature a drop-leaf table top in granite finish and two gorgeous benches that can slide under table for compact storage.
8. Farmhouse 6 Piece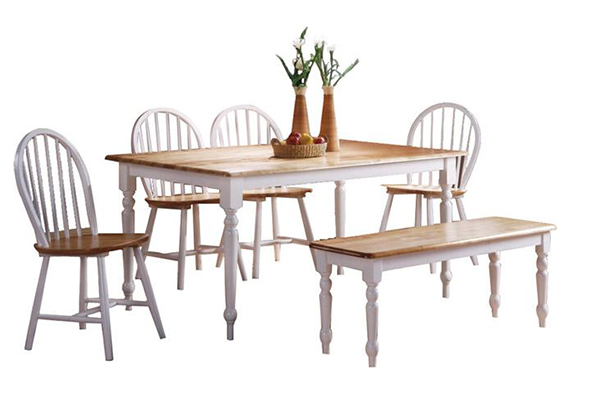 This traditional design set is made entirely of wood for strength and durability. It will lend an inviting, country charm to any space.
9. 6-Piece Dining Set With Bench-Glass Top Table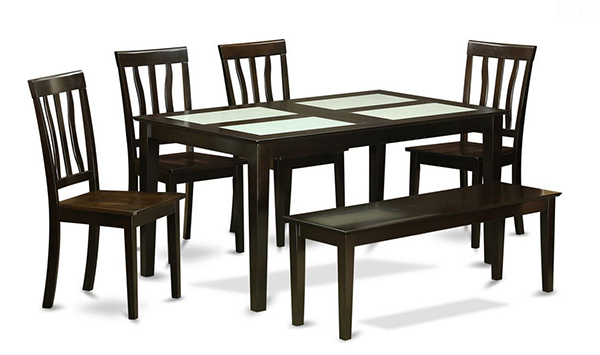 This set features an elegant rectangular table with four panels of frosted, tempered glass made from Asian solid wood in cappuccino finish and classic dining chairs and bench that will give your home an exquisite and artistic design and style.
10. Karlin 4 Piece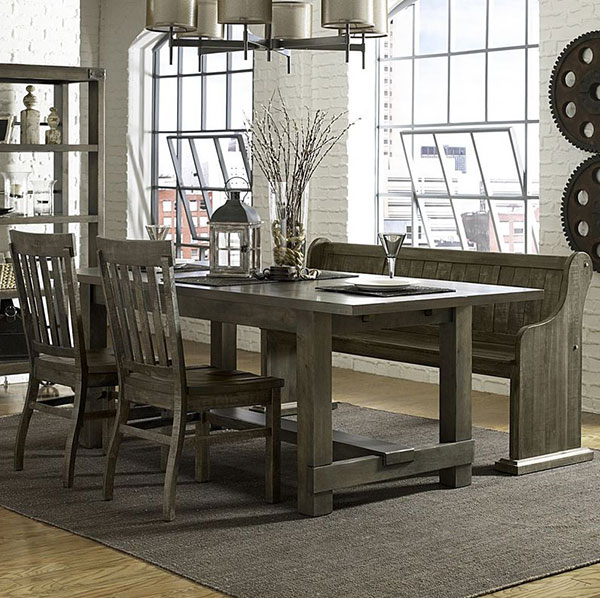 I love the dry gray acacia stain finish that gives a transitional sophistication to this dining set.
11. Amanda 4 Piece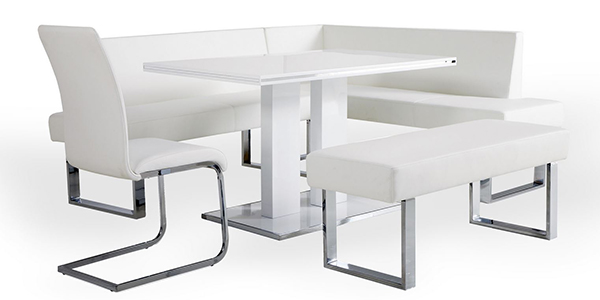 This beautifully designed dining set offers a modern elegance to your home.
12. 6 PC With Bench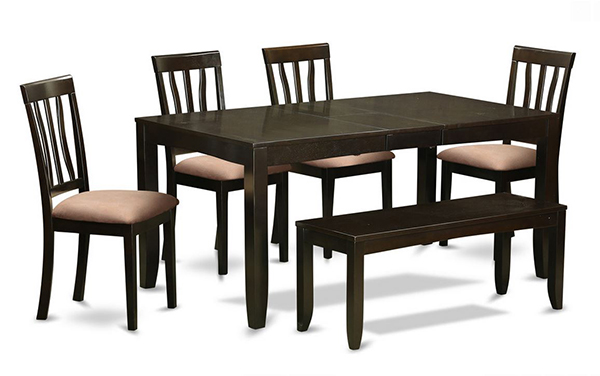 Give your space a touch of modern sophistication infused in classic design with this fabulous dining set in Cappuccino finish.
13. 5-Piece Dining Furnitures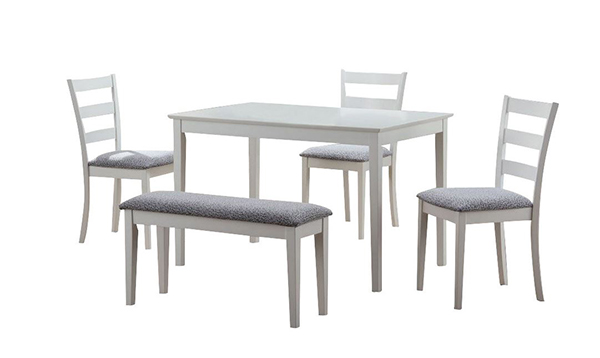 Add a refreshing charm to your small kitchens or dining space with this contemporary set.
14. Loft 60"x30" Four Person Parsons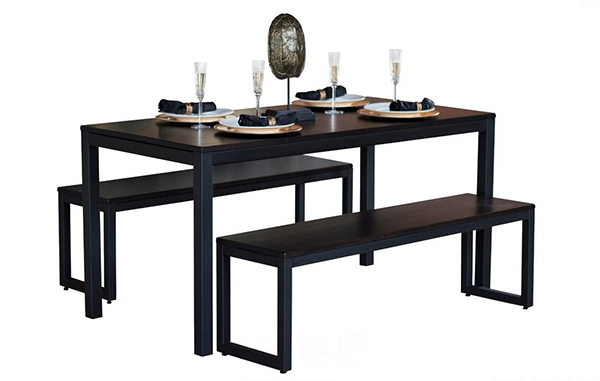 The sleek features of this modern Parsons style dining set has a cosmopolitan tone that is perfect for intimate gatherings to a stylish workspace.
15. Beige PVC 7 Piece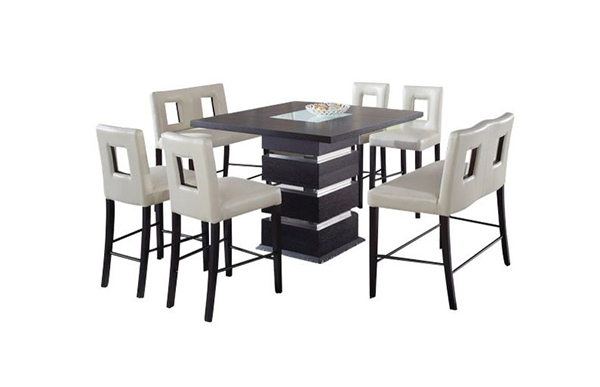 If you want to have a stylish and unique accent to your home, this modern design dining set will do.
16. Hightower 4 Piece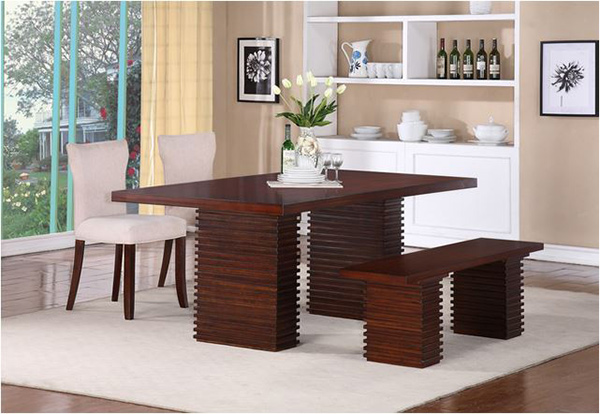 Its massive wood column bases on table and bench offers a striking statement for any space.
17. Town and Country 6 Piece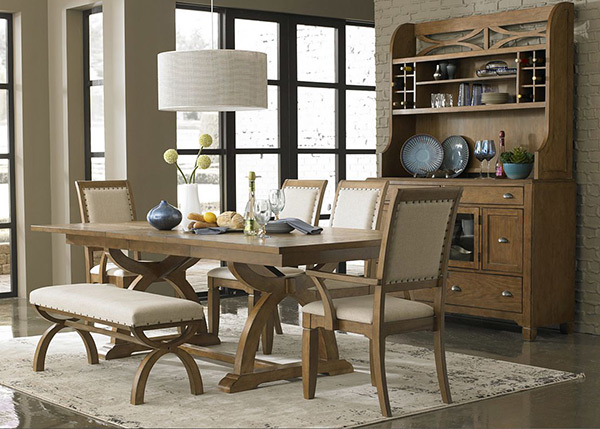 This transitional set will work with any home decor style you have. It's gorgeous design is both elegant and casual.
18. Parma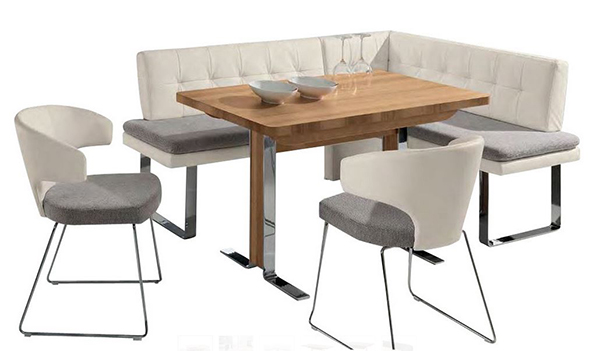 I love the relaxing color and modern touches on this dining set that brings elegance and comfort all at the same time.
19. Appalachian Rustic Transitional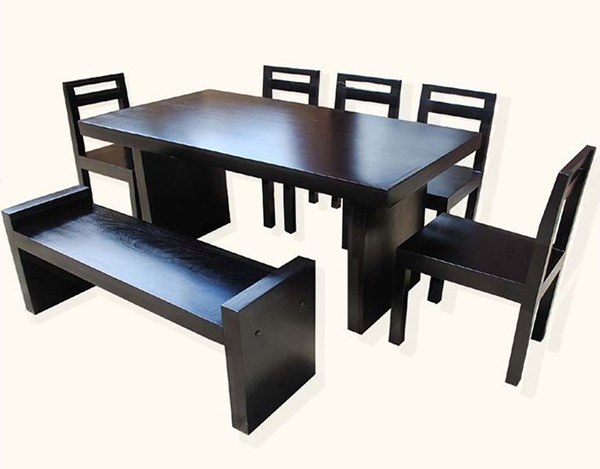 It's simple design and clean lines make this dining set interesting and beautiful.
20. Leaf Dining Set
<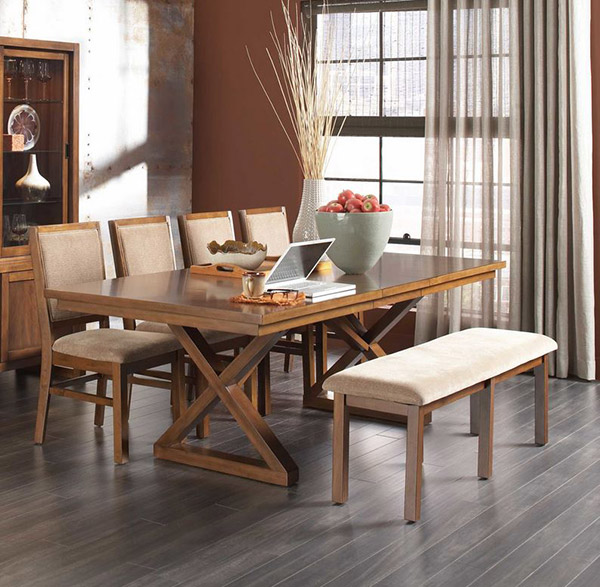 This dining set brings romance and warmth with its strong yet delicate, sophisticated design.
I love the combination of the normal table and chairs with bench! It gives a touch of uniqueness and style. Its beauty gives sophistication and function that is important in today's lifestyle. Bench occupies less space than chairs do. You can fit two to three persons in one bench but can only have one person seated on one chair. So yes, it is stylish and space-saver too! What do you think of our dining set with bench list? Let us know your thoughts about these sweet designs.