Make Outdoor Living Comfy with 15 Rattan Daybeds
Your outdoor ambiance can be filled with plants and water features. It sure made your garden exude an aura that is relaxing and tranquil. But it would even be nicer if you will be able to snuggle near while listening to the flow of water and the chirping of the birds. That would surely relive stress and will help you recharge from tiring tasks of the day. So, why don't you get a lounge chair or a daybed perhaps?
Well, the mere thought of having one in your garden is already very refreshing since nothing can compare the sweet touch of nature while you rest on your daybed. You will even be more inspired and also motivated or even be obliged to get a daybed after you will see our showcase of rattan outdoor daybeds today. Rattan is used for these daybeds so that it can survive through heat and rain. The advantage of rattan is that it can be created into whatever form and shape a designer wants and of course its longevity in usage. So, let us now take a look at our collection of rattan outdoor daybeds.
Toronto Daybed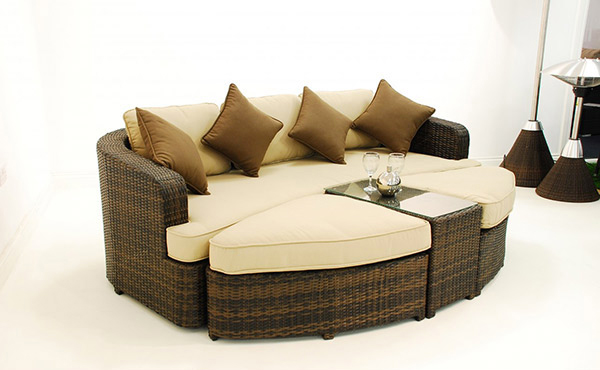 Sophistication wraps this daybed plus its table pair that suits it perfectly.
Apple Daybed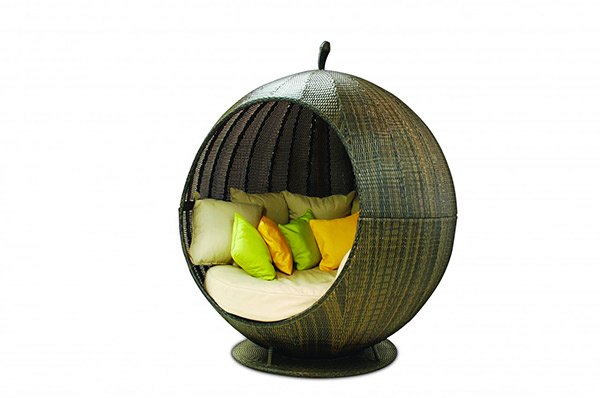 An apple for a daybed! Just imagine how comfortable it feels to be inside this daybed. It seems like anyone who gets in cannot resist but dose off to sleep.
Spartan Daybed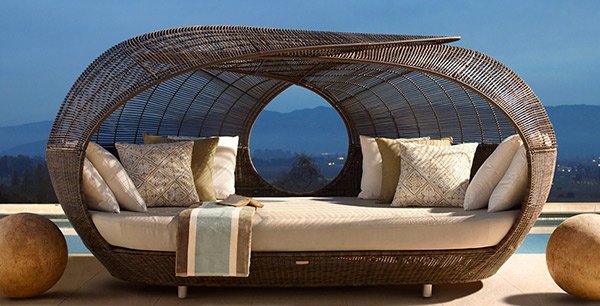 Feel like being hugged or protected under huge rattan wings. This one sure has a beautiful design that anyone would like to grab.
Regata Daybed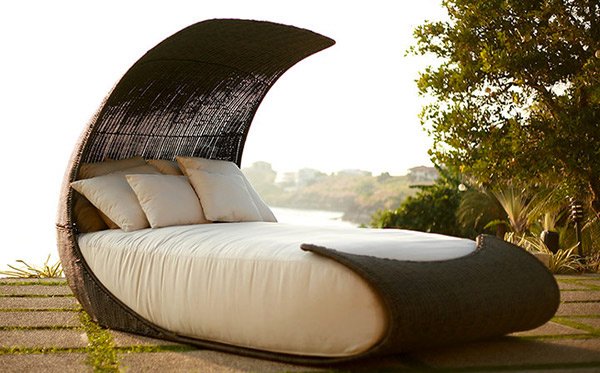 This one is pretty with its curves continuously connected from the canopy to the lower part.
Peach Daybed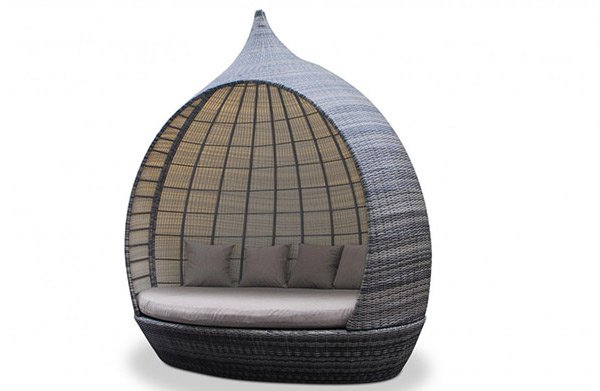 Want a pear shaped day bed? That will certainly be cute for your garden and would no doubt alleviate its beauty.
Novara Blue in Black
An oval daybed can be a good choice especially if you have a minimal available space.
Royalcraft Cannes Kensington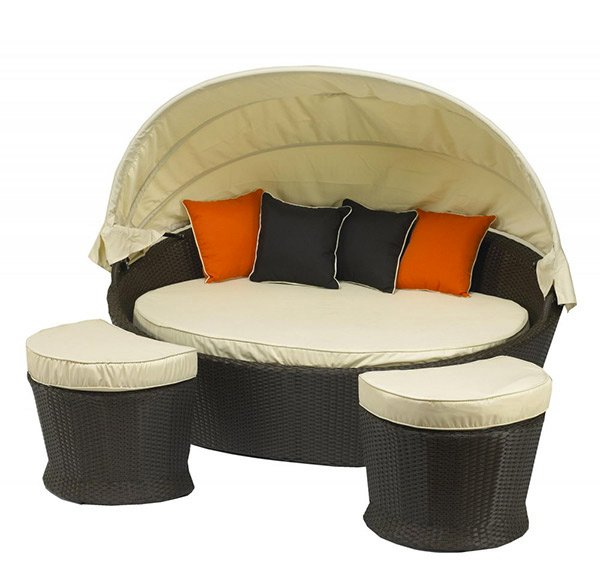 Two toned pillows accentuated this daybed with a canopy that can be closed and opened.
Kai Outdoor Daybed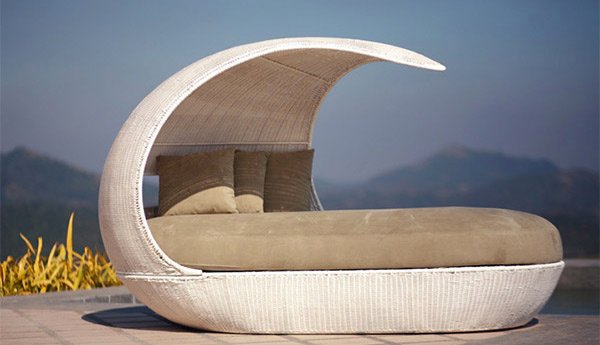 A curved canopy looks perfect in this daybed with soft tones and lines.
Iraya Daybed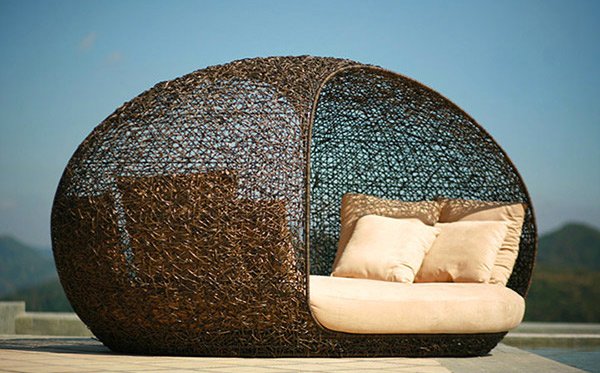 This one is like an igloo minus the hard bricks all around it. A softer version of an igloo that can give you the relaxation you want.
Heart Daybed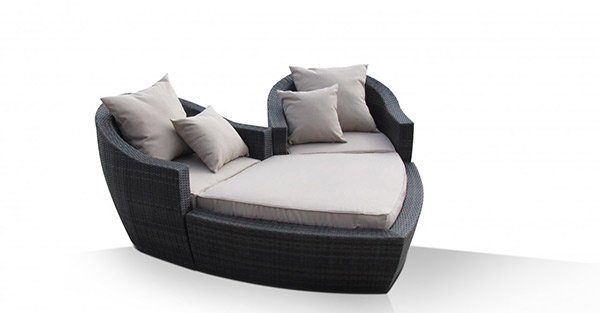 If you have a thing for hearts, get this heart-shaped daybed. You will be pleased not just with its shape but also with its function.
Bologna Daybed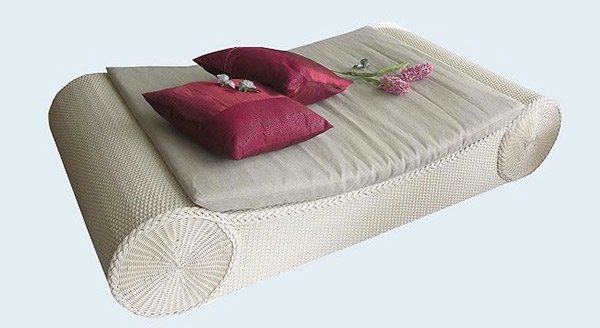 A simple beige daybed like this can still standout in your pool or garden area.
Flip Flop Day Bed with Umbrella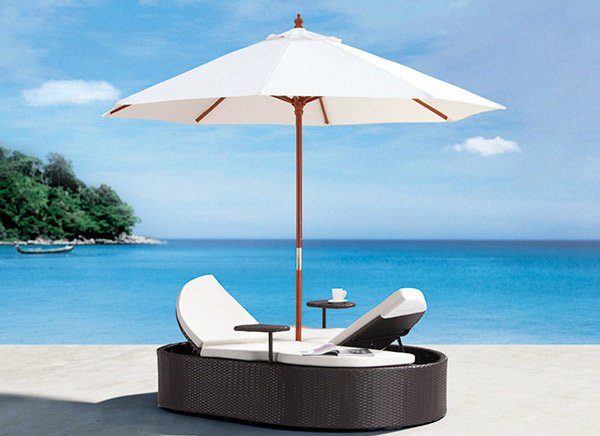 Aside from the umbrella, another great feature of this daybed is its being versatile since you can flip the some parts of it so it can be tilted.
Outdoor Lounges Daybeds
If you want a round daybed, this one will be a good choice. It also comes with a small table where you can place things that you want to be near you while lounging in this daybed.
Sampon Daybed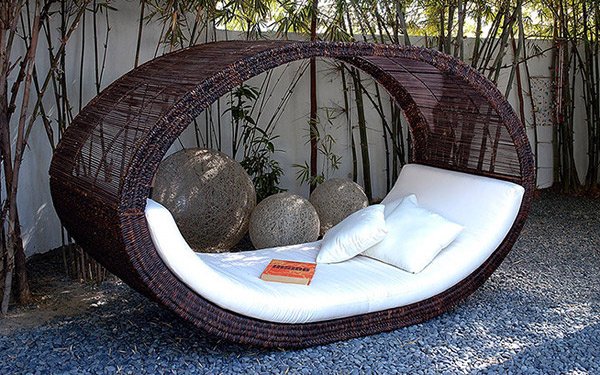 Get the feeling of being enclosed like in a cottage or even like a huge basket. Quite unique design for your yard.
Mantova Daybed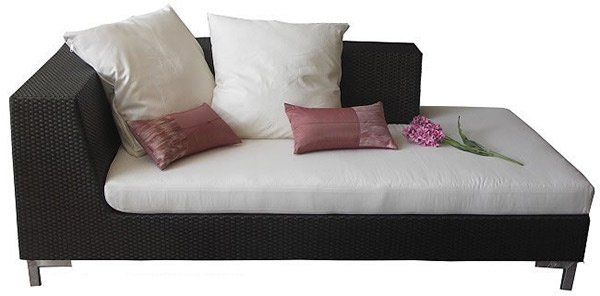 A daybed in its usual rectangular shape that looks like a chaise lounge at first glance.
These rattan daybeds are not just beautiful but are also durable. No wonder it became a hit when we speak of outdoor furniture. This can also give your garden and your pool area a delightful addition while you can also use it for your daily relaxation. Take a look at indoor daybed designs that we have also collated for you.