20 Interesting Wall Mount Tables
Have you personally seen wall-mounted tables? Well, because I haven't. Haha! Truth be told, these tables are interesting because they are not the usual ones we see at home or in restaurants – the tables with 3-4 legs, even more. These tables that we will be presenting today are the unique and space-saving ones that are pretty and definitely functional.
Below are photos of 20 Interesting Wall Mount Tables that will blow your minds – no, I'm just kidding. These tables would surely interest you because of the unique quality there is to them – simple but functional, contemporary and definitely awesome examples you can choose to put at home especially if you need more space. Check out the pictures below guys.
1. 12th Street Residence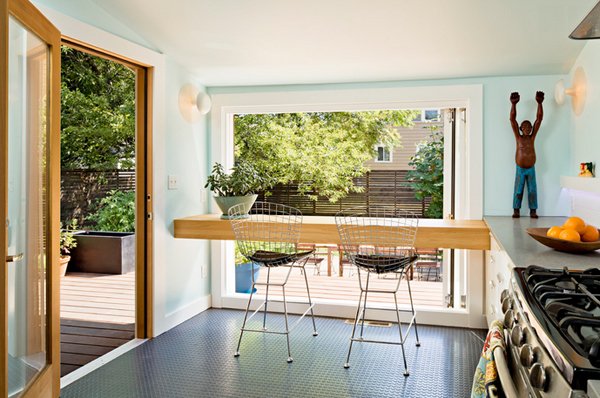 If you don't have room for a table and chairs, don't give up. Setting this slender counter to bisect the floor-to-ceiling window may break conventional design rules, but it also provides the perfect spot for an indoor/outdoor breakfast with a view.
2. Alterman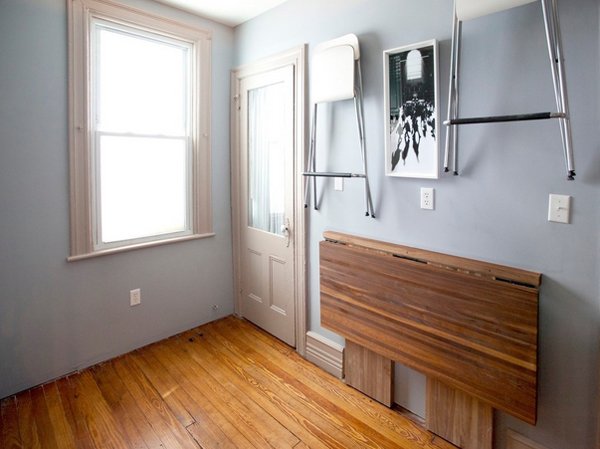 This small space demanded attention to detail and smart solutions, starting with the table and chairs. Too tiny for a standard kitchen table, we added a table that folds down against the wall with foldable chairs that can be hung on the wall when not in use.
3. Birmingham House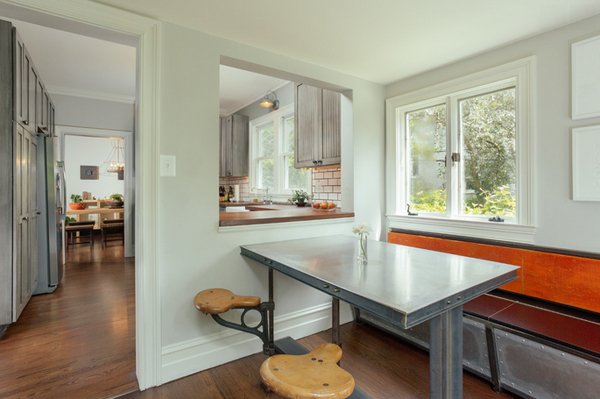 "Like many old houses, this one had a small room tacked on to the back," says Poris. "The client wanted the space to be reminiscent of an old-fashioned diner." To that end the architect had a banquette and a metal table installed beside a pass-through window. "I imagine hamburgers being slid right out of the kitchen, just like at a diner," he says.
4. Cobble Hill Apartment Renovation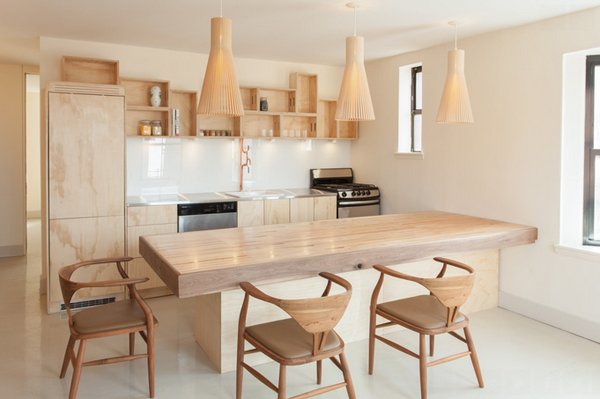 I don't like the style here at all, but the table as island combo is very appealing for space efficiency.
5. Wall-mounted Dining Table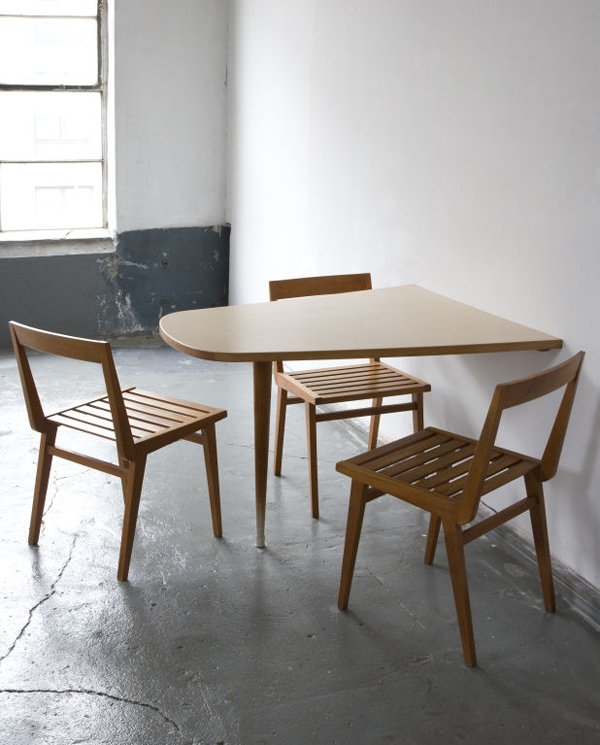 This wall-mounted dining table is definitely a space-saver for this small kitchen area.
6. Far Pond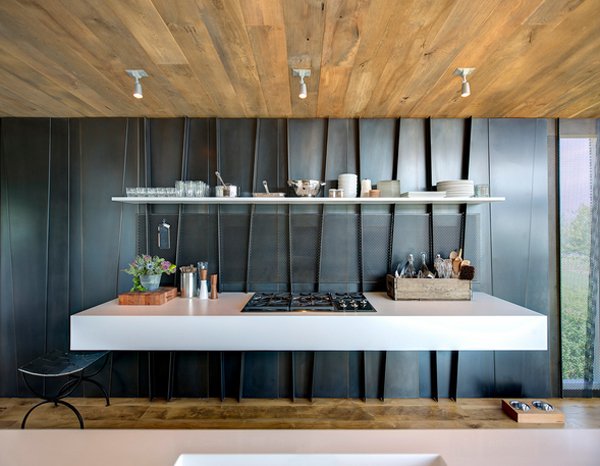 Although this cantilevered surface is a dedicated work zone, it also succeeds in injecting this modern rustic kitchen with a hearty dash of visual interest.
7. Kenmore Hill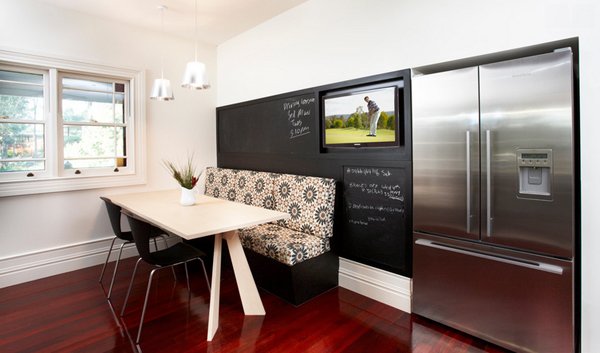 Pick up an inexpensive can of chalkboard paint from a hardware store and you can have fun turning a wall into a great place for household memos or homework notes. It's ideal for a wall in the kitchen, kids' bedrooms or a panel in the study, and remember to keep a supply of chalk and a duster handy.
8. Lake Home Kitchen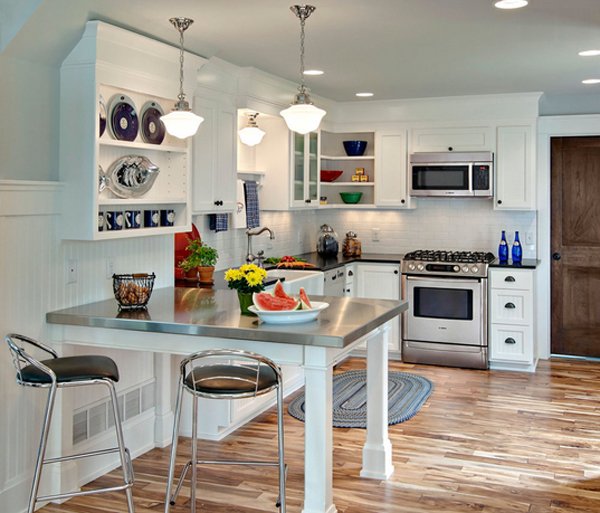 Bar height table as peninsula, then we can have a smaller 4-top tulip table in the dining area with maybe some upholstered chairs. Also white cabinets, black & stainless steel countertops.
9. Matt & Cath Aubergine Kitchen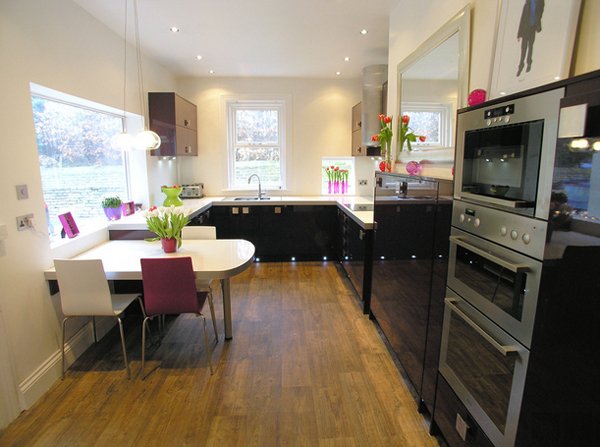 The black, white and pink combo of this kitchen sure is pretty.
10. 1920 Colonial Kitchen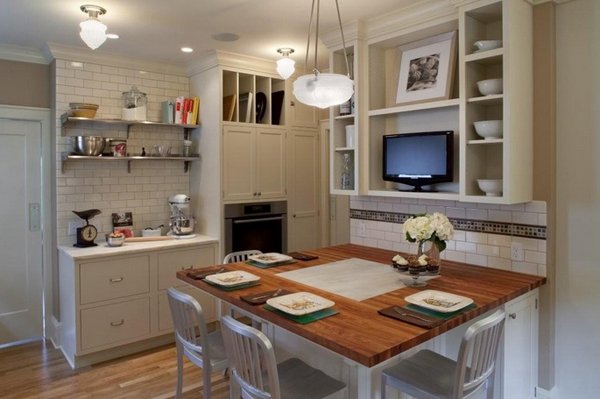 This kitchen space is interesting because of the choices used for the walls and the tiles – love the wooden top of the table which complement with the stainless steel chairs.
11. Modern Evanston Bungalow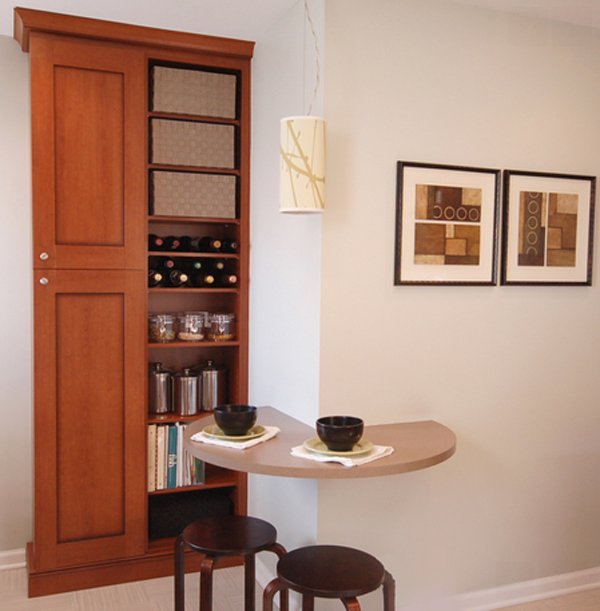 This is a prime example of found space. A floating table turns an unused corner into a two-person seating area. You could easily modify the idea and tuck a similar table into a recessed nook as well.
12. Arlington Kitchen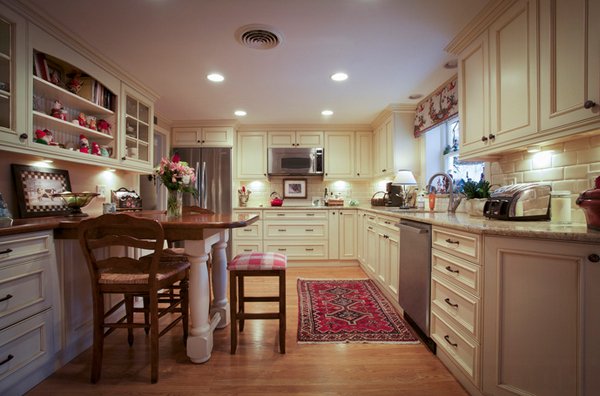 This home was a designed collaboration by the owner and Dawn Willis. Our unique materials, reclaimed wine oak, enhanced her design of the kitchen.
13. Natural Apartment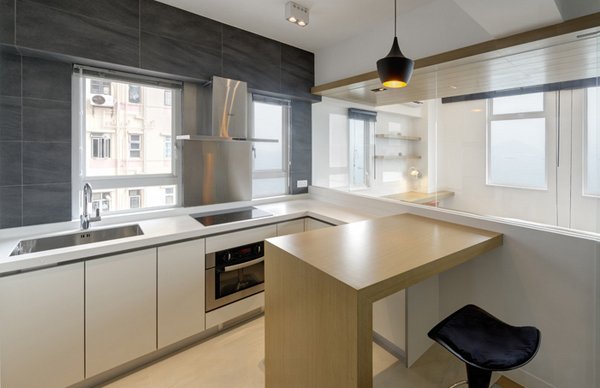 I'm a big fan of the full-height backsplash in this kitchen. The tiles form a unique accent wall in an otherwise minimalist space. They also serve a more practical function in that they are durable and easy to clean. The tiles are a rather dark shade of gray, but because the rest of the colors in the space are light and there is plenty of natural light streaming in, they create drama without being too heavy and overwhelming.
14. Paris Apartment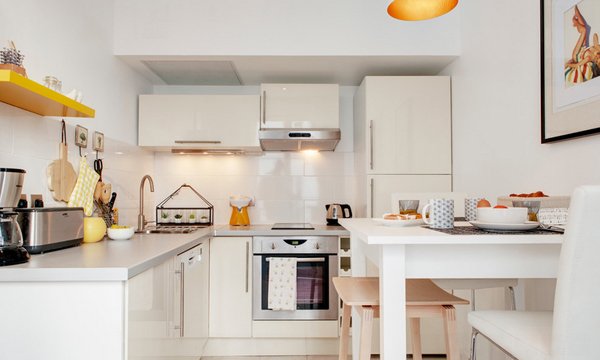 Being bright is the key to small kitchens – it makes small spaces seem more stunning and spacious.
15. Houston Custom Kitchen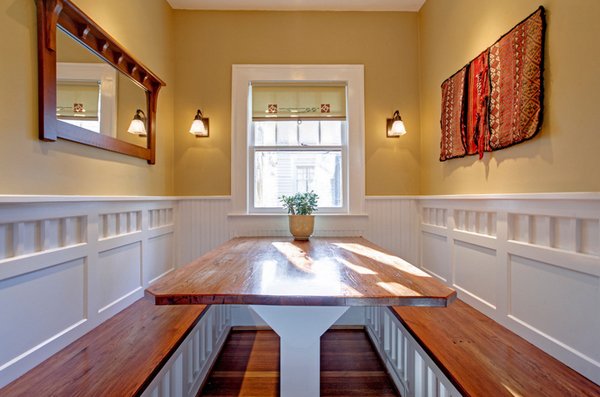 What do you think about the close up photo of this wall-mounted table with two-benches on each side.
16. Small Moscow Flat
Although Tatarnikova wanted to make this small space functional for the family of three, she made sure that its history would shine through. Classic, simple-looking materials became a huge priority, including marble counters and white MDF cabinetry.
17. Studio Avec Espace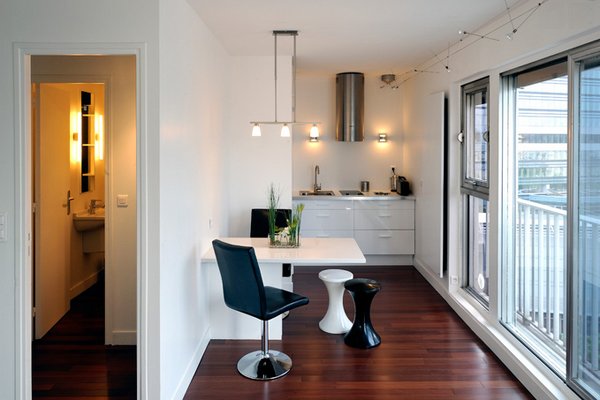 In this photo, we see a table that is connected to the wall with the perfect view of the buildings below; very contemporary!
18. Talcott Pines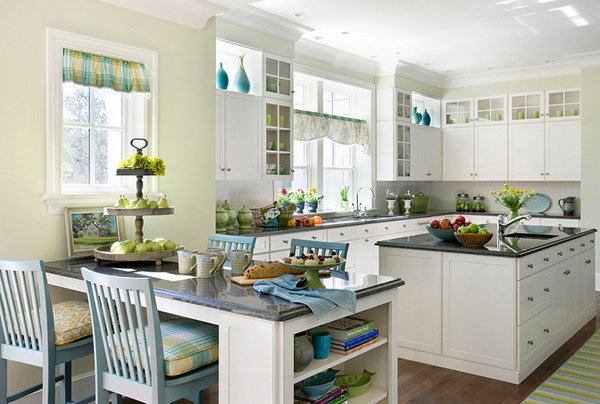 At first, you would assume that this is a kitchen nook, but this one is indeed a peninsula connected to the wall.
19. Seattle Traditional Kitchen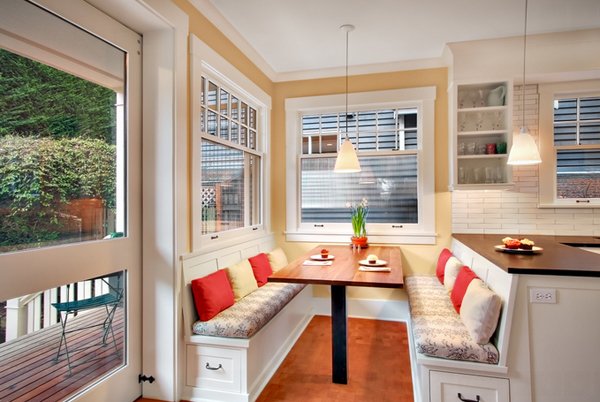 When it's all closed up, the cabinet becomes a seamless extension of the home's structure, leaving plenty of room for a dining table or other entertaining necessities.
20. Vermont Timber Frame Residence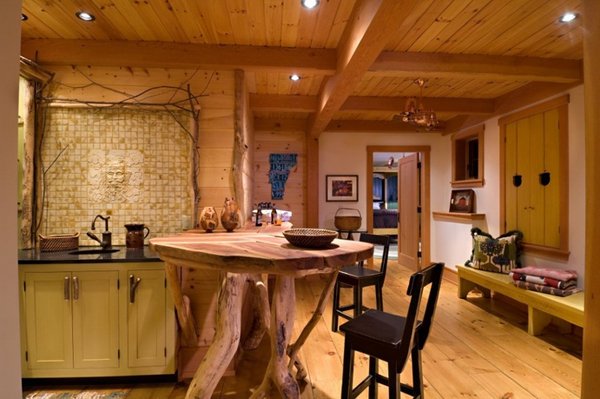 A custom island like this one, created from natural tree limbs, is a surefire focal point. The smooth edges and organic shapes are a welcome contrast to the sharp angles and crisp corners usually found in the kitchen; this table just begs to be gathered around.
Functionality and beauty does not always come hand in hand, but with the right planning and choices of materials, they could actually work good for the client and the house itself. If you liked this list, you will surely love the trendy tables that are not only functional but definitely beautiful. More to come on Home Design Lover!