20 Amazing Ways to DIY a Stool for Your Home
Who says you have to stick with the usual boring stool? Who says you have to buy a stool whenever you need one? Well, most of us would just buy one wherever there is an available stool and just go home with it. Done. No more worries for you already have that stool you need for whatever purpose. A stool could either be tall or short, depending on how you will use it. But whatever height it has, you can actually get a creative looking stool merely by spending less or not spending anything at all.
Like other DIY round-ups we did before, this one will amaze you on how you can actually make your own stool from something you already have in your own home. Or you can give your old stool a new look and make it appear gorgeous and even more comfy to use. I know you are excited to see this list. So, let us jump in and take a look at the 20 amazing ways to DIY a stool for your home.
1. Upcycled Magazine Stool Tutorial
Got lots of magazines in the house? Gather them up and use them to make a stool merely by making a base with wheels and then strap them together with a belt!
2. DIY Folding Stool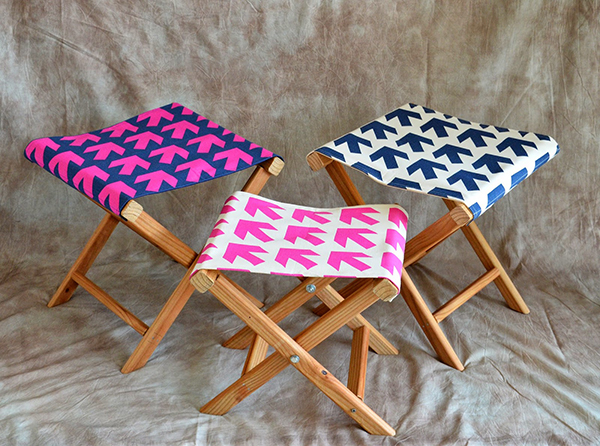 You would need some wood work for this one and pretty printed fabrics that are firm enough to be used as a seating.
3. Outdoor Concrete Table/Stool for under $15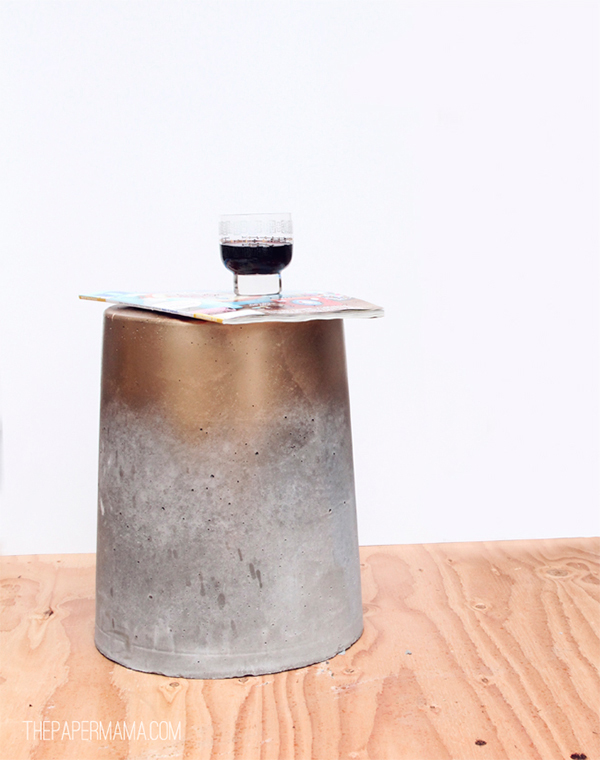 Get a bucket as a molder for your concrete stool. Then paint it with this dramatic yet sophisticated look.
4. DIY Industrial Pipe Stools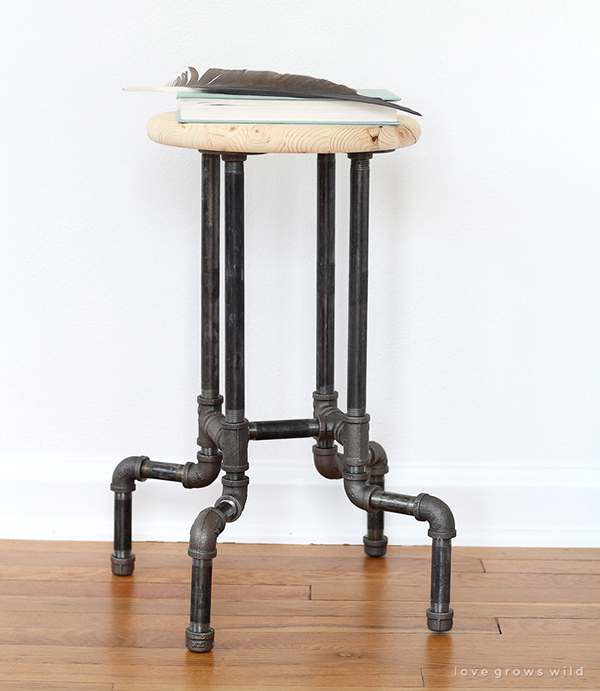 If you an industrial-inspired look is your thing, then combine affordable materials to come up with one.
5. EP8 $5 Bucket Stool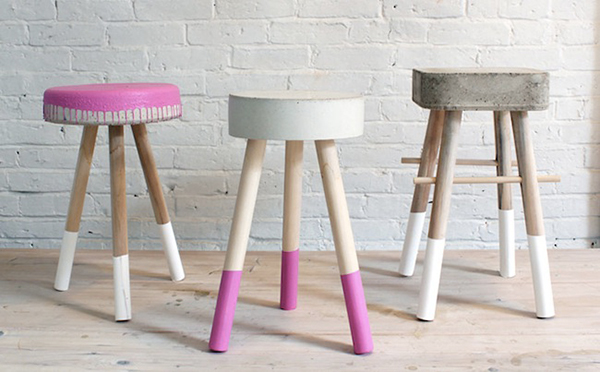 A bucket was used to mold the seating part which is made of concrete while the stand is made of wood. Then go creative with the painting.
6. How to Build a Rolling Storage Seat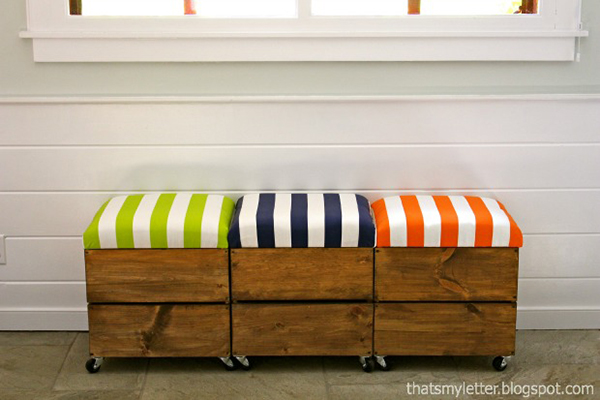 This cute rolling stool combines a seating and a storage. Get the fabric print that you love.
7. Electrical Spool Stools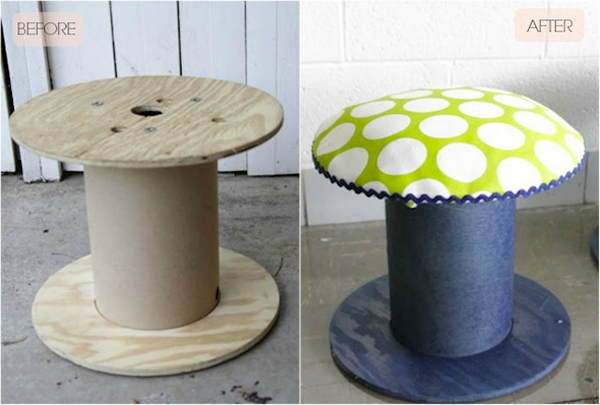 If you own an electrical spool like this, you can turn it into a stool or even as a coffee table too.
8. Gold Dipped Bar Stools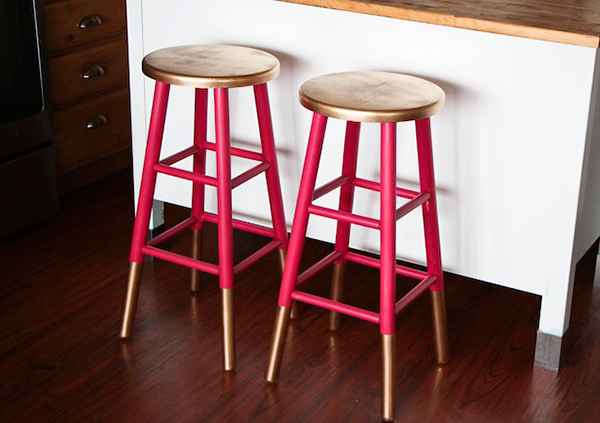 Your space will look stunning and stylish with a pink and gold stool like this. Go work with your paint sprays!
9.DIY Make a Stool with Bucket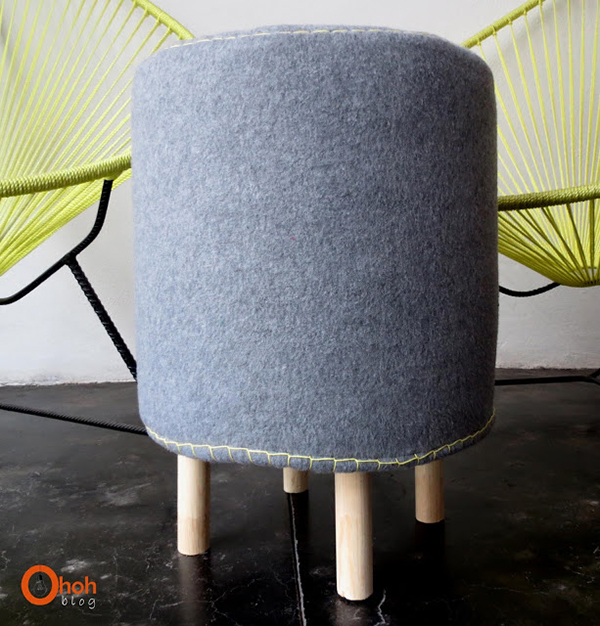 Wrap a bucket with foam and felt and you will get something like this one. You can also be more creative with the design and colors too.
10. Josh & Sarah's Modern Stool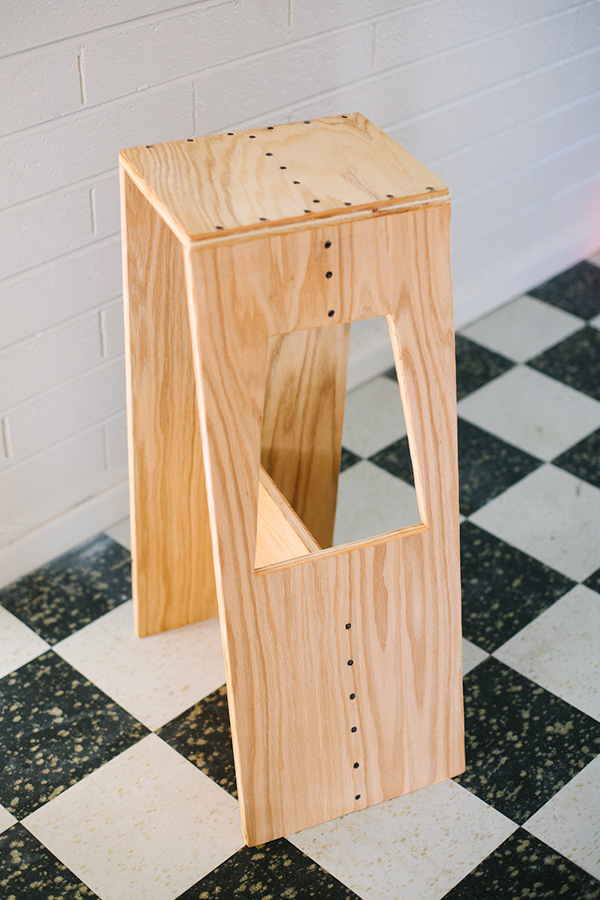 Well this one requires wood working. Guess the tutorial goes with a pattern too that you can use to make a modern stool.
11. Mushroom Stool
Bring in a whimsical look to your child's room with this mushroom stool that is easy to make.
12. DIY X legs bench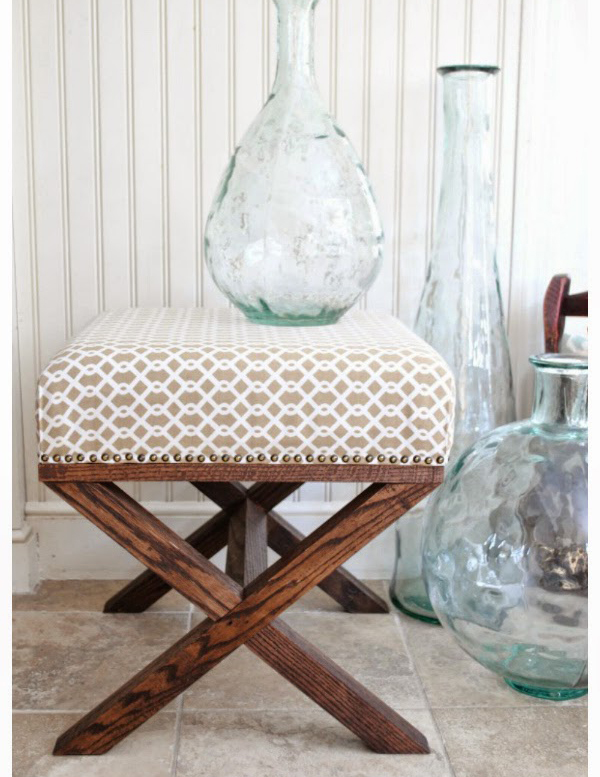 Make a frame and legs with wood then pick a pretty fabric to upholster the seating. Don't forget to add those nail head trims too!
13. Road Sign Stools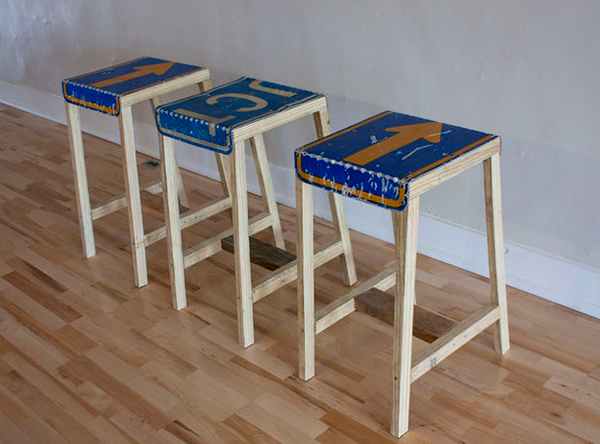 You can also make stools out of some road signs or other signage too. That would be a cute addition to your space.
14. Diy Upholstered Stool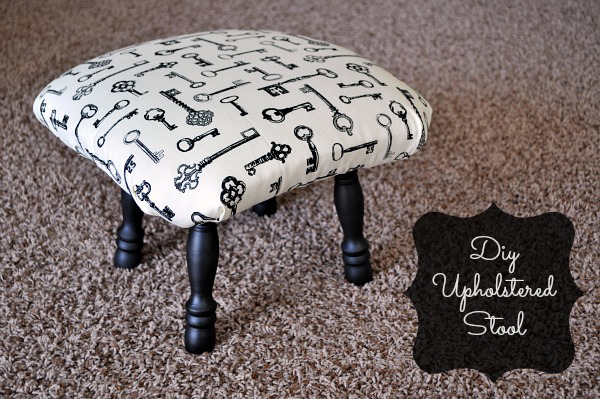 This foot stool is a cutie! I adore its legs and the fabric print for a vintage touch in the home.
15. DIY : Mongolian Lamb Stool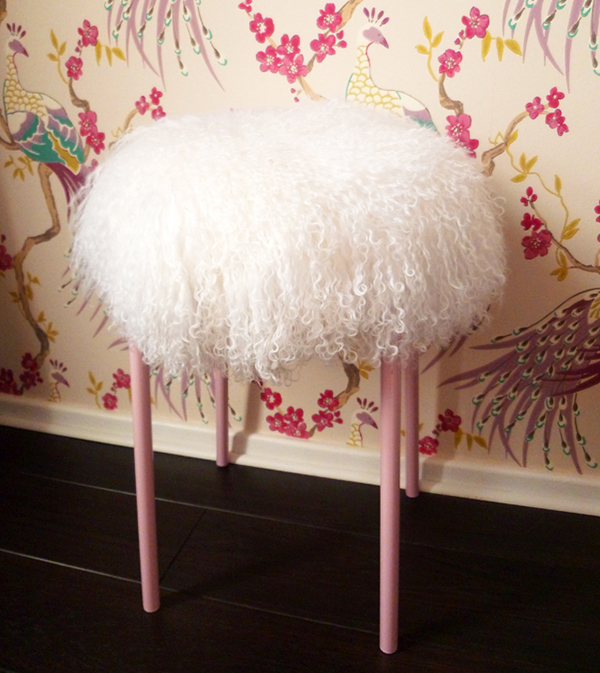 I like the look of this one especially that I'm into furs and other soft thingy. This would look even better with prettier legs.
16. Dining Stools From Egg Cartons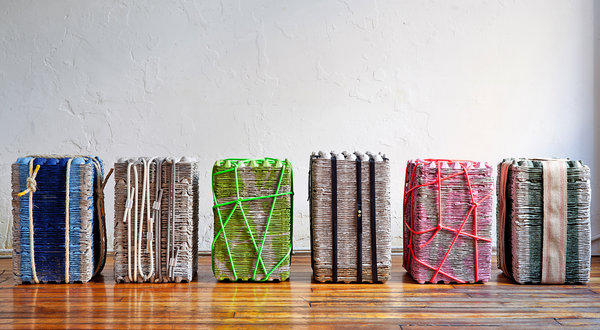 If you have plenty of unused egg cartons, pile them up on top of each other, paint it and creatively add some strings.
17. DIY Crochet stool cover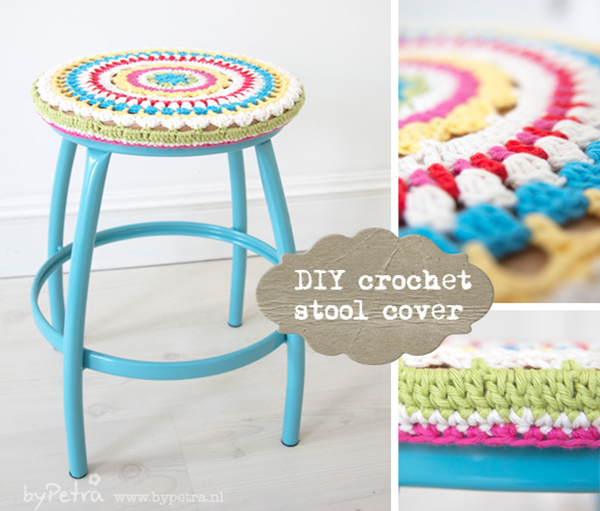 This is overly cute! If you know how to crochet, experiment with colors and styles and create this cute stool cover. I so love this!
18. Make DIY Toadstool Stools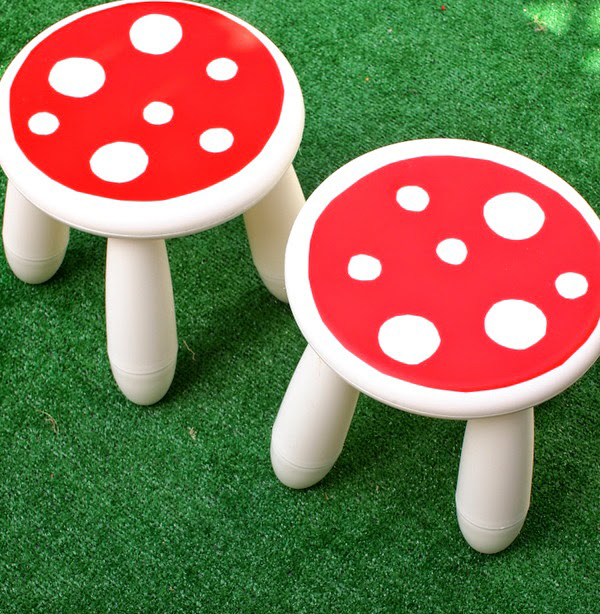 These are actually White Ikea Mammut Stools that were given that Toadstool look. Pretty artsy, right?
19. DIY: Woven Stool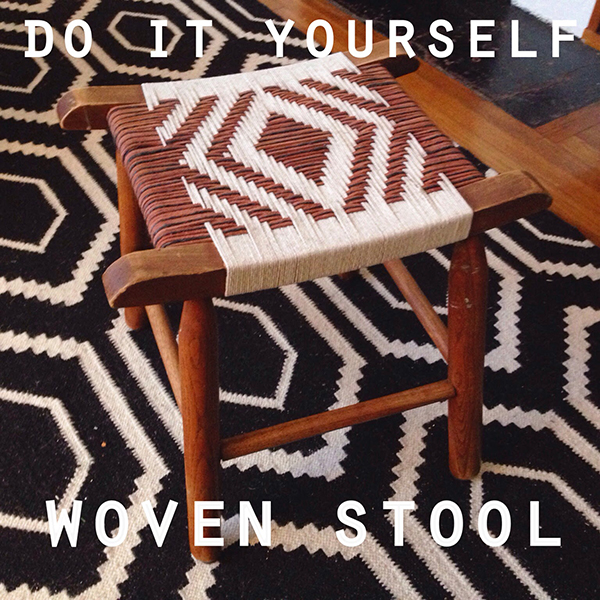 Get creative and weave the seating of a stool using Black Jute Twine, Leather Ribbon and Butcher's Twine. Look at the beautiful outcome!
20. How to Makeover a Boring Stool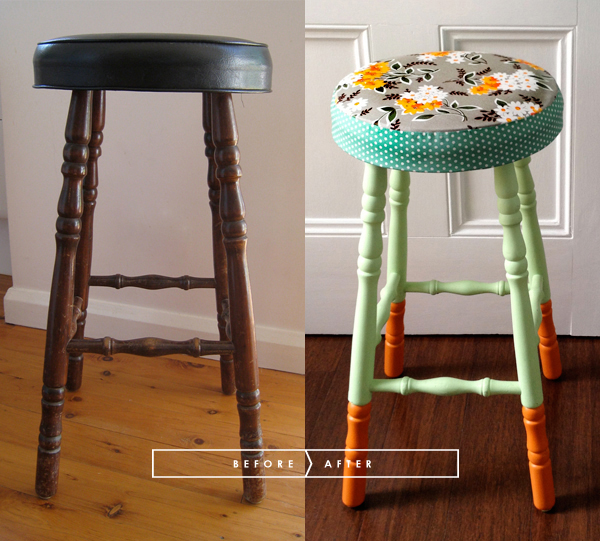 If you have a boring stool in the house, then why not add a new life and a better look into it? Just like what they did to this stool by repainting it and adding a lovely fabric into it costing them merely $5!
Simply amazing! What is your favorite stool from the list? Well, I find the magazine stool and the toad stool cute. While the ones using concrete is already a lot of work for me. Lol. I may be an engineer but I don't do concrete mixing by myself. I am more of a paper and fabric person so those two stools appeal to me the most and I'd more likely make them. The egg carton stools look like too but I can't use them in my home because people in the house would surely pick it up and consider it garbage! Now, tell me which of the stools above you'd most likely make.