20 Stunning Living Rooms with Square Glass Coffee Tables
Adding glass furniture will make a room look more spacious.
I know that we haven't had a couple of lists that talk about coffee tables because we might have already covered everything about them, but when I was checking the site for glass coffee tables, I found out otherwise. This list will somehow be just like the lists we showcase here but with more fabulous examples that I think you'd love.
The 20 Stunning Living Rooms with Square Glass Coffee Tables is one fun list. The living spaces in here come in different archetypes which show us how much versatile glass is. And as much as round or circular coffee tables are popular, using a square or rectangular coffee table is still something practical to choose; check out the list below.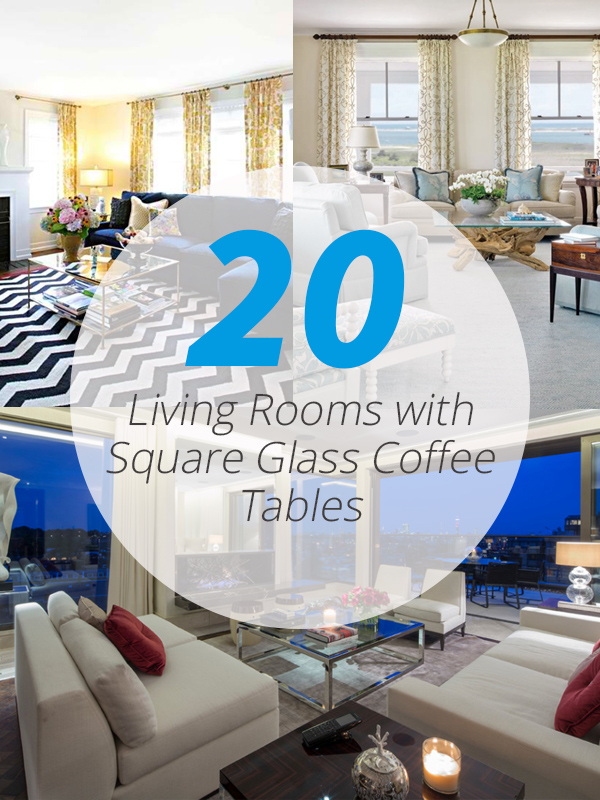 1. Fulham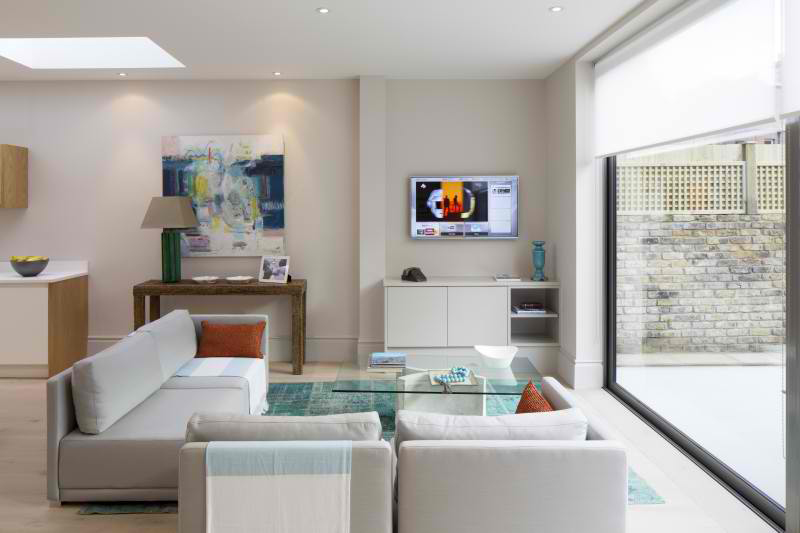 This is one beautiful living room that surely deserves to be on top of the list. Even when this living room looks really simple and plain – the look and aura that it actually shows off is pretty awesome – sophisticated, mature and clean. I usually never call a living room clean (because I think it's the kitchen or bathroom that's usually called clean) but I think that this one looks like it and pretty much uncluttered; I love it!
2. Greenbrier Residence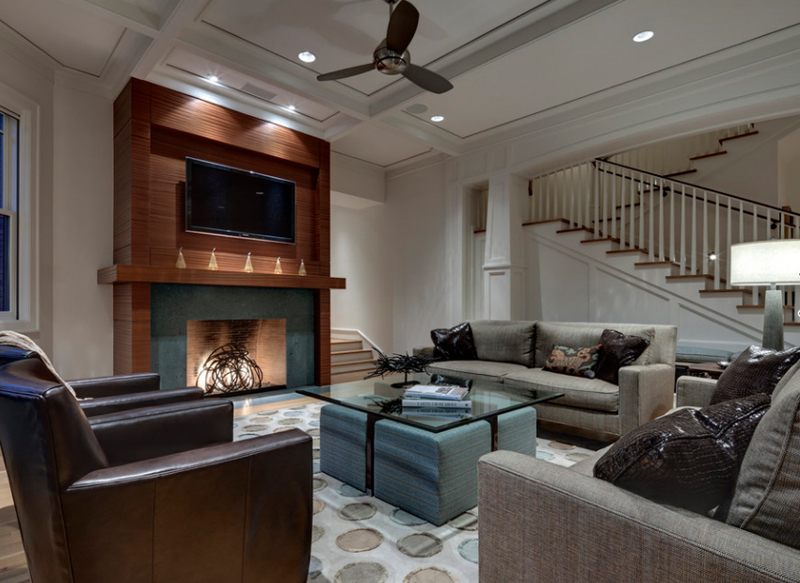 I remember adding this living room to one list about pull out ottomans before and I think that it's nice that we actually see how a glass coffee table can somehow be associated with other pieces of furniture. I like the colors in this living room – a bit masculine but really on point.
3. Hollywood Regency Turnberry Ocean Colony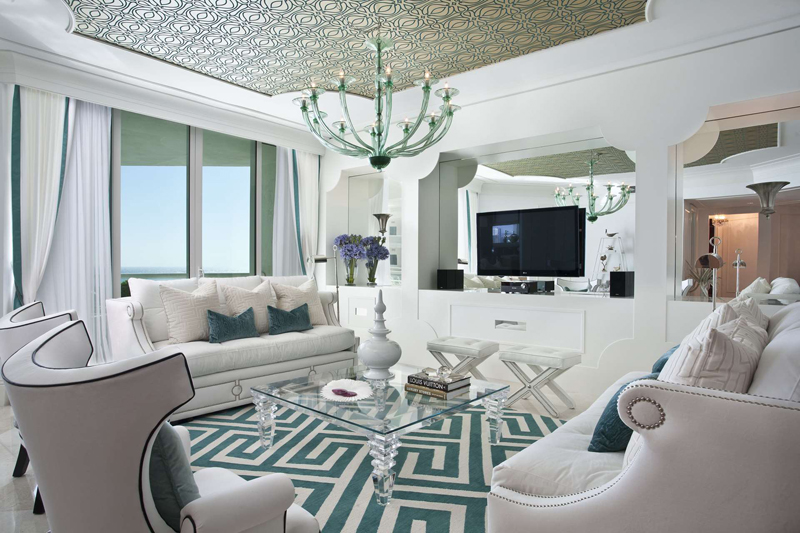 DKOR Interiors really have one of the best living spaces I have ever seen. It may be premature to say the least since it's possible that there are more prettier spaces designed by other designers but I think that it's nice to say the least. This living room sure is one perfect living space to be in this list.
4. Mayfair Mansion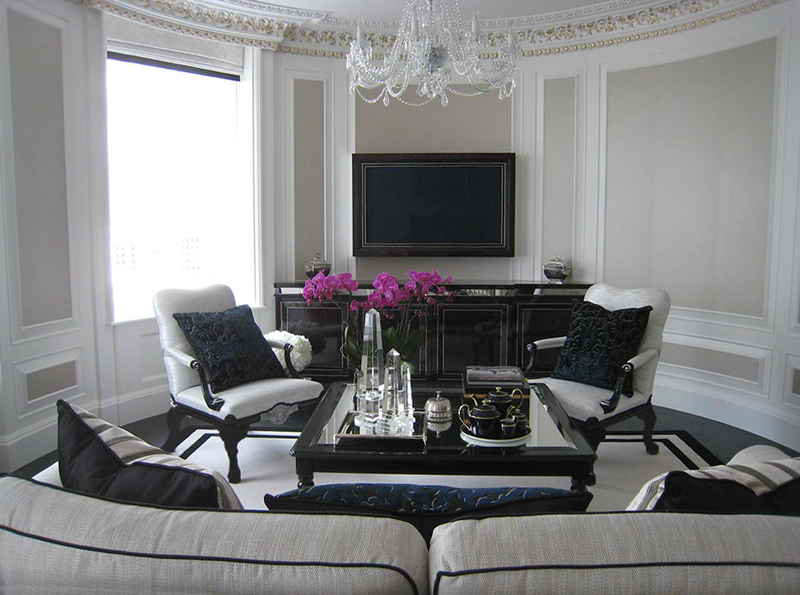 This black and white living room sure exemplifies class and sophistication that not all living rooms in this list have. The furniture and decoration in here is just wonderful and fashionably stunning that I think this space is totally perfect for those tea and coffee hangovers you'd indulge in the future with your pals.
5. Mill Valley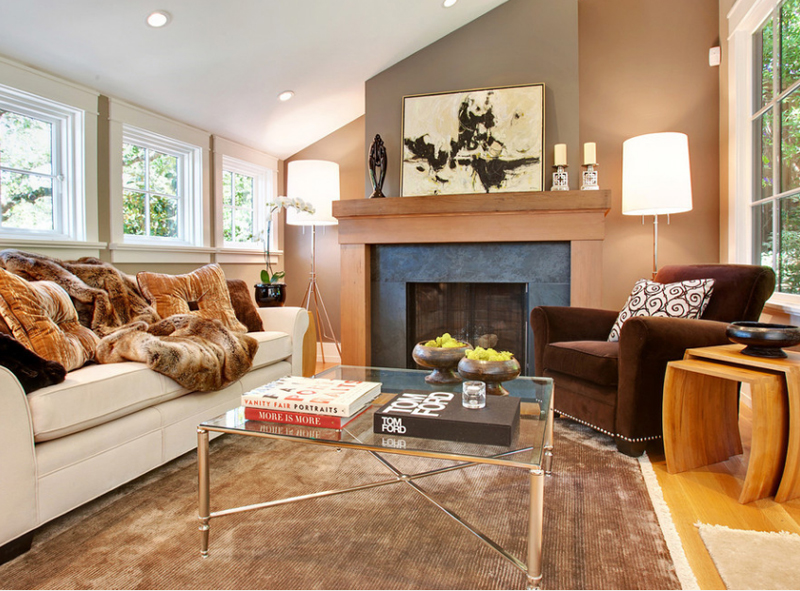 This cute living room in Mill Valley is just stunning! The space may not be that large but there are enough seating, pretty pieces of furniture and classy decors. I love the wonderful side table and the fact that this small space has a lot of windows – both for lighting and ventilation.
6. South Yarra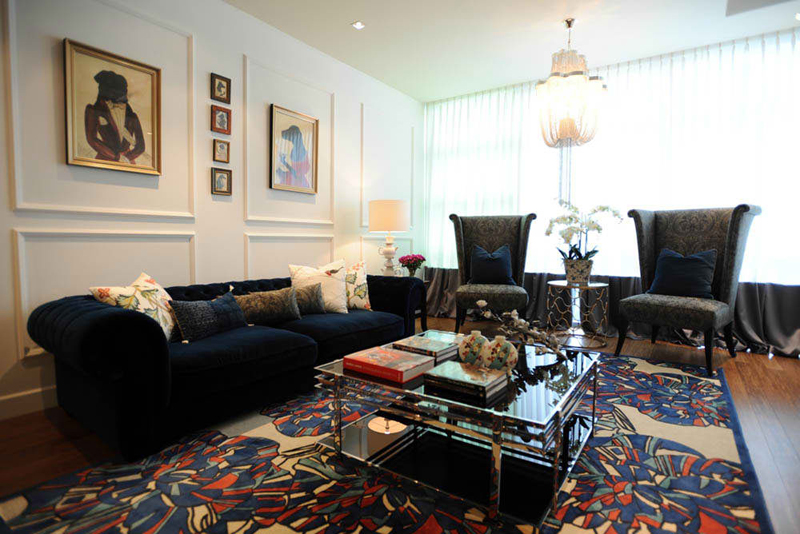 The lovely high back chairs in this lovely South Yarra home is just unique and surely expensive (at least I think so); the glorious glass coffee table and the stunning area carpet are totally stunning and I think that they are in fact statement pieces this living room is sure proud to have.
7. Tillinghast Estate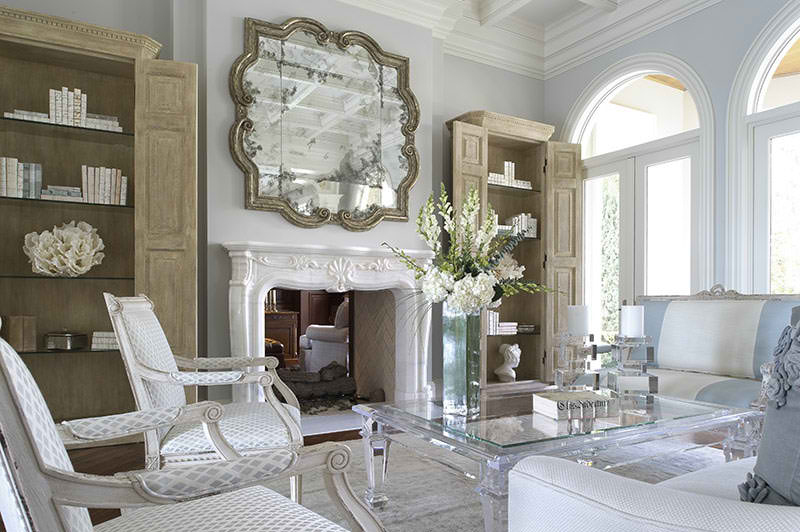 What a heavenly living room! The whites and subtle grey colors in this space make it all the more stunning and sophisticated. The trinkets seen in here like the large mirror above the mantle, the large vase on top of the glamorous glass coffee table and the stuff inside the cabinet on the sides of the fireplace is just wonderful.
8. The Montauk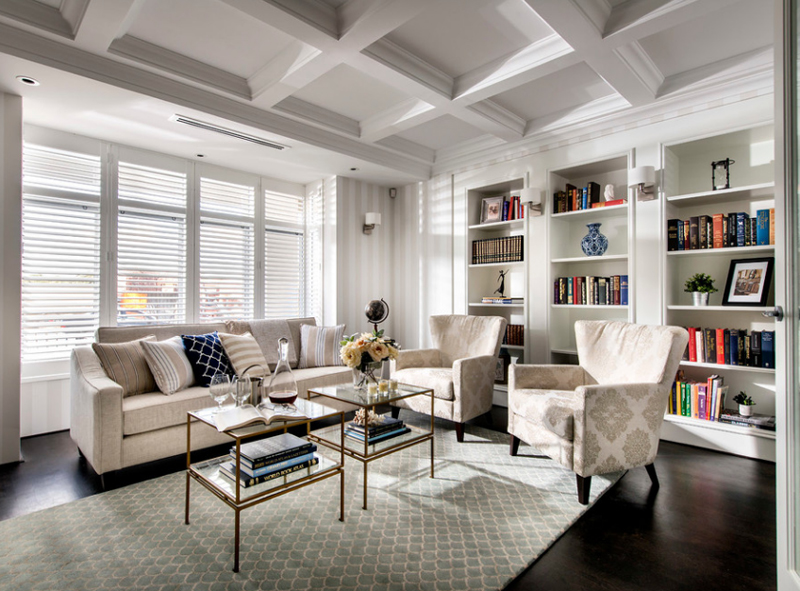 Two small glass coffee tables are added to this small but classy living room. The neutral color palette chosen to be used in this living space is always a safe and wonderful choice. Using a couple of small coffee tables makes up for getting a large one and somehow makes it all cute and unique.
9. Western Springs Living Room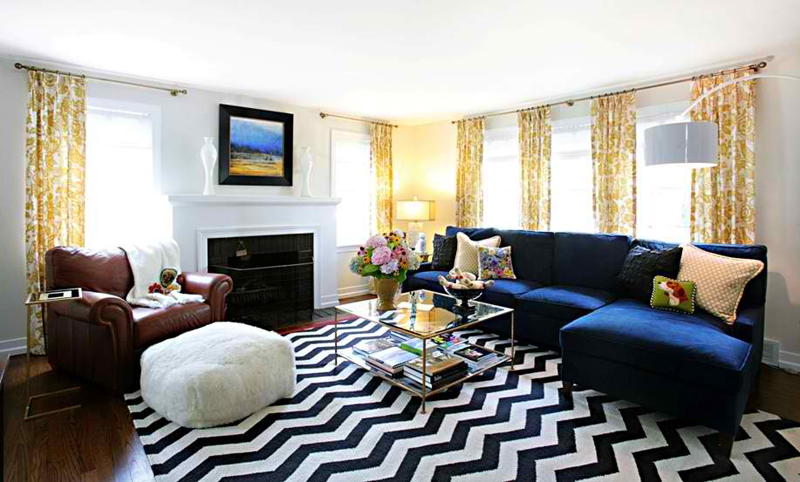 A wonderful gold and blue living room is one something could always consider especially at times when you are thinking about what color palette you could pick if you want to achieve a classy look without being too stiff. This contemporary space might just have the right things in it to really stand out.
10. Amagansett Residence 2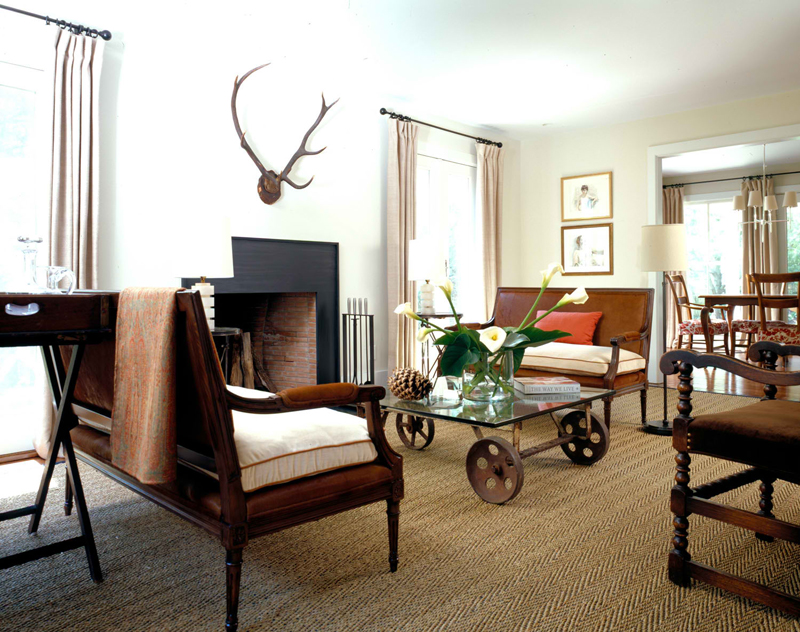 A unique piece of furniture, the coffee table in here is just too cool to ignore. The colors seen here – like the browns and the whites make it a bit traditional but still homey and fun! The antler head above the fireplace may be what this space needs to feel a bit into-the-woods or ranch-like.
11. Canterbury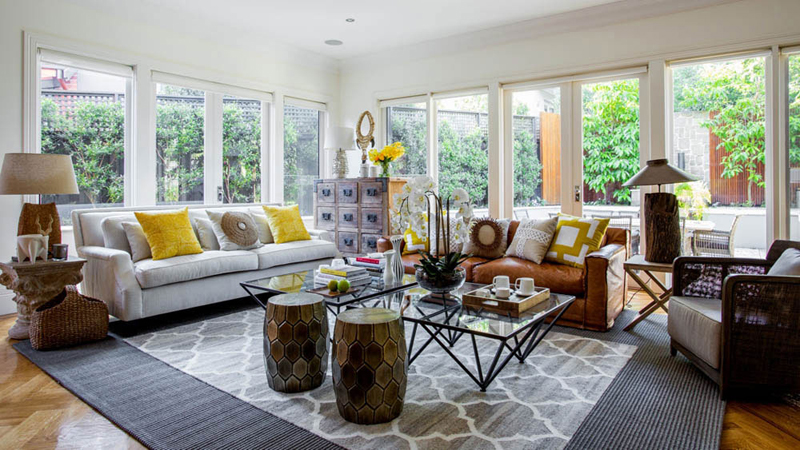 This living room somehow has a lot of things going on but I think that even when this living room is a bit too much, it sure looks homey and traditional which makes it all the more interesting and catchy! The coffee tables may be too large, but you'll never know when you need one!
12. Chatham Residence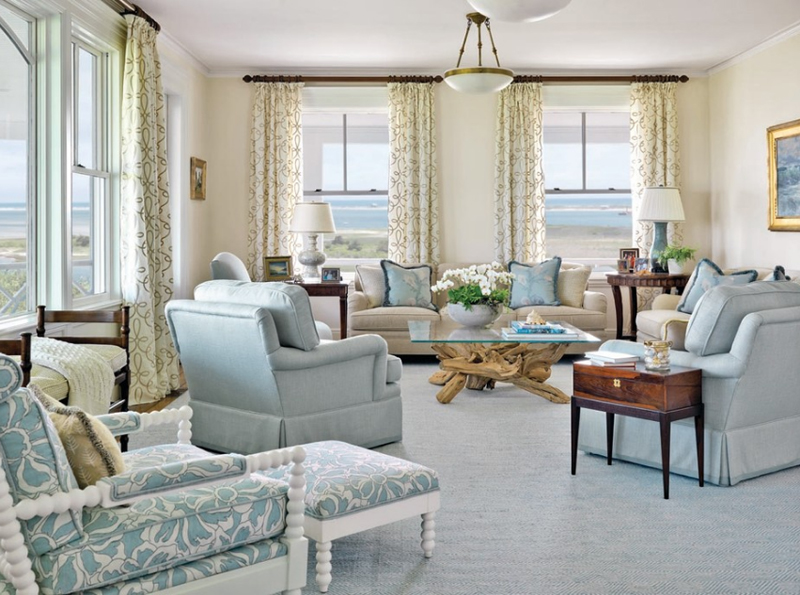 I wish that we had a closer photo for the wonderful coffee table in this living room. I mean, glass is simple in here which makes it blend well with the blue and beige furniture, but the bottom part of the table is just wonderful and whether or not that is one legit recycled piece of wood, it's still oh so gorgeous.
13. Hampton Place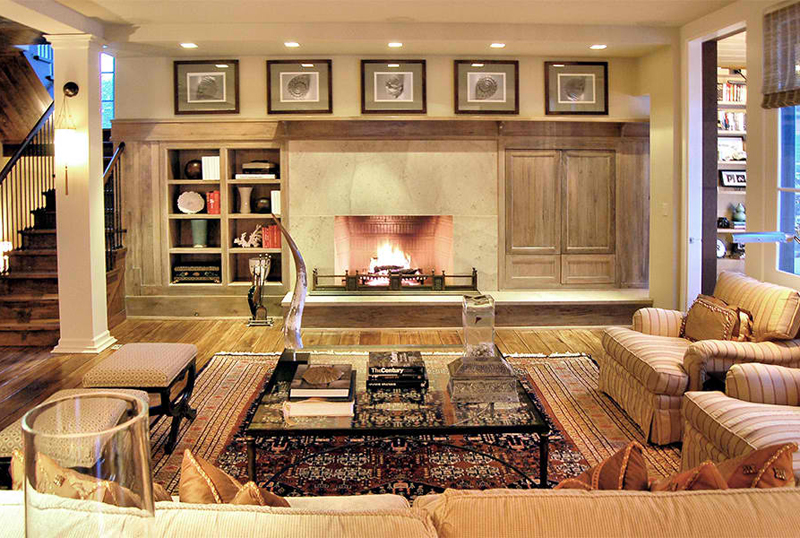 The black lining on the glass coffee table is a great thing since we know that black goes well with everything and in this case, since the furniture has a lot of things going on, the simple yet elegant coffee table mixes everything perfectly. The large console around the fireplace is just wonderful and it complements well with the color of the walls and the furniture.
14. Historic Aldine Residence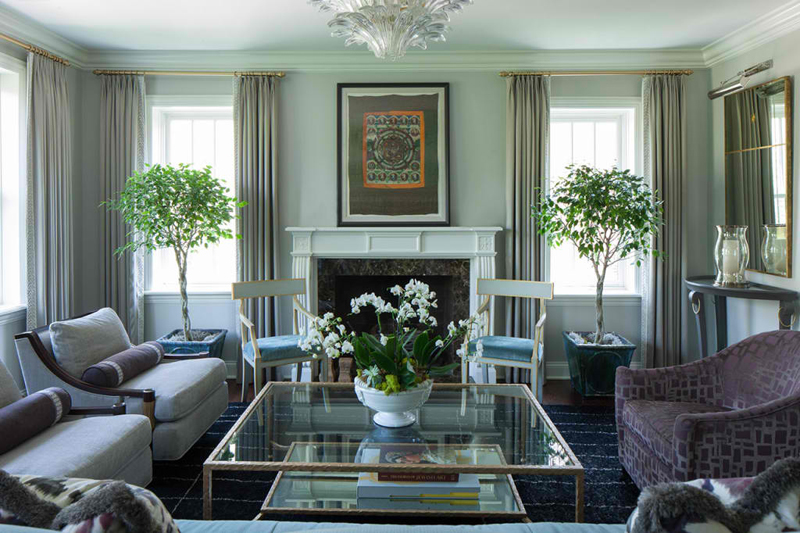 One large piece of furniture – this glass coffee table sure completes the look that this living room is trying to achieve – or at least maintain. The fabric used on all the arm chairs in here is fascinating, especially the one that somehow looks violet or something.
15. Kensington Mansion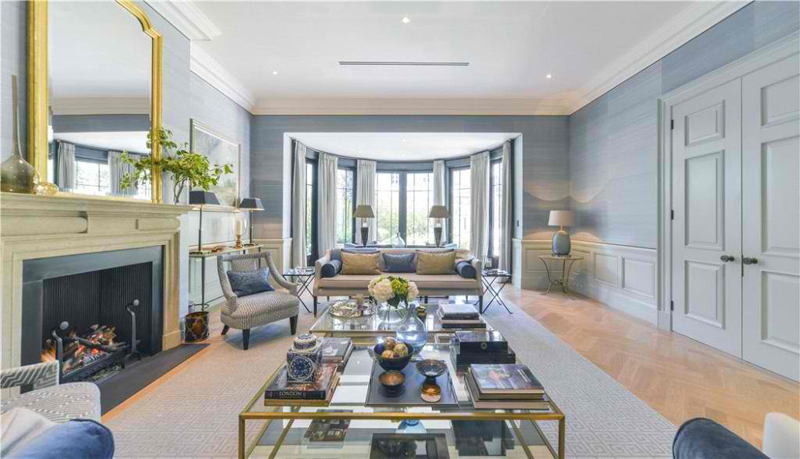 I love the large coffee tables in this stunning mansion. The mere fact that this is a 'mansion' makes it all the more interesting and worth the look. All the furniture in here looks definitely classy and sophisticated; the color of the walls make all the furniture and pillow cases match and it's too cool.
16. New England Contemporary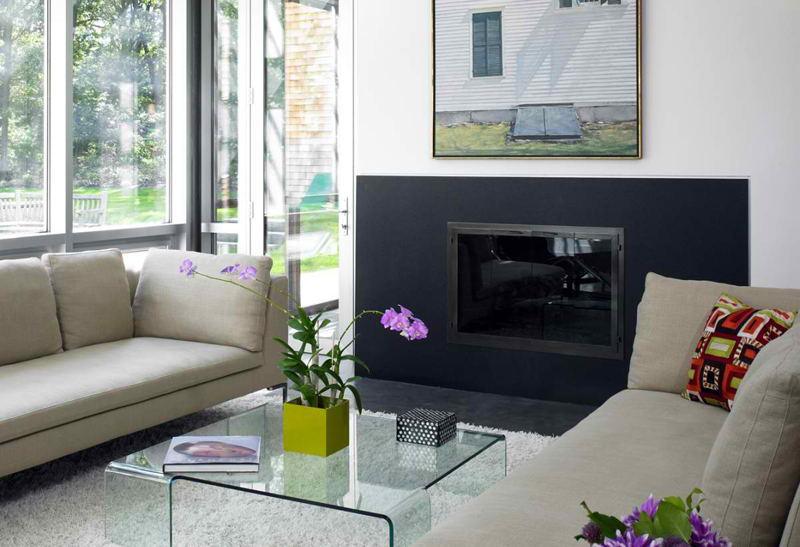 The neutral-colored couches in these living room sure rocks the glass coffee table in the middle of the room. What I personally love about this coffee table is the modern design it has and the cute legs on it. Also, this living room has an awesome fireplace which surely stands out.
17. Presidio Edwardian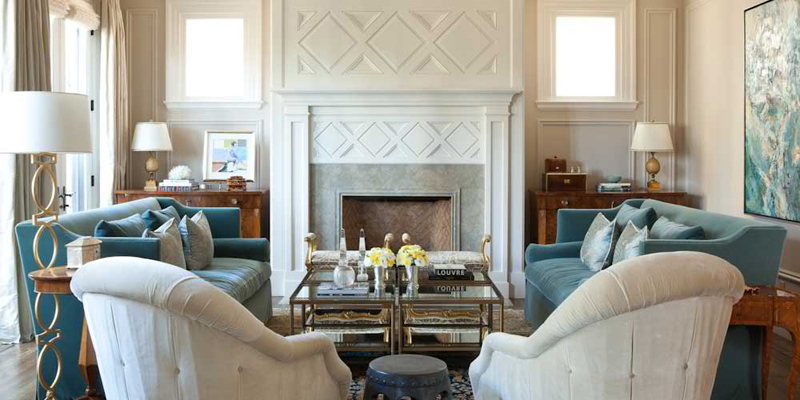 If you look closely, you can see that in the center of the room is four square glass coffee tables placed beside each other to form a larger square. These glass coffee tables make it look like a single great piece of furniture that complements all the other furniture around it which is actually a good thing because whenever we want to mix and match things, we need neutral stuff around, always.
18. Quail West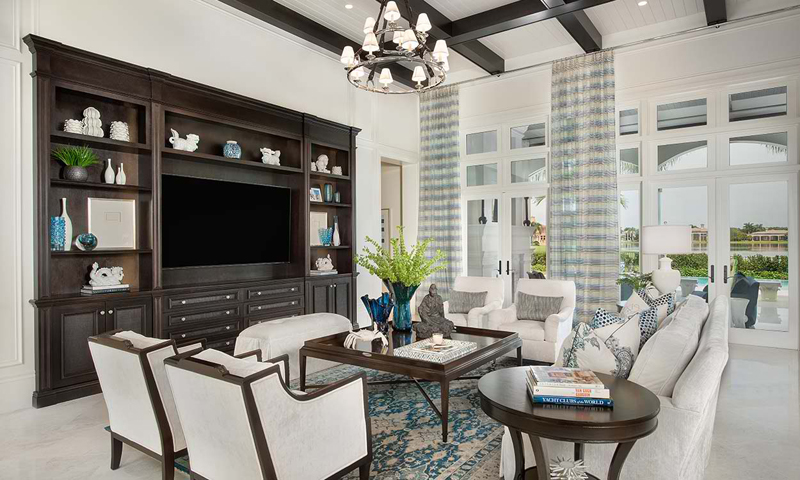 Well what do you think about matchy furniture in your living room? I know that at some point, we want things coherent and all that but somehow the furniture in here is made from the same wood or something – I can't say that I'm crazy about that fact but it sure still looks pretty awesome.
19. St John's Wood Penthouse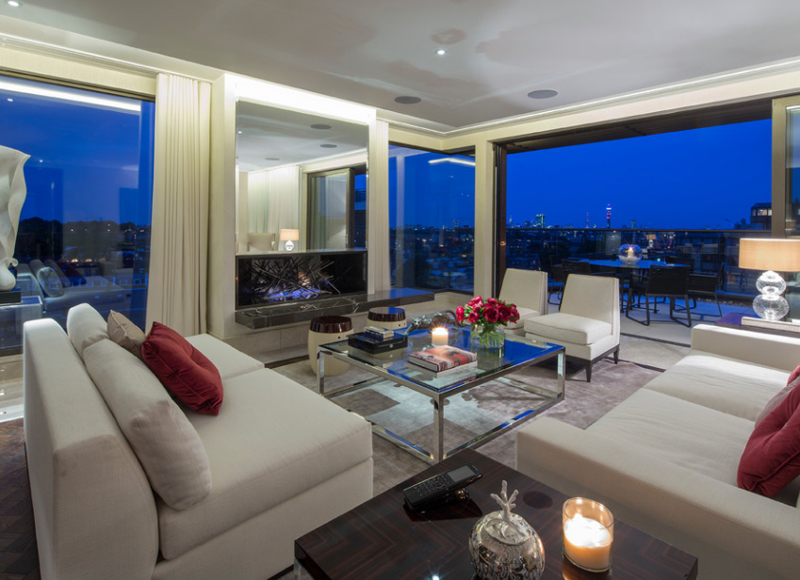 A stunning living room with a spectacular view of the sky. With a beautiful living room like this one, I don't think there would be an issue with people coming over or times when you just want to sulk inside the house and enjoy a great movie – alone or otherwise.
20. Water Street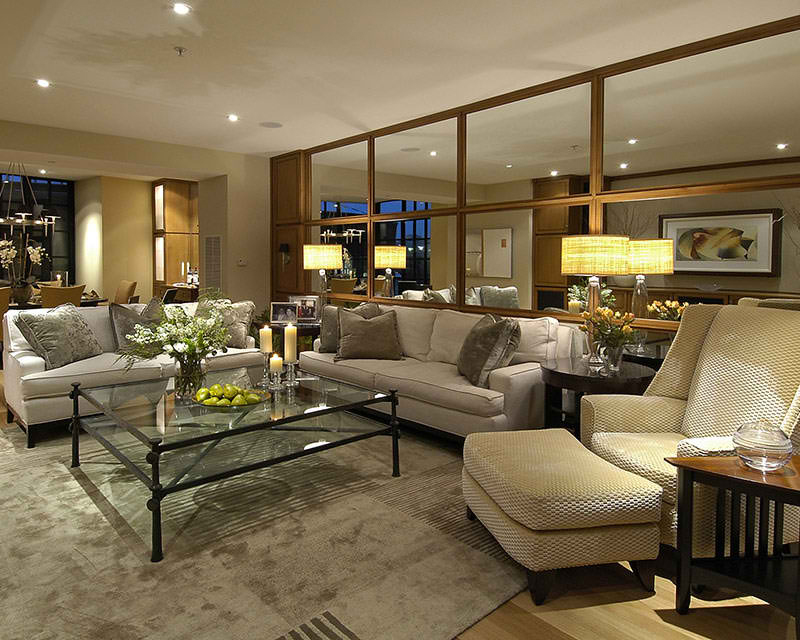 To end this list is one large glass table what I think would definitely hold a couple of things together especially when visitors are around. The fact that there is a lot of seating in here makes me think that choosing this table was a perfect choice.
There you have it guys, a list that showcases awesome living spaces that chose to use a glass coffee table in square which definitely worked! I know that we can probably choose something different when we were imagining other options for the tables but I think that they were great as it is and I think the owners loved them too! For more glass table inspiration, check out the 20 Inimitable Styles of Swiveling Glass Coffee Table.