Rustic Appeal of 20 Distressed Wooden Kitchen Tables
Distressed wood kitchen tables give off a homey vibe. It brings a calm and relaxing feel in any space. Inspired by the spirited, rustic character of natural wood scratches and marks of age, distressed wood style provides a bold statement for any space in your home. Its appeal is a sweet escape from the busy life in the city. It can be paired with a modern dining set and decor. It can also complement a relaxed country style dining room and offer a punch to it. It gives a soothing kitchen experience bringing the nature's beauty into our homes.
In today's article you will see 20 distressed wood kitchen table that will make your kitchen more interesting and inviting. The list will show you beautiful and extraordinary designs that you can either use for your dining or kitchen space. These tables are glorious on their own and I am sure that you will love their unique styles and touches. So go on and keep on scrolling down to see our selection.
1. Orso Bar Base Natural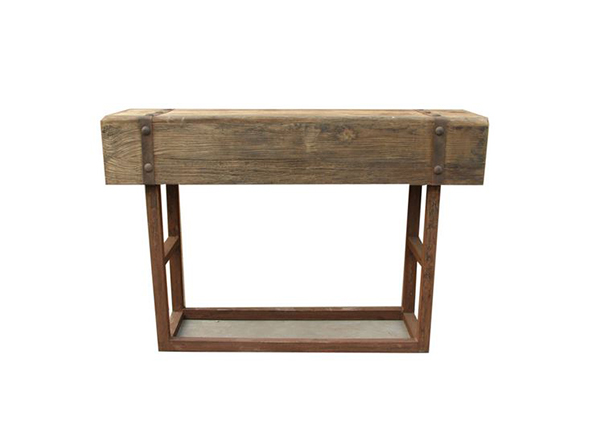 A rustic and charming table that uses warm natural palette and materials and various metal finishes offering a one-of-a-kind statement in your kitchen.
2. Sylvana, Round Table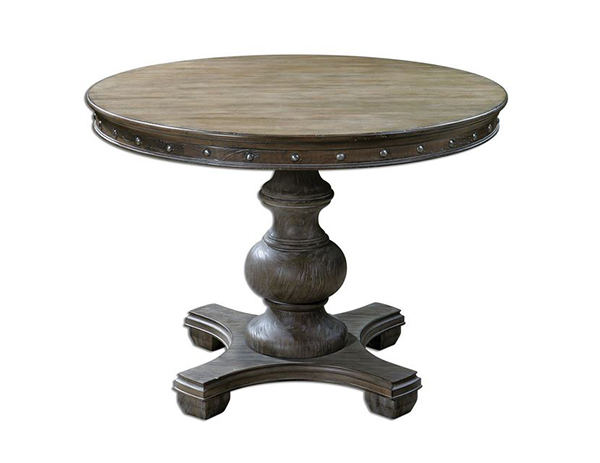 Add whimsy and style to your kitchen with this sturdy, traditional round table that has carved apron and silver nail accents that is soften by a light gray wash finish with subtle rub-through distressing.
3. Aria 82″ Dining Table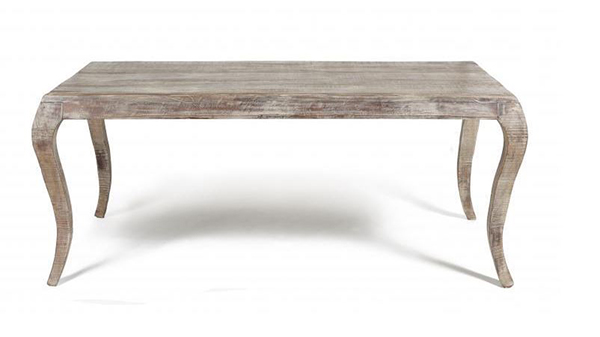 This trestle-style table with its beautiful and graceful lines is accentuated with natural distress and imperfections giving its unique rustic charm.
4. Walton Rectangular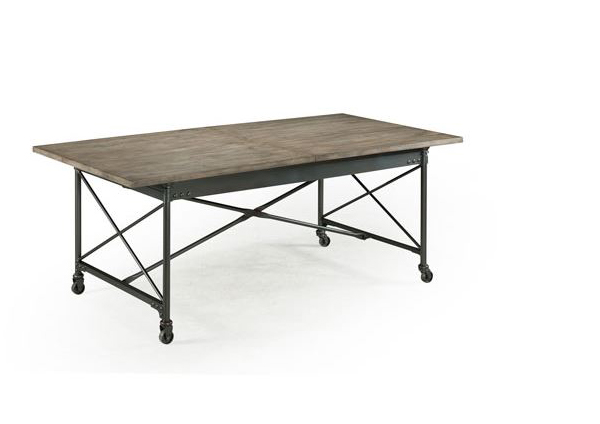 Unexpected combination of rustic and industrial elements come in one table! Your kitchen will never beg for attention anymore with this amazing table with open wheel casters and exposed rivets and wood atop in an aged dry-wood with natural distressing and rustic metal finish.
5.Belmont Oval Extension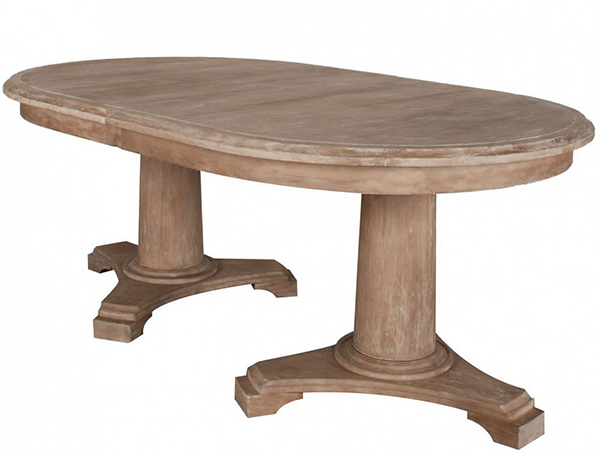 Give your kitchen an update with this incredibly gorgeous wood column base table! It is a striking statement that will lend a vintage-rustic elegance to any space.
6. Vennie Distressed Pine Antique White Dining Table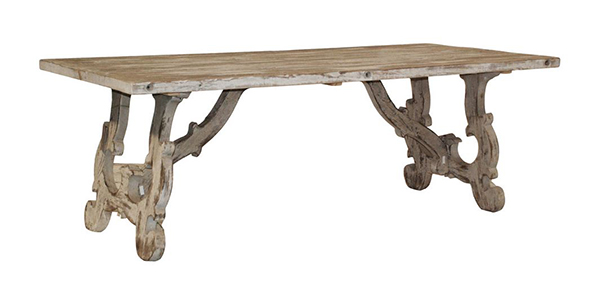 This beautiful distressed pine wood construction with its antique white finish and hand-carved detailing offers a romantic appeal for your dining or kitchen space.
7. Salvaged Wood Trestle Round Table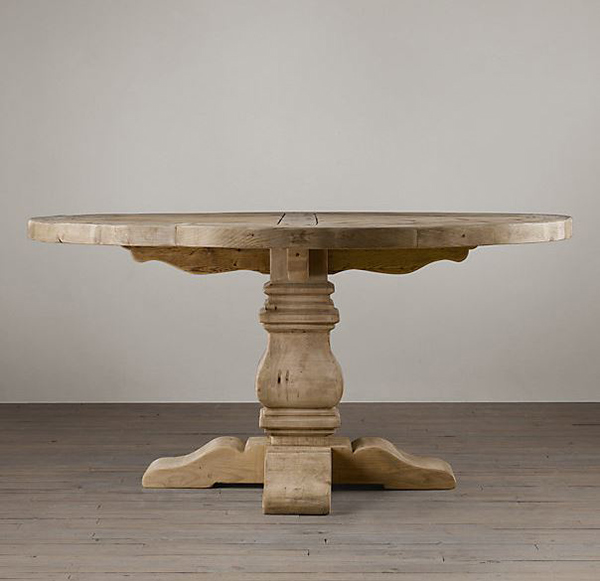 Crafted from substantial pine timbers and supported by a hand-turned pedestal leg , this handsomely distressed trestle-style round table will make a striking statement in your kitchen.
8. Carved Wood Dining Table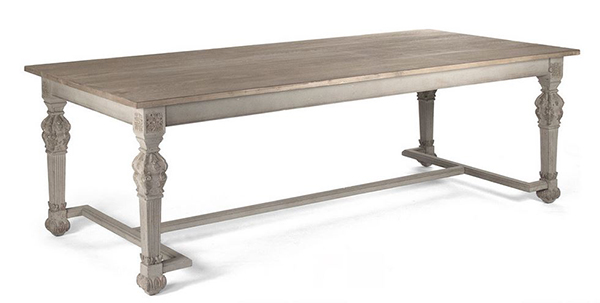 This French country farmhouse dining table has an exceptional attention to details; the intricate carvings on the table legs evoke architectural pillars. This beautiful table will bring elegance and class to your kitchen.
9. Hampton Double Pedestal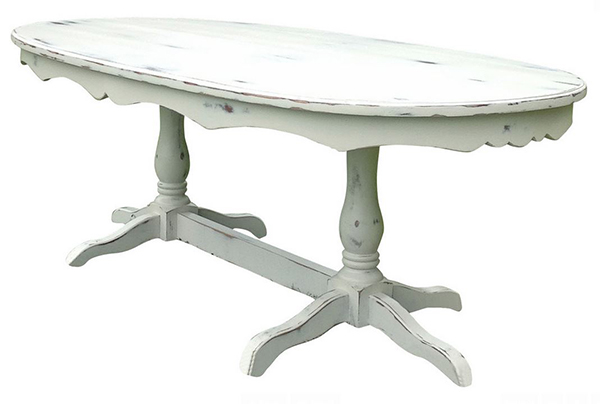 This is a perfect kitchen table to enjoy your morning coffee with! The elegant trim of this table and the distressed ivory finish exudes the French countryside and gives a feminine and dainty flair.
10. Round Detroit Dining Table With Metal Base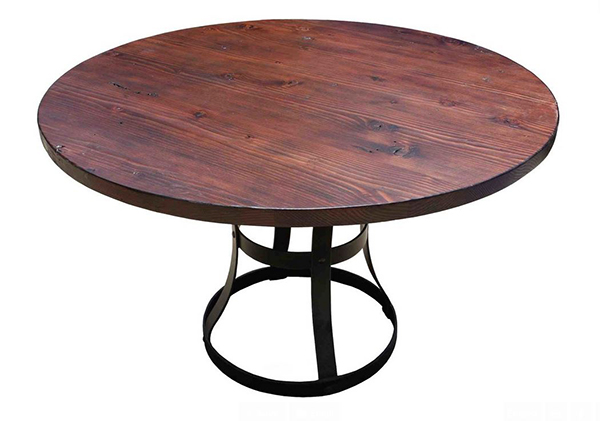 Are you looking for some punk steam style? This strapping industrial table will satisfy your crave! Its daring and distressed top, in a large, reclaimed Douglas-fir disc and the rusty, riveted base will give you a striking accent in your kitchen.
11. Haight Ashbury Table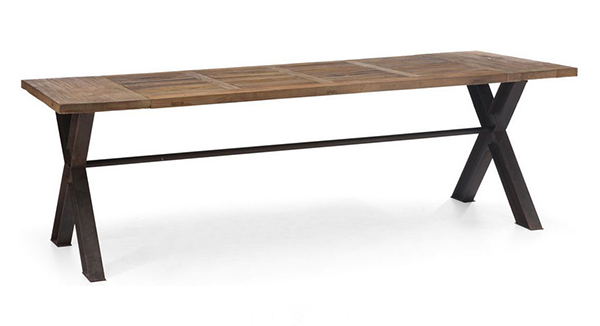 Create a statement piece with this stunning table! Its intricate elm table top design and antiqued trestle base will give a touch of contemporary elegance to your home.
12. Sumner Extending Dining Table
Simple and elegant, this table captures a rustic touch that brings unparalleled warmth to this design. Its weathered and distressed appearance makes it interesting and exude a vintage look.
13. Trestle Dining Table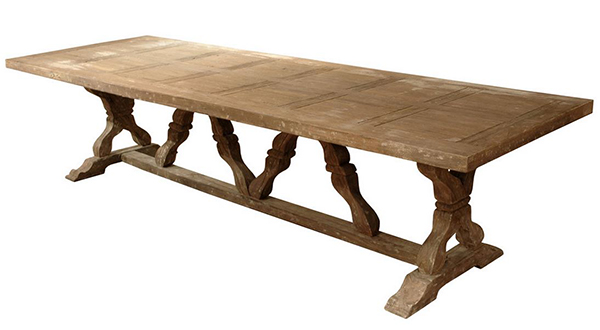 Create a relaxing and soothing atmosphere in your kitchen with this rustic charmer, farm house trestle-style table! Its top is made of reclaimed wood and its base is inspired from classic styles offering an eye-catching piece.
14. Solaire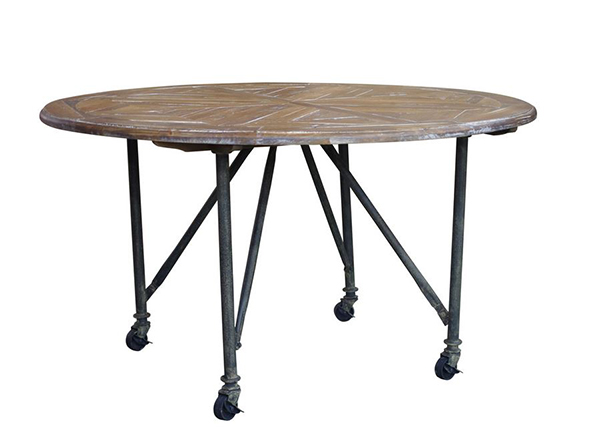 This rustic table features a sturdy iron frame with heavy duty rolling swivel wheels and a reclaimed pine made top with traces of white wash. Its imperfections add character and vintage vibe to it.
15. Gerome Swedish Gustavian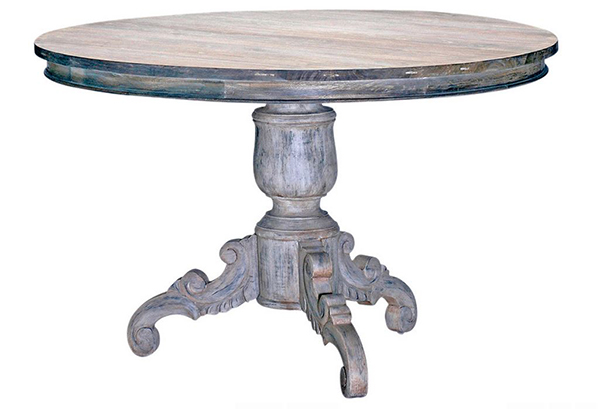 A beautiful round table with gorgeous contrasting pedestal base and natural tabletop perfect for eat-in kitchens.
16. Capra Drop Leaf Table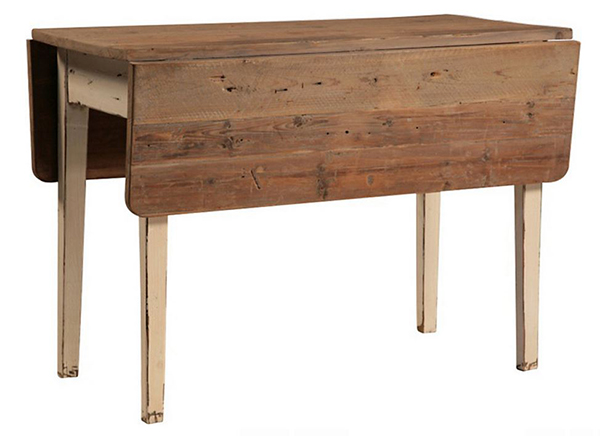 Accentuate your kitchen with this versatile drop-leaf table made from a hardwood base with a heavily distressed white paint finish and reclaimed wood tabletop finished in hand-rubbed light wax. It is great for small spaces and is sure to lend a warm rustic flair and functionality. .
17. Antiqued Celtic Table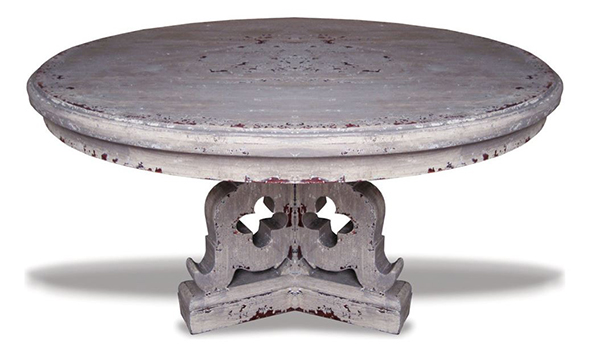 Bring a timeless piece to your kitchen space with this stunning round table in blue gray distressed finish.
18. Industrial Reclaimed Wood & Iron Dining Table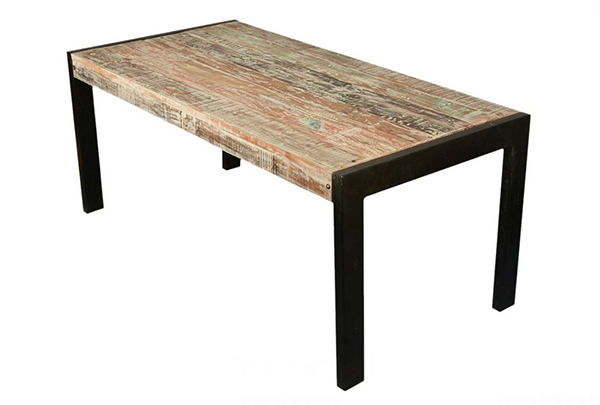 I love the fun and bold design that combines the industrial style and rustic elements in this naturally distressed reclaimed wood table!
19. Blythe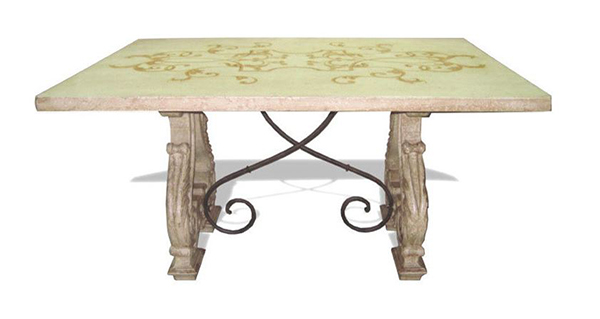 This table's charming and elegant style is perfect for small kitchen that needs a touch of vintage beauty.
20. Salvaged Wood Architectural Dining Table
This massive, hand-carved columns and thick, planked tabletop is built from a reclaimed pine, salvaged from 100-year-old buildings in Great Britain. Its stylish design is perfect for family gatherings and lively celebrations where there is always enough room for guests.
The defect-driven design of these amazing tables will definitely give any space a striking masterpiece. The beauty of the weathered and aged flairs on each of those tables add character and personality to it. The styles you see are all versatile and can fit right in to whatever kind of decor or style you have in your kitchen or dining area. Its natural beauty exudes warmth and timeless elegance that brings rustic charm. A charm that has a welcoming and refreshing tone making you feel calm and relaxed in your own space.