20 Lovely Circular Leather Ottomans
Add a lovely leather ottoman to your space to for a more sophisticated feel!
Ottoman is one of the prettier furniture we have in the market, why do I think this? Simple, it is not seen in most homes that we visit, but then again it is not uncommon all at the same time. Whenever I see an ottoman, I think to myself that this particular home is on a spending spree because truth be told, we do not really need one if we already have a furniture set with seating and a coffee or center table!
Today, we will be showing you a list of 20 Lovely Circular Leather Ottomans that are not only hip but really fancy! They have great detail and at some point you might think that they are actually looking so similar to one another but the trim that they have or the texture used in the leather is rather appealing and very much lovely. Take a look below and do check out the details on the ottomans yourself.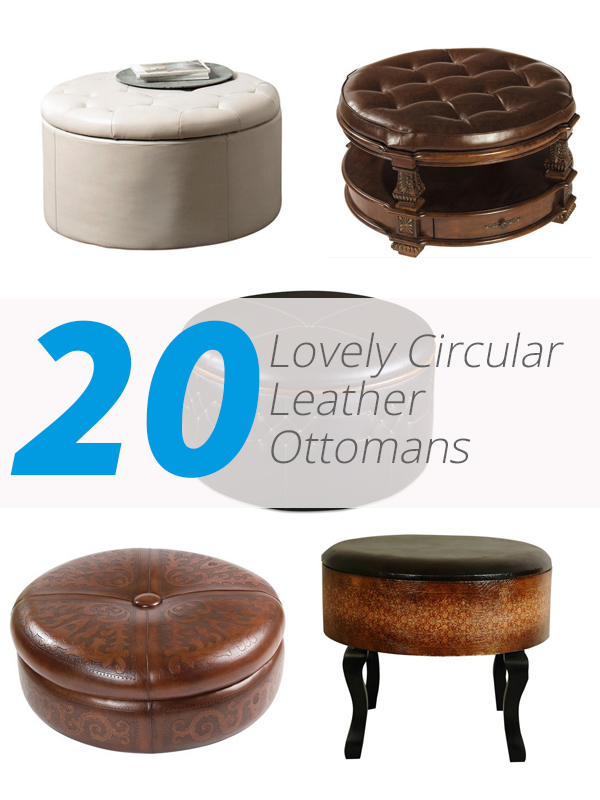 1. Giardini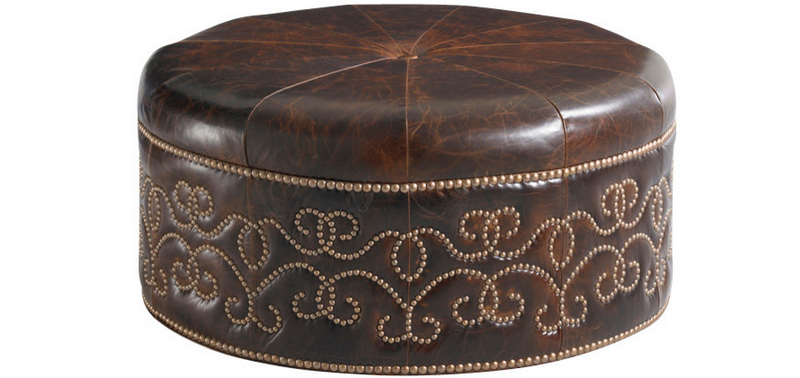 Told you about the details? Well, check this one out!
2. Leather Tufted Round 41″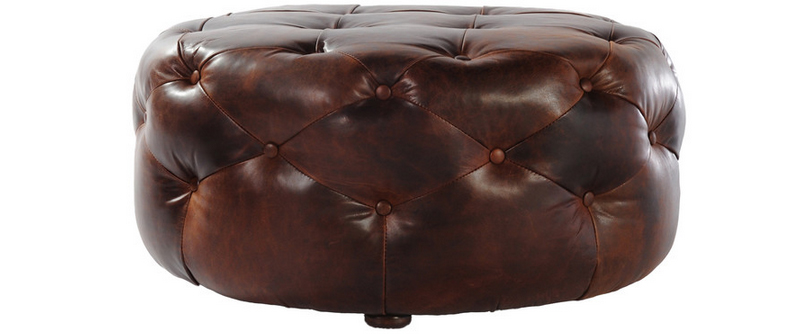 I don't know what about tufted furniture that I actually really like them.
3. Round Tufted Ottoman in Cognac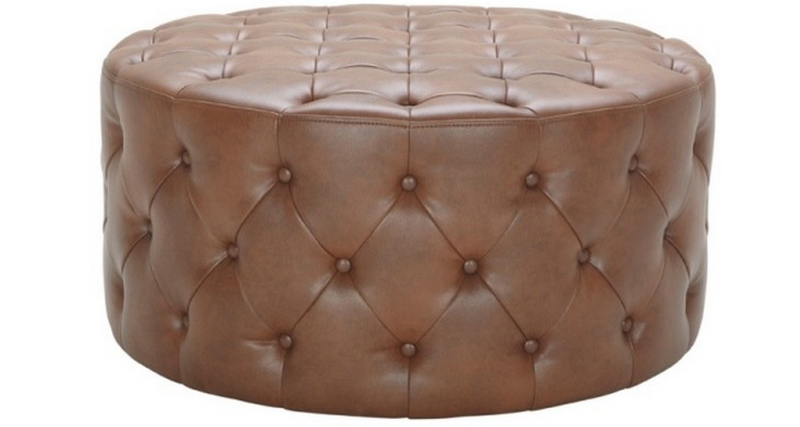 Here is another lovely tufted ottoman in a lovely color!
4. Antiqued Leather Round chair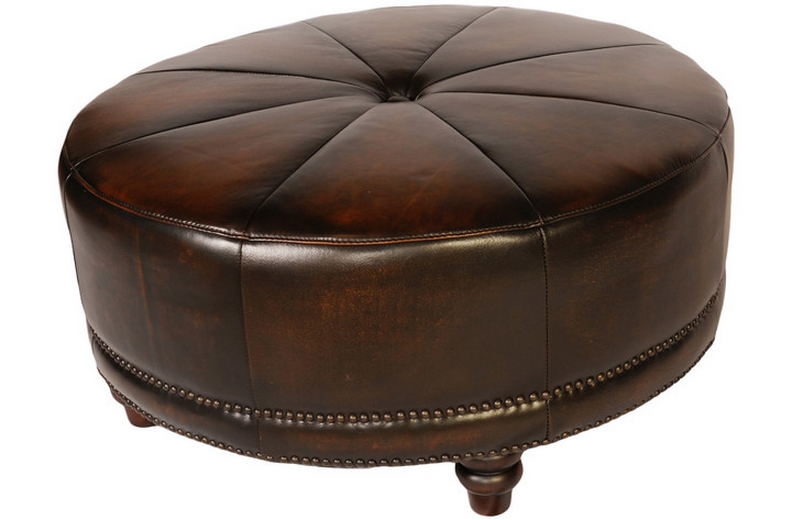 The beautiful trim on this ottoman reminds me of cake or pizza.
5. Augusta Eco-Leather Storage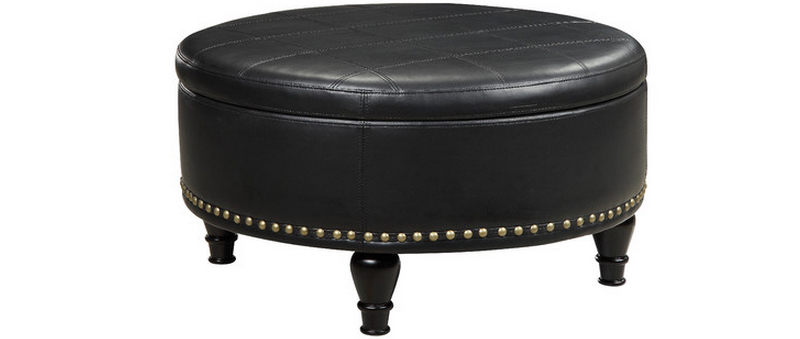 This is one vintage black ottoman that actually is an interesting one, it's eco-friendly and can be used for storage.
6. Brunner Round Storage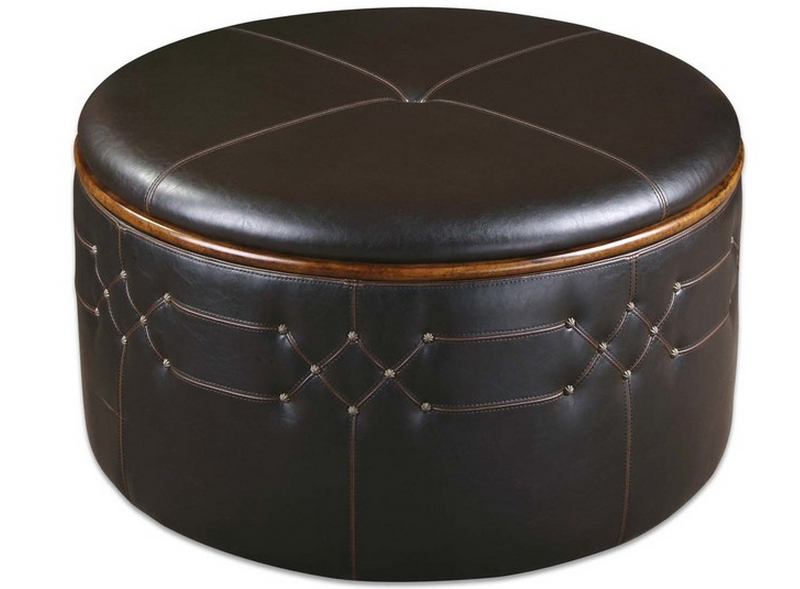 This is another beautiful round ottoman with stunning detail; it's functionality
7. Olde-Worlde in Faux Leather Finish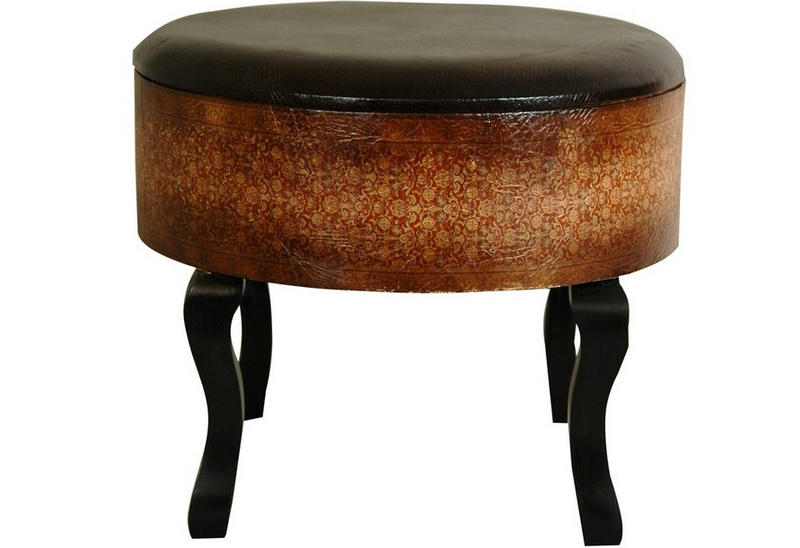 This ottoman is small, durable and solid – this is not just pretty, it is functional.
8. Seville Faux Leather and Nailhead Trim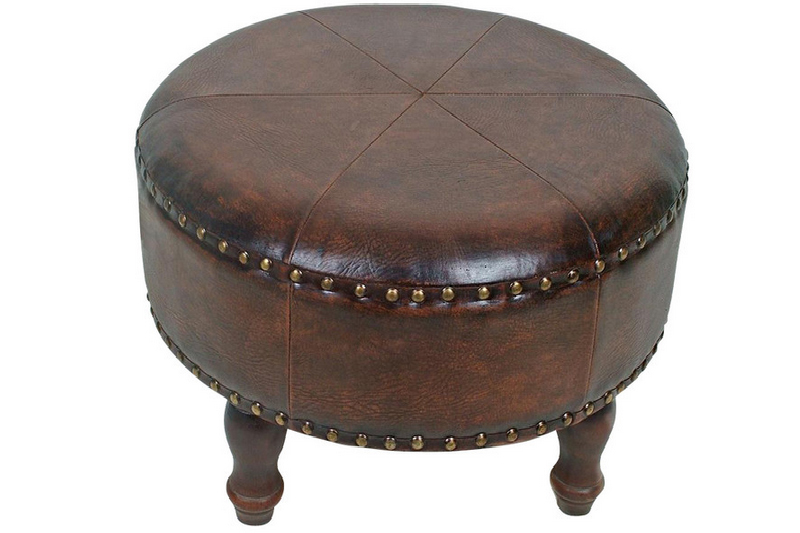 Ottomans with legs is fascinating, because it can always pass for a stool, but still serve as a table.
9. Colonial Round Hand-Tooled Leather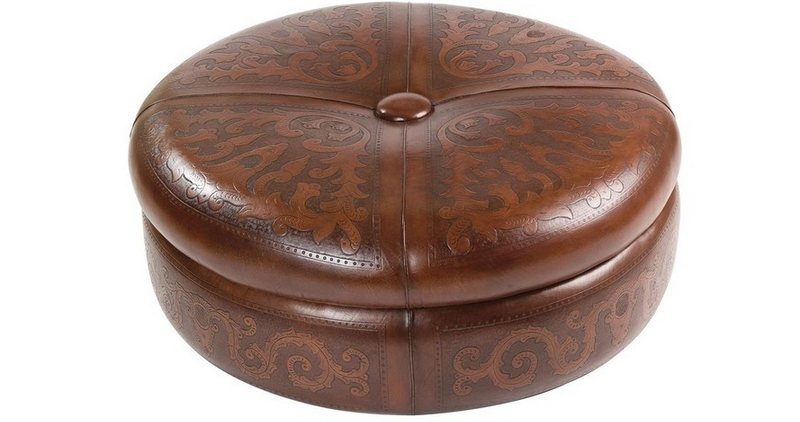 This is one of my favorites in this list, because there are a couple of them; it's all in the details, guys!
10. Tufted Leather

Lazzaro Leather, if you check out their website, you will see a lot of tufted ottomans which I think you'd like.
11. Victoria Ivory Bonded Leather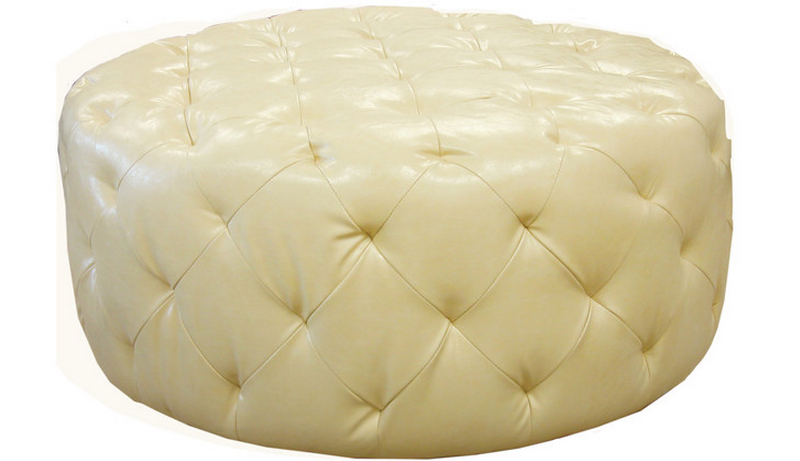 Want a comfortable, stylish and relaxing ottoman? Check out this one from Armen Living's Victoria Collection.
12. Black Leather

It's black, it's leather and it's pretty awesome! Even men would actually love this!
13. Landen 5 Piece Round Leather Cocktail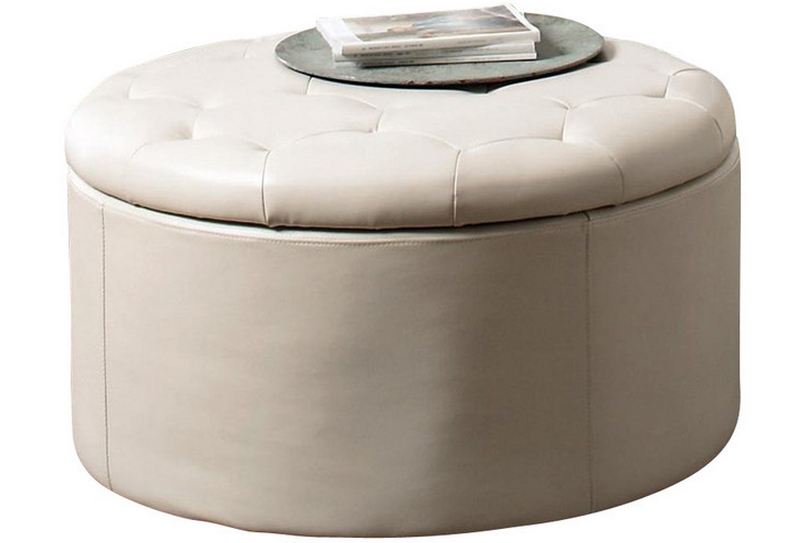 You can definitely complete your living space with this lovely cocktail ottoman. This one comes in a black and white too!
14. Claudia Leather Cocktail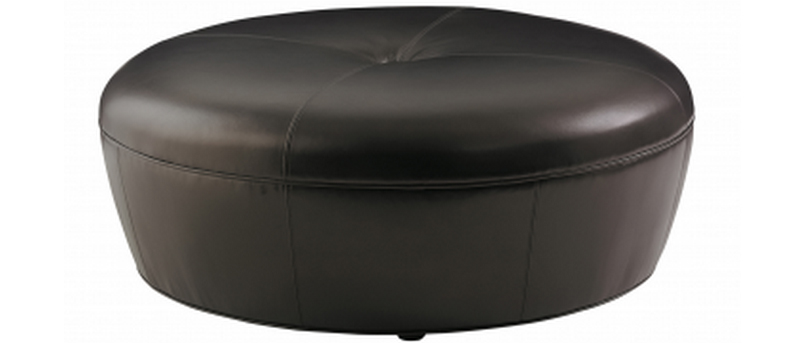 This ottoman looks like floppy bread you can get both in the grocery or in the bakery.
15. Sicily 17″ Round in Brown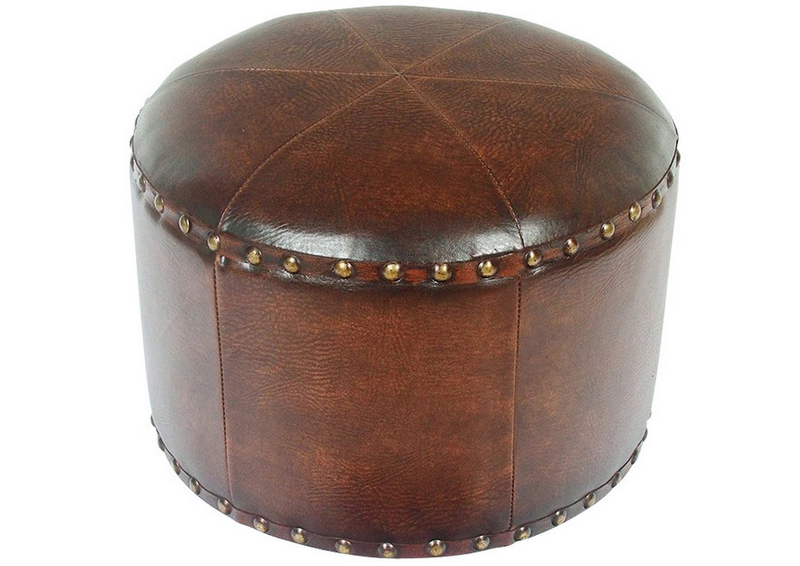 This small ottoman has a lovely vintage color that would work for any living room.
16. Dana Round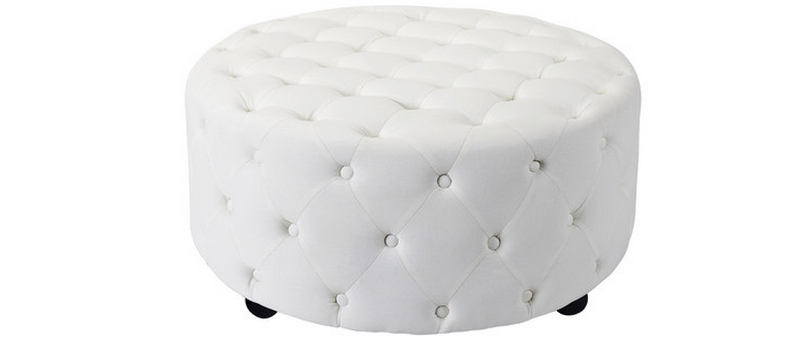 White colored furniture are so dainty, you have to be careful in handling them, especially if it's leather.
17. Armfield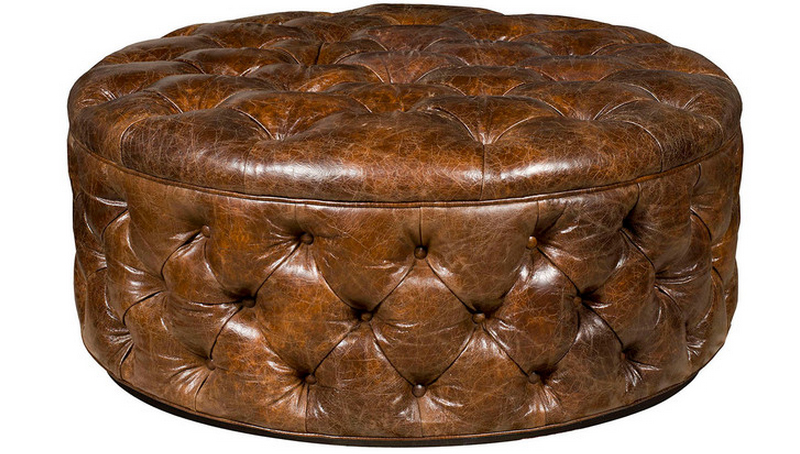 This ottoman is made from crackle java leather; I can't be certain with the color of this one but it's rustic look, this will be great for mid-century or rustic spaces!
18. Marcos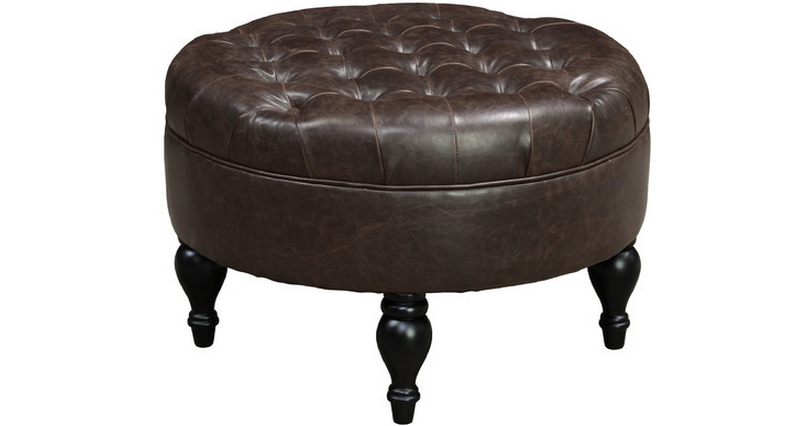 Ottomans like this (the ones with legs this gorgeous) is really special and classy.
19. Westminster Table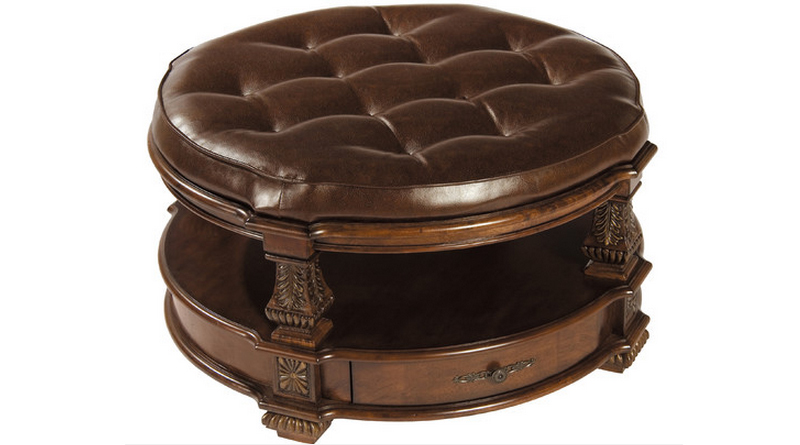 This furniture works as a table, a drawer and an ottoman! This is something I think would work for traditional to rustic homes!
20. Winston Storage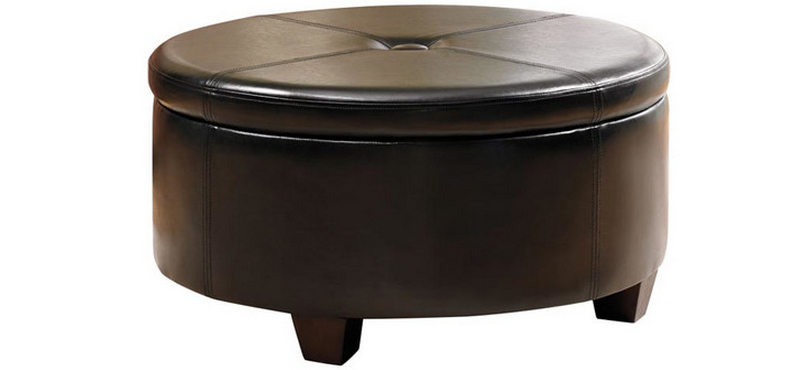 I know of a kid named Winston and I'm sure that he'll love the design of this storage design!
How do you like the 20 Lovely Circular Leather Ottomans? Some of the ottomans that we have featured in this list are multi-functional – they are not only plain ottomans but there are tables and can be used as storage for you to use at home to save space and keep things close to you.