20 Designs of 42″ Round Pedestal Tables
In every setting, a table gets the most attention. May it be in a patio, poolside, living room or dining room; it is the first to be seen because it is where the sumptuous snack or meal is served and gets eaten. The fact that you and your family uses it every day and your guests will most likely be entertained with it, choosing a stylish and durable table should be considered. A quality table that expresses your personal taste is worth investing for.
In searching for the right table for your home, you may have seen a lot of lists showcasing random designs and touches. Tables differ from styles and sizes. It vary according to its use and design. In today's article we are only going to show one kind – 42 Inch round pedestal table designs. This kind of table is good for small dining spaces and outdoor decor. Take a look at these 20 42 inch round pedestal table designs.
1. Saarinen Dining Table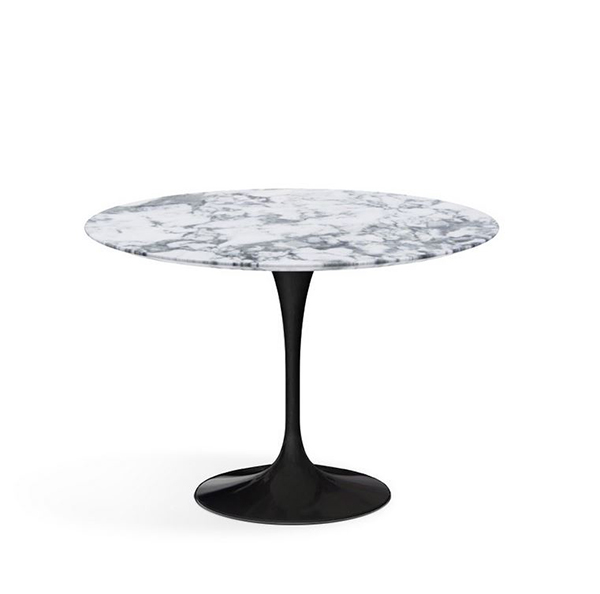 This 42 inch round dining table seats four people and is sure to add texture and modern vibe in your dining space.
2. Lexington 42 Inch Round Table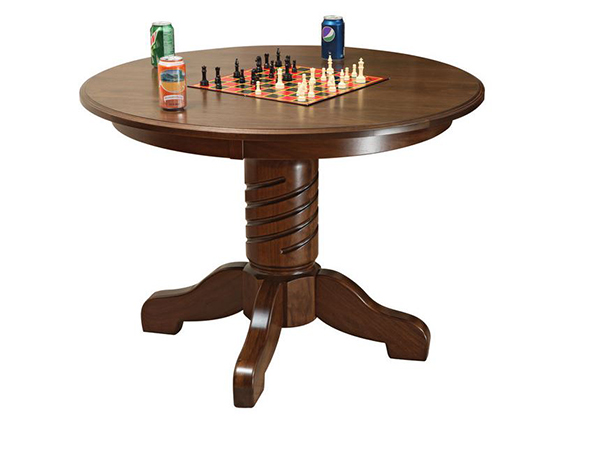 Add style and elegance in your traditional or contemporary home design with this charming wood table.
3. Arcadia 42″ Round Pedestal Table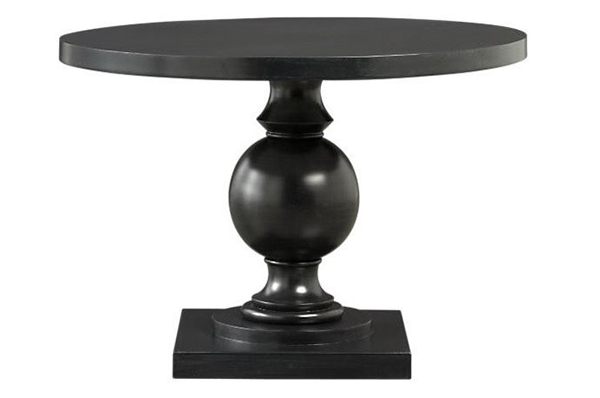 Grab your guests attention with this stylish, made of steel pedestal table. Its sturdy look is sure to withstand the long years of usage and its beautiful design will lend drama and sophistication to any space.
4. Winston 42″ Round Molded Melamine Pedestal Table with Umbrella Hole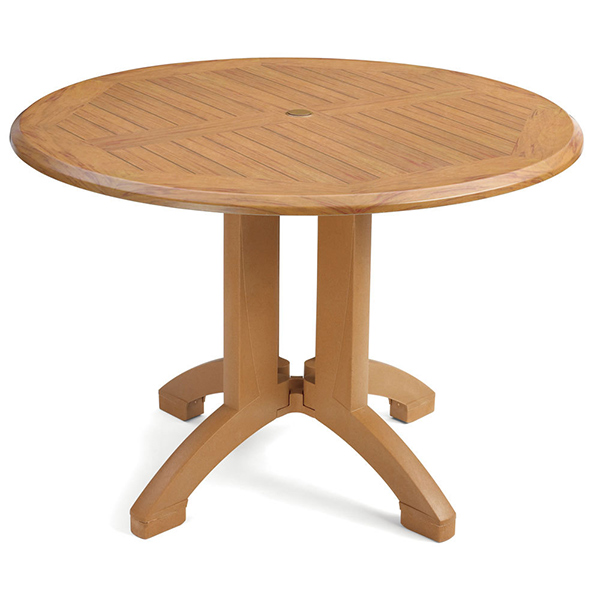 This teak, round table brings a relaxing and soothing appeal to complement any poolside, outdoor cafe or patio.
5. Hampton Pedestal Dining Table
This charming 42 inch round table is sure to bring understated elegance to your home.
6. The Francesca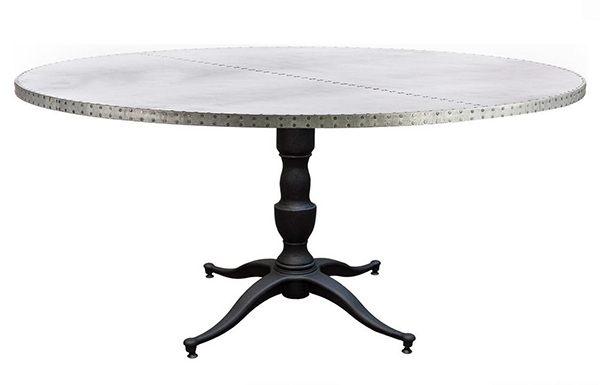 Get this unique focal piece and bring some industrial touch to your dining room. Its time worn look and cast iron pedestal base in matte black is a sophisticated addition to your industrial home decor.
7. Darlee Outdoor Living Series 60 Cast Iron 42 Round Tea Table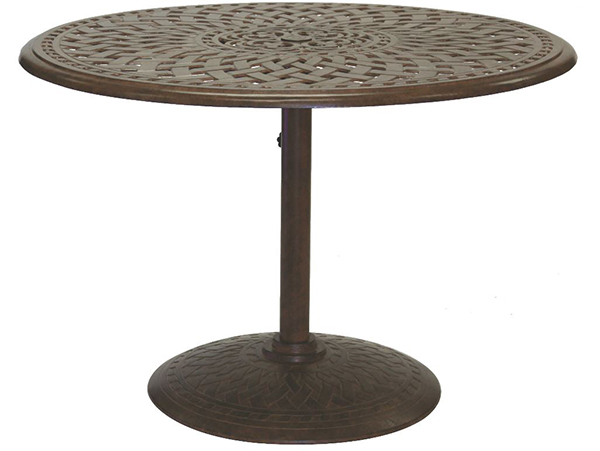 Bring class and elegance in your outdoor decor with this cast iron table.
8. Julia Dining Table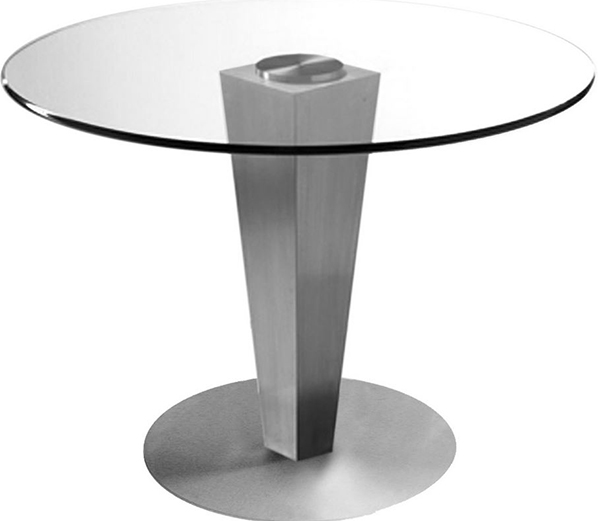 Add a simple and stylish touch to your dining space with this modern dining table design. Its stunning clear finish creates a futuristic flair to any modern home settings.
9. The French Countryside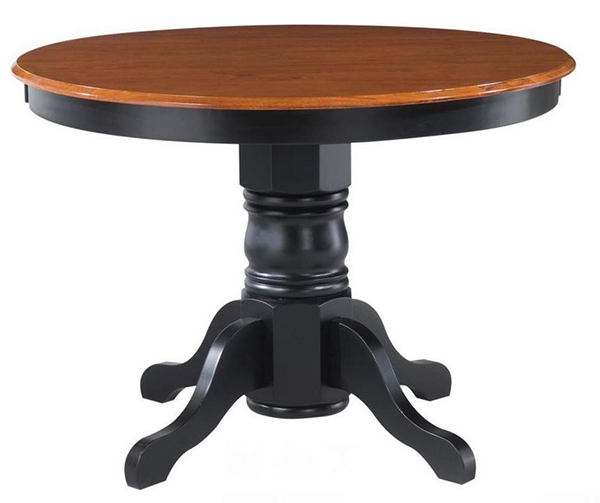 Accentuate your country-styled dining room with this charming and elegant looking 42 inch round pedestal table. With its French leg design and rubbed finish, it is sure to bring warmth and sophistication to your home.
10. Marble Tulip Dining Table 42″
Create a dreamy and inviting dining room with this marble top supported by a flared, white-coated pedestal base dining table.
11. International Concepts Round Dining Table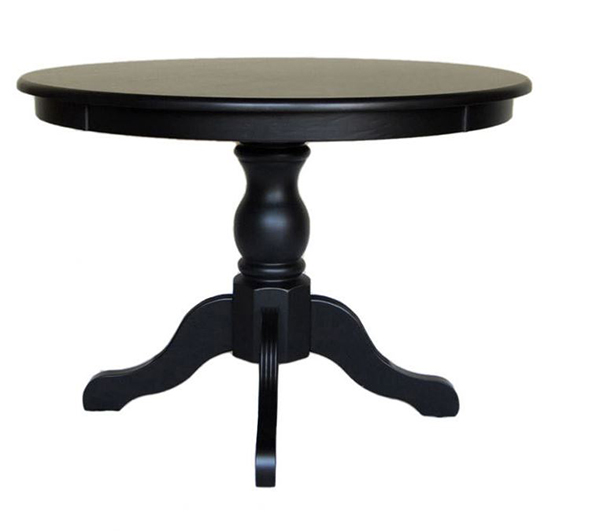 This round dining table in black is sure to give your small dining space a punch.
12. Abbott Place Round Drop Leaf Pedestal Dining Table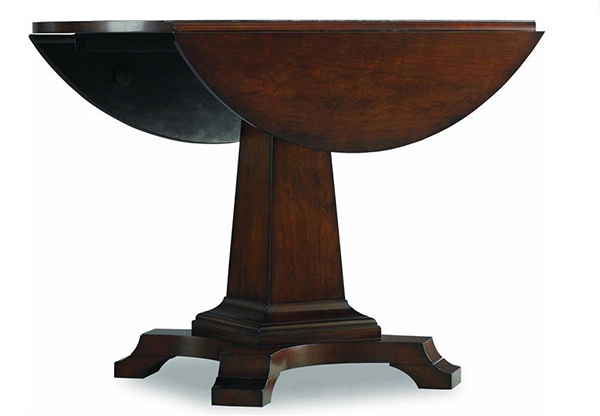 The concave shaping on the round drop leaf pedestal dining table creates a fresh twist on traditional look.
13. International Concepts Round Dining Table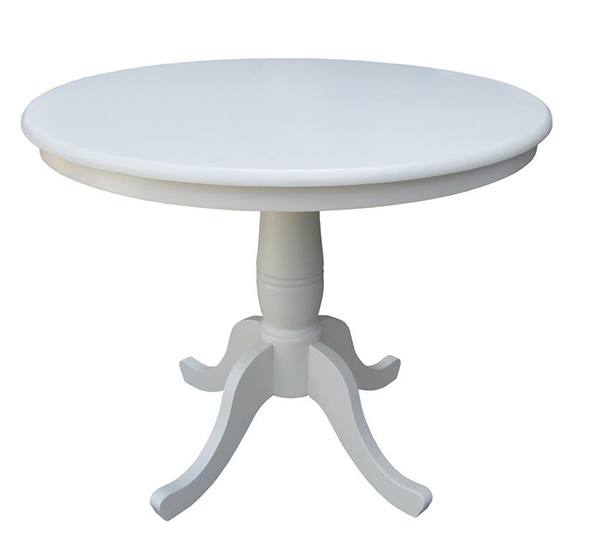 Get a feminine and elegant look in your home with this charming, white pedestal table.
14. Hudson Round Pedestal Base & 42″ Top
The Dark Walnut finish and Antique Rub Taupe striping of this pedestal table bring warmth and gorgeous style to any room settings.
15. Waverly Place Round Pedestal Table" D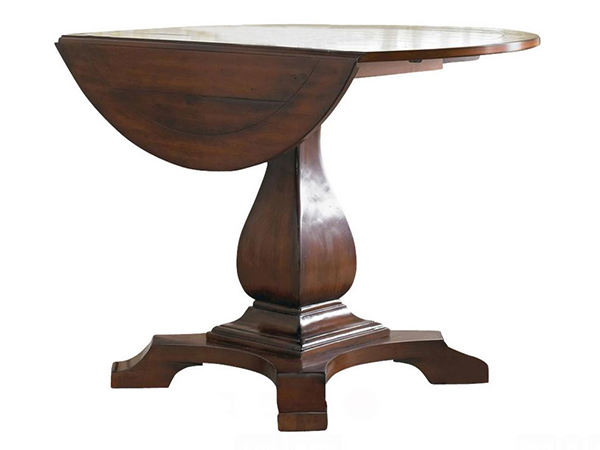 Add a touch of timeless elegance with this drop-leaf pedestal table in cherry veneers.
16. Turner Center Table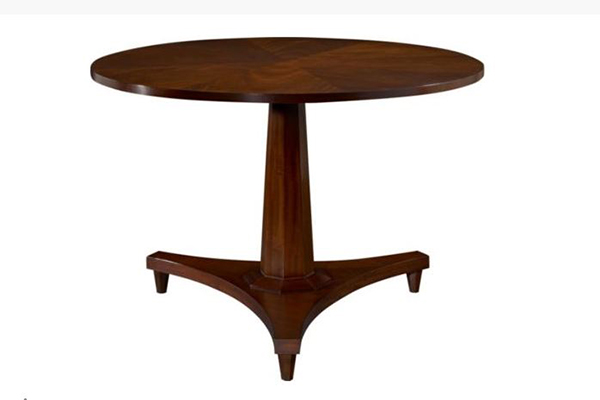 A stunning mahogany top resting on a faceted pedestal base with three elegantly tapered feet make a stylish contemporary table for a small dining space.
17. Eastridge 42in. Pedestal Pub Table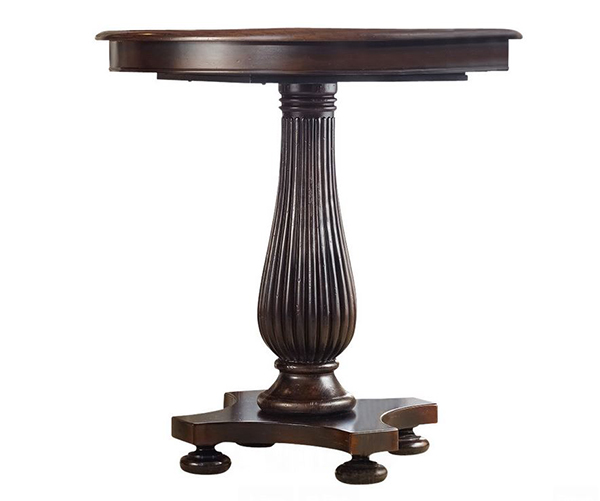 Allow the majestic beauty of the Eastridge table warm your home with its hardwood solids and cherry veneers.
18. Stockholm Industrial Modern Solid Wood Round Dining Bistro Table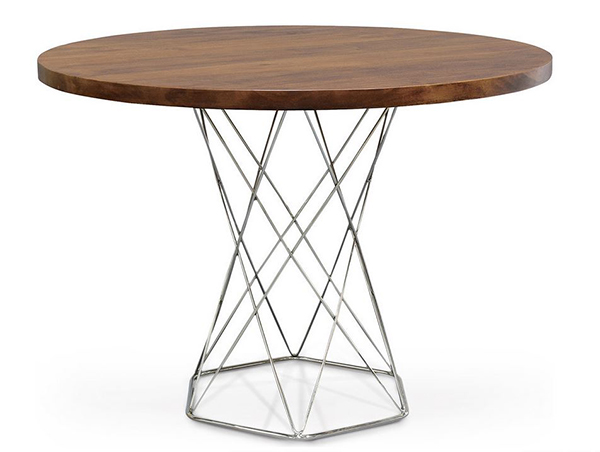 An open pedestal in polished stainless steel supporting a round hardwood tabletop makes a unique and stylish modern, Industrial Loft dining table.
19. Brynmore, Round Table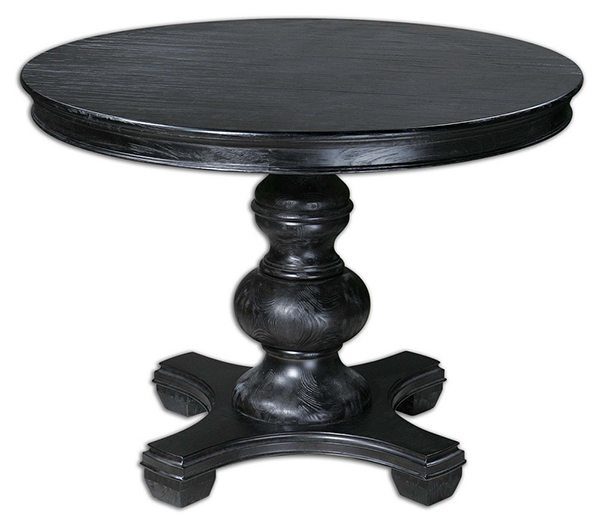 Give your home an instant elegant appeal and sophistication with this round table in satin black finish with subtle Pine Wood Grain.
20. Round Pedestal Dining Table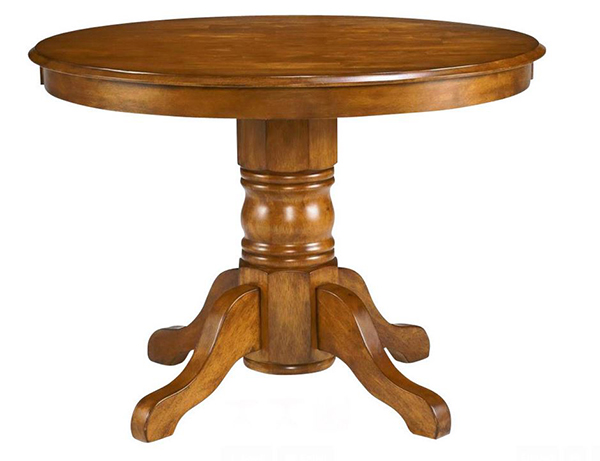 This country-styled round table with its oak stain finish and classic embellishments is sure to bring old-fashioned warmth to your transitional or traditional homes.
A 42 inch round pedestal table is fitting for small spaces. It can be a stunning addition to a small dining space, or it can be a large accent table or a center table for your living room. There are a lot of gorgeous style and touches to choose from. Create an inviting and a beautiful space with these 20 42 inch round pedestal table designs.