22 Contemporary Square Fire Pits for Your Outdoor Space
Want an edgy look for your fire pits? This list is the one you need!
Today, we will have a showdown of fire pits that might impress you. Well, we can't say that they are all grandiose or whatever since these are contemporary fire pits that we will be showing you, you might have seen one in your local home depot or those specialty stores that sell outdoor furniture and decors, but their designs are quite special and unique that we really find them interesting. In our country, we do not really have a lot of this because of the tropical weather that we have here – although of course for the cold areas in the country, people have fire places and fire pits too; but that's quite the minority.
The first time that I personally saw a fire pit is when my friends and I were in the beach and we wanted to hang out by the shore and scare ourselves with ghost stories – one of my friends made a hole on the sand and inside it he placed dry wood to burn to create a huge camp fire of some sort – now, nobody sees this everyday unless you live by the beach, right? Anyway, so much for that – check out the list below and tell us which one do you actually have at home!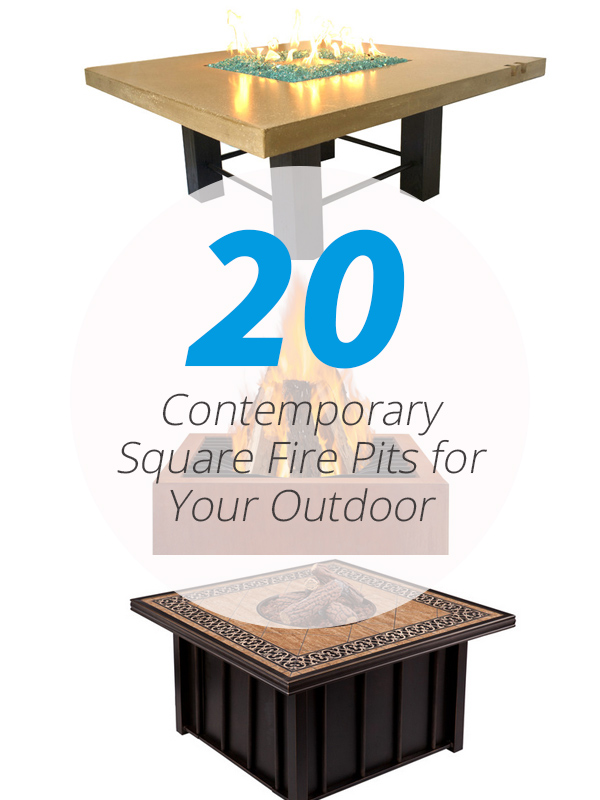 1. Square LP Gas Fire Pit w/ Tile Mantel

This is one rustic fire pit that will surely look great in your patio or your outdoors. The screen base is quite neat and looks a bit Asian, maybe it's the color, but it does have an old look to it.
2. Sierra Fire Pit Coffee Table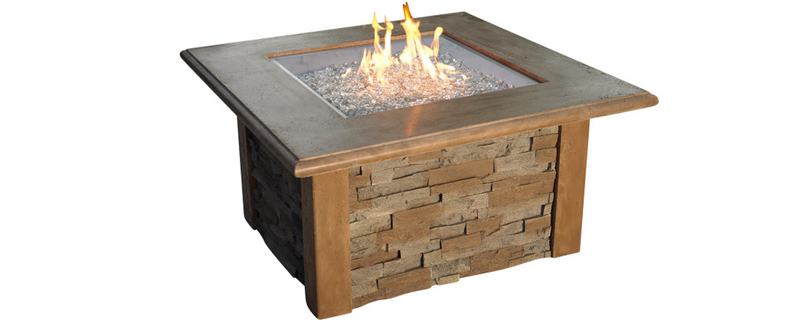 Sierra is a fire pit that has bricks as its base and a tile top. The color of this fire pit in what seems a coffee table height seems simple and brownish and can pass for a traditional type of a fire pit.
3. Lawson Outdoor Brown Sand Ceramic Tile Fire Pit

Now I like the color of this fire pit – it somehow looks similar to a tile roofing I once saw ; plus it has the fire pit which looks like a chimney of some sort if you imagine it looking like that.
4. Concrete and Glass Fire Pit

This is definitely one gorgeous fire pit – the color of the top is just awesome – it's supposedly concrete and glass but the color just looks like it's gold plated or something.
5. Outdoor Fire w/ Steel Mantel

If you saw the body of this fire pit, you see how the weave detail on it is actually really pretty – the steel material used on it sure is neat and painting it black made it more stunning than it already is.
6. Lattice Fire Pit w/ Slate Top

Notice the lovely slate top in lattice? The color combination is actually pretty and quite a usual – still, you can always see how this combination works.
7. Hampton 30-in Outdoor Slate Fire Pit

If I am not mistaken, this fire pit is in the height of a coffee table that means that you can easily use this as one when the fire pit is not in use. Although of course the area is only minimal, you have to be careful of spills and whatnot.
8. Agave Corten Wood Burning Fire Pit
Now this is one beautiful fire pit, something you can easily cook smores in anytime. The concrete material on this makes it hard to move around since it is heavy, but still doable – that mean, in a way, this is one portable fire pit.
9. Propane Fire Pit w/ Antique Bronze Finish

This is one fire pit that looks like a gas range. I am not certain of its height, but at first glance it looks like a gas range right? Of course this is most likely the height of a table for it to be used to heat the people around it.
10. Parkway Square Fire Pit Table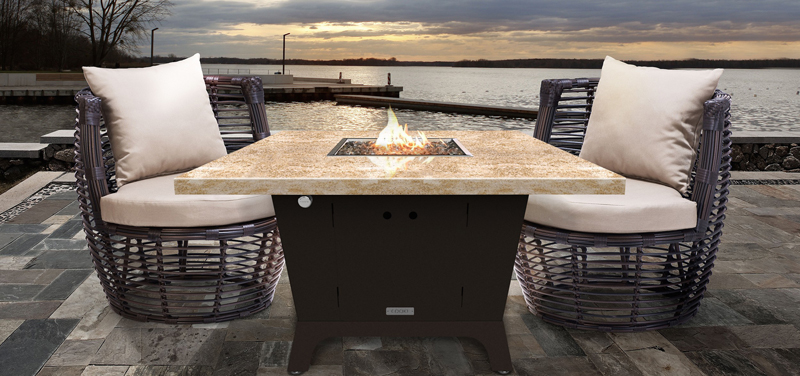 This is one example of how a fire pit can make one's patio or outdoor space prettier and more comfortable in times like this – when you just want to hang out outside and chill with your friends and loved ones.
11. Bradford 34-in Outdoor Slate Fire Pit

Bradford is one multi-functional fire pit; this comes with a cooking grate, so you can always cook your barbecue in this one while you and your friends are actually around it and chatting your hearts away!
12. Marble & Slate Table Wood Burning Fire Pit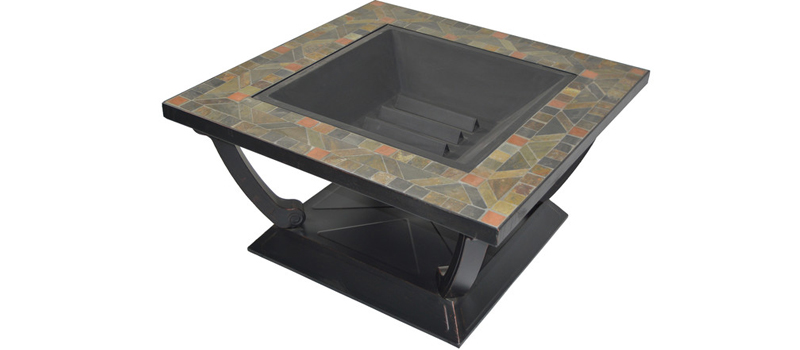 The details of this marble and slate fire pit are quite lovely. Take a closer look at the tile work and tell me how you find it. The legs of this fire pit is also really contemporary – if in others we see mesh surrounding the legs, this one has an open lower portion; a perfect place to keep the wood that you will be using later on.
13. Napa Valley Square Fire Pit Table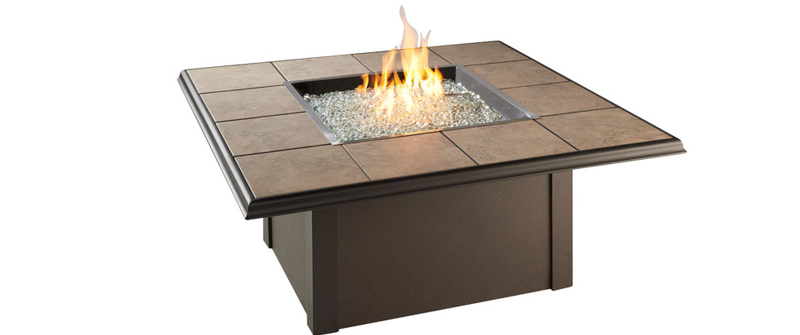 This square fire pit is quite a beauty. The tile works is simple but really stunning – like that of a classic floor work that people can easily fall in love with. I wish the corners are safer though especially for families who will buy this one and have kids. Well, hello baby proofing!
14. Santa Barbara Square Fire Pit

Why this Santa Barbara fire pit is really one beautiful hot piece! Pun intended. The shiny top complements very well with the black bottom. Cooke sure did a good job on this one.
15. Crossfield 36 in. Slate Fire Pit

Crossfield is one interesting fire pit because of the look it has for its body. The traditional look with a contemporary approach makes it one valuable piece of outdoor furniture.
16. Tundra Outdoor Fire Pit

Whenever I hear the word Tundra, I usually think about thunder – this fire pit does not resemble thunder in any way, but it's cool look and feel can easily be an understatement for this fire pit being the bomb!
17. Aidan Outdoor Gas Fire Pit w/ Tile Top

Aidan may have a rustic look to it because of the color and the detail on the top of this fire pit but the bottom material and color gives it a more contemporary touch to it. Notice the classy details on the tile work?
18. Gas Fire Pit w/ Slate and Faux Wood Mantel

Well this fire pit has that neat glow to it because of the combination of the material it has to it – of course that it's faux wood, but thinking that this fire pit has slate, steel and wood makes it one interesting pit.
19. Grab 'N Go 26-in Outdoor Wood Burning Fire Pit

This is one fire pit that actually looks like a cooking grill already – although I bet this one can easily be used as a grill, this fire pit would be a smart but because it's portable and multi-functional and will surely complement any outdoor space.
20. Phat Tommy Propane/Butane Fire Pit

Here is one brown-colored fire pit that looks like your ordinary lavatory. Haha! Just kidding, although did you notice that it has a cover that when not in use, whoever owns this one can actually use it as a table – either a coffee table or a dining table – I'm not really sure though.
21. Square Fire Pit Table
If you have seen the other list we have created of circular fire pits, you might remember that we have one in there that has this similar fire cover. It actually looks really sweet that it's really beautiful. Well, that's what I think though.
22. Baltic Natural Gas Square Fire Table

Here is another concrete type of fire pit; this is the second one that we have in this list – although this one looks very much in its natural state. The color is great and I'm sure this one looks as great in black, but this one seems to be rather appealing.
Now that was one awesome list of fire pits! This lists are great for people who actually love their outdoor spaces and like hanging out in them. It is not necessary of course to have a fire pit because you want to hang out in your patio or whatnot, but having one seems to make your space cozier and fun! What do you think?