20 Fire Pit Designs for Your Gardens and Patios
Outdoor spaces are very much important part of the house. It is the area of your house where you can be closer to nature. It can also be a very functional space during parties and gatherings. Because of this, you must always design your outdoor spaces beautifully and accordingly.
There are many ways on how you would beautify your outdoor spaces like the garden and patios. There are many decors that you can put to add a glow that your outdoor spaces needs. One example of a decor that you can consider installing into gardens and patios are the fire pits.
Fire pits are also called as fire hole; they are usually hollowed out in the ground that holds gas with burning structures of stone, bricks and metal. Fire pit is different from a fireplace. Fire pits are commonly built outside and are enjoyed by plenty of people. Unlike the fireplace that is installed inside the house usually enjoyed by two persons and adds a dramatic feel to living rooms.
Contemporary style of fire pits are made mostly out of metals and stones and are used with fire burning woods and gas. This is a very effective decor that would make the entire area of your garden and patio very glowing during night and outdoor parties.
1. Centerpiece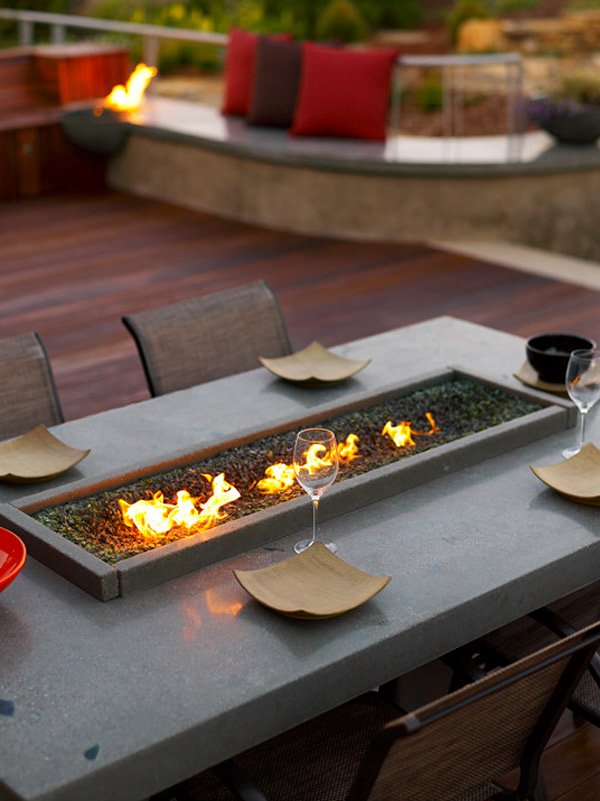 Instead of the usual centerpieces try to incorporate your outdoor tables with a fire pit.
2. Ranch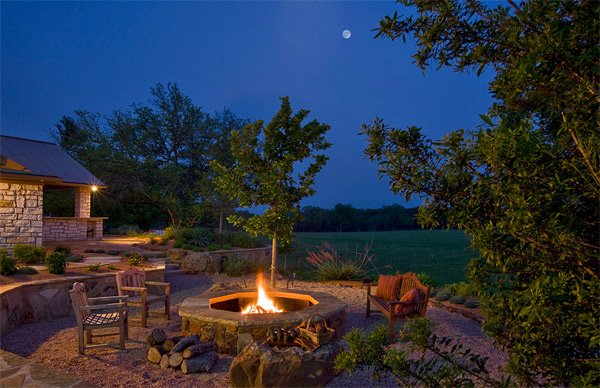 Gather your family and friends around this fire pit for a more enjoyable conversation.
3. Patio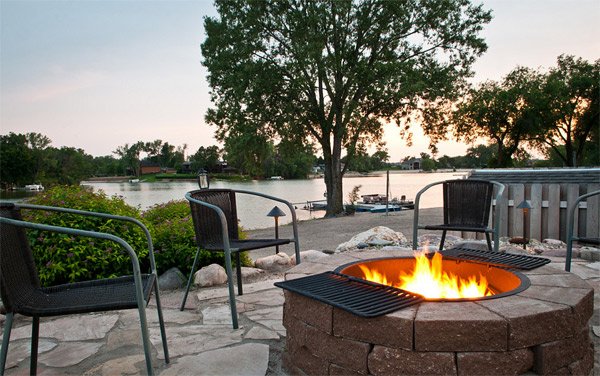 Fire pit for grilling! Toast marshmallows with your friends and enjoy the sunset view from the lake side.
4. Mediterranean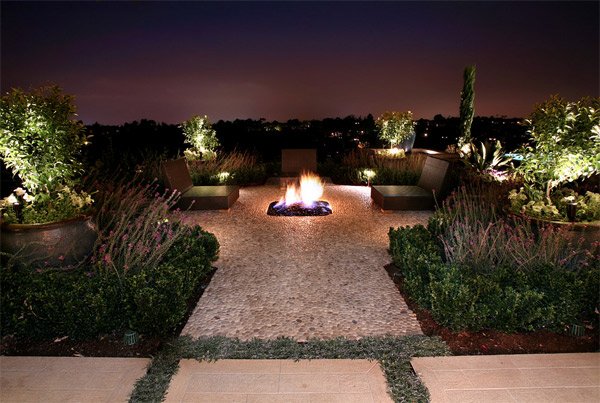 Look how dramatic your place will be! You can sink it in the ground surrounded with stones, pebbles or any choice of flooring to give it a sleek landscape.
5. Bench Spaces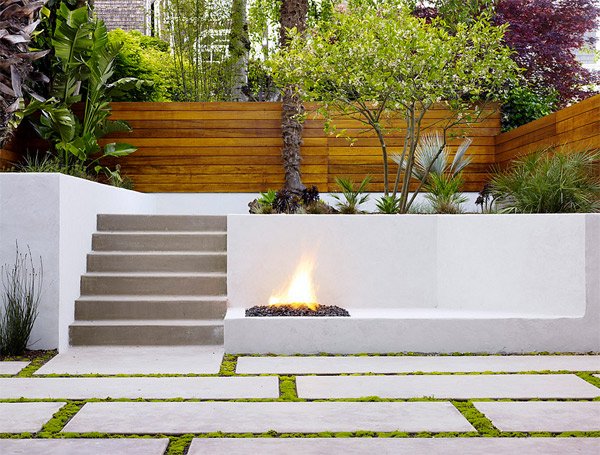 Make use of spaces in your garden, converting some retaining walls into benches with fire pits at the side.
6. Fire Bowl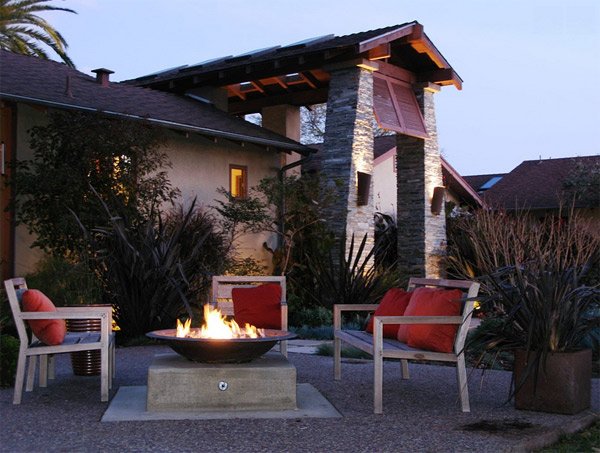 Bring the heat higher by placing it in a pedestal, easy access for warming chilling hands.
7. Fire Fountain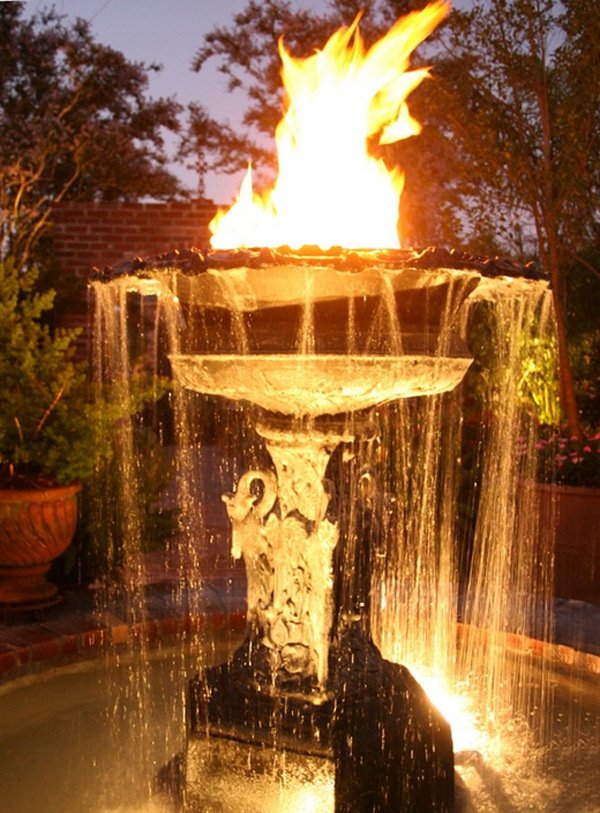 Expect the unexpected! Have an idea of a magical garden with an effect like fire floating in water.
8. Au Naturel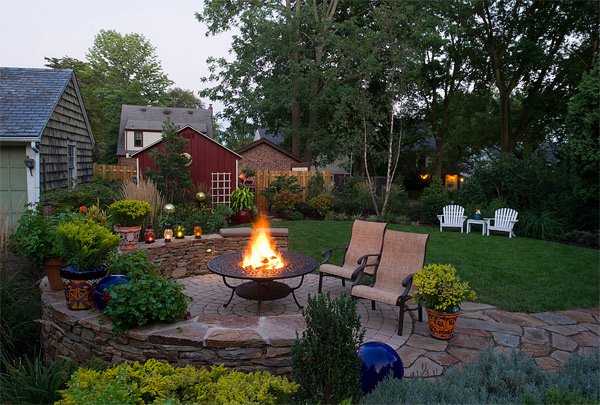 Get an experience just like camping trips and bonfires on your gardens without sticking smells of fire on your hairs and clothes.
9. Curves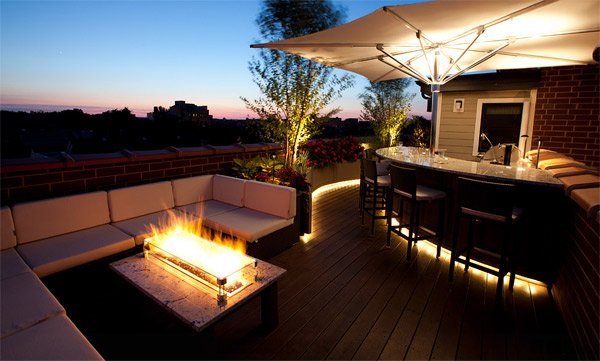 Rooftops must also get a good looking ambiance. LED lights are in perfect combination with a fire table.
10. Round It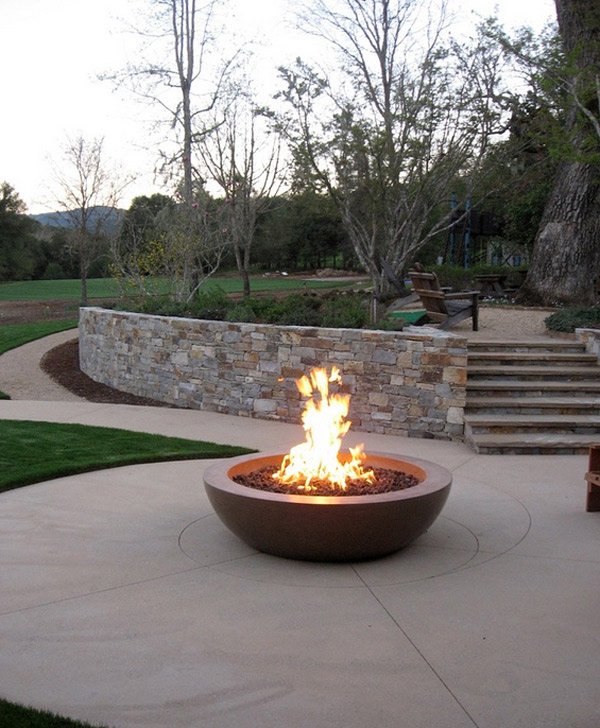 Create an eye-catching piece for your patios; place at the center a large and rounded container filled with rocks and glass.
11. Fire Table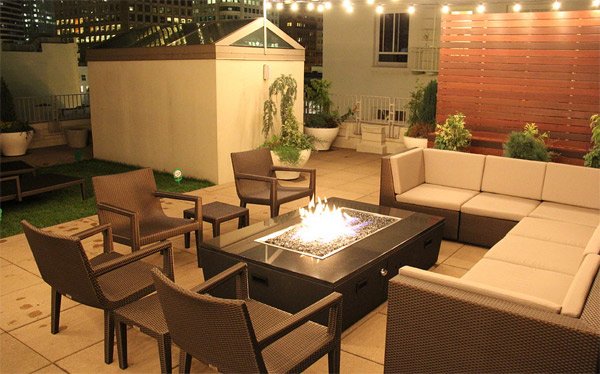 A fire table would be a focal piece for your planned outdoor party, install it with forced air heater to blow hot air to keep the area warmer.
12. Concrete Fire Pit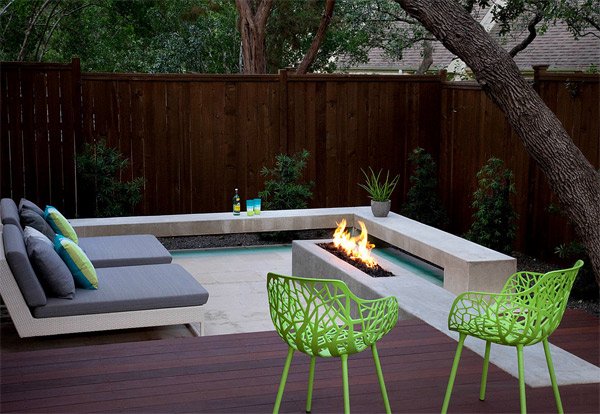 Make your spaces more relaxing; together with lounge chairs, benches and with a concrete fire pit filled with black lava rocks.
13. Built-in Fire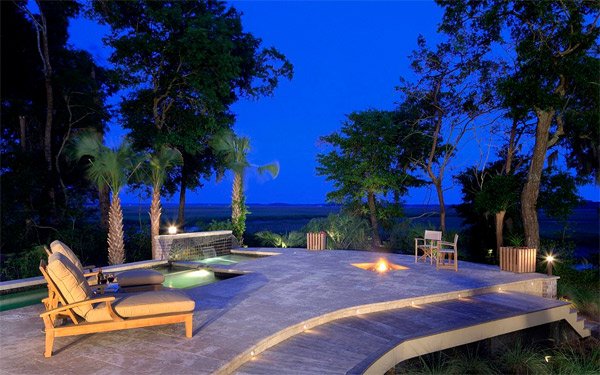 There is always an enchanting feeling when water and fire are mixed.
14. Counter-height Fire Pit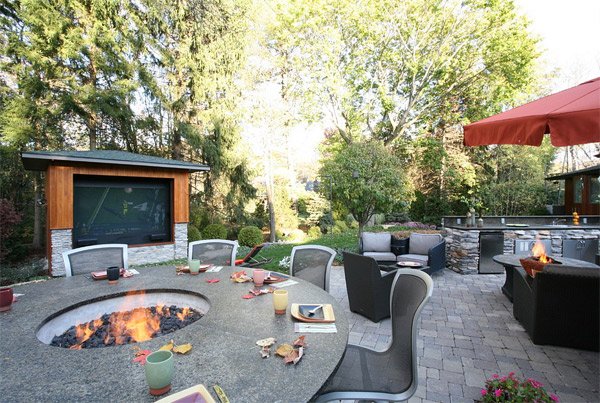 Enjoy your day in your own outdoors, you can invite friends or just gather your big family around a counter-height table fire pit.
15. Deck Ardent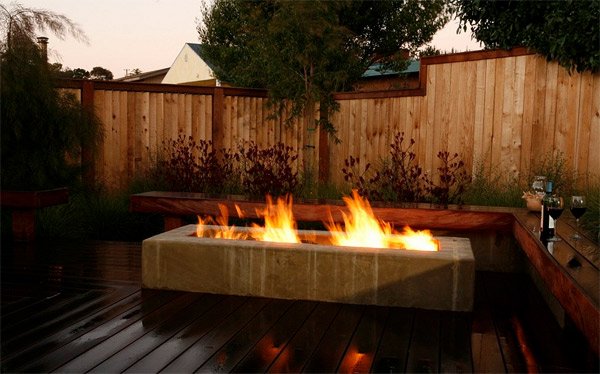 Surely those feet and hands of your guests would not get cold with a long rectangular fire pit occupying a corner of a banquette seating.
16. Fireside in Pool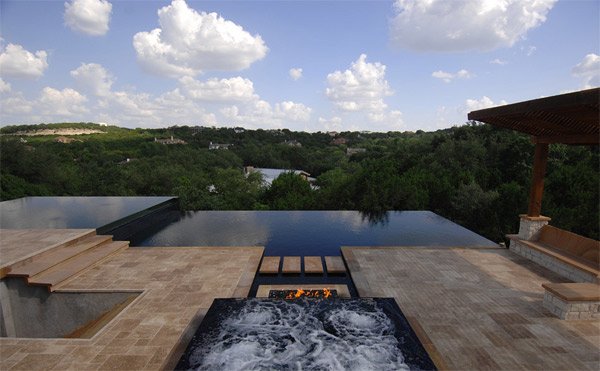 You'll never get cold in here, after a bath from the hot tub the fire pit will keep you warm.
17. Square granite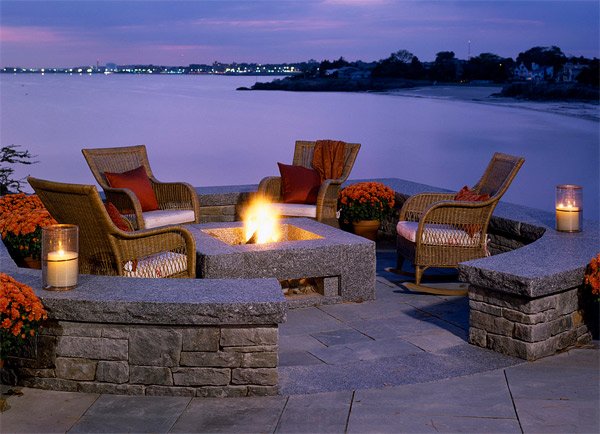 Isn't it romantic? Over viewing wide scenery with fire accent; a perfect spot for couples who plan to have a dinner date.
18. Dig a Pit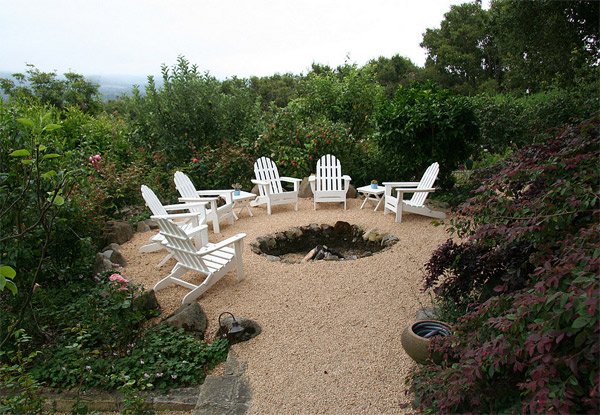 To be more cautious. Dig a pit for a fire, forming a nature ambiance and surrounded with gravel.
19. Coal Harbour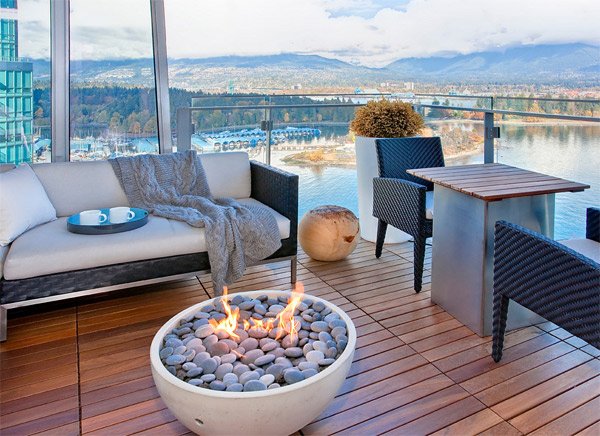 For small spaces of course you can still have fire pits, alternatively by using small bowls.
20. Centralized Fire Pit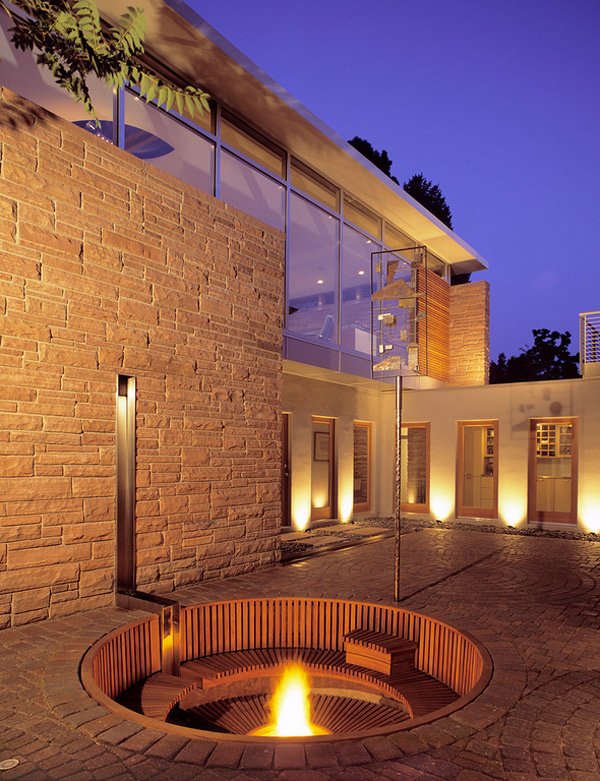 I think, courtyards will never be complete without fire pits installed in it, it gives a warm sense to houses.
Make this as a focal point outside your space. Gather your friends and family around it to experience its warm glow. Surely your guests and friends would enjoy the feeling around the fire pit with a glass of wine with small talks while at the same time the kids are also enjoying the fun by roasting hotdogs and mallows on the fire. Can you just imagine how your areas can be turned into an inviting place with a fire pit? Well, why not apply this idea and you'll see a wonderful transformation.