15 Dramatic Modern Pool Areas with Fire Pits
A fire and water combo will never fail to create a dramatic aura to any space especially in the pool area. Firepits are a good way to add some warmth for this cold spot outdoors. Aside from giving the much needed warmth, it can also be a perfect decor and could give some romantic and dramatic feel to your pool area. There are different ways to place a firepit depending on how you want it and how you intend to use it.
These fire pits also come in different designs and shapes which allows homeowners to pick what best suits their exterior. We have gathered some pool areas that have lovely fire pits rested either in the middle of the pool or just on the side of the deck. Wherever they are placed, they give the same aura, burning your pool area with style, drama and beauty!
Sophisticated Modern Residence & Gardens
This pool area is totally breath-taking especially with the firepit around. You can see that the pool is just perfect for the house!
Modern Pool Vegas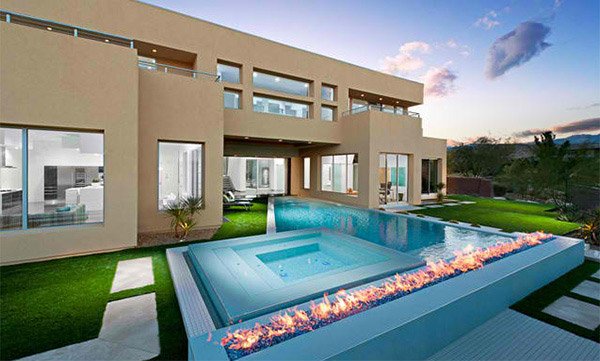 Who would not love this look where a long fire pit runs just beside the pool! Now this is what we really call a fire and water combo!
Modern Pool Fire Pit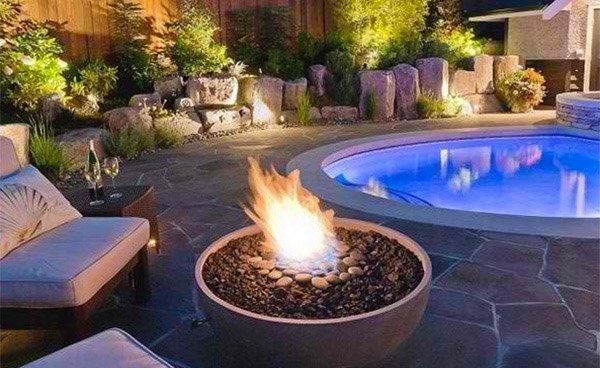 A round modern pool with stone decking boasts this fire bowl in the lounge area which is just the perfect spot for it.
Knaak Modern Pool Design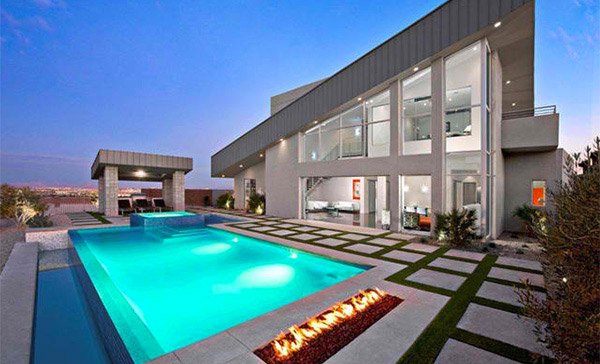 "This postmodern sculptural gem boasts a simplicity which translates into an informal elegance and sophistication", explains landscape architect, Michael Mayer.
Collierville Modern Geometric Pool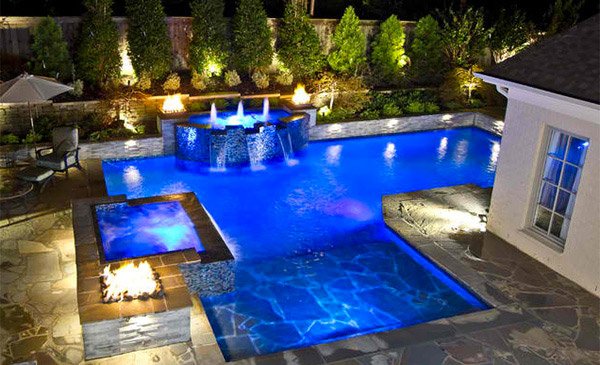 This geometric pool is just stunning with all the lights in it and fire pits on different spots.
The Picture Frame House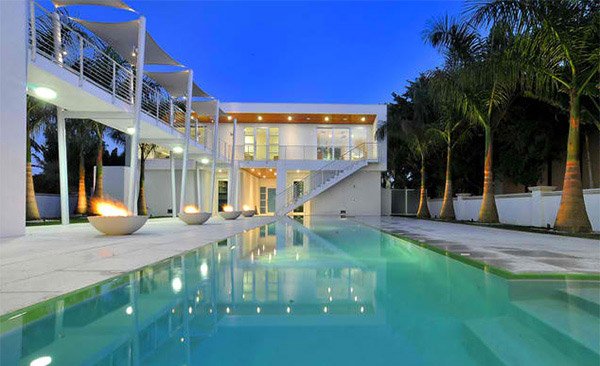 The courtyard with a pool becomes a private day and night-time oasis with fire, water and cantilevered stair case. The royal palm tree orchard and fire bowls on the other side frame the courtyard for a true tropical experience.
The Logan Fire Pit Pool Residence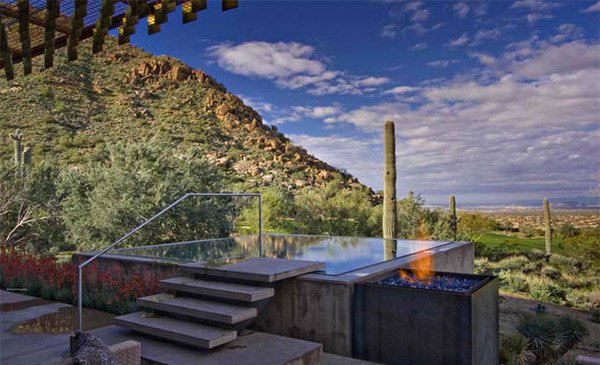 The Logan Residence is first a private museum, and second a personal winter residence. It has this concrete above ground pool with an industrial look. A firepit is placed just next to it.
Hollywood Hills Modern Pool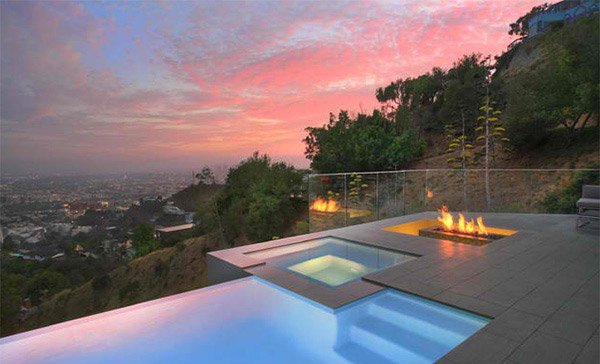 The pool coping and deck materials is porcelain tile. The designers said that it doesn't get too hot and it has a little texture to keep it from getting too slippery. That rectangular firepit would no doubt drive anyone's gaze into it as it sits humbly on the far side.
Winter Residence Pool Remodel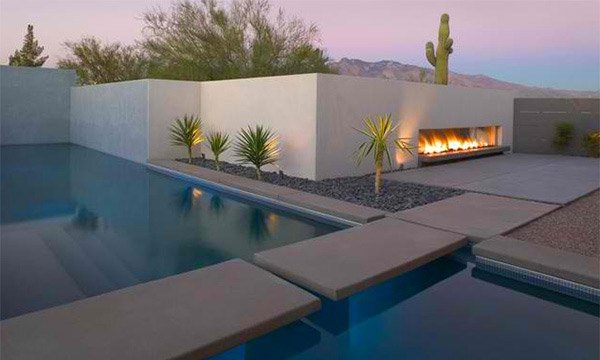 This pool area was once a kidney shaped pool but was remodeled into a more modern design plus the addition of a fireplace/firepit on one side.
Zinc House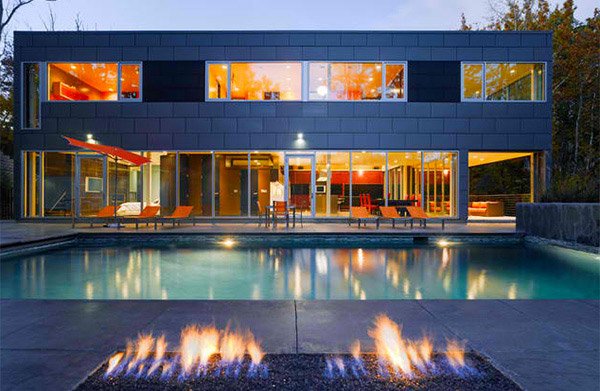 This fire pit has natural gas with two stainless steel burners and glass from Diamond Fire Glass. It sure complemented the modern pool and the beautiful modern Zinc House.
Back Patio and Pool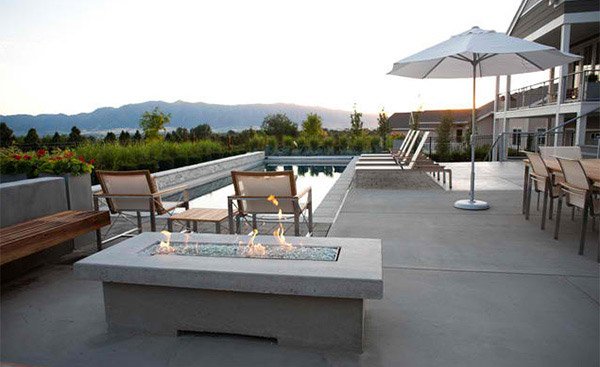 Adding a fire table area next to the dining table and pool is a good move so the users of the pool could just move near it as they get out of the water.
Pool Fire Pit and Spa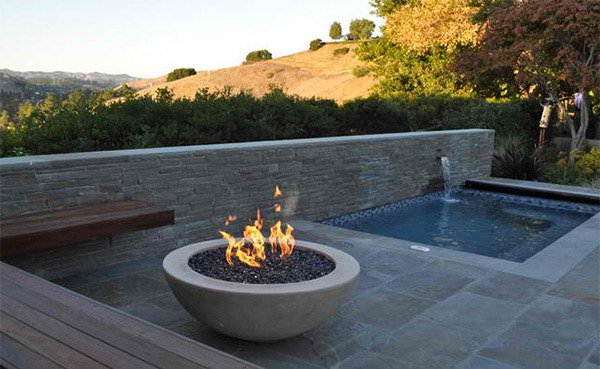 This fire pit bowl is available through Concrete Creations Los Angeles and is quite a favorite for outdoor use.
Dream Renovation in the Beautiful Okanagan Valley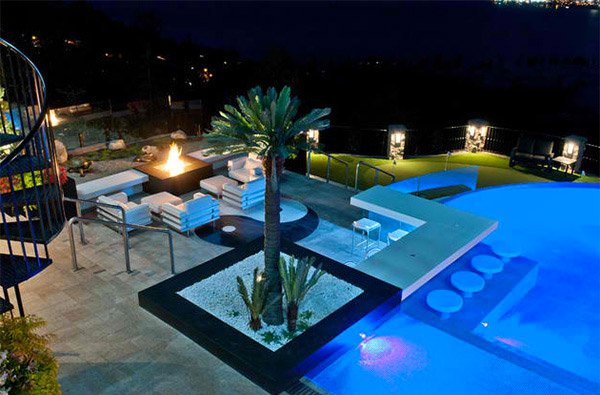 Isn't this a beautiful pool area? Just look at that submerged bar stools and a lounge area with a rectangular firepit! The entire pool has 1″x1″ glass tile in it.
Cole Lane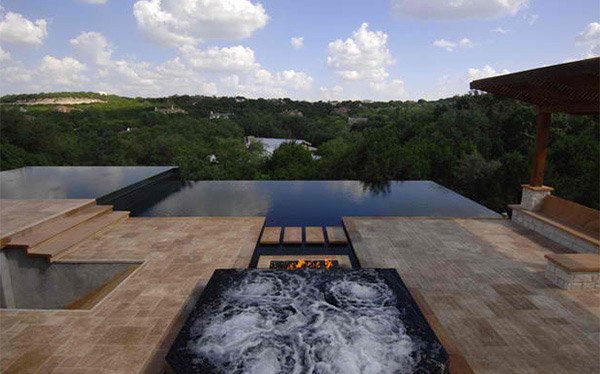 Travertine tiles/Jerusalem stone were used for the decking of this pool area but seeing that rectangular firepit below this hot tub gives this pool a more lovely appeal and more inviting feel.
Water and Fire Pool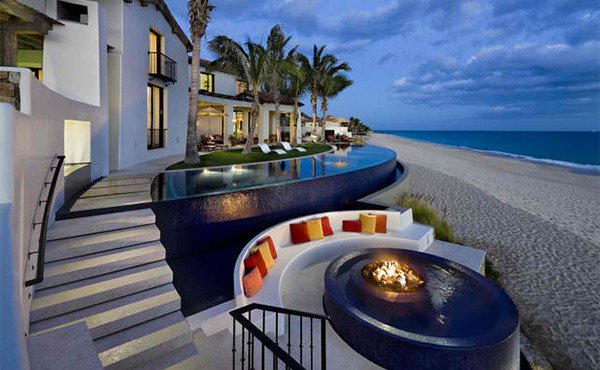 A smaller pool on the lower level has a firepit just near the curved bench parallel to the circular pool. It is there to allow the users to look across while watching the fire and view. What a paradise!
Don't tell us you didn't love the pool areas above because they sure are lovable and would give us inspiration to put in some fire into our pool area. It can really create a huge difference in the atmosphere. It can even make pool parties even more fun! Want to see some firepit designs? Look into some fire bowls which could be nice for your pool area and landscape too!