15 Swimming Pool Decks with Stone and Pavers
A swimming pool will merely be a body of water on your yard if it is not surrounded by a pool deck. It might even look like a large puddle! That is why pools have decking which can be done in different ways. There are wooden decks, stone decks and those that are made from tiles. Whatever materials a designer or a homeowner decides to use, one thing is for sure- it will greatly upgrade the look of your swimming pool!
We have already showed you a list of swimming pools with wooden decks. It was a lovely list indeed but we are not yet done in giving you pool eye candies because we will still be giving you more lists of pool deck ideas. So, today, we will show you swimming pools with decks made from stone and pavers. Adding these materials to a pool deck could give it a traditional, contemporary or even an eclectic look. But whatever kind of style it may appear, these pool decks are total stunners! Get hold of 15 swimming pool decks with stone and pavers below.
Ali Project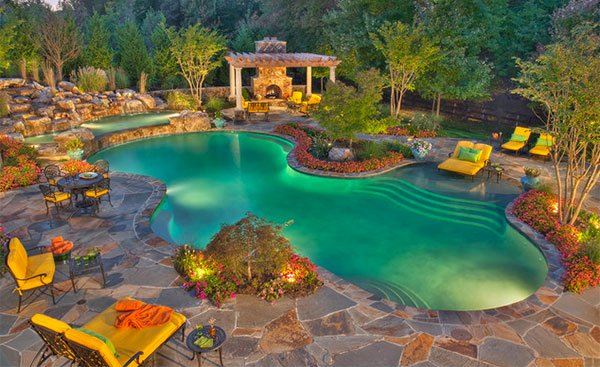 A modern day paradise is right outside the yard of this house. The stones in varying sizes and colors looks elegant in this pool deck with traditional landscaping.
Lakeside Estates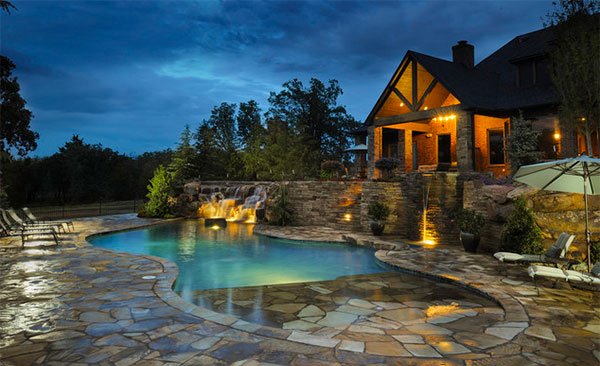 A contemporary home is made even more dashing with the gray stones for the pool deck. The waterfalls with lights is a dramatic addition to the pool area.
Land Design Tx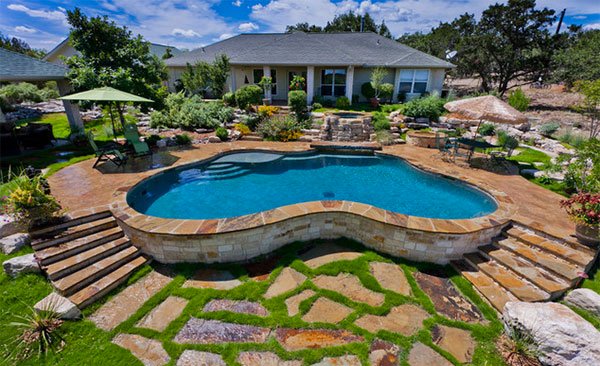 A kidney-shaped pool surrounded with stones and greens. Isn't this an appealing place to lounge and unwind from a day's work?
Darnestown Residence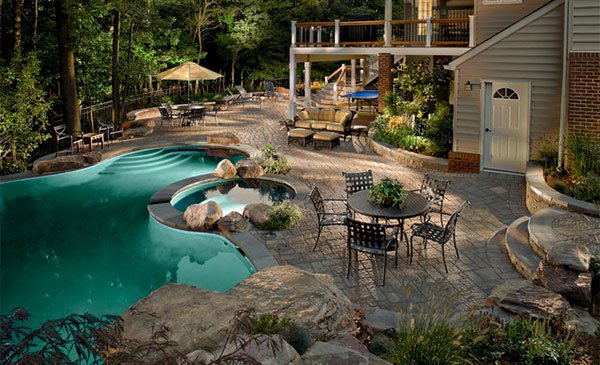 The existing trees provide natural landscaping to the outdoor space of this house. The landscaping done in it is like an extension of the bunch of trees on the sides.
Natural Private Residence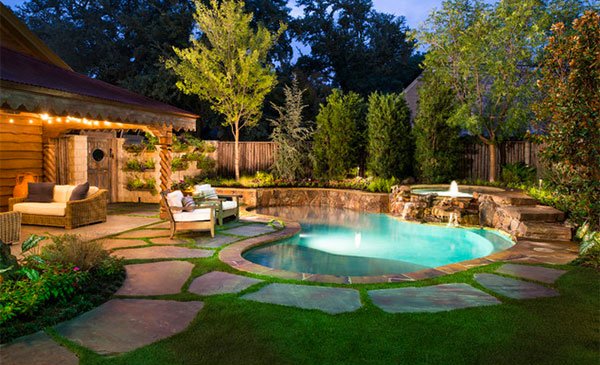 Natural landscaping was applied to this pool area. Large stone pavers in irregular shapes were surrounded with green grasses.
Belvedere CA Historic Renovation Marin County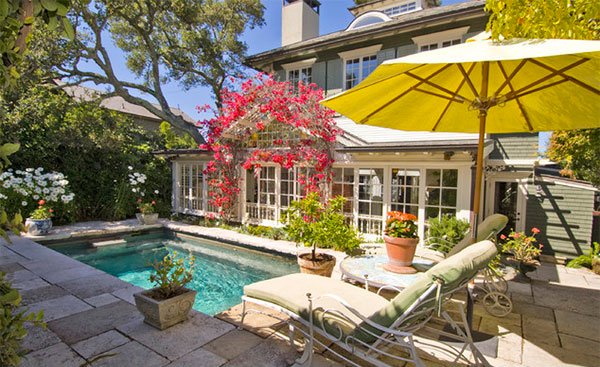 This is a simple rectangular pool but its landscape and the use of stone pavers made it appear totally special.
Andalusia at Coral Mountain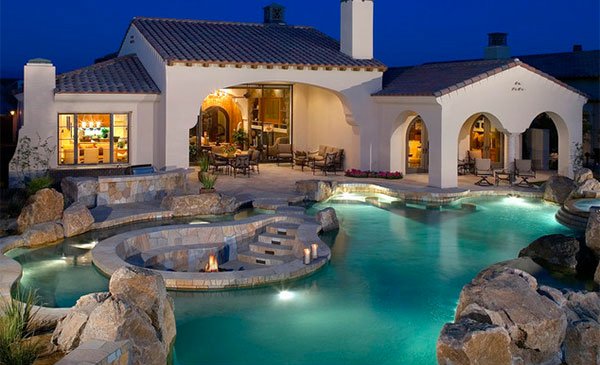 We love the sunken area in the pool! There is even a fire pit in the middle of it. Gray stones looked perfect for the pool deck giving this a more sophisticated look.
Custom Swimming Pool Deck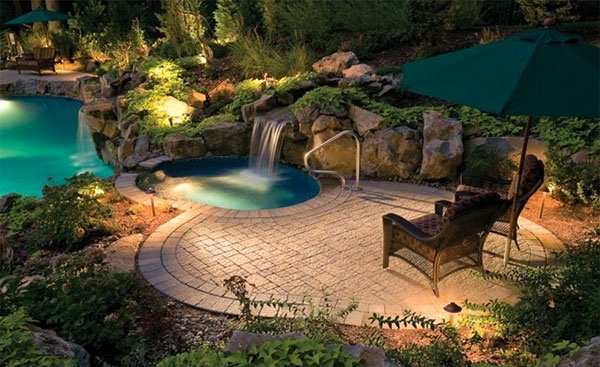 A great way to relax and enjoy the water's cold aura. Stone pavers were creatively arranged for the pool deck.
Swimming Pool Portfolio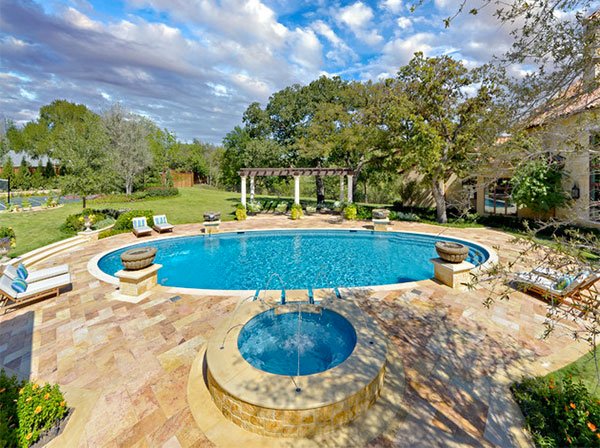 With this pool area, anyone would not hesitate to invite guests for a pool party! The colors of the pool deck is a gorgeous addition.
Pipersville Swimming Pool Deck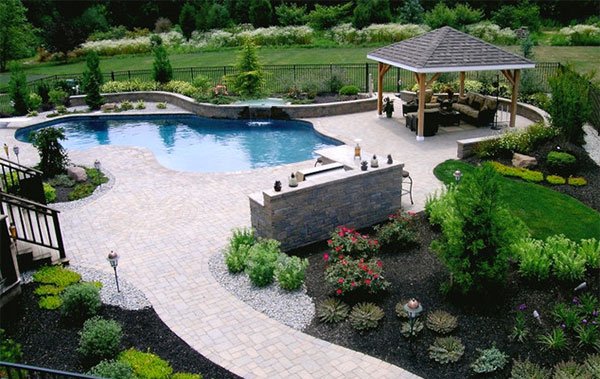 If you want to tone down with colors, gray can be perfect like what this pool deck used for its rectangular stone pavers arranged artistically.
Longmire Photo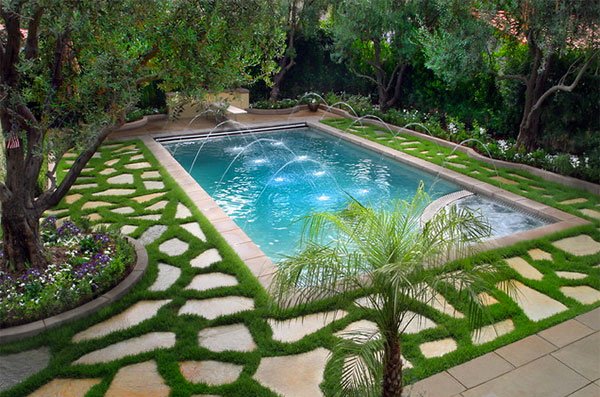 The pool fountain makes this pool look more inviting but the stones with grasses around it make it appear even more welcoming!
Infinity Edge Pools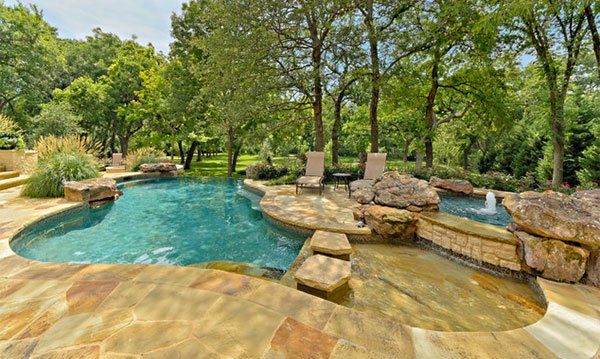 Designing with curves- this is what you can see in this pool deck made of stones. It successfully created divisions for pools and lounging areas.
Catonsville Contemporary Pool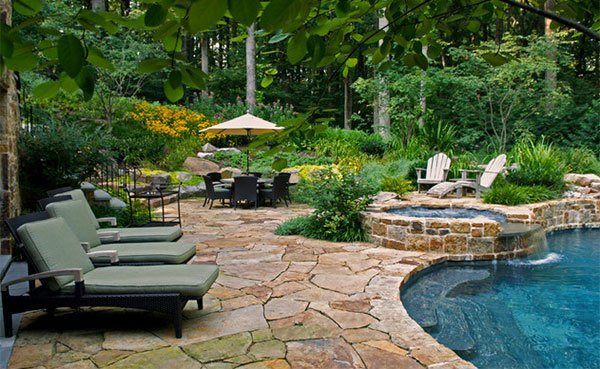 Stone pavers of different sizes and shapes were puzzled for this pool deck. It looks sophisticated and full of charm!
Ellicot City Outdoor Living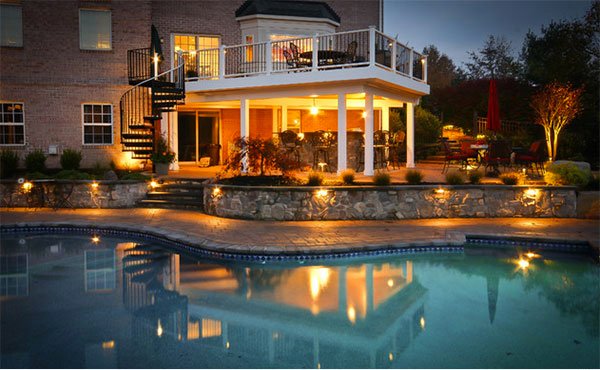 Nothing is more interesting than a pool deck with curves and stones. It even used stones for the concrete raised planters too.
Pool Renovations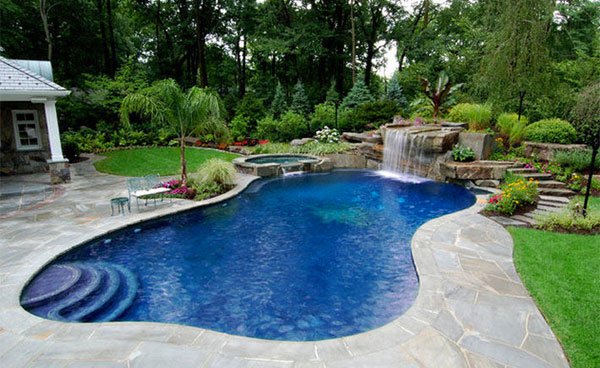 Add character to a pool area with stone pavers, waterfalls, spa, concrete stairs and lovely landscaping!
Stimulate your mind and senses with these swimming pool decks. We are certain that you loved this list same as how you faved our wooden pool decks. But you would also agree with us that using stones give a different visual impact than using wood. Aside from the deck's design, the pool landscape also enhances the pool area as well as some added seating, structures like a gazebo and some water features.