20 Shiny Gold and Neural-Toned Throw Pillows
Add a luxurious accent to your home with rich gold throw pillows.
Throw pillows is one of those decors that serves us for two things – they are decorative features or accents for our spaces and they are used for sleeping during those short naps that we take in the afternoons or after work. Shiny accents to your home furniture and decors provide a certain classic elegance you can never go wrong with. Gold and other neutral-toned accents to your throw pillows at home give off an air of comfort but you are sure that is always in style.
Today, we will be showing you a list of throw pillows that somehow says 'I shine,' which is a great thing you can use at home for accents since they will surely call out to the people who would be seeing them. This is something we all like for accent decors and accent furniture because their purpose is to pretty much shine and glow; check out the list and tell us what you think about them guys!
1. Hers Cotton Throw Pillow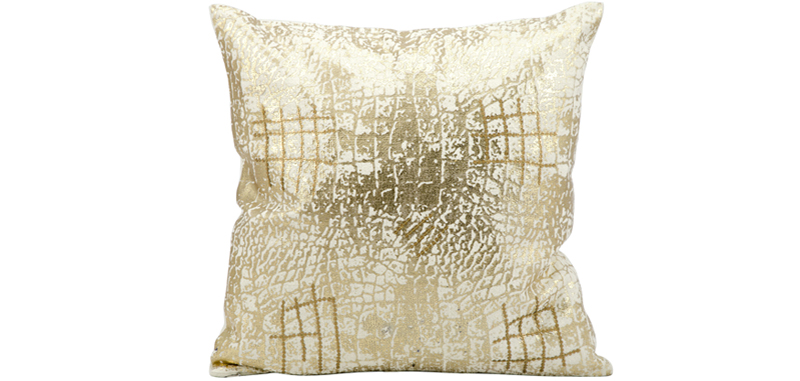 This croc-looking throw pillow sure has a lot of character in it. The lines, the texture and its color sure is saying something about it being really classy, sophisticated and really elegant.
2. Ginger Pillow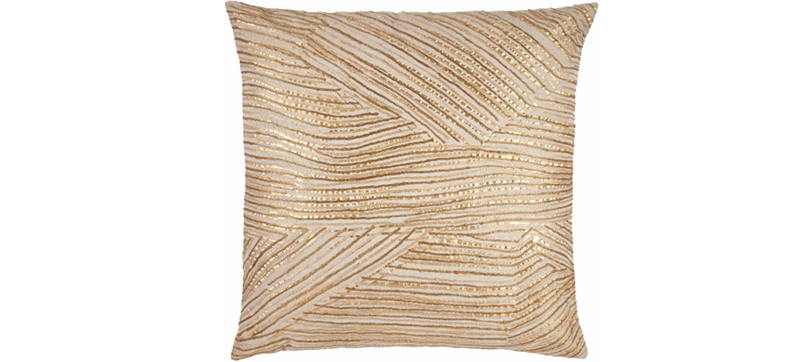 Look at the details on this pillow and imagine it being in your sofa – I bet you like how it looks. The shiny lines that sort of crisscross one another pretty much what gives it more life and more zest.
3. Jewel Beads and Silk Dupioni Throw Pillow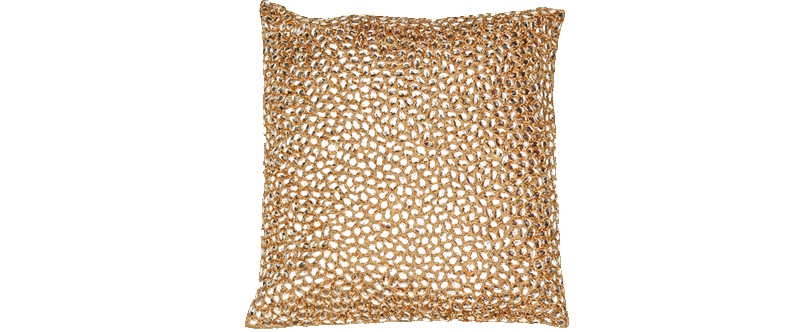 I can't say if this is comfortable to lie down with but it sure is pretty and surely pops! The beads that looks like the stars in the sky sure will brighten and lighten up your space!
4. Mirasol Beaded Gold Wave Feather Throw Pillow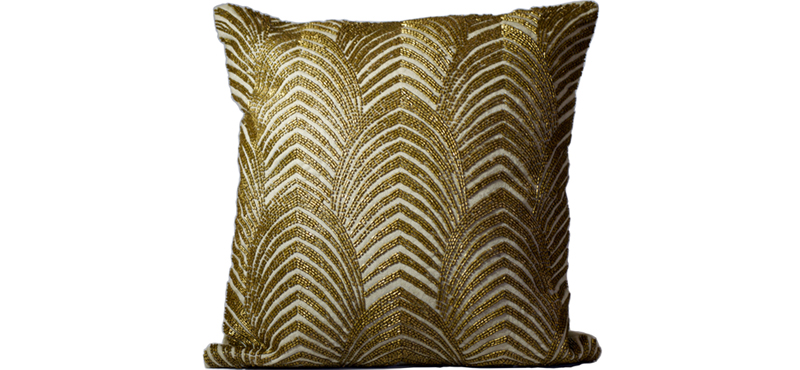 Talk about character and exquisiteness – this Mirasol beaded gold wave feather throw pillow sure looks something an ice skater would wear for a championship showdown! The details are stunning and really unique!
5. Nosakhari Pillow
This pillow's name basically means to celebrate your differences – which is quite a great message, but not so sure about it being represented by pillows, but anyhow, the name sure has a ring to it and gifting this to your friends is one awesome move too!
6. Regan Gold Pillow

Whomever this pillow is named after, I think he is beautiful because this gold pillow is really lovely – it looks simple but classy. The shiny bit on this one is something we can really use to accentuate our spaces.
7. Silky Taffeta Abstract Decorative Throw Pillow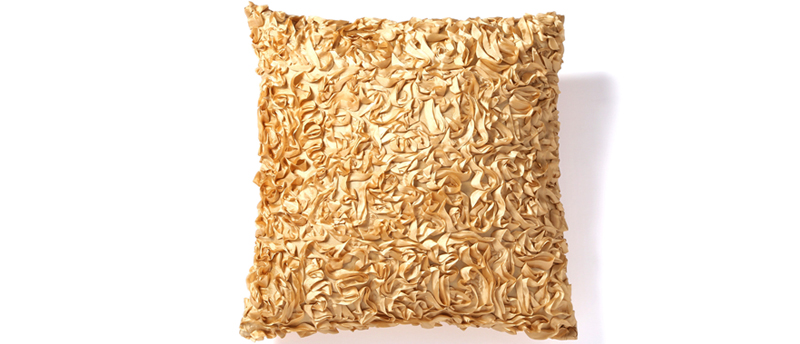 Now this is one beautiful accent you can add in your living room or in your bedroom! The design is special and a little bit common, but the material used on this one sure makes it one of a kind.
8. Tufted Silk Pillow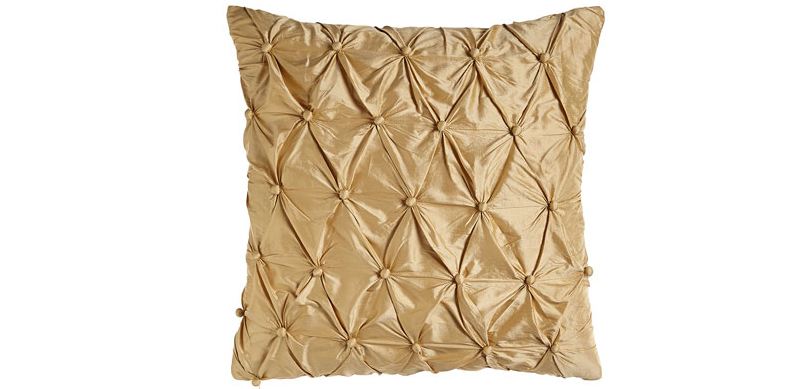 This silk throw pillow is really beautiful – throw pillows with fabric that does not have prints on them look prettier if they have details like this one. If you may have noticed, tufted sofas or ottomans or headboards is something I actually like; just like this one.
9. Gold-Spotted Haircalf Pillow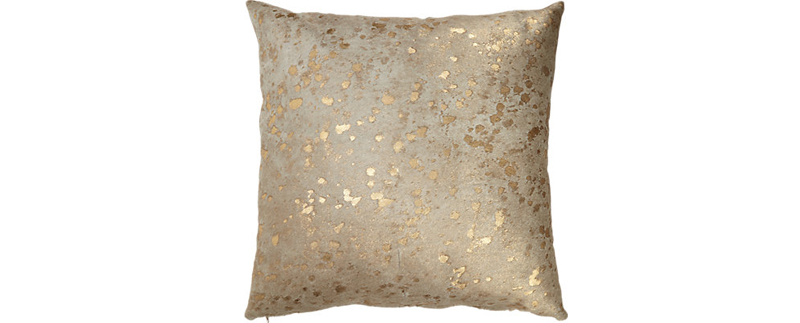 The gold spots in this hair calf pillow are quite a treat! The spots are random and a bit congested but somehow it looks similar to a milky way galaxy of some sort. What do you think?
10. Crisanto Citron Embroidered Pillow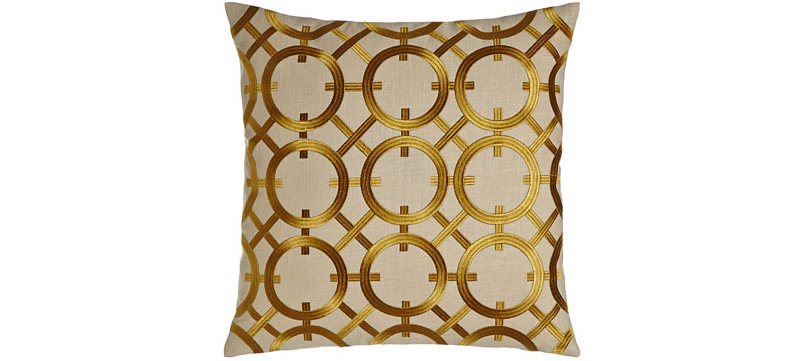 If I am not mistaken the designer of this Citron embroidered throw pillow is Crisanto – I like that thought because my father's name is Crisanto. From what I have checked, a Citron is a fruit that is similar to a large lemon – does this one look like a lemon?
11. Reflection Sequin Decorative Pillow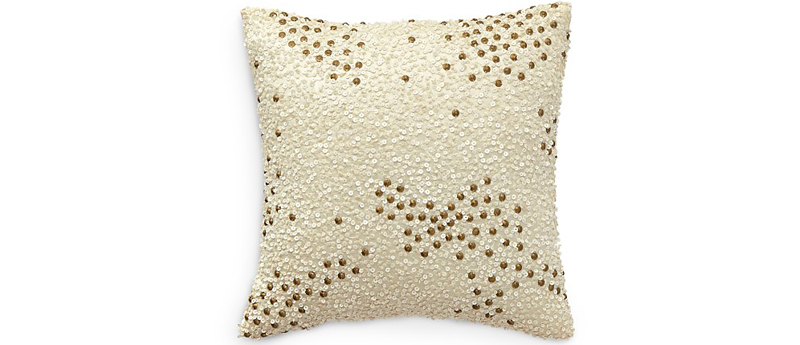 Seems like Donna Karan has expanded its horizons (well, maybe it has been a long time, of course) – I can't remember how much this throw pillow cost, but I'm betting that this one does not come in cheap.
12. Leather Embossed Fendi Logo Pillow

Another expensive throw pillow – I can't imagine how many famous brands that are popularly known for their clothes, bags and shoes have already invaded home decors. If this was given to me – I'm not sure if it'll make me happy than if I got a Fendi bag. Haha!
13. Harper Deco Pillow

This Harper deco throw pillow is something special – the design is a bit familiar for me – maybe because I've seen it somewhere or maybe this design is something I used to know. The point is simple though – this is one nice looking throw pillow.
14. Gold Olivia Pillow

This Lili Alessandra gold Olivia throw pillow has that exquisite vibe – the detail on the center of the pillow quite resembles coat of arms of some royal family of some sort; what do you think?
15. Fringed Pillow with Framed Floral Center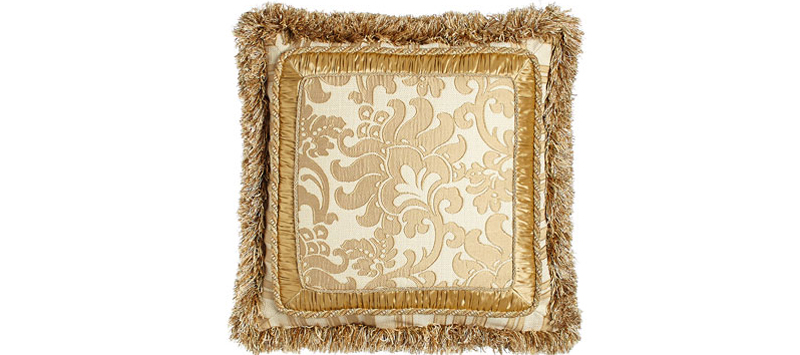 Throw pillows with fringes does not really appeal to me than those that look plain or simple because I somehow feel that pillows like this catch more dust than those simpler pillows. The design and print on this one looks that of a carpet – classic and expensive!
16. Dotted-Line Embroidered Pillow

Another beautiful design from Crisanto that is featured in Neiman Marcus' website. This pillow has a geometric design and dotted details that will make the Maze Runners proud.
17. Holiday Gold Velvet Throw Pillow
This throw pillow has golden velvet accents fit for the White Christmas celebration. This pillow is as if saying "simplicity amidst all the glitter of the holidays" don't you think?
18. Pleated Silk Pillow with Feather/Down Insert

This is one of my favorites in this list of throw pillows because of how it looks; imagine this as a dress or a wedding gown, it sure hugs the bodice which shows off the curves of this pillow.
19. Silk Pillow with Beaded Flower/Lattice Design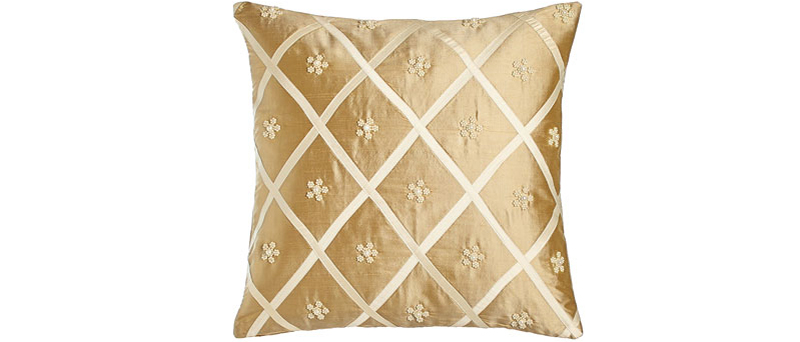 The grid work or the lattice that the flowers are in looks like they are plots where the flowers were planted in. The shiny fabric used for this throw pillow makes it more classier and quite lovely.
20. Gold Sequin Pillow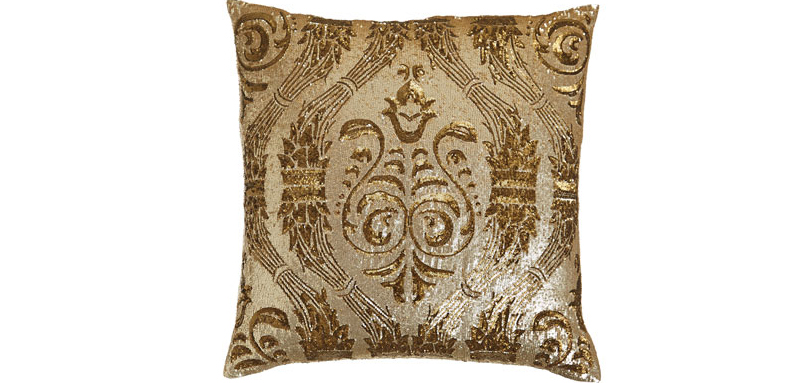 Now this is one great finale for a list of embellished throw pillows! The details on this one is something really fancy-looking and somehow classic looking too. The gold sequins on this one is really fascinating.
If you have already seen the lovely throw pillows before and you loved them, this list that we have created for you guys is another list that I personally like. The fabric, design and detail on each throw pillow is pretty awesome and I think all the designers are really proud of them. Tell us your favorite one!