20 Adorable and Geeky Robot Throw Pillows and Cushions
Your kids will jump with joy if you bring them home one of these robot-themed pillows!
In our bedroom, we usually add items that are soft and light since it will make us feel more comfortable in sleeping and resting. It sure is relaxing to have soft items in the bedroom or in other areas of the house as well. If your bedroom has a certain theme, throw in items that go with that theme. For instance, if your kid's or teen's bedroom has a robot theme or something of that sort, add robot-shaped pillows or robot-printed ones.
And since we are suggesting that, we have collected some super cute and adorable looking throw pillows and cushions that fit to that theme. In truth, after seeing the pillows below, I felt like looking for scrap cloth and make one! Or if the lazy side of you creeps in, you can just buy one online. I would guess that you will feel that urge to get robot themed pillows after seeing the list below. The throw pillows could be perfect not just for a boy's bedroom but even for girl's too. You can add them in a nursery, a teen's bedroom or even in your own bedroom. These bedroom accessories are fun and geeky additions to your private space! You can even choose those with bright colors or settle for those with lesser colors in it. It goes in various styles too!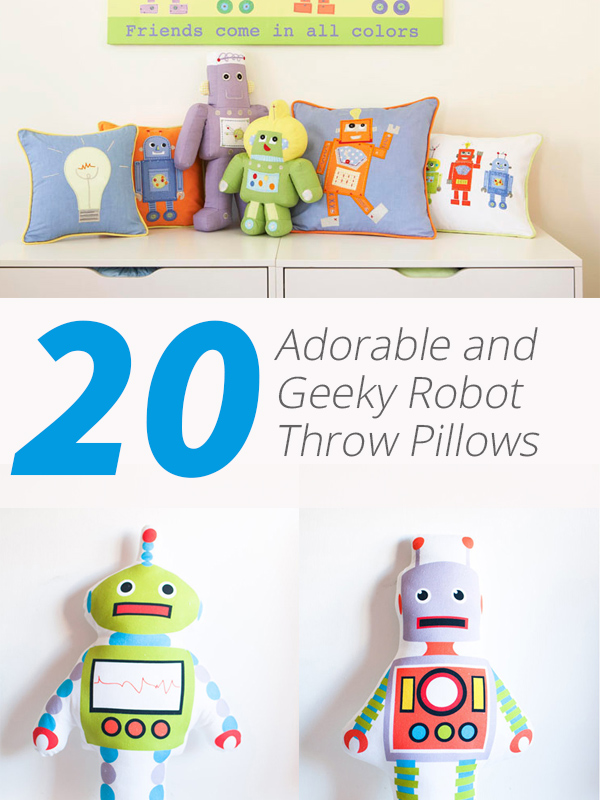 1. Large Mr. Robot Cotton Throw Pillow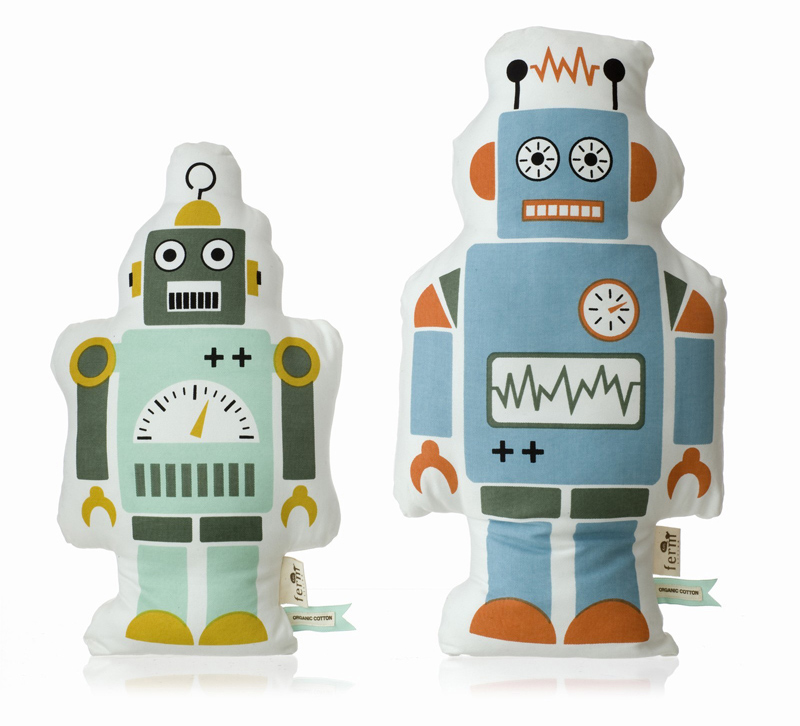 For sure, this throw pillow will be your son's favorite because it took the form and shape of a robot. It is made from 100% cotton with polyester filling. The one of a kind retro robot design will add some interesting feature to your kid's bedroom.
2. Vintage Cute Robot Toy For Kids Room Pillow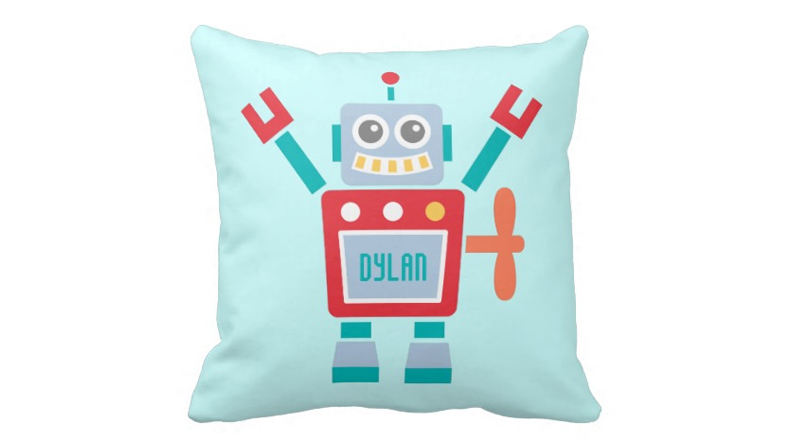 A cartoon design of a happy, cute red robot toy printed on a throw pillow. You can also personalize it with your own name.
3. Robot Pillow Cover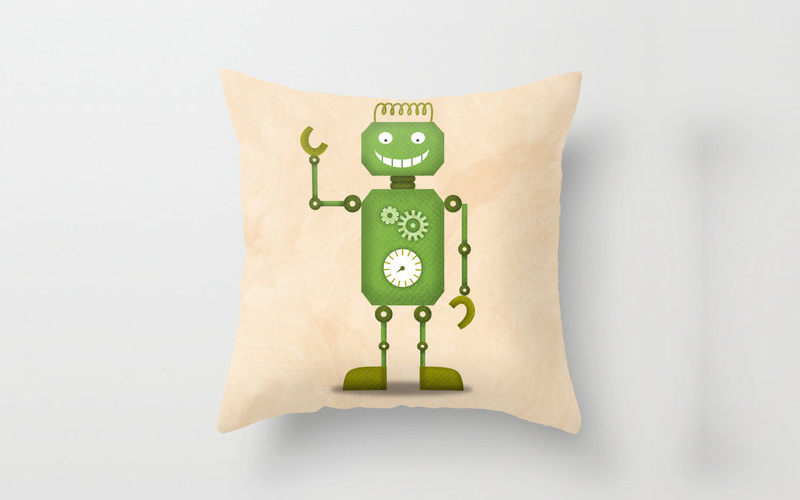 Is green your child's favorite? The he will surely love this robot pillow!
4. Super Marines Baymax Pak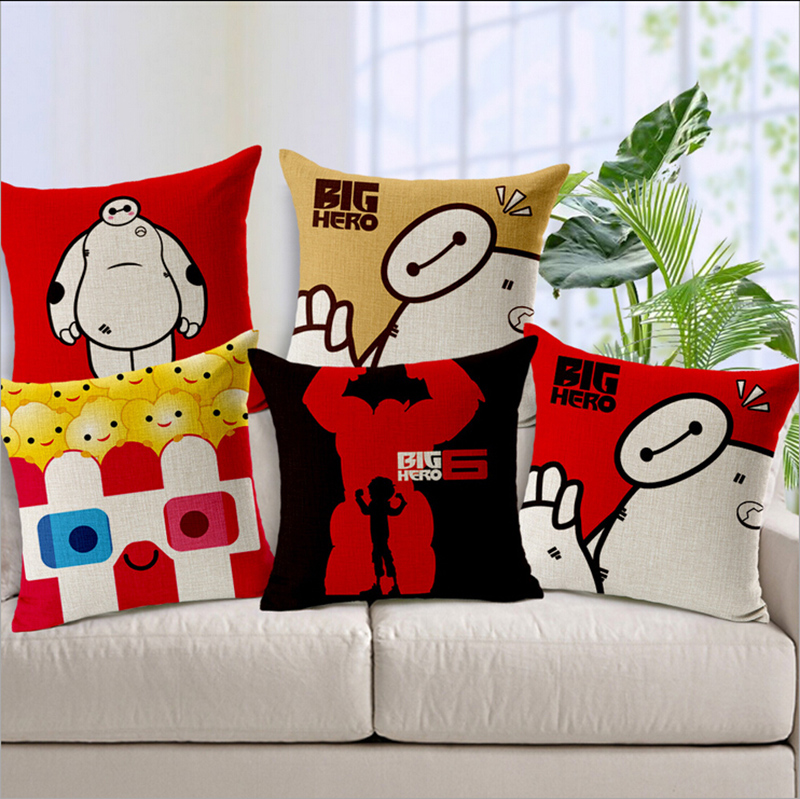 The beautiful scenario outside is seemingly framed from the window of this reading nook.
5. Colourful Kids Robot Cushion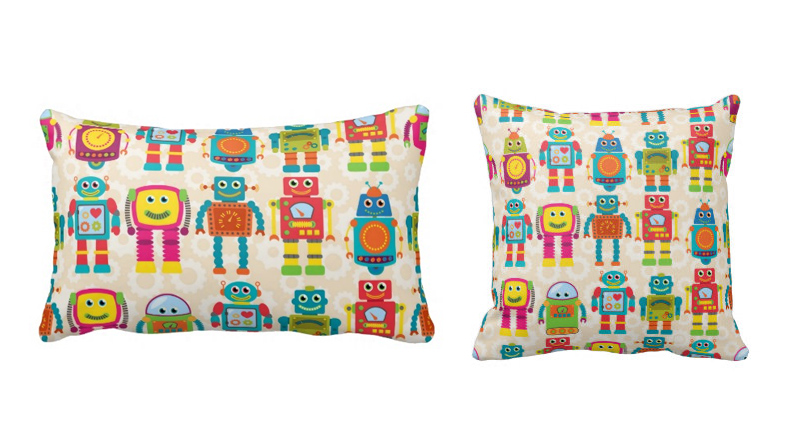 Isn't this very cute? I love the robot designs here with different colors and styles! Merely looking at it makes my day!
6. Robots Rule Pillow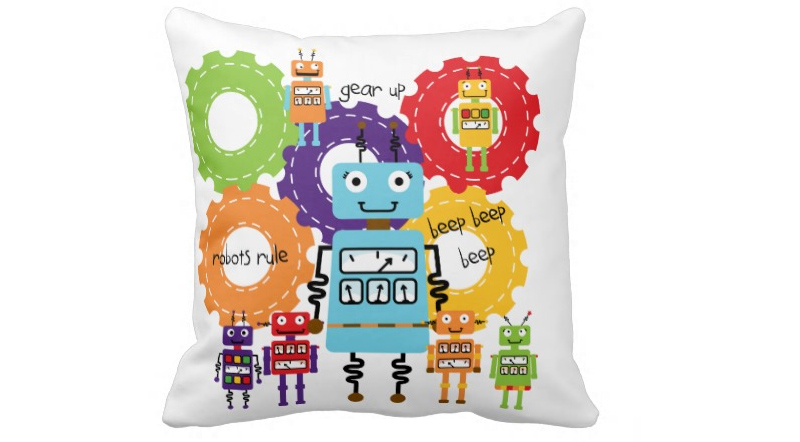 A cute bunch of robots with some gears are printed on this pillow. Don't you love this? Well, I do!
7. Pink & Blue Girl Robot; Pink & White Stripes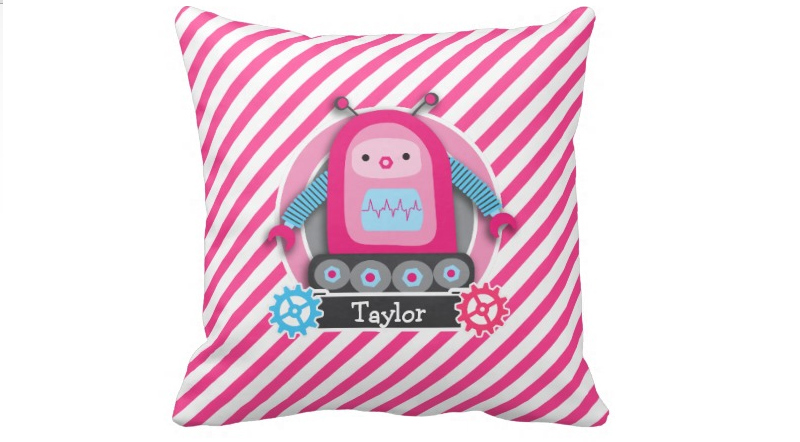 Isn't this very cute? The pink stripes on it are very chic and feminine. Yes, your little girl can add this pillow to their bedroom too!
8. Robot 21 throw cushions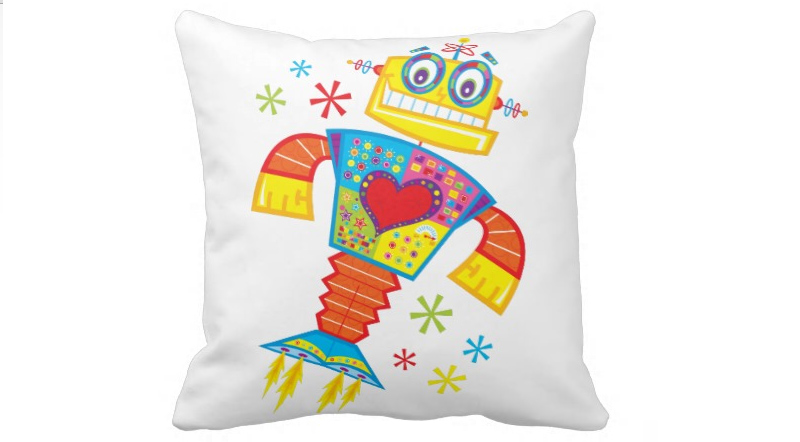 Such a cute robot indeed! I love that it has a heart on the chest and it has different lively colors too. Good vibes from this pretty robot!
9. Yellow with Robots and Rockets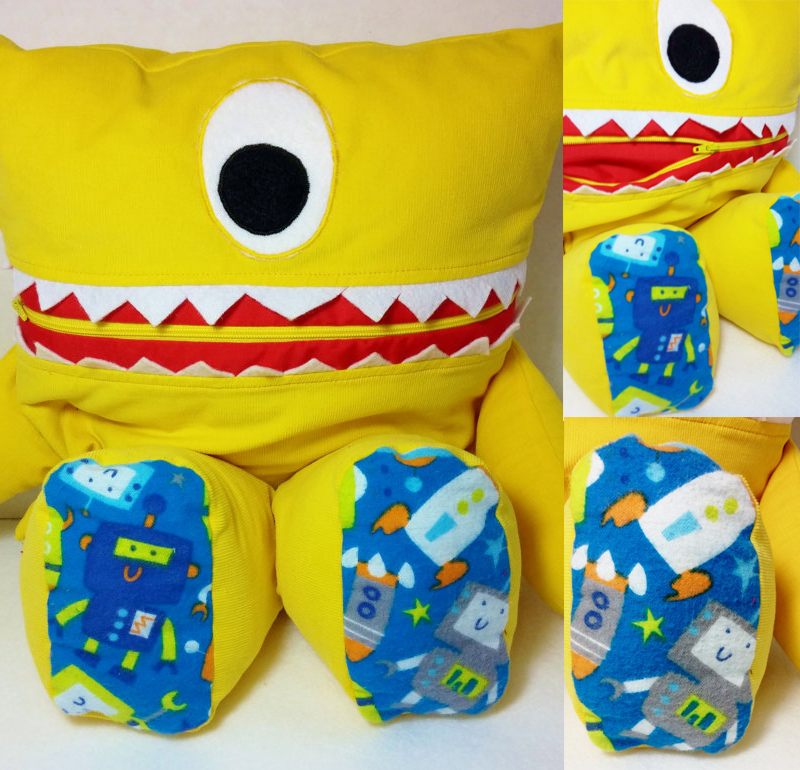 Super cute indeed! I admire the creativity of this pillow maker. Such an inspiring throw pillow that we can use as an idea for a DIY!
10. Blue Robots Illustrated Print Decorative Throw Pillow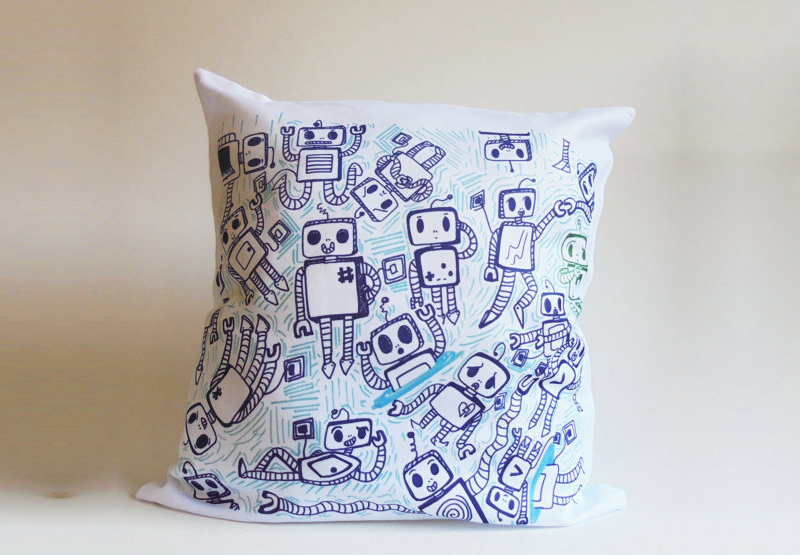 Cute robot doodles are printed on this throw pillow. This can even be perfect even for an adult or teenager bedroom. Do you agree with me?
11. Robot Pillows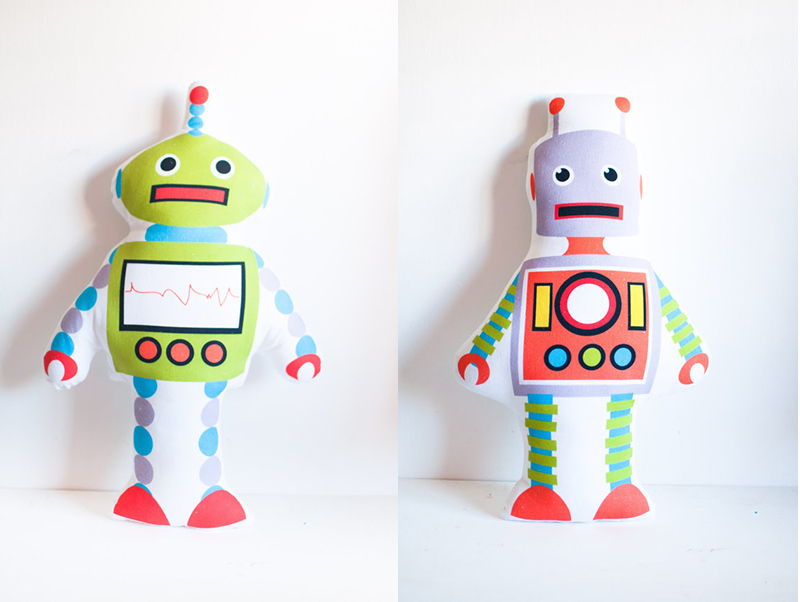 Such a cute and cuddly robot! The colors are pretty too. I am sure every kid would definitely love to have this in their bedrooms.
12. Superhero Robot Pajama PJ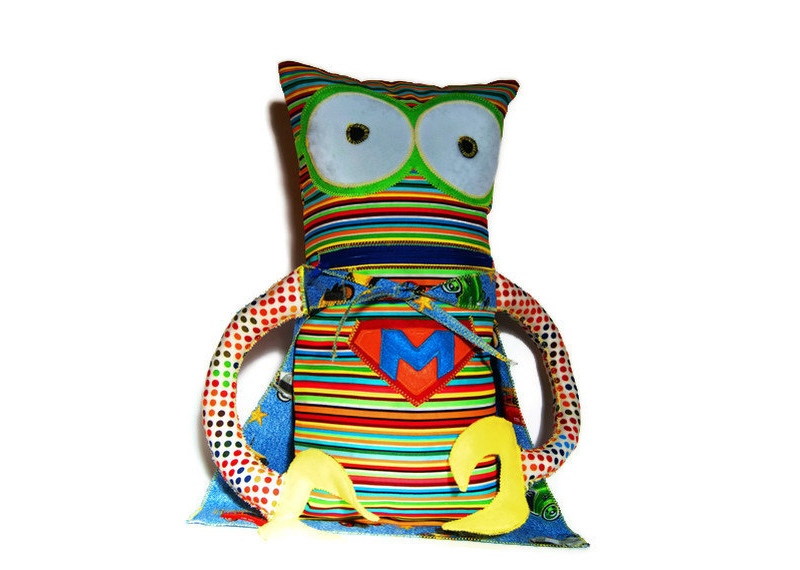 Colorful patterns are used in this pillow to create a robot. This one is a superhero robot with an initial on it. You can actually put the initials of your child too.
13. Typewriter Robot and Polaroid Graffiti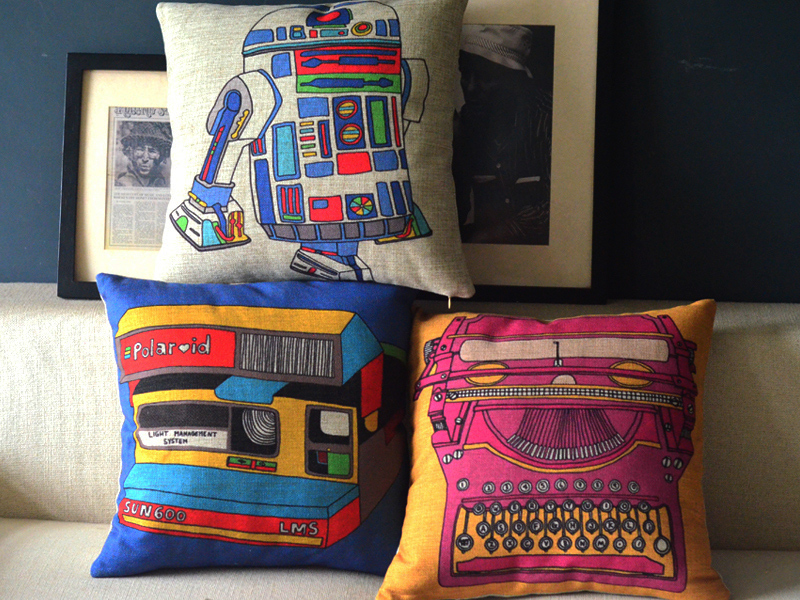 If you're going techy and retro at the same time, this pillow set would be perfect for your bedroom. Yup, it isn't just for kid but even teens and adults can use them too. Love the details of the robot, camera and typewriter.
14. Funny Little Robot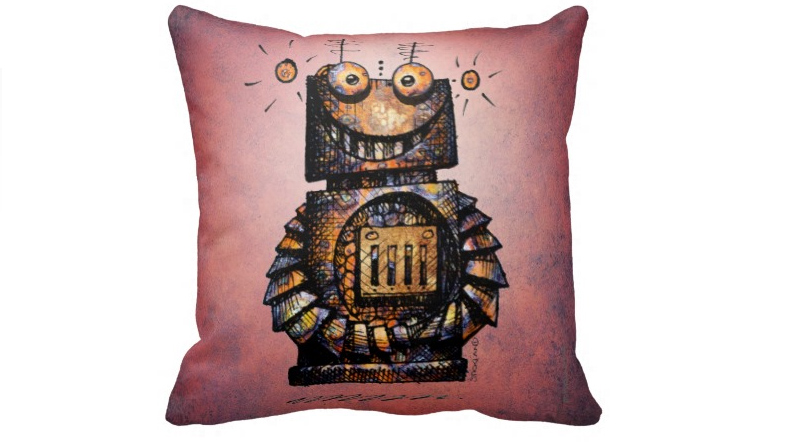 This cute little rusty robot with a big smile on pink background could be an adorable geek pillow addition to your bedroom. Grungy but pretty huggable!
15. Atomic Robot Throw Cushion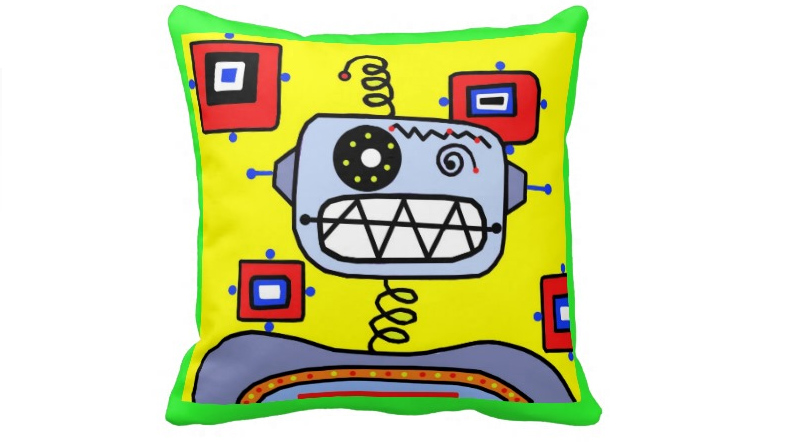 A bright colored robot design that would be perfect for both boys and girls. If you have a boy and a girl sharing the same bedroom, this would be lovely!
16. Robot Pillow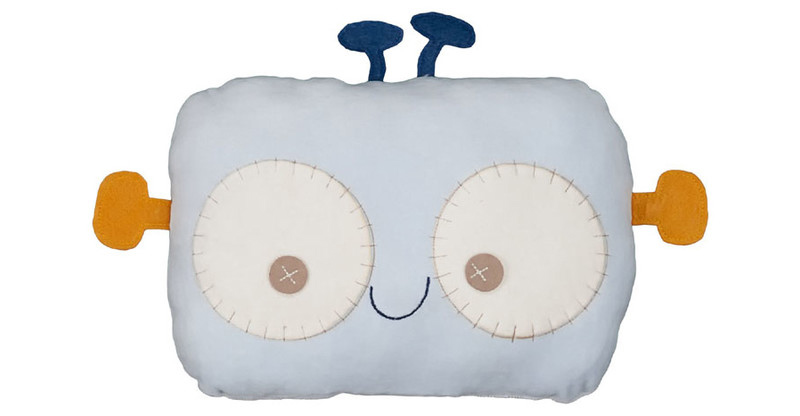 This is indeed a cute robot pillow! It does look simple but it could bring in some fun element to a bedroom. I wonder if this one is available in different colors too.
17. Robot Shaped Pillow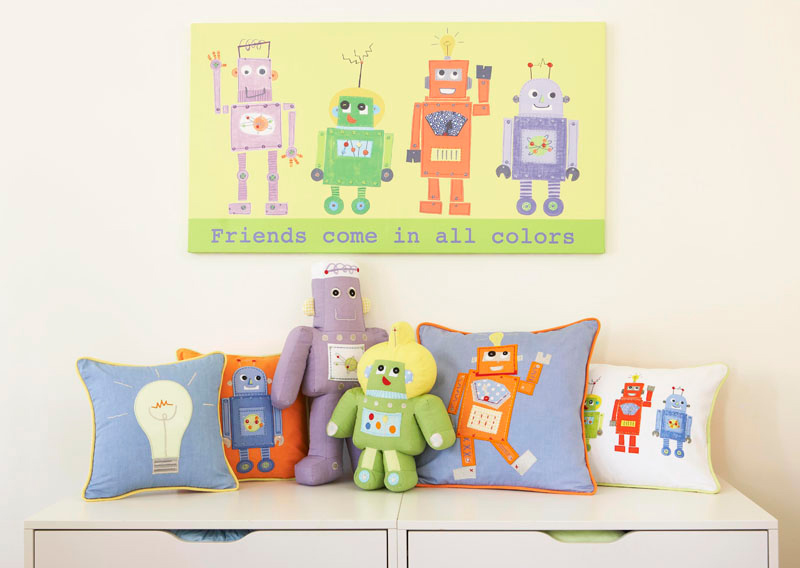 If this pillow set will now bring a smile on your face, I do not know what will! Just look at how cute they all are especially when put together! Cuteness overload!
18. Robot Toy Fabric Plush Softie Play Cushion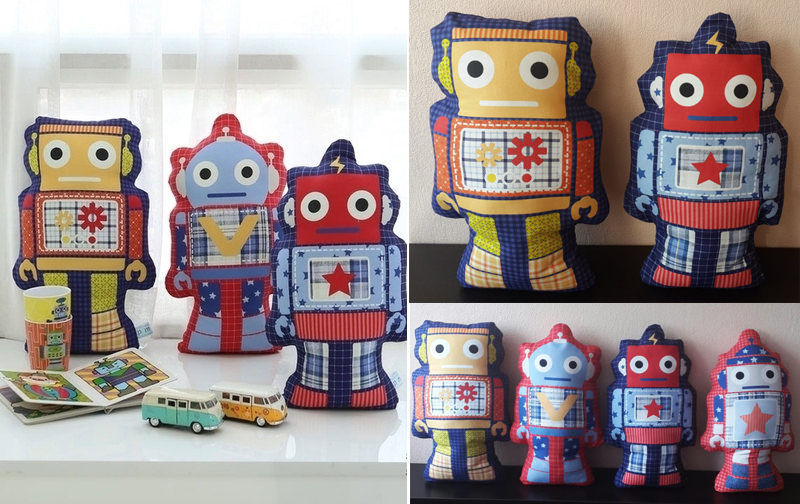 These Robot kid's pillow will be the perfect accent to a robot themed nursery or little boy/girls bedroom! They are all hand-made from 100% cotton.
19. Robot Man Novelty Cushion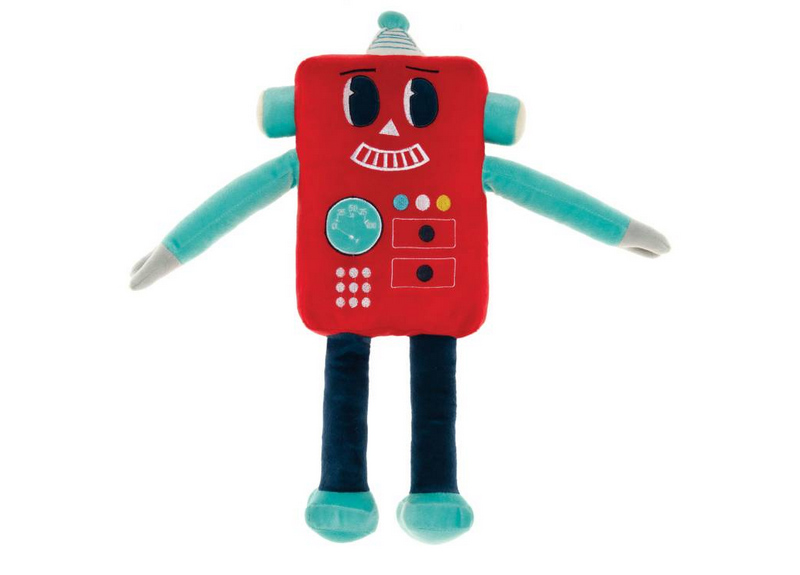 A friendly rocket man robot will seemingly fly through your child's bedroom made in soft polyester plush. Imagine this cute robot on your kid's bed. So adorable!
20. Robot Pillow in Orange, Blue, Brown, Green with Striped Cotton Fabric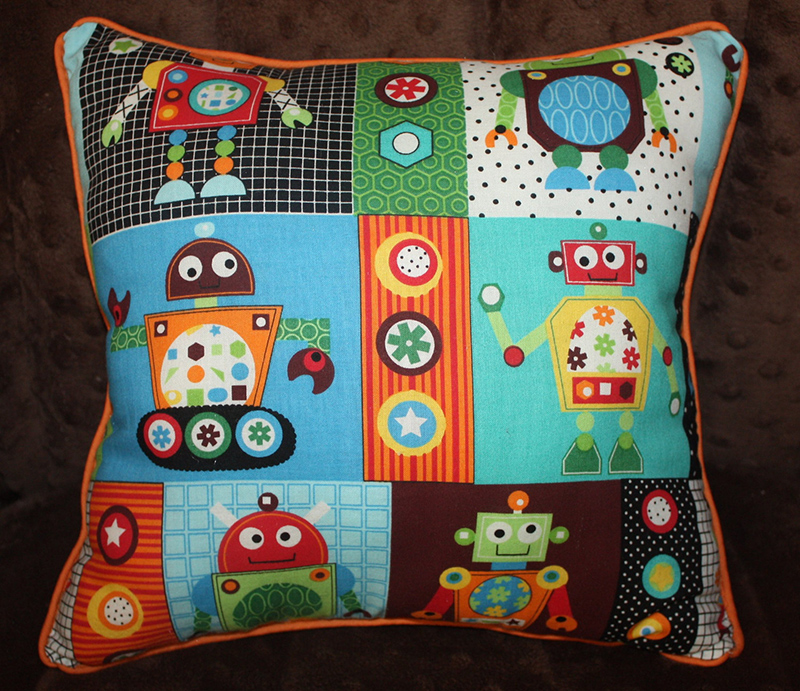 Shapes, patterns and colors are all seen in this bright and fun throw pillow. No worries of your bedroom color palette because this one will blend in really well!
Cute pillows and cushions, right? Well, robots aren't just for boys but also for girls too. Hence, you can use these above bedroom accessories for your kid's spaces or even for teens too, whatever is their gender. After seeing the list above, you could either think of getting robot themed pillows or make one for your kids. Can you tell me which of the items above you love the most?