20 Colorful Throw Pillows in the Living Room
Don't be afraid to put colors together especially for your throw pillow covers.
Throw pillows may be one of the simplest decors that you can add to your couches that could make it look prettier or actually make it look like a disaster. Choosing the right number of pillows and adding them to your couches could make it look comfortable or crowded. Like any piece of furniture or decoration – the right amount, number or size is one of the few things to consider; this is aside from the designs and colors of the pillow cases that they have.
Below is a list of 20 Colorful Throw Pillows in the Living Room that I think not only added the additional charm the couches needed but a boost to make the living rooms more lively and attractive. From all the fabric that we could actually choose from, picking the right colors and prints for your pillow cases could be a fun homework to do for you and your kids. Check out the spaces below and choose the pillow combination that you think could work for your living room and couch!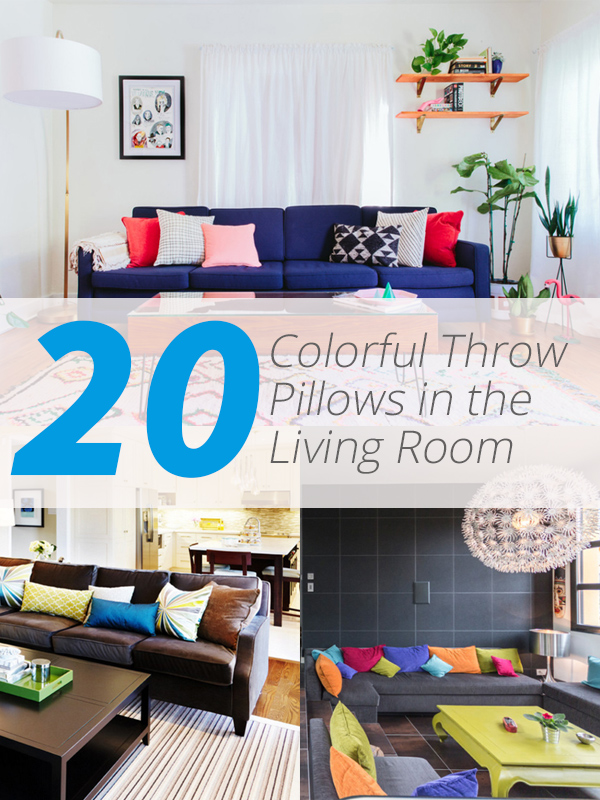 1. Atwater Village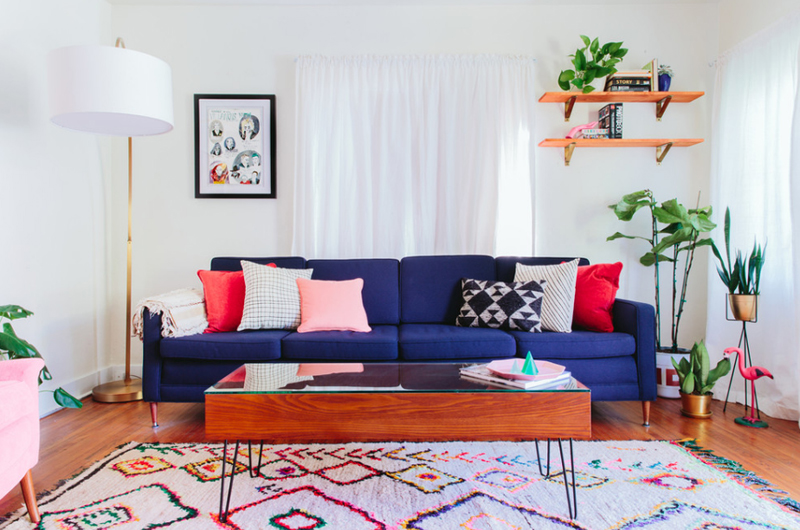 First on this list is a fancy living room with white walls and colorful things in it. From the lovely blue couch which is adorned with colorful and printed throw pillows, a cool area carpet, a large drum floor lamp and a couple of greens on the sides – this living room is quite an interesting and beautiful one.
2. Avon Hill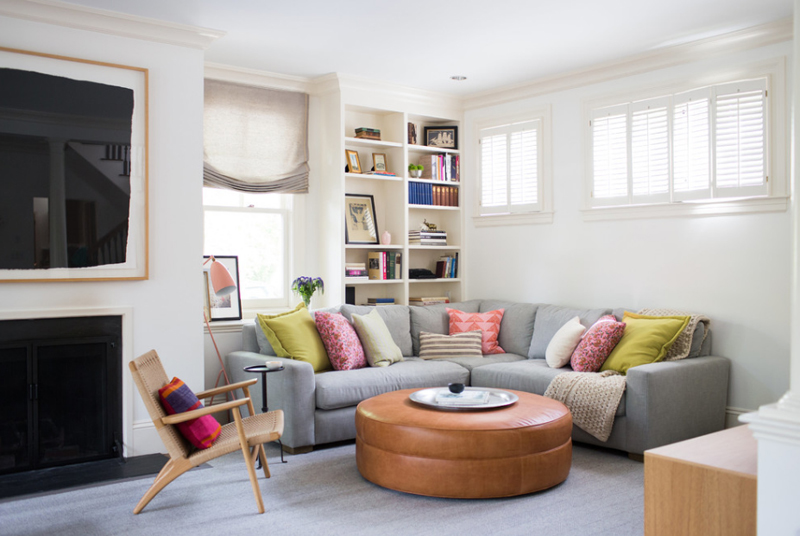 Another white living room that is made prettier because of the cute grey sectional, brown ottoman and a unique wooden mid-century side chair. There may be a few things in here and even fewer color – as seen in the colorful throw pillows, but this sure is one heck of a living room.
3. Barton Hills Home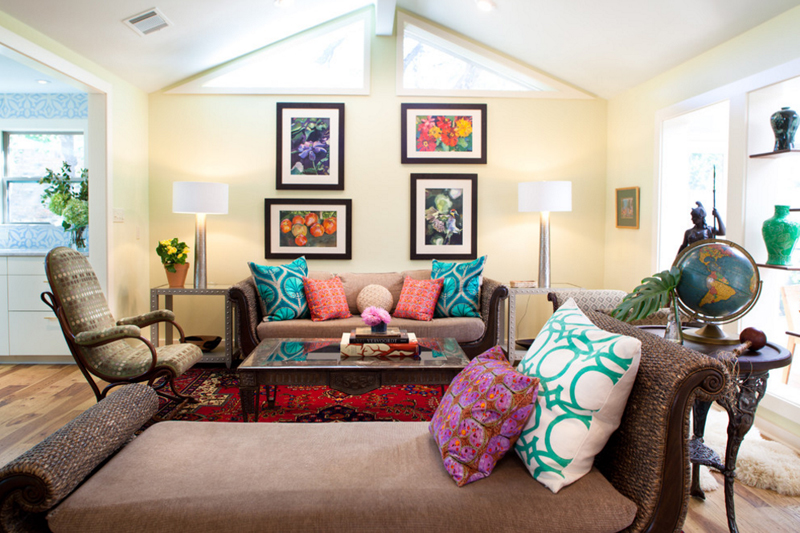 This Barton hills home sure has a couple of seats that one can choose from. A ordinary couch, Cleopatras and a rocking chair. These chairs are made from simple rattan and are basically in brown but are actually prettier because of the colorful pillows on them. Notice the contrast on the color of the chairs and the color of the wall? I think it looks great.
4. Beach House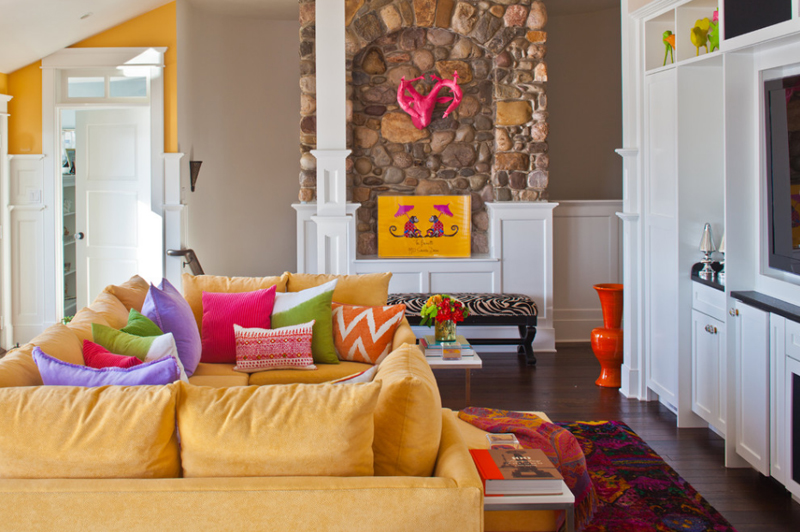 With a colorful living room like this one, I think that we all have the same thing in mind – this living room is just fun! It's so bright and inspiring that staying in here seems to be something really wonderful to do. The fun throw pillows complement well with the yellow-orange sectional. Note that there are a lot of textures present in this space, and I think that it's really special.
5. Black Bull Golf Community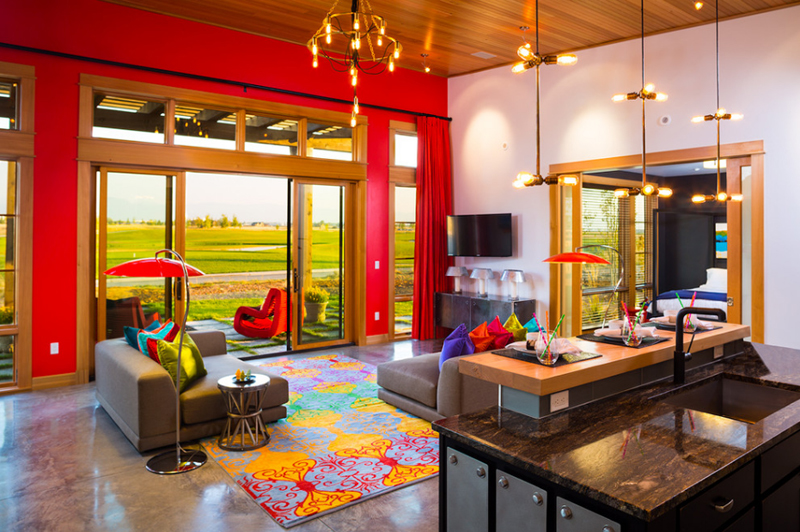 The colors in this living room needs a little bit toning down. I mean, I think it's just this way because of how the photo was processed; the colors in here are way too bright, I doubt it if you could actually rest your eyes if this was in fact the real colors of this living room.
6. Braun + Adams Home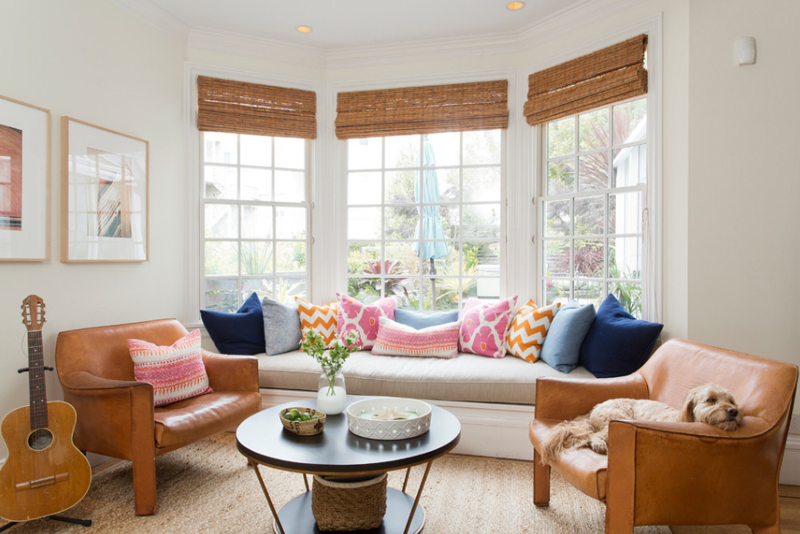 Ever seen a beautiful bit of pillows beside each other? This living room is adorned with the cutest pieces of throw pillows that complement well with the color scheme that this living room has. I personally like the leather arm chairs in brown because they are kind of larger than a usual arm chair plus it looks real smooth and pretty.
7. Chicago Living Room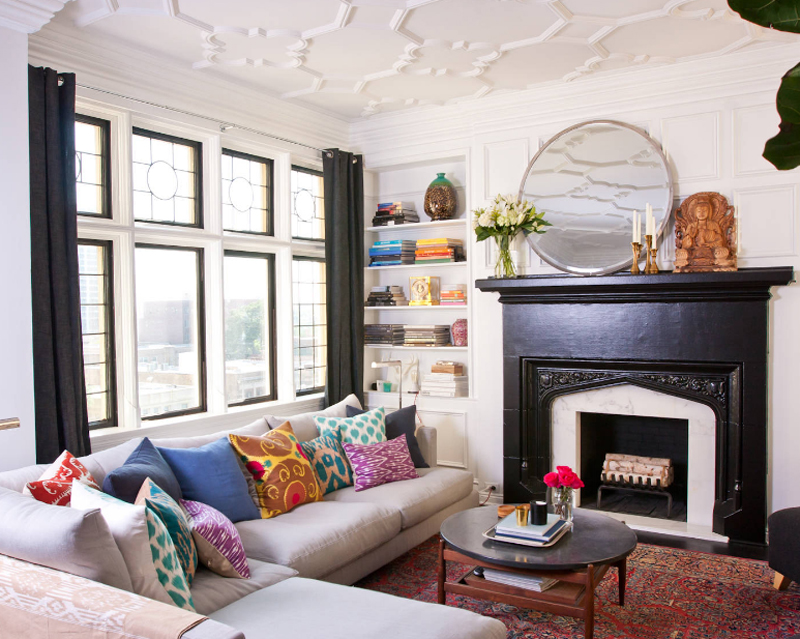 I think that the details on the ceiling is real pretty – notice that like some of the photos on this list, there are tons of colors that we see in here and at the same time, it has so much details and textures that actually make every space in this list quite interesting and beautiful.
8. Contemporary Living Room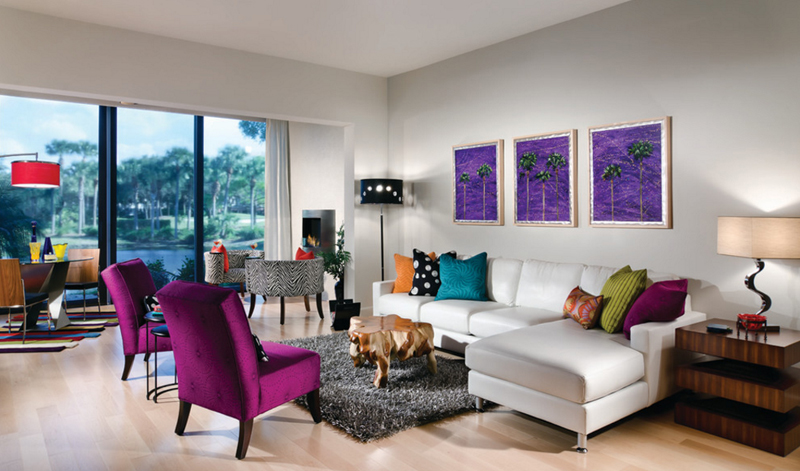 The violet side chairs sure brings more life to this living room; if you ask me, I think the idea of adding it to the space made a lot of beauty to the living room. The photos on the wall somehow match with the color of the side chairs and it looks real sweet!
9. Duffield Drive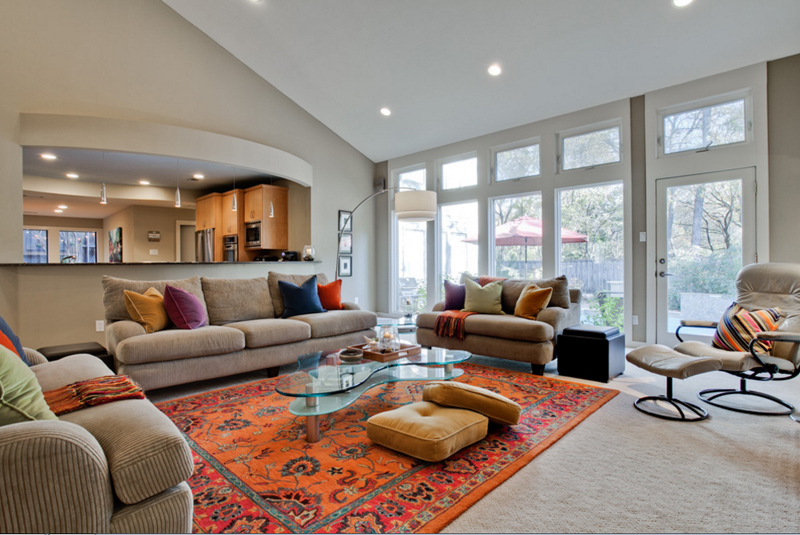 The color of the throw pillows in this living room is not much on the brighter side but it still looks quite catchy; the color choices that they did on the throw pillows somehow relate to each other and it's usually smart that way. We do not want them overpowering one another, right?
10. Halpin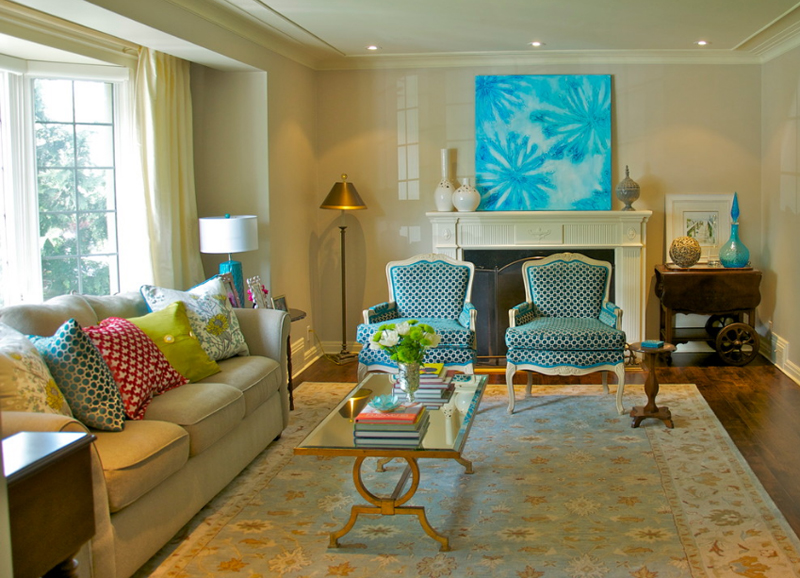 See how the arm chairs and fabric of the throw pillows match a little bit? I think that it's actually cute that they did it because matchy things when done right actually make spaces more interesting and pretty.
11. Hampstead Garden Suburb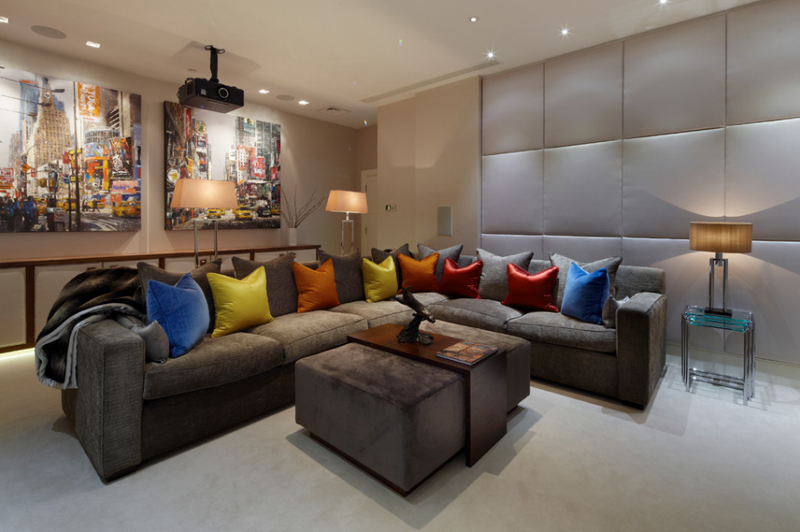 A sleek living room with the most sophisticated approach there is to living room design is seen in this photo and it looks really nice. It's simple, minimalist in a way and still really sophisticated and fancy. The shiny choice of pillows and is what makes them more charming.
12. Kips Bay Showhouse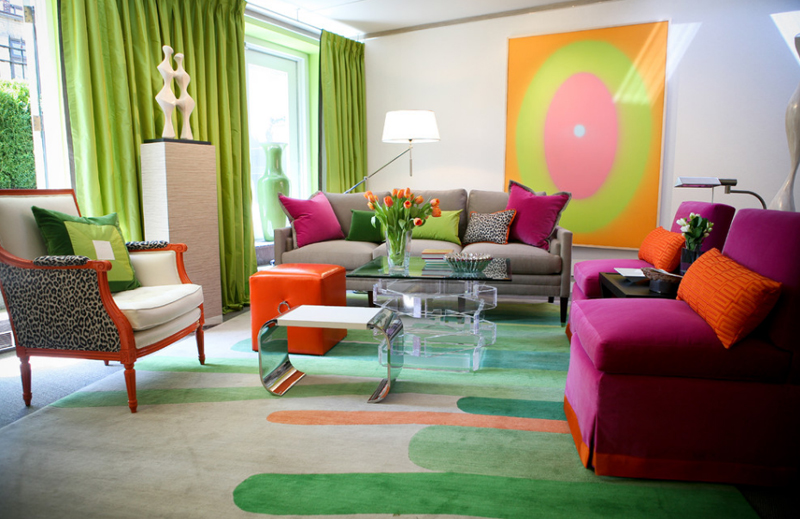 Notice that the colors and prints of the throw pillows actually match the colors of the couch and the chairs and it looks quite fun! This space sure is one happy place because of the colors and the fun prints seen on the walls and on the floor. Even the choices of coffee tables look real great!
13. Little Venice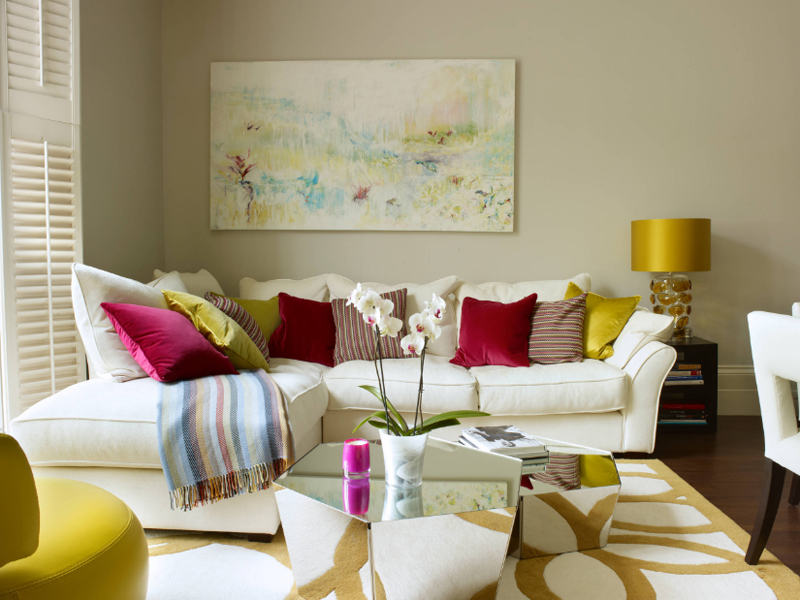 Two things that captured my attention with this living room are the golden table lamp and the geometric glass coffee tables. I'm sure that aside from the colorful pillows and the beautiful area carpet, the things I just mentioned are the prettiest in this space. I wish that they aren't expensive and that they're actually available in our home depot!
14. Lost Creek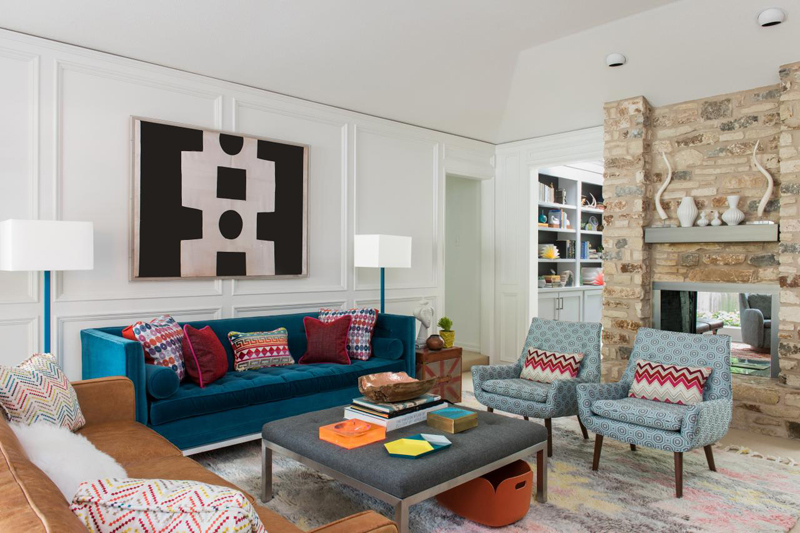 The choice of furniture and throw pillows in this living room makes me think that this is somehow a boho-chic inspired living room. The prints on the pillows are a bit Aztec or something and it just looks really fun and pretty! The contrast on the plain couches and the printed throw pillows is real neat – I quite like it.
15. Maui Sanctuary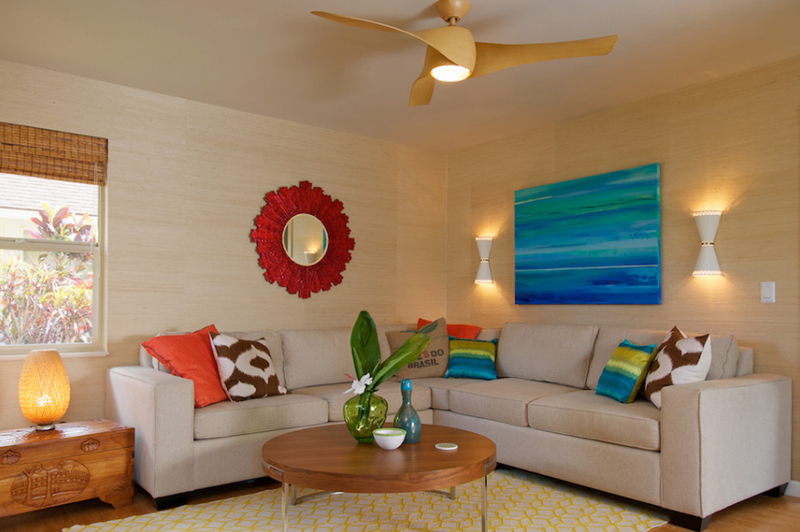 There is minimal throw pillows in this living room but look at how cute each one is. There are some that are similar from each other which make it cute and fun too! They made sure that the decorations on the walls had similar colors on the throw pillows too! And I think that my favorite thing in this living room is the blue painting on the wall because it's my favorite color and I think that it looks quite a charmer!
16. Michigan Summer Home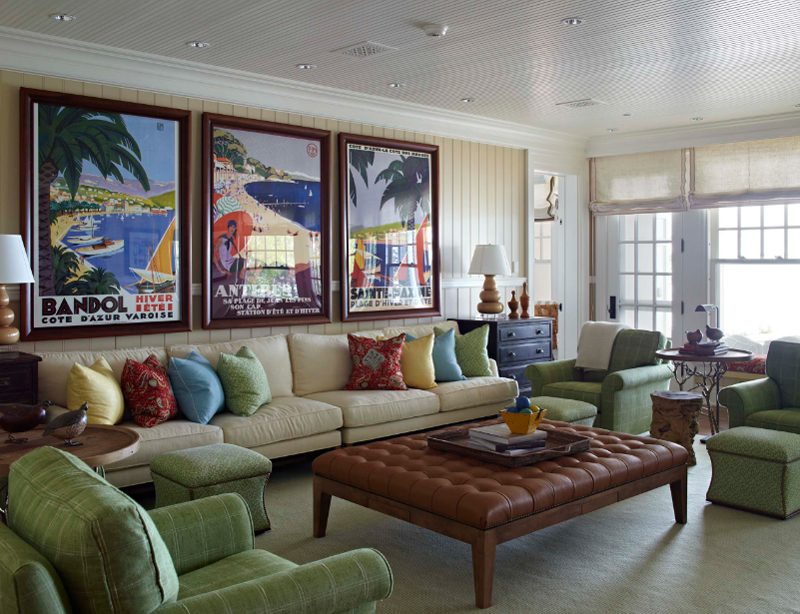 What do you think about the large ottoman/coffee table in the center of the room? The color looks great and really fancy which is unique from the colors seen on the furniture and the decorations. The fact that it's quite large makes it really perfect for me. In a space where there are a lot of seating, a large coffee table or the use multiple coffee tables are ideal.
17. Oakton Residence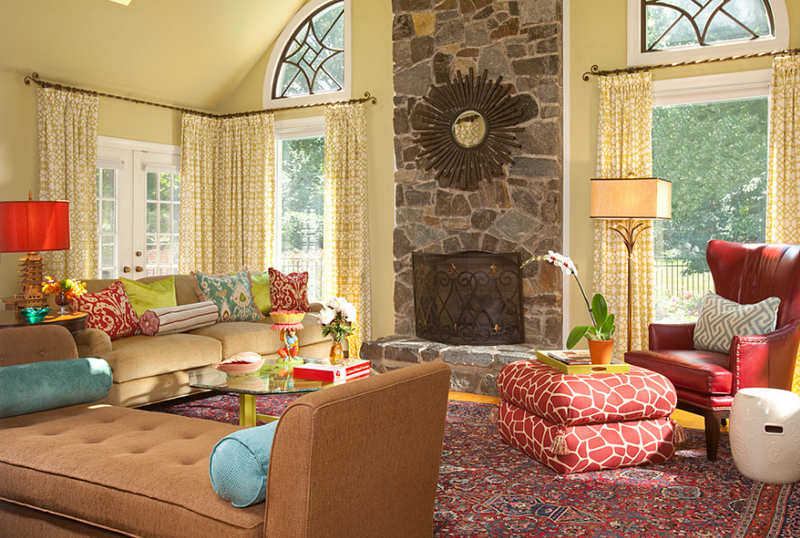 This is one traditional living room that has a lot of colors present in it – it's actually really pretty and captivating. If you notice, the fabrics used for the throw pillows are in fact traditional yet really interesting and cute. I love the prints seen here along with the texture on the fireplace area.
18. Remington Plan 4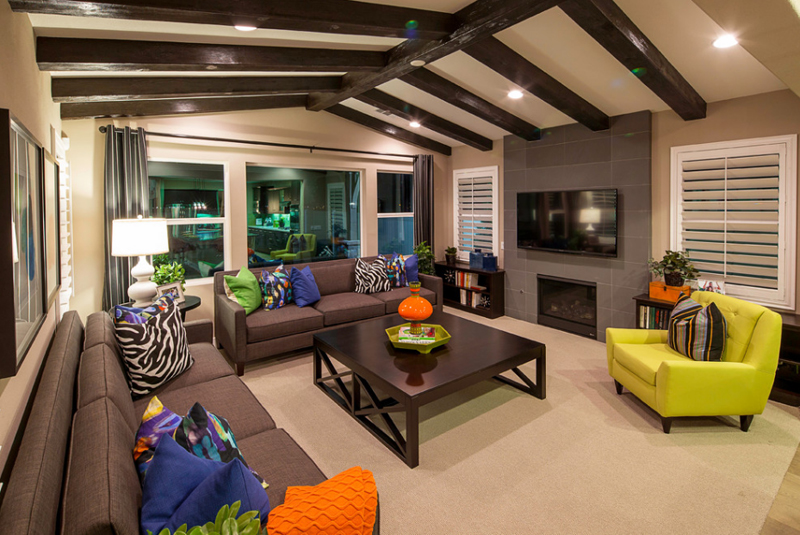 Oh, I am surely impressed at the bold choice which they did in picking this accent arm chair! The color is different from all the colors present in this living room. The blues and blacks on the pillows look simple on the couches but they sure made it look stunning!
19. Rustic Road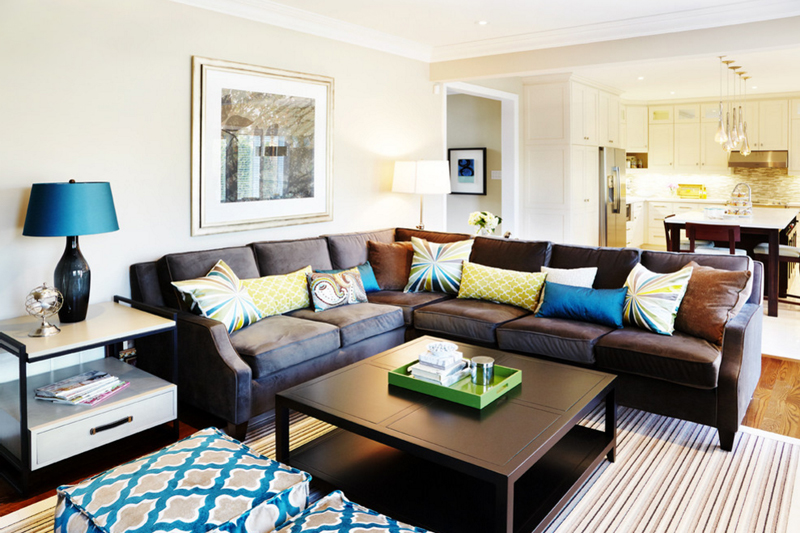 With light colored walls, the use of dark colored couch and coffee table is ideal – adding colorful and printed throw pillows made it more interesting. If you notice, they used two different lamps which I think made it fun. As much as symmetry is great, some surprises like this one creates a far more interesting space.
20. Villa la Baule
This last living room sure has its way with color thanks to the colorful throw pillows in here. Since the surroundings are actually black and white, adding the colorful throw pillows made it prettier and far more interesting than it already is. Even adding the yellow coffee table made a whole lot difference for the space.
Now, wasn't that one interesting list to begin your day with? The fun color combination was indeed one of those wonderful things that your eyes needed when you wanted to see something fun and beautiful. Like in fashion, fabric prints come back and it does not necessarily mean that you have to pick the most popular colors or prints but the ones that could actually really go well with the couches you have at home or the theme of your living room. I think that you should also check out the 15 Ideas to Decorate a Modern Living Room With Throw Pillows because I think that they're wonderful and fun too!