15 Elegant Purple Bathroom Accessories
Purple is achieved by combining red and blue colors. It is a color that is rich, vibrant and elegant that is luxurious in its own way. It is a color that influences our mood and imagination. Purple as a color for a bathroom accessory set would somehow lift up the mood of a bathroom interior because of its vibrant color. Bathroom accessories are mainly made up of a soap dish, toothbrush holder, tissue holder, soap dispensers, and glass canisters would be perfect for storage. These purple bathroom vanity storage set is a great way to spice up the look of your bathroom and gives an elegant appeal.
For this article, we are featuring 15 Elegant Purple Bathroom Accessories to add color and life to your bathroom interior. They come in different shades of purple but still have the same elegant and sophisticated appeal. So, feel free to check them out and enjoy!
Bathroom Set – SBS40-Purple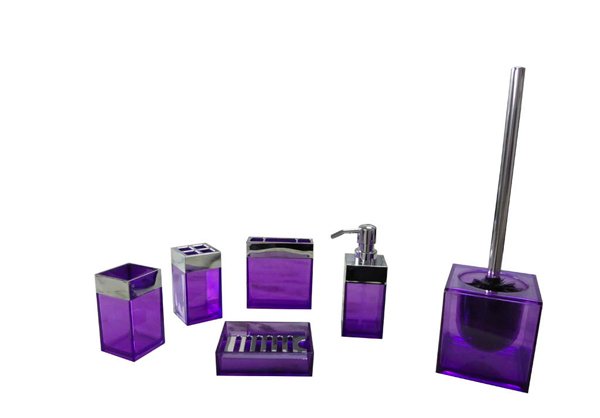 These light purple bathroom accessories are trendy and would make a great accent on a modern inspired bathroom design.
Regency Plum Bath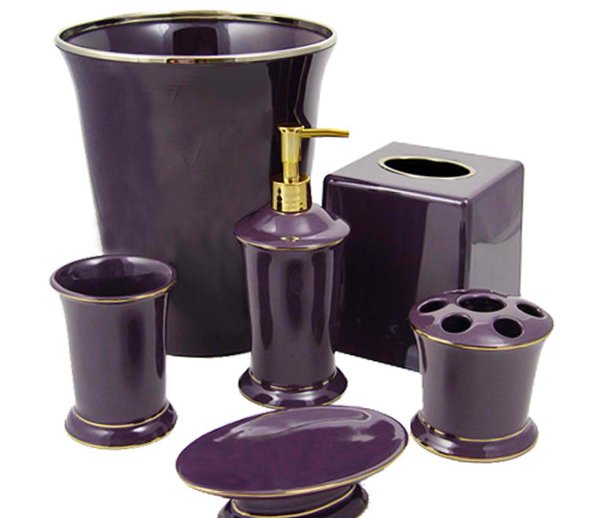 This elegant plum bath accessory set gives a certain attraction and beauty for your bathroom space because of its contemporary style idea.
Twist Lilac Bathroom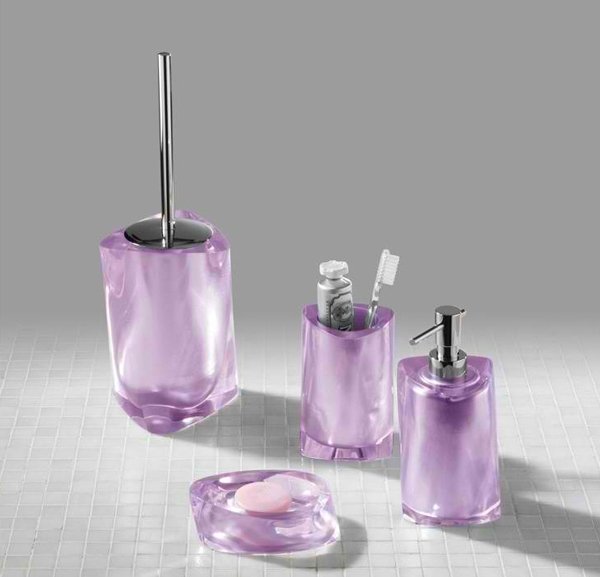 This lilac bath accessory set is another great addition to a bathroom interior since the color is cool and makes a great accent design.
Chloie Marble Purple Haze Bath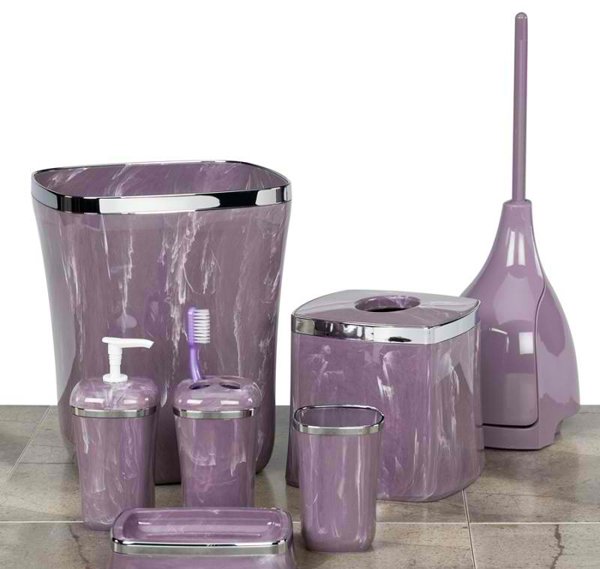 The marble purple design on this bath accessory set has a more contemporary feel due to the chrome trim top on each piece.
French Style Acrylic Bathroom Set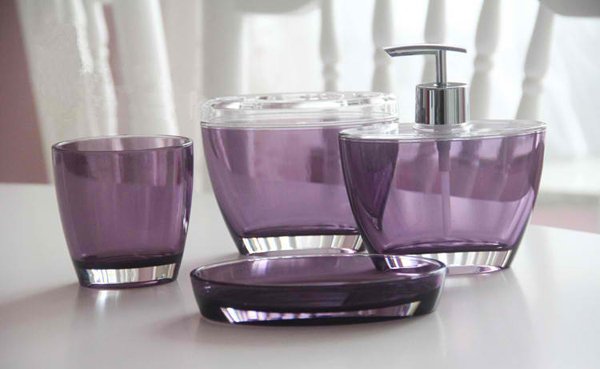 Another purple bathroom accessory idea that is simple yet elegant, it has a glassy feel to it, but is actually made of durable plastic materials.
Botanica Bath Medium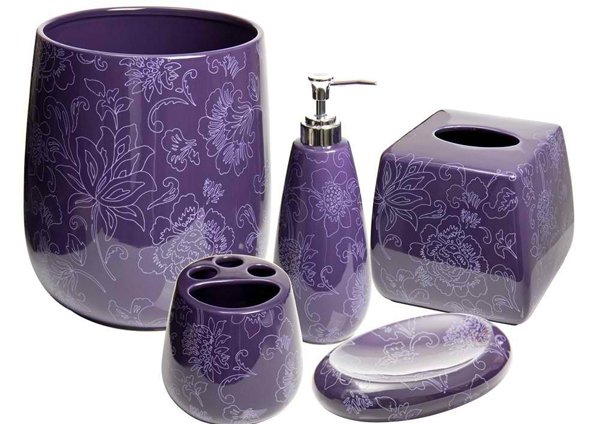 This purple botanical floral designed bath accessory is made of ceramic, so it lasts long and could be a great additional design to a bathroom.
Stardust Purple Bath Accessories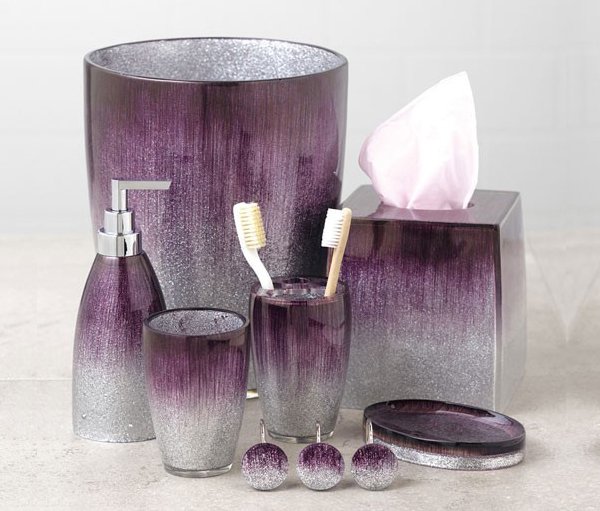 An elegant blend of glitter accented purple and silver bath accessory that would sure give an updated look to your bathroom and gives a touch of sophistication to it.
Bathroom Accessories Acrylic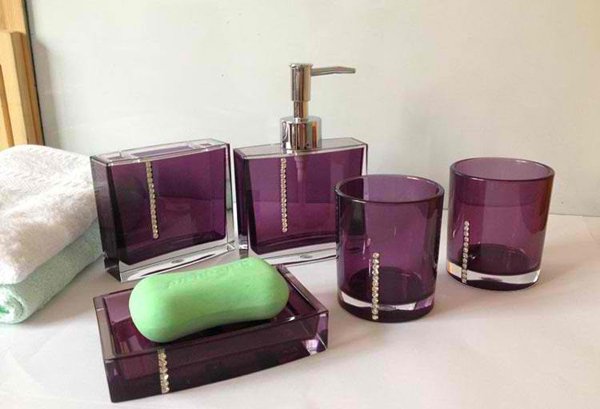 This purple bathroom accessory has a hint of sophistication and glamour on the diamond accent seen on the side, a great way to lift up your bathroom interior design.
Regal Purple Bathroom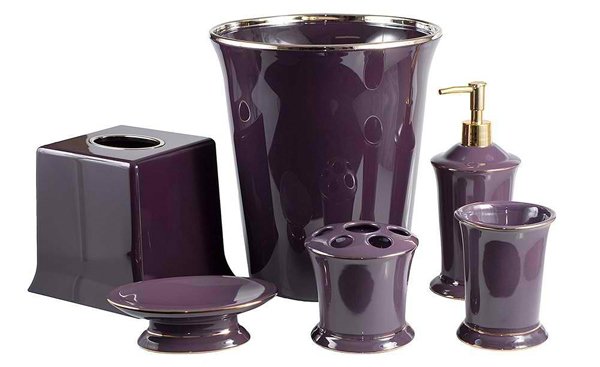 An elegant and classy dark plum bath accessory and gold accent that provides a sophisticated look to the design, a great addition to a traditional bathroom design interior.
Umbra Curvino Purple Bath Ensemble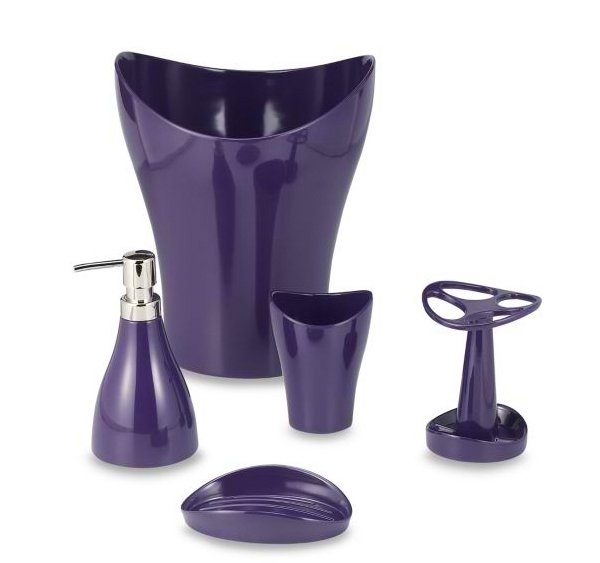 This purple bath accessory is another great addition to add color to your bathroom, and with its unique shape and elegance these would be perfect to a contemporary inspired bathroom design.
Turquoise Lime Green Purple Daisy Stitch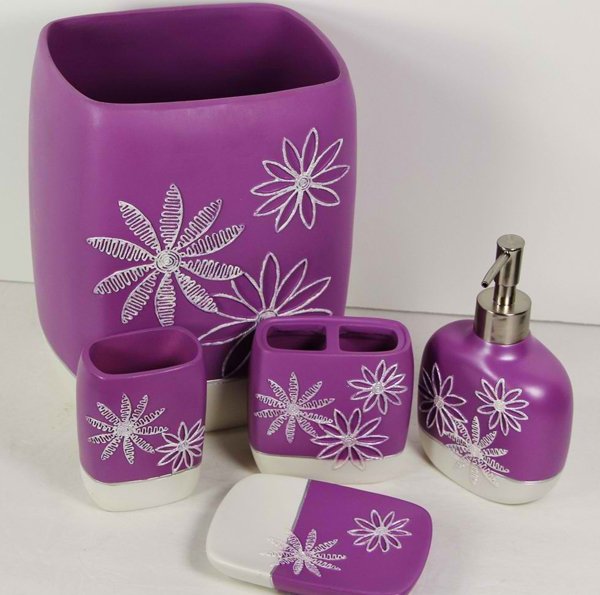 This combination of purple and white bathroom accessories with a touch of daisy designs is whimsical as well as elegant. The playful design will be a great accent to any bathroom interior.
4 Piece Bathroom Ceramic Accessory Set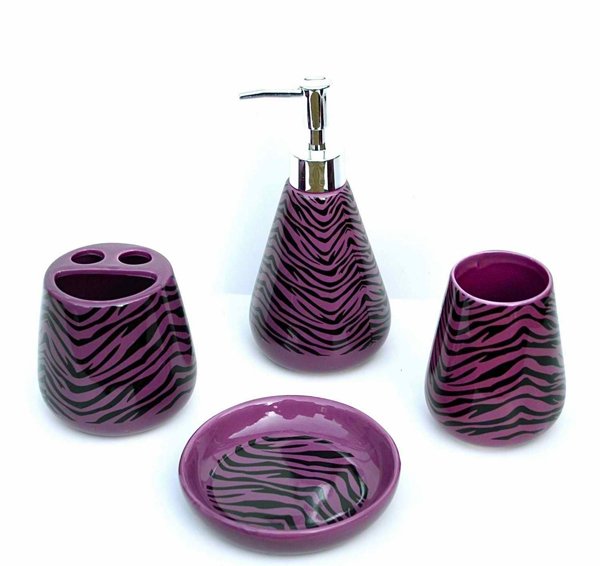 Another purple bathroom accessory with zebra prints details for a fun and whimsical design, simple and elegant all the same.
Avanti Floral Bath Accessories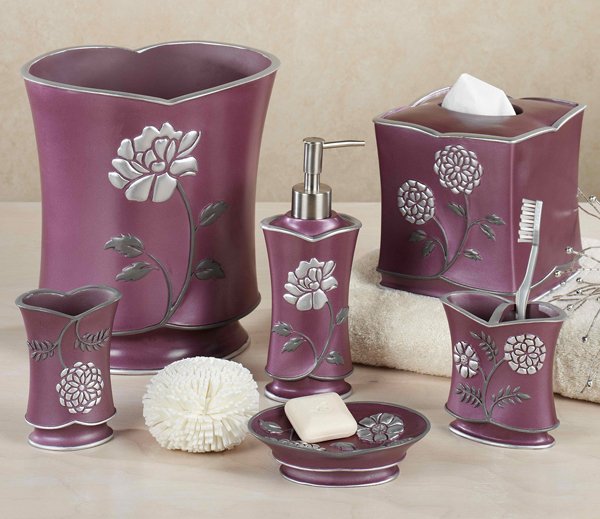 A blend of modern and with traditional simplicity is seen in these bath accessory set, accented with floral design that gives an elegant appeal.
Pantone Universe Bath Purple Magic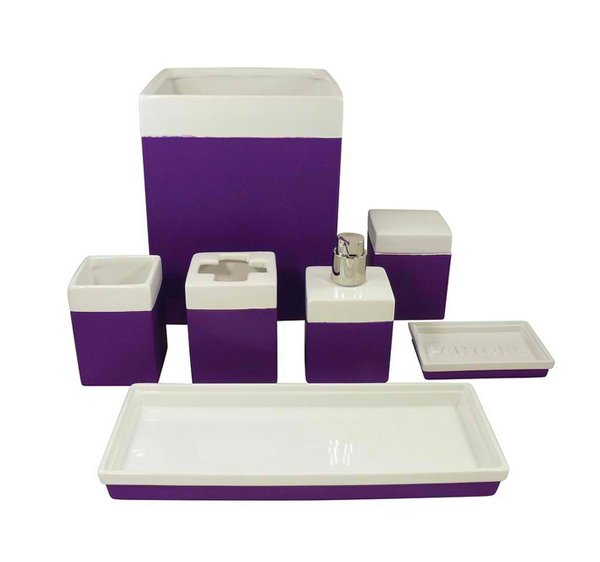 The white and purple color combination of this bathroom accessory gives a vibrant feel to a bathroom interior to lift up the design.
Mainstays Bath Accessories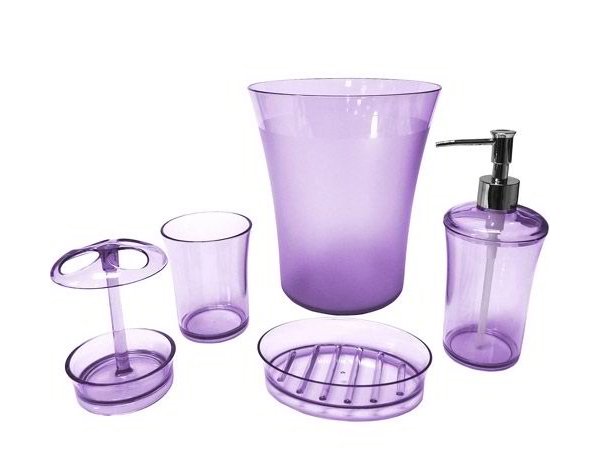 A light purple bathroom accessory that is made of plastic and durable materials that would be great for a college student bathroom or even those for kids since it doesn't break easily and lasts long.
Purple, as a color is always eye-catching and trendy. You would never go wrong in adding simple accents to your bathroom by adding a bit of color and especially through these bath accessories that, even though they are small items that are used for storage, they give an elegant appeal while still being useful. But, if you prefer modern bath set for your bathroom and toiletries storage, feel free to check them out too. They are as beautiful and attractive as those in purple above.