20 DIY Home Decors To Celebrate Hanukkah
Celebrating Hanukkah? Here are easy DIY home decors you can try making.
Some people celebrate different occasions apart from birthdays and Christmas depending on their culture and religious belief. There are also various ways of celebrating them. There are some who would decorate their homes to showcase their belief or they merely want to extend the "feel" around their home. And when decorating, homeowners would either purchase decors or would work on some DIY projects to give their home decors a personal touch. Today, we are going to show you some DIY home decors to celebrate Hanukkah.
Hanukkah is a Jewish celebration which begins December 24 this year. It is also known as the Festival of Lights and the Feast of Dedication. It is usually observed by lighting a nine-branched menorah, playing with dreidel and eating oil-based foods which includes donuts. And of course, one good way to celebrate that is with handmade decor and gifts! With that, here are 22 DIY projects that you can use for your holiday parties and family gatherings.
1. Rustic Modern Retreat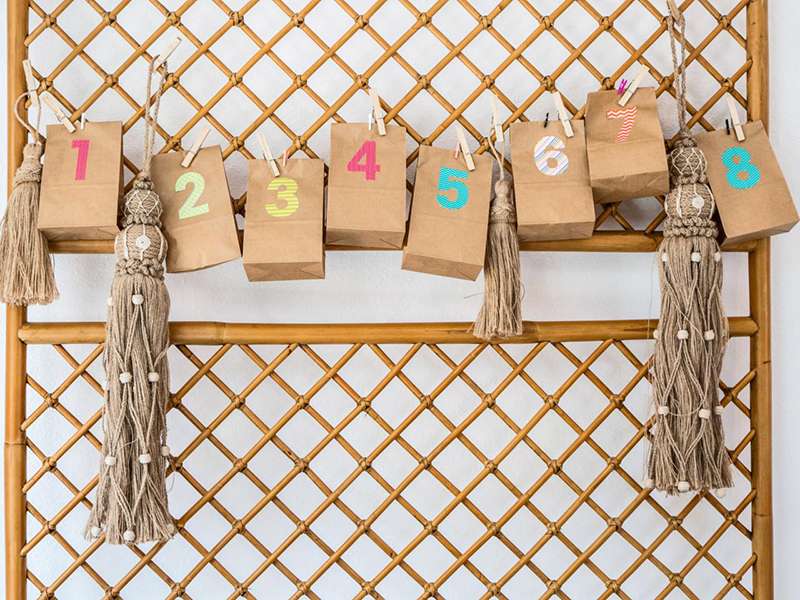 These paper bags with colorful numbers are so gorgeous! I just love how this one turned out.
2. Paper Dreidel Garland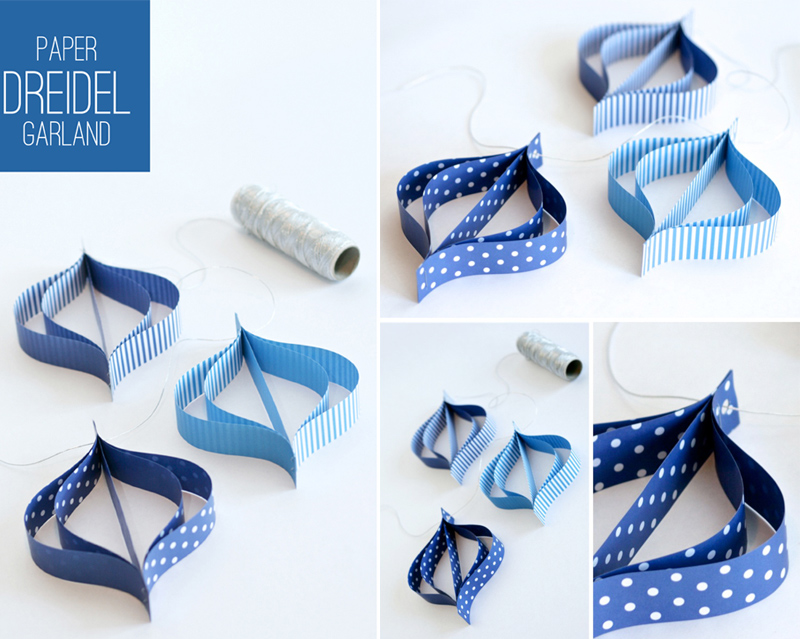 Create this pretty little dreidel garland with patterned paper and string. Use it to decorate walls, mantels and even staircase railings.
3. Chanukah Tin Can Luminaries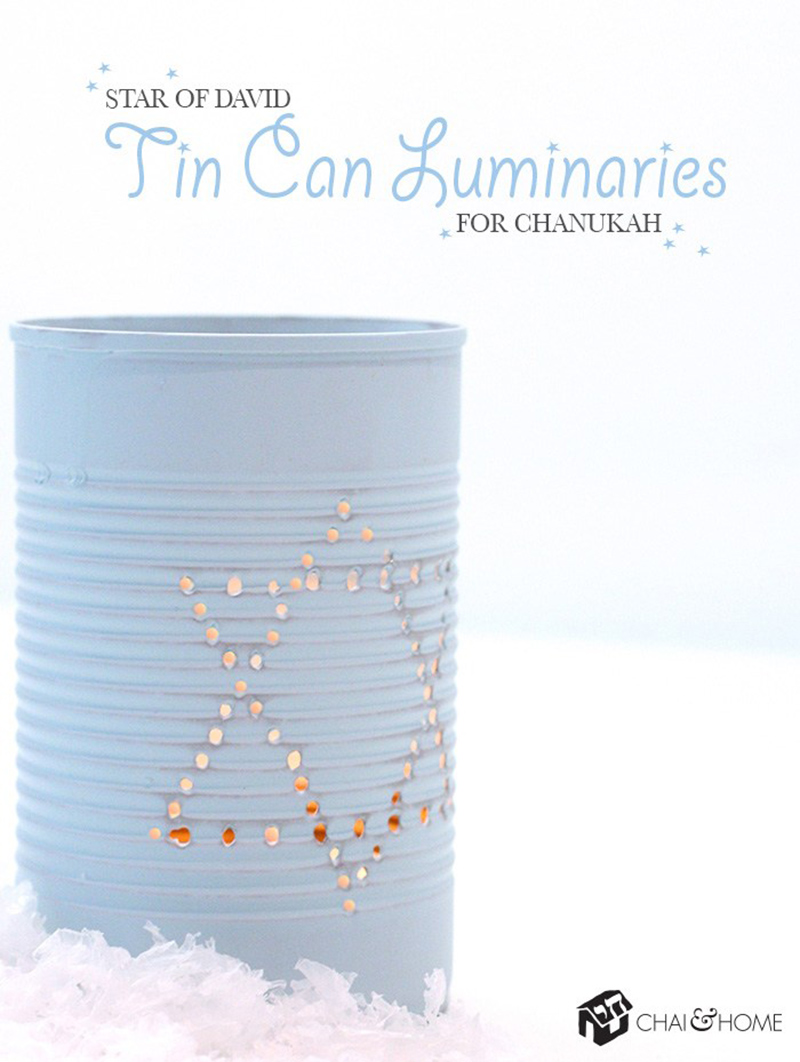 Do not throw away your tin cans! Instead, make some Chanukah Tin Can Luminaries by creating star shaped holes on it using nails.
4. Modern Wooden-Block Menorah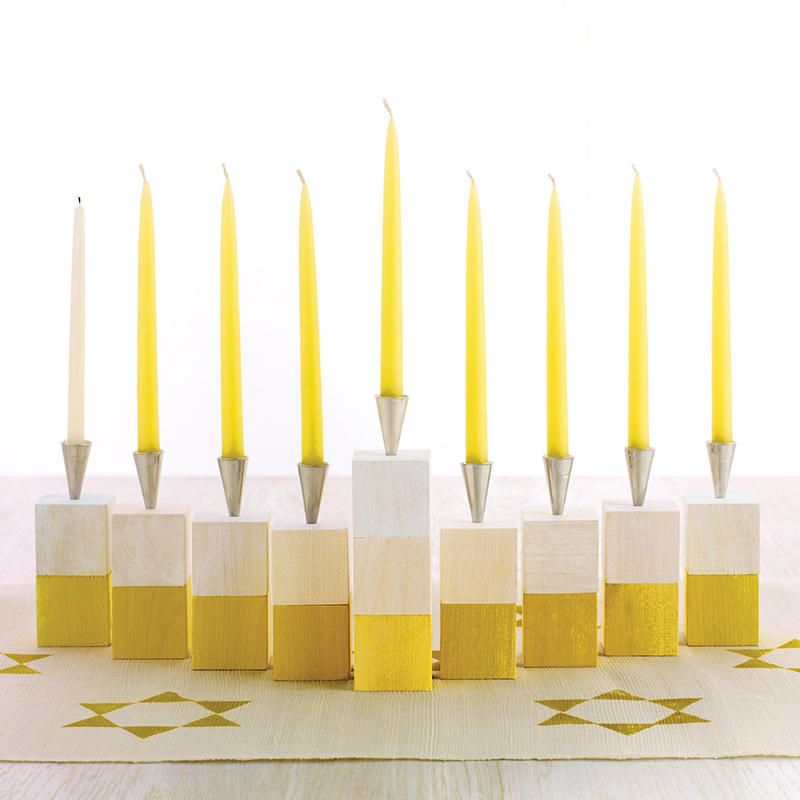 Create this contemporary menorah which is made using wooden blocks, cheery paint colors, and shiny candleholders. Isn't it very cute?
5. Star Wreath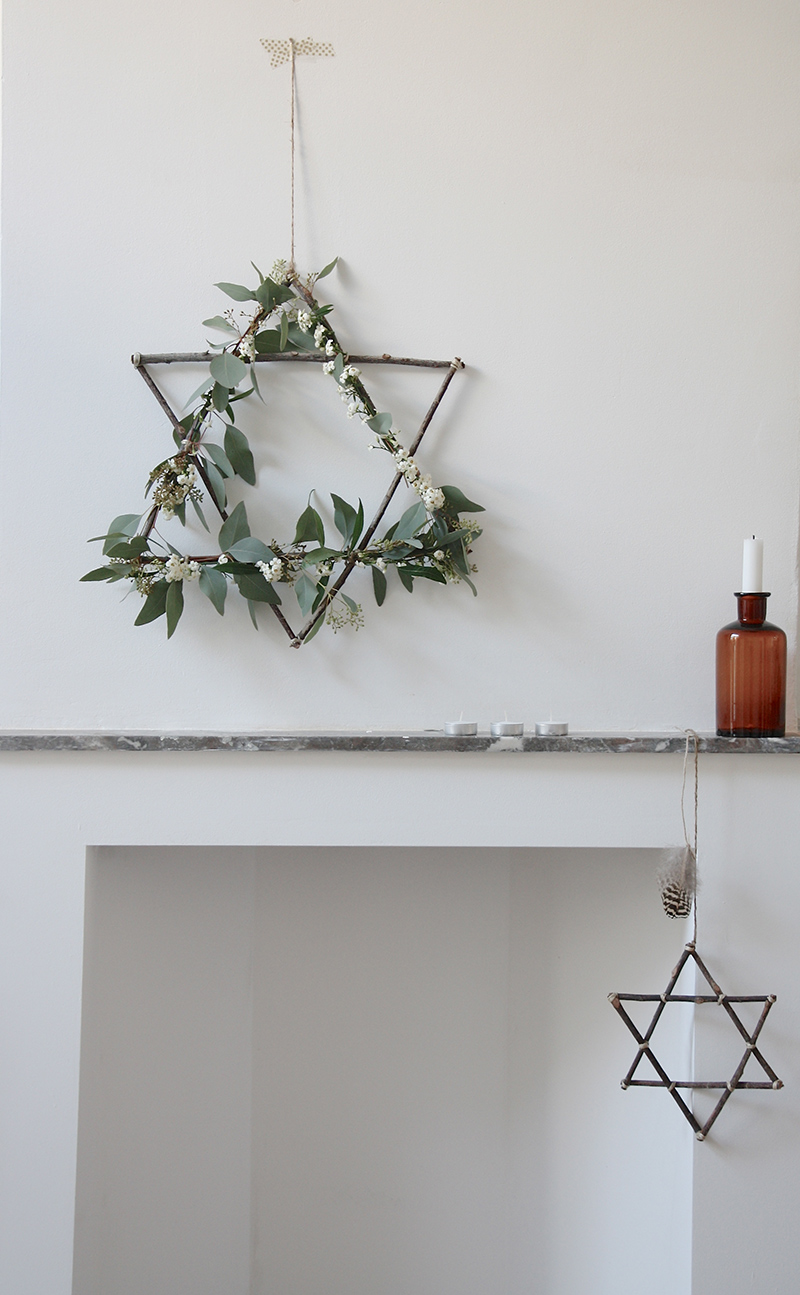 This is so beautiful despite its simplicity! And obviously it is so easy to make.
6. Hanukkah Craft: Eight Nights Stenciled Dreidel Wall Hanging
This wall decor is super cute and I love how orange is combined with blue. The other decors around it look really very nice and creative too.
7. DIY Star of David Ornament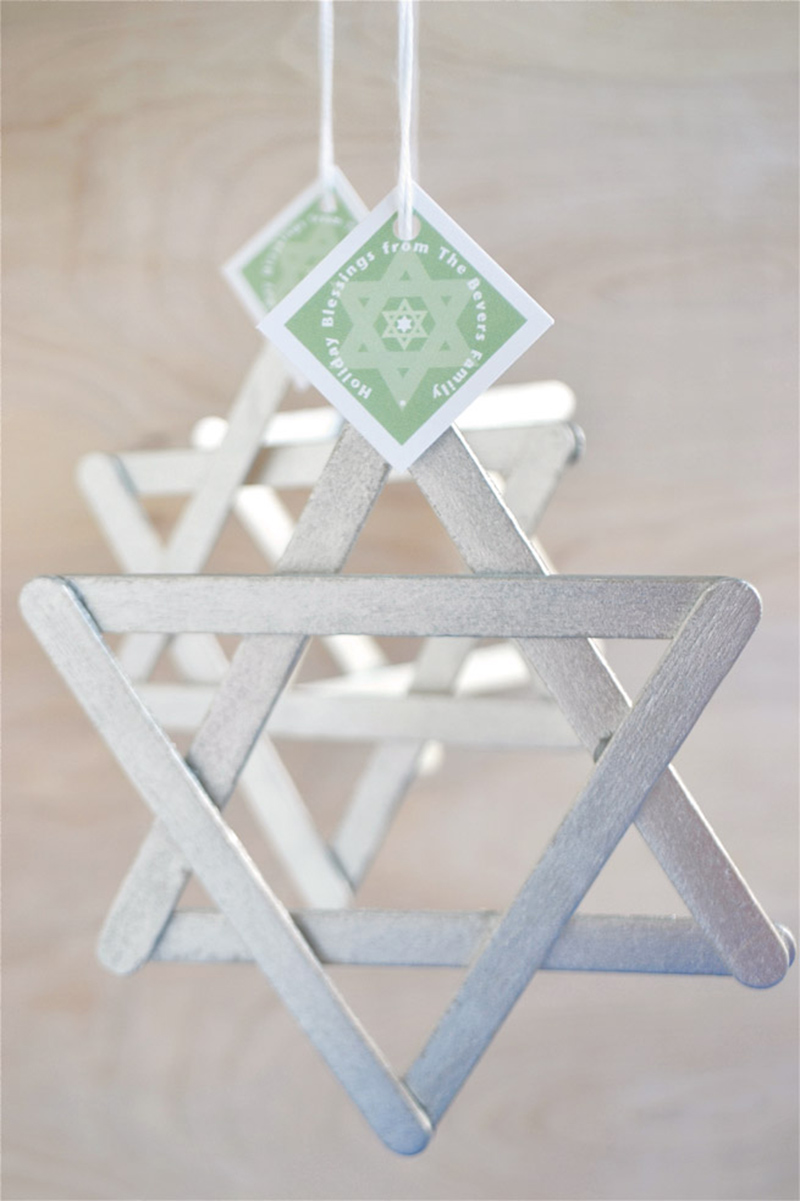 An easy to make decor using popsicle sticks to create a Hanukkah ornament.
8. Hanukkah Printables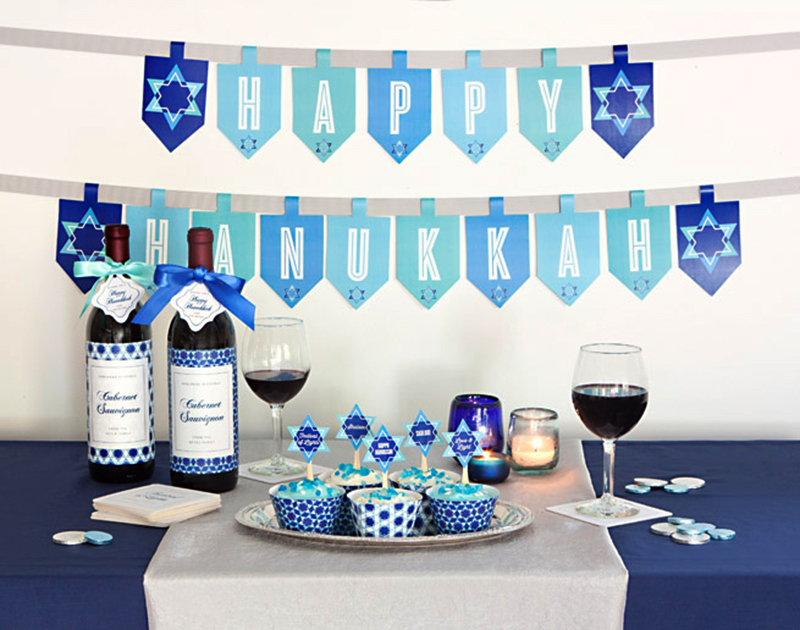 Simply print everything you need to complete your decorations and you'll get something as nice as this setup.
9. DIY Crackers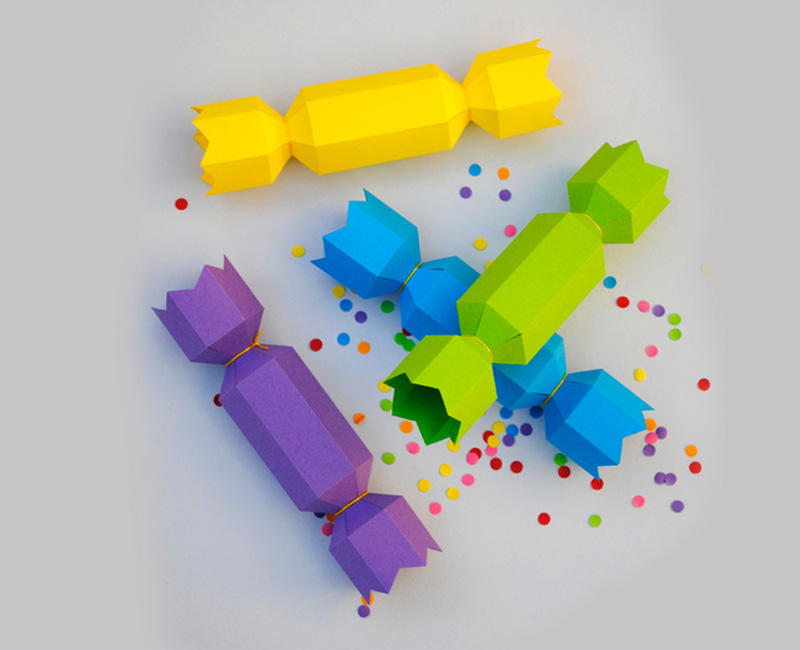 These colorful confetti-filled crackers made of paper will no doubt let you celebrate the Festival of Lights in style.
10. Craft Stick Menorah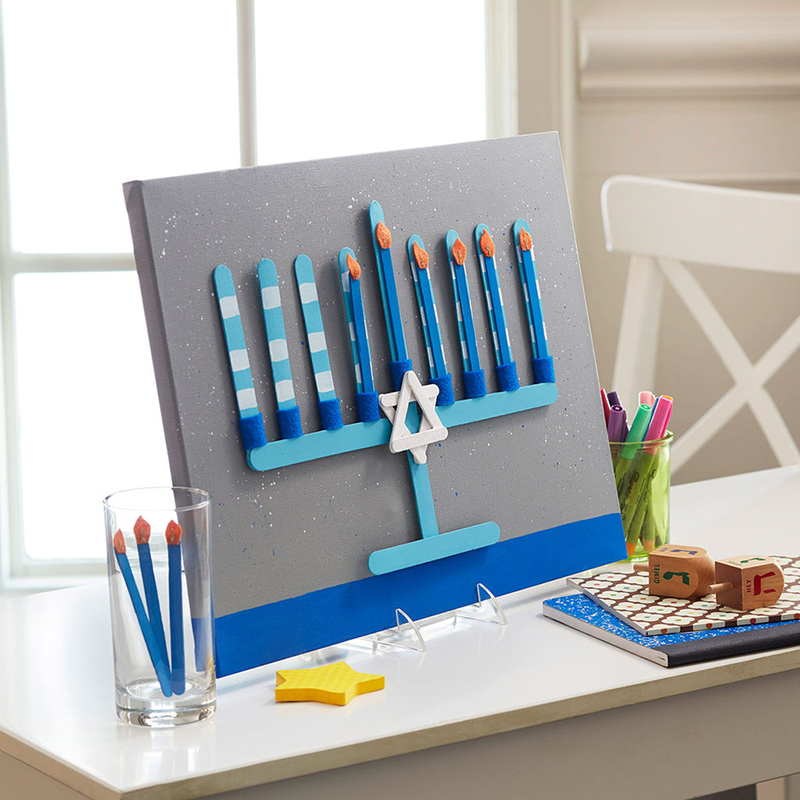 A Hanukkah decor which you can make with the kids! It looks great and totally fun to make.
11. Hanukkah Craft: Eight Nights Of Surprises Wall Hanging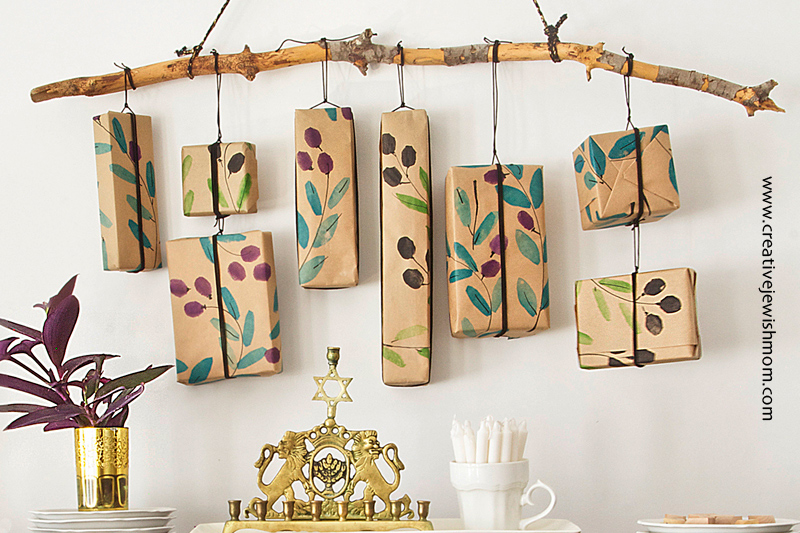 This is a super cute one to make a calendar for the eight nights of Hanukkah celebration. It just needs some stamping with paint and a lot of creativity!
12. Happy Hanukkah Banner: Printable Download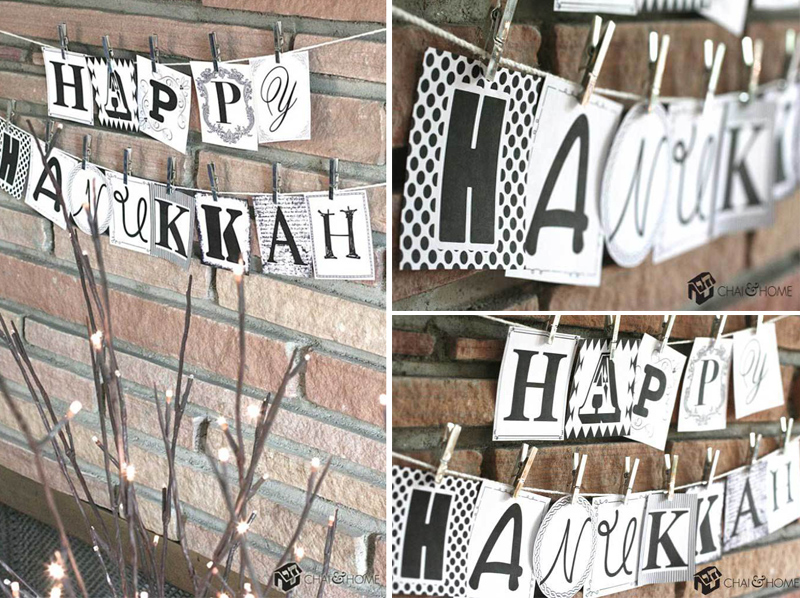 This is a super easy way to decorate. Simply save the printable, print it, cut and your good to go!
13. Hanukkah Decorations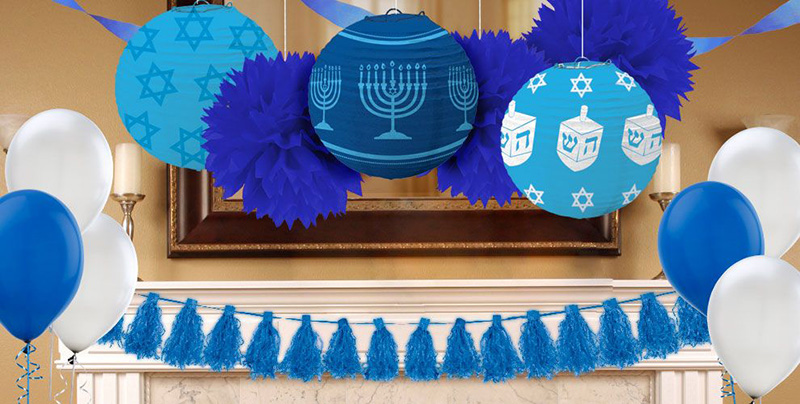 Who says you can't go fancy with decor during this festival? Lanterns, balloons and even some tassels would do the job.
14. Homespun Hanukkah Garland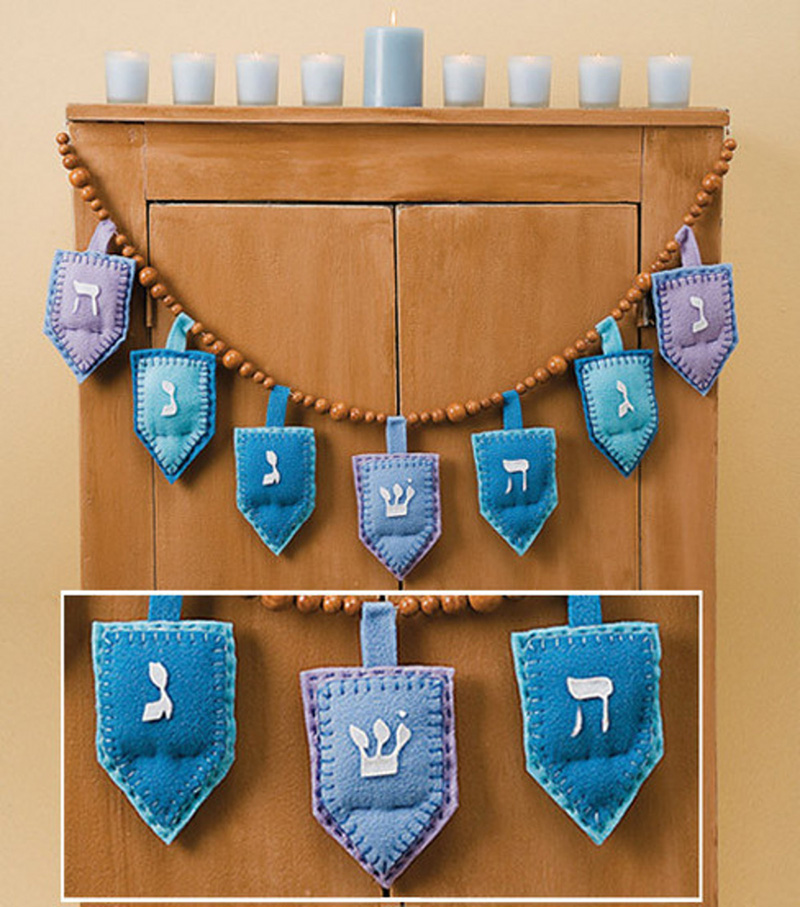 Make a unique Hanukkah garland with some personal touch using felt and some wooden beads.
15. DIY Dreidel Wreath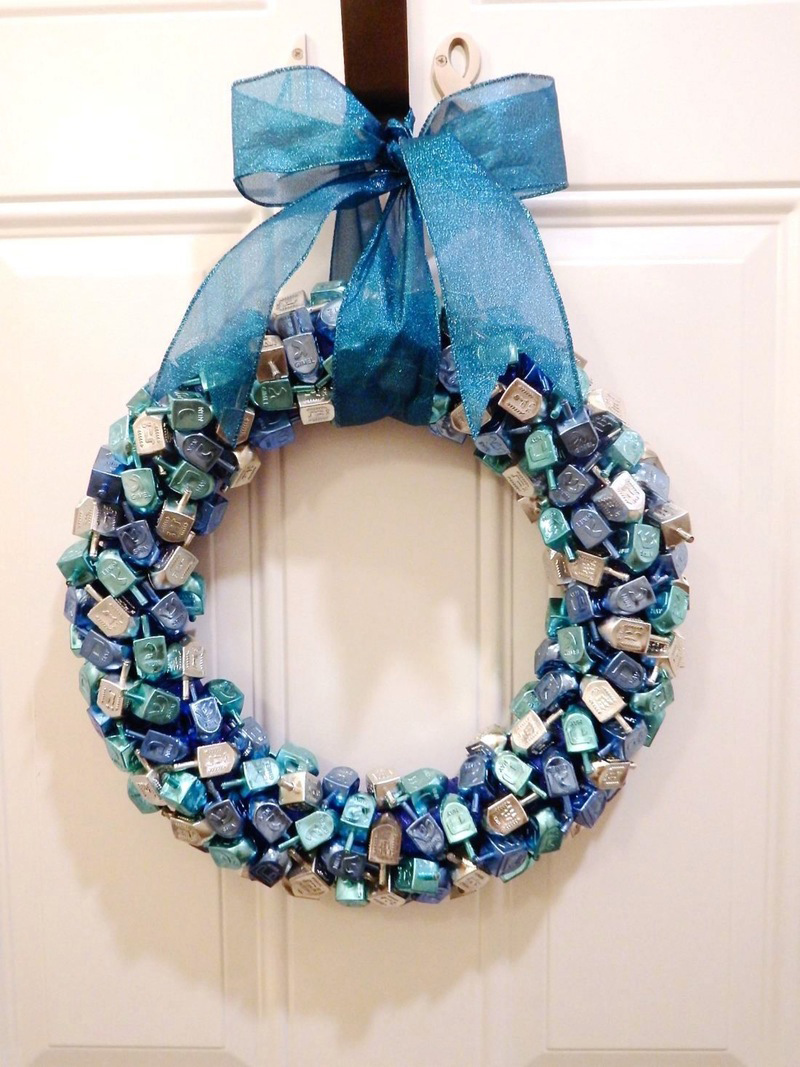 The classic Hanukkah toy can also be used as a decorative display. For this wreath from Felt So Cute, one needs a wreath form, ribbon, glue gun and of course, a bunch of small dreidels.
16. Chanukah Door Decor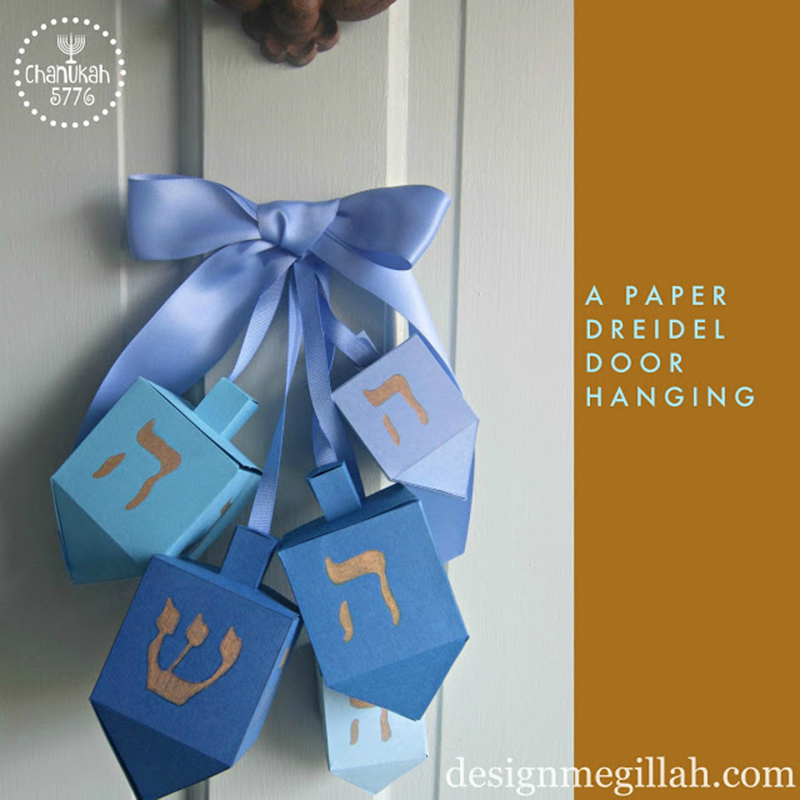 If you are the type likes paper crafting, then this one is for you. And it turns out really cute too!
17. Hanukkah Bottle Menorah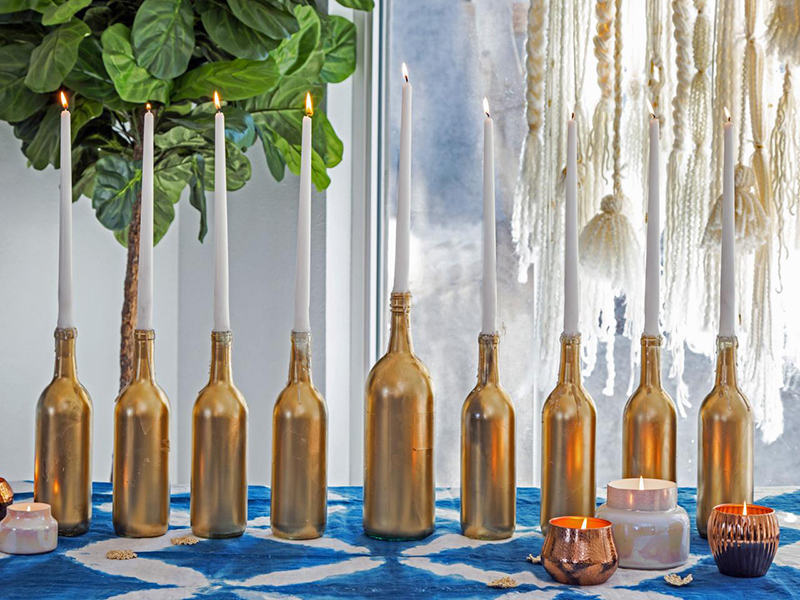 Want to make your own Hanukkah in a modern, easy and beautiful way? Just gather some bottles, spray them with gold and add a larger bottle at the center to resemble a Menorah. Piece of cake!
18. Hanukkah Wreath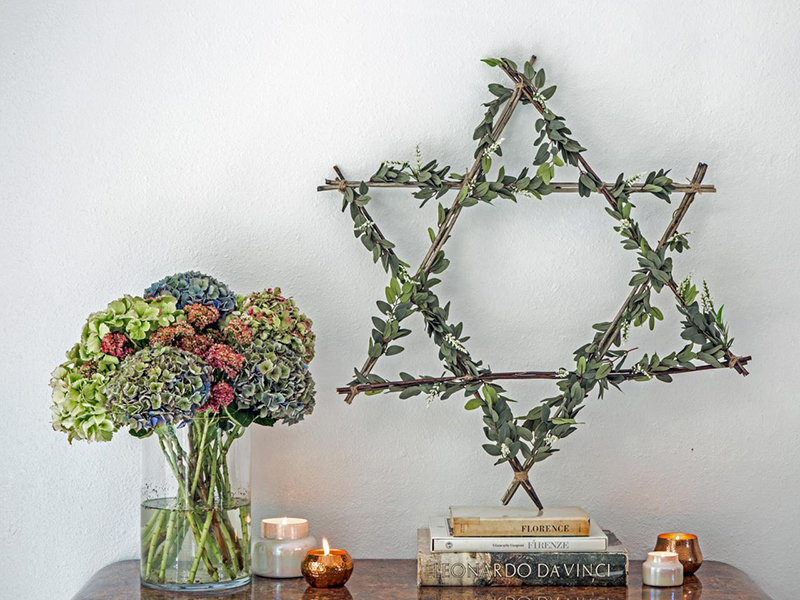 I know you got used of seeing circular wreaths but this one is just unique since it comes on a star shape. And don't deny it, this looks really nice despite its simplicity.
19. Star Of David Art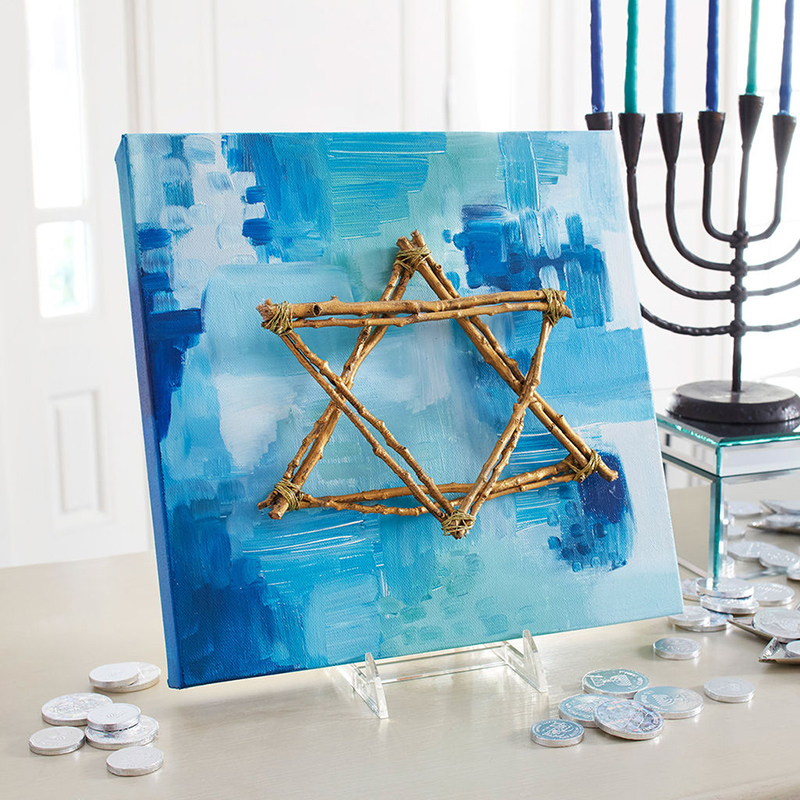 If you think this is hard to make, you are totally wrong. All you need are some acrylic paints and branches to create a unique and lovely Hanukkah themed decor which you can also use the entire year.
20. Make a Place for Seasonal/Holiday Decorations!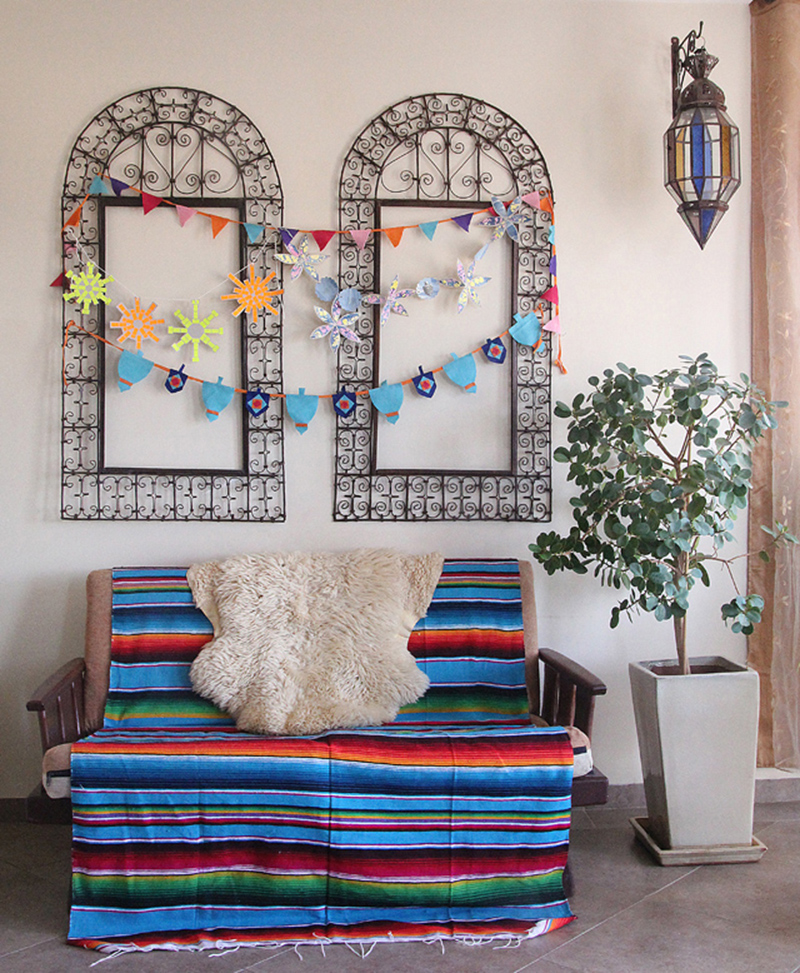 What can you say about these handmade garlands and other wall decors? Well, they sure are cute especially that glass window!
So what are you waiting for? Grab your supplies and start planning your own creations and decorations for your home to celebrate this annual festival. It would definitely be nice to fill your home with decors related to the event since it will surely spread the Hanukkah feel in your home. And what made it really nice is that you don't have to spend a lot in order to decorate. You just have to be creative!