20 Pretty Printed Throw Pillows in the Living Room
Hesitant to combine printed throw pillows in the living room? Don't be! Take a look at these spaces.
There are times when we just want to really add colors and textures to our home – however we do it, like adding awesome wallpapers or even having a professional hand paint something on the wall or even on the ceiling; use fun and printed carpets or even play around with the furniture that we use and even by adding printed pillows – so many ways, so little time.
Let's be honest, there are times that we really want to redecorate our living spaces but the things that we want to do are a bit expensive or even hard to do – but there is one thing that we can suggest that is easy and could be really be inexpensive if you are artistic enough – or even just patient. Take a look at the 20 Pretty Printed Throw Pillows in the Living Room below and check out how cool each space became when they opted to use colorful and printed throw pillows in there!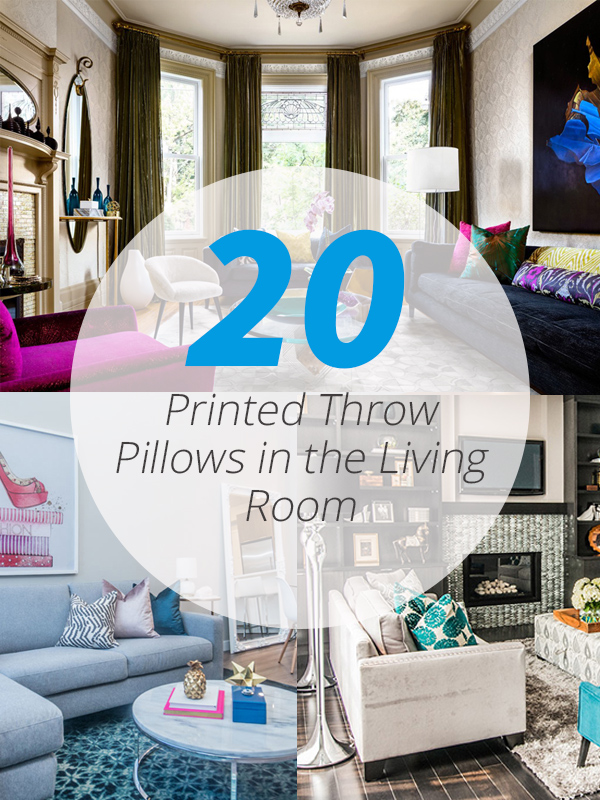 1. Altadore Residence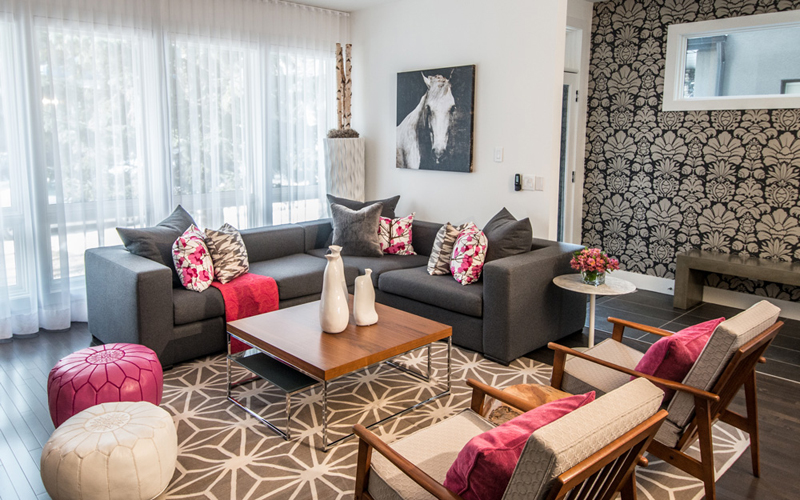 To begin this list, we have this lovely living room from Alykhan Velji; you'll actually be seeing a couple of their projects in this list because they sure did practice an awful lot of adding prints on their spaces – especially in the living room. For example, this living room has a lot of printed things in it but does not overpower one another.
2. Deering Bay Modern Apartment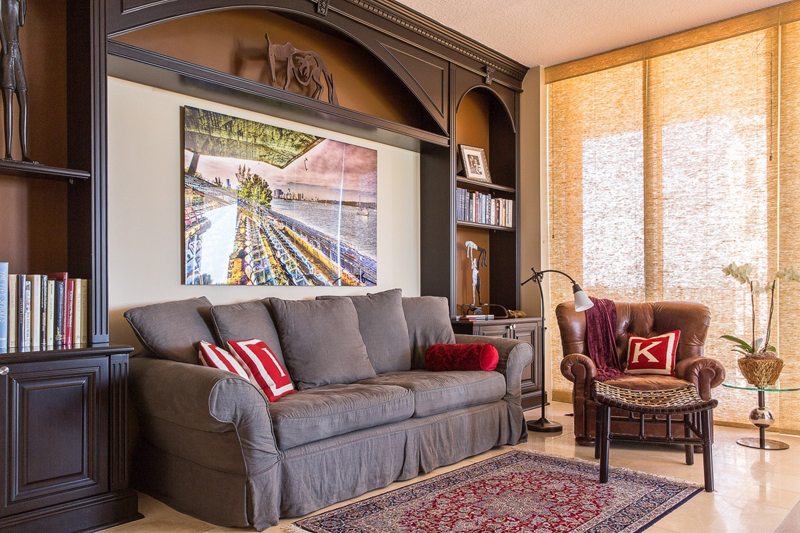 Here is one example where there are fewer pillows but they still have fun colors on them – although of course, in this one we only see white and red but they sure did pop out because of the colors of the couch and that of the arm chair by the window.
3. Elbow Park Residence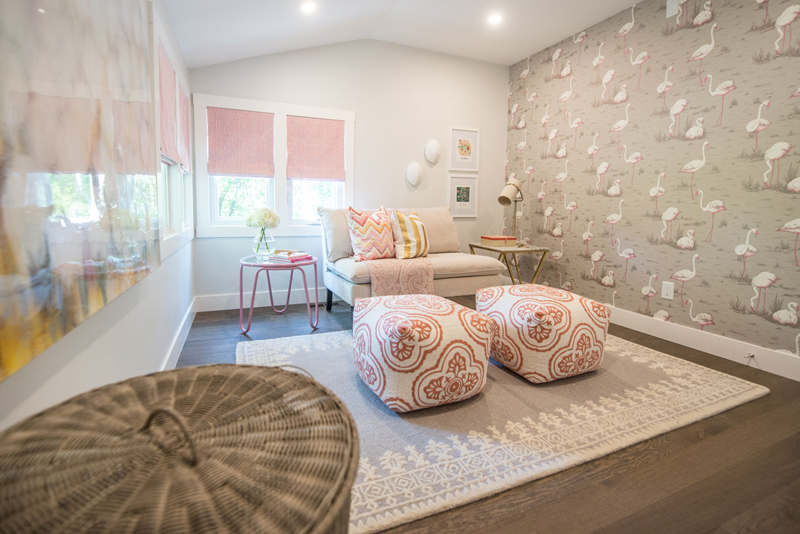 We see a small living space in here that has all the cute vibe going on. The wallpaper on the wall, the choice of ottomans, couch and side tables sure is nice and really easy to the eyes; I think that the color palette used here is pretty charming too – I feel like I can sleep easy in here. How about you?
4. Jade Garden

We see very little of this living area but check out the color combination used on the pillow cases? When we buy pillows or pillow cases, they usually come in pairs and in this staging, we see that each pillow case came with a partner and they just sort of mixed them all together and it looks real good.
5. Artesia Residence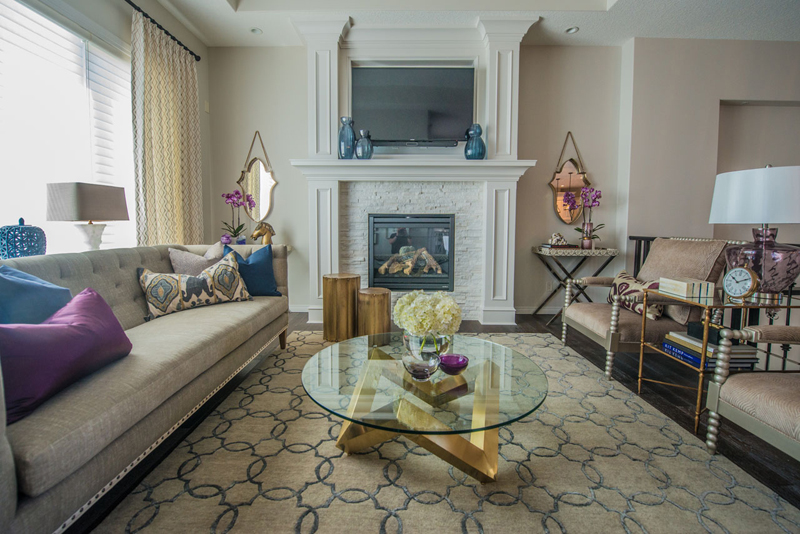 The golden base of the coffee table along with those two golden things by the fireplace looks simple but really phenomenal. Since they used a lot of neutrals in this room, I think that it's nice that they added printed pillows and shiny things – like the mirrors, the coffee table and those objects on the back. This space is pretty awesome!
6. 230 Central Park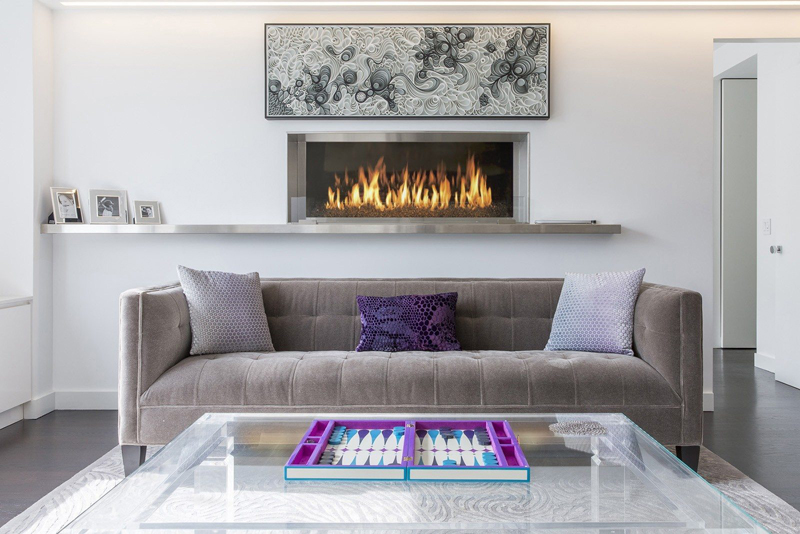 When I saw this photo, I got really excited because it looks really nice – sophisticated, classy and still contemporary at that. The details on the throw pillows are really minimal, but come on, this living space is so gracious, I want to take it home!
7. Aspen Condo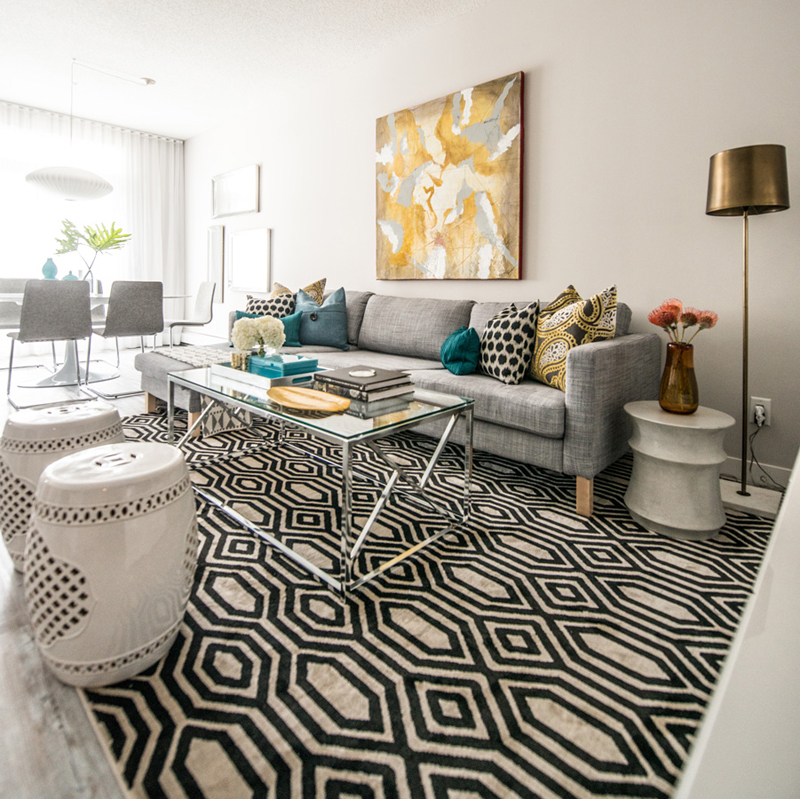 See the awesome geometrical carpet on the floor? I totally love it! That is just one of the printed thing inside this living room and I think that even when you think about it, these prints complement one another and it's something that we have to watch out for when we mix and match colors and prints.
8. Renovation Project in Kitsilano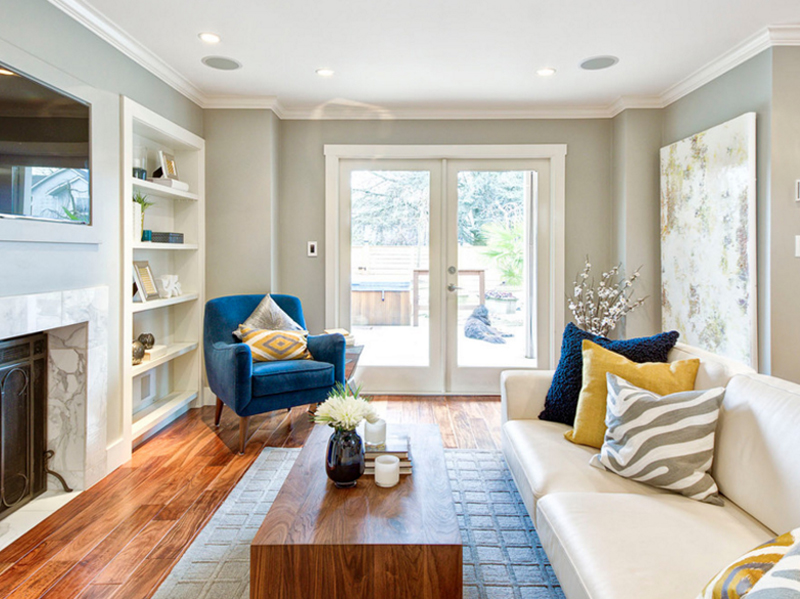 Blue and yellow really blend well together. I mean there sure are a couple of color combination that would go great with these colors but seeing them together (like with the pillows on the couch or on the armchair), you know that they really look stunning.
9. Tel Aviv Urban Pied-À-Terre
The best thing about this living room may be the fact that the furniture is mid-century but still has this feeling of vintage-ness but still maintaining a look and feel of being fresh and in the now. Seeing the color combination in here, I think any space would actually be jealous.
10. Aspen Residence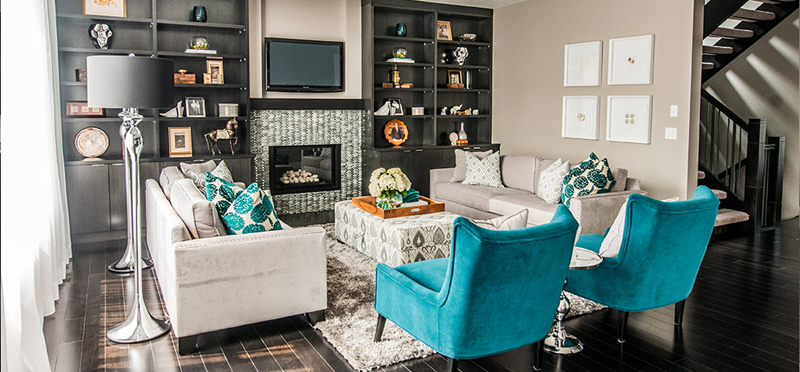 Look at how the turquoise arm chairs and the printed pillows made this living room real interesting! Everything that we see in here is basically in grey or in black and white, and the break on the colors sure did a lot of impact on the artistic aspect of this space and I think it's great!
11. Brickell Mid-Century Pied-À-Terre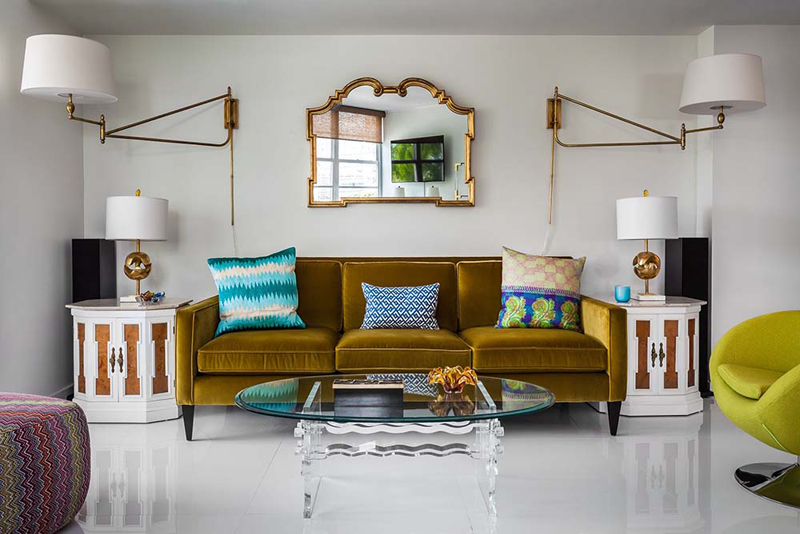 Well, talk about a stunning space! I know that this space actually looks staged, but look at how pretty is actually is! The colors used just pop right out themselves (if that's even possible) and it is so amazing! The contrast on the plains and the prints looks excellent! I totally love this pied-a-terre!
12. Sunnyside Condo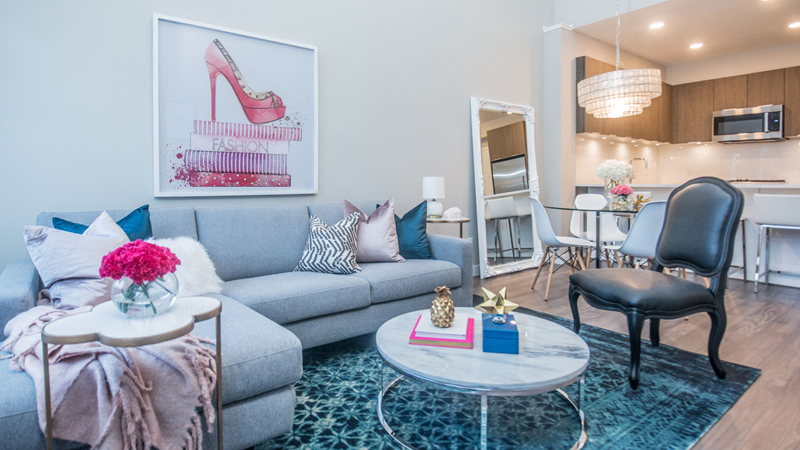 I know that when you saw the picture on wall, it made you think about how feminine it is – but hey, look around – this space may have its feminine features but it also has that neutral feel to it that somehow balances things off. The colors in here look fun and really comforting; it's relaxing and at the same time feels a bit sweet.
13. Via Lido Nord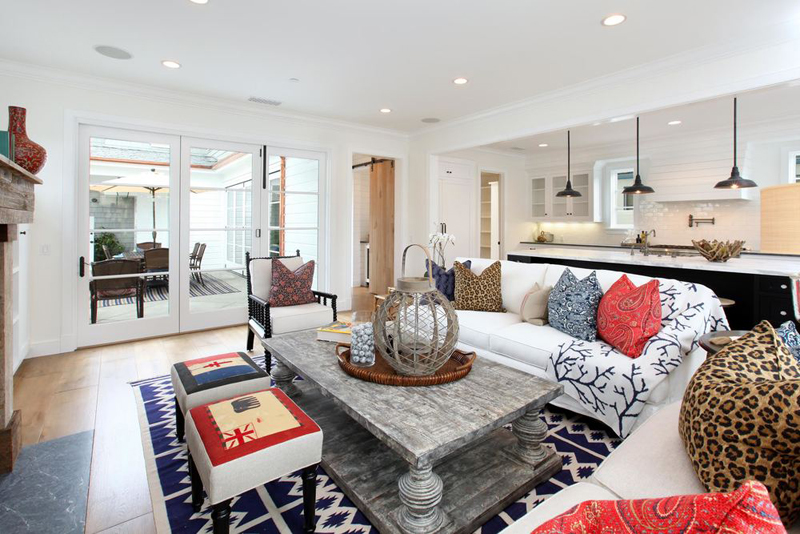 I am pretty interested where they got the furniture in here – they look all too nice, a bit vintage and partly shabby which makes it look real nice. At first glance, I even think that this space looks like a beach home or something. What do you think though? Pretty nice, right?
14. Wong Residence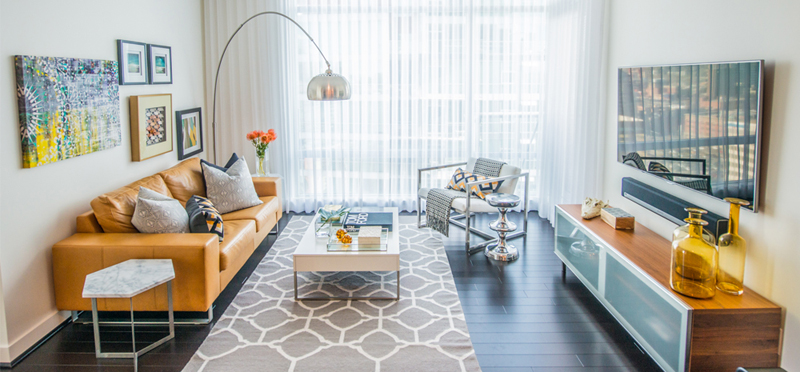 It would be safe to assume that the accent color of this living room is the color of the golden yellow couch and a bit of the jars on the console. This color sure stands out in the midst of all the neutral tones used in this space. If you ask me, I think yellow is an underrated color used as an accent color; people should be considering it more than red.
15. Bedford Residence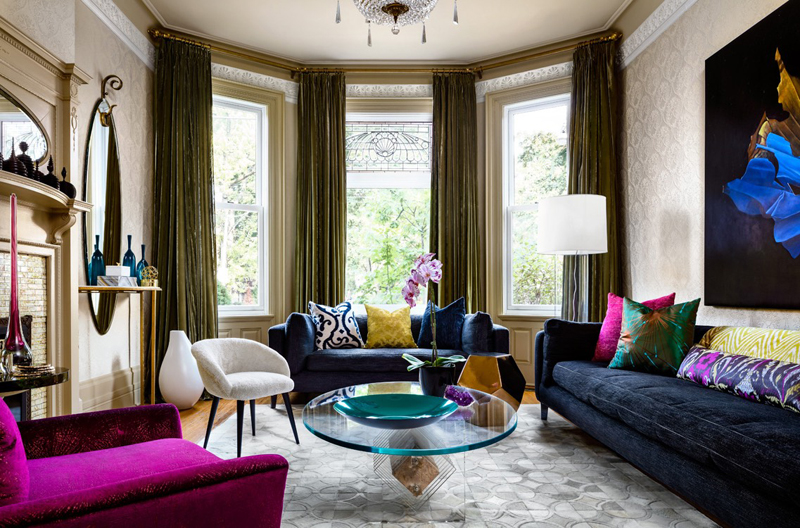 The color scheme used on the couches and chairs, the pillows, the drapes and the decor looks extravagant and stunning. This scheme is so pretty but sometimes hard to execute since there are times that it's actually too much or too little. Being in the happy middle could be very tricky but really satisfying once done right!
16. Crescent Residence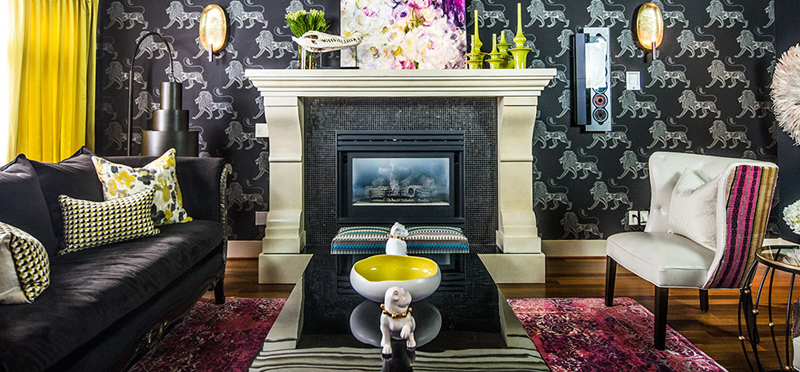 The romantic vibe of this living room is undeniable! From the color choices to the details on the wall, the fireplace, the mantle and even on the chairs and the pillows (even with the carpet too), this living room sure has everything going on and I think anyone who lives loves the vibe that it's putting out!
17. Marin Family Home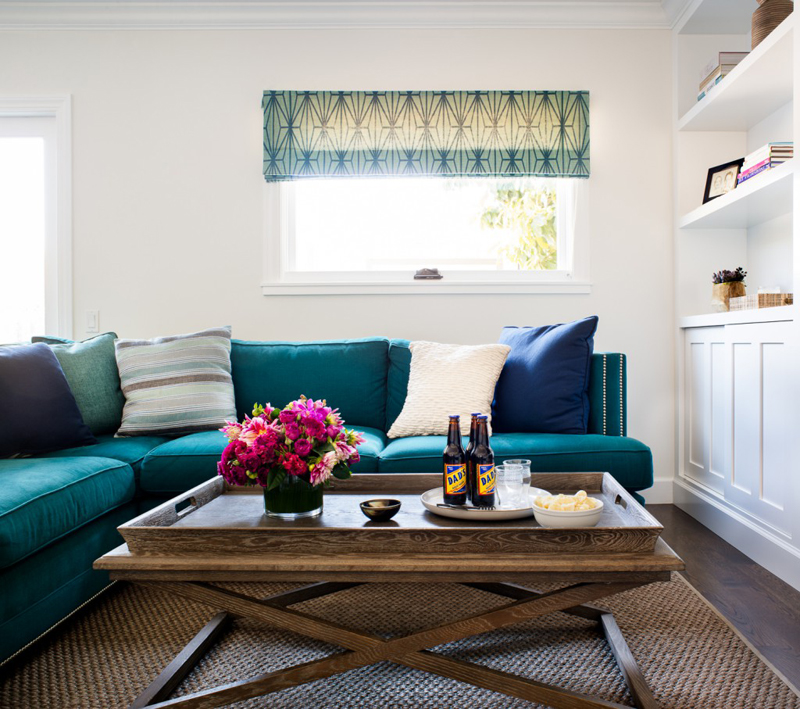 The coffee table in this living room sure is serving some kind of vibe that one cannot dare refuse! As you can see, it is basically a serving tray with legs on it. Aside from the fact that this was staged with food and drinks on it, I think, whenever people would be seating on the couch and sees the table, they would want food on it!
18. Hollywood Hills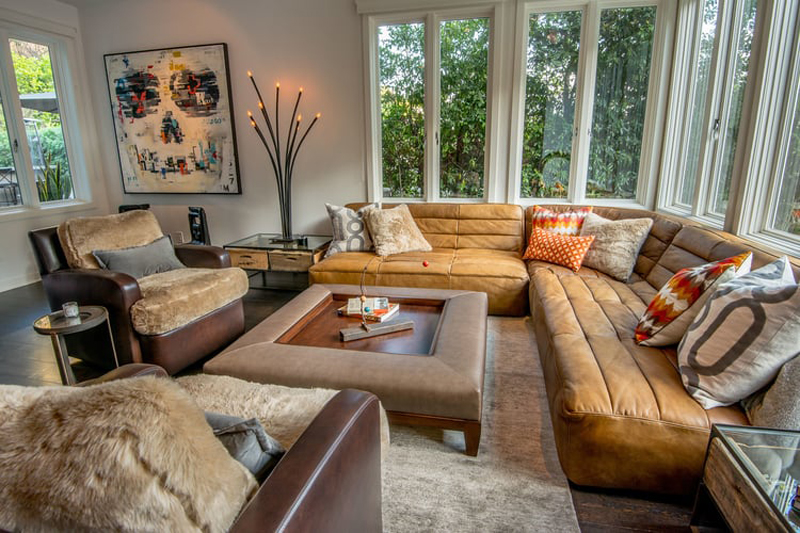 Jill sure knows how to work around colors and textures. Notice that this space has more browns in it than any other color, but she sure made it work with each one! With stunning interiors and earthy outdoors, this Hollywood Hills home sure is a treat for everyone who lives in here and for everyone who would be coming to visit.
19. Triwood Residence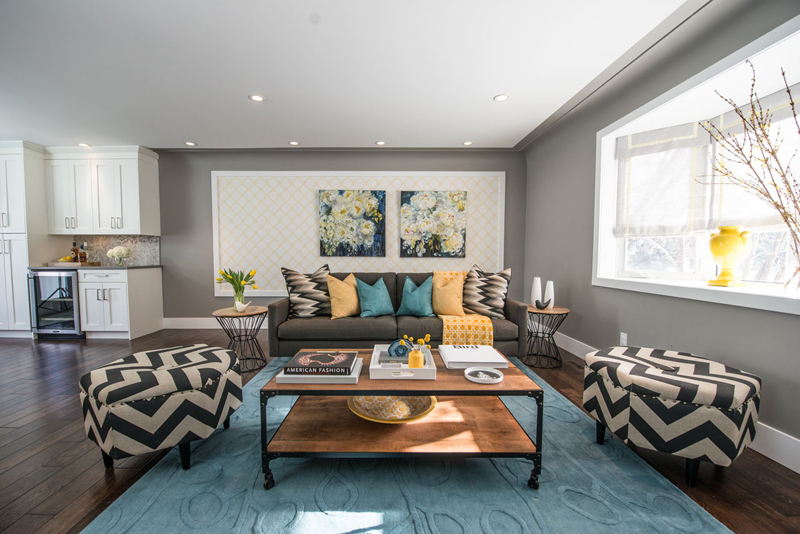 What do you think about the interesting pieces of furniture chosen for this living space? Notice the ottomans on each side of the coffee table which sure looks have a unique design and detail and at the same time having storage too! Also, the side table on the sides of the couch looks like something that came out of a home design magazine! Everything in here looks superb!
20. Pacific Palisades Vision House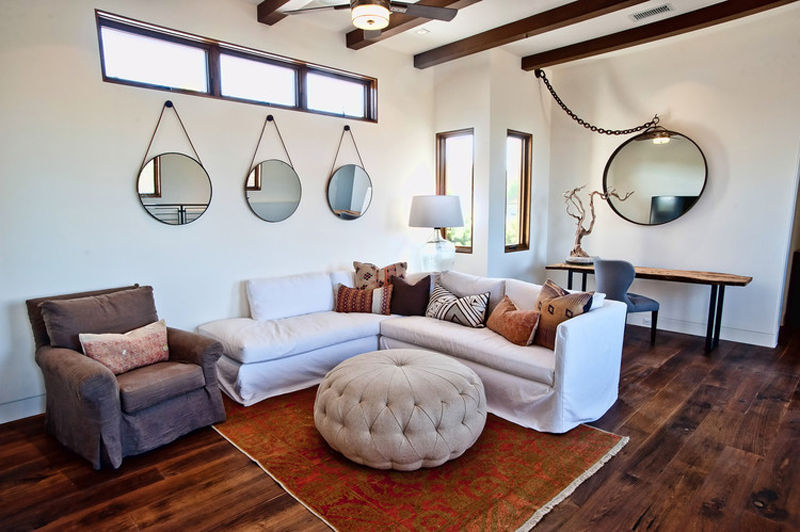 This may seem like a subtly-designed living room, but believe me, this sure is one well-thought space. From the furniture choice to the decorations and the details on each one of them – this is one wow moment for people who would be seeing this and knows how much work was done in here.
If you think that this list is pretty cool, I think you should share it with your friends and definitely find the time to check out the list about 20 Colorful Throw Pillows in the Living Room because they are quite related but they sure look fun as it is! The living rooms on both these lists are real nice, worth the look and even worth your time, no doubt about that! More lists to come guys, continually check back on us and you'll love everything in here!