20 Modern Throw Pillows
Seeing our homes clean, sleek and organized is a reliever and eases ones day especially for moms who do all the cleaning. Maintaining them is the crucial part, making sure that everything is at its own place and making sure that everything will be well adorned by everyone visiting your place. It takes a lot of commitment to do that. Putting all the time, effort, energy and even money. But why be bothered if everything that you put up will be a craze and is fetching?
Don't be hard on yourself because we're going to update you as to the trendiest of today's that is within your taste which is the modern throw pillows. Just like what we featured previously, these throw pillows are so easy to maintain. These are both functional and aesthetic at the same time. And aside from the comfort and beautifying your home, these are also easy to maintain since the covers are easy to change and are inexpensive. What more will you be asking for? Check on the details to see what's in store for you.
Power Pillow Cover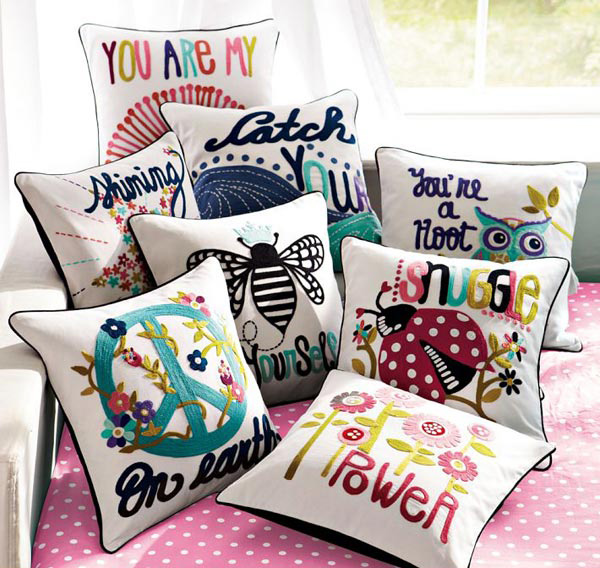 Give life to your home space with this intricate embroidered pillows on its playful and enlivening images and colors.
Tie and Belt Needlepoint Rug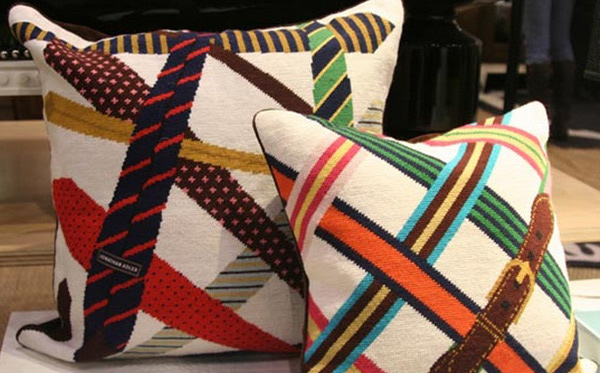 Suit up your cushions with an array of tie and belt designed pillows in different contrasting yet matching colors.
Peacock Feather Throw Pillow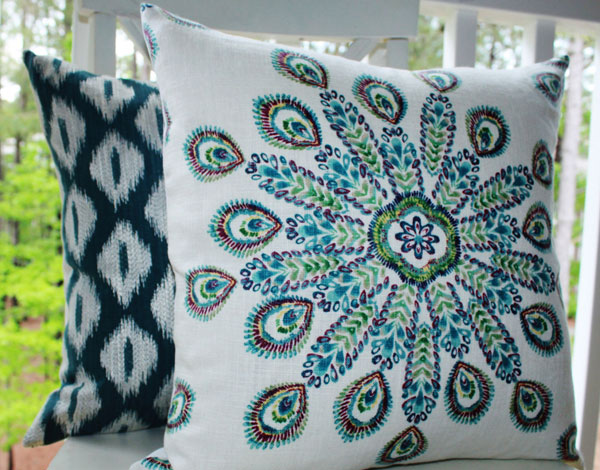 A peacock feather inspired throw pillow in an off white cotton duck fabric that will make you snugged into your desired areas in your room.
Destination Pillow Cover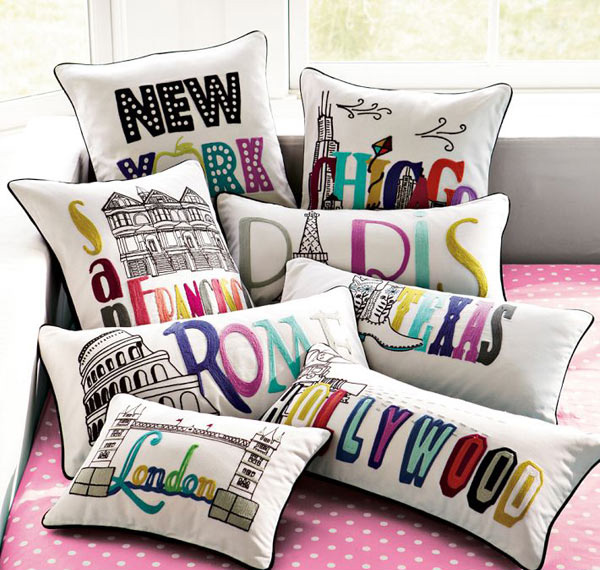 Have a trip all over the world most especially to your dream destination with these aspiring pillows featuring famous landmarks. Not only that these inspires you hence it also provides an overwhelming feeling of exemplifying beauty of decor and piece.
Bright Color Throw Pillow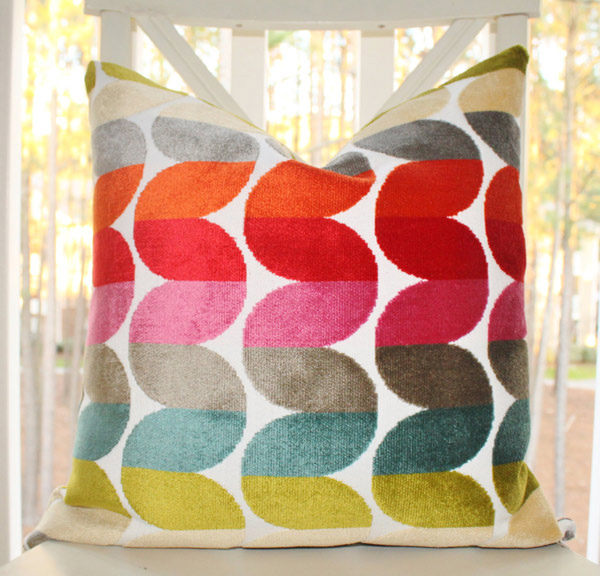 The chunky wave design added by the vibrant colors adds life to your room in a simple yet lively way.
Dottie Toss Organic Pillow Cover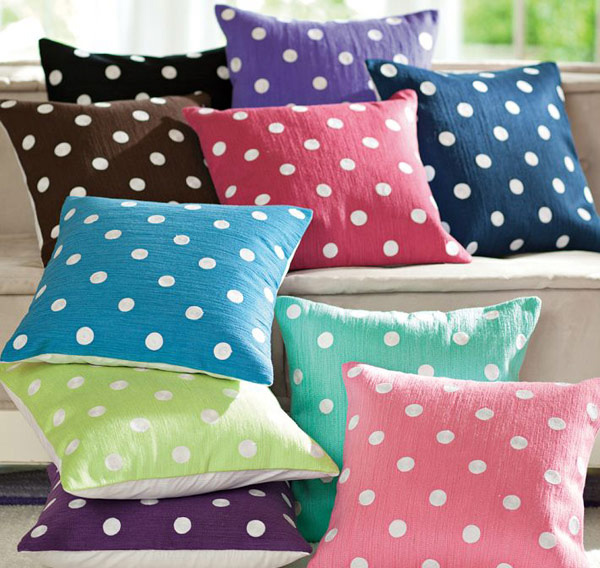 Perk up your dull time with these polka dots artfully enhanced with crewel embroidery and designed to make your place well off from its not so cozy space.
Abstract Circle Folk Art Design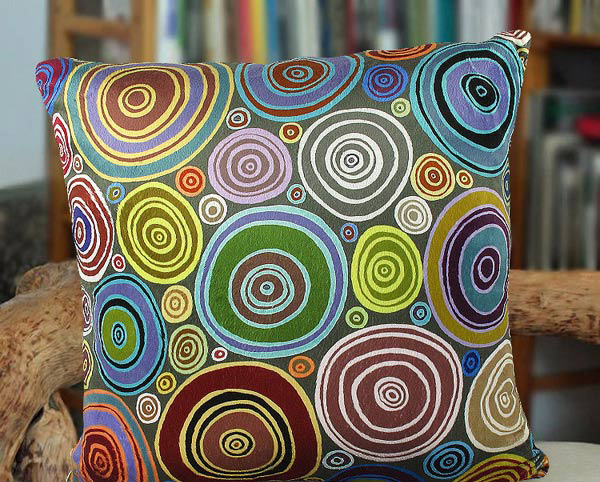 Style your lounge space with this concentric modern pattern in bold colors and retro style. Vintage never goes out in fad with any modern interior.
Athens Pillow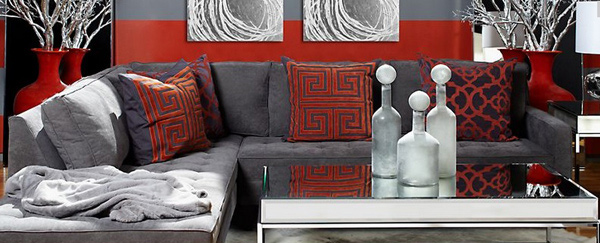 Enliven the culture and live in deluxe with this Athens pillow. This pillow will create a great deal of elegance and sophistication to modern era.
Colorful Vases Pillow Cover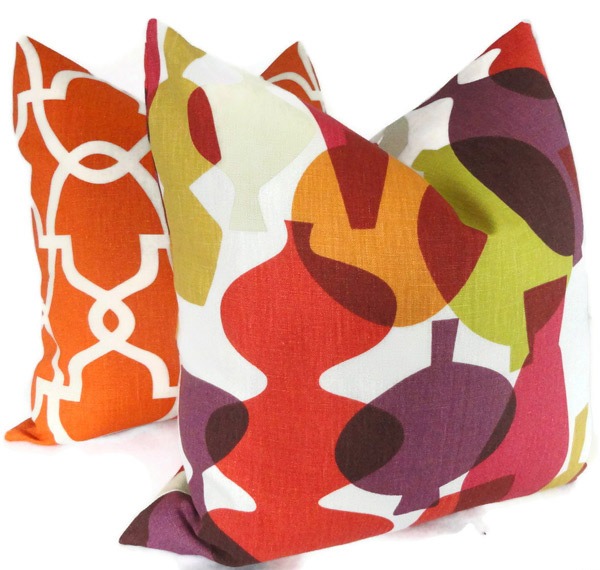 A pillow inspired by the designer's love for pottery in fresh and vibrant colors that will surely pop out wherever placed at your home.
Balboa Beaded Pillow Covers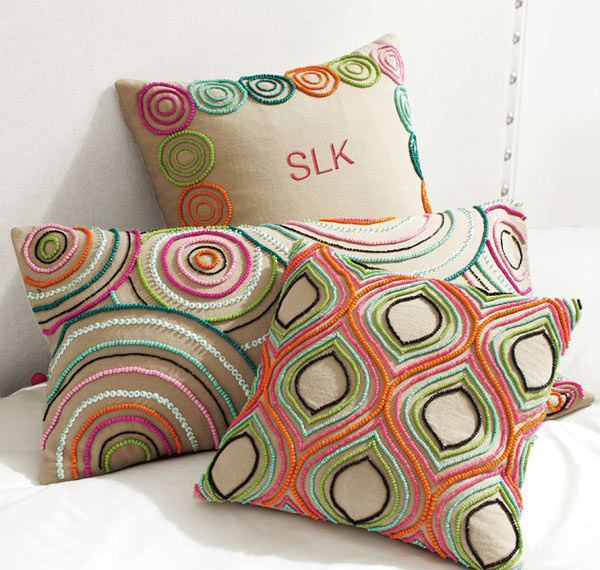 Another set of pillows with concentric in bright beaded cirque. These beads are sewn for a fun pop up color and texture.
Abstract Primitive Colorful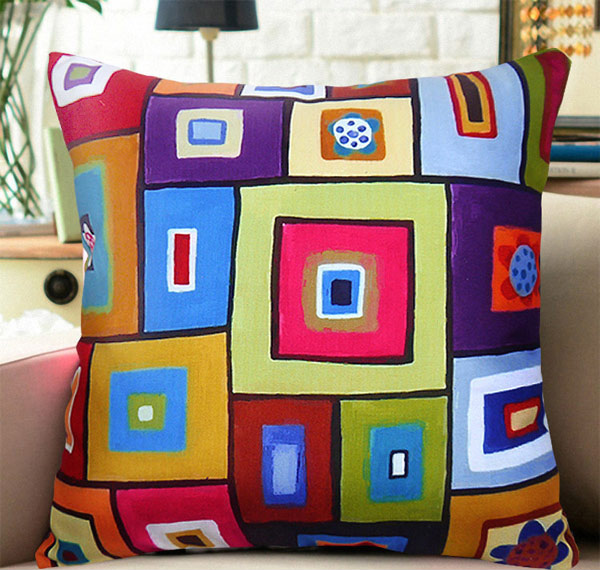 Add a pop of colors in your room with this retro style geometric pillow. An exquisite pillow to rejuvenate your home.
Multi Modern Geometric Dorm Room Pillows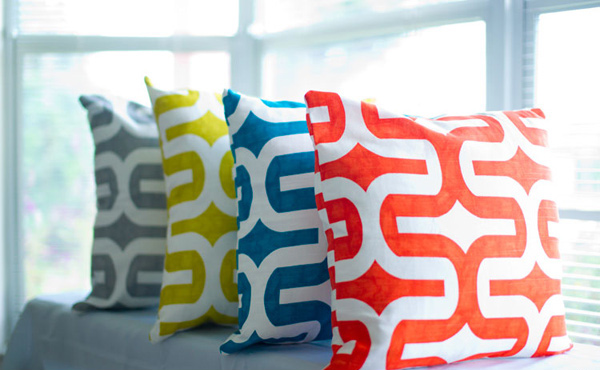 Be amaze with this maze inspired geometric modern throw pillow. This is designed with a modern outlook and a great option for your modern home.
Peacock Feather Cover Pillow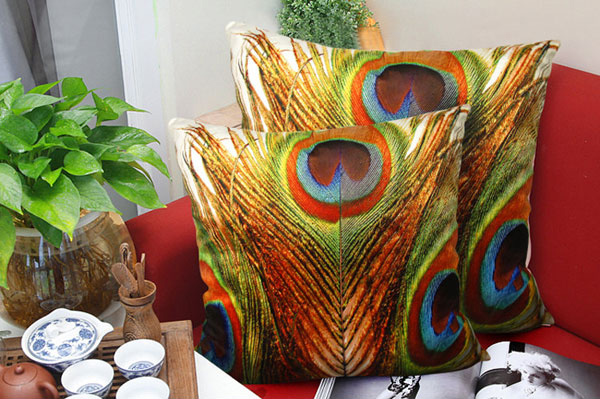 Dress up your pillow in this very stylish peacock feather style pillow cover that gives character and adds elegance to the room.
Natalia Pillow Cover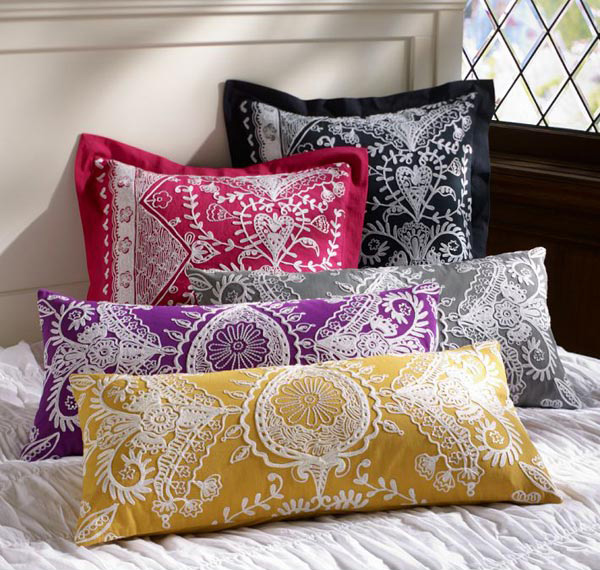 Update your room for some perky and fanciful floral throw pillows. These keep the room blooming and glowing in style and fascination.
Stripes Folk Art Design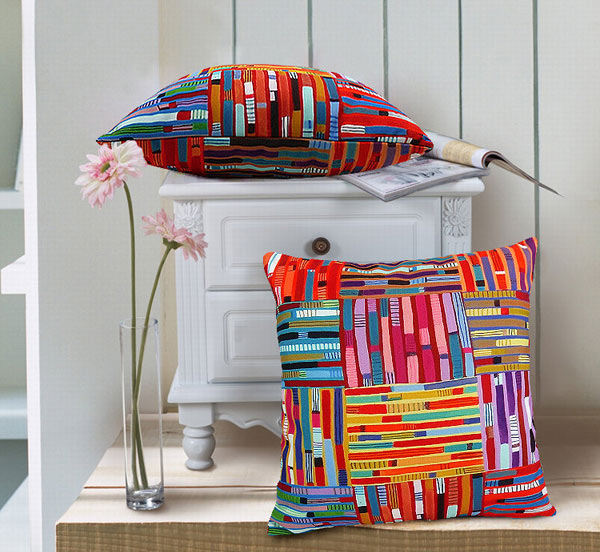 Zesty Colors go pop up with this exciting stripes folk art design handmade by the designer herself.
Funky Zebra Lounge Around Pillow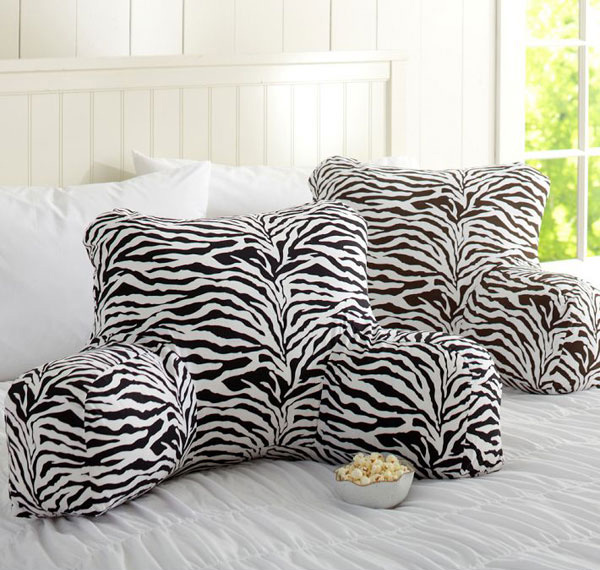 Give your body a very comfortable and stylish way of relaxing with this zebra print lounge around pillow. The material is super soft and makes you well rested while having some idle time at home.
Linen Square Decor Throw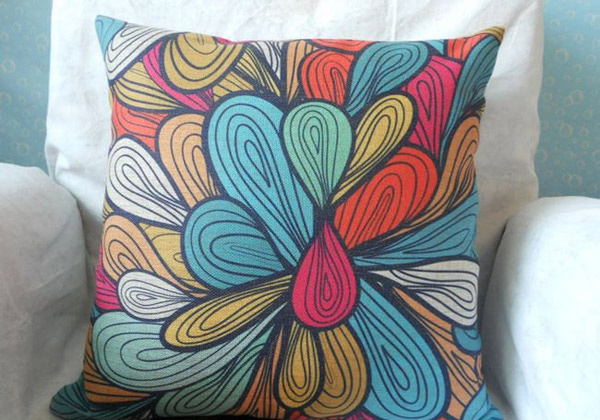 Add a swirl of sparkling hues to brighten up your sofas and cushions. This holds an upbeat and modern impression for its transitional design.
Abstract/Original Folk Art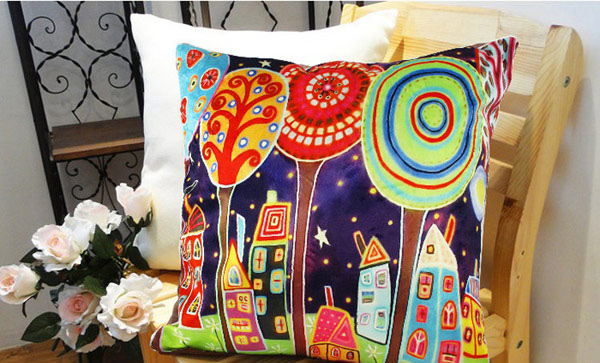 Make your home modern in a fanciful way by having this night life inspired pillow cover. This shows as to how colorful, shimmering and lively the night could be.
Carnival Sunshine Blue Green Ikat Diamonds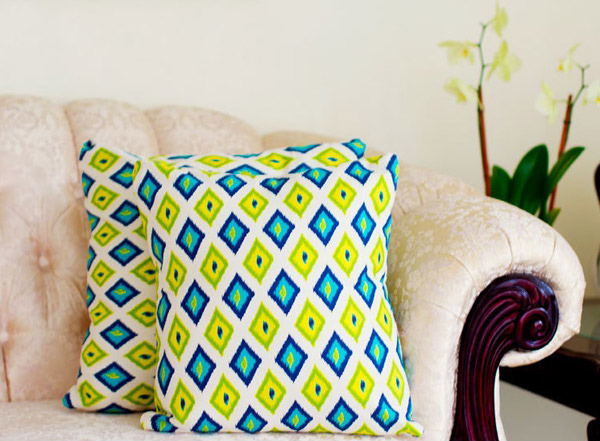 If you want to add shine to your room, a great idea suitable for your room is this fun and jazzy blue and green diamond pattern throw pillow. With the perfect combination of blue and yellow plus a unique pattern, this will truly shine bright.
Metallic Inspiration Pillow Cover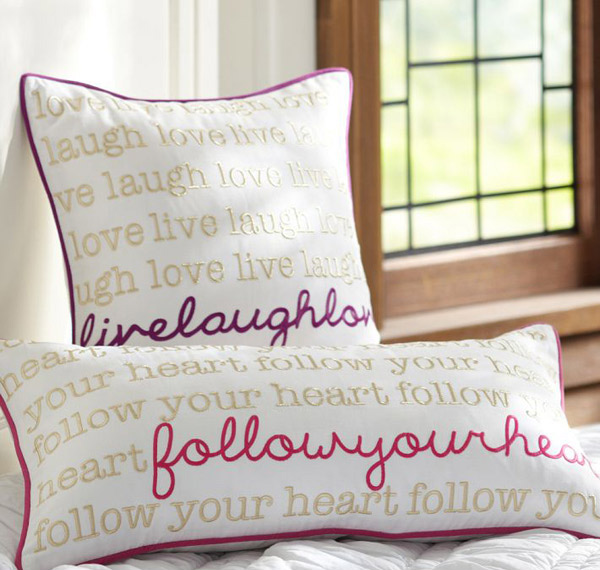 A very inspiring pillow cover which evokes up lifting and soothing messages to keep you on the go for any challenges that you may encounter in your life.
Nothing gets more exciting than having a place for these 20 Modern Throw Pillows at your home. These are incredibly fun to have around plus these never get into your pocket's way. Be at the cutting edge and get the relaxation you'll ever wanted for yourself in a more fabulous way. You can also look into our round-up of decorative throw pillows.