15 Creative Designs of Trunks and Chests for Storage and Tables
Can you remember the old trunks that are used to carry luggage during the old times? How about the chests that also has a similar look as the trunks where grandma keeps her stuffs? Well, if you think these stuffs are no longer used, you are wrong for they are actually perfect for storage or even as tables. Some use them as a coffee table, a side table and sometimes, even as an ottoman.
Well, these aren't really trunks that were recycled into a furniture but these are designed based on trunks and chest. Although some also use old stuffs and transforms them into interesting furniture pieces. You are about to see different designs of trunks and chests wherein you'd be able to pick one depending on the style and theme of your bedroom or any space in the house where you plan of putting these lovely and creative items.
Stylecraft Sf1985Ds Set Of 2 Trunks, Music Theme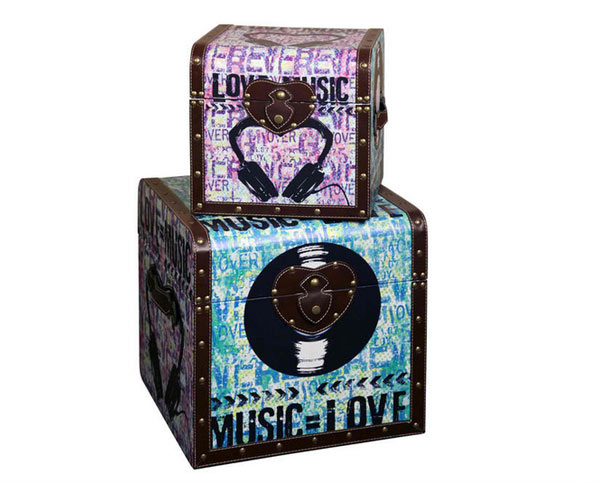 Express your love for music with this trunk set constructed of medium density fiberboard with a pvc cover.
Antique Style Steamer Trunk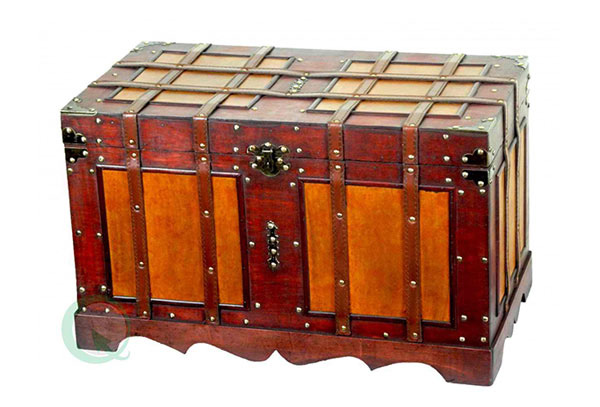 A decorative trunk that will bring back childhood memories and help you create some new ones too!
Large Wooden Pirate Trunk with Lion Rings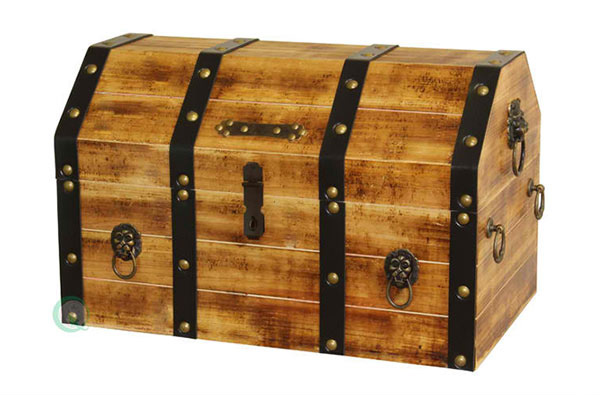 A warm and welcoming steamer trunk that brings back days of old times featuring lion rings for a more pirate-y feel.
Mannequin Storage Trunk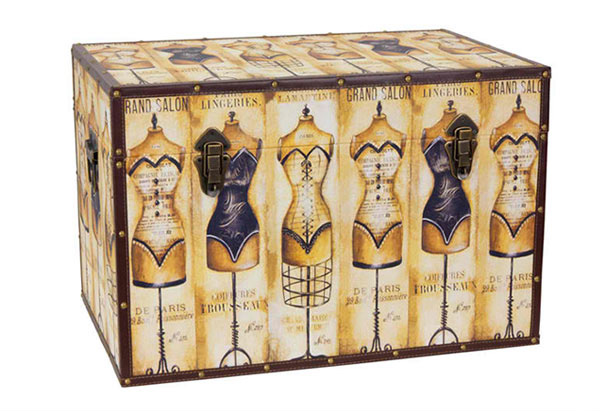 Based on a classic 1930's poster advertising a Parisian seamstress, this trunk will add retro flair and classic French couture to your home.
Bondurant Cocktail Trunk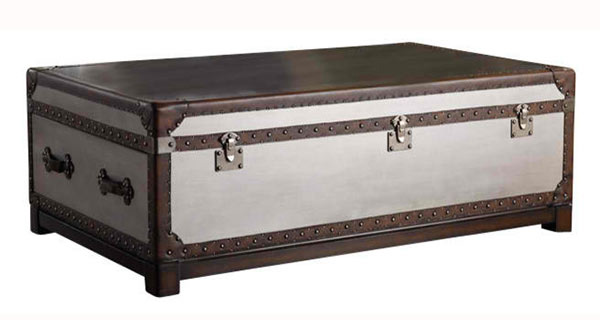 If you could have one majestic piece in your space, this cocktail trunk might be it. Two deep drawers store books, magazines or sofa throws. The leather and nail head trim bring a rustic touch to a luxurious trunk.
Sterling Traveller's Steam Trunks Storage Chests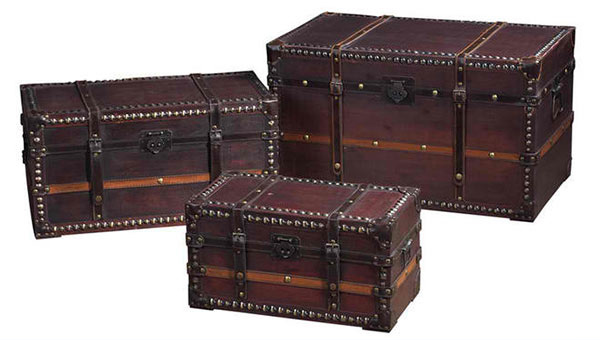 Bring in a romantic flare with these chests of different sizes that can be perfect as storage or a side table.
Moroccan Brass Inlay & Reclaimed Wood Storage Trunk Chest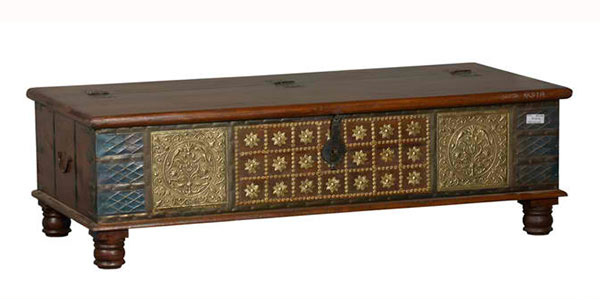 Simple elegance defines this chest with a front filled with panels of brass inlay in blue and gold creating patterns with medallions and flowers.
Old World Map Wooden Trunk Set of 2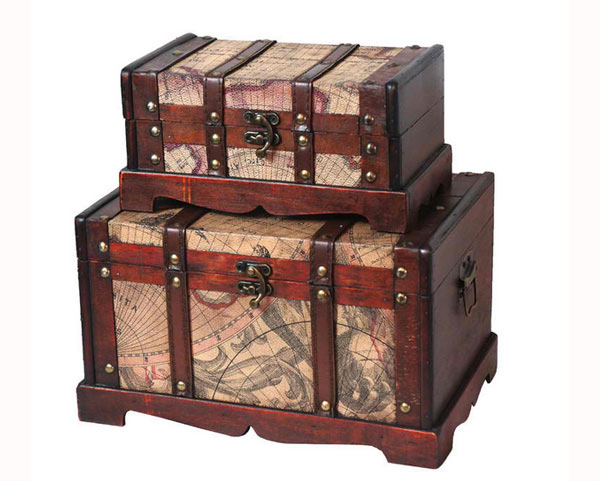 Feel like an explorer with these chests wrapped in old world maps.
Paris Storage Trunk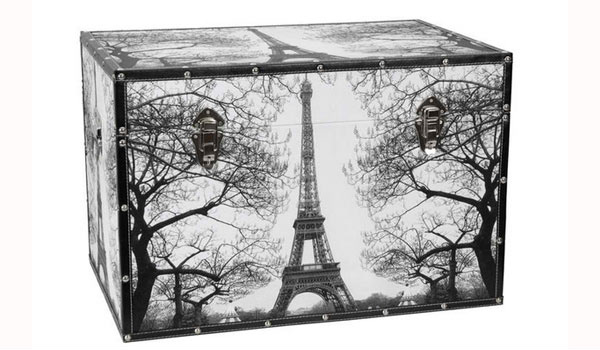 You can't help but say Bonjour! with this trunk chest. It looks lovely in black and white.
Live Love Laugh 3 Piece Storage Trunk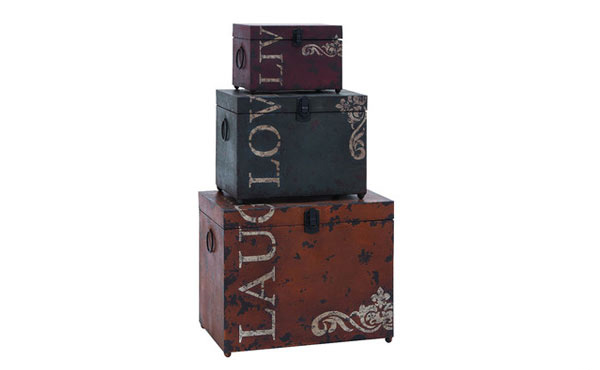 Not just a charming piece of decor and furniture but will also remind us to Live, Love and Laugh!
Rustic Reclaimed Wood Dancing Party Standing Storage Trunk Chest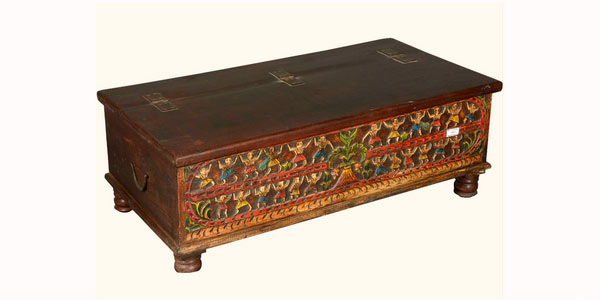 A wooden chest decorated with dancing people to get you to the groove!
Nathaniel 3pc Trunk Set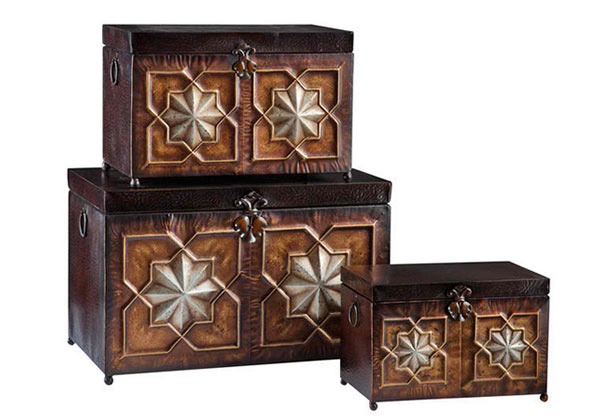 This trunk set is the perfect accent to spice up any home with its intricate inlay design. It offers a clever storage solution too!
Eiffel Tower Burlap Trunks 3 Piece Set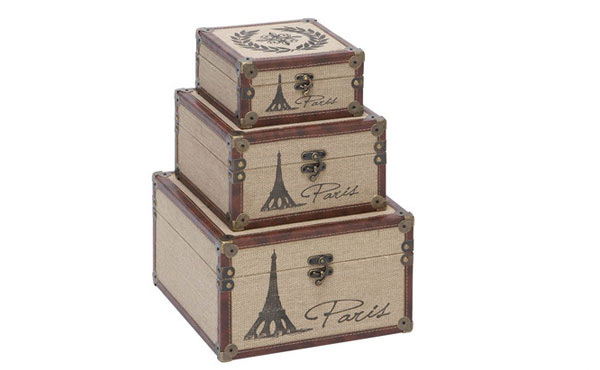 Who will not love the Paris script and Eiffel design on these trunks? The brown faux leather trim provides a nice contrast with the tan burlap-covered body.
Union Jack Trunk (Set of 3)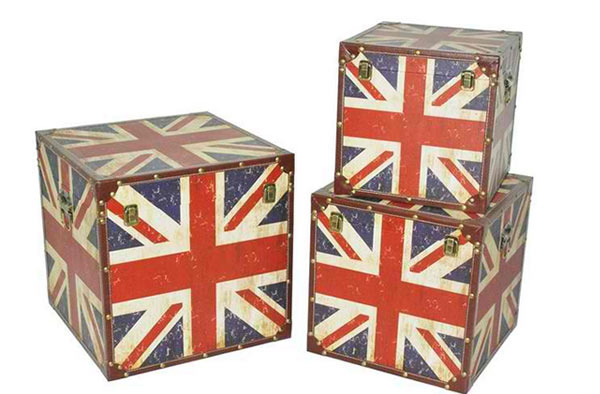 Great classical design combines with function in this set of Union Jack trunks.
Stylecraft Sf1631Ds Set 2 Trunks, Peace Theme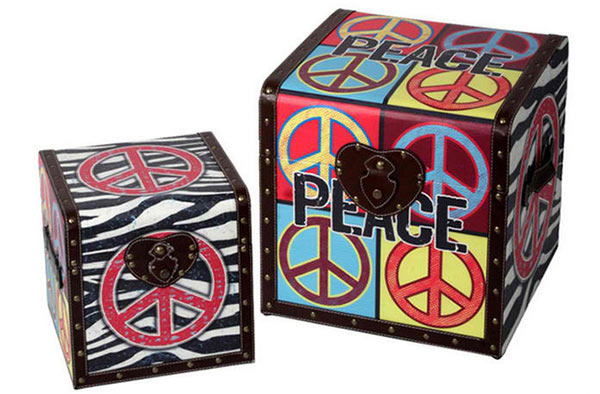 This will be perfect for your kid's or teen's bedroom! Don't you just love its funky look?
They are so cute! We especially love the first and last entry because it combines the charm of the youth and the old chest stuff. It is really awesome that we can actually use these trunks and chest as storage and tables for our home. They actually function like storage ottomans which can also be doubled as table too. When you combine style with function, it is surely an item worth getting for your home! Can you tell us which your fave from this list is?