25 Sure-Fire Art Deco Dining Set for An Effortlessly Stylish Home
In a world full of so many options, how do you get to choose the best? It takes more than guts to pick the best among the rest of mediocre ones. It takes a little research, keen eyes and some good sense of style to see the best among the hundreds of selection in front of you. So do you have what it takes to get the best furniture for your home? I do, that is why I did the research for you and all you need to do now is to sit there and use those keen eyes of yours to see the perfect design for your home interiors.
I have picked a selection of trendy Art Deco dining set designs for you. It is one of the best choices when it comes to style and fashion because it is crazy artistic! As you scroll down you will see how these furniture can dress up your space without adding more accent. It can make your home elegantly chic and stylish on its own. Its clean lines, creative angles and daring form will make you love it.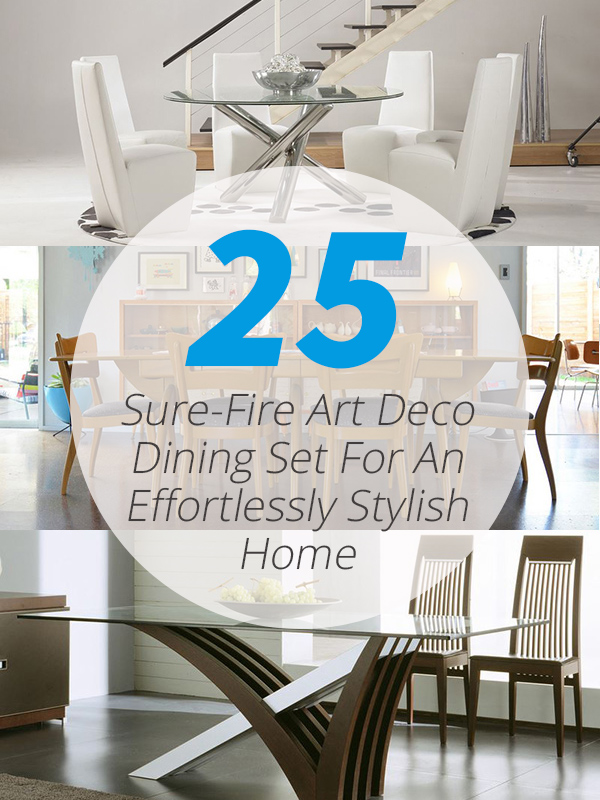 1. D52 Dining Set
This dining set is a great package with the elegance and aesthetics of Art Deco style. The high gloss varnish and smooth curves add luxury to the warmth of wood, perfect for all kinds of interior design.
2. Montego Bay 9 Piece Hub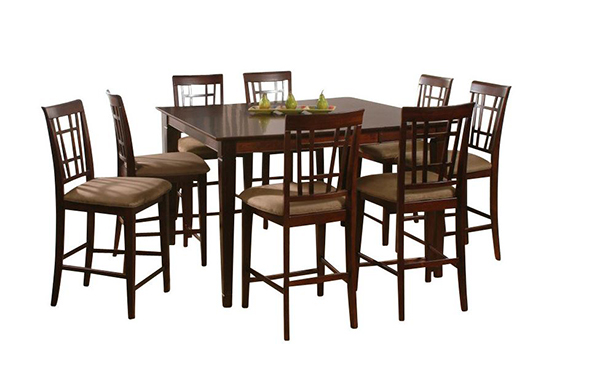 A dining set that features clean lines and a cozy vibe with its caramel latte finish can absolutely pull a stylish punch to your home.
3. Daisy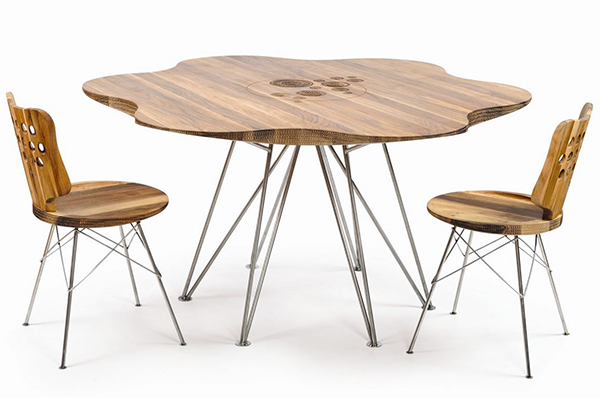 This remarkable creation has been awarded the Interior Innovation Award 2011 by German Design Council. The abstract design that depicts nature gives its enchanting charm that is sure to look beautifully in a modern home.
4. Gotham Dining Table And Tobi Dining Chairs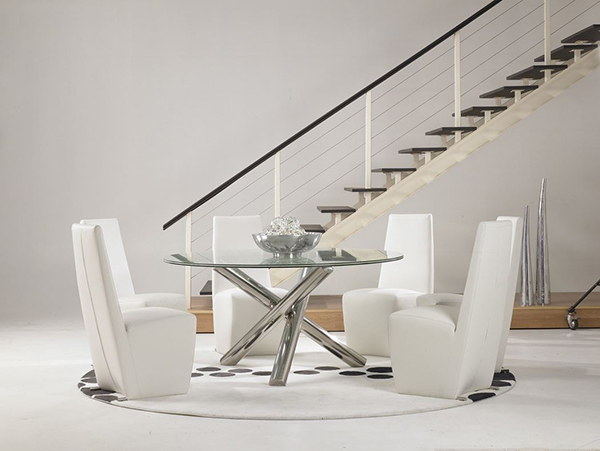 A great combination of fashion and style! This dining set will give your home a fancy and upscale look.
5. Catina 5 Piece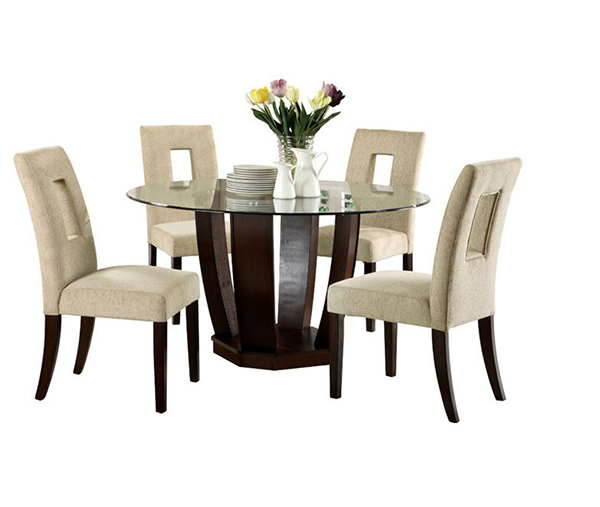 The open drum base of the table and thick glass top matched with the elegantly styled dining chairs will lend a refreshing European bistro vibe to your home.
6. 1960 Heywood-Wakefield Set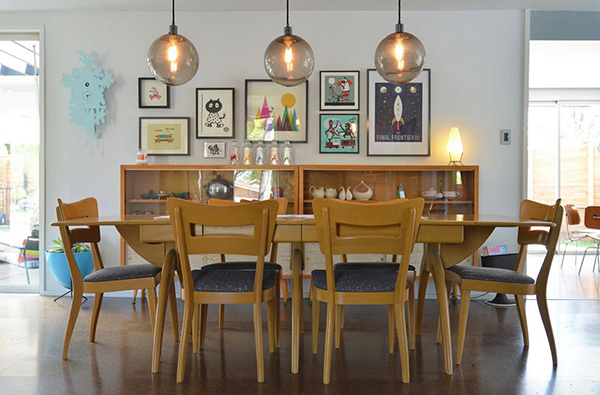 This is a lovely vintage set that will bring out the beauty of your home whatever kind of styles you may have.
7.Brazilian Octagonal Dining Set – Table & 8 Chairs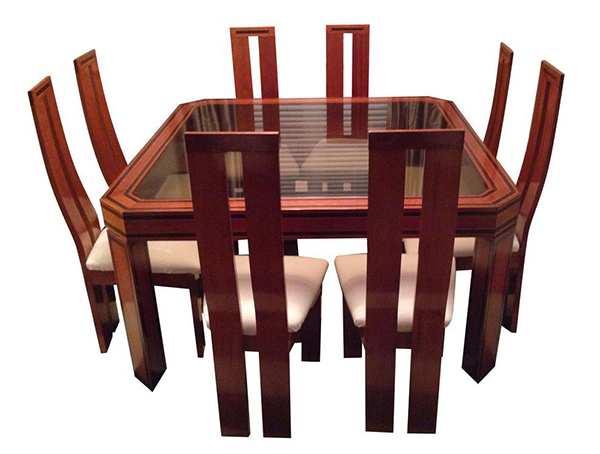 This 1984 dining set has an octagonal glass top dining table with triangle legs paired with sleek chairs that will bring unique touch and artistic statement to your home.
8. Beautiful Art Deco dining set JAMES MONT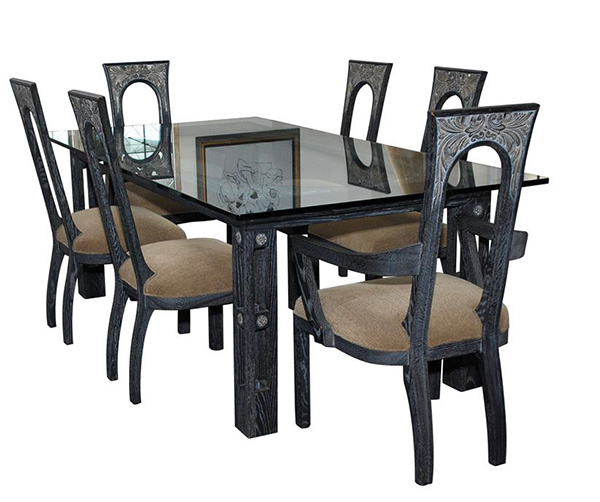 Add a vintage charm and classic touch of art in your dining space with this exquisite Art Deco inspired dining set.
9. Darcy Dining Set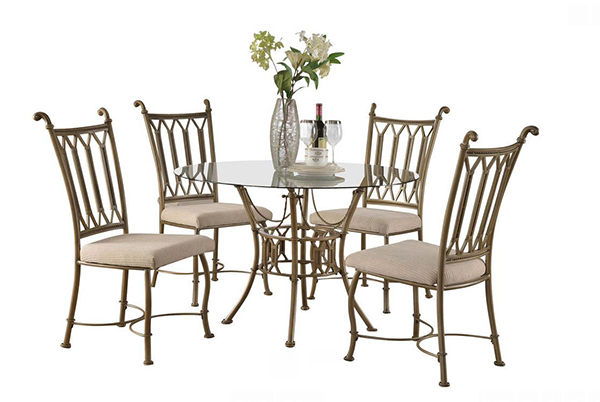 This beautiful dining set offers chic and elegant vibe to a space. The featured rope deco accents and powder coated metal frame in Matt Bronze finish bring a whimsical flair to it.
10. High Quality Flamed Mahogany Duncan Phyfe High Gloss Dining Table and Chairs Set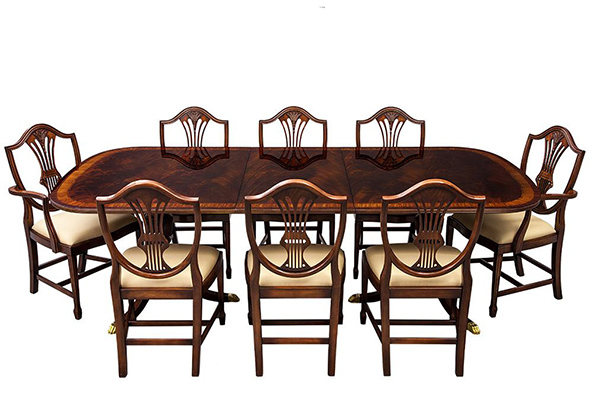 Adorned with rich flamed mahogany details and Duncan Phyfe pedestals; I must say that this gorgeous dining set is overflowing with style and sophistication.
11. Laurel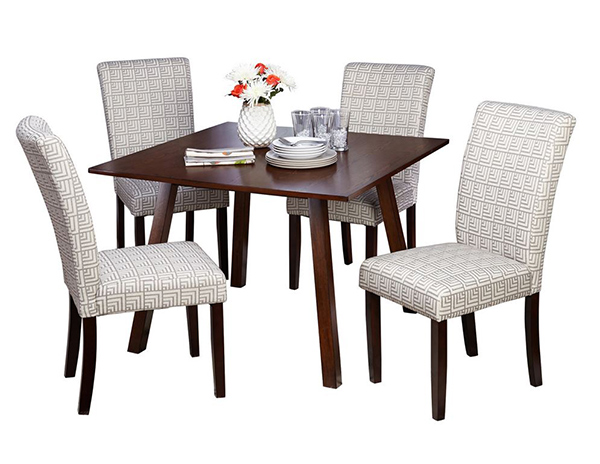 This casual-looking dining set with its geometric pattern will add charm and coziness to your home.
12. 5 Piece Set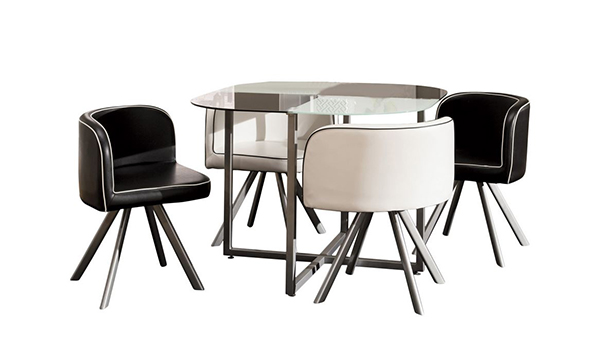 What a lovely black and white dining set! This dining set has great sense of style and groovy vibe bringing a retro flair in your contemporary homes.
13. Clayton Dinning Set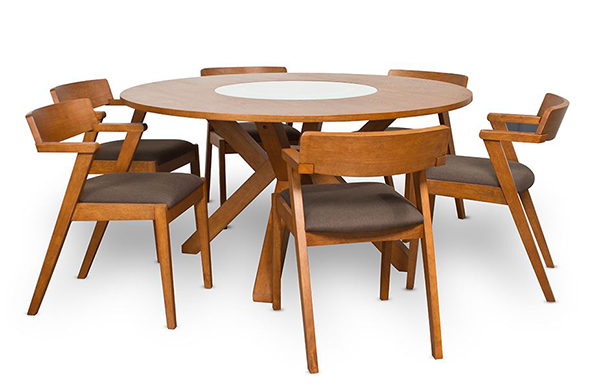 The round table and uniquely styled chairs in its refreshing honey finish is a perfect fit for an entrancing contemporary look.
14. Studio Dining Table and Buffet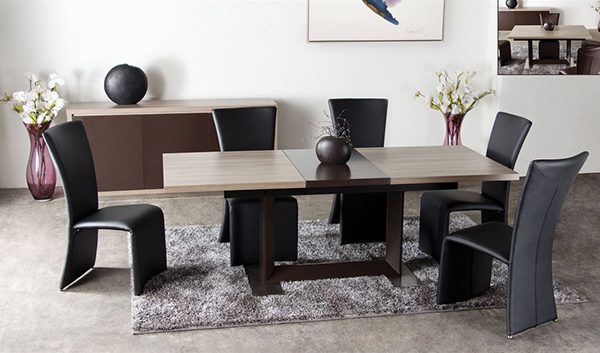 Here is a dining furniture set for those who are looking for sleek and edgy furniture for their dining space. It is chic, edgy and modern.
15.Rosewood Mother Pearl Inlay Marble Round Table Set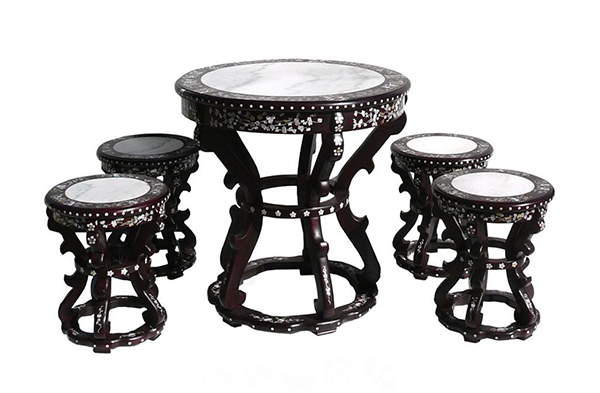 For those who are on the lookout for an oriental styled furniture, this stunning dining set made from solid rosewood with inlay flower patterns from mother of pearl is perfect for you.
16. Unusual Art Deco Table and Chair Set, France, 1930s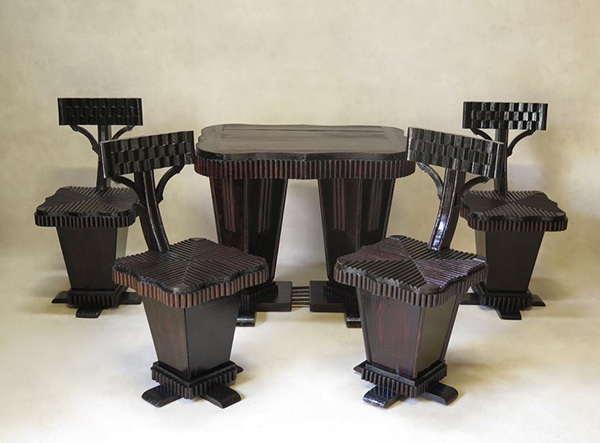 This dining furnitures has an interesting eclectic style that will lend unique texture and pattern to your dining space.
17. Manhattan Collection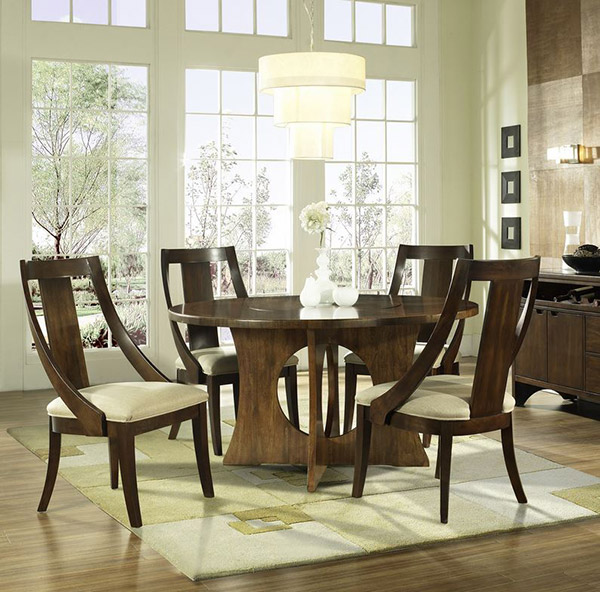 Bring modern flair and retro charm to your dining space with this lovely Art Deco-contemporary style dining set.
18.Interni 3 Piece Dining furnitures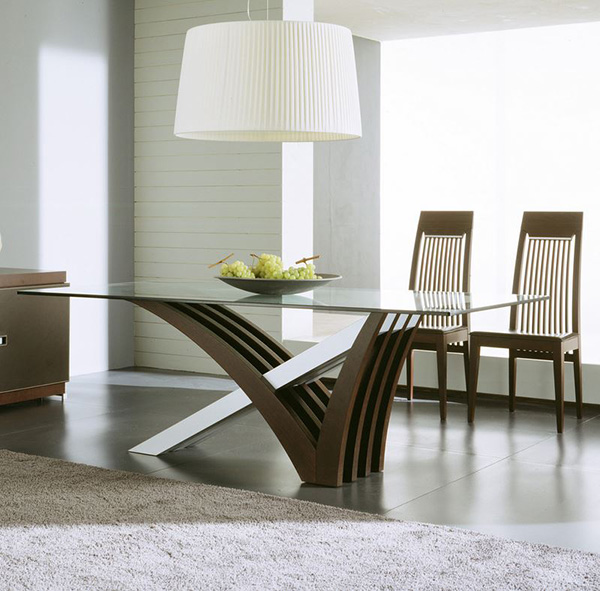 Contemporary dining furnitures with a hint of Art Deco that offers sleekness, modern vibe and elegance.
19. Set of Six Chairs and Dining Table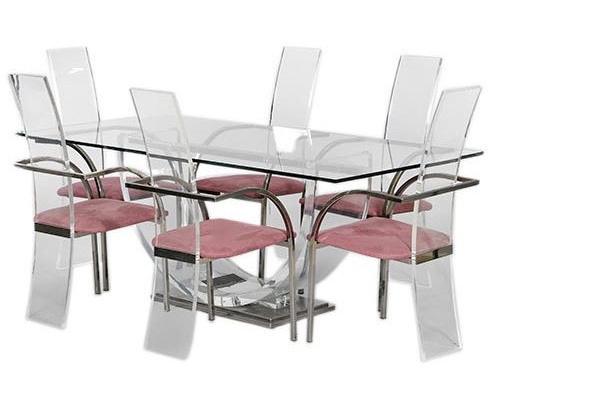 Lucite, glass and anodized dining table and chairs that lends a contemporary look and sophistication.
20. Bayshore 5 Piece Counter Height Dining furnitures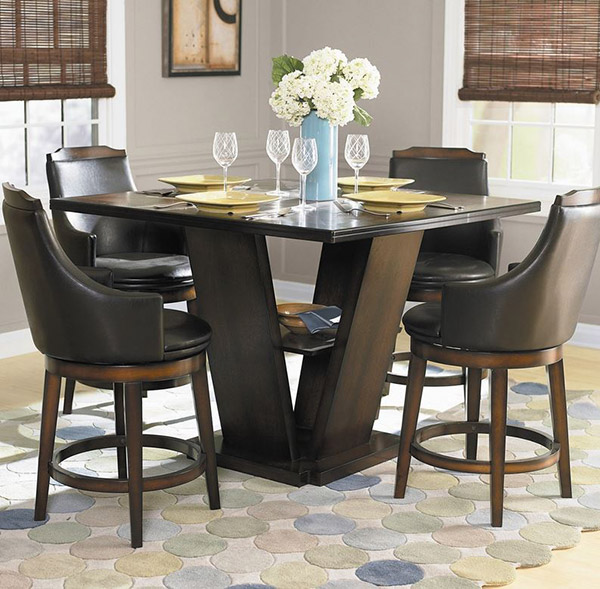 A 47 inch fixed oak veneer square tabletop with a flared table base comprised of four panels and a display storage shelf supporting it. Dark brown bi-cast upholstered chairs compliment the stunning dining table. This casually elegant design brings comfort, functionality and transitional aesthetics to any space.
The beauty and elegance of these Art Deco designed dining furnitures will definitely bring a unique touch to your space. These artistically made dining set can easily make your dining space look fancy and modern. It can make your space look effortless socialite without the addition of many decorative ornaments or accents. The beautiful, clean lines, interesting curves, a combination of surprising elements and daring accent can make it fit in to whatever kind of design your home is in. I hope you like our collection of Art Deco dining set. Let me know which one is your favorite.