15 Art Deco Inspired Living Room Designs
Let us refresh our memories a bit about Art Deco. In some time from the 1920s to 1930s, a design style was popularized. It is characterized especially by bold outlines, geometric and zigzag forms – they even used plastic as a material for the designs. Art Deco style was influenced by Art Nouveau's use of motif depicting nature, sunrises, flowers and shells but of course, as time passed, it was replaced with angles and curves.
Today, we will be seeing 15 Art Deco Inspired Living Room Designs which are influenced with Art Deco. You will notice that the prominent colors are glossy black, chrome, silver, yellow and red. Although of course, the use of beige, cream, off whites, oysters and shades of green are obvious too! In the next photos, you will be seeing more of lines, angles, animal skins and prints, so, here you go!
Apartment Living Room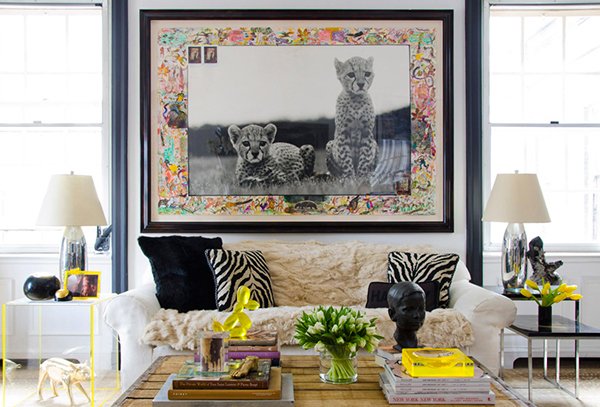 A perfect example of a whimsical apartment in different shades which exemplifies a dash of Art Deco in its style. This living room was even featured in VOGUE Magazine.
Art Deco Contemporary Living Room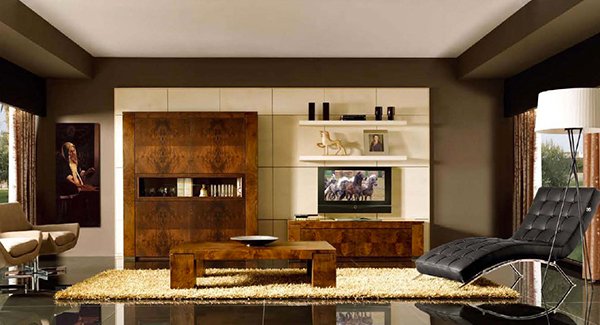 Dark brown cabinet, console and center table with contemporary furniture! A real Art Deco concept – masculine, bold and artsy!
Palm Beach Condo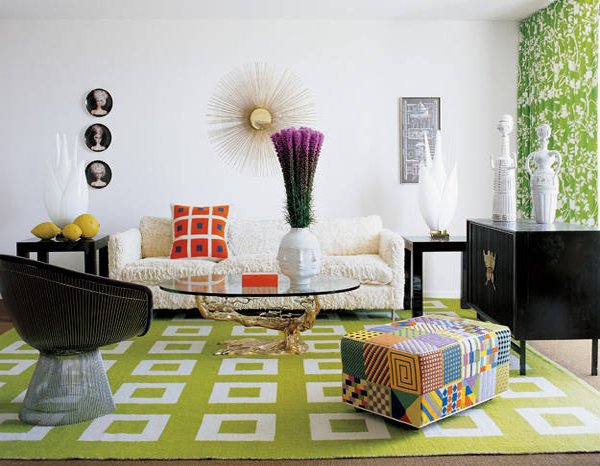 This mid-century geometric rug has a simple pattern of a square within a square in green and white. Most of the furniture has squared angles and these are balanced by the rounded shapes of the chair, vases, photograph and the glass top of the coffee table.
Interior Decoration with Prints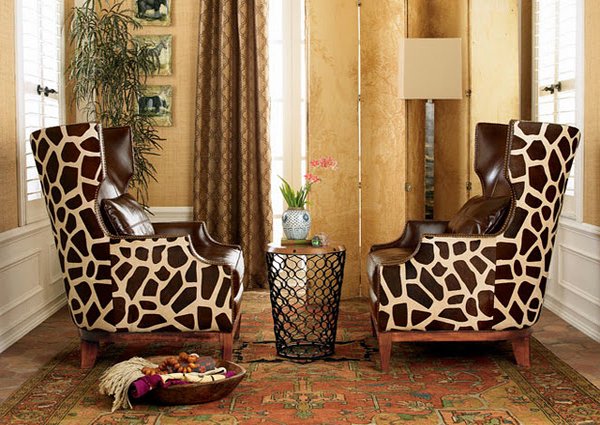 The simplest and most eye catching way to introduce animal prints is by adding rugs and carpets to your living room floor as the animal skin print blends well with any color, furniture, and accessories.
Philadephia Living Room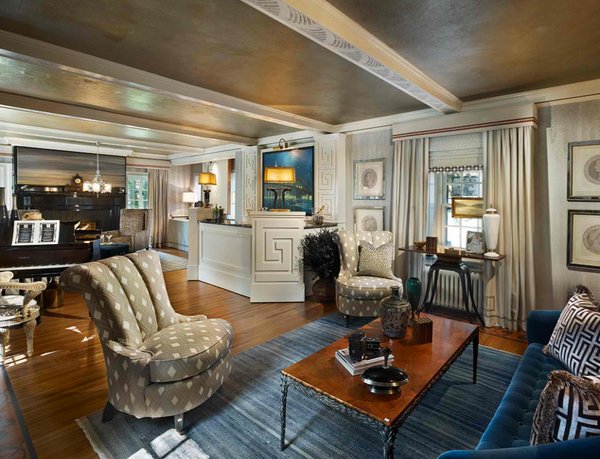 Limit yourself to an accent pillow or two, or go all the way with carved wooden doors and wall designs. Greek keys, chevrons, fans and sunbursts can all fit into an art deco space – just go for something bold and geometric.
Chicago Coop Living Room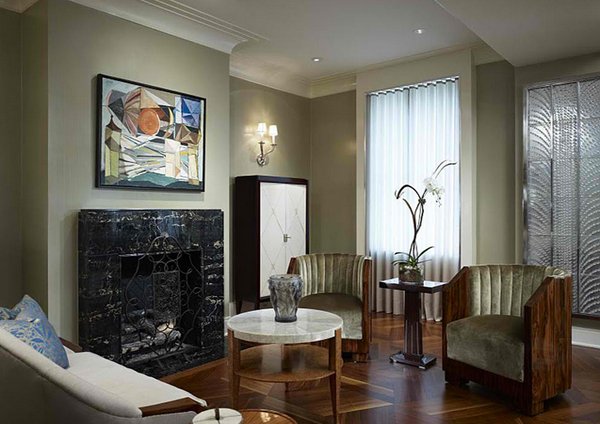 We like the simplicity of a large concave crown moldings and the charm from the fireplace, modern art and unique furniture!
Living Room with Geometric Shapes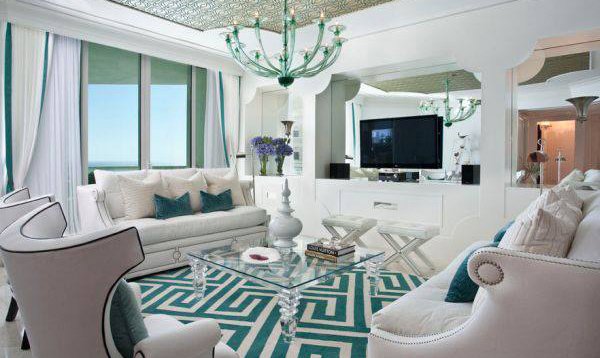 The colors mostly inspired by the sea and they interact very beautifully. Some of the shapes and forms are also reminiscent of some of the creatures in the sea and ocean but others bring in a different perspective. It's the case of the rug.
Art Deco Design Style
Hiring an Art Deco Designer is definitely the best way to go about creating that authentic Art Deco glamour and glitz!
Central Park West Residence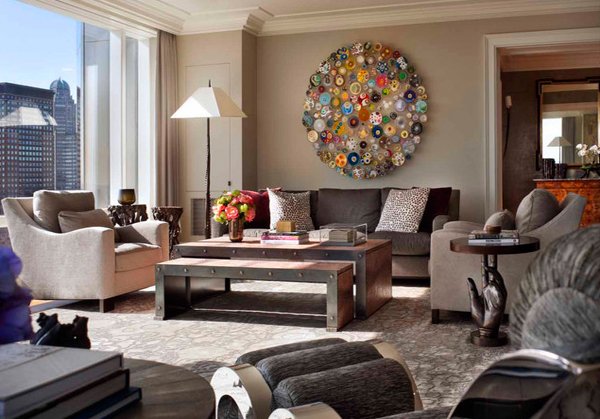 Most of the colors used for this living room are neutrals, from greys, browns and beige. But adding a pop of color like the wall piece this living room has, creates interest and charm.
Midcentury Living Room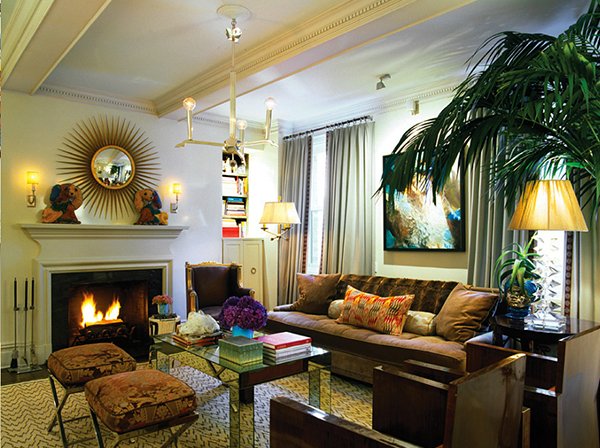 The zigzag pattern of the mid-century modern geometric rug adds energy to this artistic living room. The designer created a harmonious mix of styles with mid-century modern, art deco and traditional French furniture and accessories.
Art Deco Inspired Living Room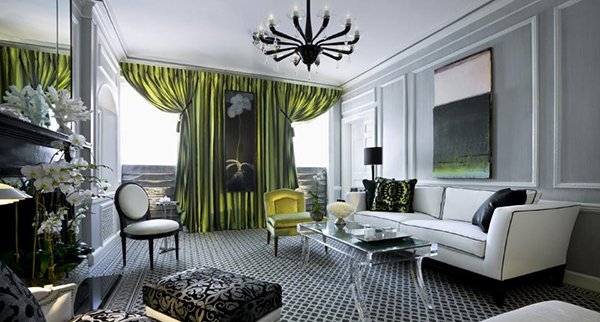 There are always new ways in recreating a look from another decade, from another time – Elle Decor sure did well in doing that by recreating and reinventing Art Deco in this very living room.
Art Deco Living Room Design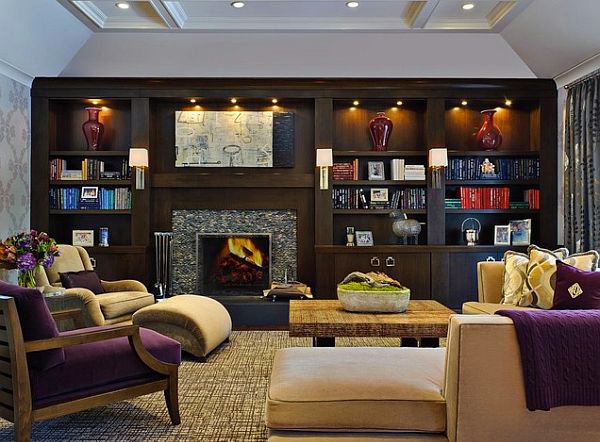 A stylish, modern way of decorating with art deco in mind is to include just a few touches and not overcrowd the room with geometric elements and the flapper style of the 20s. It's all about creating discrete look with rich colors or elegant materials with zigzags and sharply angled and cubist forms.
Venetian Inspired Art Deco Living Room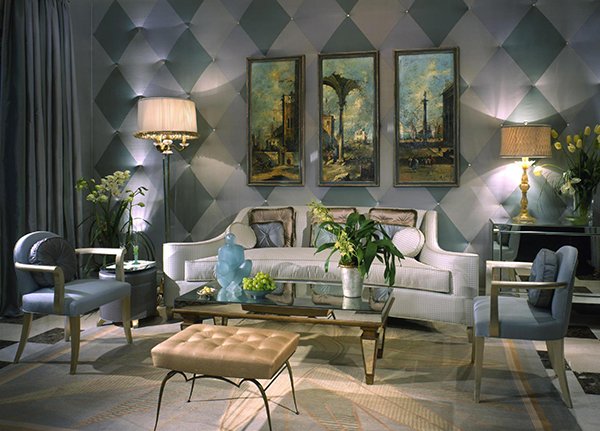 Luxurious finishes, fine period pieces, couture craftsmanship and a rare 1920s Aubusson Deco carpet evoke a more glamorous era in this stunning receiving salon.
Contemporary Living Room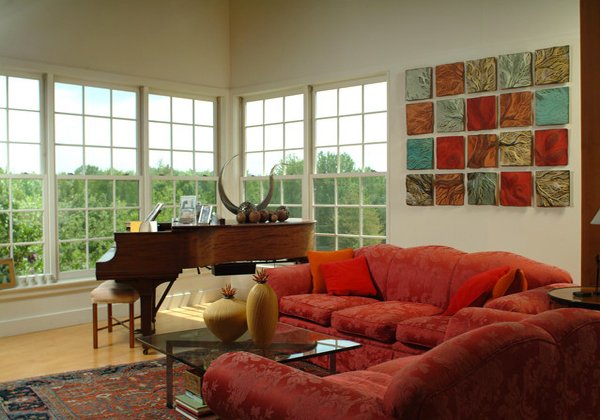 The living room may seem like any other living room you can see in the internet, but take a look at the handmade, graffito-carved, ceramic wall art and backsplash tile the designers personally made for their client.
French Haven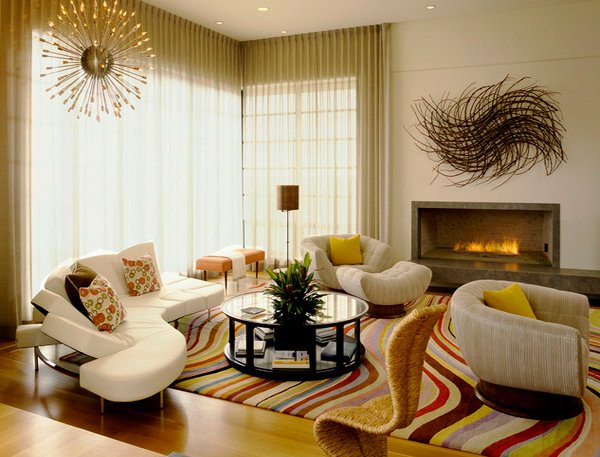 Long time clients and seasonal residents of Newport California wanted their new home to reflect their love and admiration for all things French. Fine antiques and furnishings play well in the foreground of their extensive rotating art collection.
All in all, Art Deco is about symmetry and balance, something that is present in most design styles. A bold pattern that may be seen in wallpapers of walls is one evident character with Art Deco. And did we mention that most of the spaces which are designed with this character have mirrors in them – like it's a regular item to complete the look. We hoped you liked the 15 Art Deco Inspired Living Room Designs we have for today and that you can check modern drapes for more inspiration!