20 Wear and Tear Appeal of Shabby Chic Accent Table
There are a lot of ways to accessorize your home. One of which is knowing what style to work on. What decor to use can be very daunting at times so, yes, it is best to keep a theme or stick to a kind of style you like best. You may want to keep it minimal and modern, so you go for modern minimalist decor to accessorize your home. However, if you want to stick to a more traditional and careless vintage look, a shabby chic style is the one for you.
A shabby chic style is a style that focuses on vintage look with an appearance of wear and tear. Appearances of furniture and furnishings are quite distressed that make it look old or antique. It might look unstructured or informal but that is what make this kind of style charming and effortlessly beautiful. So for your quest in finding the right accent table for your shabby chic home, scroll down t o see our 20 Shabby Chic Accent Tables.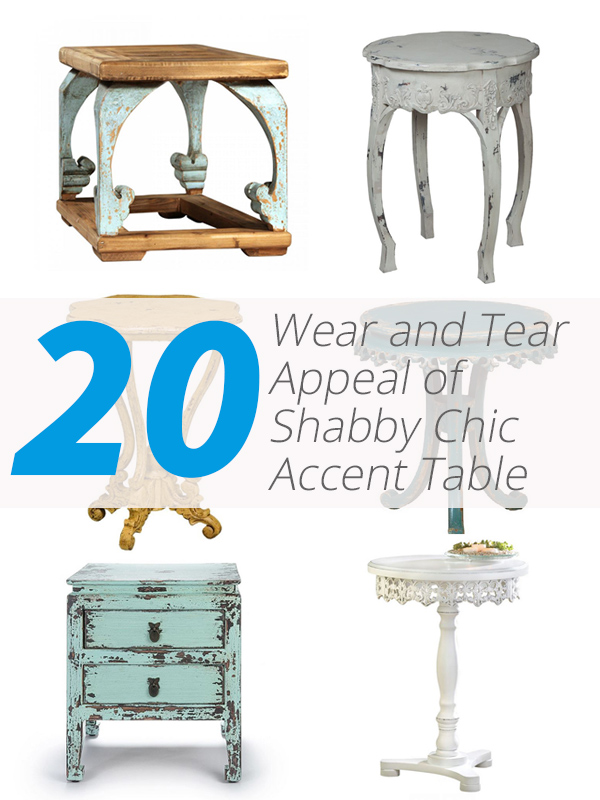 1. Eastlake Side Table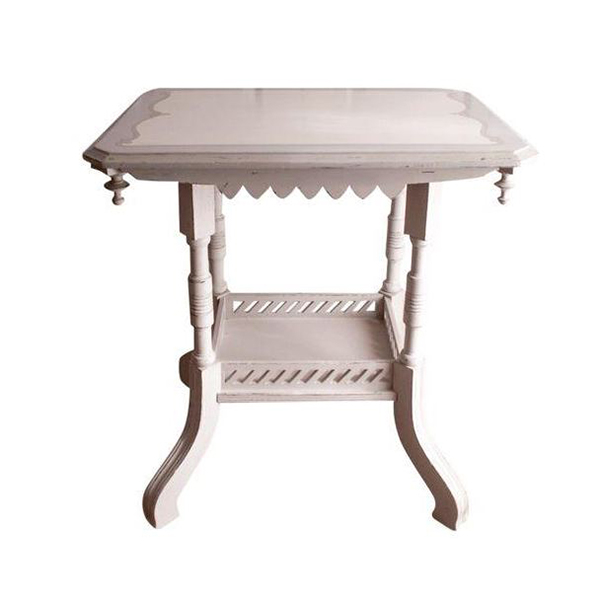 A charming side table with its delicate details offers functionality and elegance to your home.
2. Monica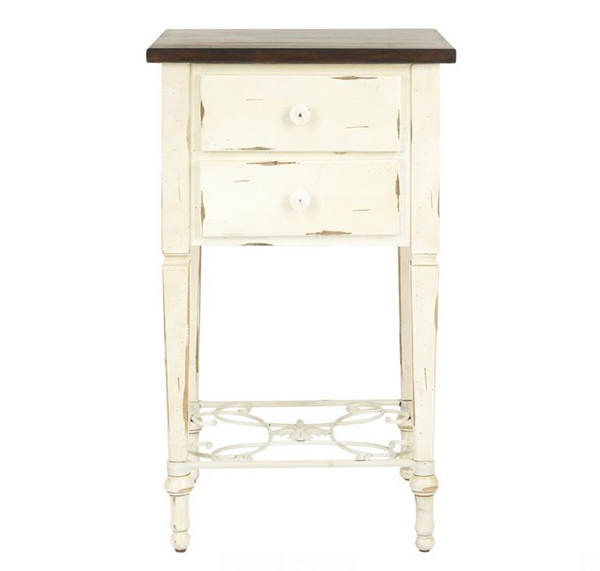 Add whimsy to your living room with this lovely side table that has two drawers to hide your clutter with beautiful scrolled stretcher gracefully turned legs in distressed white finish.
3. Little Shabby Chic Accent Table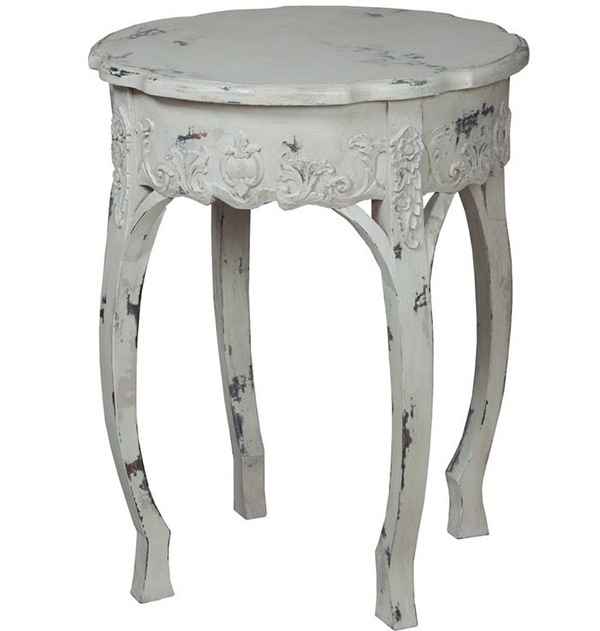 I love the softness of the distressed Vintage sorbet stain finish on this beautiful accent table and how it adds feminine elegance to any space!
4. Timmy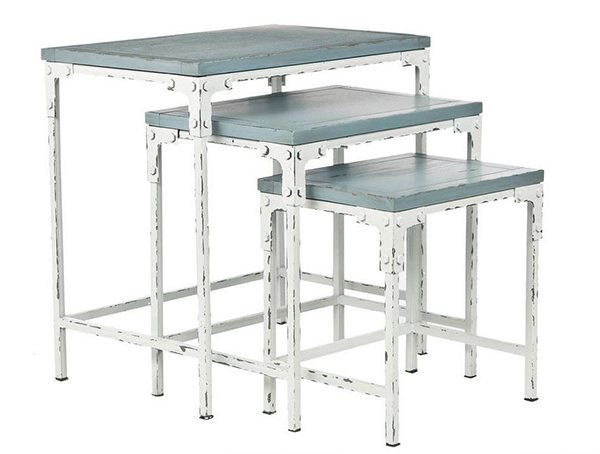 These charming stacking tables, with their pale blue pine tops and white distressed metal bases bring a vintage flair.
5. Mia End Table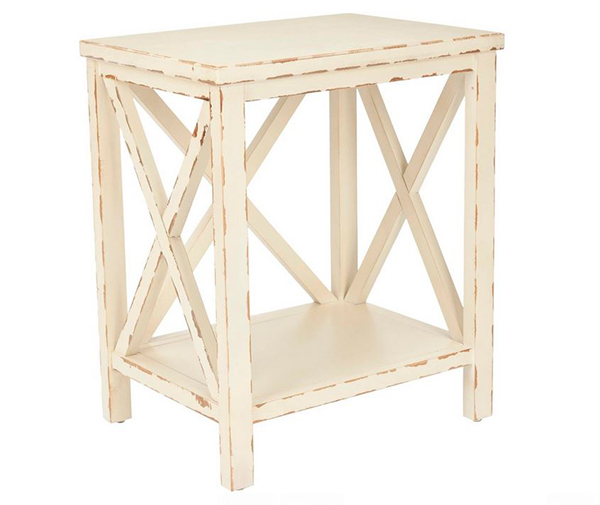 Bring a cozy shabby chic charm to your home with Mia end table. Its X detailing and distressed cream finish can complement country, coastal and traditional interiors.
6. Dijon Yellow Side Table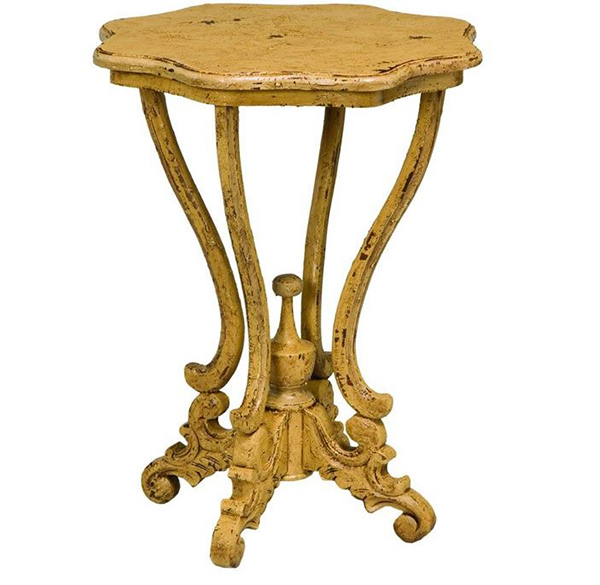 Add style and a classic European design to your home with this ornately hand carved Dijon in a distressed Italian mustard yellow finish.
7. Distressed Floral End Table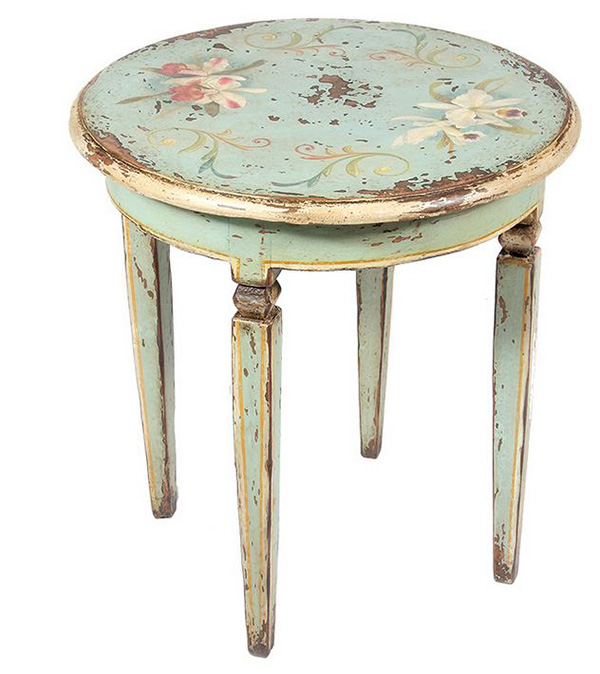 Give your home a touch of romance and feminine flair with this light blue, classic round Shabby Chic end table that features delicate creme flowers and lightly distressed finish.
8. Bence Side Table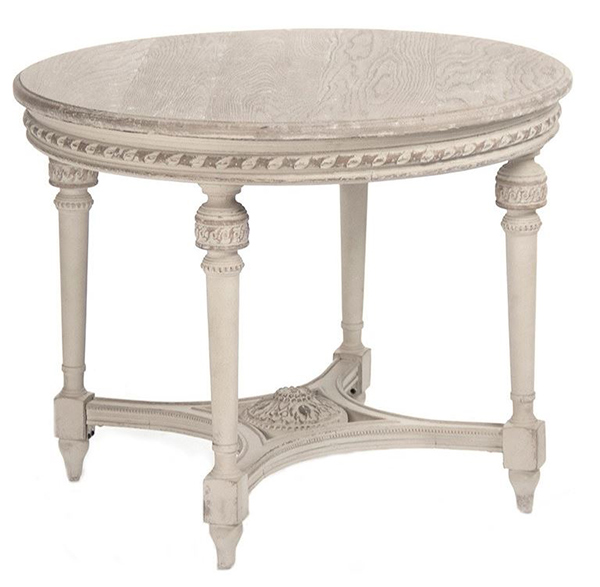 Crafted from durable natural elm and plywood with delicate carvings and distressed white finish, this side table offers vintage elegance to any interior style.
9. Shabby Chic Table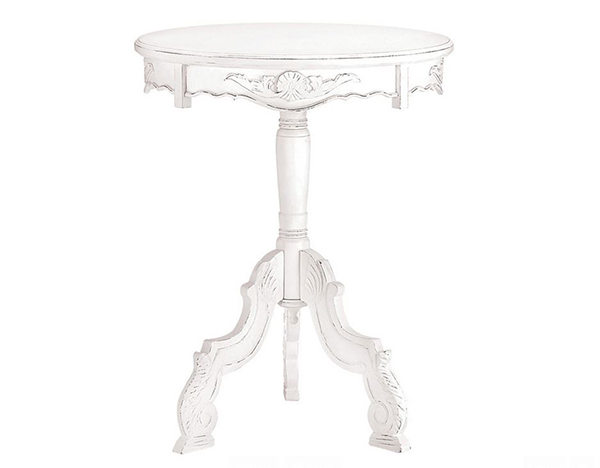 This Shabby Chic wood table offers sophistication and refinement to any space with its elegant flourishes.
10. Flourish Pedestal Table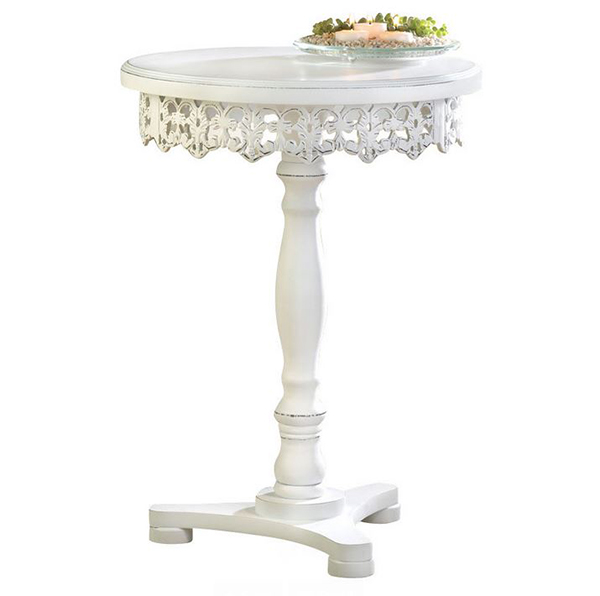 I love the decorative cutwork around the base of the tabletop of this Flourish Pedestal table! It will bring drama and interest to any space.
11. Ogustus Side Table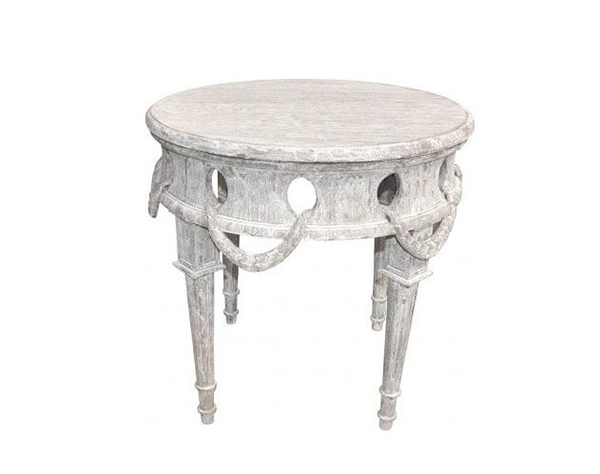 Bring elegance and whimsy to your home with Ogustus Side Table in white weathered finish. It features lovely swags intertwine and gorgeous Louis XVI style legs that will give character to your home.
12. Brewster Side Table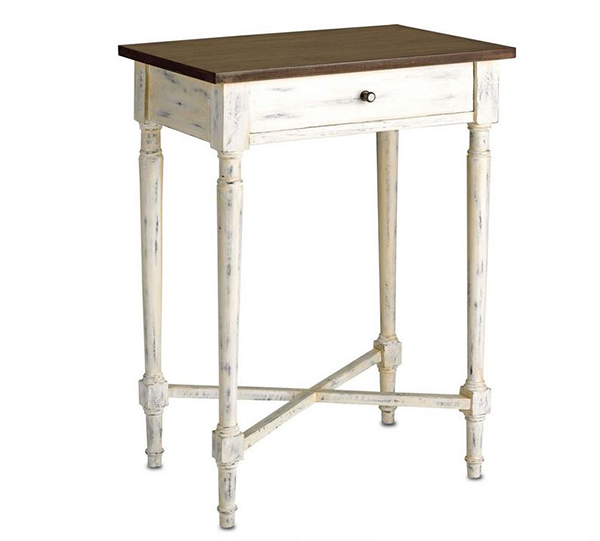 A simple side table with clean lines with dark brown top, a pullout drawer and a beautiful distressed white washed finish making it perfect for a shabby chic style home.
13.Cyan Fleur-de-Lis Table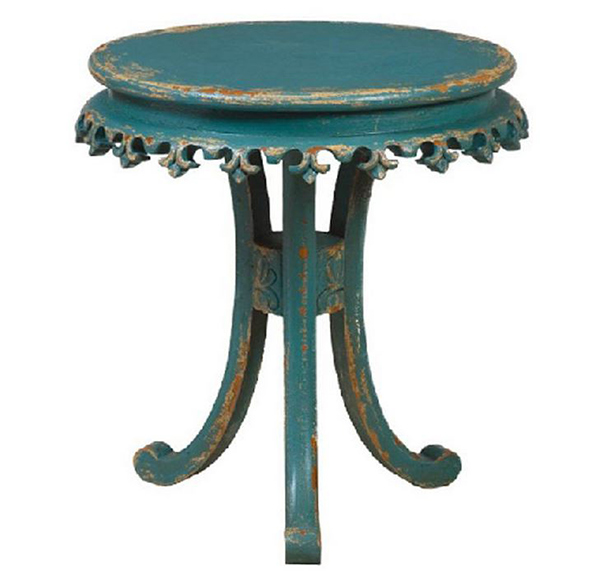 Go fun and bold with this shabby chic, chateau-style wood accent table! It features a hand-carved fleur-de-lys bib for a French flair.
14. Vintage French Chippendale Occasional Table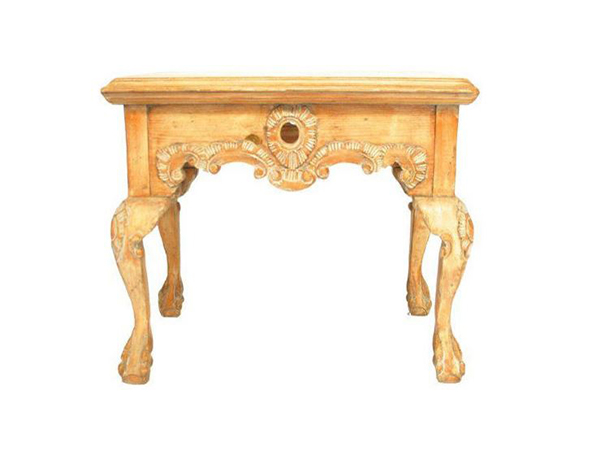 This French Chippendale occasional table features cabriole legs and carved apron with small window and has ball and claw feet is a stunning addition to your vintage collection.
15. Beijing Distressed End Tables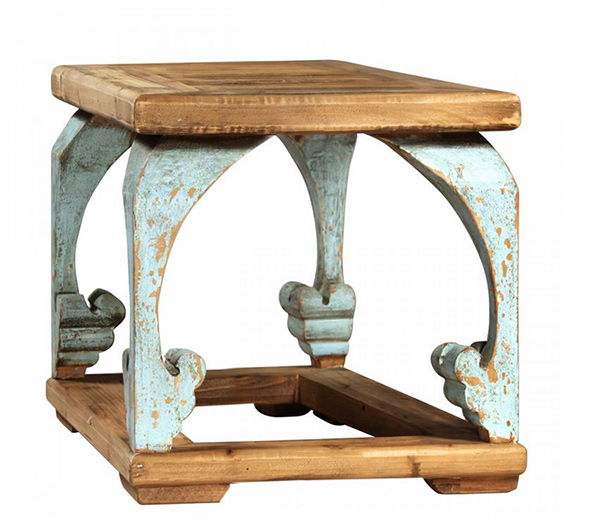 This end table captures a glimpse of culture and style. The intricate details on this solid reclaimed elm end table makes it gorgeous while the distressed paint finish on legs and light wax finish on top and base give interest.
16. Vintage Chic Lacy Blue Accent Table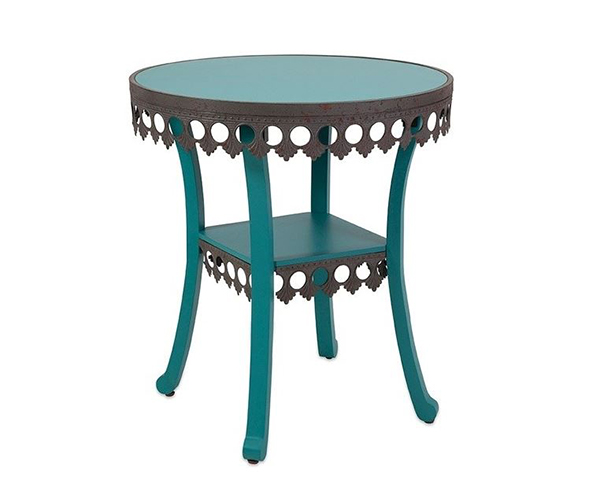 Accentuate your home with this elegant and stylish accent table. Its striking blue finish highlights the lacy metal skirt that exuding a beautiful feminine vibe.
17. Distressed Grey Quatrefoil End Table with Mirror Accent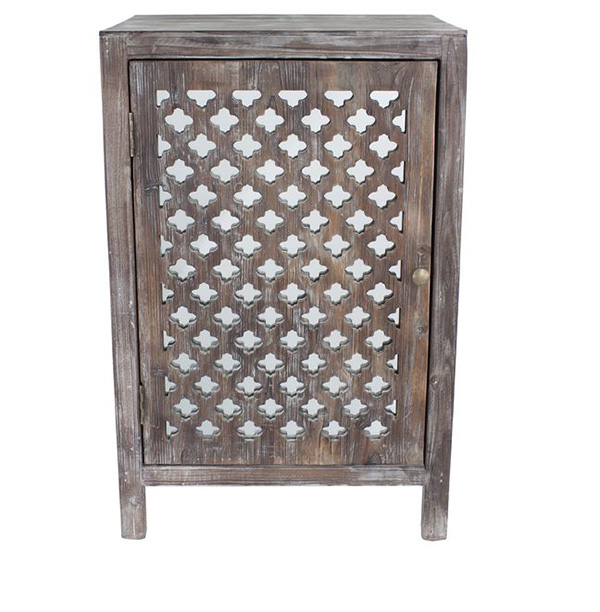 This distressed grey wooden occasional table brings a stylish and charming vibe with its intricate quatrefoil design door and mirrored accents underneath.
18. Tukang Ocean Blue Mindi Side Table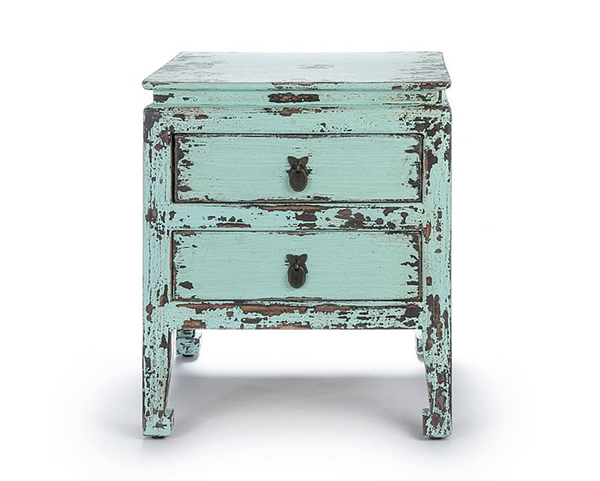 I love the relaxing light ocean blue distressed washed finish on this striking side table made from authentic Indonesian Mindi wood.
19. Safavieh Monica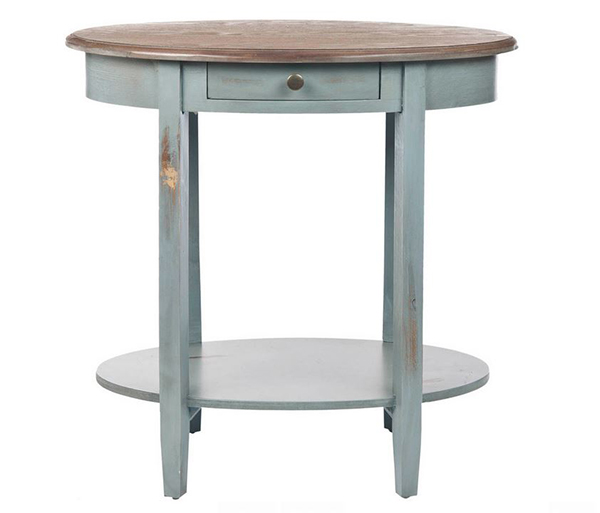 A simple and pretty shabby-chic end table in distressed pale blue finish features an oval birch wood top and a bottom shelf with drawer for extra storage.
20. Sawyer
A great shabby-chic accent for your home with a rich cherry finished top and eye-catching antique grey base with plenty of space for storage.
I love how these shabby-chic accent tables can be very pretty, classy and charming. Its elegance can bring warmth and striking statement to any space. These beautiful accent tables can slide their way to any traditional, rustic, coastal and even transitional style interiors. These designs may all use the distressed washed finish, but the aged appearance and antique touch make all of it a stunning addition for your home.