20 One of a Kind Living Room Center Tables
Center tables are great conversation pieces in the living room. If you will notice, the center tables in our homes are pretty much interesting and oftentimes something that is not identical from someone else's. Although honestly, furniture are reproduced a couple of times, and the only time you will be having an interesting set for your home is when you ask your designer to customize a set for you.
Today, we will be showing you a list of 20 One of a Kind Living Room Center Tables that are pretty much customized or bought from bazaars compared to the ones that can be bought from furniture stores or from malls. The designs that you will be seeing range from different styles and materials. Most of them are favorites since they are all too cute and for us. No, kidding!
#1 Bruce Lietzke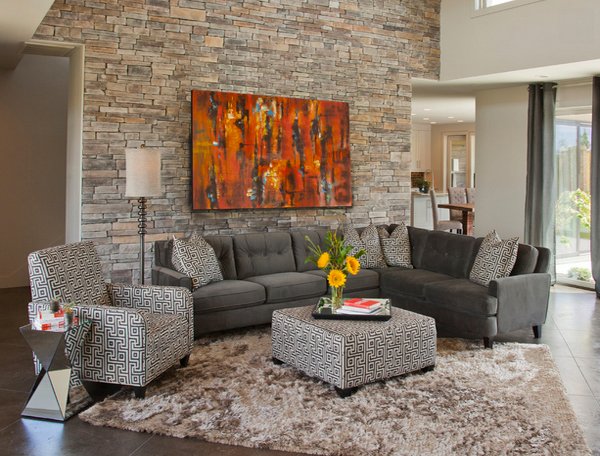 Awesome center table that match the accent chair. Gorgeous fabric that also match the pillow cases.
Abingdon Residence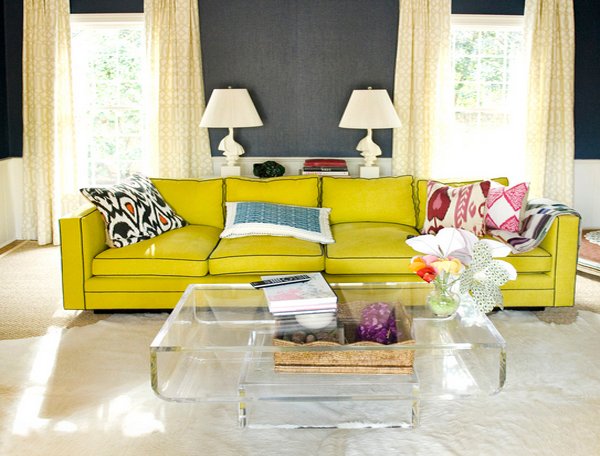 The translucent coffee table is a plexi-craft furniture which is definitely lovable and adding piping in a contrasting color to get a wow factor, or go for subtle and graceful with beige piping on a white sofa.
Baltimore Living Room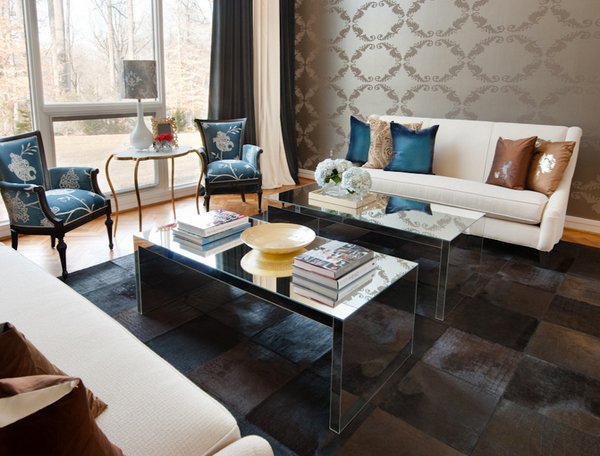 Fabulous coffee table that was custom-made by the designers specifically for the home owner. We do not have a record of the material used for this table, except that it is made of some glass.
Chicago Eclectic Living Room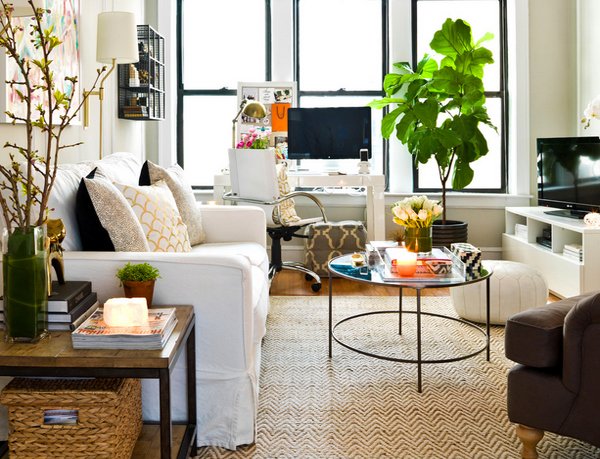 The table top in tempered glass is stain-resistant and definitely easy to clean.
Coral Living Room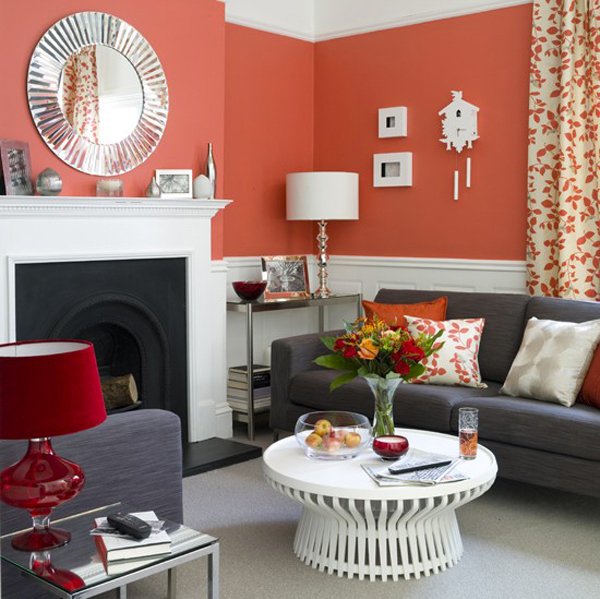 Soft and calming grey furniture creates a formal and relaxed living room, which is brightened up with coral walls and accents of white. Accents of coral and red in the cushions and lighting add a modern feel, and quirky items like the coffee table stand out and lift the scheme.
DWR Living Room Remodel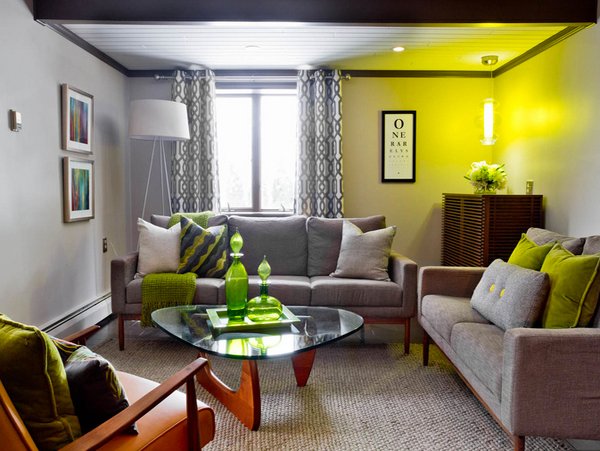 This classic mid-century modern table was designed by Isamu Noguchi for Herman Miller. Two simple, smoothly shaped pieces interlock to form a tripod that supports a .75″ thick slab of transparent glass.
Family Room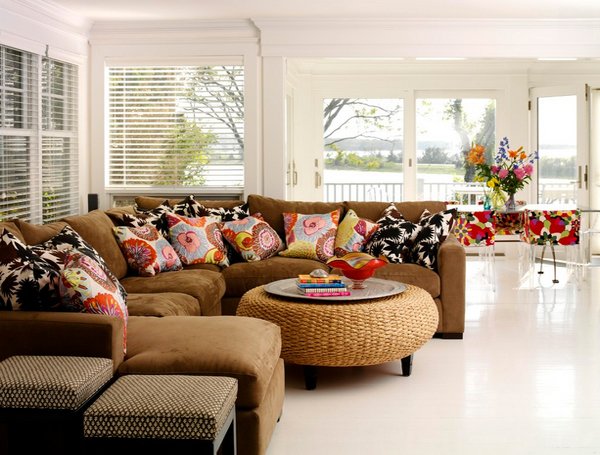 Still not sure if you should go with a wood or upholstered coffee table? A happy medium just might be the woven wicker or rattan coffee table. It's isn't a hard wood surface and isn't exactly upholstered either. We love the extra interest and texture this piece adds to this room.
Foothill Residence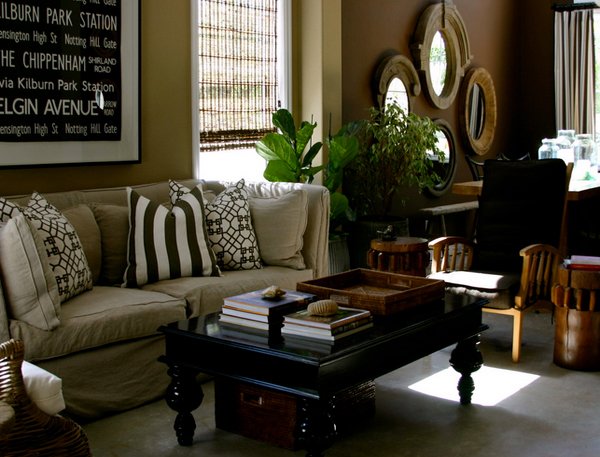 This Colonial cocktail center table adds drama to this rather earthly colored living room. This table is available online too!
Glamorous Living Room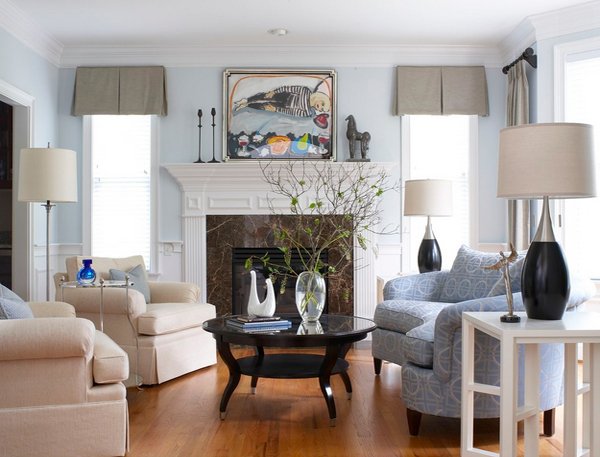 The cocktail table that we have in this living room was purchased through Cynthia Mason Interiors. Note the antiqued mirror top that this table has – it is not really common since usually, it's just made of glass, and not of a mirror.
Hauser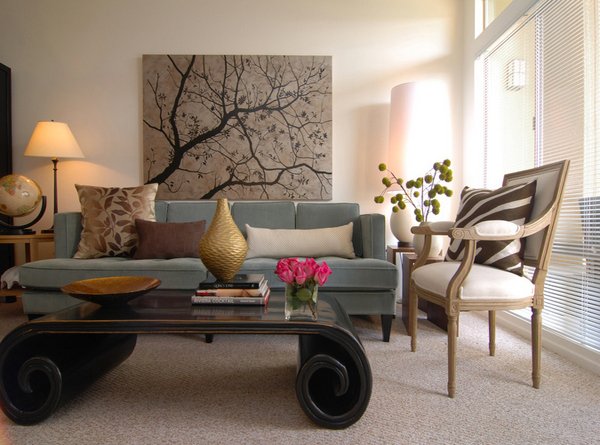 Don't you just love the scroll coffee table? The dark color of the table contrasts the light colored furniture, walls and the floor.
Howhome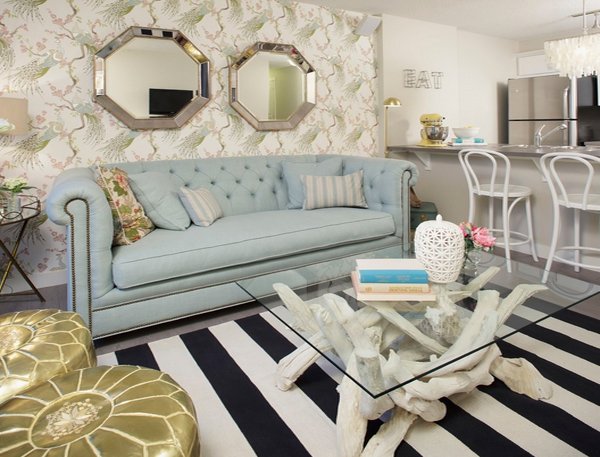 Loving the Parisian inspired couch, the bold striped rug and the beautiful wallpaper which it brings everything together. Can't forget about those fantastic, gold ottomans and the interesting table from Country Furniture.
Insidesign Remodel Project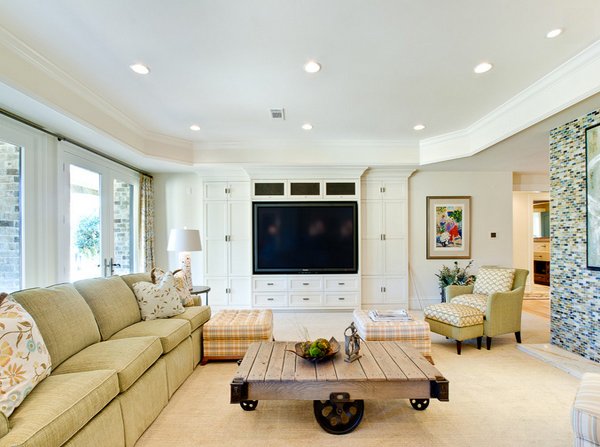 The most interesting furniture in this living room aside from the mounting cabinet for the television is the center table that was repurposed. Very pretty and eclectic.
Los Gatos Residence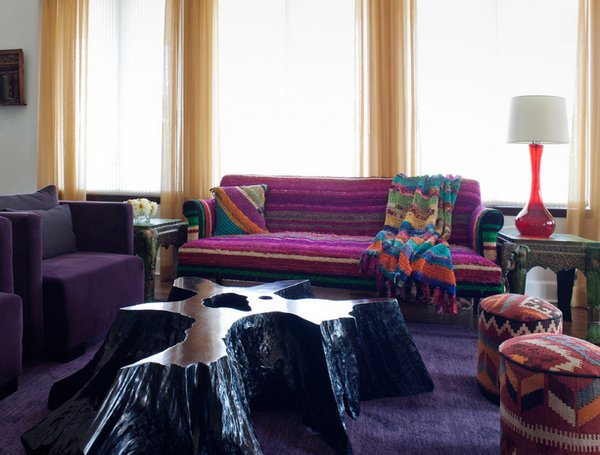 According to the designer, the center table made from a tree trunk which is actually stunning. It seems treated to look like this, but definitely a conversational piece.
Lucas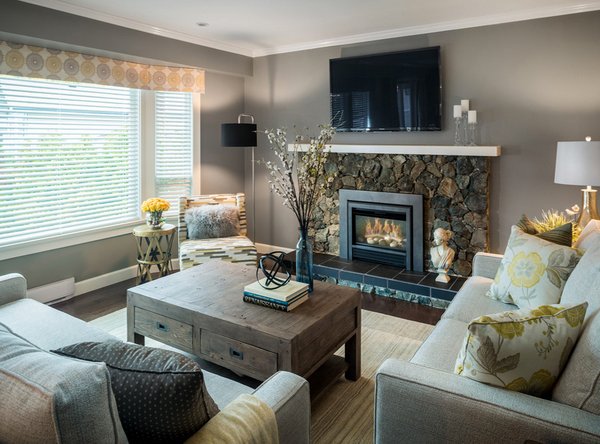 A comfortable place for cozying up to watch TV, or for entertaining family & friends. The designers noted that the center table is from LH Imports.
Michigan Weekend Retreat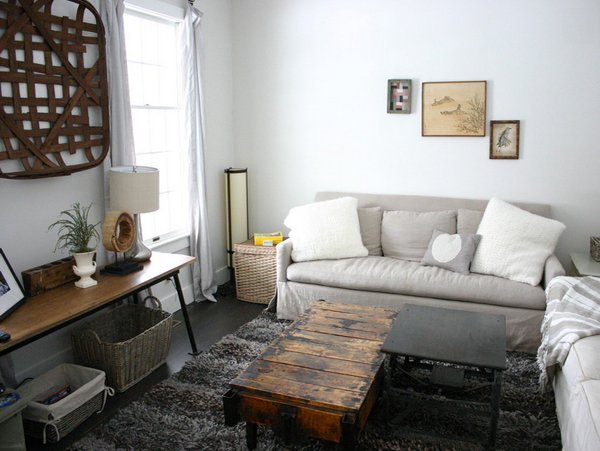 Another interesting pairing of two very different tables works out well here. They both add a vintage feel to the room, one in old wood, one in industrial metal.
NE 27th Street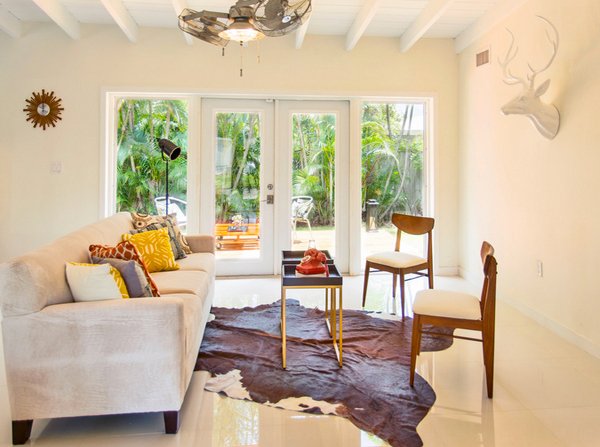 Everything inside this living room sure is stunning – from the white walls and exposed beams, the antler's head with the industrial ceiling fan, simple white sofa that is paired with the simple wooden chairs and cute center tables.
New Canaan Cape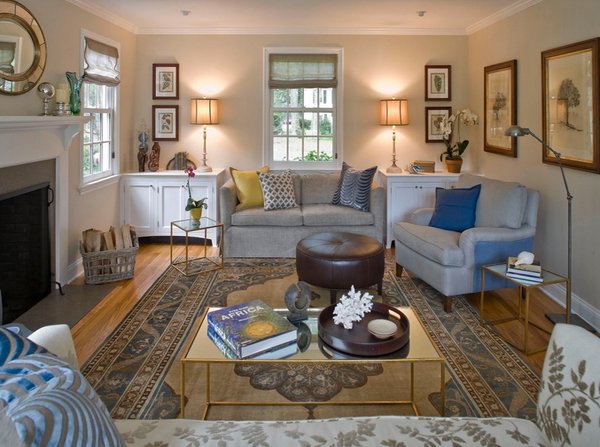 A complete transformation from a typical 1980's black and floral chintz scheme to a lighter and more soothing space for a couple of empty nesters. Notice how each item inside this room complement each other.
New York Living Room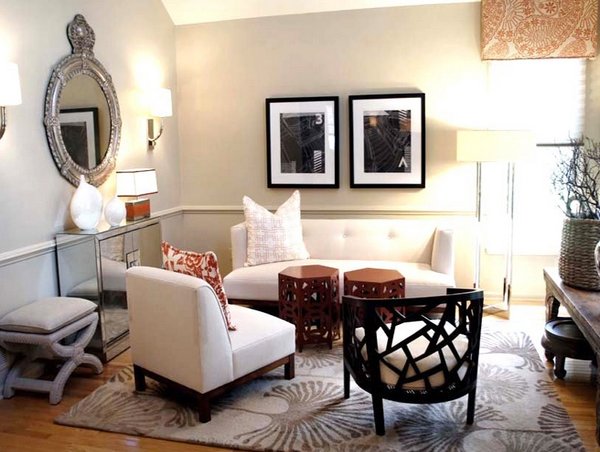 This living room has it all – a mix of furnishings in a neutral palette, accented with pops of orange in the custom pillows and cornices. The large mirror over the mirrored console is dramatic and fills the double height wall, and is accented by 2 sconces which wash the space in a great glow at night. Note the cute center tables with an Asian touch.
San Rafael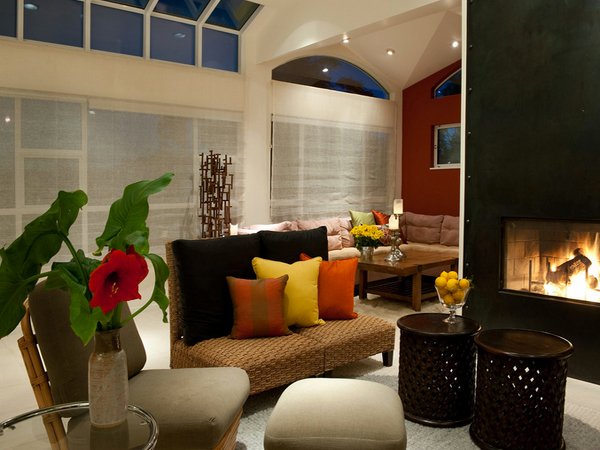 Check out the center table that can actually go for an accent table too! Simple, fab and attractive!
West 8th Avenue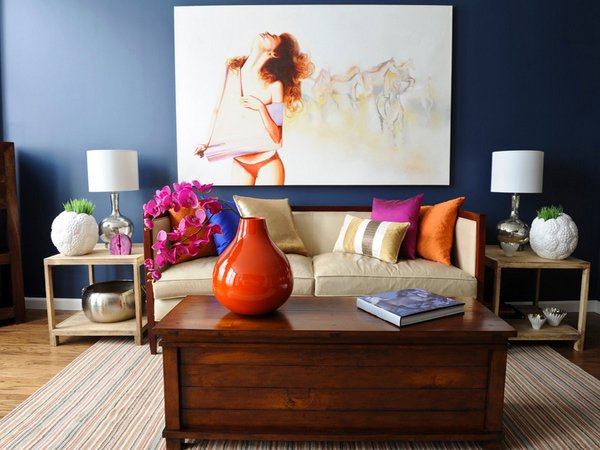 The designer said that the center table was a personal item from the home owner. Evidently it looked super great for the look they were trying to achieve!
Center tables are oftentimes considered as coffee tables for designers or decorators. Coffee table sounds a bit more modern or classy, won't you agree. It's a bit more specific that is why it was actually changed or generalized as center tables since it shows or portrays more purpose for the said tables. Hope you actually liked our list today and pallet coffee table ideas which will definitely be a lot of help for you guys out there who are searching for new ideas to keep your homes pretty and functional! Have a great weekend!