20 Ideas for Wicker Pool Lounge Chairs with Cushions
Lounge on comfortable wicker chairs with cushions on your pool deck, just like the ones on this list.
Summer may somehow be over for others but for some people who live in tropical countries, by the beach or if you have a swimming pool in your home – summer is pretty much all-year round! Speaking of summer and swimming pools, today, we have a list of furniture that you can check out because if you actually have a pool, you might want to have one of these.
Below is a list of lounge chairs made of wicker that I think you would want to check out because of how awesome and comfortable these chairs are. Of course, having these furniture does not mean you need a pool side to have them because you can easily use these chairs for your roof deck or the patio. The designs of the chairs that we have below is something really fascinating, check it out!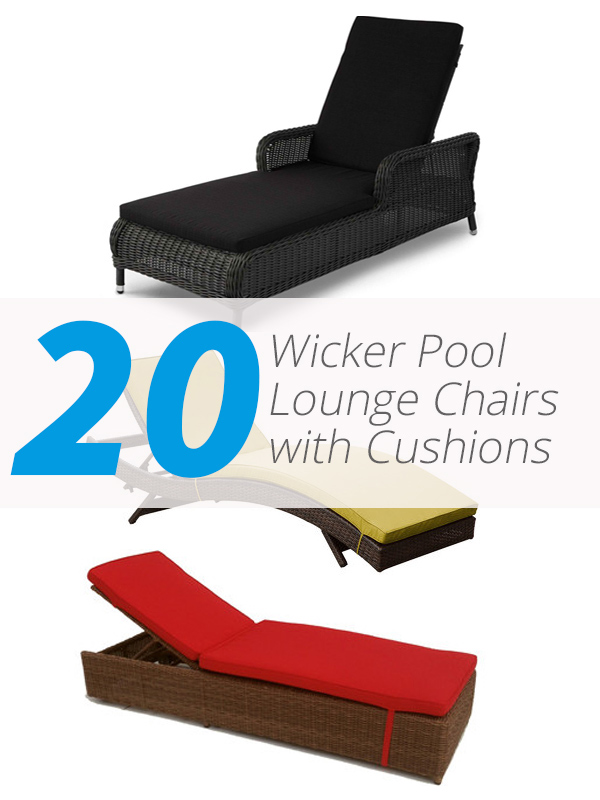 1. Onda Chaise Lounge with Cushion

Now this is one gorgeous lounge chair! The shape of the body sure is inviting and pretty much social media ready – may it be Instagram, Facebook or even in Twitter. This is one lounge chaise worth all the attention.
2. Otello Lounge Chair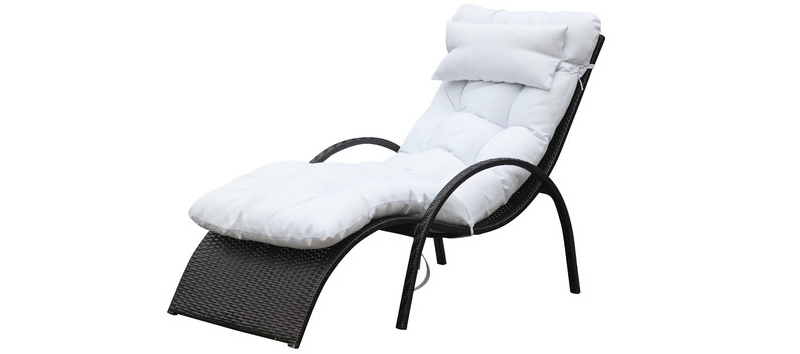 If you just want to lounge and hang out by the pool, this Otello lounge chair is something you can consider having; the design is quite traditional and even resembles a rocking chair but all at the same time contemporary because of the materials used with it. The black and white combo is actually quite popular, don't you agree?
3. Alcee Resin Wicker Chaise Lounge Chair

Here is one black on black combo for a lounge chair, this one is smart in a way so as to limit the chances of having to see your cushions dirty. White is always a refreshing thing to see when you visit the pool area, but seeing one clean 'looking' lounge counts more, right?
4. Double Pool Chaise Lounge with Cushion

The browns used for this lounge chair that was designed by Lloyd Flanders is one cute way of bringing in the neutral and earthy feel to your backyard, patio or pool side.
5. Gemini Chaise Lounge

Seeing this chaise is quite a treat; the coffee-colored cushions sure emulate someone getting a tan. The shape and curves on this one is similar to the wave lounge chaise but a little more slender.
6. Hyde Park Chaise Lounge with Cushions

Look at this box-type chaise lounge – it's quite huge for my taste. Although, as you can see, this one sure is easy to store horizontally or vertically. At some point, you can even maybe use this as a low table for your patio if you need it to be.
7. Outsunny Chaise Lounge with Cushion
You would surely want to go out when it's sunny. See what I did there? The sleek and slender design of this chaise is quite a charmer. The curve it has to it sure showcases more of contemporary furniture than a traditional one. I personally like this one.
8. Santa Barbara Chaise Lounge with Cushions

Another boxy type of pool lounge chair – in red! If you noticed the difference with this one and the other boxy type above, this is somehow leveled with the body of the chair, while the other one was more recessed.
9. Sunbrella Beige Lounge Cushions

This lounge chair is a bit different than most of the ones in this list. The curves on this one is what I call a comfy and cozy – it's really different if a certain furniture is more curvy or boxy.
10. Belladonna Resin Wicker Chaise Lounge Chair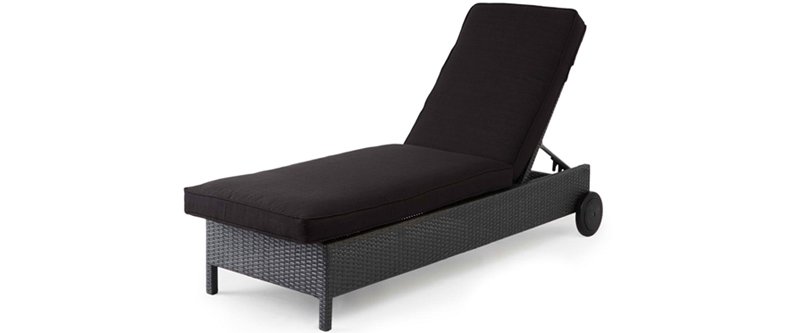 Well, what do you know! A pool lounge chaise with wheels! The black on black combination on this one makes it more contemporary and somehow really classy.
11. Daytona Chaise Sun Lounger with Cushion

Daytona is a sun lounger that I think is neat; the color combination is simple but contemporary and the fact that you can easily lift or drop the back rest of this lounge, it means you can surely cozy up with friends to catch up and chat.
12. Solana Chaise Lounge with Cushion

One thing I've noticed from lounge chairs is the fact that you can adjust the back rest however you want it; this means that if you are at home hanging out by the pool side or in a hotel or resort, you can always opt to order a massage by the pool.
13. Orleans Chaise Lounge with Cushion

The design of the cushions on this Orleans chaise is actually really comfortable-looking. You can always sleep with an elevated pillow, right? The color of the cushion is also charming and very natural.
14. Peer Chaise Lounge with Cushion I

Love the thought of a curvy lounge chair by the pool but want the adjustable one? Well, this one might be something you can consider in the list. It's curvy, it's adjustable and really nifty.
15. Coronado Chaise Lounge with Cushion

You might have seen a lounge chair like this one in the list, except the material used as the base of the chair is more natural and earthy. This shade of brown is one neat sample to use in your pool side.
16. Chaise Lounge with Cushion

This chaise looks like something you can always use for the patio. The material is more resilient and can handle rain than untreated wood. The grey cushion is a good choice to match the black base of this pool lounge chair.
17. Mindil Chaise Lounge with Cushion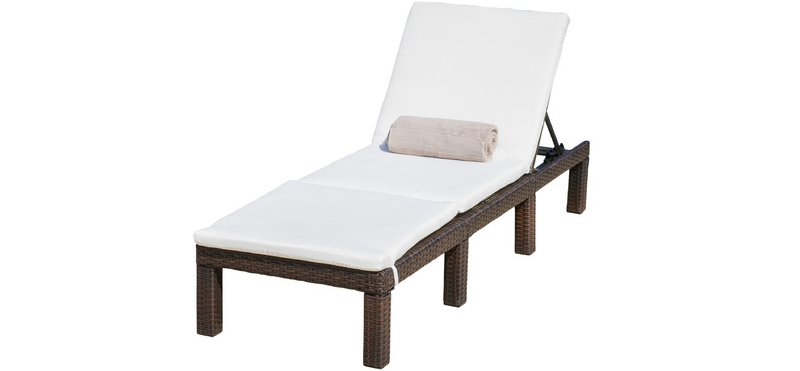 If you have a pool in the roof deck, you might want to check this chair out. The dark brown and white combo is neat, contemporary and sure does not look cheap at all.
18. Out of Blue Kahuna Chaise Lounge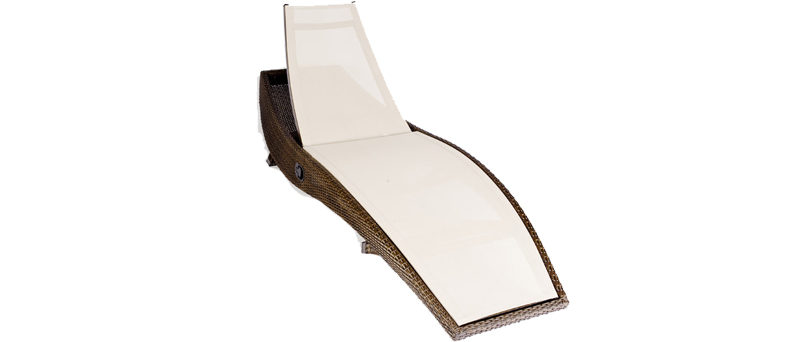 Want to opt for a more fun approach to a natural material for your lounge chair? Check out this product from Le Jardins. The weaved base of this lounge chair is something we do not see regularly in resorts or hotels but this is still great for your very own pool side.
19. Resin Wicker Lounge Chair

I'm guessing that the material for this pool lounge chair is sturdy enough to carry a normal sized person. I can't imagine me lying down on this one because of my size. Haha!
20. St. Martin Chaise Lounge with Cushions

How fun does this chaise look like? It looks like a vehicle or a sleigh. What do you think? The curves on the handle looks rather sweet and appealing.
I think that was one heck of a list. I said above, these furniture can be used in the patio as well. You can check out other patio furniture that we have here in Home Design Lover! Hope you liked this list guys!