20 Make-up and Vanity Tables for Your Bedroom
Ever wanted to have that gorgeous dressing table or make-up/vanity table for your bedroom? The ones you saw on television that pretty girls use? Well, today, we have collected a list that will show you different samples that you can choose from. They vary in designs, in colors, in sizes and materials. We are sure that you would actually love this list – whether it's for you or for your daughters.
Below is the list about 20 Make-up and Vanity Tables for Your Bedroom that showcase a variety of classy materials and designers who wants all the best for their consumers and followers. Check out the list below and tell us what you think about them! Different colors and designs fit for any bedroom designs you have at home; tell us what you think about them guys!
1. 2-Piece Nickel Bronze Vanity Set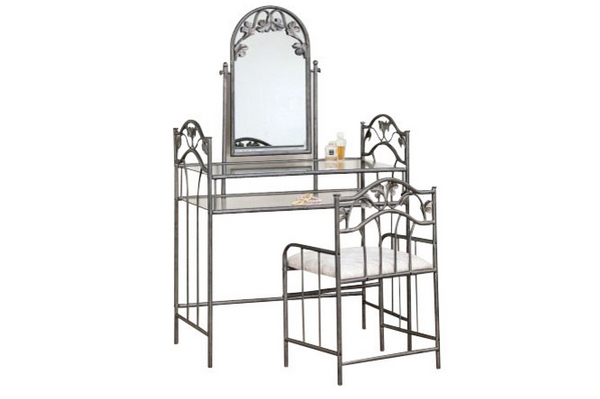 The real charm of this vanity table is from the gorgeous leaf and vine motif fixed into the metal frame of the vanity. The stool is upholstered with faded flower square patterned fabric, and the metal frames of both table and stool are finished in nickel-bronze.
2. 2-Piece Vanity Set in White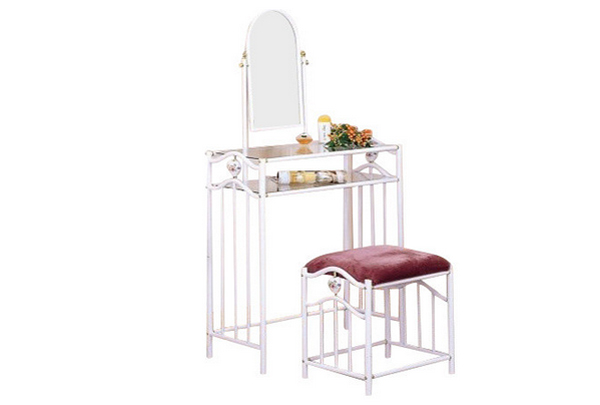 This stylish personal table features a swiveling mirror and two glass shelves to hold a variety of products and accessories. Its real charm comes from the gorgeous porcelain hearts fixed into the metal frames of the vanity and stool and decorated with delicate paintings of flowers.
3. Baroque Vanity Table
How do you like the details in the mirror frame of this vanity table? Don't you agree that it sort of reminds us of royalty? Maybe something from Thailand or something.
4. Bedford Vanity Table and Bench in Black Finish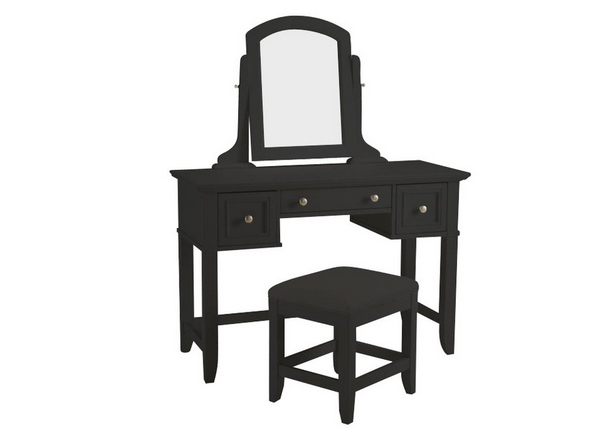 Bedford Vanity and Table Bench features unadorned details such as the straight and curved lines, slightly flared legs, profile-edged top, and Brushed Nickel hardware allow for adaptable use of the Bedford Vanity Table within a variety of home settings.
5. Black Vanity Table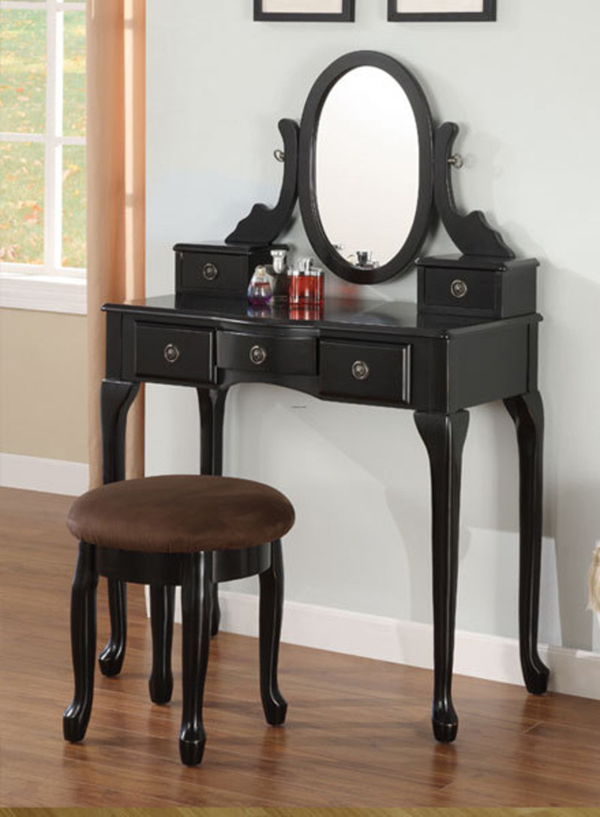 This black vanity table has an oval mirror with a dresses with multiple drawers and a comfy stool.
6. Amherst 3 PC Espresso Finish Wood Make Up Dressing Table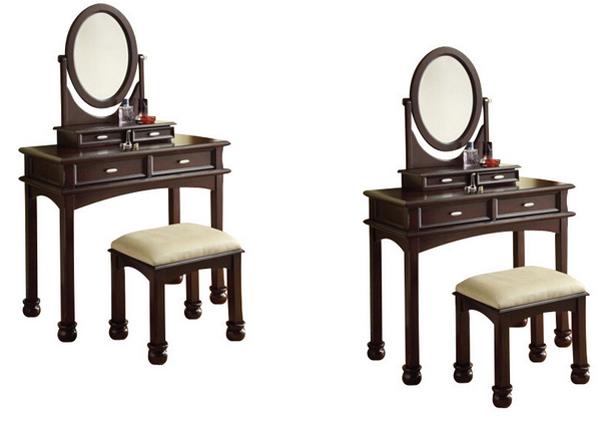 Amherst 3-Piece espresso finish wood make up dressing table vanity set with stool and oval mirror. This set includes the vanity with 4 drawers with classic styling, the oval mirror and the padded stool with turned legs.
7. Gilda Vanity Mirror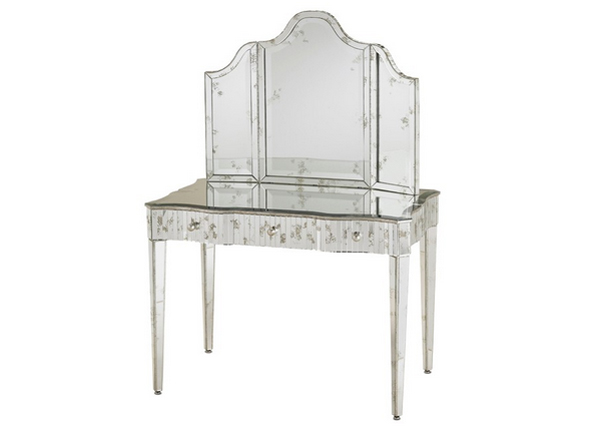 Shine on, beautiful. With this dazzling vanity table, you can see yourself in the best light every day. Resplendent in silver and antique mirror, it's as glamorous as it is functional.
8. Kelly Cappuccino Vanity Table Set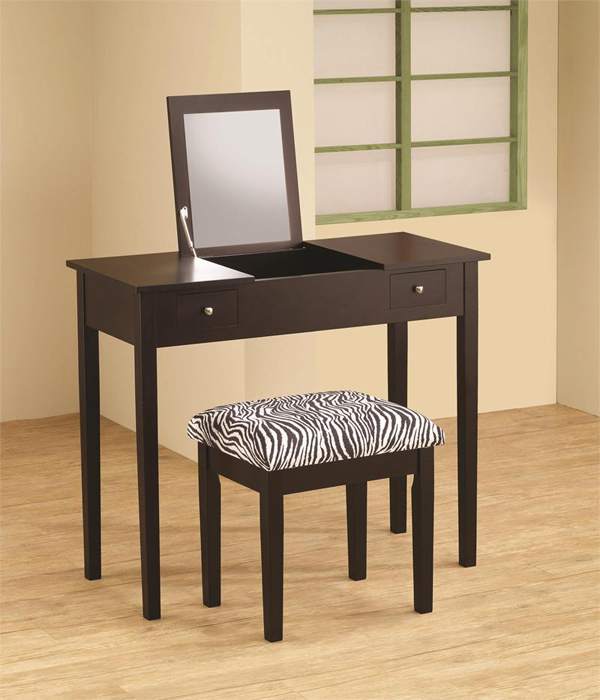 Here is an example of a rectangular vanity table that can be converted into an ordinary table when not used. The leopard-printed stool is a charmer, do you agree?
9. Leonora Glass Top Vanity Table with Mirror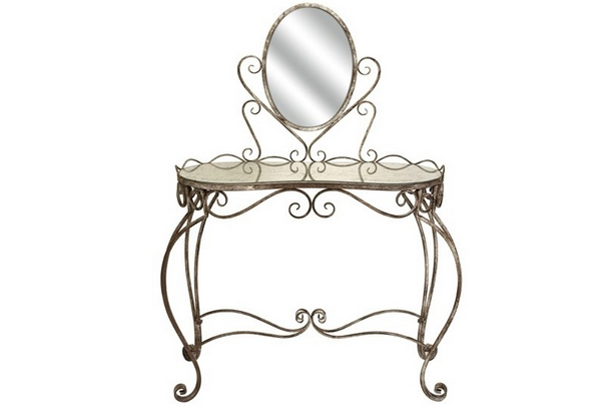 Stunning vanity table with a marble table and a lovely oval mirror to match.
10. 2-Piece Black Vanity Set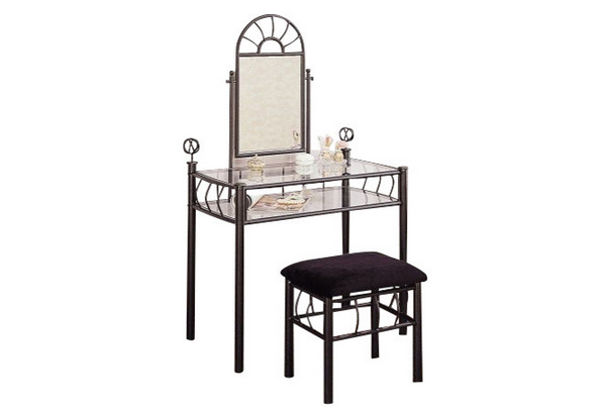 This is a brand new Sunburst Design black finish metal vanity set. Item is designed with two clear glass shelves, mirror and matching stool/bench. Beautify your bedroom with this vanity set that adds elegance to your decor.
11. Louis Dressing Table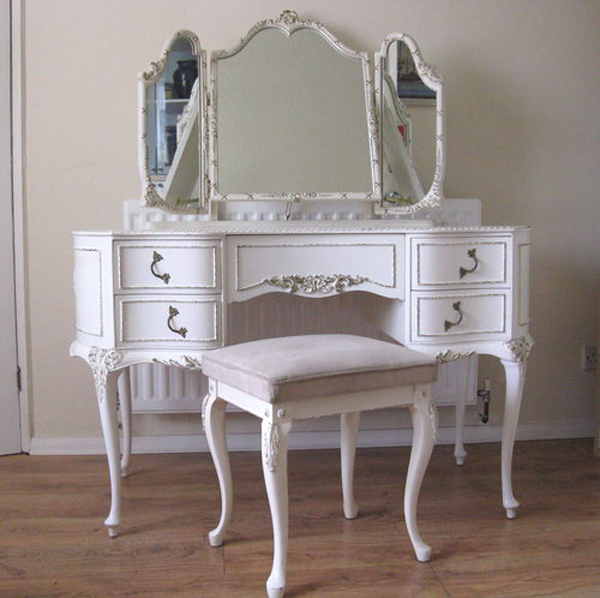 A classic design for a make-up/vanity table for those classic-loving ladies – it's in white, so it's so lovelier.
12. Lovely Vanity Table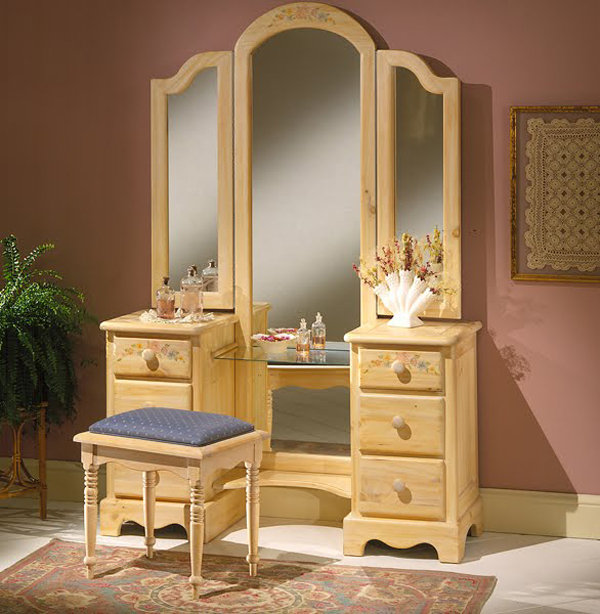 I personally love this vanity table because of the color and the fact that it has 3-folded mirror with multiple drawers.
13. Madera White Vanity Set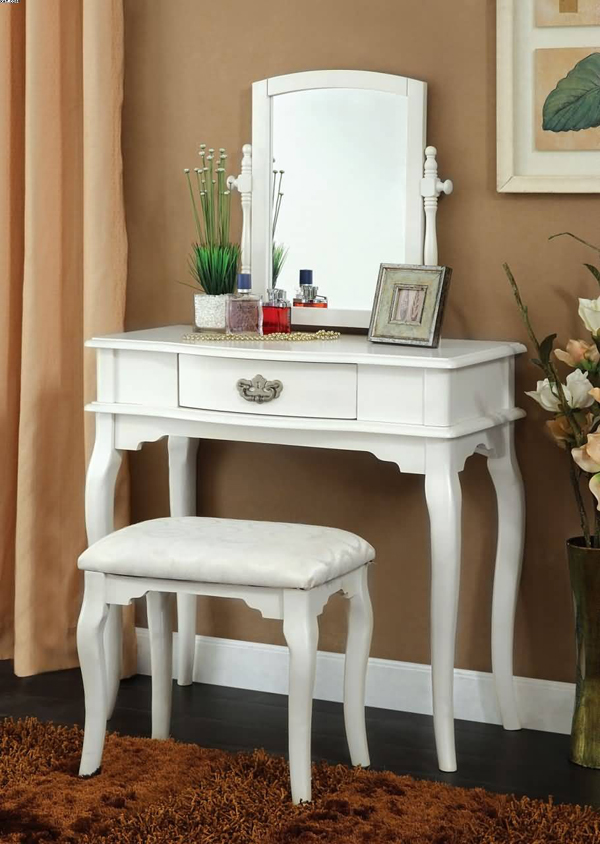 This Madera white vanity table is paired with a comfortable white stool. The shape of the legs of both the table and stool is a classy style; and this single-drawer table is where we keep the small items we use daily like jewelry.
14. 2-Piece Espresso Finish Wood Vanity Dressing Table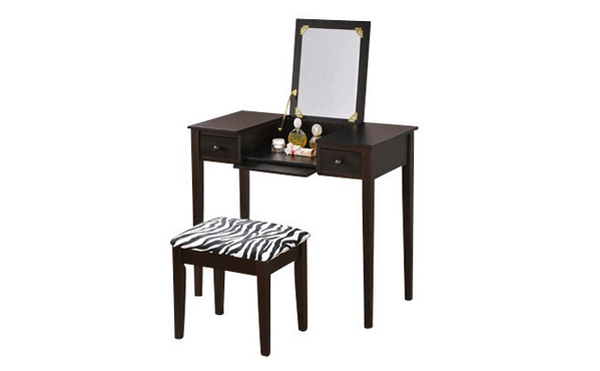 2-piece Espresso-finish wood vanity dressing table with flip up mirror and stool with zebra print material. How do you find it?
15. Naples Vanity & Vanity Bench in White Finish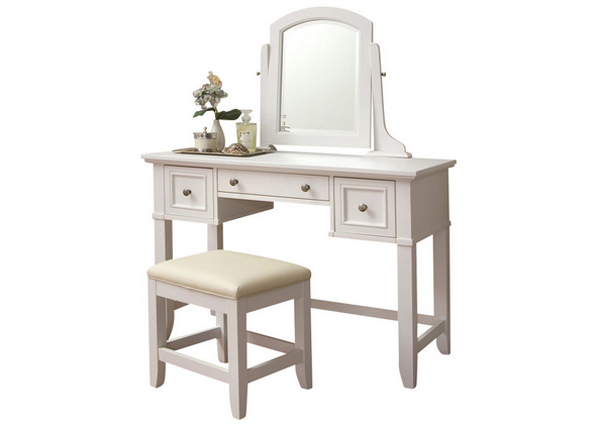 Use the table with the included mirror as a vanity table or without the mirror as a larger sized student desk.
16. Torian 3-Piece White Finish Wood Dressing Table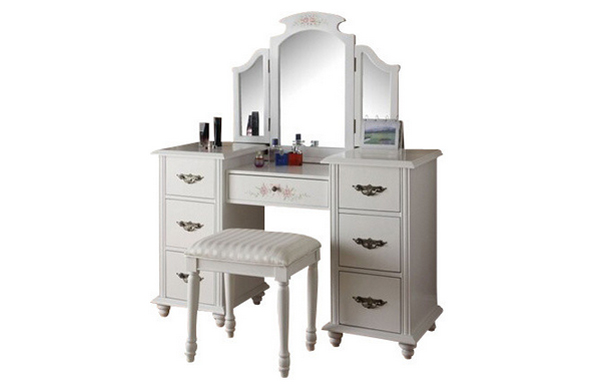 Torian 3-piece white finish wood makes up dressing table vanity set with stool and tri-fold mirror. This set includes the vanity with 7 drawers with classic styling, the tri-fold mirror with curved tops and the padded stool with turned legs.
17. Cherry Vanity Set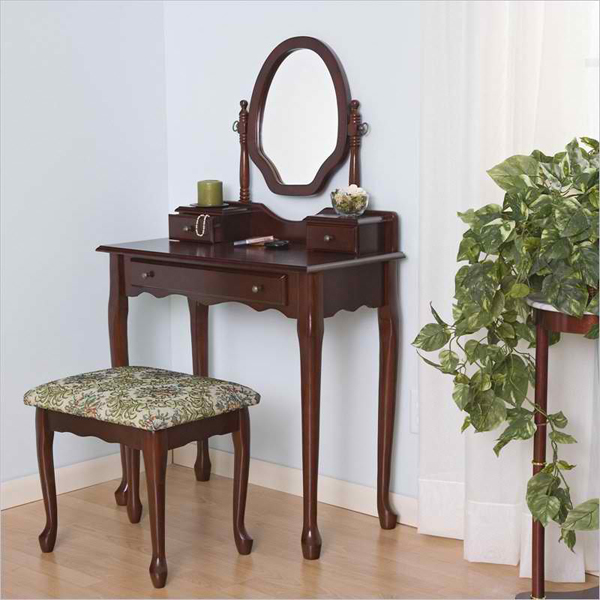 Beautify your bedroom and furniture setting with this vanity mirror set that adds elegance to your decor. Item is designed to perfection and crafted to be practical and stylish in decor for your home furniture.
18. Tri-folding Mirror Make Up Table Vanity Set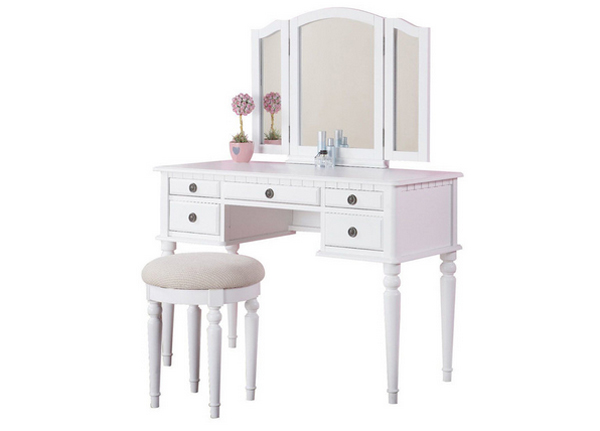 This vanity has five drawers with antiqued bronze accents for storage and to keep your surface-top clutter free. A tri-folding mirror is the focal point of this vanity and can be adjusted to be able to view your face and hair from all angles.
19. Trini 3-Piece Off White Finish Wood Make Up Dressing Table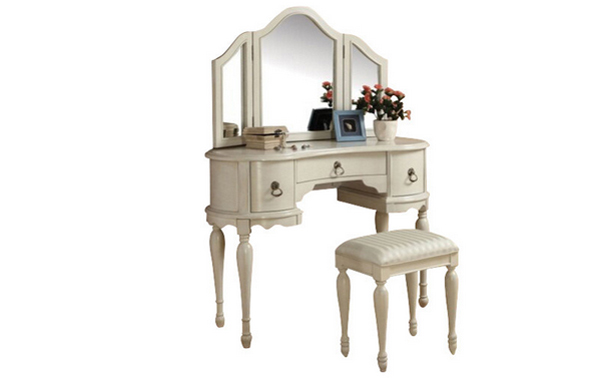 Remember Trini from Power Rangers, this sure reminds me of her. She was usually portrayed by an Asian girl; this set is English, but the rusty color is really beautiful.
20. Graceful Make-up Table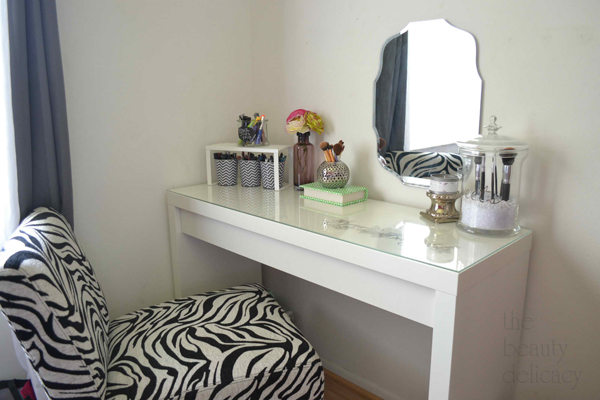 This vanity table is paired with a mirror with a stunning design is pretty modern for me – only this time, if you noticed, the mirror is detached. Pairing the white table with a printed chair is catchy and sure is pretty.
A necessity or not, when you think about adding a make-up/vanity set in your bedroom, you will need to consider designs that will complement your space rather than make it seem that you'd wish it wasn't even there. With the designs we have prepared and collected for this list of the 20 Make-up and Vanity Tables for Your Bedroom, we think most of them will match any bedroom design. Take a look at the 15 Designer Contemporary Oval Mirrors to Love! More to come in Home Design Lover!