20 Examples of Glass Dining Room Tables
A welcoming and lovely dining room is essential for the whole family and guests. An inviting and beautiful look should be a priority. The furniture that you use in your dining room will set the tone and atmosphere. Oftentimes, it is the dining table that takes the center stage. Depending on your taste and style, a variety of designs are available in the market. All of which are remarkable and are sure to make an interesting accent to your eating place.
We got a list of dining tables that has been in the market for quite a while now. A glass table-top is what we have in store for you today. You will be amazed with the different touches you will see in our gallery. Our list of 20 Glass Table Dining Room is an amazing list of glass table-tops with surprising flairs that is sure to grab attention. Keep on scrolling down to see these delightful designs that might just be what you needed for a stylish dining space.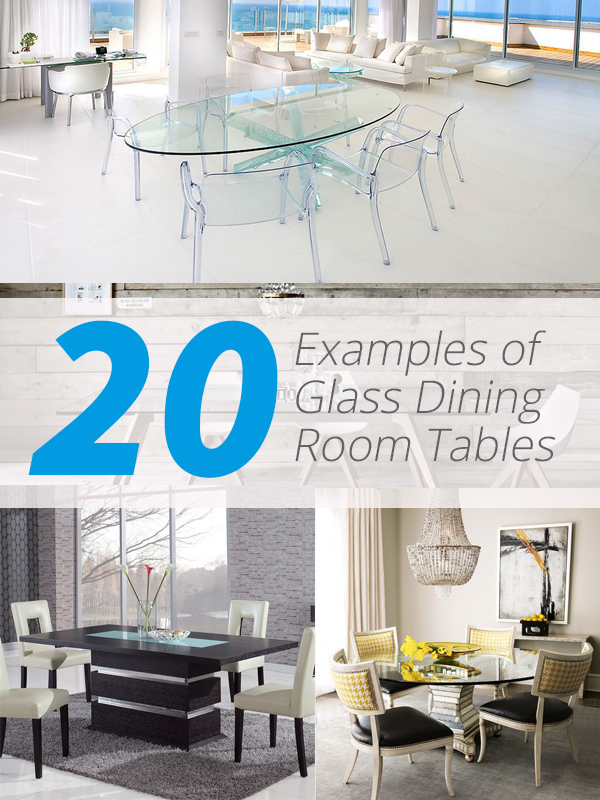 1. Riva 1920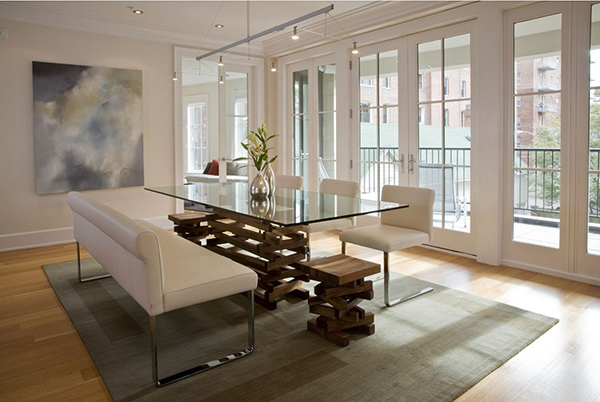 A contemporary dining set with a beautiful rectangular glass top dining table taking the center stage with its stylish wooden base.
2. Extendable Wooden and Frosted Glass Top Leather Modern Dining Set with Leaf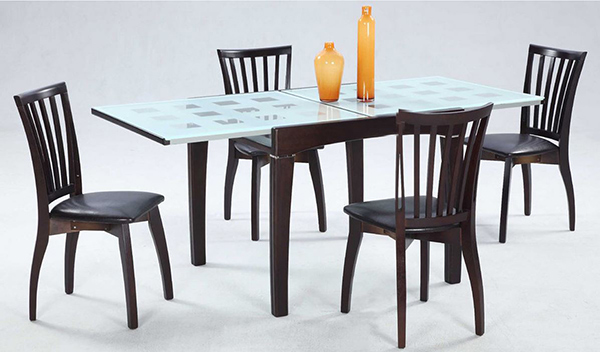 This modern frosted glass top dining table gives a contemporary feel while keeping everything classic.
3. Vanguard Furniture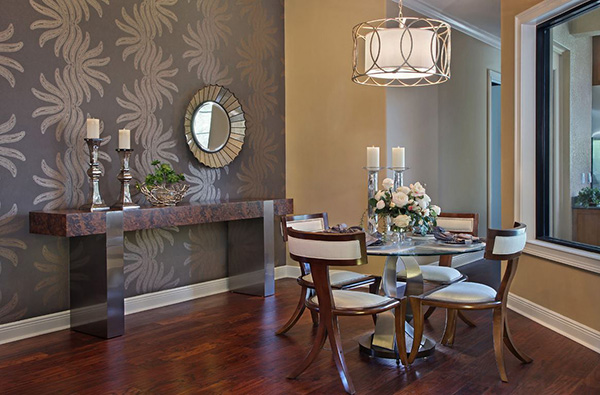 Bring drama and warmth to your dining space with this lovely transitional room set.
4. IQMatics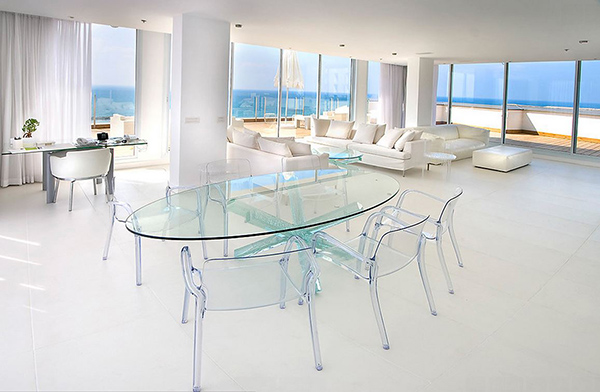 Get a light and airy look in your room by pairing a clear glass table with Lucite chairs.
5. Laine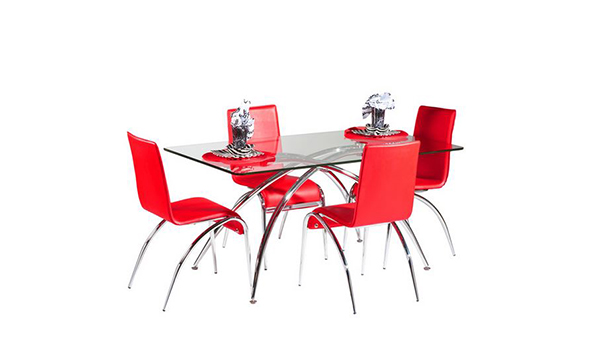 Give your dining room a modern vibe with this beautiful tempered glass table with chamfered edges in stylish chrome finish.
6. Angela Free Interior Design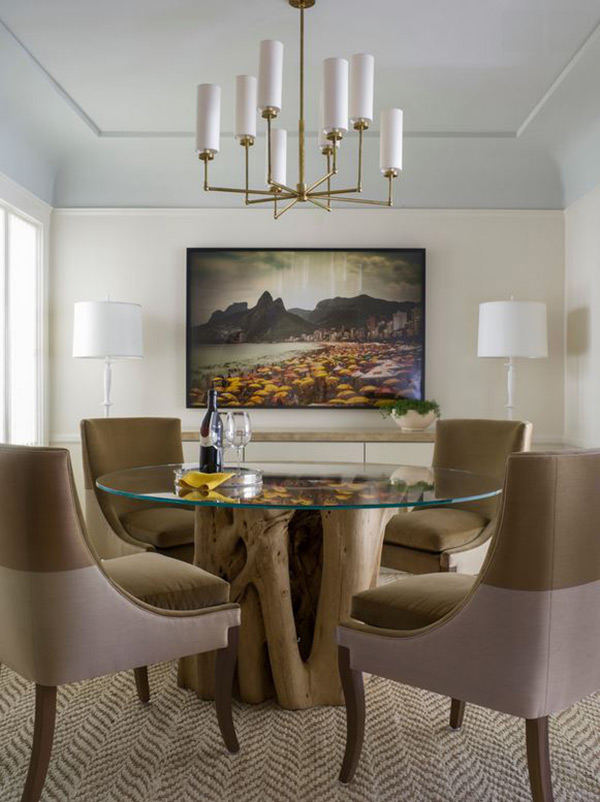 This simple yet charming table brings rustic touch to a contemporary dining space.
7. Black Glass Table with Stainless Steel Legs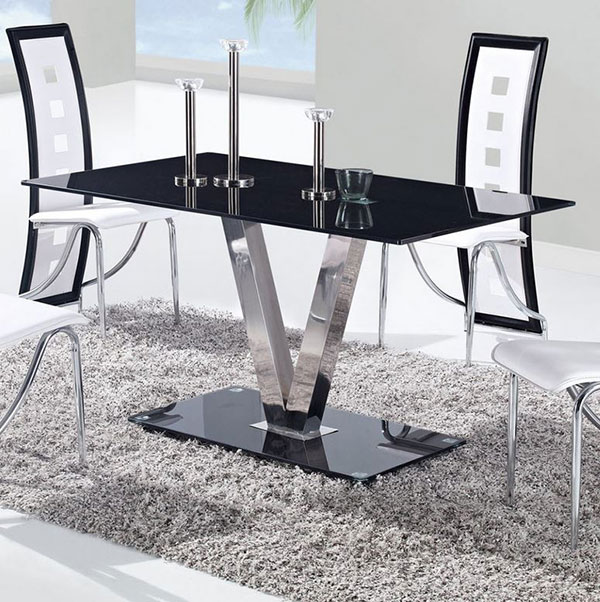 An uber sophisticated modern look is what you will get with this glossy black table in a rectangular tempered glass table top.
8. Ophelia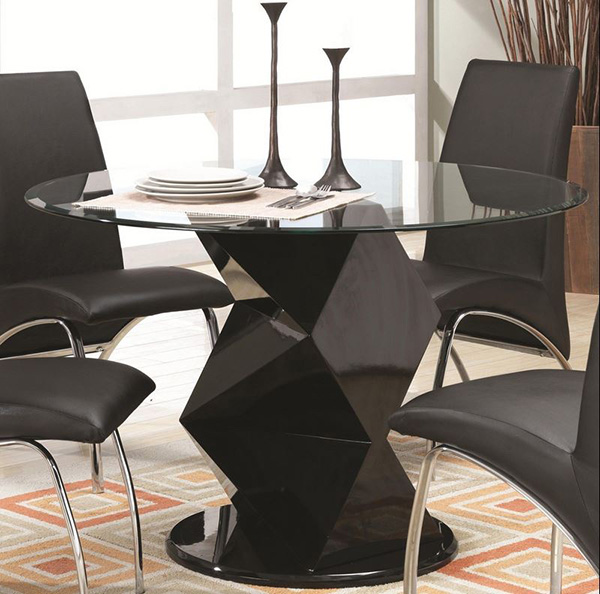 This stylish table features a strong tempered glass top with a geometric base in black finish is sure to make an eye-catching centerpiece in your room.
9. Delta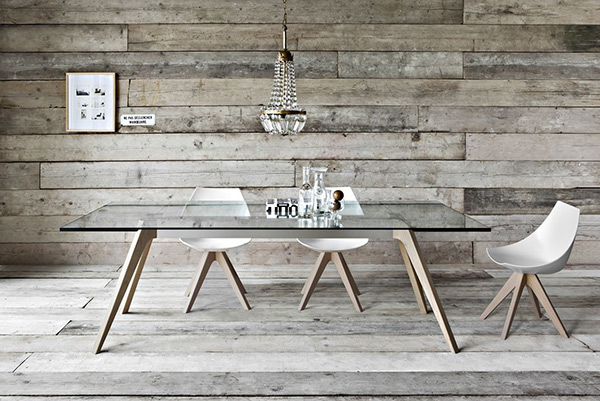 This contemporary table features a glass top with oak legs offers a clean design perfect for minimalists.
10.Compact Glass Dining Table Set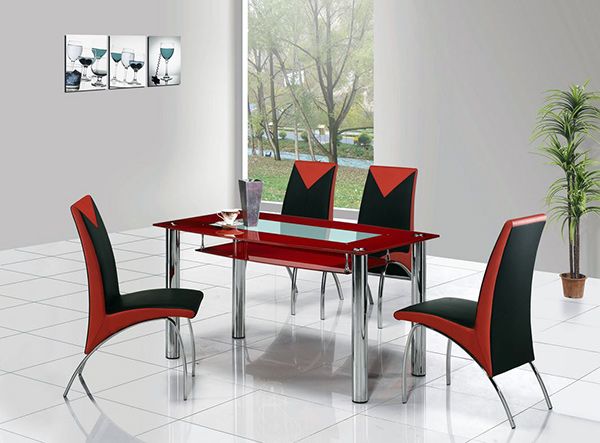 Jazz up your dining room with this stylish dining table in red.
11. Jordan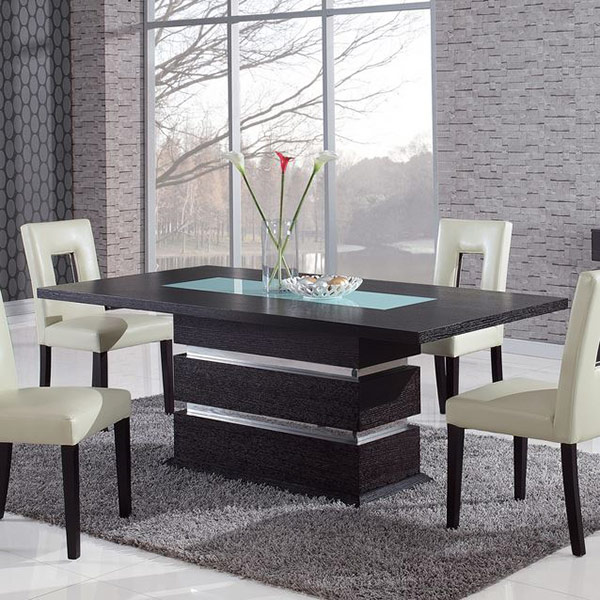 This rectangular table with frosted glass inlay in the center and silver accents on the base brings contemporary elegance to your dining space.
12.Glass Top Leather Modern Set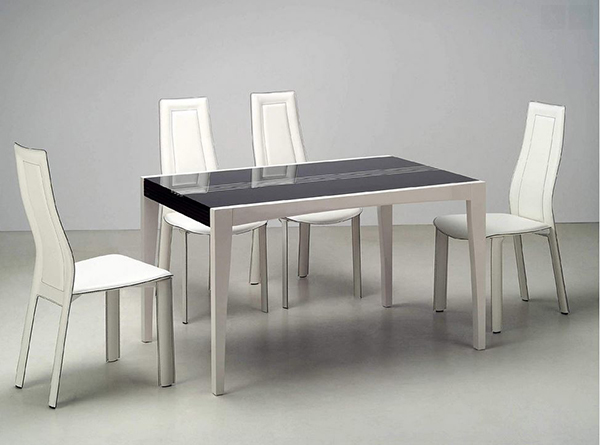 Add a touch of modern chic style with this furniture with beige stripes on black glass top.
13. Design Platform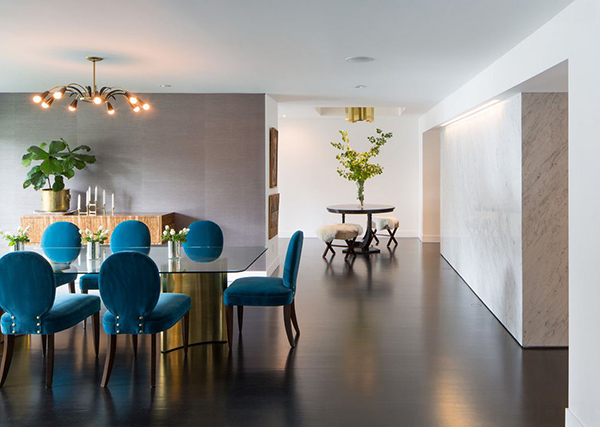 This glass table features simplicity and clean lines which complements perfectly with the bold blue velvet chairs giving a glamorous yet contemporary appeal.
14. Calvin Chair And Erlinda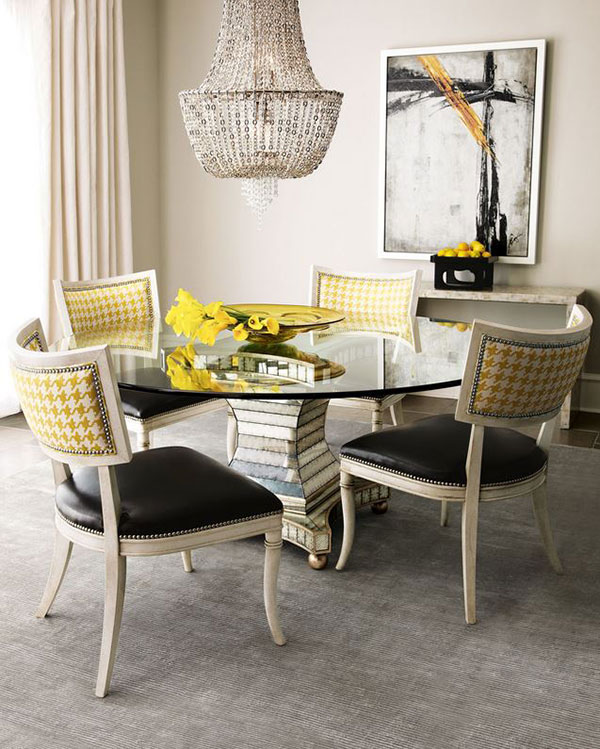 The Erlinda dining table has a clear, beveled-glass top on a pedestal base covered with eglomise strips and tiles and trimmed with wood in an aged champagne finish.
15. Mary Anne Smiley Interiors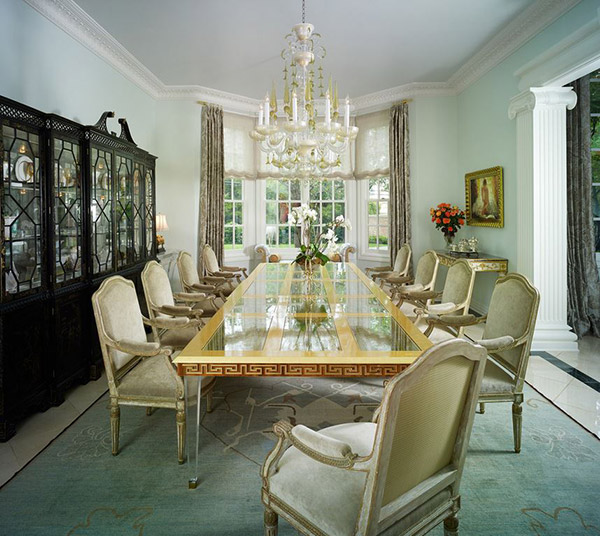 A beautiful furniture with recessed sections that hold eglomise silver and gold antiqued panels with a protective glass layer above it, is a custom designed by Mary Anne Smiley Interiors.
16. Mastercraft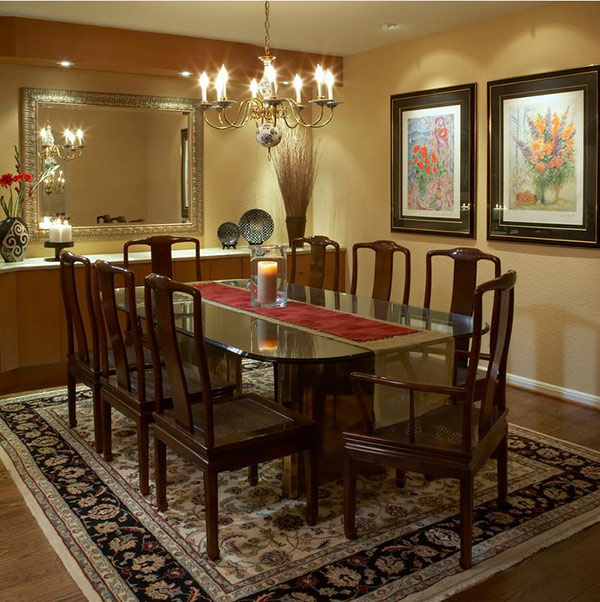 Match your traditional chairs with this double pedestal, glass top dining table in brass finish for a stylish twist.
17. 42″ Mantis Crackle Glass Dining Table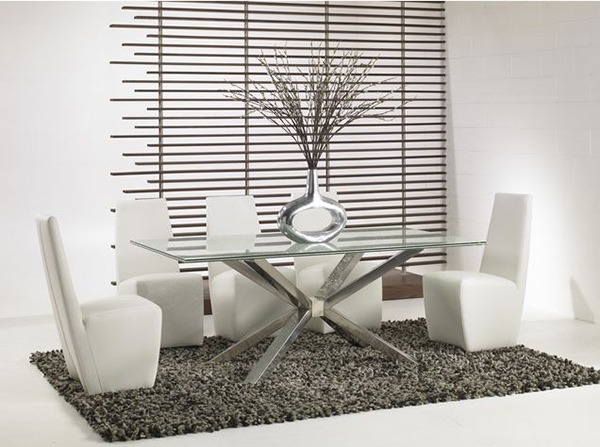 Get fancy and fabulous with this furniture in stainless steel finish and glass top.
18. Jessica Mcclintock Boutique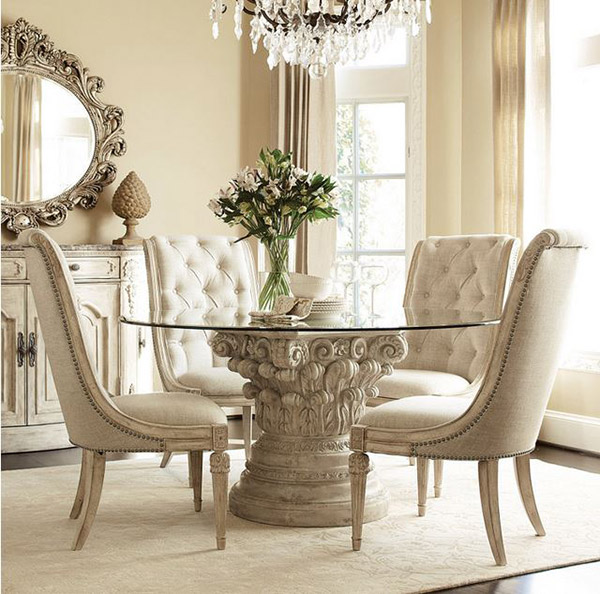 A base from ancient column supports a 60″ glass table; an addition that is sure to offer charm, interest and personality to the dining area.
19. Imagine Living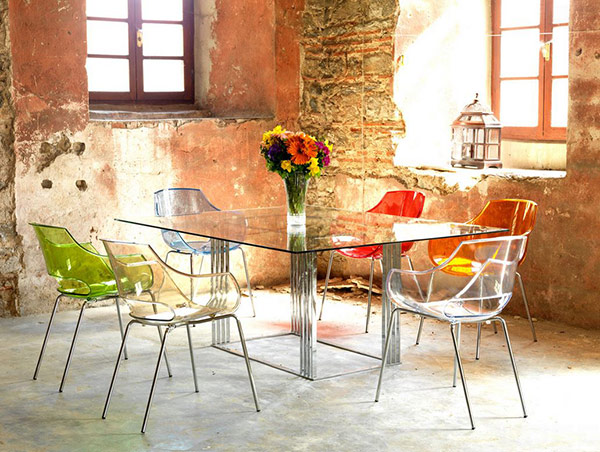 The rustic ambiance of the dining area was made more fresh and inviting with the transparent colored chairs and contemporary glam table.
20. Jinx McDonald Interior Designs, Inc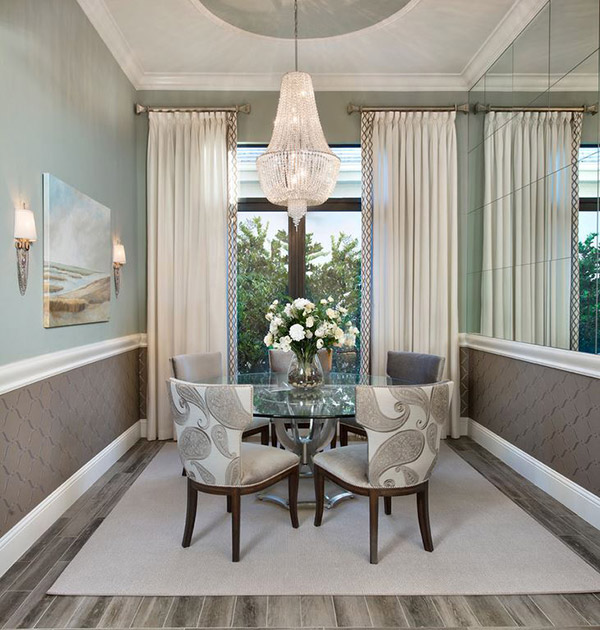 Chic and sophisticated elegance is what this unique pedestal glass top table brings to this calming space.
Accentuate your dining area with these attention-grabbing dining tables with glass top. These stylish finds are versatile that it can work with whatever interior style you have. It can either give a fresh look for your rustic dining space or complement your charming modern dining furniture. The surprising touches that it can bring will always give a lovely result. These 20 glass table dining room is a sure center-stage worthy.