15 Geometric Benches for Modern Spaces
Benches are accent furniture that can be used in any areas of the house. It can be added to the living room for additional seating, or even for the dining area for group seating. It will also look fabulous in the bedroom if placed at the end of the bed. It can also be good for outdoor use if the materials are meant for sun and rain exposure.
We have gathered some benches today with geometric prints. These benches will look prefect for modern spaces especially that it is the trend these days. Some of these benches double as storage areas too which make it even more awesome. Now take a glimpse at the list we have gathered for you today to add to your list of furniture inspirations.
Bolt Eggplant Universal Bench Cover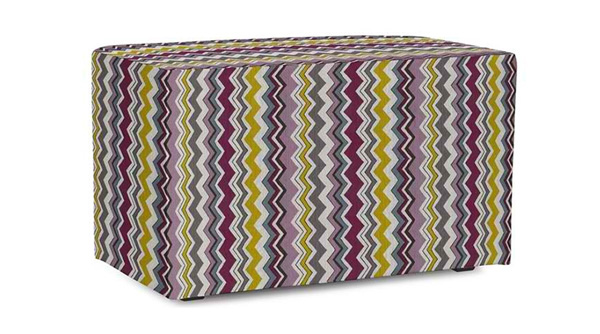 Electrify your decor with the energetic combination of colors in this bench which is easy to remove and clean.
Sole Designs Button Tufted Storage Bench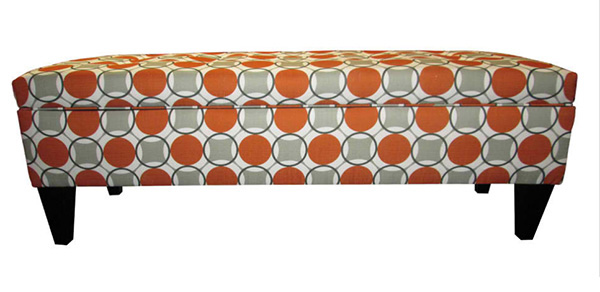 The circles in this bench may look retro but it will surely look awesome in a modern interior because of its colors and circular patterns.
Modern Bench in Ikat Argyle Nova Birch
This bench features triangular prints on it that is near Aztec in style.
Geometric Stripe Cushioned Bench XL Window Bed Seat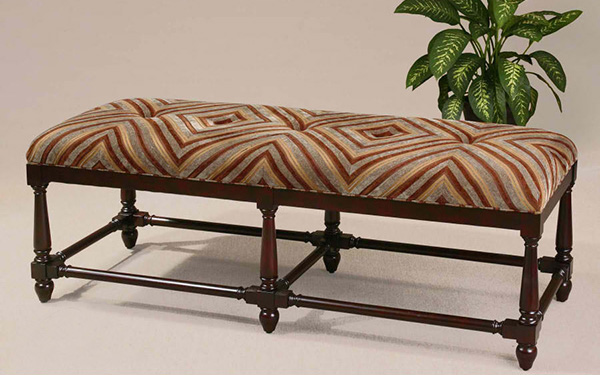 Cognac stained frame, seaglass blue, sand, & cocoa brown fabric, solid wood frame, fabric cushioned top- all these are the features of this geometric bench.
Bahama Breeze Universal Bench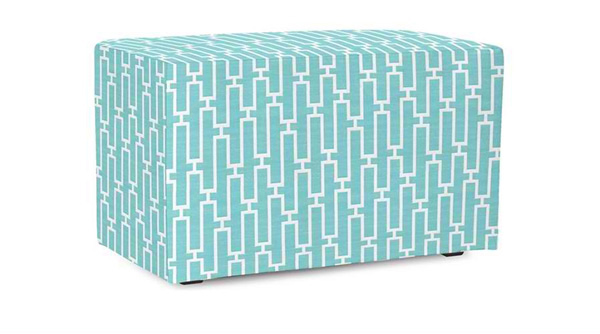 The cover of this bench is made of a fun, bright chain link outdoor pattern that adds life to a space.
Sole Designs Domino Button Tufted Trunk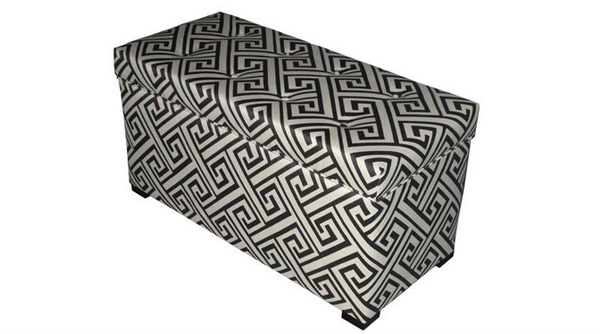 Bring a fashionable touch to your home with this button-tufted trunk in domino upholstery.
Vintage Ivory Neoclassical Lattice Fabric Cocktail Ottoman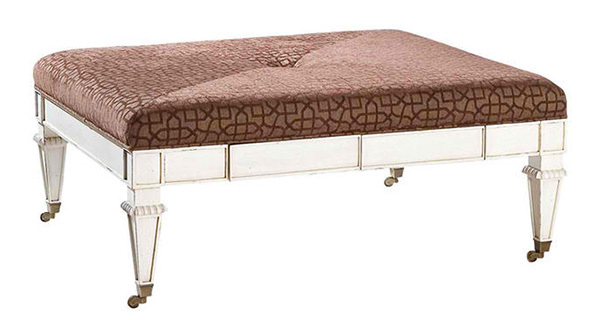 A sexy tufted piece of ottoman bench that has that Neo-Regency or Baroque Nouveau look due to its geometric prints and solid brass legs.
Universal Bench Ribbon Willow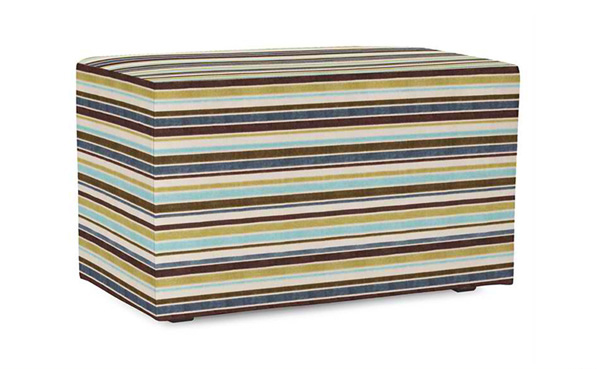 A bench with a simple design that is constructed by our expert craftsmen made with a sturdy base and high-density foam.
Cortesi Home Ziggy Fabric Storage Ottoman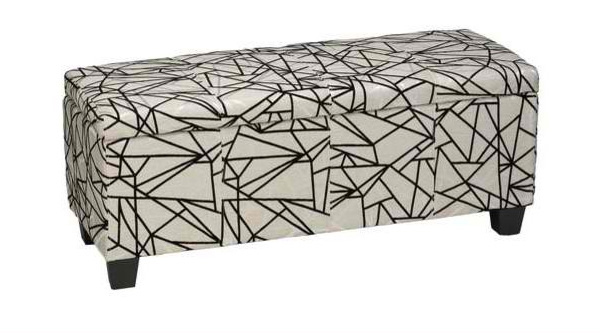 We like the bold geometric pattern of this long ottoman that opens up for extra storage.
Black and Tan Swirl and Stripe Ottoman
Update any room with this comfortable ottoman with modern geometric and swirl design in rich neutral colors.
Consigned Ted Boerner Loaf Bench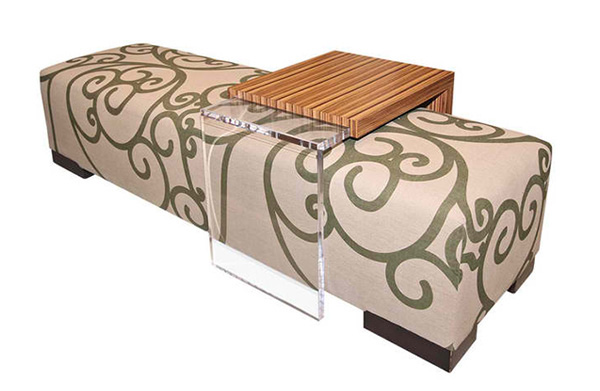 A chic Ted Boerner loaf bench with swirly upholstery in mahogany legs.
Carson Storage Bench Upholstered Ottoman – Multicolor Chevron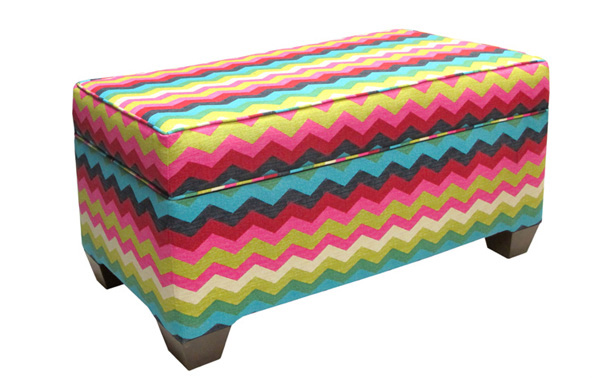 Luxurious, beautiful, and functional in colorful chevron prints. This can be perfect for the bedroom!
After Eight Black Onyx Arm Bench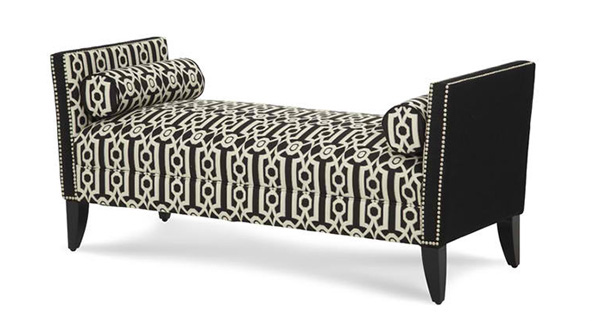 A sophisticated bed in black and white that would certainly look awesome at the end of a bed!
Kayla Fun Geometric Fabric Storage Bench Ottoman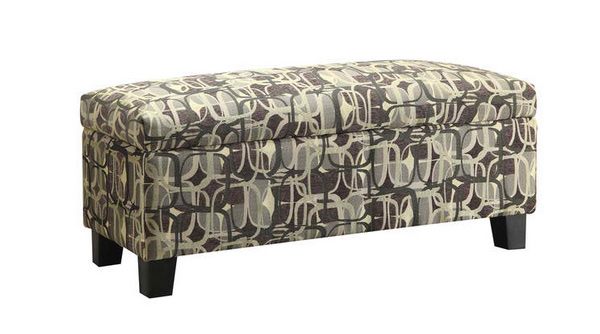 A small fabric bench that has beautiful print upholstery to bring any room to life in its simple earth tones.
Luca Teal Geometric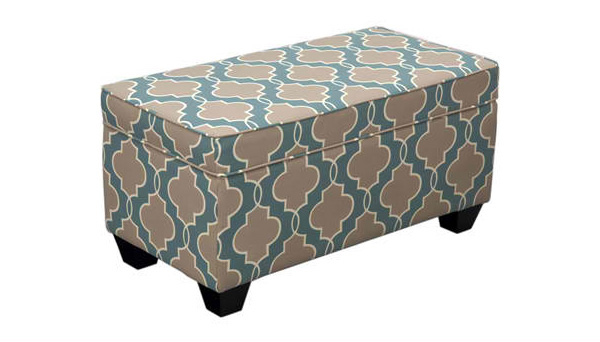 This could give not just a modern look to your space but some subtle classic touch too.
Geometric prints are indeed nice especially if the colors are lovely too but they do look pretty even in black and white. Pick the right print for your space. Let it go well with the other elements of your space too. You can add some geometric throw pillows too! Come back for more geometric printed home items that we will feature here on Home Design Lover.