20 Beautiful Designs of Full Beds in Blue
Varieties of the color blue may differ in hue, chroma, or lightness, or in two or three of these qualities. Variations in value are also called tints and shades, a tint being a blue or other hue mixed with white, a shade being mixed with black. Blue is the color of the clear sky and the deep sea. It is located between violet and green on the optical spectrum.
Surveys in the U.S. and Europe show that blue is the color most commonly associated with harmony, faithfulness, confidence, distance, infinity, the imagination, cold, and sometimes with sadness. In U.S. and European public opinion polls it is overwhelmingly the most popular color, chosen by almost half of both men and women as their favorite color. With that in mind, check out the stunning full beds in blue below.
1. Agra Blue Faux Leather Bed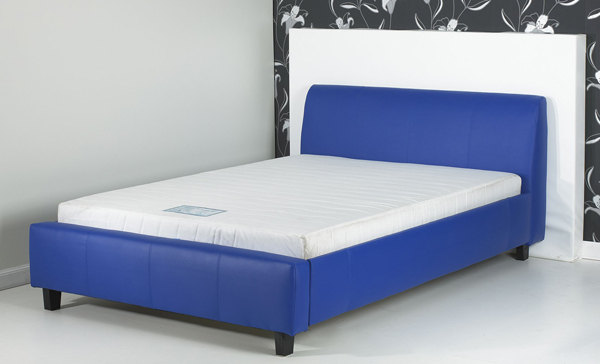 This faux leather bed has a shade I actually love. It looks happy, bright and fun! Adding this bed to a room with plain-painted room will make the room more open and pretty.
2. Armani Xavira Blue Teal Velvet Fabric Bed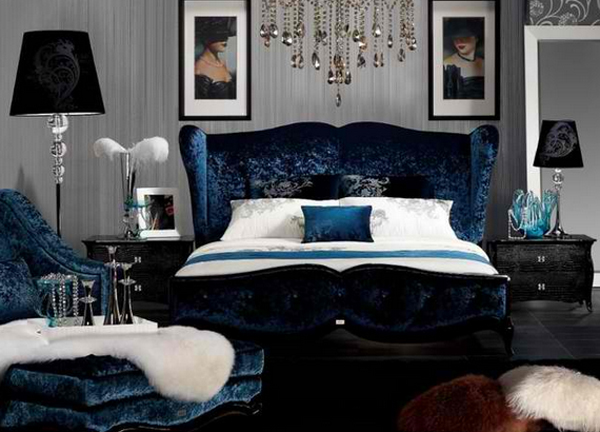 This might be the dramatic version of what I want my bedroom too be.
3. Blue Bed Design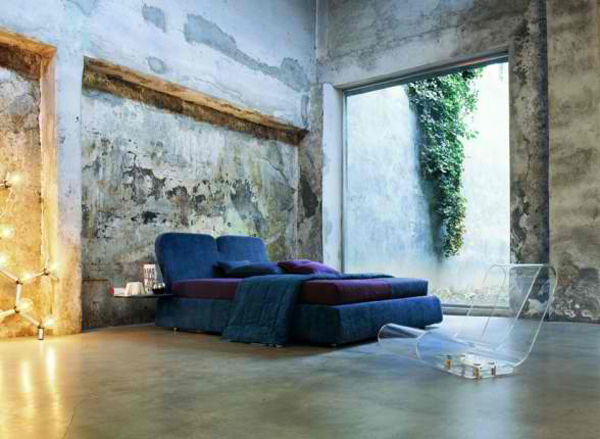 Twils integrated blues and purples in their designs – they highlighted colors that attract the eye which they make sure that is suitable for the clients' preferences.
4. Blue Bedframe Cover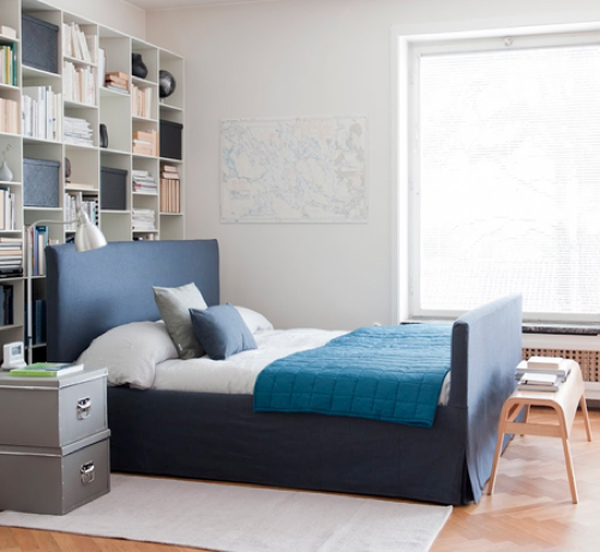 Bemz offers this bed covered in blue fabric. This is a smart way to keep the original color of your bed and decide that a blue-colored bed will look better in the new bedroom space you have.
5. Blue Full Metal Bed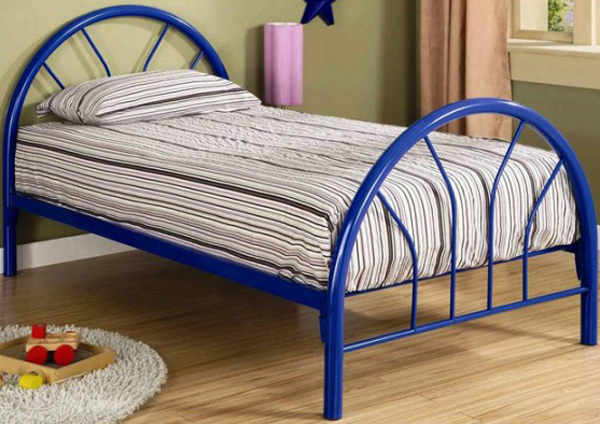 Here is one simple bed you can easily purchase and assemble. This type of bed is usually added to a child's bedroom because since the kids are still growing. Purchasing an expensive bed is a great birthday gift when the right time comes I guess.
6. Blue Tufted Queen-size Bed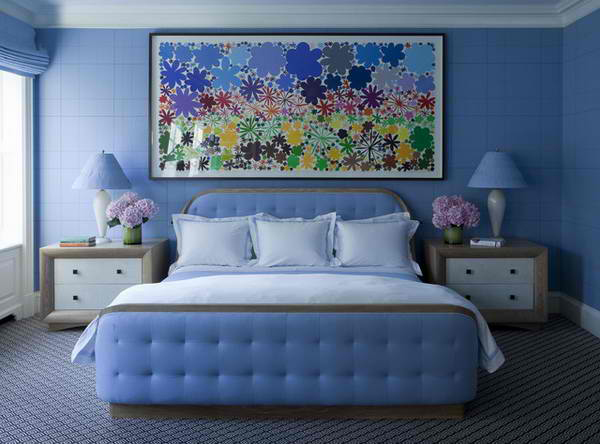 A stunning blue bedroom with an equally stunning bed says nothing more but pure bliss and happiness.
7. Blue Velvet Full Bed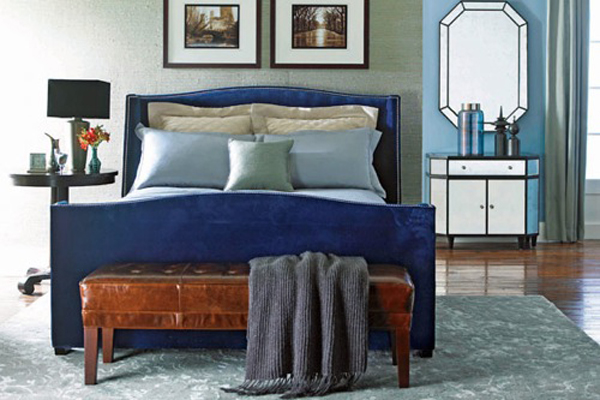 Velvet is not really a thing for everyone – but if you'll see this bed, I'm guessing you'll be changing your mind in a heartbeat. The color is great and the material too!
8. Border Micro-Suede Youth Bed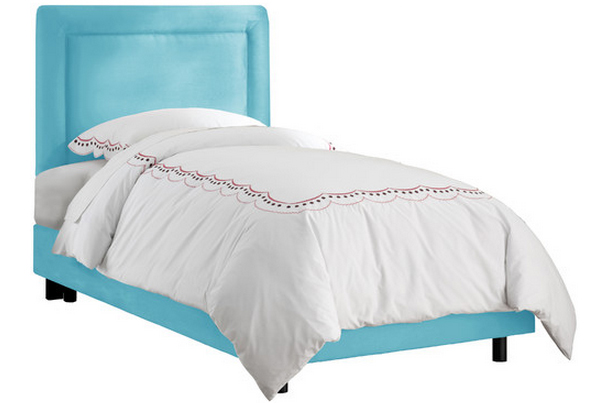 This youth bed will definitely work well for anyone who has a limited space in their bedroom. It's pretty and really
9. Harbor Blue Queen Bed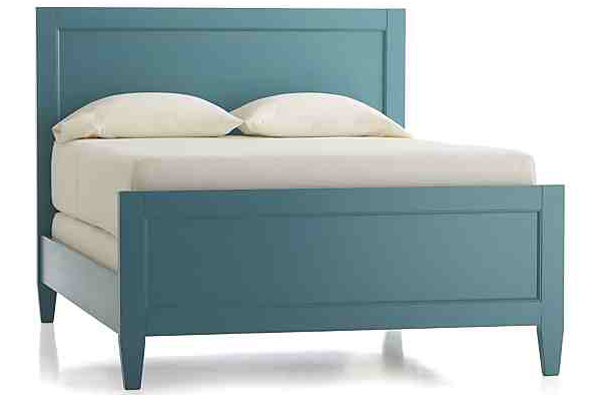 If this is harbor blue, I think I will be changing my favorite blue shade for this one! Haha. I mean the color looks calm and really serene.
10. Modern White and Blue Bed
This modern day blue bed looks stunning placed beside dark colors of walls and flooring. Adding the circular pendant lights create a fun aura to the room.
11. Midnight Blue Walden Storage Trundle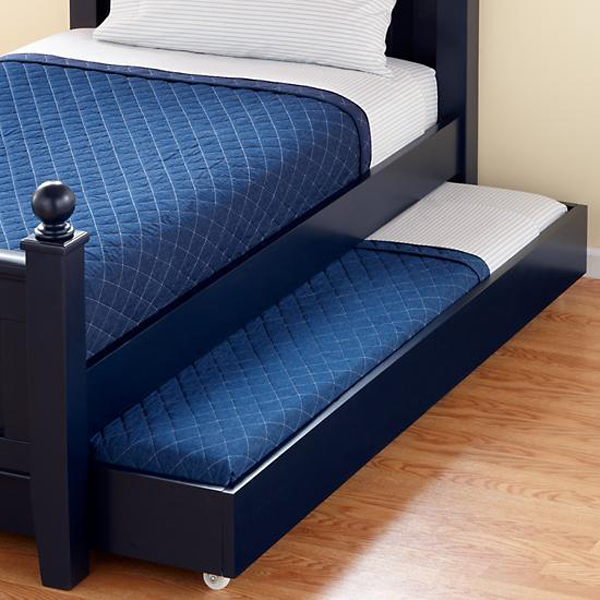 Here is another glamorous shade of blue. It seems masculine but still okay for when used by girls. Immediately, you'd think that this bed is obviously ideal for sleepovers.
12. Peacock Blue Velvet Bed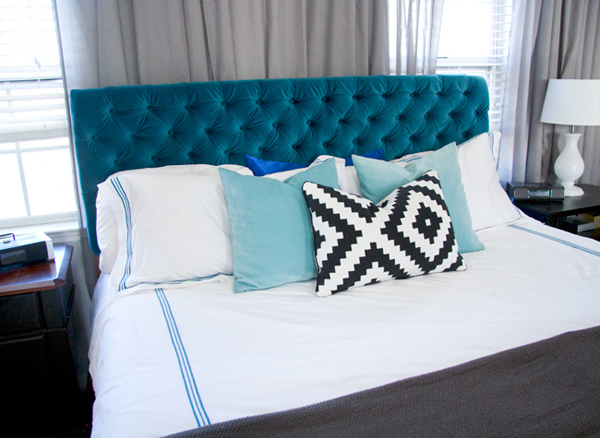 This is one large and comfortable bed for me. With the right pillows, comfort is just around the corner.
13. Nicci Caribbean Blue Linen Queen Size Platform Bed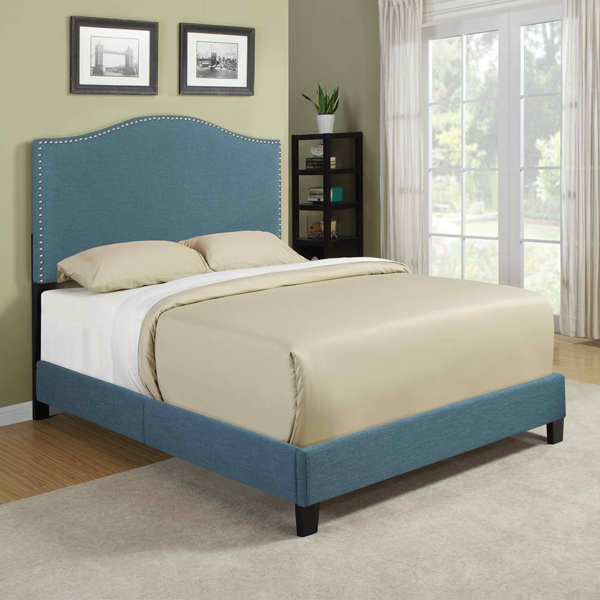 The Portfolio Nicci queen bed includes a headboard, footboard, side rails and three wooden slats. The bed is covered in a durable Caribbean blue linen fabric and features a crescent shaped headboard outlined in a pewter nail head trim.
14. Regal Velvet Upholstered Headboard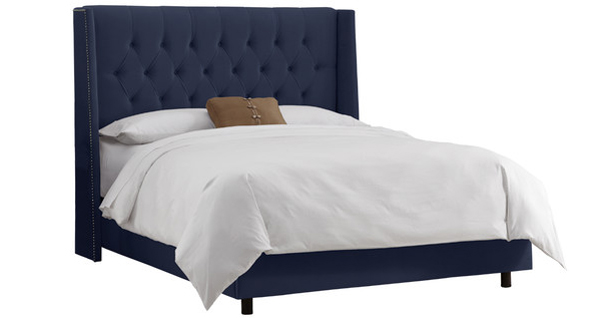 Fashion and function collide with this modern wingback headboard. It features lush velvet upholstery and handcrafted diamond tufts accented with nail buttons along the wings. Its unique silhouette will make this headboard the centerpiece to any bedroom. Attaches to any standard bed frame. Mattress and box spring required.
15. Rory Blue Bed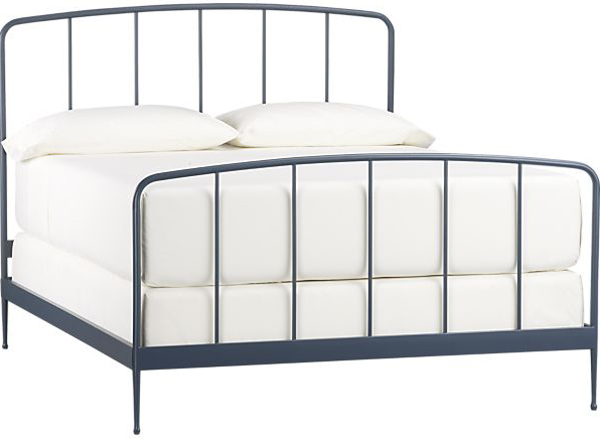 Just looking at this bed – and the stack of cushion this bed has, I'm sure this will be one stunning bed for any bedroom.
16. Serene Penny Full Metal Bed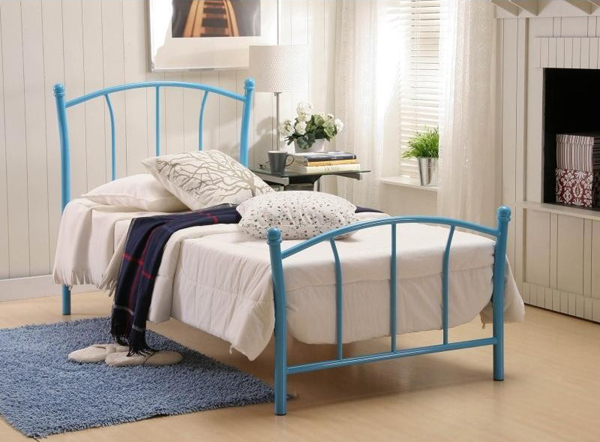 This simple, elegant bed frame would suit any bedroom. The beauty of this bed lies in its simplicity.
17. Super King Size Blue Bed

I don't think the bottom part of the bed is necessary, but even without it I'm sure this bed will be stunning!
18. Modern Blue Bedroom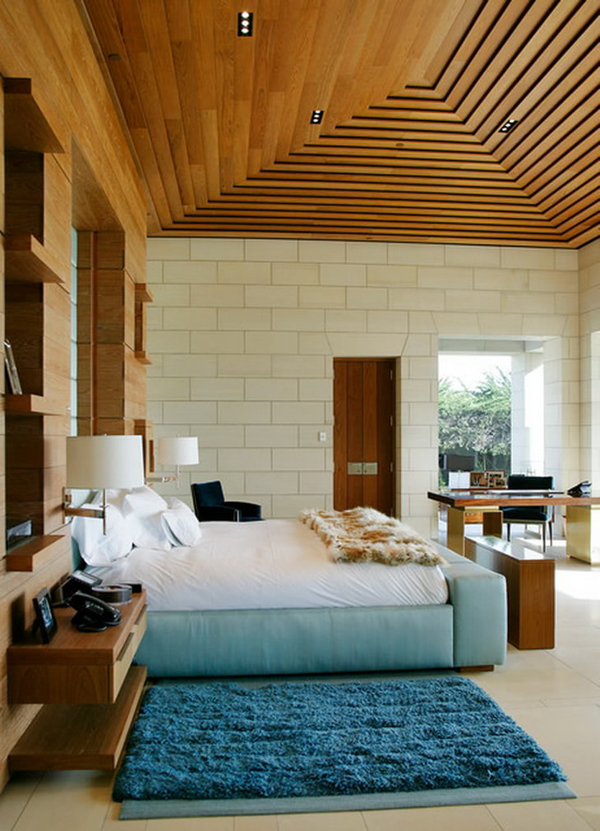 I love beds like this because the base of my own bed looks a lot similar to this one – only in pink!
19. Tufted Micro-Suede Youth Bed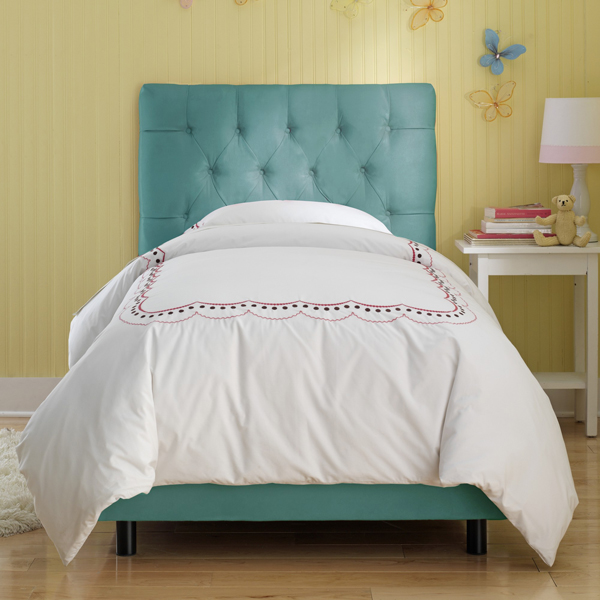 Add some style to your child's bedroom with this fun, tufted bed hand made in the USA that features deep diamond tufts and durable micro-suede upholstery. Fits standard sized mattress and box spring sets. Easy to assemble.
20. Tufted Wingback Bed in Shantung Peacock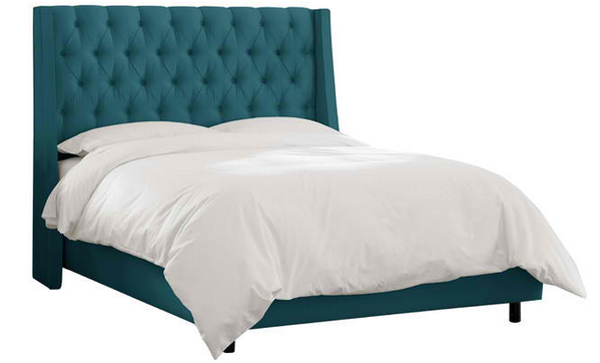 Silk, diamonds, dreamy tufts – once you get a taste for glamorous headboards, there's no turning back. This exquisite wingback piece is enrobed in soft shantung with diamond tufts to encourage sweet dreams. Catch up on your beauty sleep while surrounded by its classic lines and abundance of vintage charm.
This list is obviously as stunning as the clear blue sky – the range of colors available to us in blue sure is pretty large – this list may not have an example for all the shades of blue out there but it sure covered a lot of them. We hope that you liked this list along with the others we have in different colors! There are also fancy beds that you use for your bedrooms like in whatever color you like.