A Fabulous List of 21 Round and Wooden Pedestal Coffee Table Bases
Pedestal table base plays quite essential roles for more than just supporting the weight of dining table but also enhances beauty and elegance at the very same time. Pedestal table has been very well known for the classic style but when it comes to contemporary design, there are many things as additional features.
Different materials for pedestal dining table are available as well as for the base to choose from so that optimal in featuring really awesome design and decor of dining table. Wood and metal are available to choose from based on your very own sense of style to become quite awesome feature. Look at the pictures below.
1. Algonquin Round Reclaimed Wood Table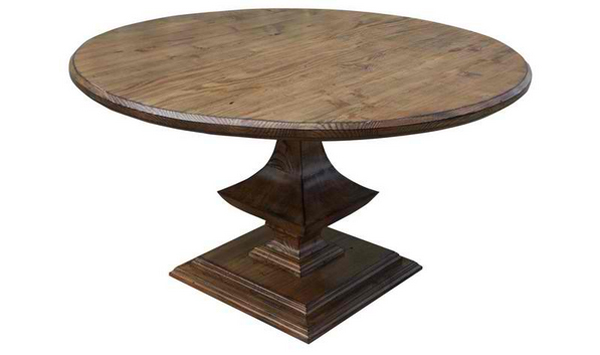 Breakfast, break bread or break the rules with this shapely table. Great in your kitchen or small dining room, it's perfect for games in your family room or as a grand center table in your entry.
2. Canberra Bells Beach Round Table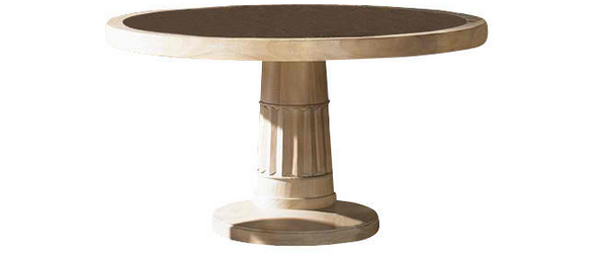 The featured design element is an inset radial pattern of woven lampakanai under special ultra-clear glass. The pedestal base showcases an interesting carving yet provides ample room for comfortable fellowship after the meal.
3. Classique Round Pedestal Table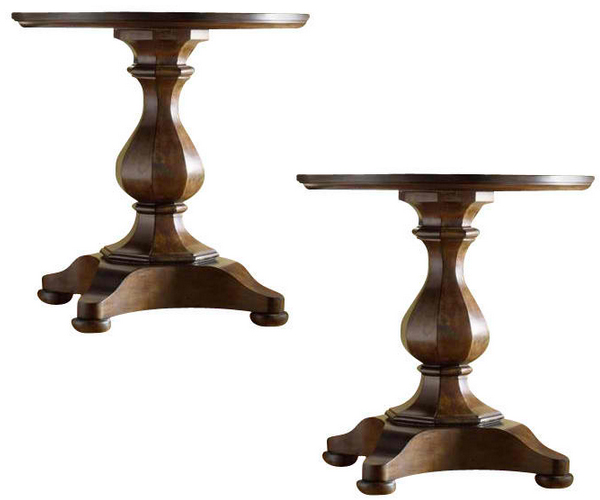 Soft edges. Artful curves. Beveled turnings. Classic becomes fresh through design details and a beautiful medium chestnut colored finish on okume veneers in the Classique collection.
4. Copper Table – Wood Pedestal Base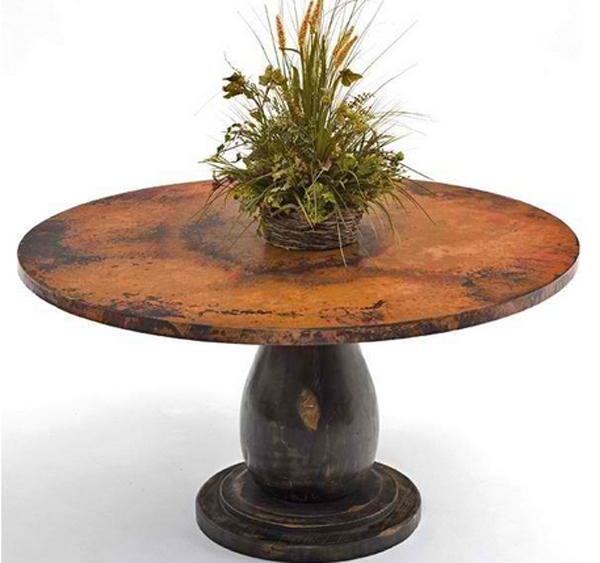 The copper used in our hand hammered copper tables is thick gauged and is hand hammered in a very dense pattern.
5. Criss-Cross Round Table in Hand Rubbed Black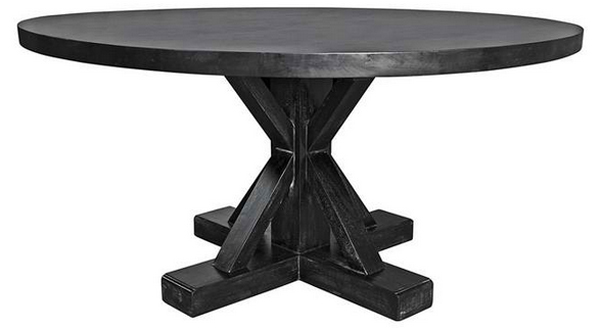 The Criss cross round table top is complemented by the dynamic visual of sleek straight lines intersecting in the pedestal. A rubbed black finish over mahogany adds texture and character that supplies dining rooms with timeless warmth.
6. Figura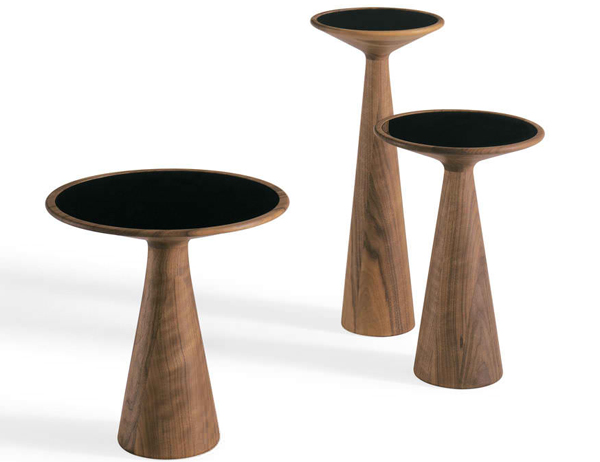 Normally reduced to the essential, the glass plate appears almost extravagant and imparts the table a surprising finish. This table shows a handy impression and an extraordinary haptic and make it easy to move.
7. Fluted Pedestal Base Round Coffee Table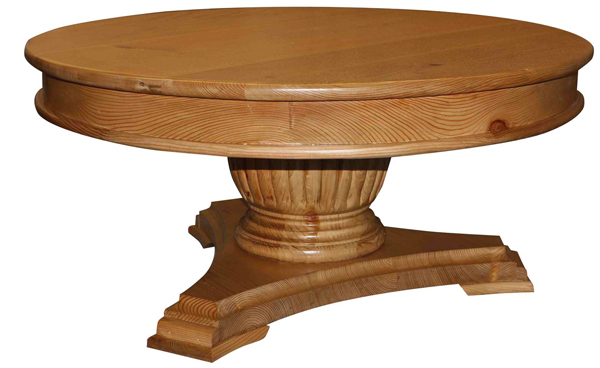 This fluted round pedestal base is made from reclaimed wood and has a natural wood finish with a flat lacquer top coat.
8. Pearson Industrial Loft Style Pedestal Base Round Table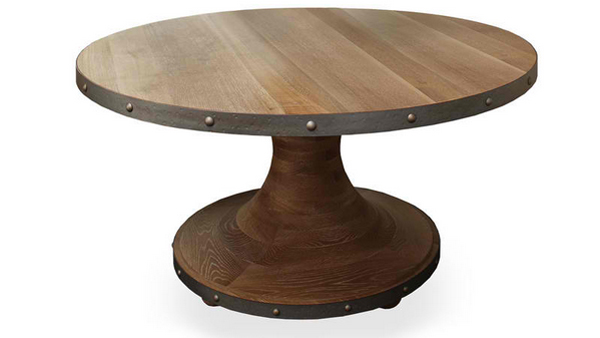 Combining industrial and rustic with a touch of contemporary coastal, this oversized oak pedestal dining table has style and space to spare.
9. Pedestal Salvaged Wood Round Table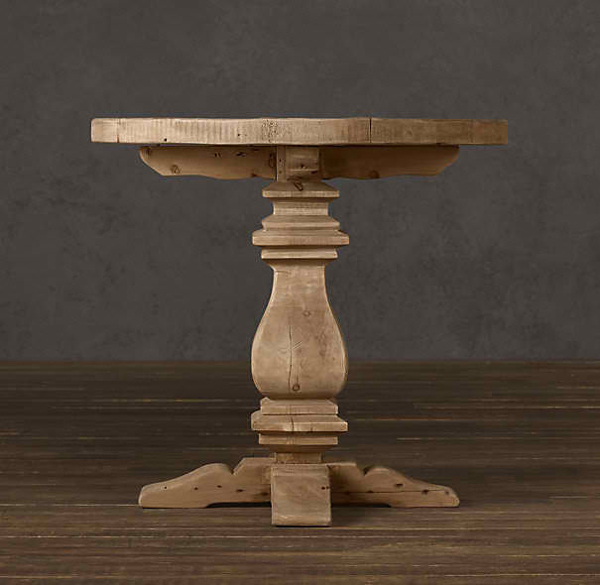 According to Restoration Hardware, "Our salvaged trestle wood tables are handcrafted of unfinished, solid reclaimed pine timbers from 100-year-old buildings in Great Britain."
10. Pedestal Salvaged Wood Table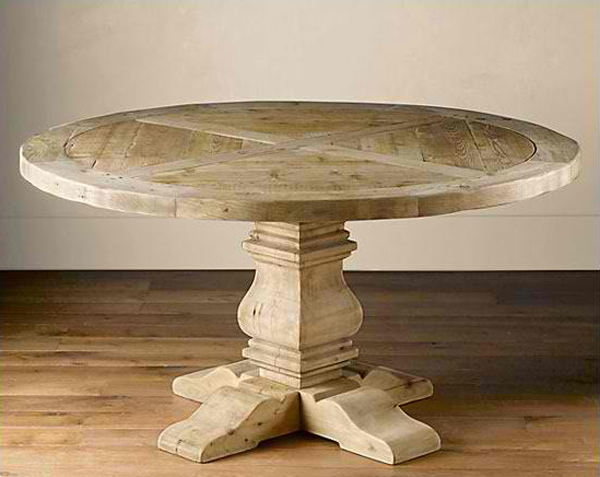 This is one table design that one blogger posted in her blog that she purchased from Restoration Hardware to replace her old table. Looks like a table you can see inside Captain Hook's ship.
11. Pemberleigh Round to Oval Table in Brandy Finish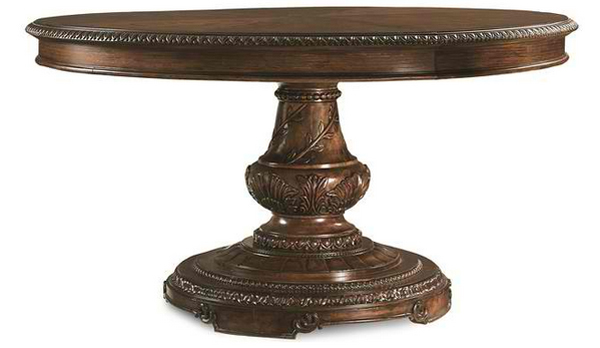 The single pedestal base is full of carved detail and leaf patterns while the top shows off veneer patterns and inlaid designs.
12. Provence Round Pedestal Table

Nothing encourages dinnertime conversation like a round table. You'll enjoy how this impressive piece, crafted of sheesham wood, features a heavy plank top distressed to suggest relaxed, everyday use.
13. Riverhouse Pedestal Table
Designed by Thomas O'Brien, the Riverhouse Table was designed with a choice of a single pedestal base offers a choice between a fully profiled wood foot, discreetly tucked under the pedestal leg, or, a prominent antique brass paw caster, which is more antique in feeling.
14. Round Pedestal Table Base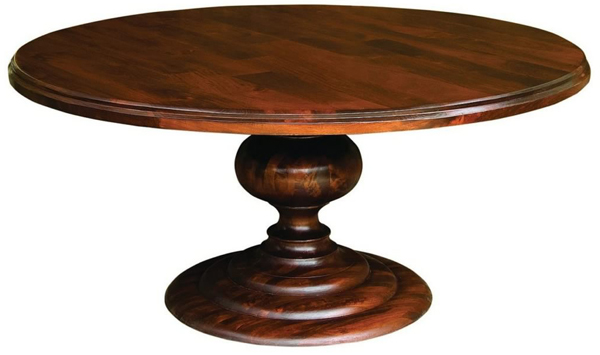 The finish on this pedestal table is plain beautiful – the color of the wood is just fascinating and will definitely fit a space with light-colored walls or flooring.
15. Scenic Venetian Wooden Coffee Table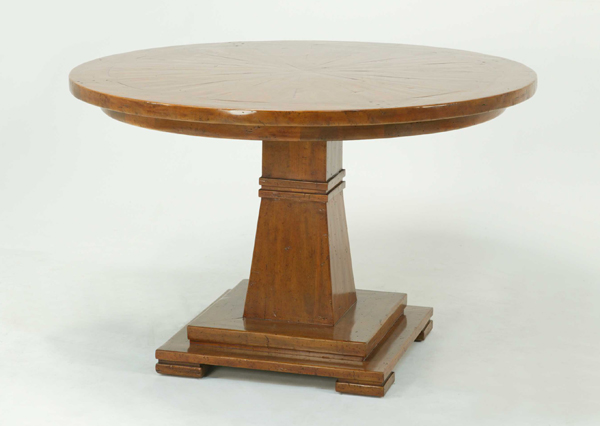 Here is an example of a captivating table with a Venetian touch. A unique pedestal base with a glossy finish.
16. Sherrill Occasional Center Table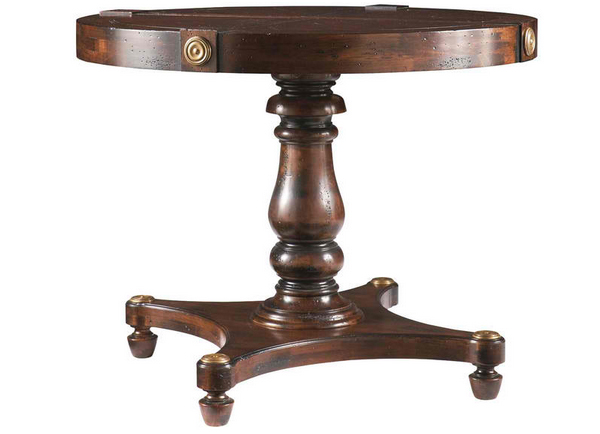 An Dutch West Indies inspired center / entry table with handsome cross-banded and bordered veneered top and a shapely pedestal base with aged solid brass accents.
17. Small Circled Wooden Pedestal Base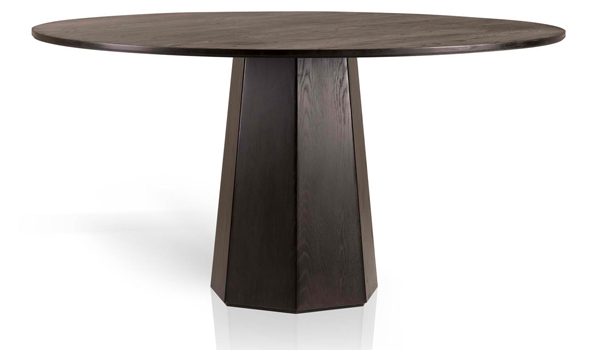 Here is another cool design of a pedestal base which actually can pass a contemporary to modern style – very pretty.
18. Sturdy Pedestal Base Artistic Table Design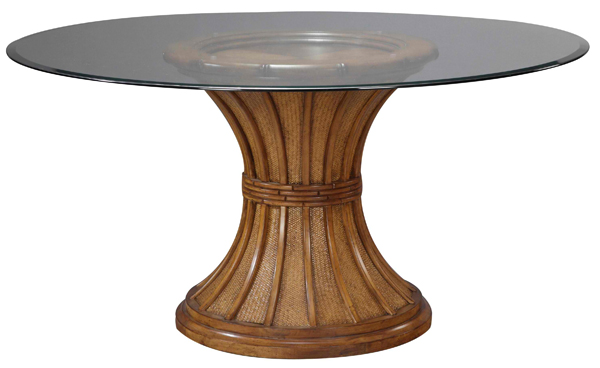 Another table we can use at home inside or outside the house. The native base makes it more interesting and aged.
19. Sylvana Wood Round Table
This is one of the tables I actually love in this list because of the stud details on the edge of the table top.
20. Turned Pedestal Table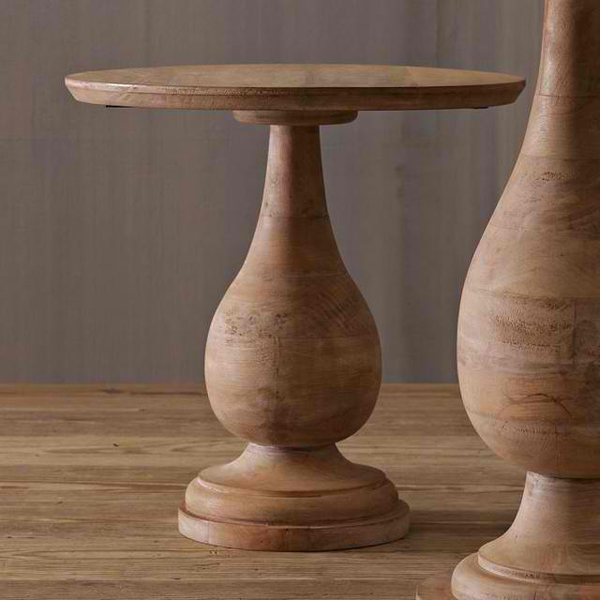 I love the rustic wood feel of this turned-wood table. Sophisticated design.
21. X-Base Round Reclaimed Wood Coffee Table
This is one reclaimed table with a pedestal table that was distressed well to look rather old. The base is pretty interesting, don't you think?
Those are the tables that have pedestal bases – pretty unique in their own way, but all the same – pedestal table bases. Like any other table that we have featured in Home Design Lover, the designs available above are a mix of wood and glass or wooden altogether. They may differ in design and concept, but they are beautiful all the same! Hit us with those comments guys!