20 Unique Designs of Kitchen Stools
Kitchen stools come in various styles that should be complementary to the feel or theme that you want to evoke or express in your kitchen. Choosing the designs for your kitchen stools can be tricky especially if you want these custom made. Over the years designers have been creative in choosing the materials for these stools. There is a wide array of options and these are no longer just made from wood and steel or plastic similar to typical bar or kitchen stools. Some are made from acrylic, glass, and rattan among others.
Here is a collection of 20 Unique Designs of Kitchen Stools from different homes which will definitely inspire us to bits because of the wonderful designs available in the market and ones that we have are only but a few of these designs. So, whether you prefer upholstered, weaved, made from wood or glass, these kitchen stools are sure to provide you with options as to how to provide your kitchens with stools that give good aesthetics without you sacrificing utility and comfort. Here we go!
Altadore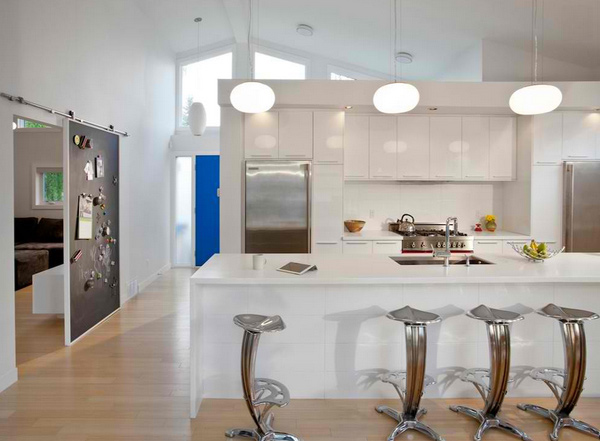 We have no record as to what the name of the kitchen stool is, but the shape of the seating area sure looks like a leaf of some sort. The people who saw this photo also love the sliding chalk board that separates the living area and the pantry.
Cedar Rapids Kitchen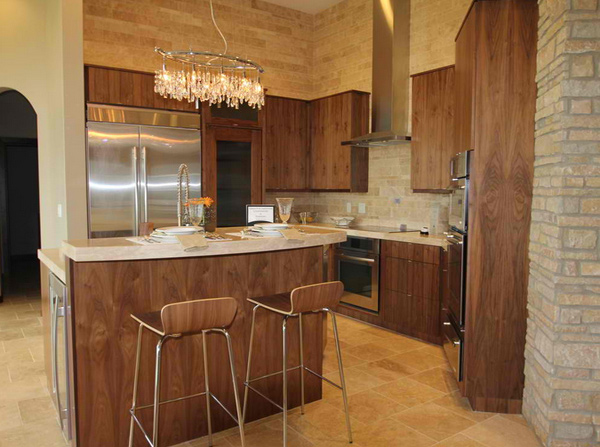 This contemporary Felix stool combines the beautiful grain of walnut veneer with chrome legs, making it a versatile choice.
Cedar Stool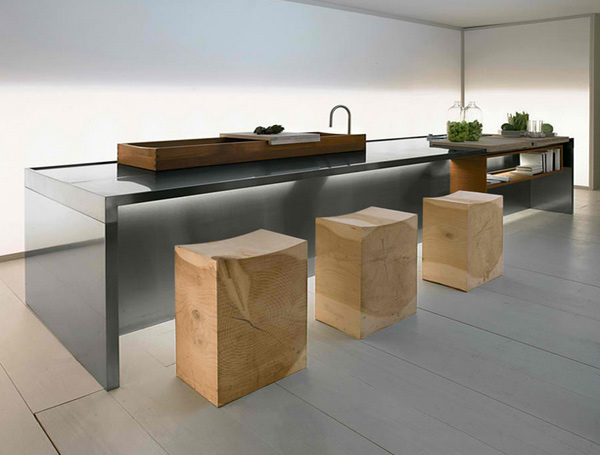 These solid cedar wood stools are surely an incredible move for a modern kitchen. But it sure captured the eyes of many.
Chicago Kitchen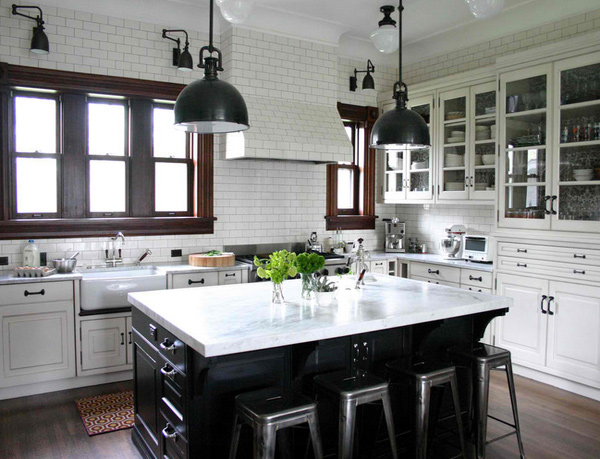 This kitchen is absolutely a stroke of brilliance. We love the crisp vintage detailing that gives it a sense of authenticity and glam!
Classic Cottage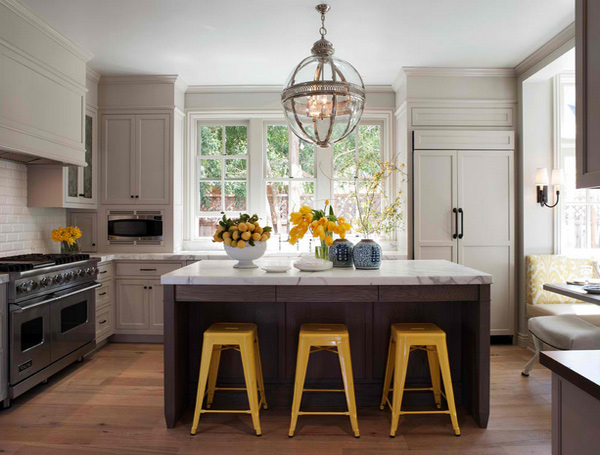 This kitchen uses a combination of modern/industrial and traditional elements to create a beautiful space in an older home. An oversize pendant draws the eye to the center of the room, lending balance. Cabinet-front panels camouflage the refrigerator, while bright yellow industrial counter stools add sunny color.
Kitchen Project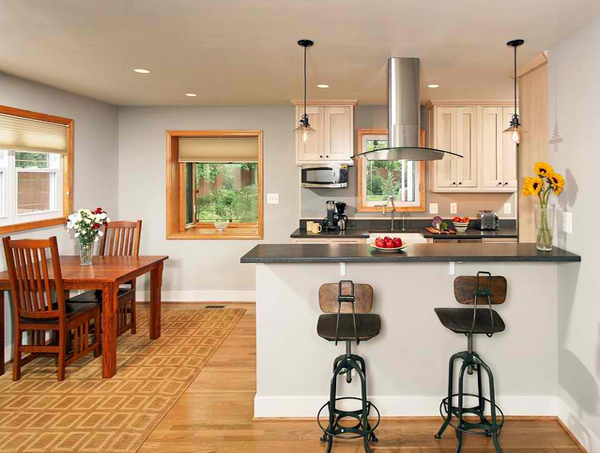 This kitchen is definitely a transitional space which gains a bit of quirky personality from the stool design that was chosen by the designers.
Lafayette Home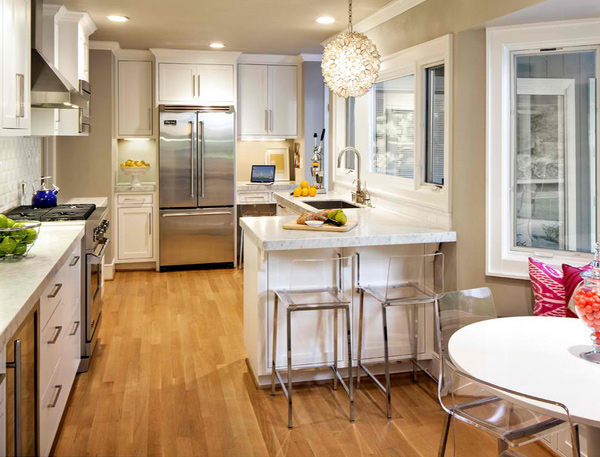 This kitchen is a combination of modern, contemporary and transitional that includes Carrara marble countertops, white beveled subway tiles and Lucite stools that maybe the favorite in this lovely kitchen.
Luxe Kitchen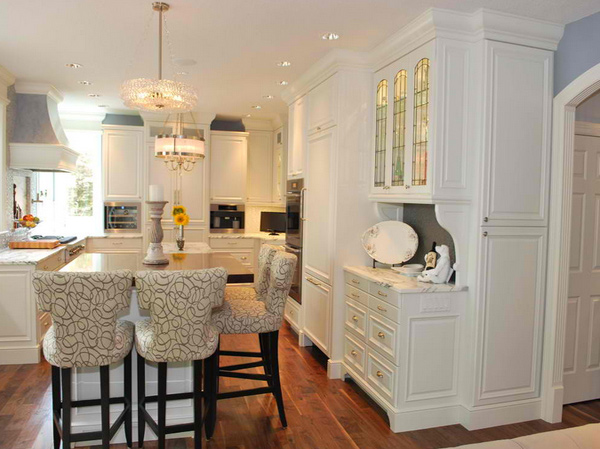 We like how the breakfast bar seems so cute because of the upholstered kitchen stools that has a wonderful fabric design. The chandelier is also an eye candy for this Portland kitchen.
Marina Kitchen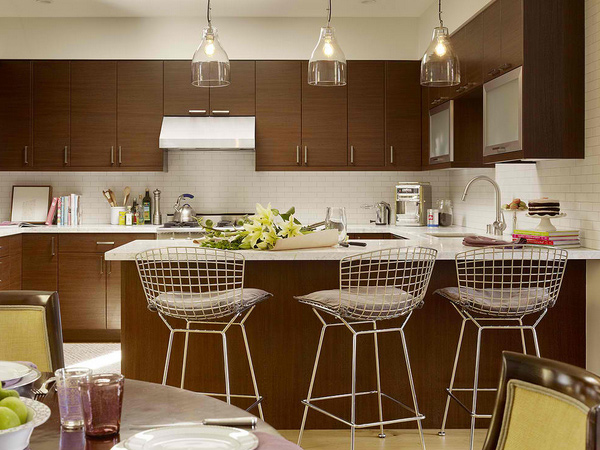 The kitchen, dining area and living room are all open to one another. This is an inherited kitchen with existing cabinets and countertops. Tile backsplash, pendant lights and Bertoia stools were added to bring in some style.
Minneapolis Kitchen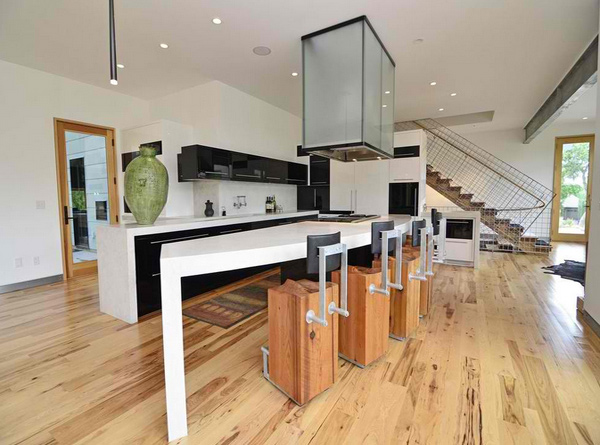 The bar stools are a great example of the combined efforts of both client and professional: Lucero Studio did the metalwork, and Smith carved the wood blocks himself out of old telephone pole remnants.
Nichol's Home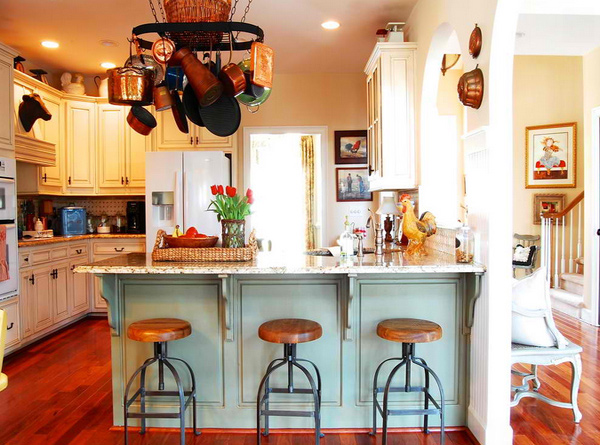 Industrial bar stools welcome guests from the sunroom into the kitchen, adding a rustic design element to the room's farmhouse style. A pewter-toned bench sits below the kitchen window.
Olive Tree Lane
If you choose a bold color for your kitchen island, be savvy with what you choose for accessories. These Lucite chairs carry the crisp, refined look vibe this kitchen is dishing while balancing the strength of this orange shade.
Quinlan Kitchen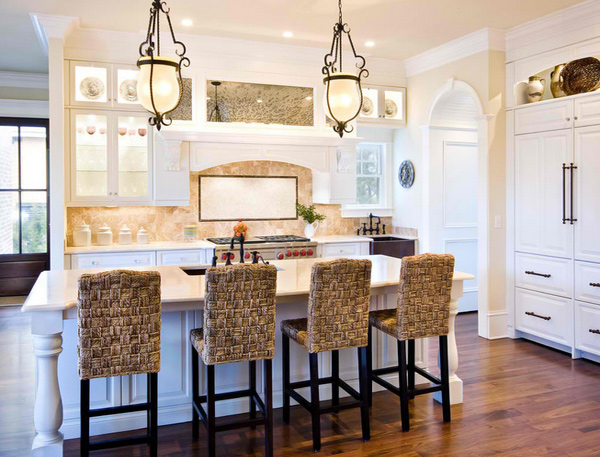 This is definitely a gorgeous kitchen! The most stunning part is the Rica basket weaves twisted banana chairs that are totally incredible.
Russian Hill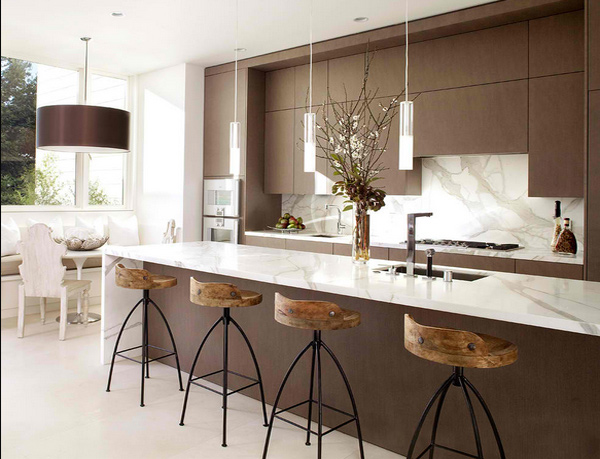 This is a beautifully appointed kitchen. The scale is just right, and while the wooden stools are similar in coloration to the brown cabinets and light fixture, the movement in the wood and the blackened steel bases give them distinction, making them stand apart.
Rustic Home
Contemporary tile and cabinetry keep the lines of this kitchen clean, and the reclaimed wood planks that were used are from Vintage Timberworks and the rustic stools are from Wisteria for texture.
Sag Harbor NY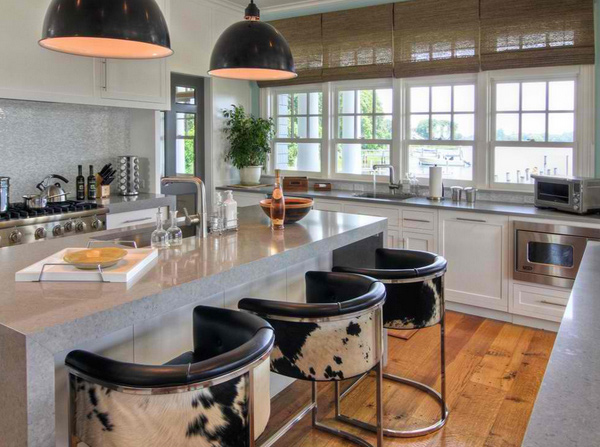 These cowhide bar stools are called Calvin barstool – very eclectic and really interesting!
Hummel Kitchen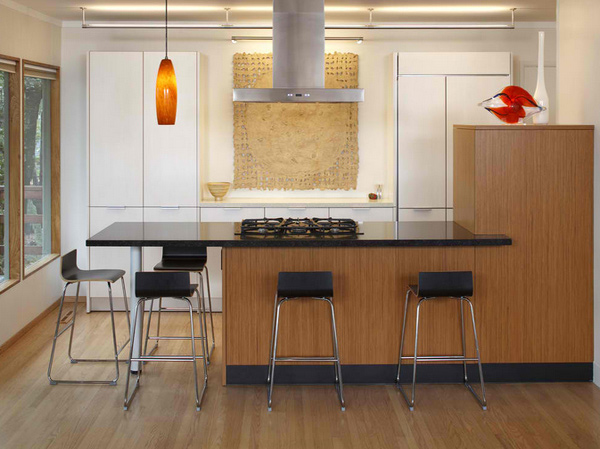 The partial backs on these stools may not seem to offer much support, but they make the stools look more substantial, which is a good call in this modern kitchen.
Surf Road House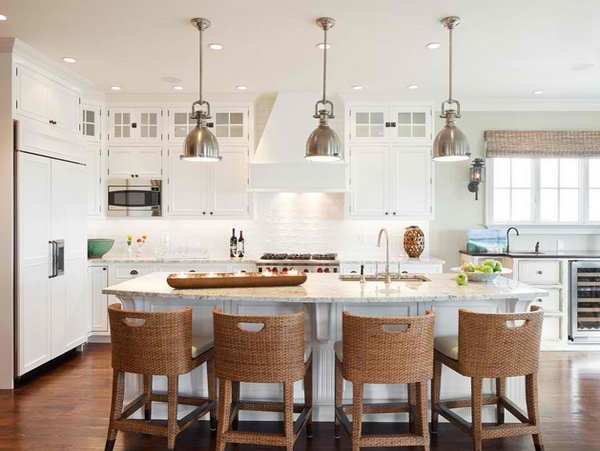 Vintage industrial lighting in a natural kitchen setting adds drama to the hub of the home. Modern finishes of granite, stainless and white woods only complement the antique elements above. These natural wicker stools add warmth to this space and complement the medium wood tone of the floors.
Traditional Kitchen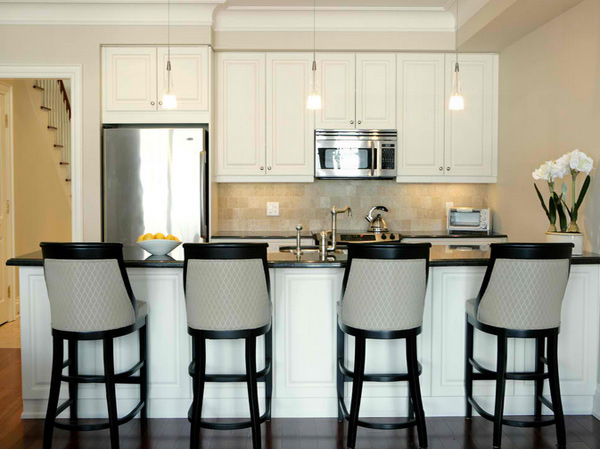 The soffit with crown molding looks great – integrated modern look with classic timeless accents. The upholstered kitchen stools are stunning too!
The Urban Executives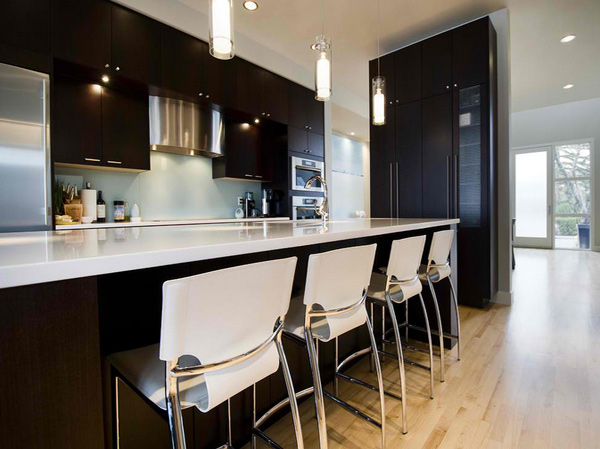 The kitchen stools look rather handsome – some kind of masculine, even when it's colored white. It looks really comfortable and adds a nice and strong presence in this kitchen.
If you're planning to buy or have your kitchen stools designed, just remember to choose based on your preferred material that will either complement your kitchen or make it stand out more. Quality of material and durability are equally important to ensure that your kitchen and your kitchen stools are both pleasing and functional without sacrificing comfort and of course, your appetite. Thank you for checking out our list of 20 Unique Designs of Kitchen Stools and also our modern and functional kitchen bar designs for more inspiration!