20 Traditional Nursery Designs For Baby Girls
Hearing the heartbeat of your little bundle of joy for the first time is one of the best amazing feelings there is. The joy that it brings, excites and scares expectant parents at the same time. It excites you to see the little one who will about to turn your world 360 degrees – so different from what you are used to. And it scares you at the same time because you are expecting a lot from yourself. You want to do everything if you only could. You tend to set the highest standard there is, so you can give your little one the best of life. And since thinking of where your little baby will stay is a priority, you might find yourself stressing out by the overwhelming factors you need to consider in making a nursery.
So here is a simple treat for those who are expecting to have a little princess soon. If you are aiming to get a classic look then a traditional design is right for your nursery. Traditionalists go for something safe and predictable in a good way. Traditional look does not require a lot of risks and is perfect for those who does not want to go big on risk in designing an interior. However typical the aesthetic of a traditional design is, it can also be thrilling and a knock-out interior for your babe. So here are 20 traditional nursery designs for your baby girl for your inspiration.
1. Spring Collection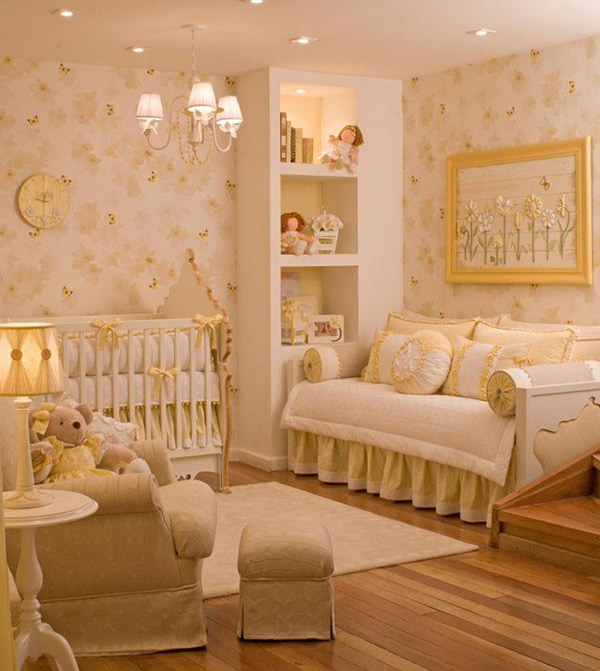 The butter yellow and white motif set a soothing and delicate tone in this traditional space.
2. Merigo Design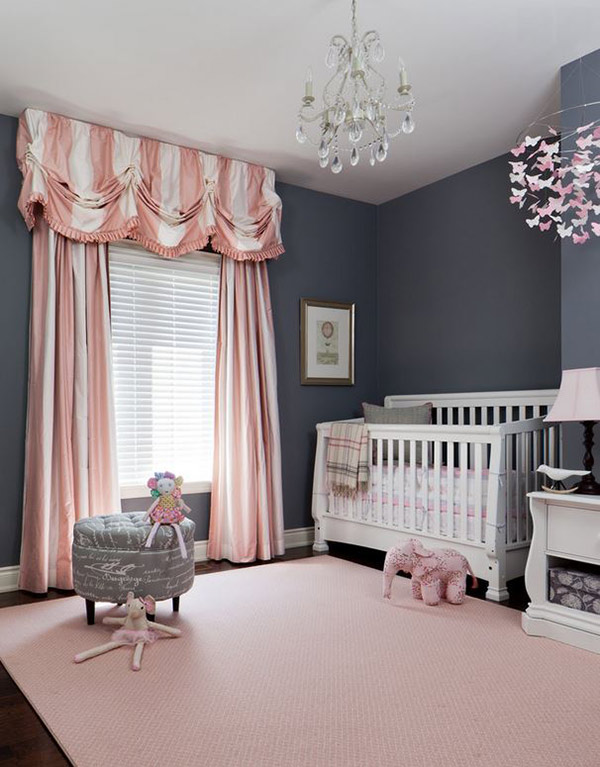 The use of muted shade of pink against deep gray walls and on the accessories bring a sophisticated and feminine feel in this nursery.
3. Collection Vivier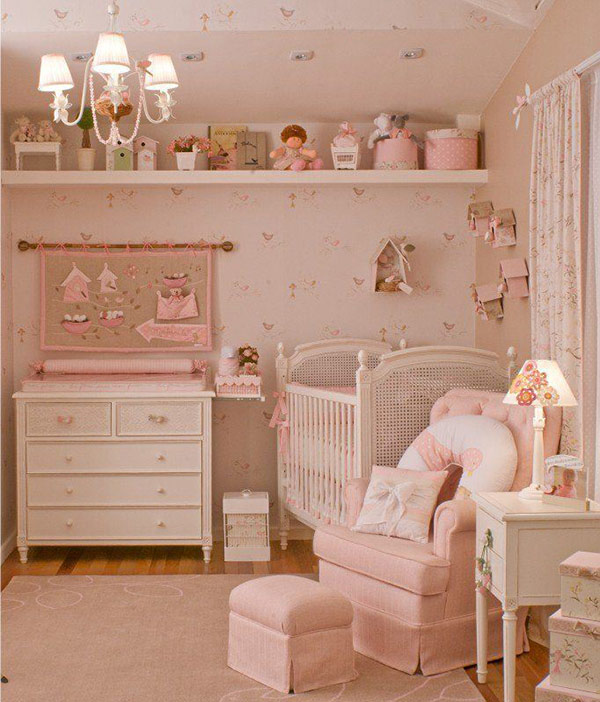 Soft pink wallpaper, handmade details, vintage crib, tufted seat made this baby room so dainty and calming perfect for your little angel.
4. La Petite Rose Nursery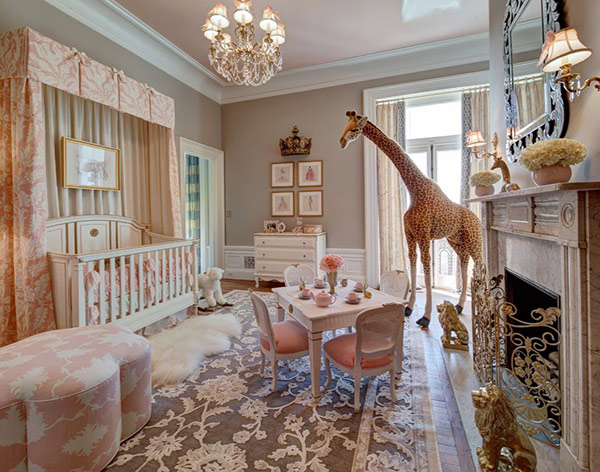 Intricate details, soft blush pinks and gray palette and a classic crib create an elegant traditional space while the Barbie prints on the wall and the 8-foot-giraffe add a mod-glam vibe.
5. Little Girl's Room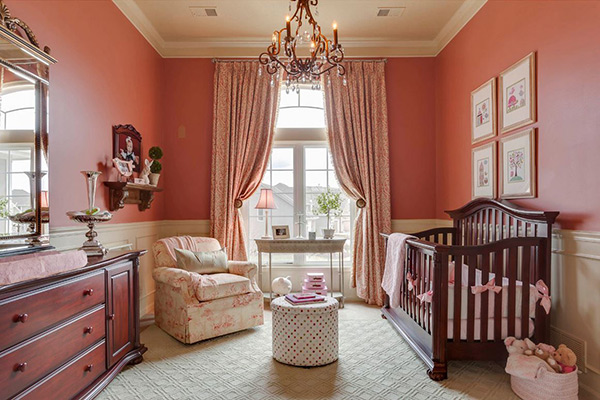 For those who does not want to go bright and bold with colors, use Porphyry pink for your baby girl's room. It is sure to bring sophistication while keeping it feminine. The floor-to-ceiling curtains, traditional furniture with its natural finishes and a luxurious chandelier bring an elegant flair to this classy nursery.
6. Glamorous Baby's Room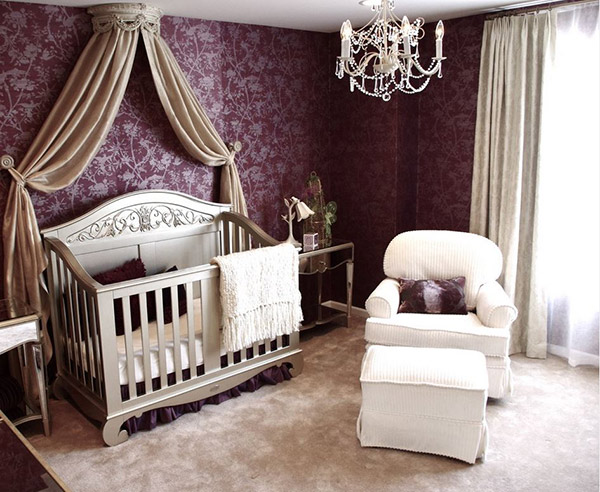 This timeless beauty is designed to withstand your baby girl's needs. As she age, this room will grow with her. I love the elegance of the grass cloth wallpaper that matches the crib skirt and pillows. The crib converts to a full bed when the time is perfect for your little princess to use it, the draping from the crown and the custom drapes, give a glamorous touch that will still be perfect when your little darling turns into a beautiful princess.
7. Romantic Nursery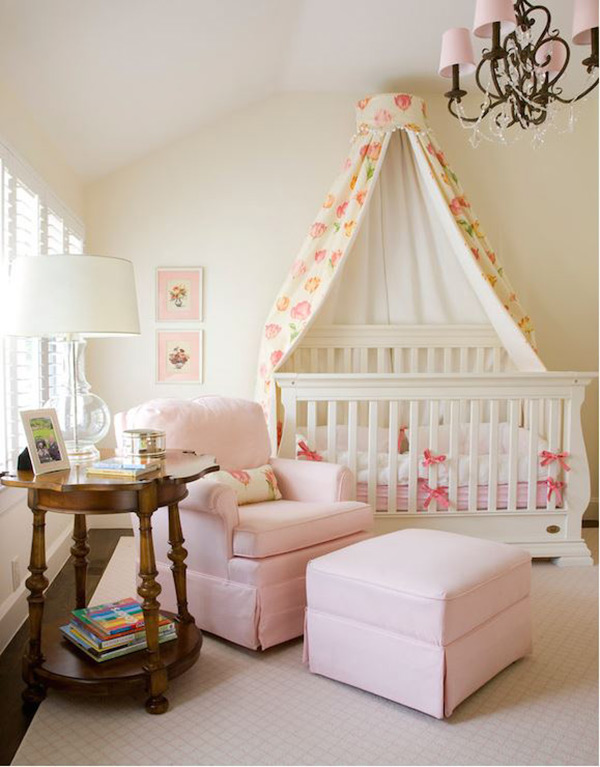 Pops of soft pink and peach on pelmet and curtains over the white sleigh crib create a charming appeal, while the pink chair and floral art with pink mattes hang on the white wall bring a sweet, feminine touch on this romantic baby girl's room.
8. Enchanting Haven For Two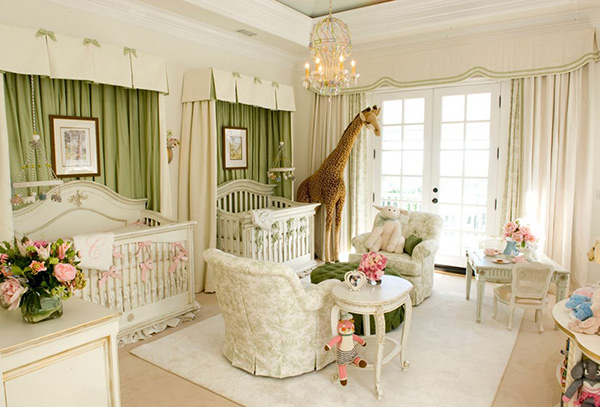 This is one adorable classic nursery fit for royalty. AFK Furniture designed, built and installed this stunning, celebrity nursery. The touch of green and soft pink against the white and cream canvas offer a romantic and soothing feel.
9. Quarto Princesa Sofia
Stylish crown canopy, faux fur area rug, a stunning castle wall accent accentuated by an exquisite dresser make this fairytale nursery.
10. Soft Coral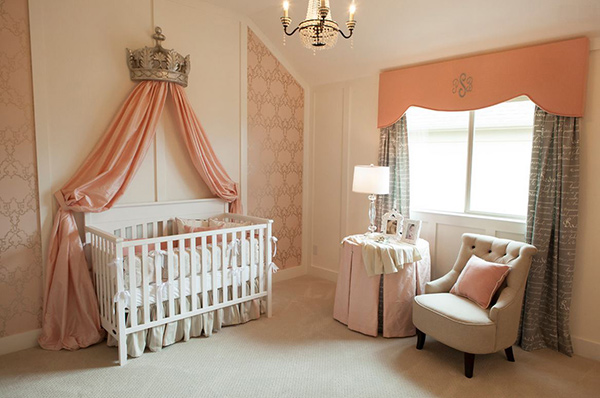 For a more contemporary feel on your traditional interiors choose muted coral and gold for your color palette. It is not only stylish and feminine it also bring a modern vibe in any space.
11. Little Crown Interiors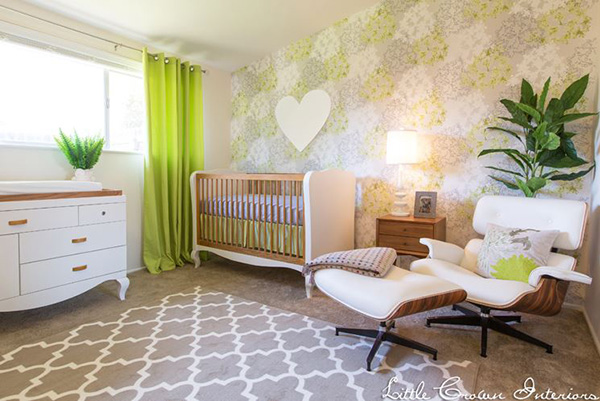 Clean lines, white and natural wood finish and touches of muted green and gray colors create a calming and dreamy space. The use of bold geometric pattern add a contemporary feel in this traditional design.
12. Patricia Halpin Interiors Inc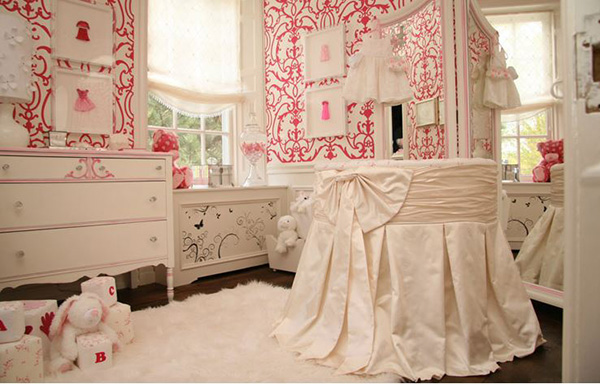 This is one sophisticated take on a traditional nursery design. Pink damask wallpaper, fabulous round crib with its pretty ribbon, white flokati rug, some vintage finds and pop of pink from the decorations bring a whimsical and girly atmosphere.
13. White And Beige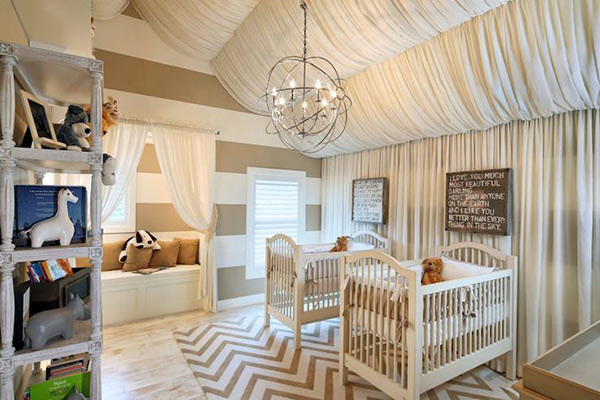 Pastel is not the only color that can give your nursery a babyish feel. It is impossible to look at this twin nursery and not feel charmed and relaxed. The white and beige color scheme and a ruched fabric ceiling that doubles as a canopy above the entire space work together in creating this cozy and romantic room.
14. Claire's Nursery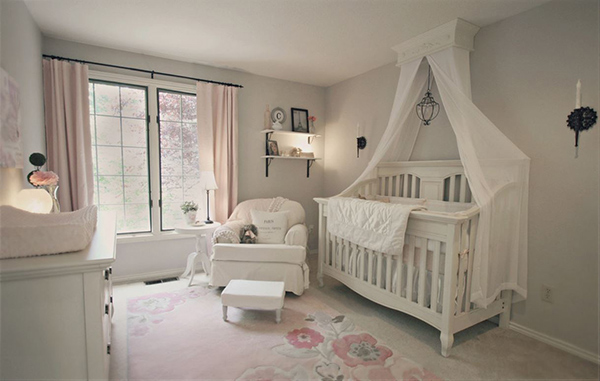 Now this is one serene style for a nursery! The white traditional crib takes the center stage, accentuated by the canopy complete with molding. The use of black and soft pink on the accessories make this nursery a restful haven.
15. Colordrunk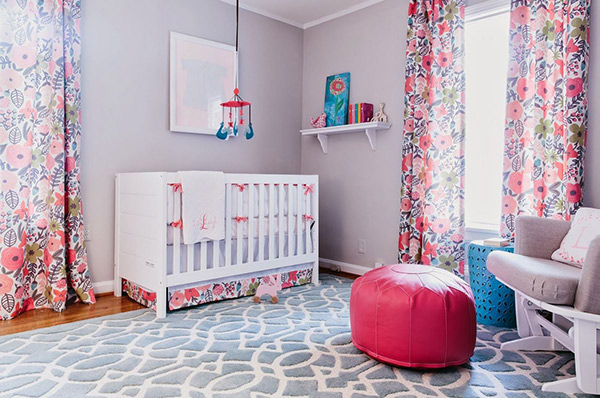 Bold colors and delicate patterns make this nursery anything but boring.
16. Gray and Peony Pink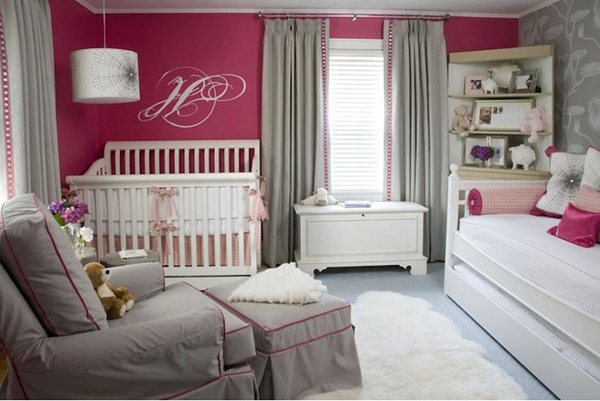 White, peony pink and gray color scheme bring a tranquil yet feminine ambiance. The oversized pendant light add a mod vibe while the faux fur area rug bring softness and glam to this stunning nursery design.
17. Purple And Pink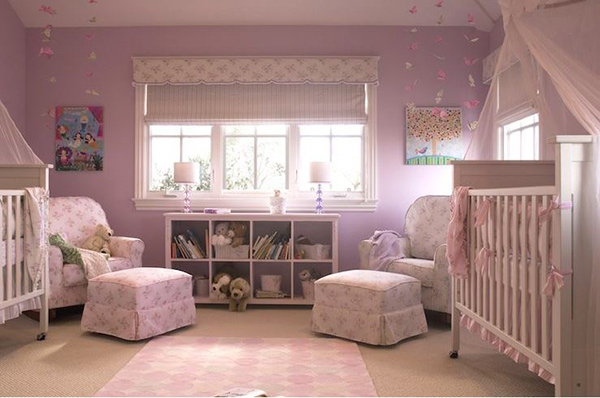 Another feminine and whimsical deign for your baby girl. Purple and pink are popular colors among girls of all ages. It exudes a romantic and inviting atmosphere that is dainty and stylish like this nursery design.
18. Elegant White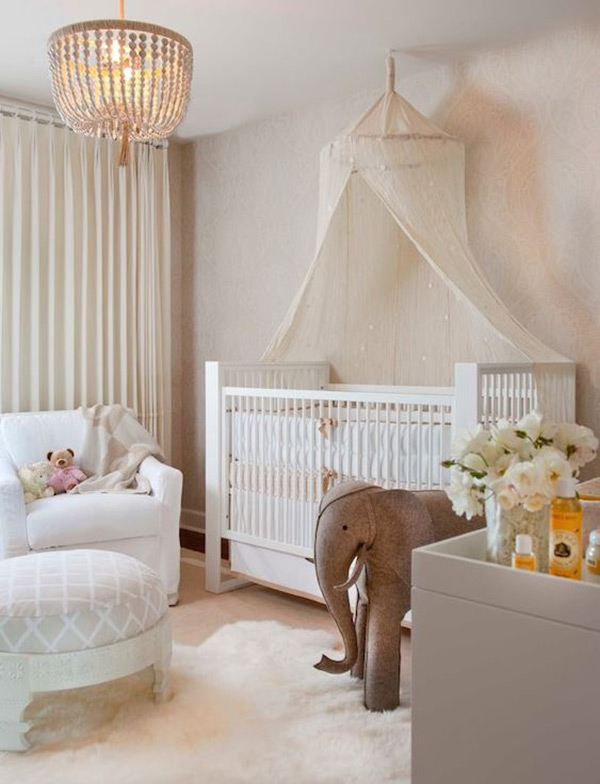 Gauze canopy highlights the ducduc Austic crib, a posh Malibu chandelier, paisley wallpaper, overstuffed white chair and ottoman with a sheepskin area rug keep this nursery elegant and whimsy.
19. Whimsical Pink Nursery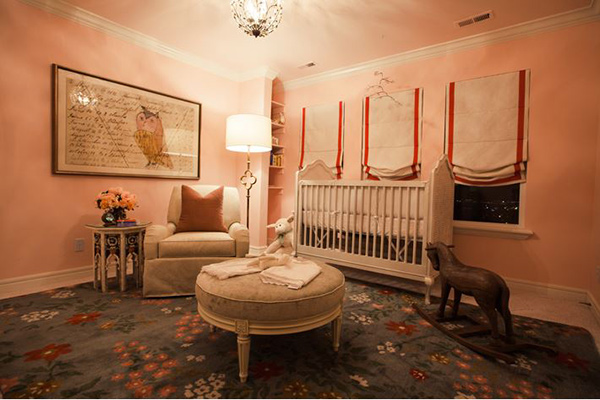 A whimsical traditional room in pink walls adorned with white roman shades accentuated with pink ribbon trim bringing the attention to the beautiful traditional, white crib. The floor lamp, gray glider and a French ottoman paired with a Moroccan table atop a gray floral rug bring a casual feel to this sweet retreat.
20. Love Birds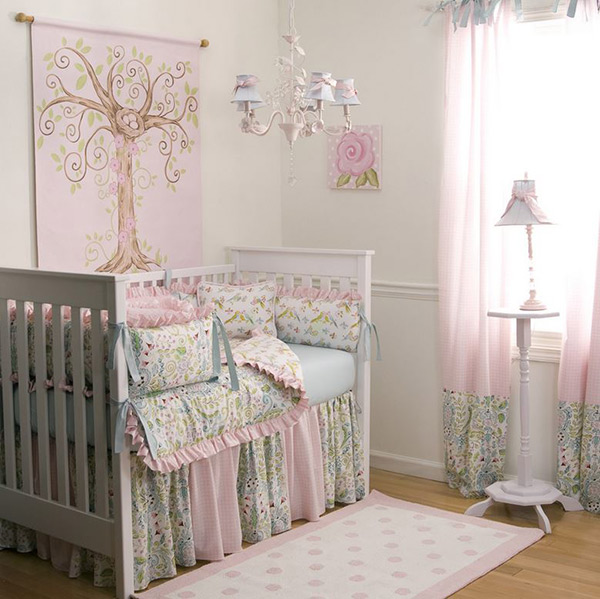 Soft pink and misty blues in playful details make a sweet and soothing appeal to a baby's room. A beautiful wall art that matches your room's color scheme, will bring interest and character to it.
Traditional interior design is not at all boring when used in nursery. Yes, this style may be predictable but it does not mean that your little princess' room cannot be dauntless. Add some fancy decor elements or go bold with colors if you must. You will be amazed with the result you will get from adding whimsy, elegant or modern design to your traditional style. I hope you like our tasteful treat and you were able to get inspiration from these traditional nursery designs for baby girls.