22 Bachelor's Pad Bedrooms for Young Energetic Men
It is every man's dream to have his own space. Want one? Here are some bedrooms for ideas.
Most single men who lives on their own gets a bachelor's pad. I honestly love the way a bachelor's pad looks like because of its masculine look and how practical they all are. Well, you know men. We don't want complex things and want everything to be direct, clear and organized. No time for confusion and for digging into deep treasures because men aren't as patient as women. That is why, you can observe that a bachelor's pad is organized and well-arranged. Well, that is a good thing. Today, we are going to show you some inspiring photos of bachelor's pad bedrooms.
Most of the time, a space for a man has colors gray, white, blue and black. Although others also add some bright colors as accents in them. But even if the spaces don't have many colors, they all look very beautiful. There is really something nice about men's bedrooms. There is no need to add many decors as long as it is functional and it suits their lifestyle. Then it is okay. We have collated some bedrooms that would be perfect for a bachelor's pad. Come take a look! In the end, tell me which one you like best!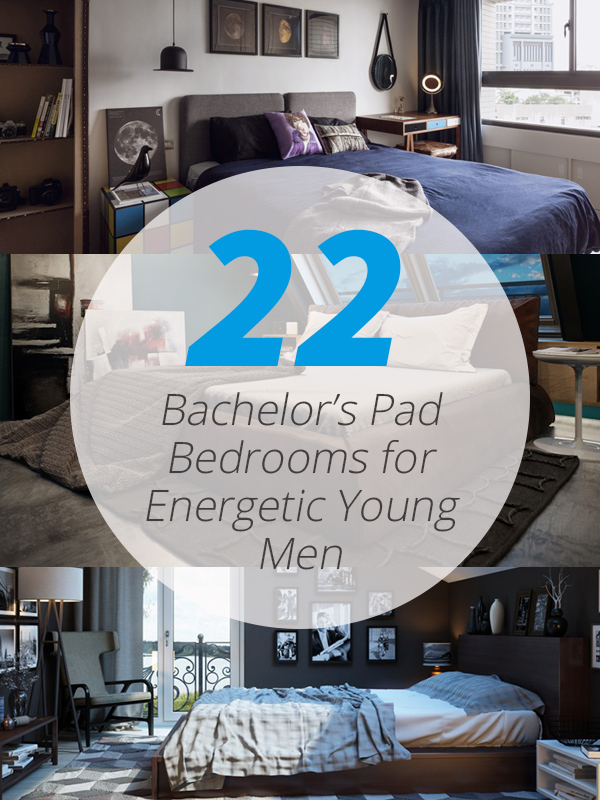 1. Most Eligible Bachelor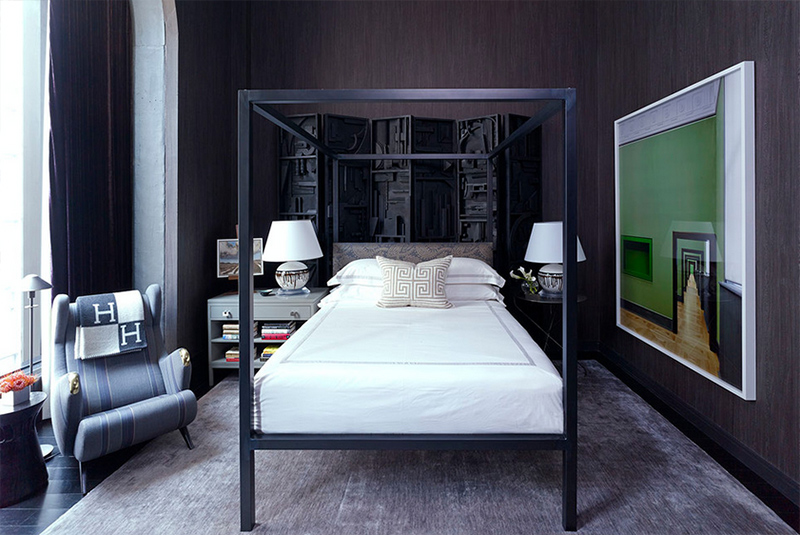 A dark gray canopy bed sits in this bedroom. Isn't that backdrop interesting? It sure is! Such a very creative work of art. There are some Art Deco features here too.
2. King West Condo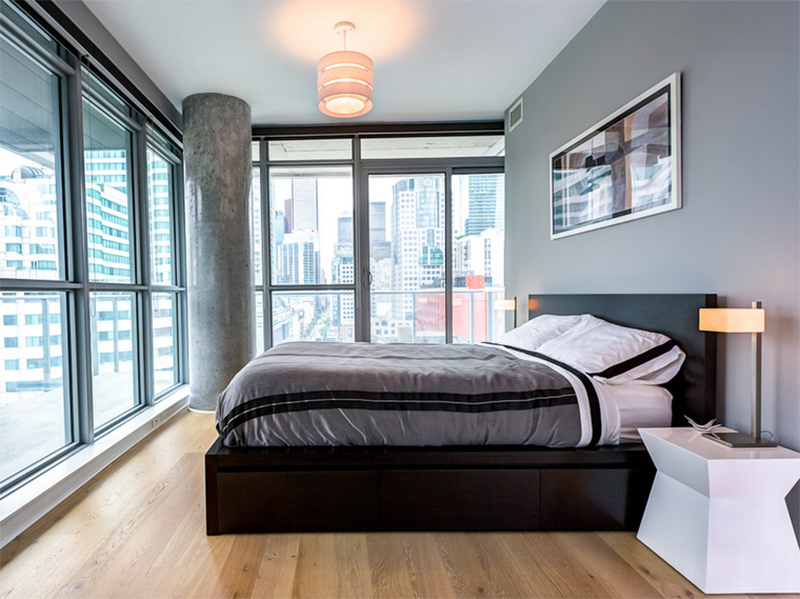 A simple bedroom surrounded with glass windows. And yes, it has gray colors too with black and white accents. That side able is cool!
3. Boy's Dream Pad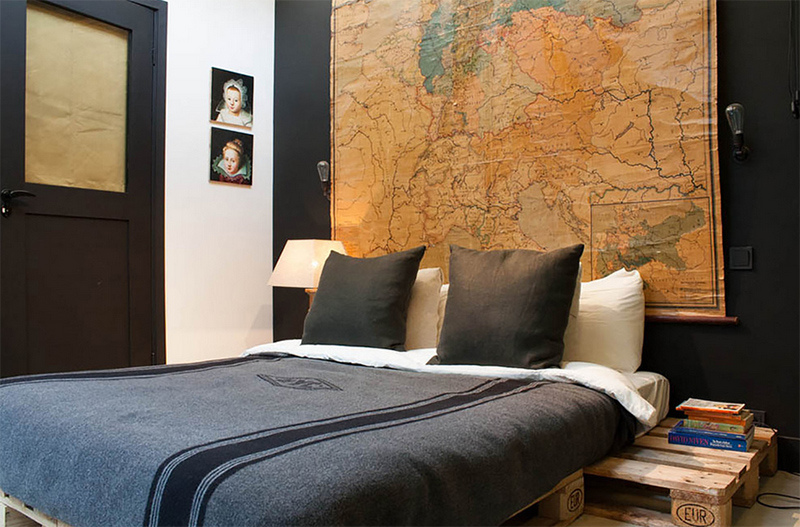 It would be nice to use a map as a background for your bedroom. It brings out the explorer in you and is an interesting piece of art in your space. Notice that this one used wooden pallet for the bed's frame where books are stored on the flooring side.
4. Bedroom Skylight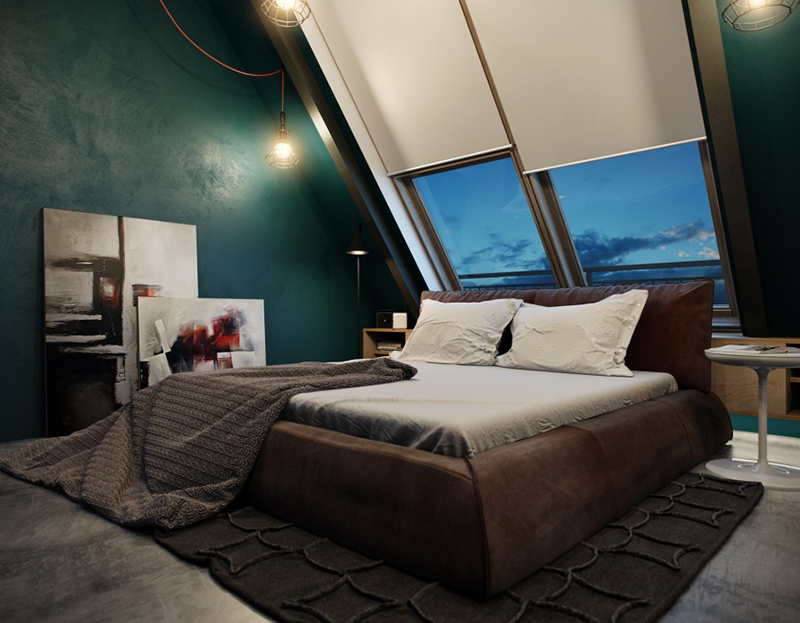 White blinds can be brought down to provide privacy in this bedroom and can be brought up when more lights are needed. Love the texture and pattern of the area rug and those paintings that were merely placed on the floor.
5. Bachelor Pad in Tribeca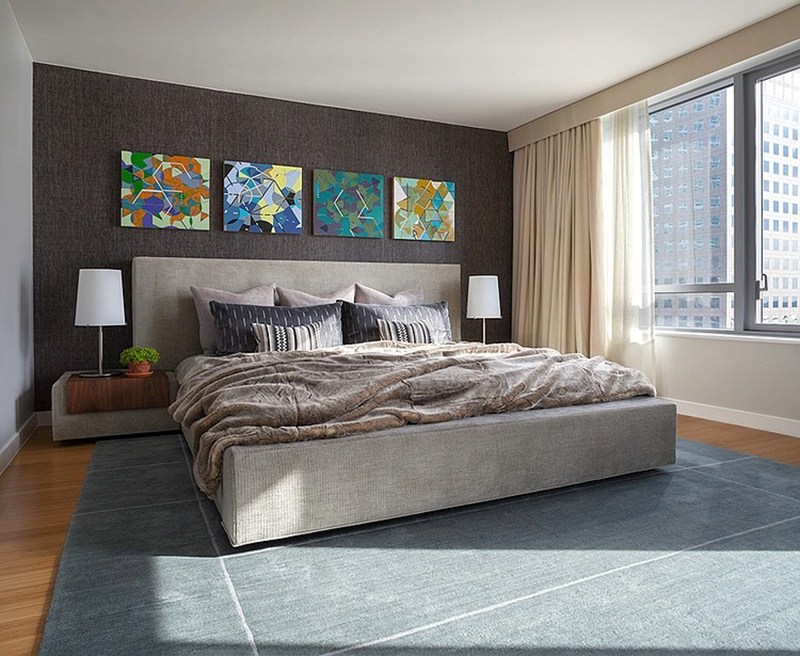 A sophisticated bachelor's pad that inspires refined luxury throughout. You can see here four geometric wall paintings that add life to the walls. That sure is a huge bed with different patterns in gray.
6. Young Adult Male Bedroom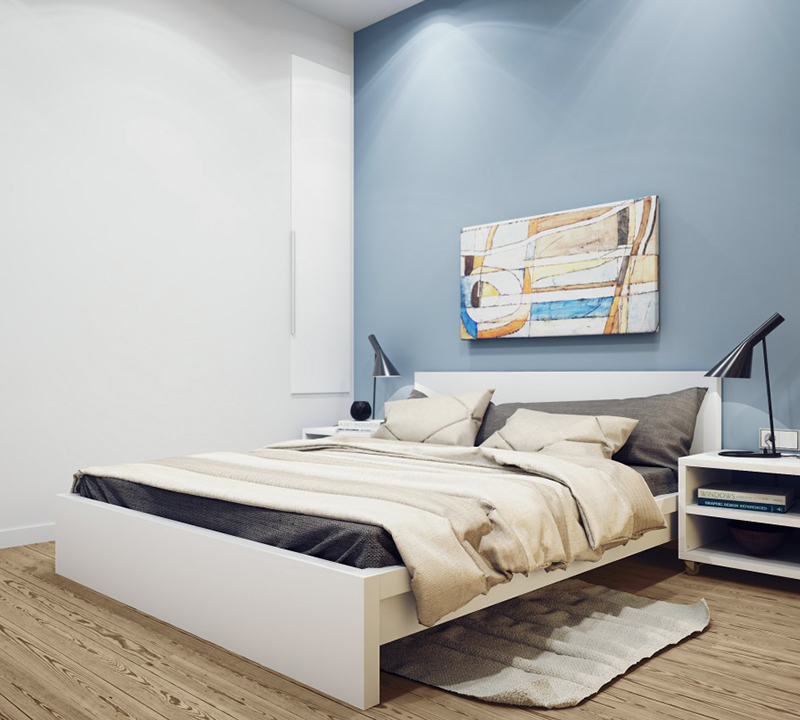 An apartment with a total area of 54 sq. m. has a beautiful wall color that allows more light to bounce around the area. The beddings are in gray and white.
7. Apartment 70m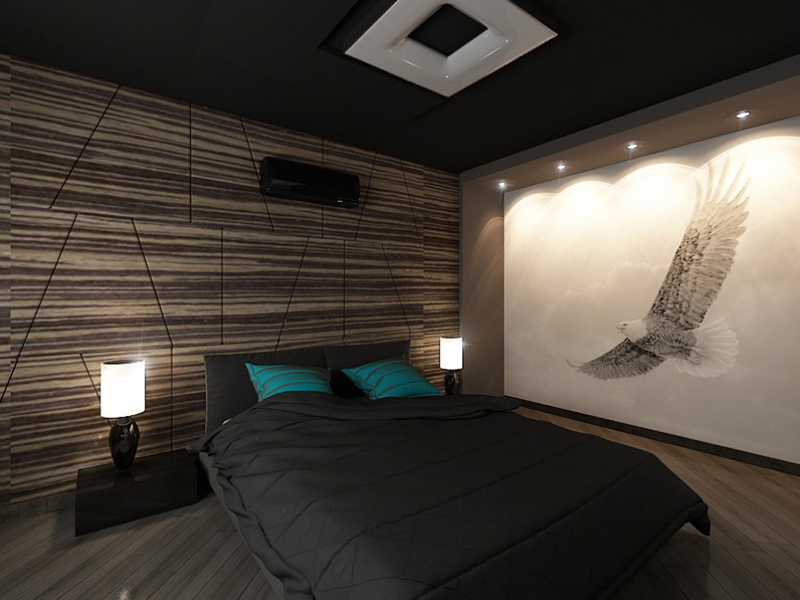 Beautiful wall, right? One side is a huge photo of a soaring eagle. The space does look a bit dark as it used dark gray beddings under a black ceiling. But guess it brightens when the main light is on.
8. Bachelor's Apartment in Taiwan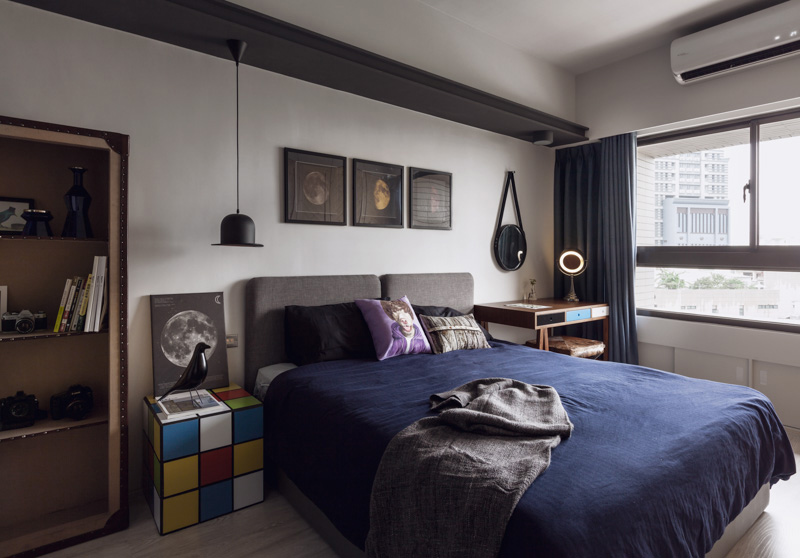 A 92 square meter bachelor's apartment inspired by traveling and exuding a charming industrial feel. In the bedroom, you can spot some items that are travel-inspired. Love that Rubrics cube side table!
9. Bedroom Attic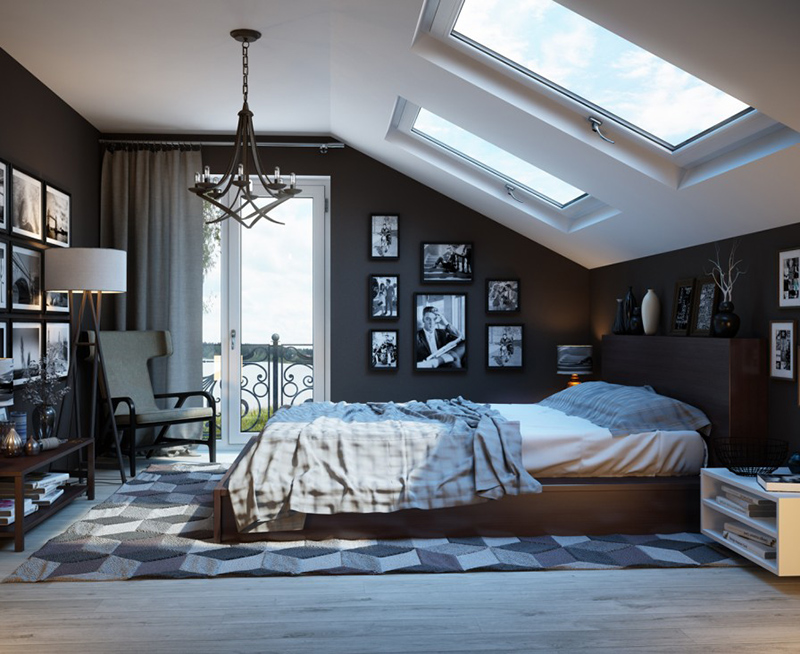 Black and white portraits are installed on the wall of this bedroom that is located on the attic. What covers the floor area geometric shaped area rug in gray. Above the bed is a headboard where some items are being displayed.
10. Bedroom Bricks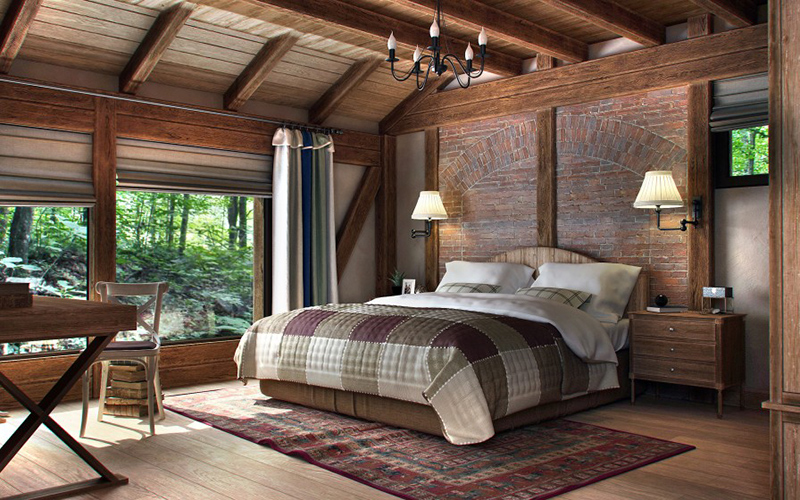 Bricks and wood was used for the wall of this bedroom which served as a backdrop for the space. It also has a picture window that gives a good view of the forest. Guess they can say hello to deers from here.
11. Loft Dreamcatcher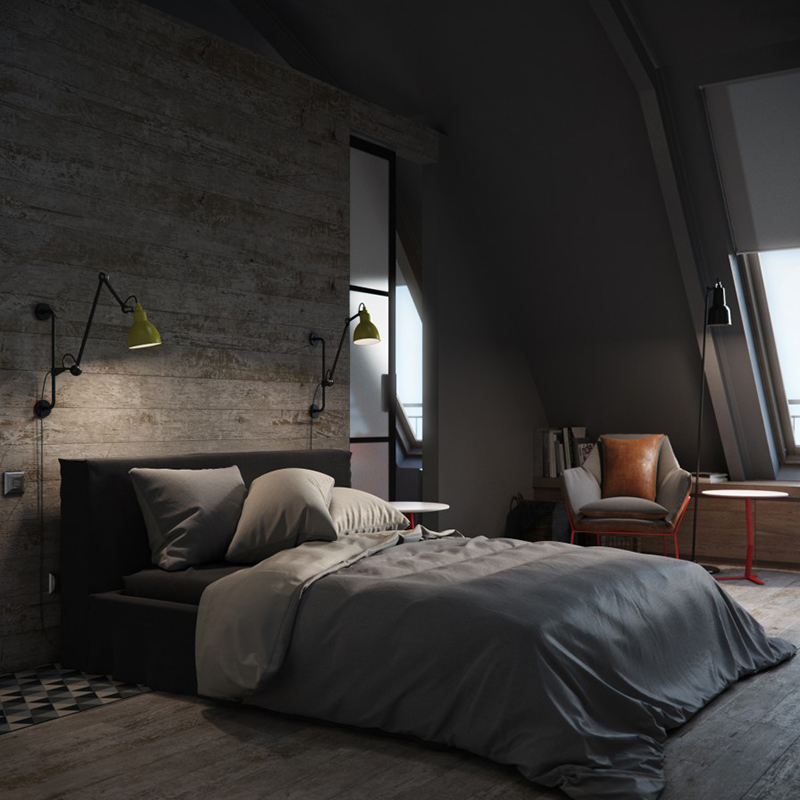 This bedroom may have that masculine look all throughout but it could also send you to dream land easily because of how cozy it is. I'd doze off in a bit in this bedroom!
12. Industrial Bedroom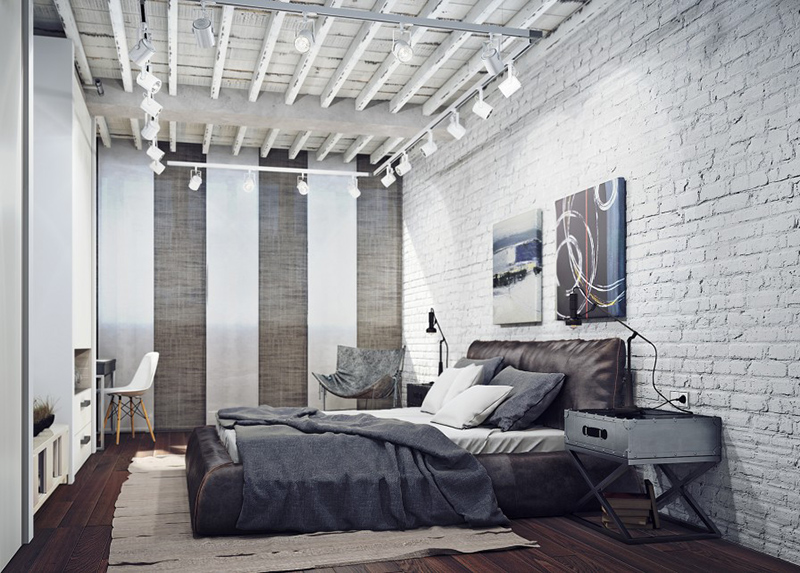 Beautiful paintings installed on the walls add some artistic flare into the bedroom. It looks even better since it has a white brick wall background. Gray furniture and beddings are used here.
13. Appartament 2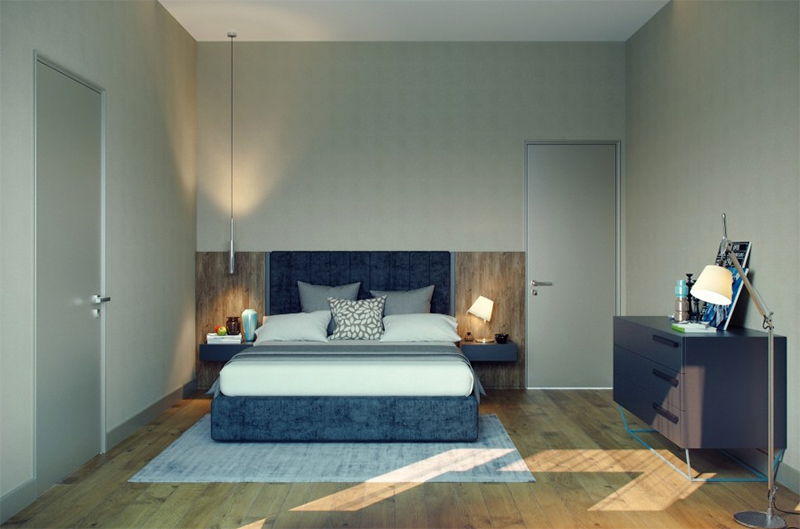 The bed has a denim texture that looked nice with the wooden features of the bedroom. I like what they did to the side table which floats from the wall.
14. Apartment
This one has pops of orange on it from the wall art to the beddings. You can also notice that it is flooded with natural light with a beautiful wall partition.
15. Bedroom more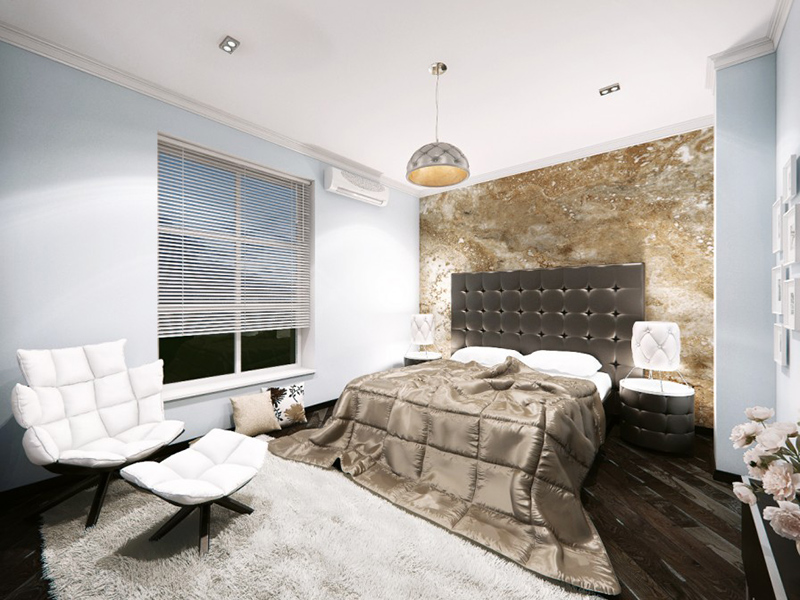 The headboard side has a beautiful cosmic texture that looks amazing. Its use of glossy silk comforter and tufted headboard add more sophistication to it.
16. Travel Bedroom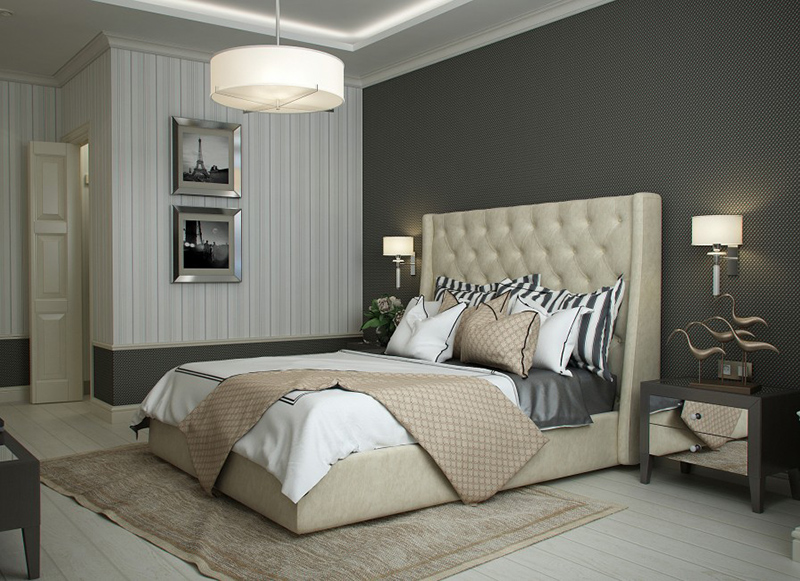 Guess this one is a travel themed space because of the framed photos on the walls. It is a good idea to add stripes to one side of the wall and then gray to the rest of the wall.
17. Rox Residence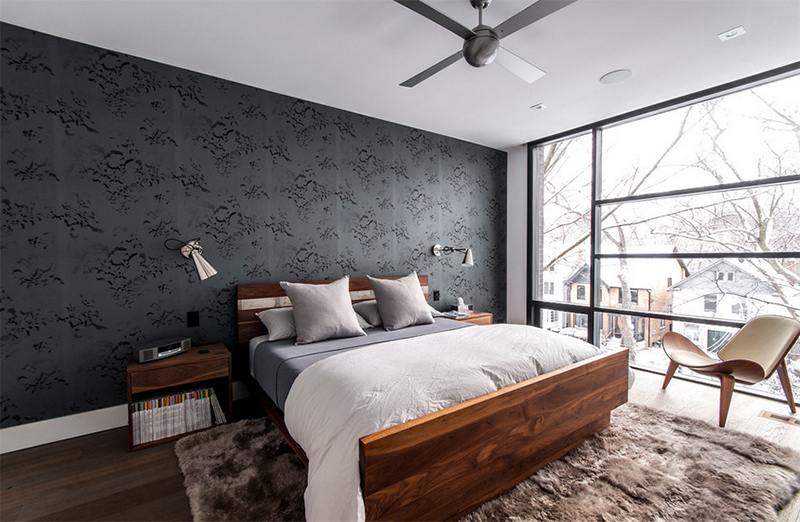 Adding some patterned wallpaper to the headboard side is a good idea for a bachelor's pad bedroom. I like the wooden bed and side table that sits on top a soft carpet that brings a contrast of texture to the space.
18. Bedroom Man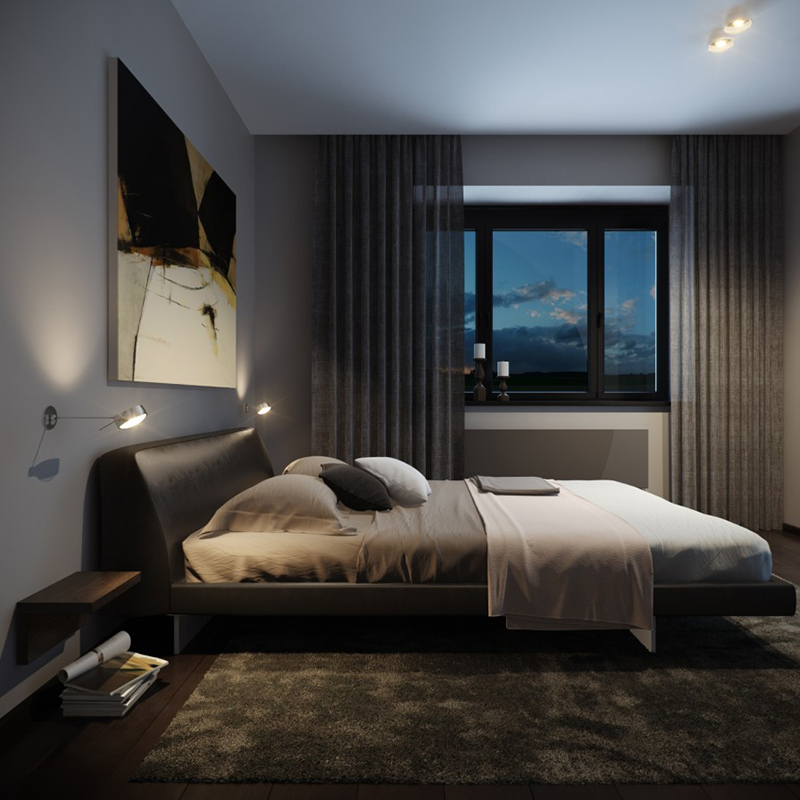 Definitely a space for a man. The shape and form of the bed is just beautiful with simple side wall lamps on both side of the bed. A sheen gray curtain is added to the window.
19. The Bedroom on the Second Floor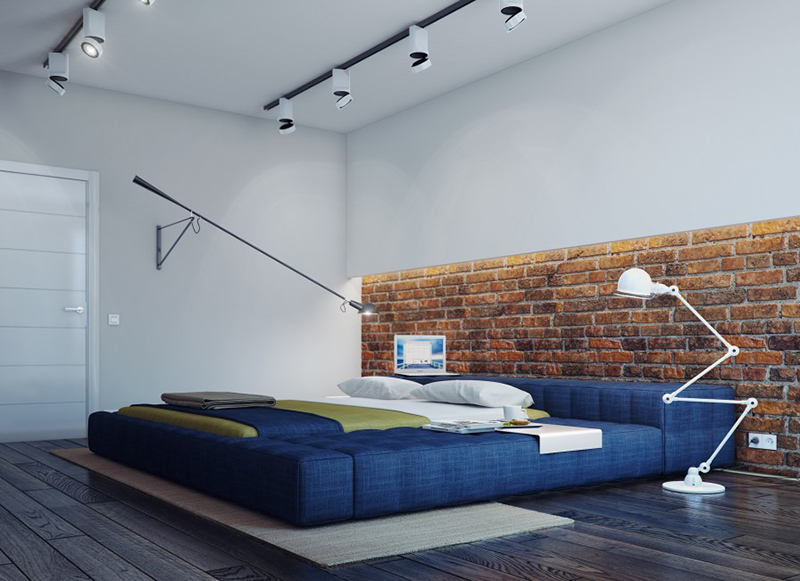 You can add a subtle industrial feel to your bedroom by using brick walls on half of the wall near the headboard. I like the colors of the bed too.
20. Furniture Factory Composition Pelican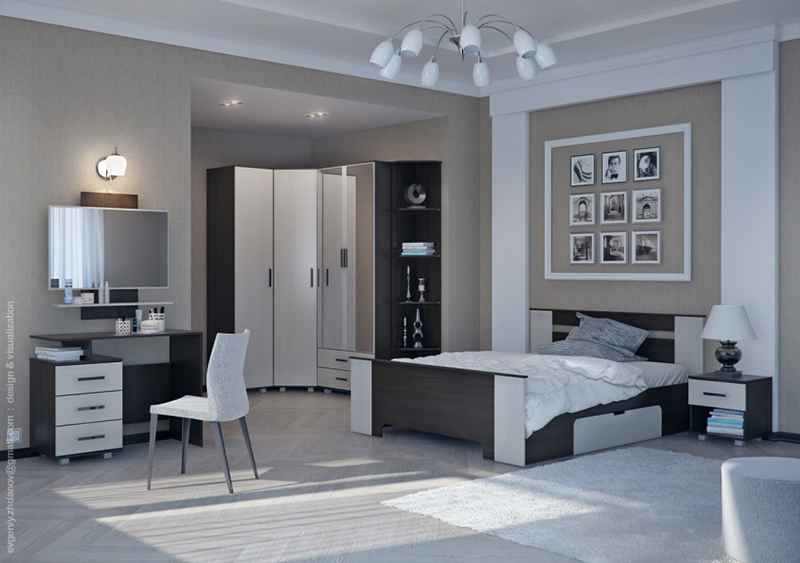 The black and white photos on the wall are a beautiful idea for a gallery. Gray and white combinations are used for the rest of the bedroom. Notice what they did to the wardrobe with an open shelf on one side.
21. White Bedroom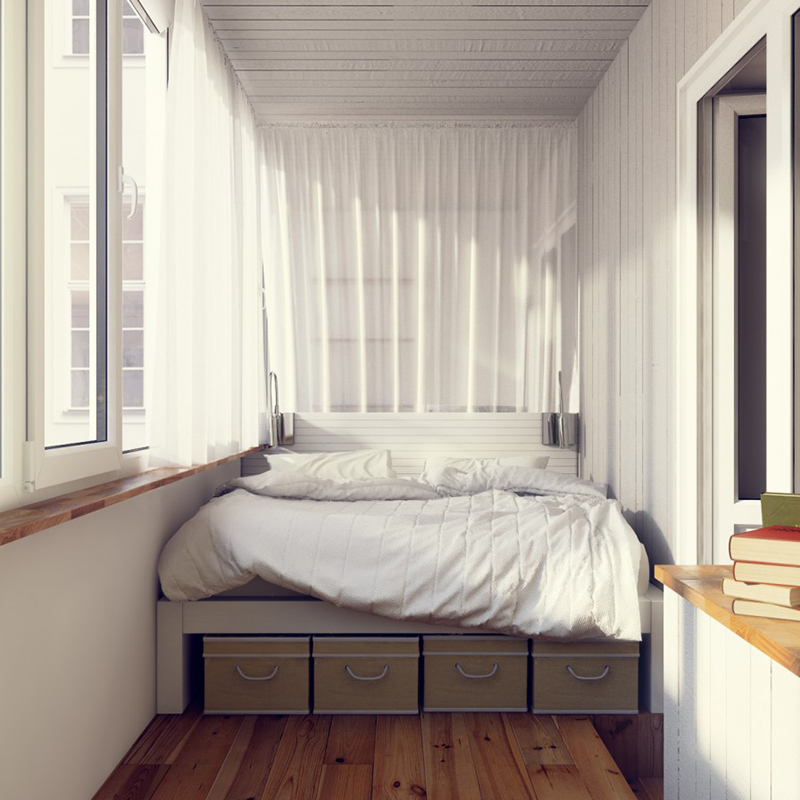 Even a small bedroom can actually look this beautiful. Using white is just right to make it appear spacious. Baskets are added under the bed for storage.
22. Bedroom Leaves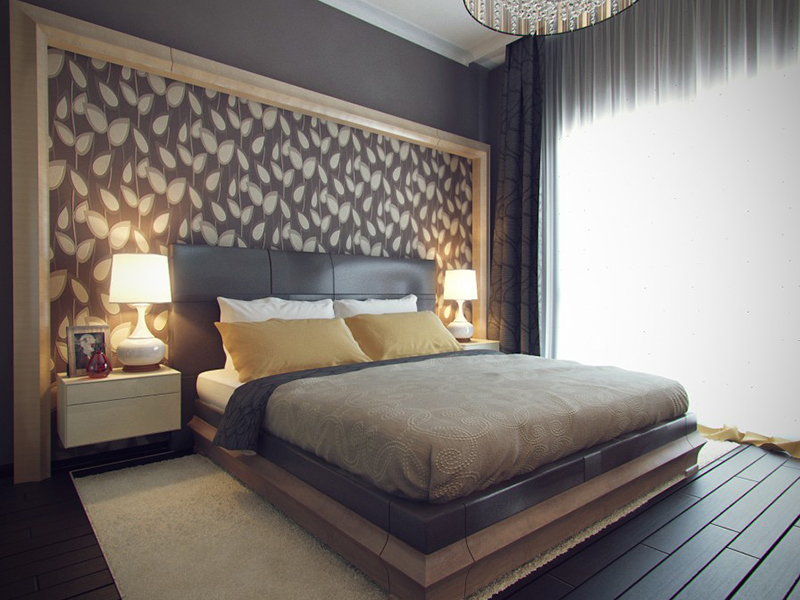 A framed leaves wallpaper was used for this bedroom. Love the design of the bed here as well as the huge chandelier above it. Even if it is this sophisticated, it does look very masculine!
It seems that these photos will make any bachelor feel excited to have their own space. They all look really beautiful and comfortable with colors that fit every masculine, whatever is his taste. Of course, one can always add some pops of colors into it whenever he wants to. But it is common for a bachelor's pad bedroom to have neutral or earth colors in it. But then again, it doesn't hurt to add bold colors into it. Well, it depends on what the owner wants. So, did you like the above inspiration? Can you tell me which one you love the best?