20 Stylish Cuts of Wooden Headboards
Beds are one of the most important furniture inside a bedroom. It is where we are most comfortable to lie on. Beds come in various sizes, designs and style. It is important to use proper beddings and design to our beds to make it presentable and make its appearance be very inviting during rest. One part of the bed that affects its look is the headboard. Headboard is a piece of furniture attached to the head of the bed and considered as the crown of the bed. Although sometimes there are a lot of beds that don't have headboards but most of the time every bed have a headboard.
Headboards have many designs; it can be upholstered with leatherette, or it can be tufted with foams as cushions, it can be made from metals, or can be from woods. It is designed accordingly with the design you have for your bedrooms. But for barns and farm houses, and also for a rustic design a wooden headboard is a perfect design for our beds. Woods gives a warm atmosphere to the bedroom as well as it gives an additional style for the bed. From the photos below you can get ideas on how would you wanted to style your headboards. This would be a great transformation for the look of your old beds.
1. Vintage Headboard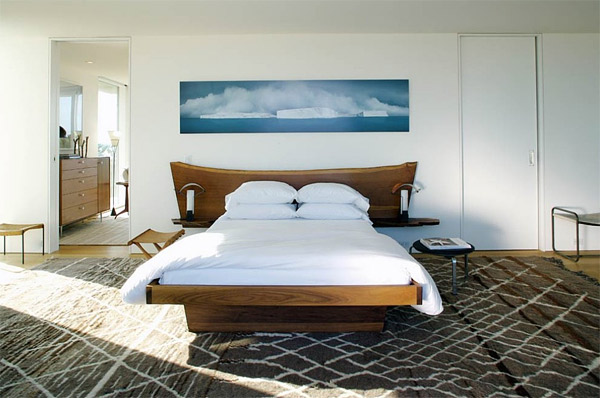 Salvage or slated wood can be turned into a stunning headboard.
2. Andesite Residence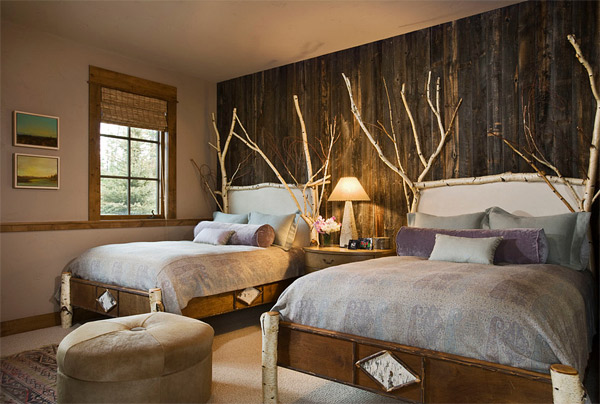 For barn-inspired houses, the wooden walls are perfect with wooden headboards decorated with branches to complete the look.
3. Rustic Industrial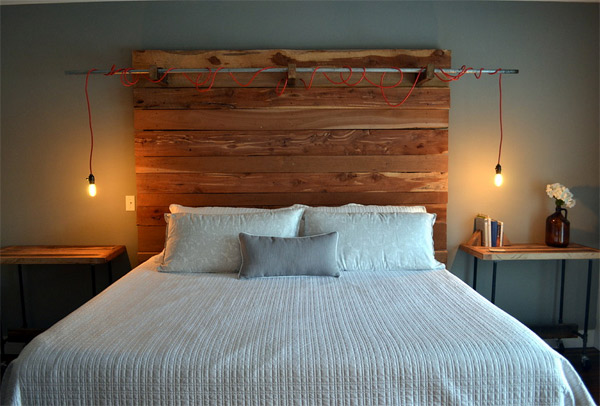 This bed has repurposed wooden strips that arranged horizontally and incorporated with headboard lights displaying an industrial look.
4. Redding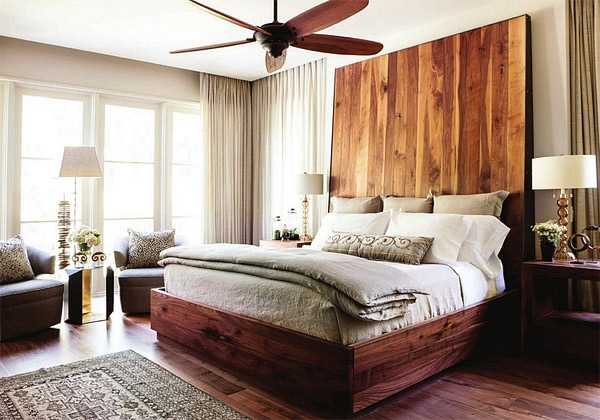 The very tall headboard matches perfectly with the wooden floors and the wooden ceiling fan.
5. The Hunting Life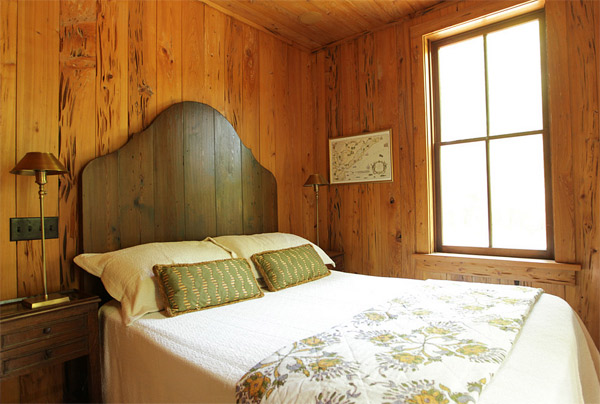 Wood gives a beautiful and clean look in a room, matched with a vintage wooden headboard.
6. Cassique Cottage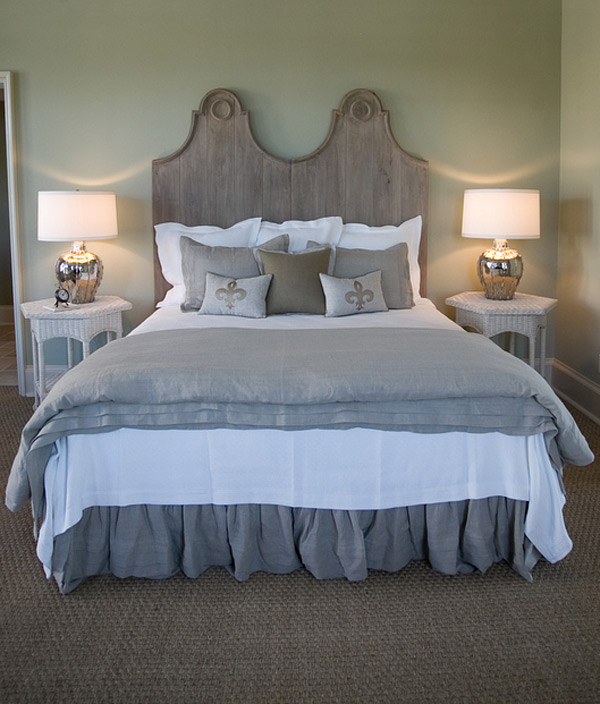 Showcase a dramatic sense inside your rooms with twin headboards placed side by side to display a king-like bed.
7. Juniper Hill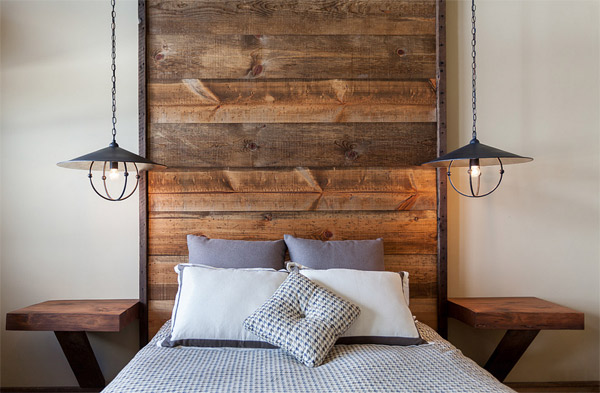 You can design your own headboards from old slabs of woods and decorate the sides with vintage pendant lights.
8. Modern Headboard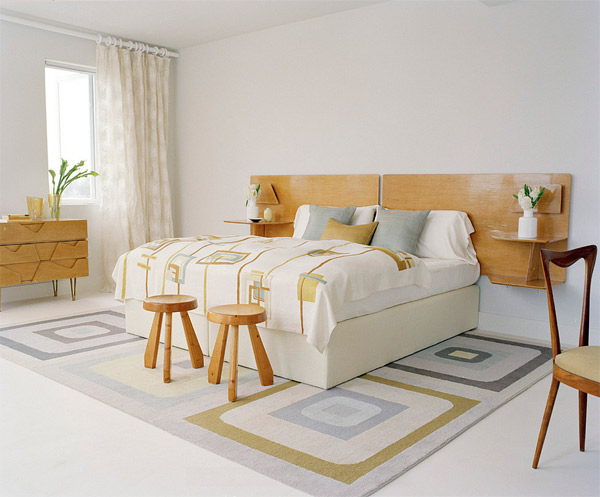 You can also achieve modern look with woods by choosing a sleek style.
9. Eclectic Bedroom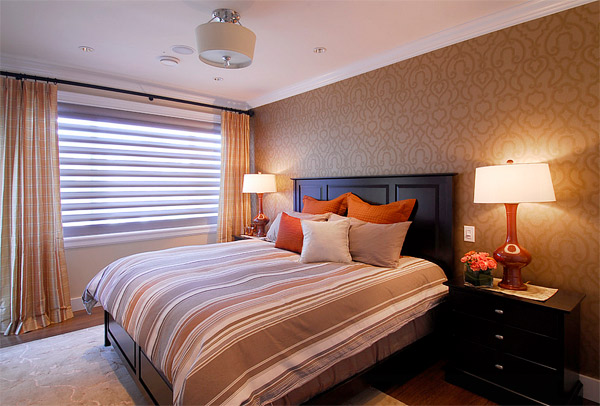 Even with a simple design of wooden headboard this king bed looks so stunning.
10. Veranda Showcase House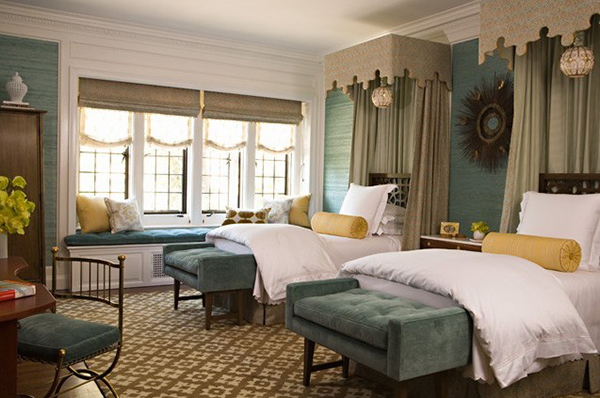 The bed is very dramatic in style with nightstand, hanging lights and the fabrics around the patterned wooden headboard.
11. Hand-Carved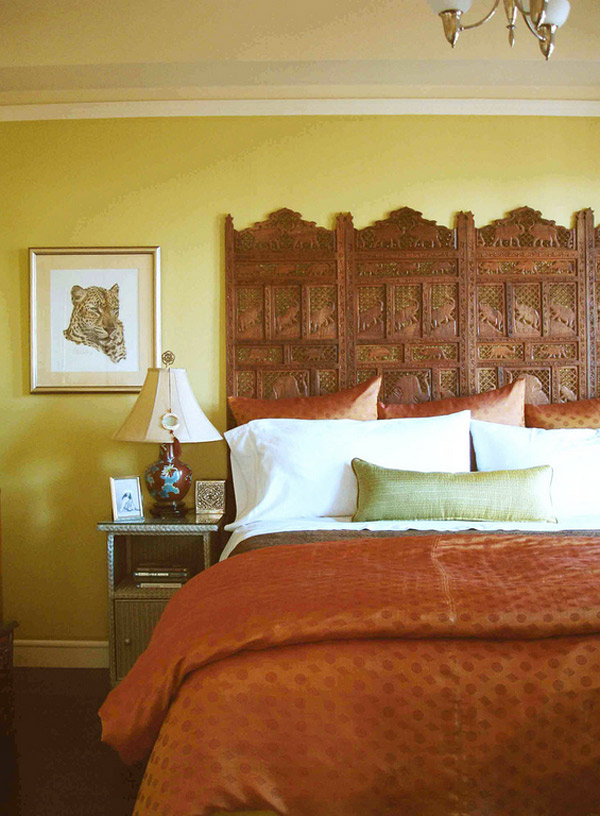 The headboard is made with woods and designed with hand-carved screens, showcasing an elegant look.
12. Wooden Panels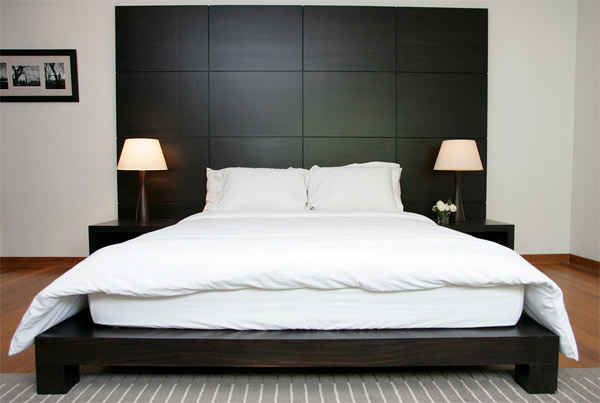 To offer a grand look to your beds, ground it with extra-large sized headboards that panel and with shapes.
13. Carved Wooden Headboard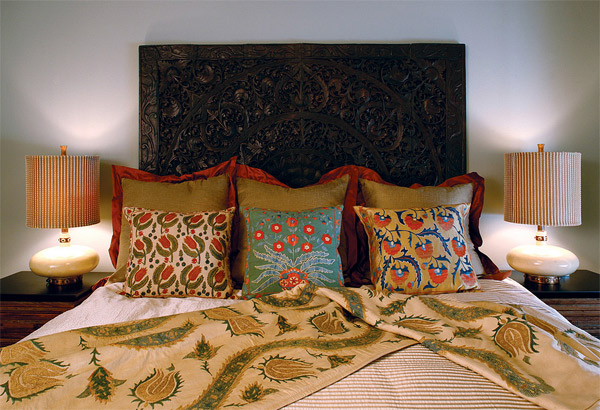 This is a very elegant look of a bed, nice choice of fabrics and polished with vintage side lamps that are matched accordingly with the wooden headboard with a carved design.
14. Rustic Retreat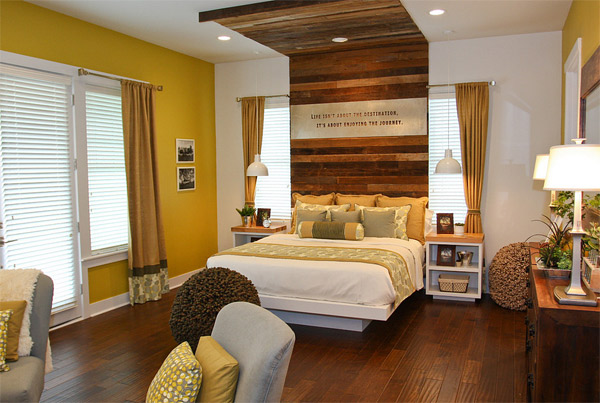 The idea about the headboard with an inspirational quotation and extending to the ceiling looks very unique and gorgeous!
15. Key Largo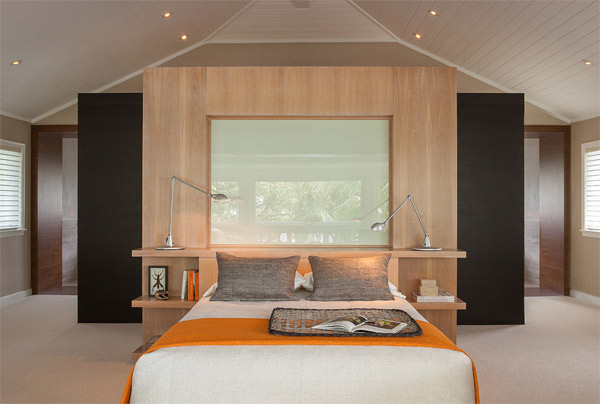 The bed is integrated with a big frame glass panel as the headboard and built-in side tables and shelves.
16. Kids Bedroom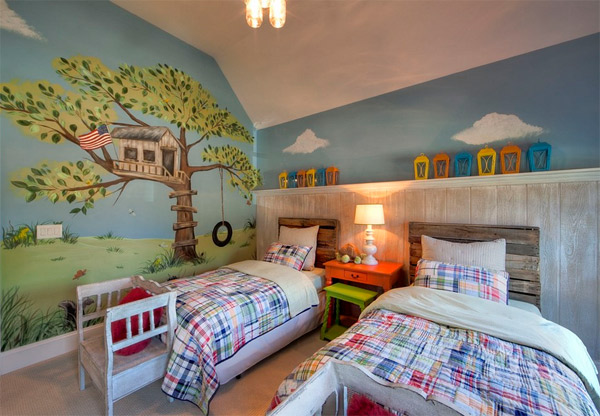 This is a cool idea for your kid's bedroom; the pallet headboard fits perfectly with the murals achieving a one-theme.
17. Farmhouse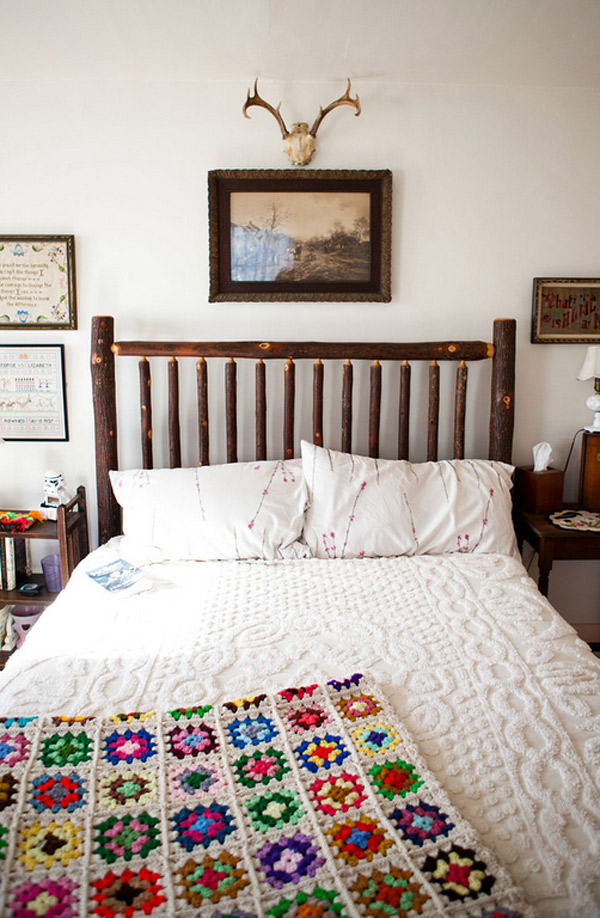 The headboard is perfect for homes styled in barns or farmhouse, getting a unified interior.
18. TribeCa Loft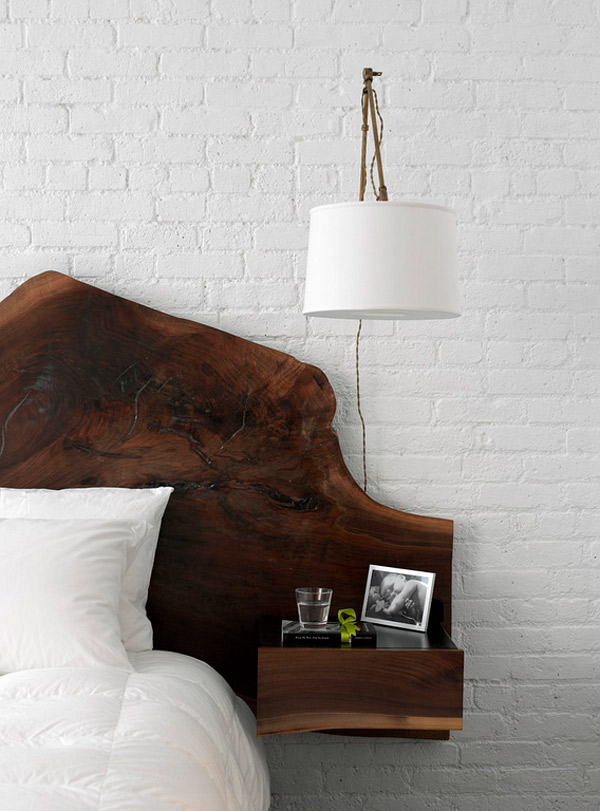 Look in the woods and you'll surely get a stunning piece for your headboards.
19. Four Season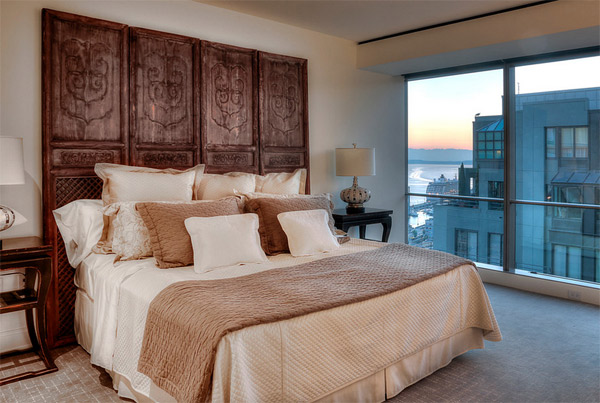 Who says old doors are of no use? Be creative and try to turn it into an elegant headboard.
20. Mediterranean Look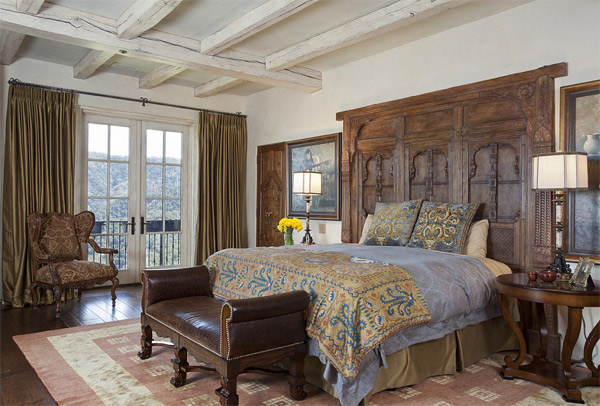 The grand wooden headboard makes the bed looks like it is nestled in a royal palace.
Can you see how wooden headboards could enhance the look of your bed? Woods are everywhere; it would be so easy to design your own wooden headboard. Be just creative and imaginative about the natural materials around you and you can create a wonderful piece. But if you wanted to have a more beautiful style of course you can design your own headboard that surely will stand out in your bedroom.