Zoom with Style in 20 Car Themed Bedroom for Your Boys
It is indeed fun to decorate a bedroom for your children especially if you have a theme to work on. In choosing a theme, ask your kids what they want and then you do the shopping together or you let them help you make the decors for the bedroom. We have showed you many round-ups of bedrooms for kids and they all look interesting. I'm sure if you have seen them, you will feel inspired to decorate your kid's bedroom.
But of course it differs depending if the bedroom is for girls or for boys. If it is for girls, it would be more on cute chic items but if it is for boys, it would be filled with stuffs that are still cute but have that itsy bitsy masculine appeal in it. Overall, decors for a boy's bedroom is not as complicated as that of a girl's bedroom. For a boy's bedroom, it would usually be with a nautical, jungle, superhero or car themed space. But the way I see it, the most common theme is a car themed bedroom. And this is what I will be showing you today.
1. Boy's Bedroom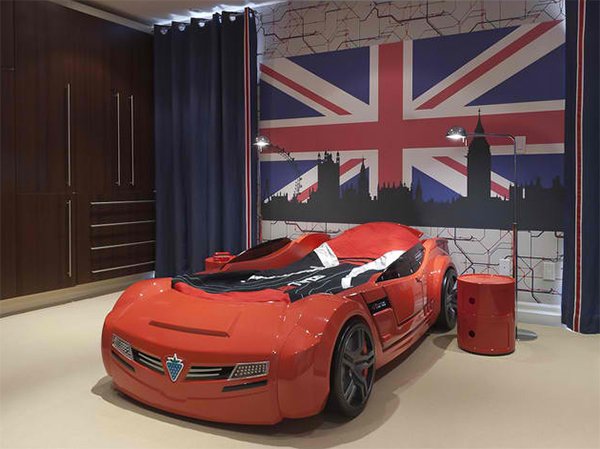 What I love about this bedroom is the wall with a beautiful artistic design. And of course that shiny red car bed!
2. TK's New Car Room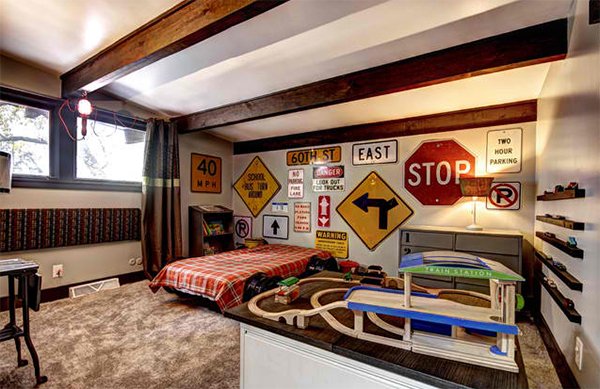 You might not see a car bed here but that over there has wheels. The walls look cool with different road signs on them.
3. Kids Rooms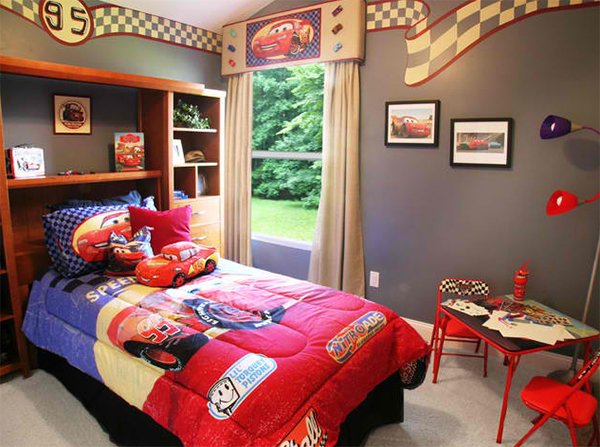 Lighting McQueen of Disney's Cars is one of the kid's favorite bedroom motif just like what you can see here from the duvet set to the walls to the table and chair set.
4. Sleep Collection Kids Car Bedroom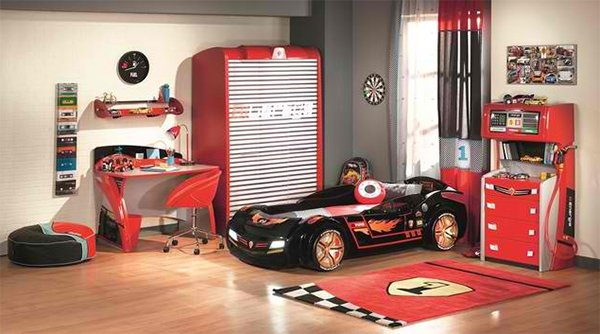 A red and black car bedroom is an awesome color combo for this kind of bedroom. I'm sure if your boy will see this, they will zoom with joy!
5. Acadia Plan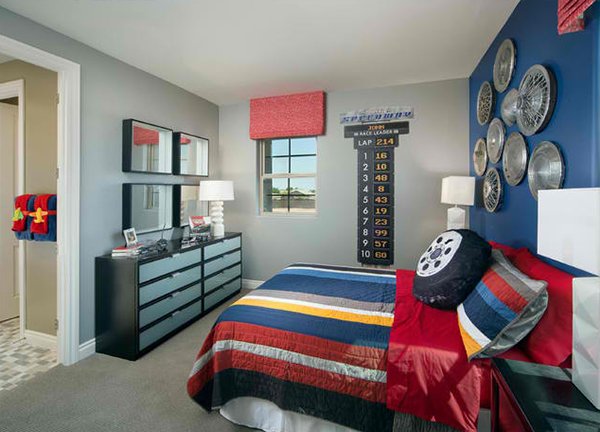 You really don't need a car bed for a car themed bedroom. You can also fill it with wheels like this one.
6. Italian Style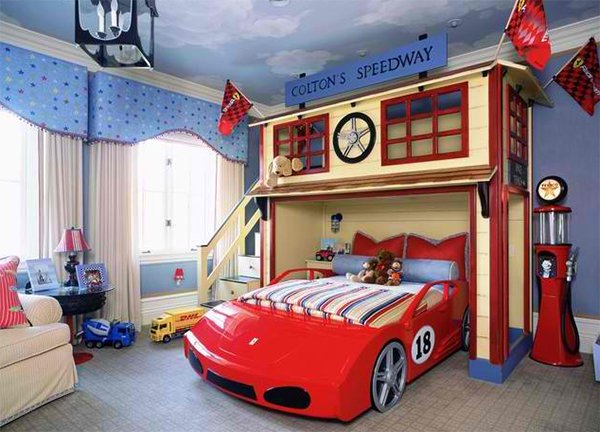 This is a fun bedroom! Above the bed is a play area that will make play pretend seem real!
7. Car Racers Walltastic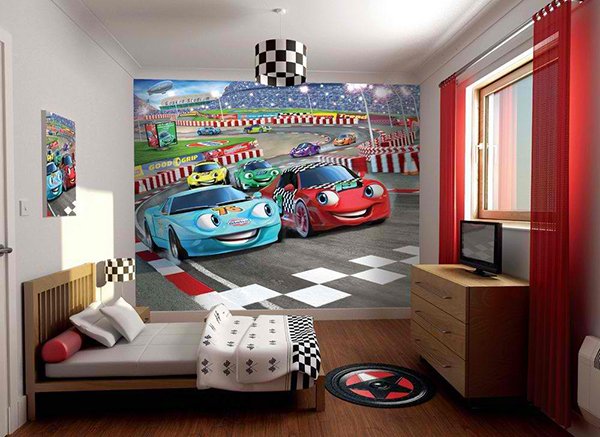 A Cars themed wallpaper is a good way to instantly turn a bedroom into an exciting space for a boy!
8. Boys Race Car Inspired Room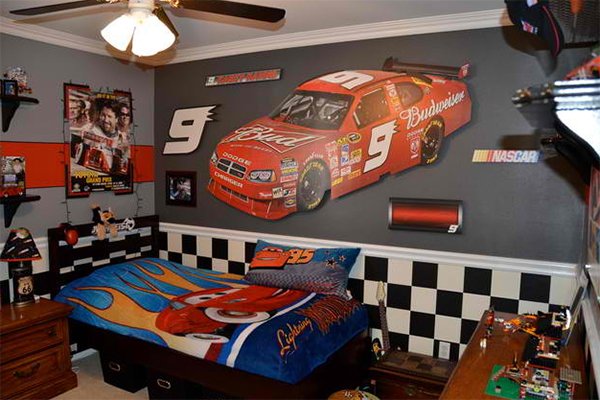 Another Cars themed bedroom featuring colors that we usually see in the racing track.
9. Bunk Bed Suite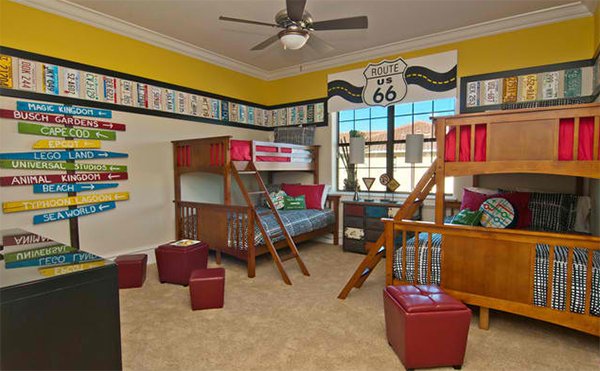 Four boys would fit in this bedroom but instead of car beds, this one is decorated with road signs.
10. Need for Sleep Collection Kids Car Bedroom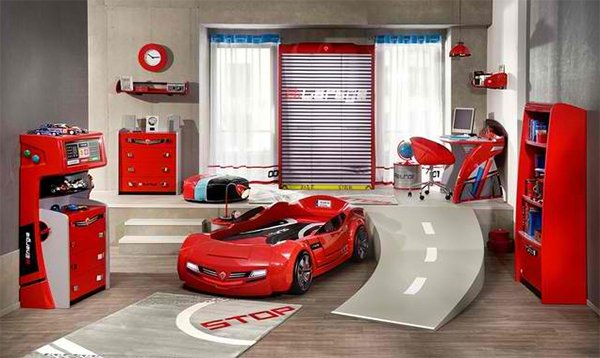 This bedroom is a sure win! Any boy would dream to get a bedroom like this one.
11. Bedroom Gallery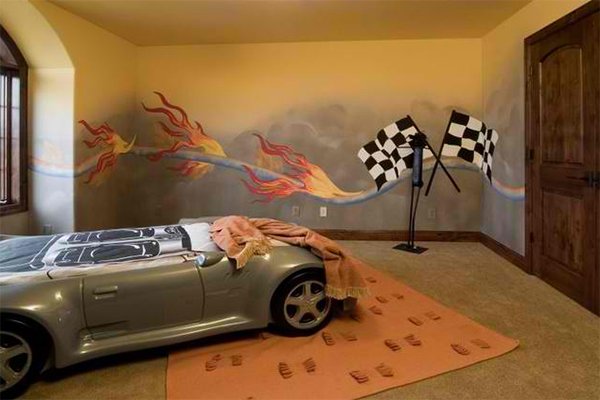 A simple bedroom with a wall mural like this would work well for your space if you want it to look less complicated.
12. Green Trade Contracting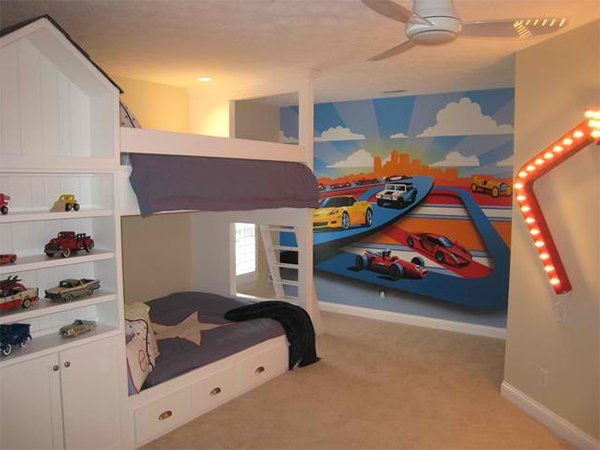 The wood working of the bunk bed and the display area is impressive. Beautiful wall mural, right?
13. Kid's Bedrooms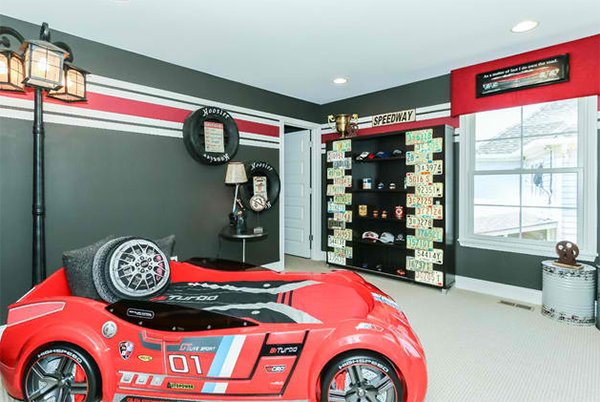 This bed looks like it's going to leave at any time! But no, it is here to stay and your kid would love to spend time on this bed with a beautiful .
14. Homefest 2014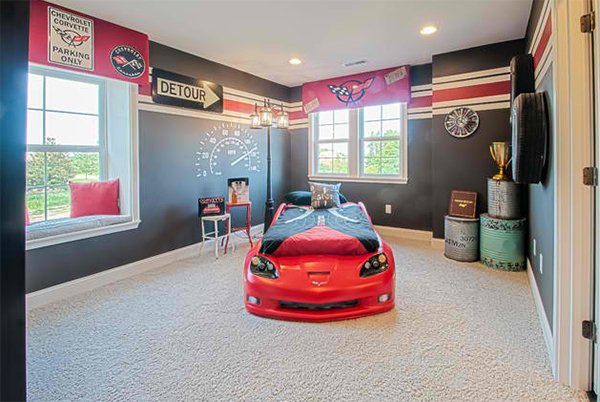 It is also good to position the bed like this if you have a spacious bedroom. And then decorate it with anything car related!
15. Teen Racing Bedroom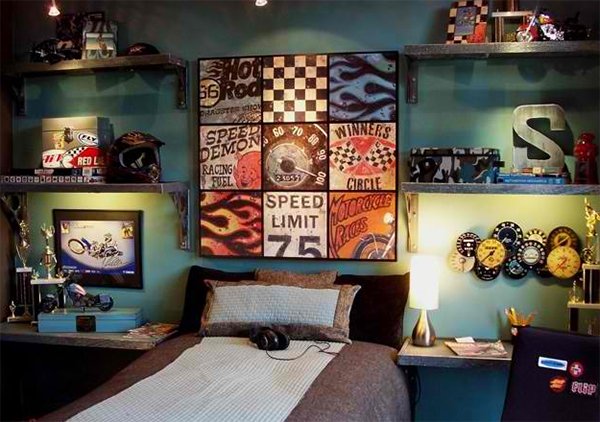 Not only toddlers and little boys could get a car themed bedroom but even teens too!
16. Kid's Eclectic Bedroom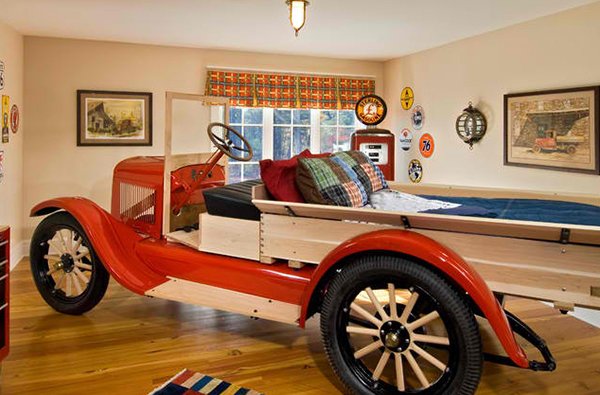 This bedroom is designed by Bella Builders Saratoga Springs NY and it looks really amazing!
17. Powell 904-038 Boy Kids Dune Buggy Car Twin Bed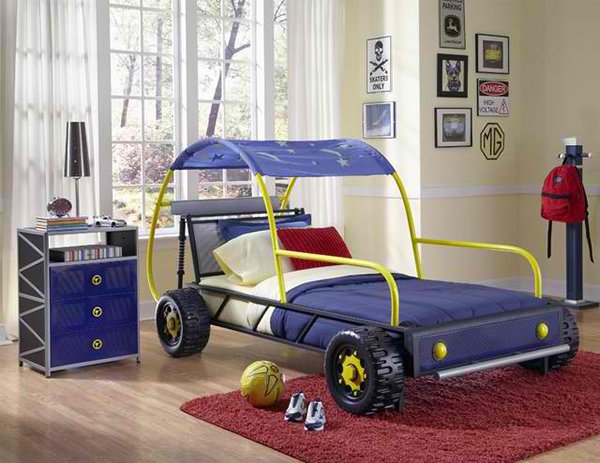 This bed looks like it's ready for some kind of adventure! Prepare your kid for a fun dream time!
18. Boys Truck Bedroom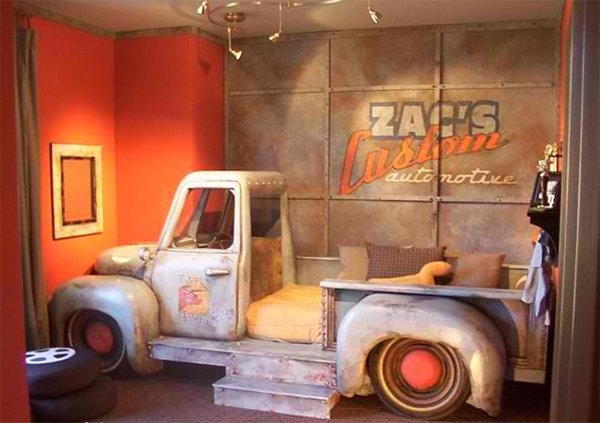 A vintage themed bedroom with a vintage truck and a beautiful backdrop that doesn't just look vintage but also industrial.
19. Red Race Car Twin Bed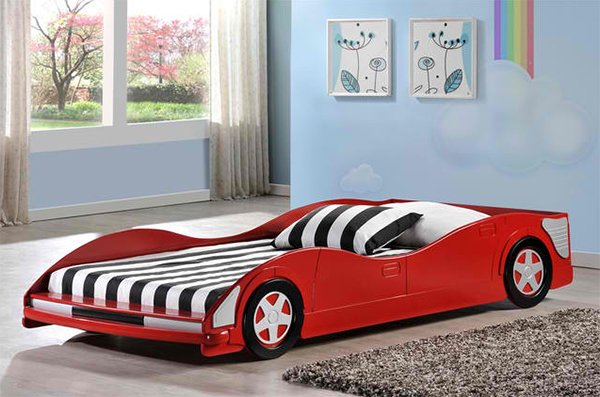 Ready, set, go to bed! Actually, this one features the bed but you can see that even a bedroom with a simple wall decor like this can turn into a nice space for a boy!
20. The Donovan in Griesbach-Edmonton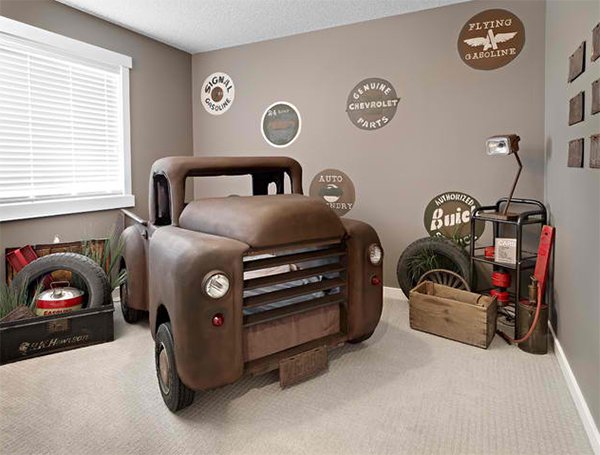 An industrial looking bedroom with vintage stuffs in it!
If I had a boy, I would definitely get him or make him a car bed! I know he would be elated to sleep on a beautiful car bed in a car themed bedroom! He might even invite friends to his space. Speaking of friends, make sure that you also considered this while designing the bedroom. Allocate an extra bed or space where his kids can sleep on during weekends when they decide to have an overnight bonding. This list is indeed awesome! Now tell me, which is your favorite car themed bedroom?