15 Black and White Bedroom Ideas
Black and White color contrast is one of the best combinations when it comes to interior or fashion design. It is classic as it is always "in" with fashion and style. It is also a versatile combination as it works well with other colors may it be bright or mute or neutral. You can always create the mood that you like your room to have using this lovely contrast.
It is our pleasure to give you more inspiration for a black and white bedroom design. We know how tricky it is to design a bedroom with black and white as a theme. You have to decide whether to go on full white with black as an accent or otherwise. That is why we have collected 15 Black and White Bedroom Ideas to offer you more tricks on how you can tweak your already classy black and white lair to a more sophisticated boudoir. Browse through the photos and be inspired.
Modern Monochrome Bedroom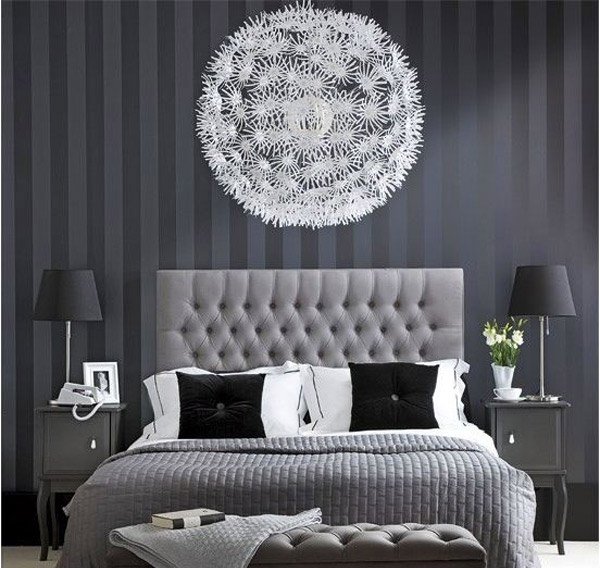 The black-on-black stripes wallpaper is dramatic and edgy creating a designer look on your bedroom. It also draws your eyes upward which are great for bedrooms with high ceilings.
Feeling Bed with Black High-Backed Headboard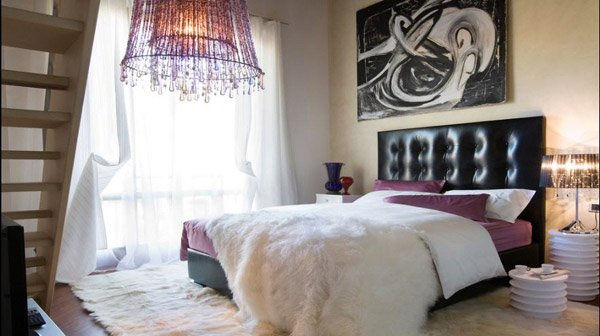 The black bed and painting on the wall are the highlights of this bedroom. Create a romantic space with your black and white theme by adding soft fabrics like this faux fur bedding and area rug to soften the effect of strong black lines.
Lompier Interior Group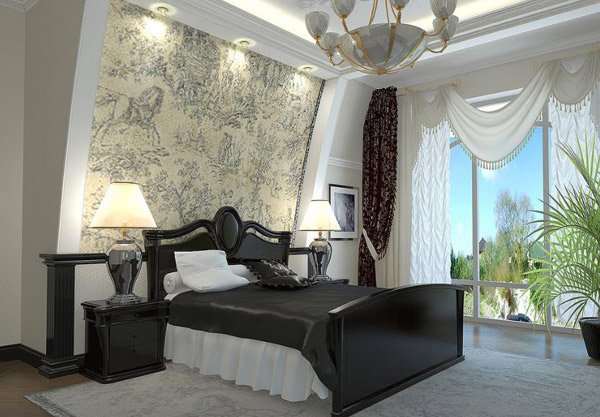 The wall accent works great in this black and white bedroom design. It ties up the whole room and gives a classy punch.
Marquee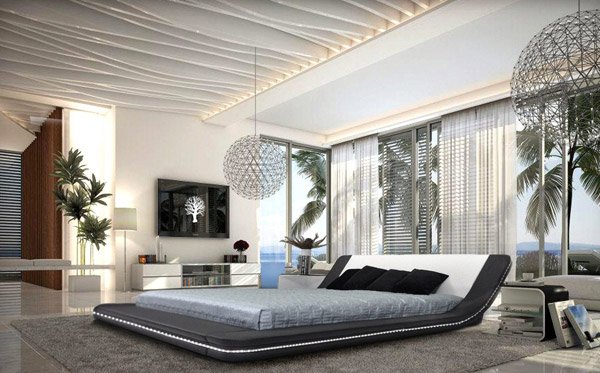 This minimalist bedroom is accentuated by the textured ceiling treatment and highlighted by the black furniture. The classy, oversized dandelion-clock pendant lights add a feminine touch, creating a balance.
Montreal NJ White Modern Bed Collection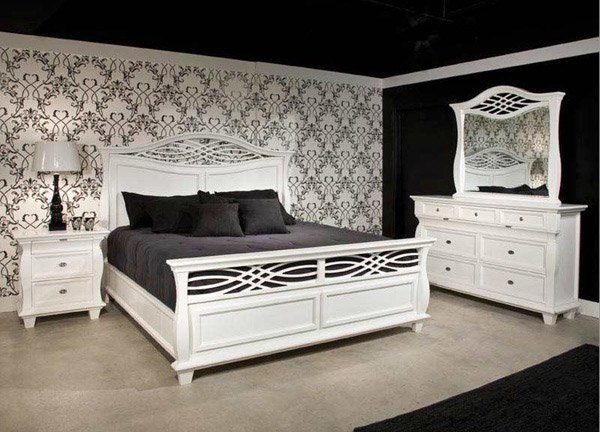 If you are fortunate to have a big space and you want your room to be dark, then you could paint your walls black. Remember that black makes a space seem dark and smaller. To break the dark atmosphere, create an accent white wall with black patterns using a stencil. You could also create an 18th century French look by adding a classy toile print fabrics as your accent wall.
West London Penthouse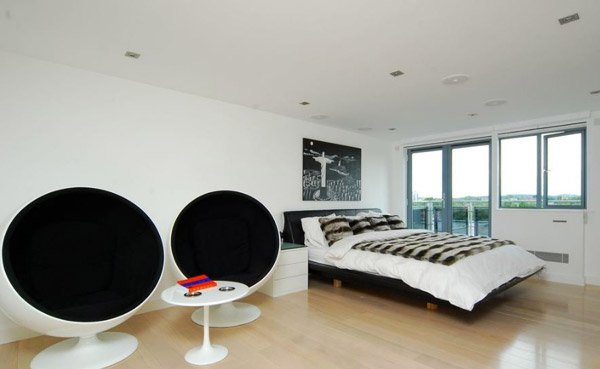 Keep your floor on neutral hue when using a black and white theme. In this way it could enhance the furniture and bedroom accessories efficiently. To get a modern look, use glossy furniture with clean finish. Avoid designs and carvings on the bedroom furniture and accessories to keep the sophisticated modern effect.
Dolphin Collection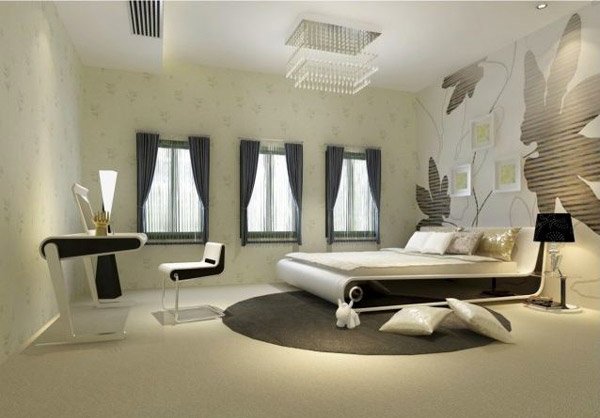 Play with contrasts. A white floor can make a black area rug pop. Same goes with black furniture against the white interiors or flooring. You can also use some mix and match of black and white accessories or furniture like this dolphin collection that will turn your bedroom into an ultra-modern room.
NJ Mody Elegant Bed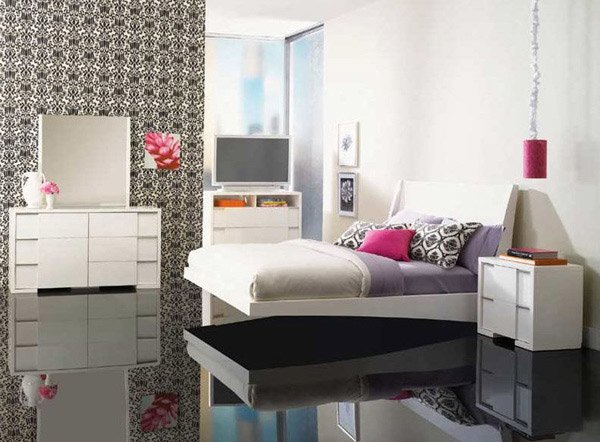 Adding a bright accent color to a black and white bedroom brings a beautiful sight. The pop of pink makes this bedroom so feminine.
Red Bedroom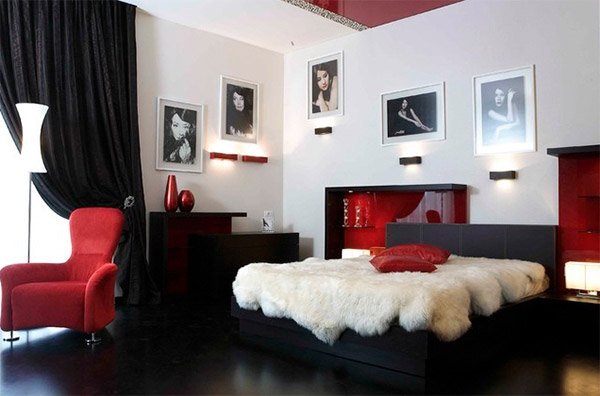 To get a classy, yet minimal and modern look go for one color for the whole room. Like the photo above. Paint your walls with either just white or black. Avoid adding patterns or designs on your walls just keep it simple. If you choose white for your interiors use black accessories, like black curtains, black furniture and if you want to bring some edge add some bright colors to it.
Cosmopolitan Living in Downtown San Diego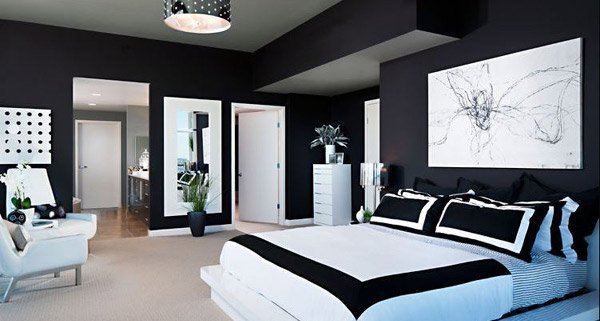 Choose black and white beddings for your bed furniture to take the center stage. It is important for the bed and pillows to be dressed on black and white design to establish your theme. The black wall is beautifully offset by the white decors.
Elegant Black and White Room Design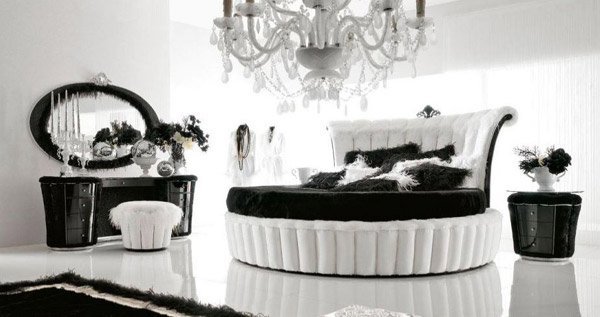 Nothing is more glamorous and elegant than using this stunning black and white bedroom collection.
Black And White Bedroom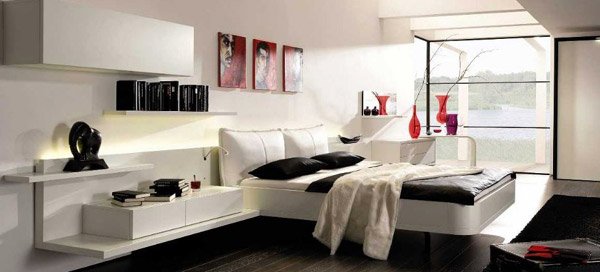 Make your simple black and white bedroom design standout by choosing random bright colors for accessories.
Tumidei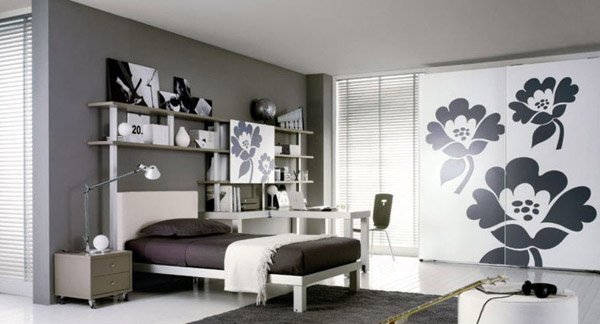 Black and white bedroom design for teens you can go preppy with flower prints in different sizes on focal wall or in this case the wardrobe. It will make your otherwise ordinary black and white bedroom to one cute, charming and fun den!
Bedroom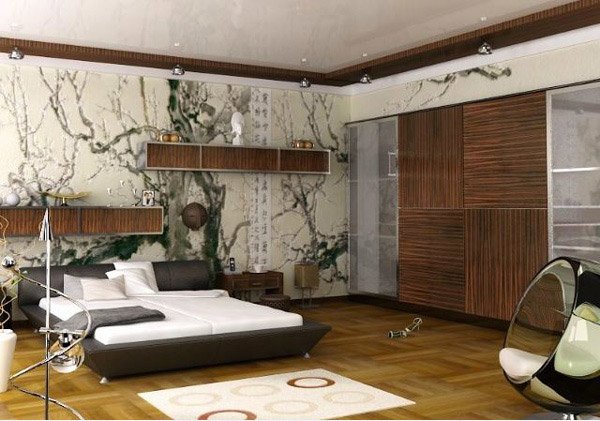 Incorporating earth colors in your black and white bedroom can give you a stunning result. You can use wood and pepper some greens or create an accent wall with a nature-inspired theme.
Luxury Black And White Bedroom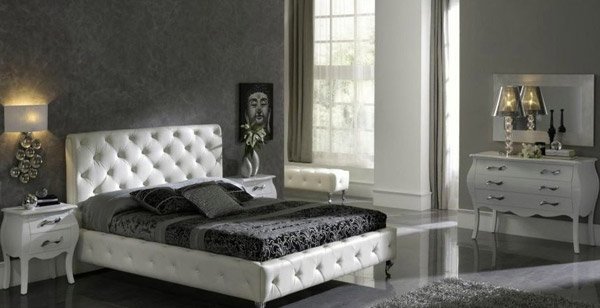 Use a bed that has one color that will contrast your base or your flooring. Also add some artworks or some accessories that will sure enhance your interior.
Those are one of a kind 15 Black and White Bedroom Ideas that we are sure you love. We hope you get more ideas and concepts that can help you create a more sophisticated and elegant design you have envisioned. Tweak the ordinary to a more stunning design by playing with colors. Choose the right décor and furniture to go with your theme and get ready for the amazing result. There are still more black and white bedroom designs that you can check on.