20 Dreamy Bohemian Balcony Ideas
Balcony space, more often than not, becomes the least of the priorities when it comes to decoration or beautification in a home.
Do you agree?
Let us admit it, we do not normally spend time in a balcony especially if you are living in a city where you only get to see your home when it is time for you to get some rest at the end of a busy day.
Think of this.
We normally have so little time to hang out outside on our balcony that it stays unnoticed. This may not be true for everyone but for most people who spend their time at work, this is the reality. It often goes unnoticed. Since most balconies in the city are quite small, it usually ends up leaving it as it is – untouched.
This year I challenge you to give time to create and be creative. Embrace the new year with full of ideas that may change your perspective and view about life in a positive way.
How can you do that?
Start by bringing your balcony to life. Take a small step to refresh your home's aura by making use of your balcony for relaxation or simply sipping that morning coffee at, to get that positive energy you needed for your everyday endeavor.
Find inspiration and style suggestions in our 20 Dreamy Bohemian Balcony Ideas rounded-up just for you.
1. Ludivine Moure Creative Studio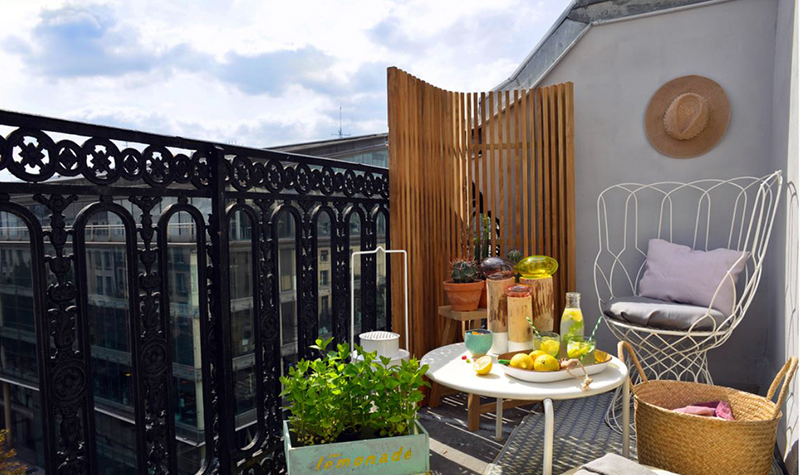 Incorporate wood into your decoration. Bohemian look needs natural touch. Take a hint from the wood wall panel on this balcony. It doubles as a charming accent and sun protection.
2. Bergsundsgatan 19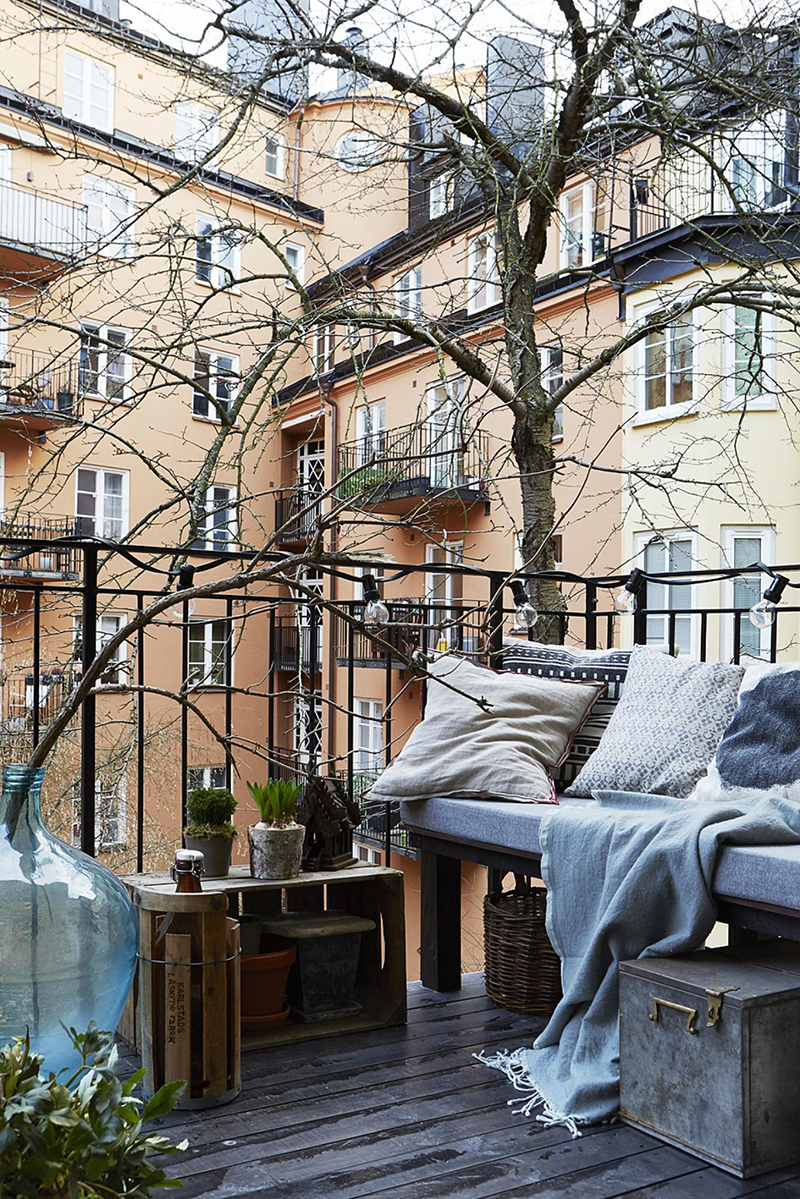 Echo your surroundings in your balcony design like the one on the photo. Adding a decorative dried branch in an oversized vase is a great way to liven up your balcony in a bohemian way.
3. Bowerhouse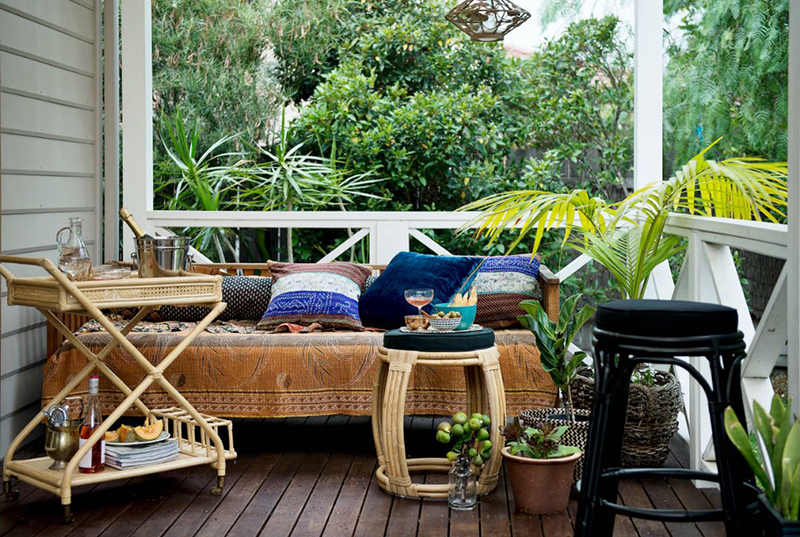 This balcony space is one tropical-bohemian-escape! Using rattan furniture in your space can instantly add an exotic punch and resort vibe to it.
4. Paul Langston Interiors
Maximize your small balcony by using bespoke storage that could double as a bench where you can sit and relax and at the same time keep your pillows and throws when not in use. You could also custom build hanging planters to hold your greens and not take much of your already limited space.
5. Trent Hultgren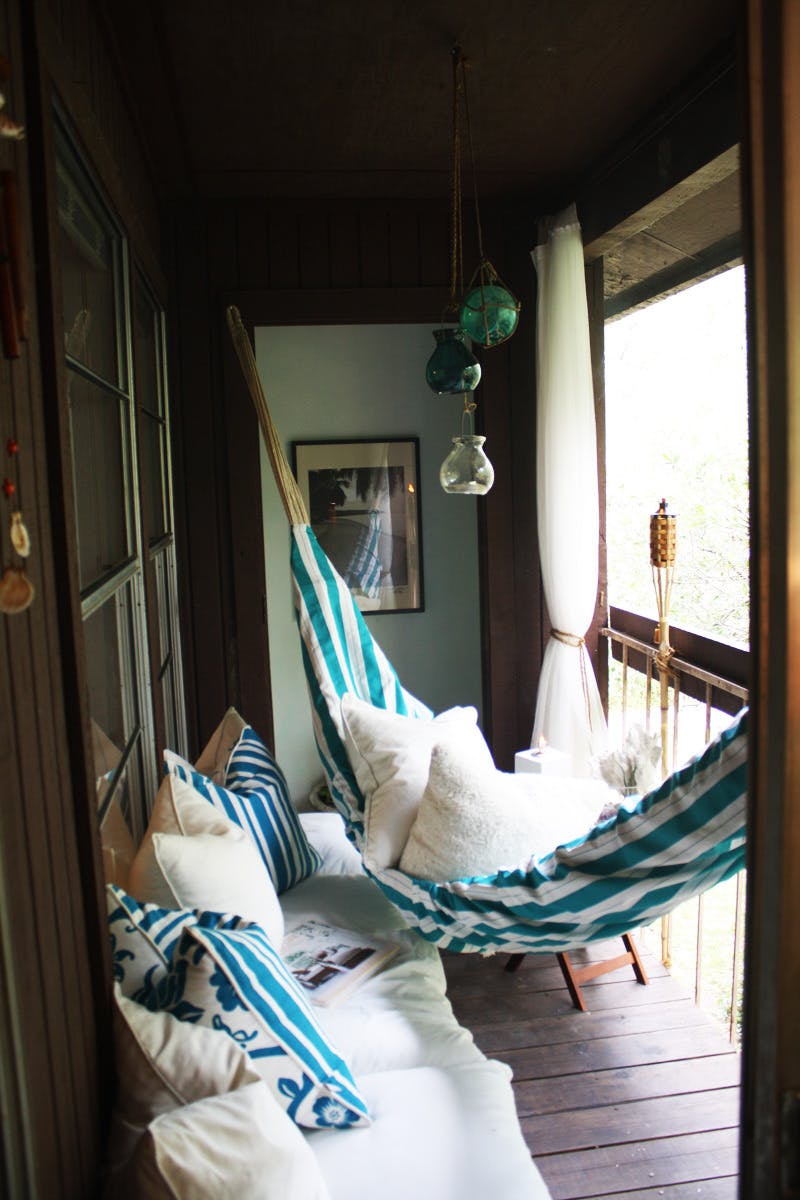 Who says you can't put a hammock in a small space like a balcony? Be bold, creative and fun by adding a hammock to your small space for a total relaxation. Make a cohesive look by using a color scheme to avoid an overcrowded look.
6. Decora Y Vende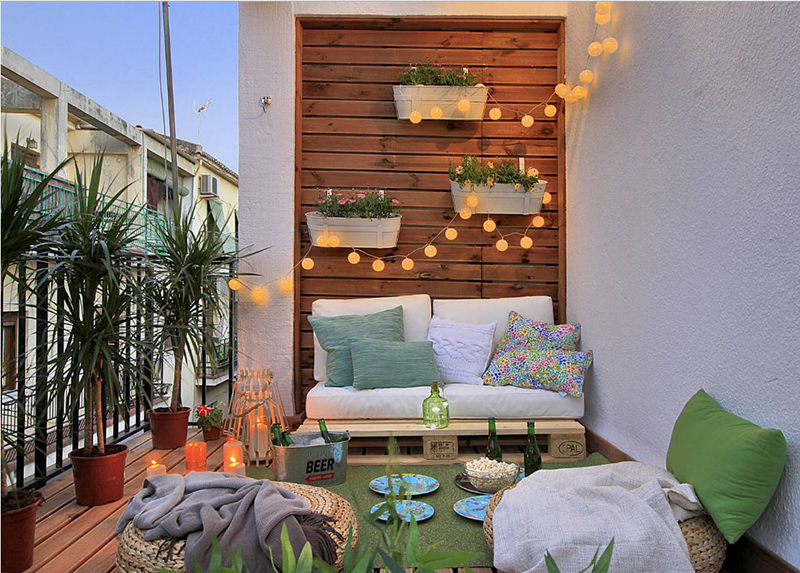 This balcony is so dreamy! Adding a hanging string ball lights on an accent wood panel wall with hanging planters gives off a hippie and youthful vibe. Plus it creates a romantic mood that is great for relaxation or hanging out with friends or someone really special. The color scheme used in the decor -pillowcases, carpet, and throws, take a cue from the plants surrounding it.
7. Lovely Light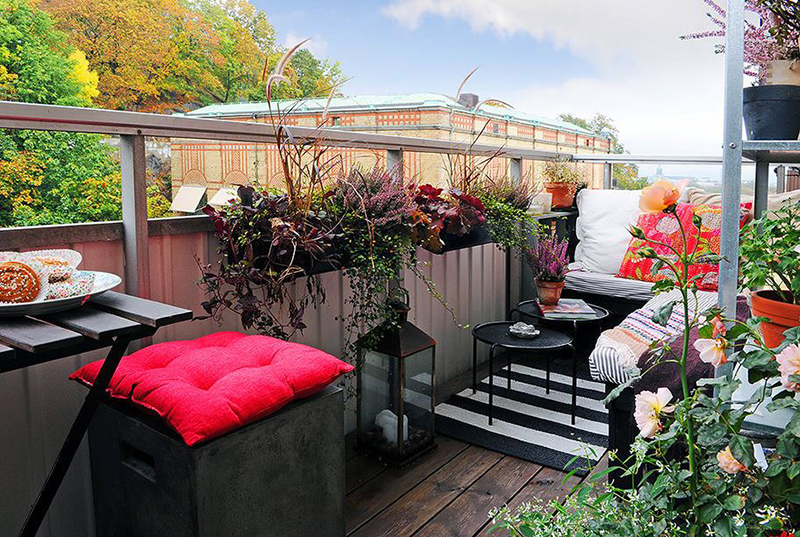 I love the different plants used in this balcony design! It transforms the space into a lush, bohemian sanctuary. Adding a variety of plants to your balcony bring pops of different colors, rich texture and fresh aroma that make a wonderful and invigorating treat in an urban space.
8. Magic Baby Vintage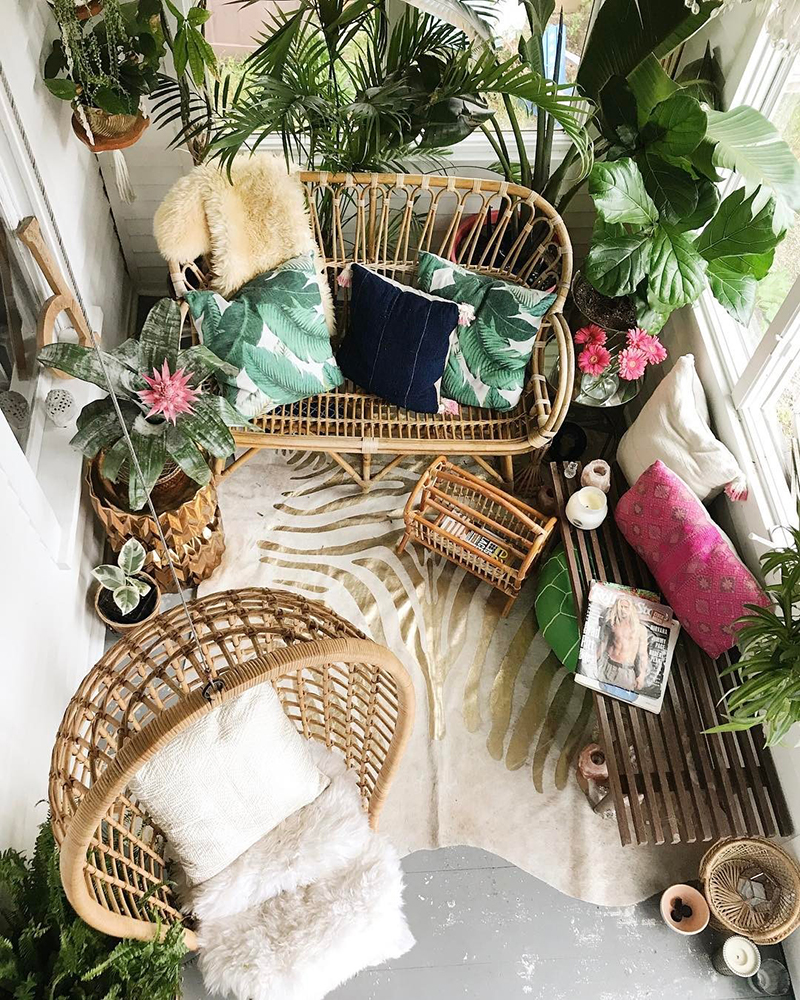 What is not to love in this setup? Every single detail is a pleasant sight to see. Make your bohemian balcony glam by adding a touch of gold to your decor, in this case, the lovely area rug on zebra print. The pop of pink that brings in a feminine flair and the faux fur on the hanging wicker chair exudes glam and sophistication. The tropical plants that resonate on the pillowcase create a unified look. This is one incredible design!
9. Indigo Soul Collective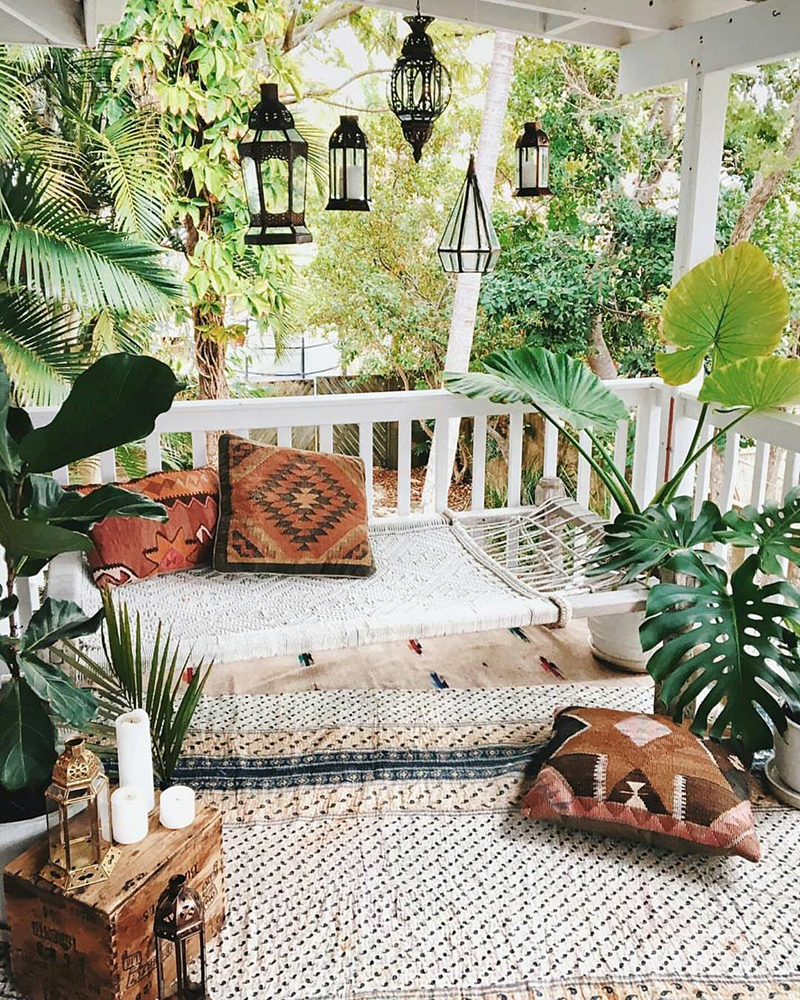 Play with patterns and earth colors to express the boho-chic inside you. The use of filigree candle lanterns in different designs either hanging or on a flat surface adds character and gives off a romantic feel in any space.
10. Eaton Spanish Colonial Revival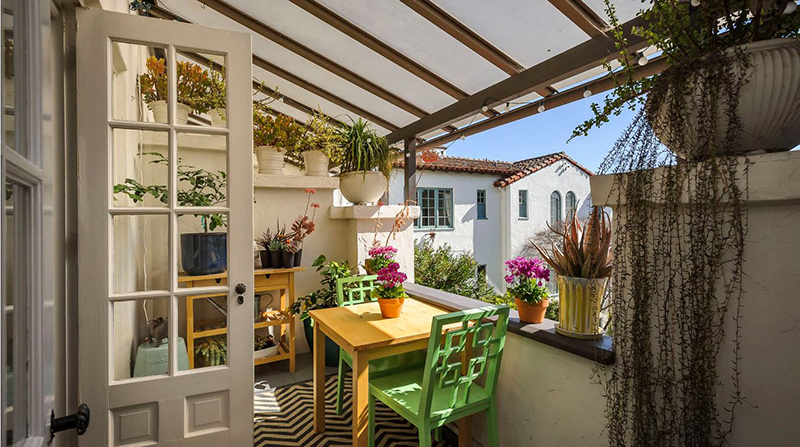 Bring in the vibrant colors of yellow and green on your balcony furniture and let it take the spotlight. Its beautiful colors will bring your boring balcony to life. Add depth to your space by placing plants in different sizes and heights. Make it a lot exciting by using fun prints on your decor like this zigzag area rug.
11. Milagros Mundo Funky Fairtrade – Hippy Chic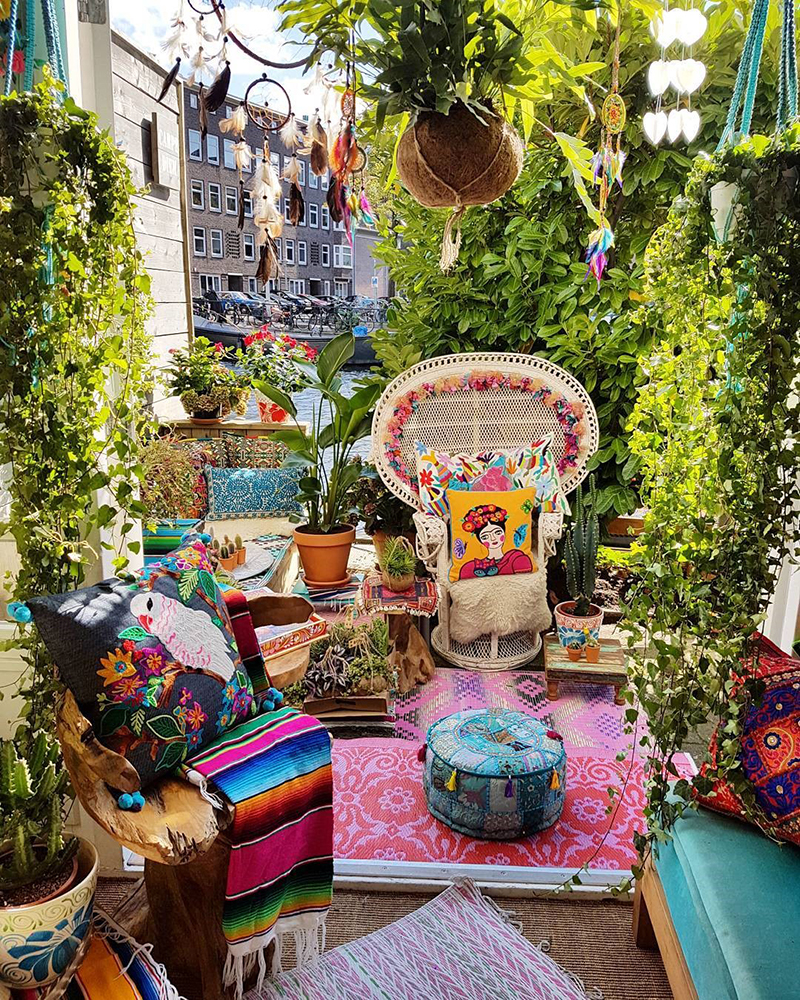 Go bold and adventurous with colors, textures, and patterns like a true hippie. In this stunning, exotic balcony space, exuberating hues and incredibly beautiful different patterns standout. The rich greens bring balance to the whole scheme.
12. Small Balcony Performance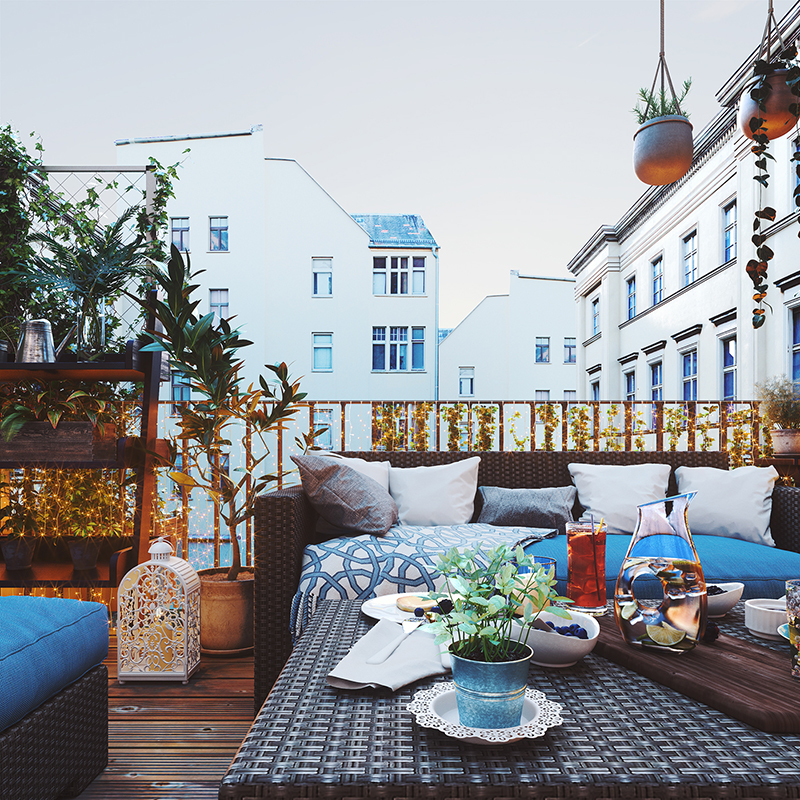 Hanging fairy lights on railings gives an instant bohemian look and romantic touch to a space like this design.
13. Alexander Nadan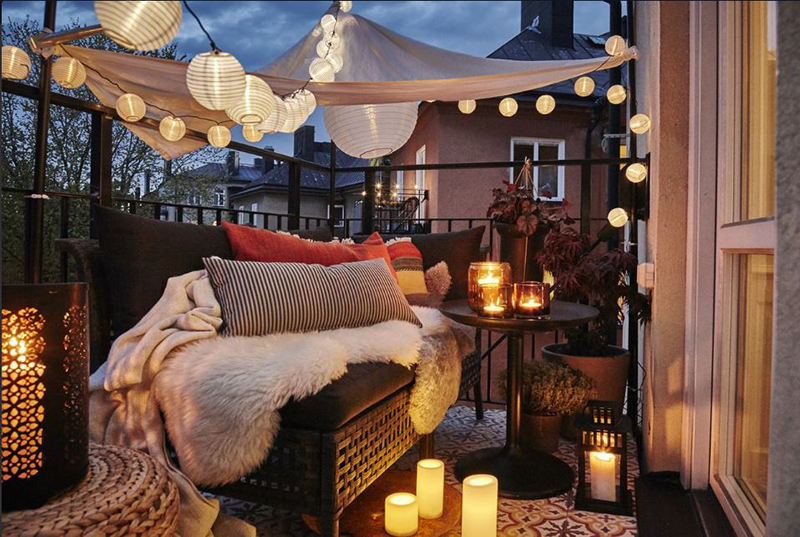 It is so lovely to see a hanging garland of lanterns and lots of candles. It makes a space more intimate and cozy. The faux fur throw and throw pillows in different colors and patterns add comfort, fun, and character to this sweet balcony space.
14. Apartmentf15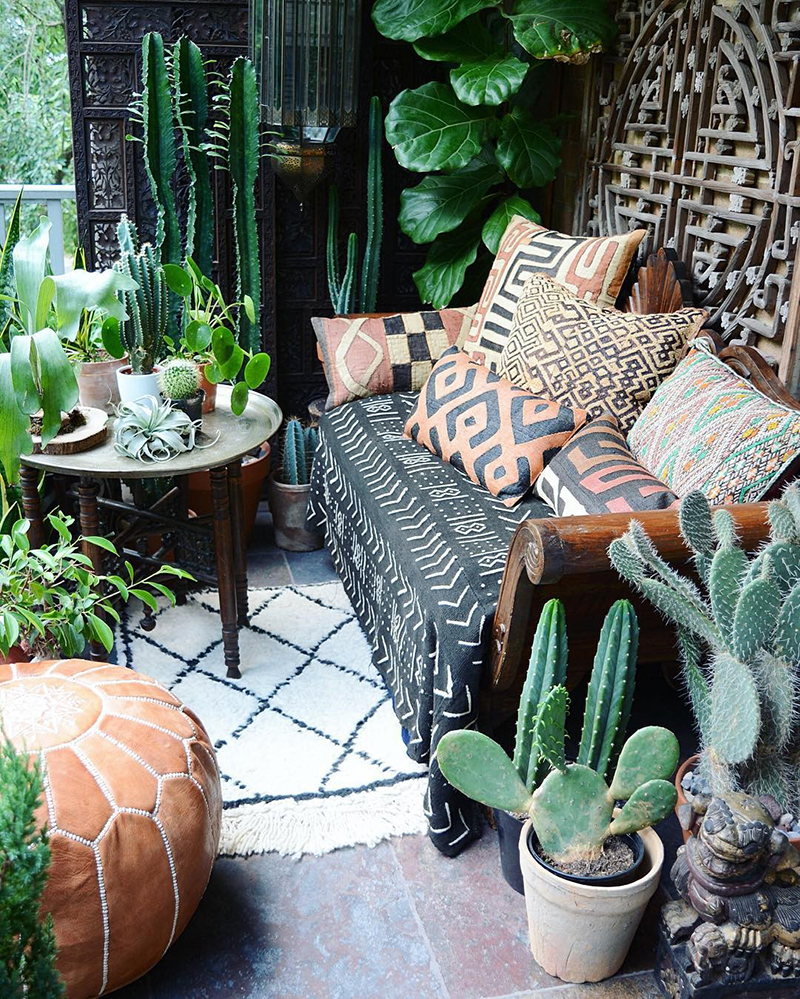 Bring out your trinkets from those travels you made and create an exotic balcony design from it. I love the succulents filling the whole space. The tan pouf ottoman that echoes its patterns and colors on some of the throw pillows on the sofa. Those rich lovely patterns and texture bring global touch and interest to the space.
15. Hammarby Alle 55 B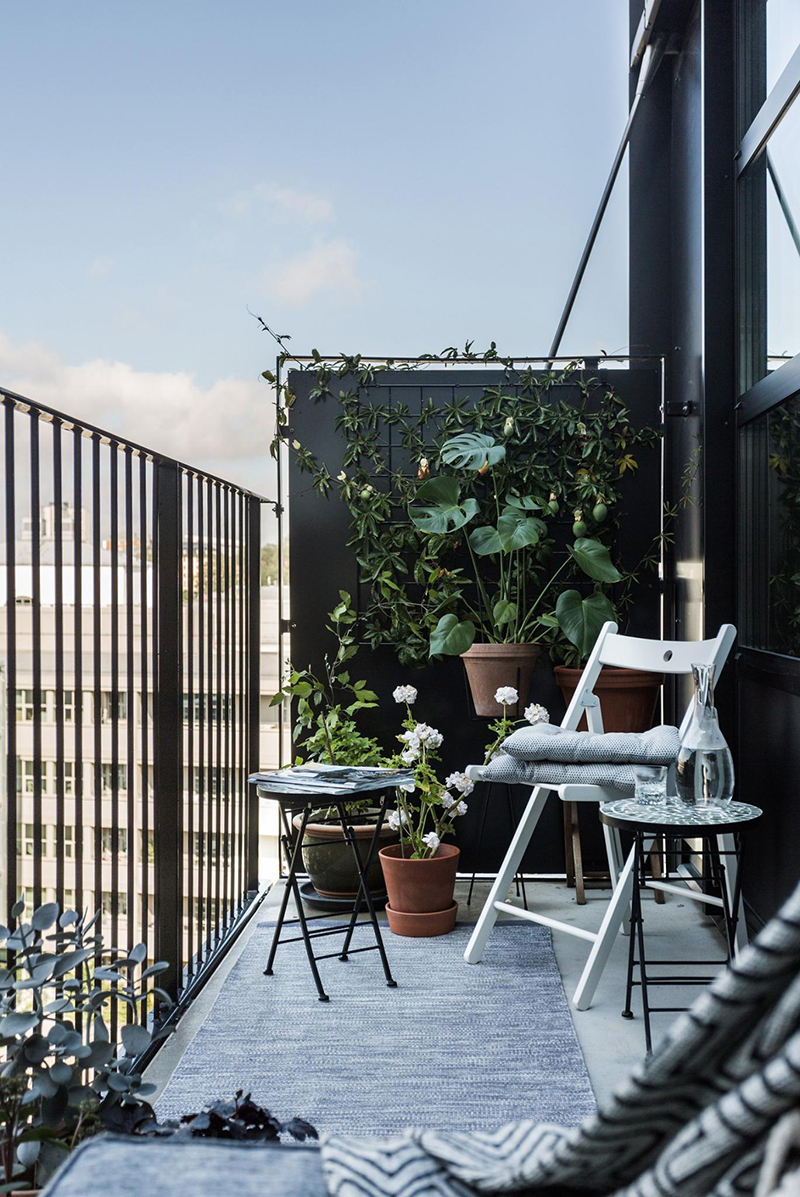 To maximize your limited space it is wise to choose foldable stylish furniture so you can keep it easily when you need more space and only use it when needed.
16. Modern Mediterranean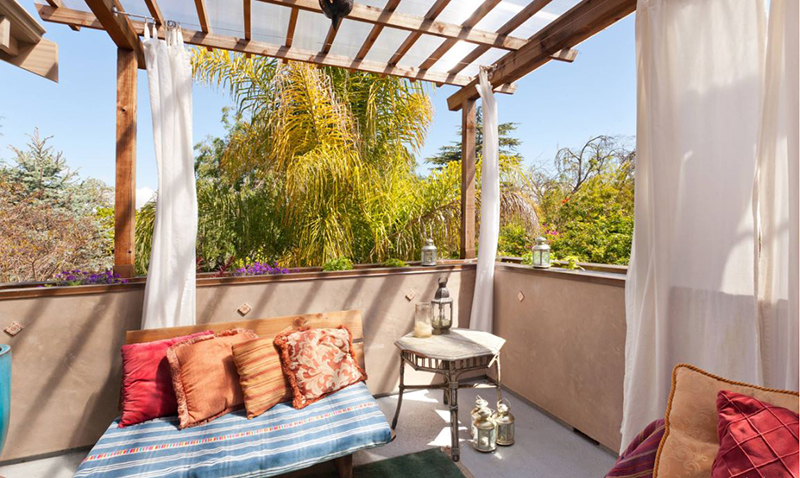 Hanging curtains, drapes or maybe a bohemian tapestry would instantly create a striking accent and intimate feel.
17. AR Lorents Street 65
Loading up on old crates and wicker basket as plant holders make a great organic accent. It adds a rustic beauty which essential to getting a bohemian look. Add a fun pattern on throw pillows and area rug for a modern, funky, bohemian feel.
18.Linnéstaden, Övre Majorsgatan 10 A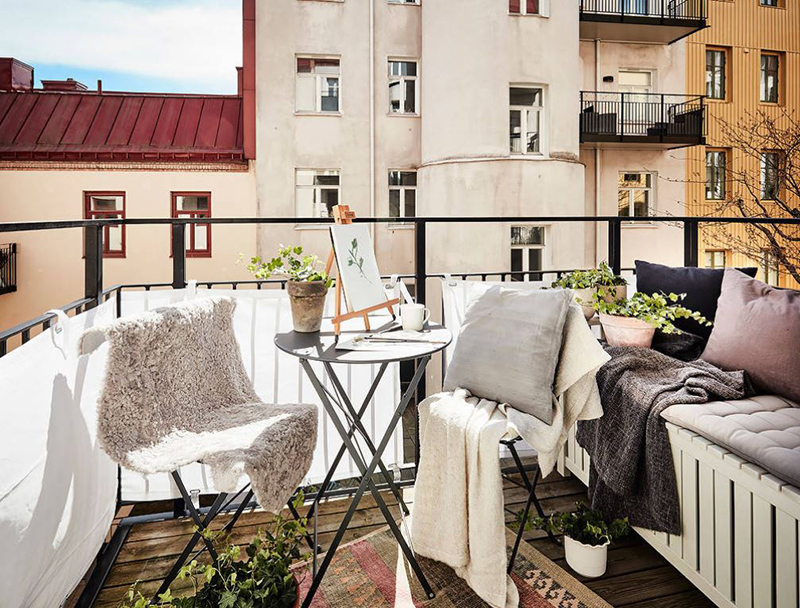 It would be great to wake up to this view and sip your morning coffee or have breakfast on this beautiful balcony. This small space has been glammed up with muted colors that exudes a sophisticated vibe. The faux fur throw, storage bench with cushion and floor-touching throws are so inviting. Accentuate with an area carpet that has a bohemian punch to add character to the whole space.
19. Craftifair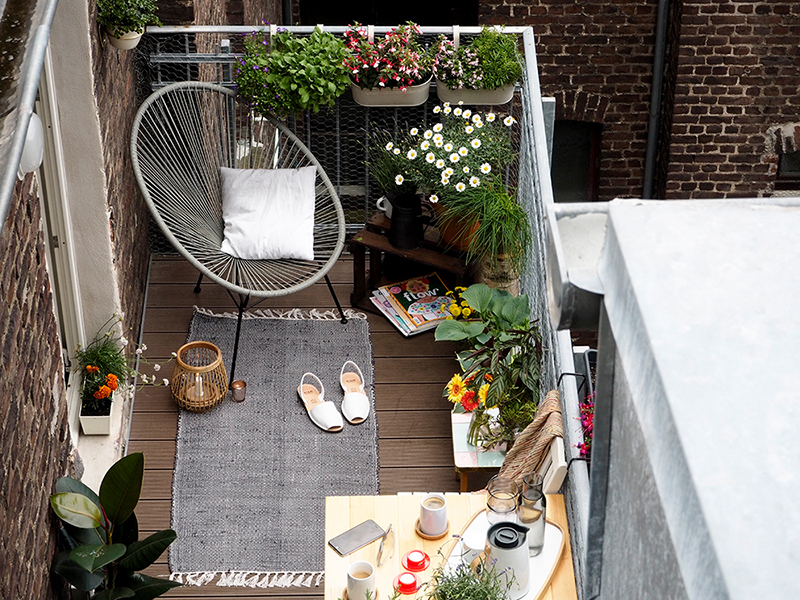 Make the most of your small space for lots of small flowering plants in different planters, hanging or not. The lovely colors and scent it brings are sure to give a refreshing vibe everyday. You can read here about more ways of decorating your home with plants.
20. Gravity Home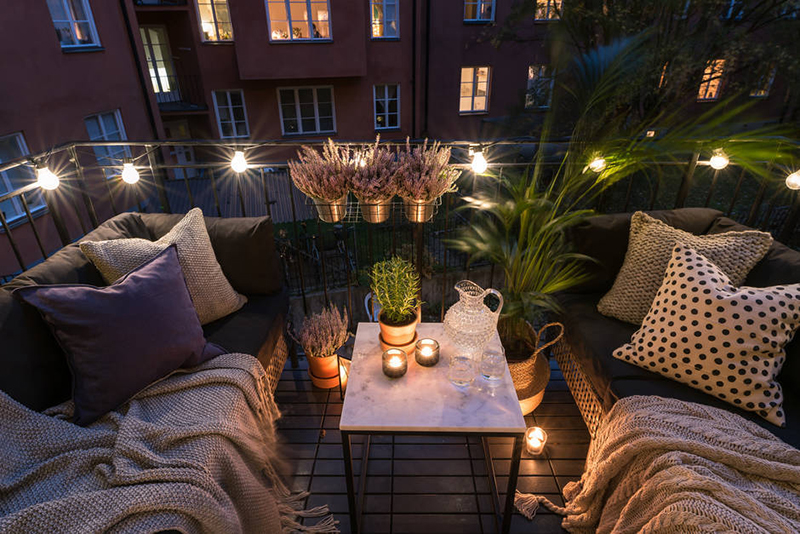 Fit in two sofas to create a cozy space. Fill it with lots of pillows and throws in colors and fun patterns you want for a more snugly and intimate feel. If you are not a fan of fairy lights, you could use light bulb garland instead. Hang it on your balcony wall or railings for some romantic bohemian accent. My personal favorite in this balcony decoration is the potted lavender hang on the basket hooks and tea candle lights. It adds whimsy and charm to the space.
Feeling creative already? I bet you have a lot of ideas now in your mind that you want to use the list I have collected for you. You see, there is no space too limited you cannot decorate and space too big you cannot make it feel cozy and inviting. Let us know which one is your favorite. We would love to see how you recreate your very own bohemian balcony.