20 Pop Decorating Ideas for the Living Room
According to the Wiki, pop art is an art movement that emerged in the mid-1950s in Britain and in the late 1950s in the United States. Pop art presented a challenge to traditions of fine art by including imagery from popular culture such as advertising, news, etc. In pop art, material is sometimes visually removed from its known context, isolated, and/or combined with unrelated material. The concept of pop art refers not as much to the art itself as to the attitudes that led to it.
Pop art employs aspects of mass culture, such as advertising, comic books and mundane cultural objects. It is widely interpreted as a reaction to the then-dominant ideas of abstract expressionism, as well as an expansion upon them. And due to its utilization of found objects and images it is similar to Dada. Pop art is aimed to employ images of popular as opposed to elitist culture in art, emphasizing the banal or kitschy elements of any given culture, most often through the use of irony. It is also associated with the artists' use of mechanical means of reproduction or rendering techniques. So we think with that information in mind, you'll be interested in them, check them out!
1. Attractive Pop Living Room with Brick Walls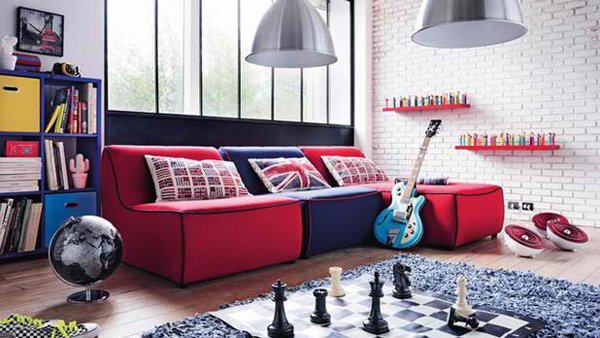 Mix things up without any fuss, that way once your love affair with the tone is over, or you simply wish to swap the accents for decor in lighter or darker shades as the seasons change.
2. Brick Wall with Pop Art Decor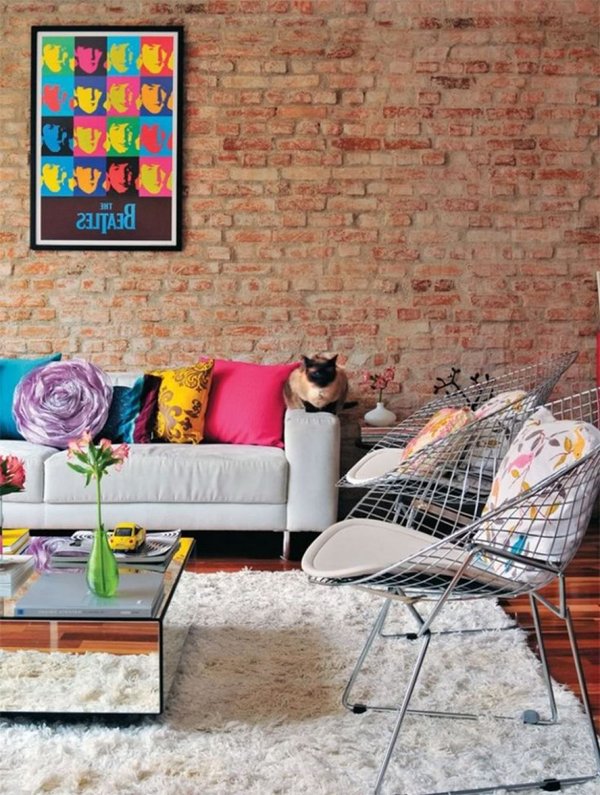 Rather than making any permanent or costly changes, decorate your space with small accessories you can easily replace.
3. Bright Couch for the Living Room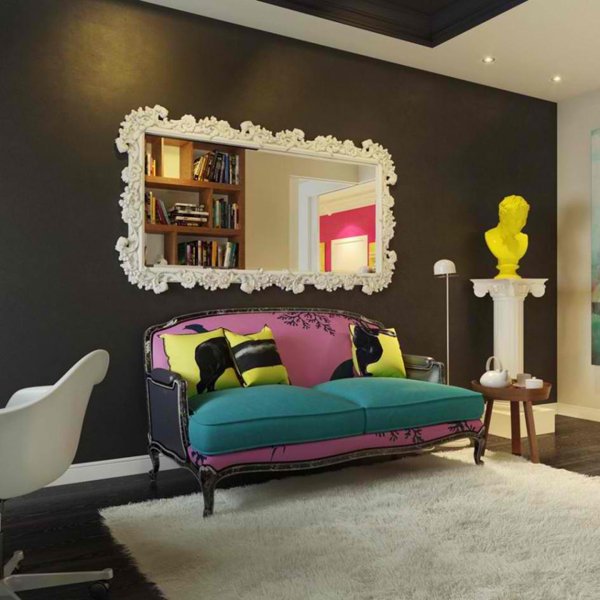 Tracy Murdock always have a way with colors and making sure that they make a room as stunning as you see then while being drafted!
4. Coal Harbour Residence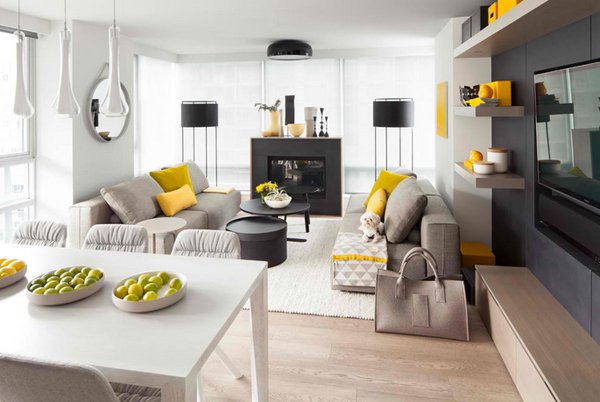 Add eye-popping accents. Provide warmth and character to cool, muted color schemes by adding splashes of look-at-me yellow around a room.
5. Colorful and Pop Living Room Design
A bright-colored sofa makes a living room stand out! Adding more colors make it more interesting – just like the small coffee tables and the area rugs.
6. Colorful Interior Design Idea with Pop Art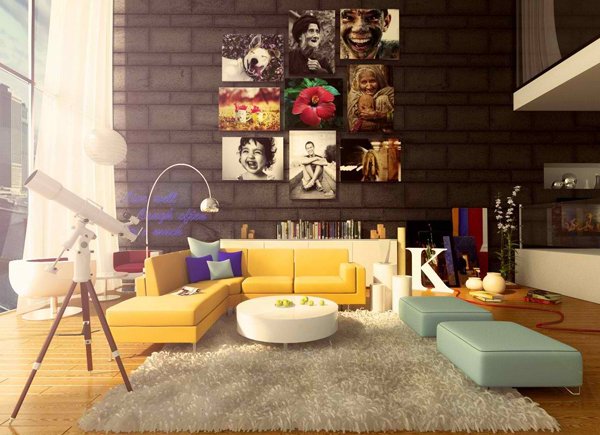 A fresh and inviting space with lots of natural light. Perfect for hosting guests or living in style day-to-day.
7. Eclectic Living Room with Consumerist Art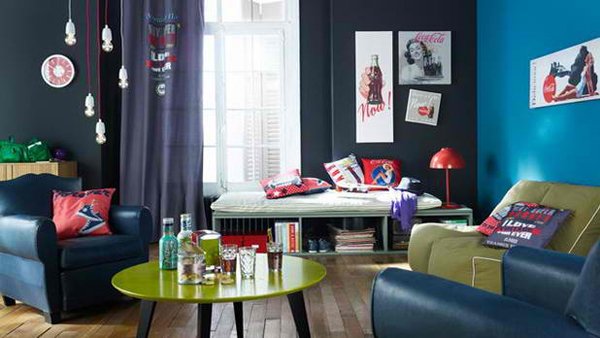 Conceived as a remodel and addition, the final design iteration for this home is uniquely multifaceted – adding pop art created a more stunning living space.
8. Living Room with a Pop of Color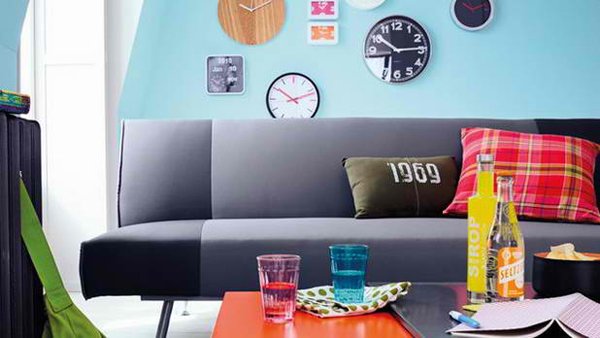 I love the thought of adding clocks on the wall, whether they are actually working or just decorative. The 1969 printed throw pillow is a cute addition too!
9. Modern Interiors with Pop Art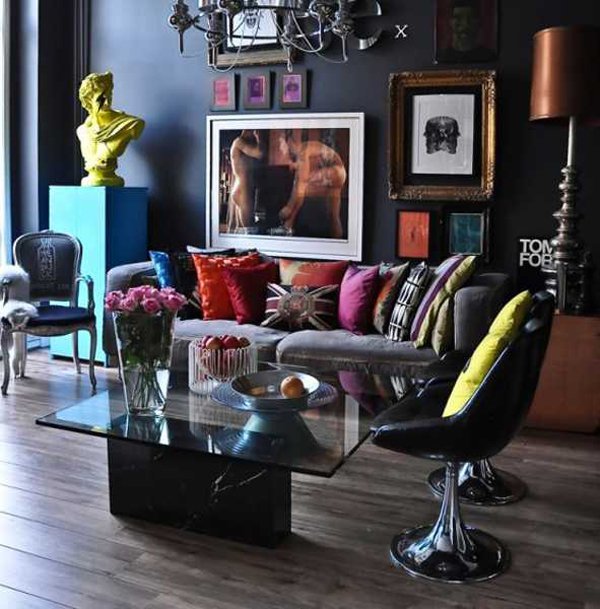 Punches of color look even better on a backdrop of crisp neutrals. Maybe adding a zebra-print rug and quirky chair add some charm to this room's clean and stylish look.
10. Modern Living Room with Pop Art Decor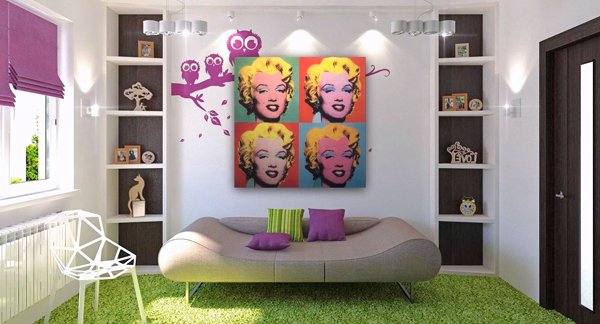 Marilyn Monroe has always been a great example for artists – printing her photo in different backgrounds create a fun example for the pop art culture.
11. Open Plan Living Room with Pop Art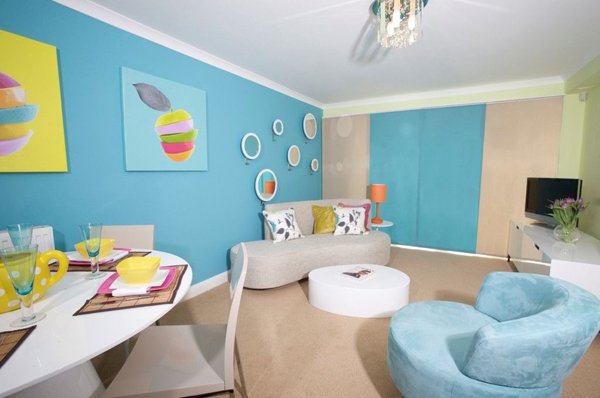 A very colorful, art driven living room – it has fun colors but because of the blue hue, it makes a great calming space for anyone.
12. Pop and Bright Color Schemed Living Room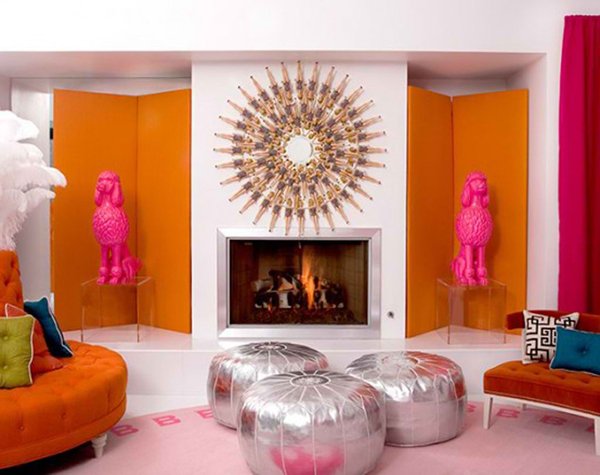 While a common challenge of loft living is in creating an inviting environment, Baglino met this obstacle head-on. "You really have to put lots of pieces in place so it doesn't seem cold," she states.
13. Pop Art Living Room Design with Pink Sofa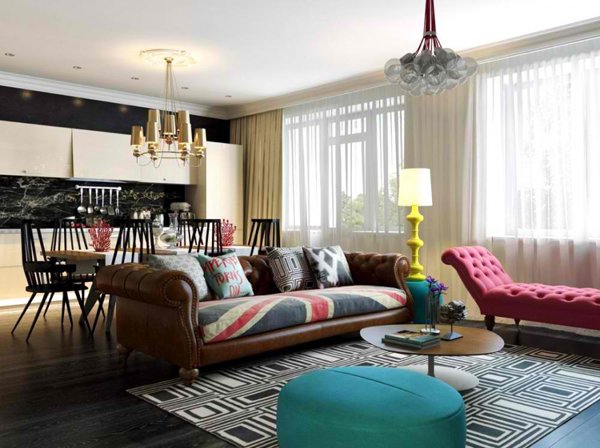 This maybe my favorite room in this list because of the brown vintage sofa paired with the pink Cleopatra – and did I mention the yellow lamp?
14. Pop Decorated Living Room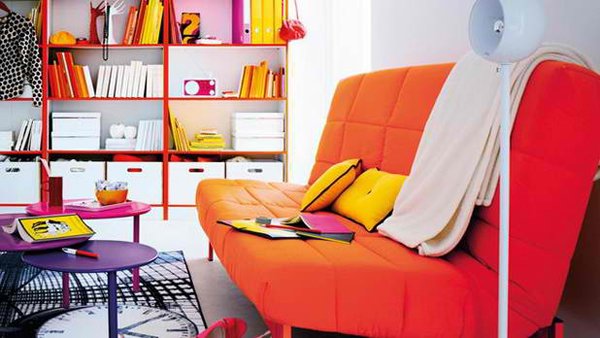 Small, flexible furnishings tend to be less expensive than larger pieces, and they can easily move with you and be used in different ways in the future.
15. South London Apartment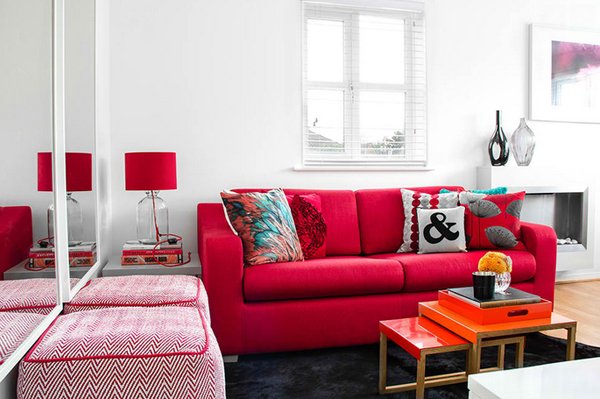 In this living room, a pair of simple floor-length mirrors hung side by side makes the small room feel more spacious, while a pair of stools creates an inviting spot for guests.
16. Stylish Pop Art Living Room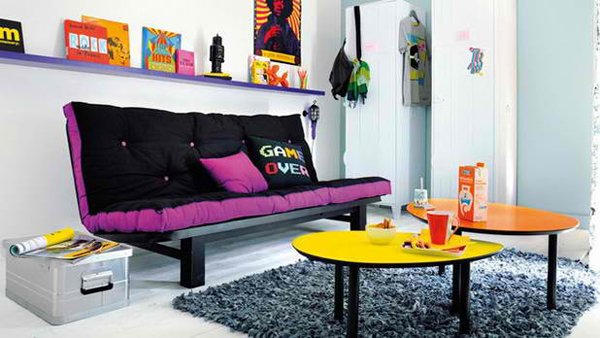 The furniture layout is set up for conversation, and the bold colors, the view and the artwork inspire it.
17. Tilbury Tanglewood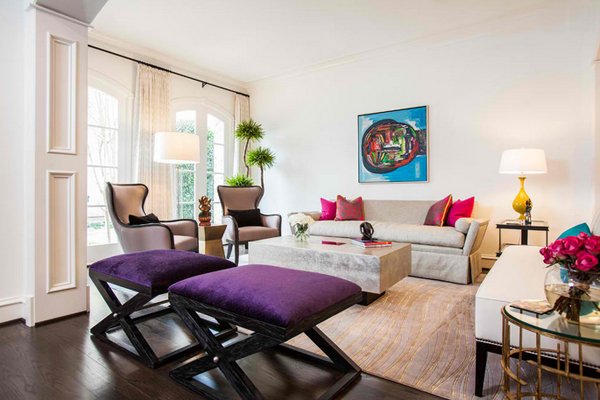 The painting provided the color inspiration in the newly renovated family room, but both client and designer agreed it belonged in the formal living room. It fits right in with the new furnishings and attitude in here.
18. Upper West Side Vogue Brasil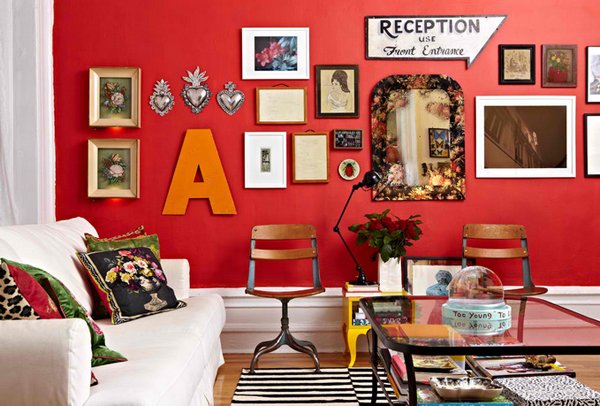 Red walls create a striking backdrop for an eclectic collection of artwork. This is also a great way to tone down the red a bit – the frames will cover up some of the surface area, leaving just enough red exposed to be exciting without overwhelming your space.
19. Whimsical Living Room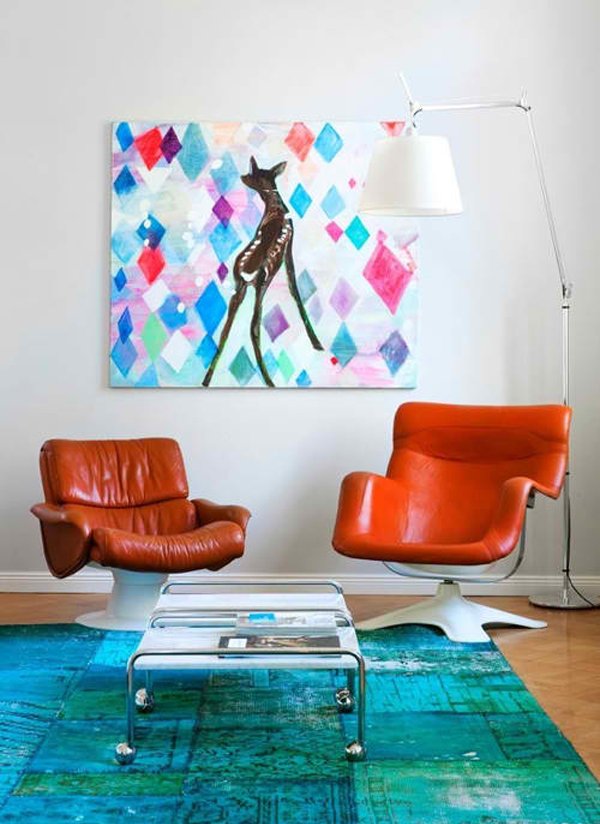 Combining a lot of elements create an eclectic space sometimes creates chaos – but with the right elements a space can look like this – close to perfect.
20. Artistic Living Room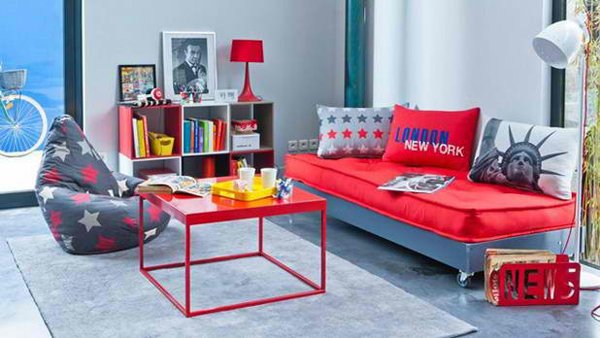 Tie in the wall color by choosing toss pillows covered in interesting textiles with a bit of red in them – perhaps made from pieces of an old kilim rug or sari silk.
Pop art and minimalism are considered to be art movements that precede postmodern art, or are some of the earliest examples of post-modern art themselves. Just the thought of creating spaces with pop art makes the kid in me excited – it makes you feel younger and pretty much inspired. Pop arts would look interesting too for a funky bedroom! More on Home Design Lover!