Gaze at Nature's Beauty Thru These 15 Gazebo Designs
There are different ways to add life to your yard and garden. That includes placing water features, plants, patios and garden structures.
Gazebos are one of the mostly used garden structures. Gazebos are freestanding or attached to a garden wall, roofed, and open on all sides. They provide shade, shelter, ornamental features in a landscape, and a place to rest. Sometimes, they come in octagonal, pentagon, and other shapes that the designer can think of.
You could have seen homes with gazebos in their gardens but some homes which are located near bodies of water also place a gazebo with a connecting bridge to it. This adds beauty to the entire place, creating a serene area to rest with the relaxing aura of nature.
So, let us take a look at how these gazebos where designed in different homes. Here they are:
Gazebo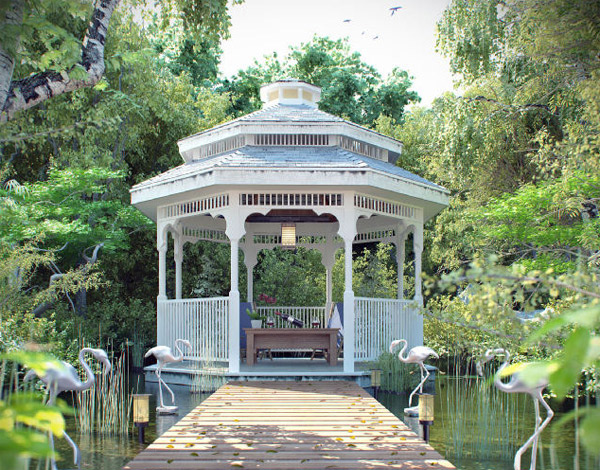 Feel the drama of walking towards this gazebo as you pass along a wooden bridge guarded with flamingo decorations.
American Red Cross Designer's Show House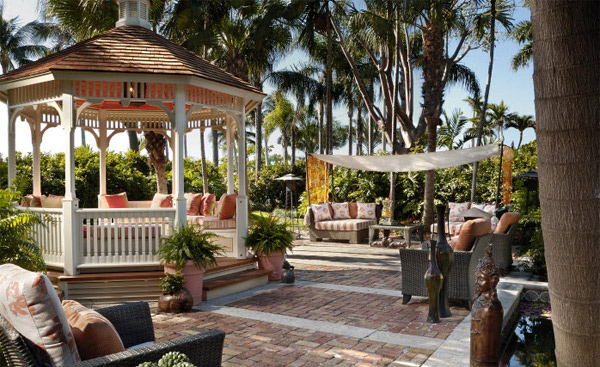 A wide yard would look very good if a gazebo like this sits on it.
Gazebo 4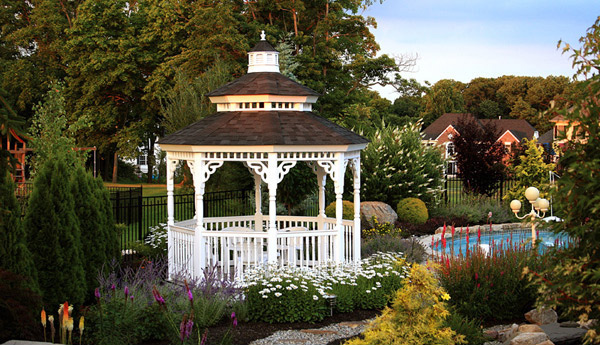 This beautiful garden gazebo perfectly fits this well landscape garden of flowers and water features.
Water Garden Gazebo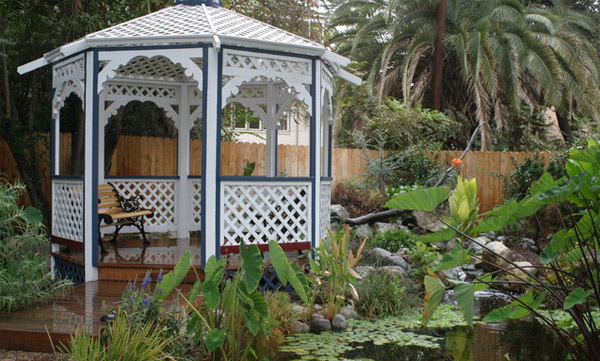 In a silent water garden sits a small lovely gazebo where you can spend a quiet time alone.
Gazebo 1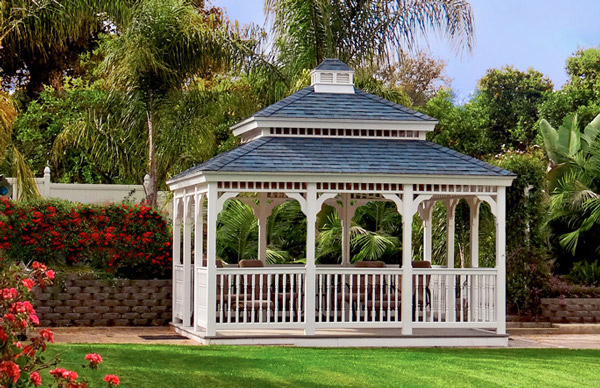 A simple design with a bit of classic and traditional touch as seen in its wooden elements like the balusters.
Wayzata Bay Home 2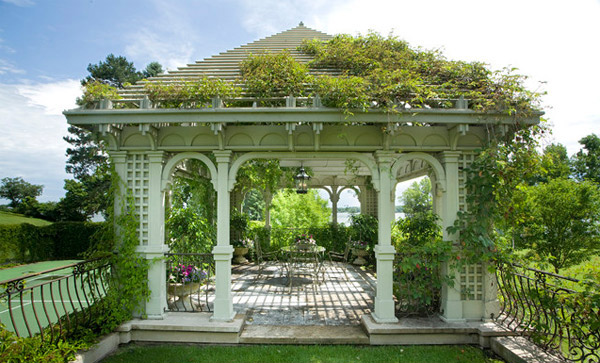 Concrete gazebo with intricate designs made more appealing with the vines and plants around it.
Gazebo 3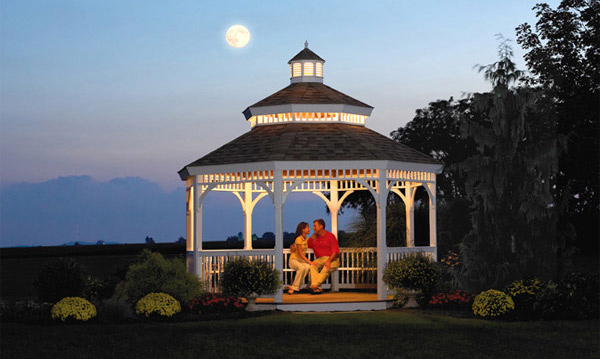 A date under the moon in this gazebo is surely a night worth remembering.
Tuscan Villa
Very dreamy and romantic gazebo! Anyone would love to sit here and feel the greatness of nature around it.
Teh Gazebo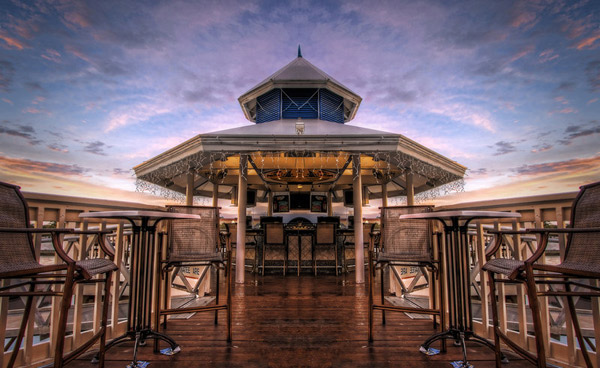 At the end of this wooden bridge located on top of a body of water is a gazebo where you can get what you want for your enjoyment and relaxation.
Gazebo 2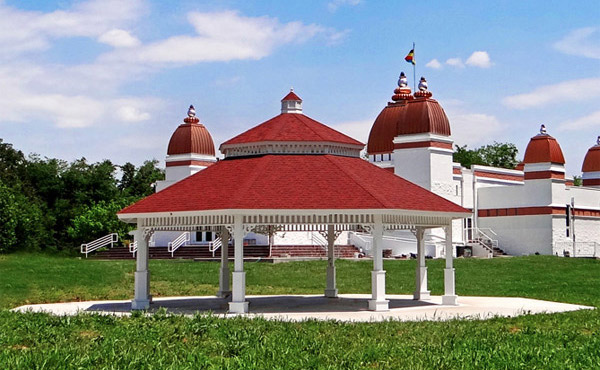 Red roofing is used just like the main house to create coherence.
Gazebo at Twilight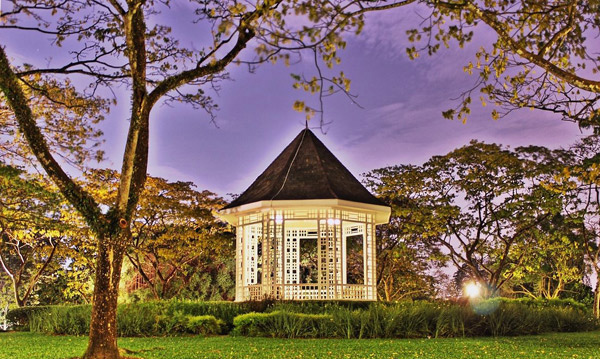 Twilight or not, this gazebo will sure look great with its high pitched roof like a pyramid and its decorative pillars of hatches.
Waterfront Gazebo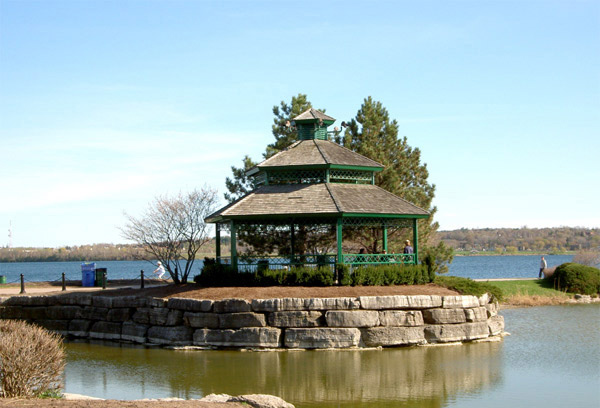 This gazebo gives a breathtaking end to this area as it allows the homeowners to get a better glimpse of the waters that surrounds it.
Gazebo Pool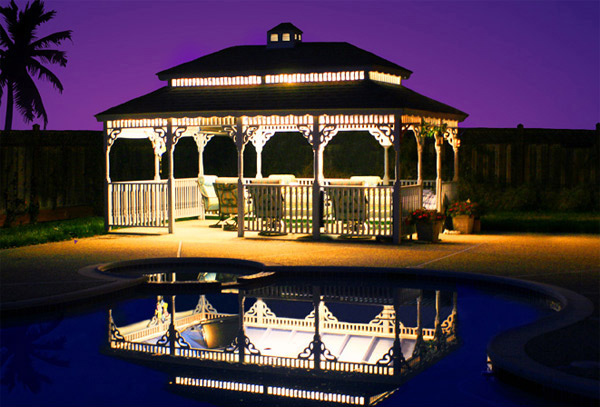 At night, this gazebo is a sure star especially with its location near the pool that adds a better ambiance to it.
Tuscan Gazebo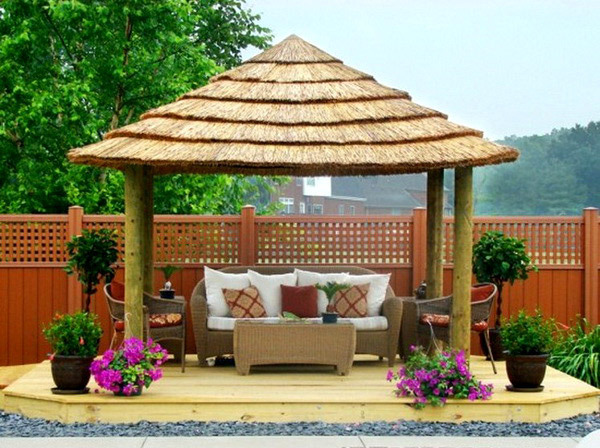 Nature inspired design with natural materials used to create it giving a soft look and relaxing aura.
Garden Gazebo
A gazebo that is located just beside the outdoor kitchen, the right spot to dine and spend quality time with the family.
The gazebo designs you have just seen are just a glimpse of the many stylish gazebos available. You will even be more impressed if you will see how modern gazebos are designed. We will be giving you modern gazebos on our future post. You can also take a look at pergola designs that could also add beauty to your garden.