15 Posh Purple Dining Room Furniture
We have just showcased some other list regarding purple living room furniture, right? So, for today, we have collated another list that is composed of 15 Posh Purple Dining Room Furniture. Like what we have mentioned before, you might think that we already compiled this list before, which is sort of true, but this time, we focused our energies on the furniture itself, and not the room per se.
Here is a list of the 15 Posh Purple Dining Room Furniture which we just collected and collated for you guys. They cover from vintage designed chairs, to the contemporary designs and even yet the modern ones we rarely see on department stores or malls. Purple is a color so unique, pairing it with another color may be a challenge – most of the colors used today may be minimal, but the outcome is not only gorgeous, but eye-catching too! Let us go ahead and take a look at the 15 Posh Purple Dining Room Furniture below.
Chelsea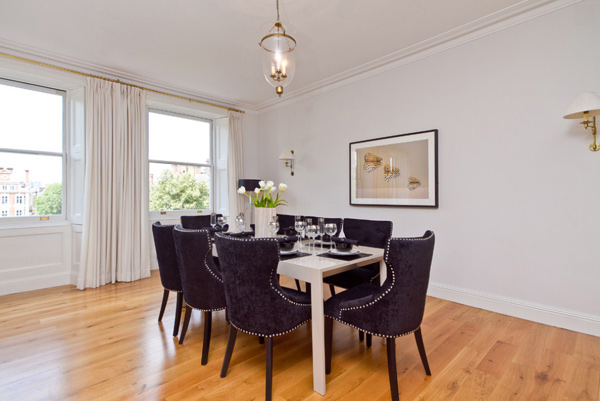 This dining room furniture set is one pretty pairing. From time to time, we know purple is hard to match colors with.
Danalda Residence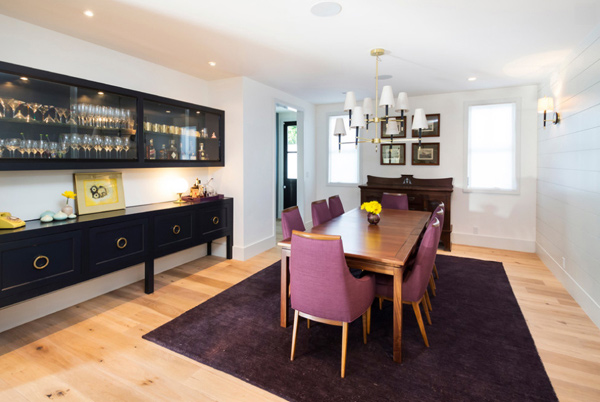 This beautiful residence have this stunning seats for their dining area which we guess what picked out the stand out rather than blend in with the black-white-brown color combination this room has.
Hinsdale Interior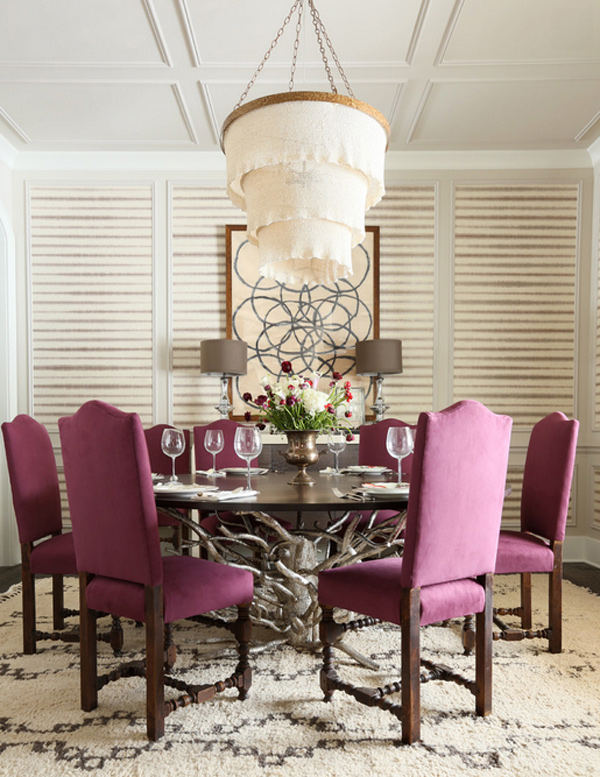 Classic design for the chairs and eclectic feel for the dining table – whoever said we can never combine this two archetypes?
Presidio Heights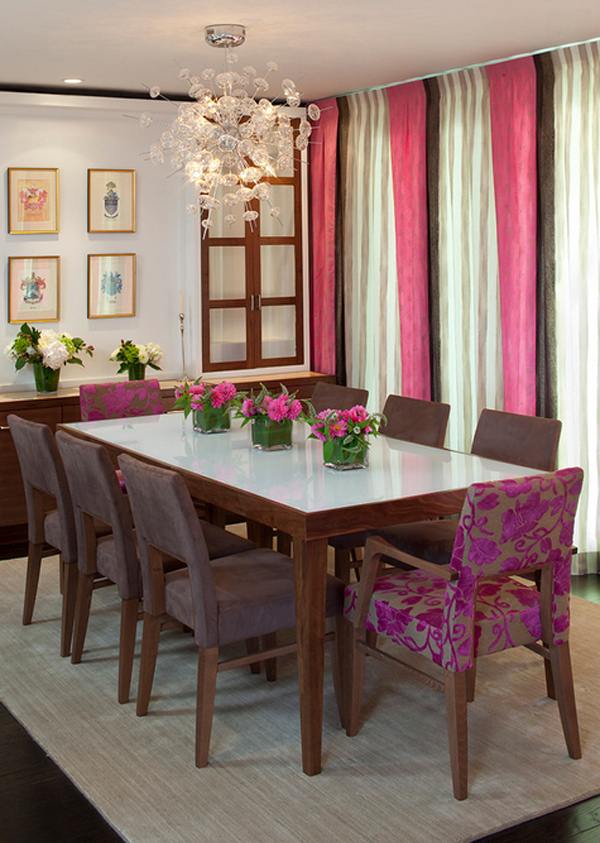 The color for six of the chairs may be a bit plum, but the prints on the chairs on both ends sure are pretty in purple! We like how it looks to be embossed and shiny.
San Diego Contemporary Dining Room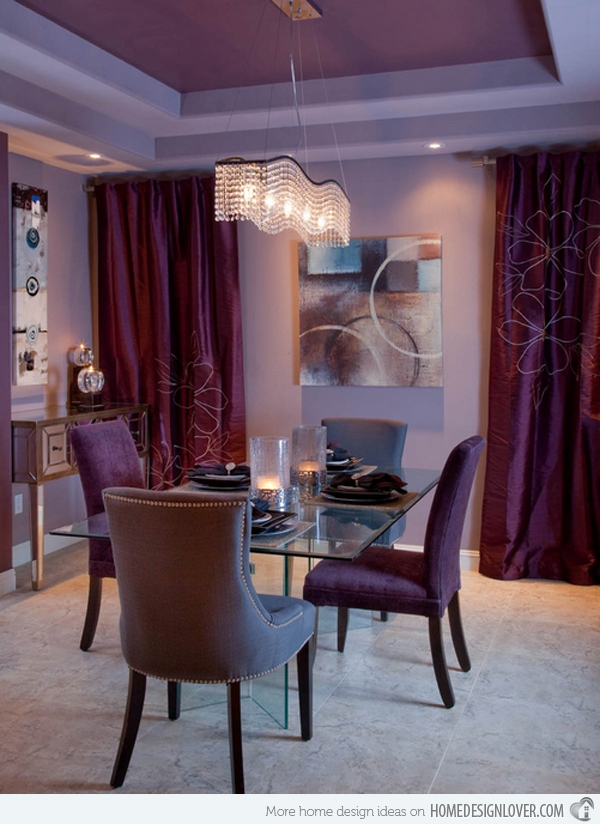 It's not just the furniture, but also the faux curtains and well, actually, the entire room has a dash of purple in it. We like the different range of colors which blend well with each other perfectly.
Tokyo & Perth Extending Dining Set (Purple)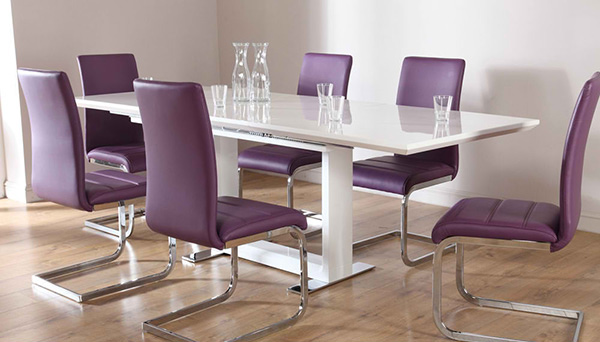 Gorgeous high-back chairs that looks pretty and comfortable. This would be perfect for a modern or contemporary dining area.
West Seattle Dining Room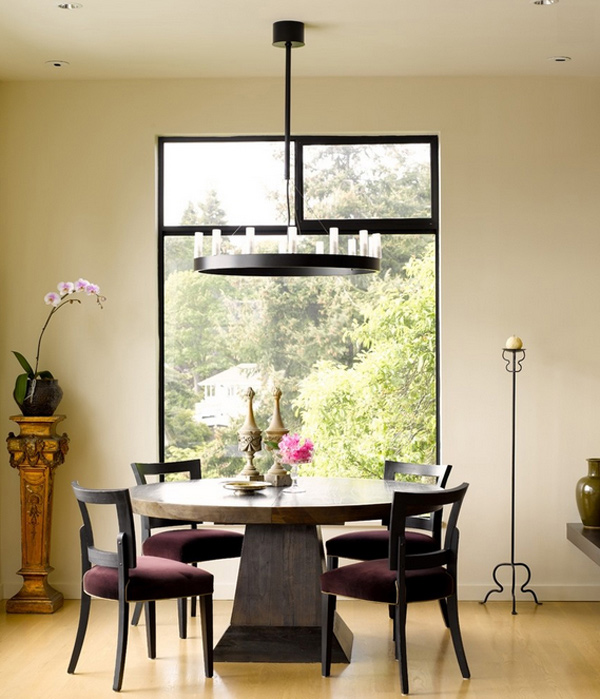 The only purple this dining room set may be the cushions on the chairs, but let us note how lovely it looks when combined with the color black.
Brighton Residence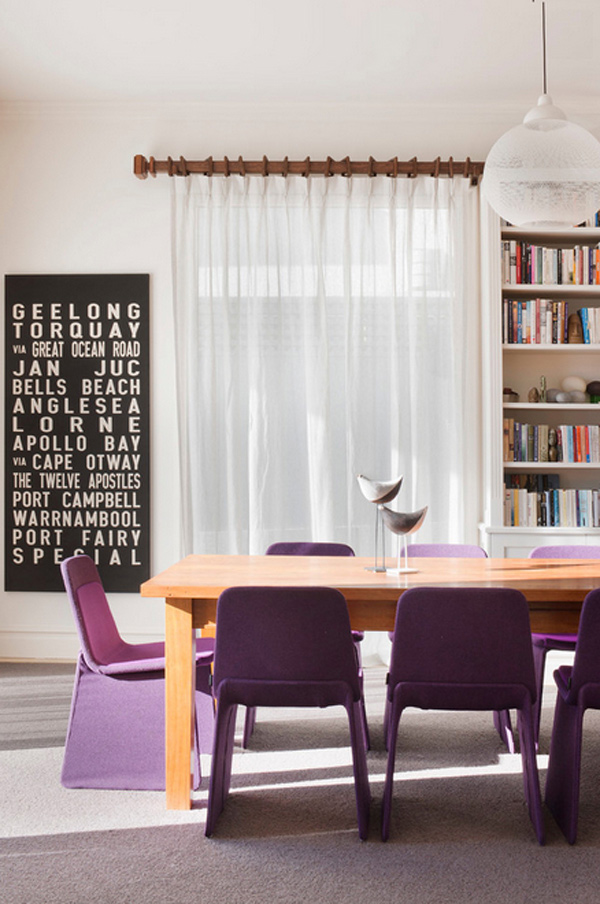 Sometimes we wonder how much prettier can purple be. This dining hall maybe a bit chic and eclectic, but the glam sure is there!
City Projects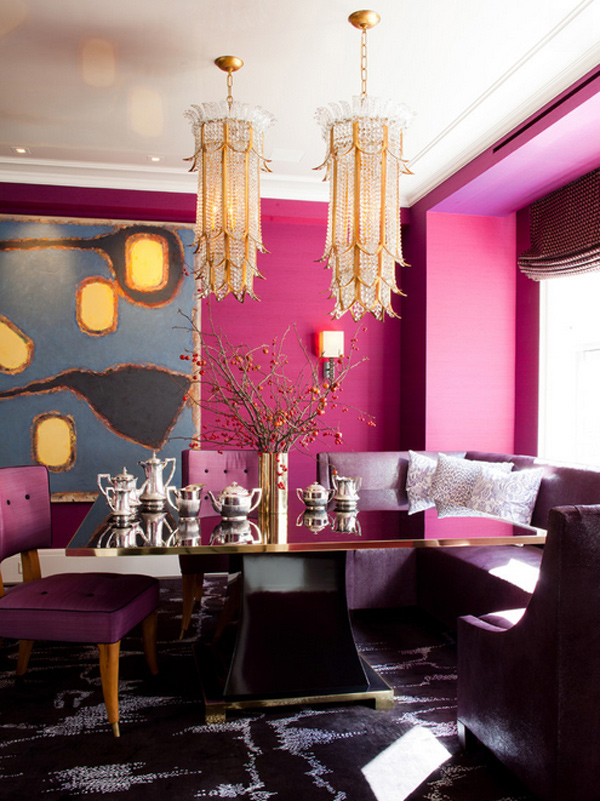 The seating by the window remind us of how corner tables are at bistros and diners; but this time, it was made more chic and pretty for anyone's home. We love the color palette this dining area has.
Denise Richards Residence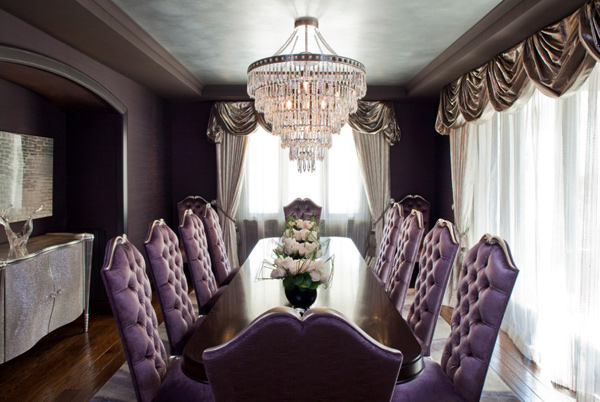 This Los Angeles dining room is by far the prettiest in the bunch. The design of the chairs is a classic. The hall may seem small, but it sure looks extremely stunning!
Hasserton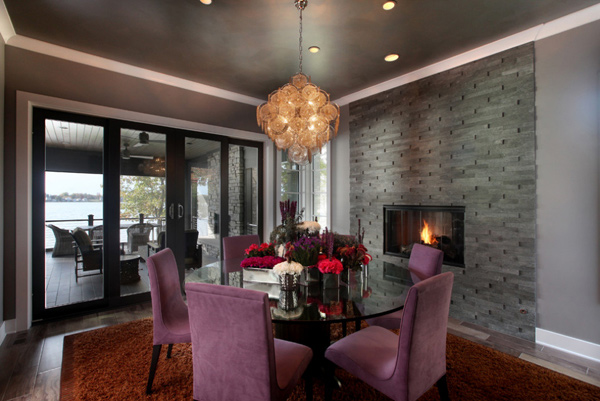 We like the simplicity of the chair design. It's clean, sleek and pretty. It blends well with the wall color which complements the flooring and the fireplace area.
Nob Hill Apartment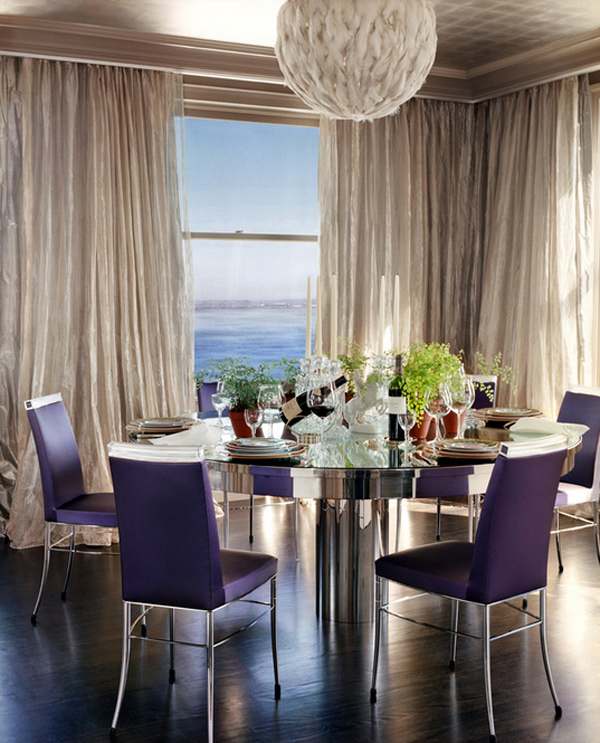 This is a perfect example for a contemporary dining room. Minimalist, sleek and has a great view! The design of the chairs is superb which showcase clean lines which is very pretty.
Sifton Model Homes
This six-seater dining room set remind us of the ones we can actually get in our local home depots or department stores.
The Astors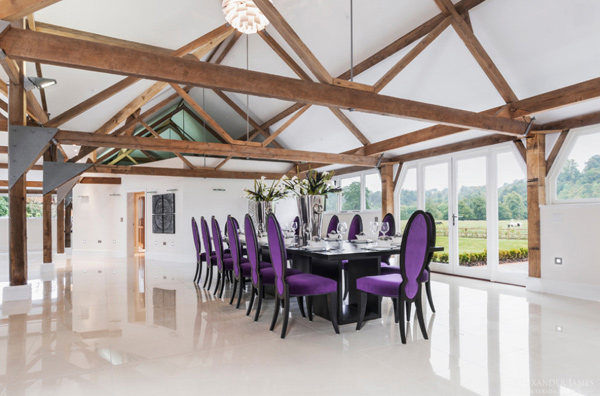 If you belong to huge family, dining rooms like this will be for you! Sophisticated, stunning and superb. Three reasons for you right there!
Amelia Five Piece Metal Café Dining Set – Table & Four Chairs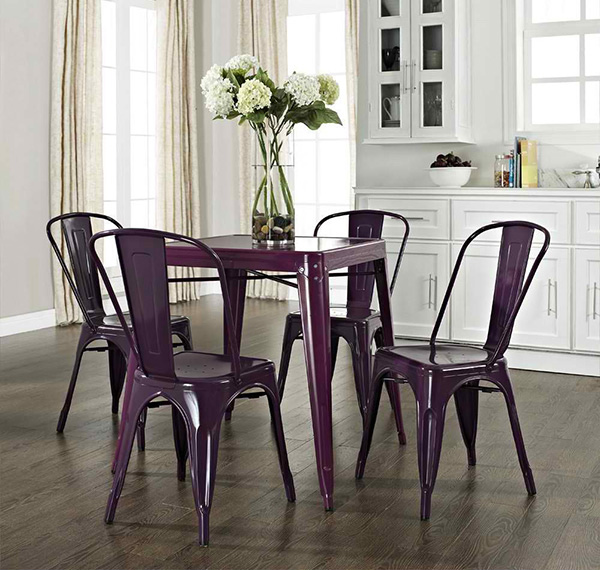 This furniture that we have here as a sample is not only comfy, but really pretty.
Most of the color combination we saw above is purple and black and purple and brown. This is because this color is really special. The 15 Posh Purple Dining Room Furniture may seem simple, but because of the color they have created a more royal and endearing design. Just like with the list we have with the 15 Stunning Black, White and Purple Bedrooms. Go ahead and check it out and we hope that you can go ahead and hit those comment boxes below for us to know which ones you like. Have a great day ahead of you guys!