15 Stunning Granite Top Dining Room Tables
Granite, as tough and strong as it is, is usually the best option for kitchen counters and kitchen islands. Using it as a table top is not really that practiced, but when you see it, you'll understand the home owner why they actually wanted it in their dining space. Its look is stunning, durable and definitely pretty. You can always consider having this for your own home if you don't mind paying extra than those hard wood table tops you can get in your local home depots.
For today, we will be showing you a list of beautiful round and rectangular table tops that can actually pass for a kitchen island for its durability and look. The list we have prepared is about 15 Stunning Granite Top Dining Room Tables that will pretty much interest you in getting the next granite table top you see in your local shops. We think these photos will definitely interest you, take a look and enjoy!
Abe Residence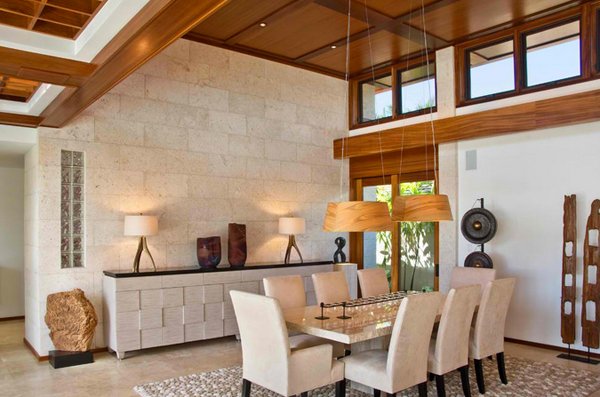 The lovely pendants are called Donut-A and came from Light Me Up, a small lighting store in San Francisco which illuminates the lovely dining table which matches the look for the walls and the floors. Even the buffet complements the space most graciously. The touch of wood here and there adds drama to it.
Beach House Kitchens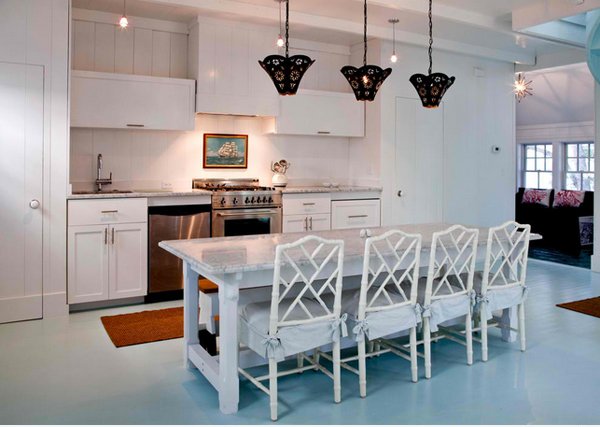 Paint the floor for an easy-care "rug." Another appealing option for the kitchen is to paint or even stencil the floor for a built-in rug effect. The glossy pale blue shown here is light and pretty yet won't show every single crumb that falls, and it cleans up easily.
Beach House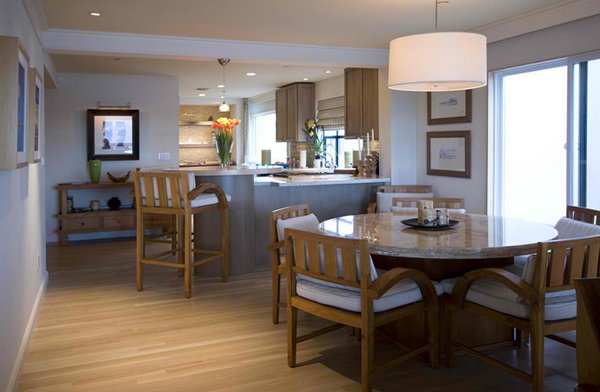 Granite tables can also go from rectangles to circular ones – just like in this San Diego dining room/kitchen. We like the matching island stool and the dining room chairs too.
Boxenbaum Residence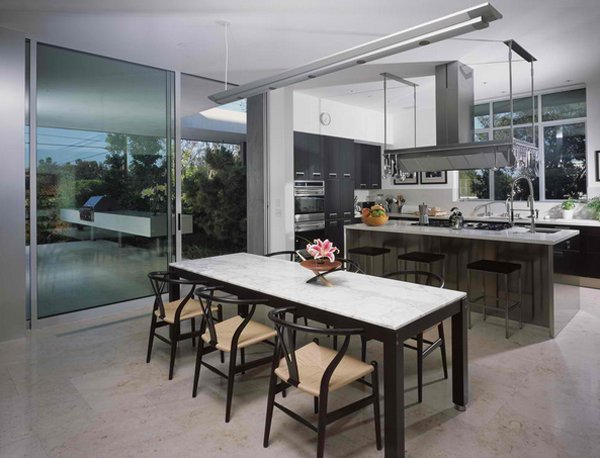 Here's another kitchen with a table close enough to an island that we'd still call it a kitchen table. Having a low surface accessible from all sides is invaluable when it comes to doing things like cookie baking or puzzles making.
Casey Key Residence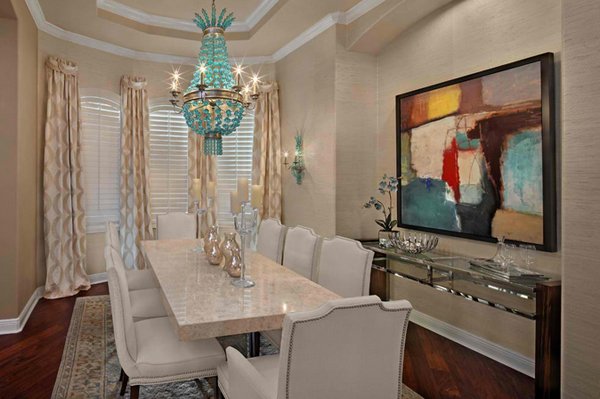 The way the curtains were placed on the walls is interesting, don't you agree? It goes with the walls and the gorgeous dining set which pretty much contrast with the flooring. The lovely chandelier finished the glamorous look for this space.
Crockett Residence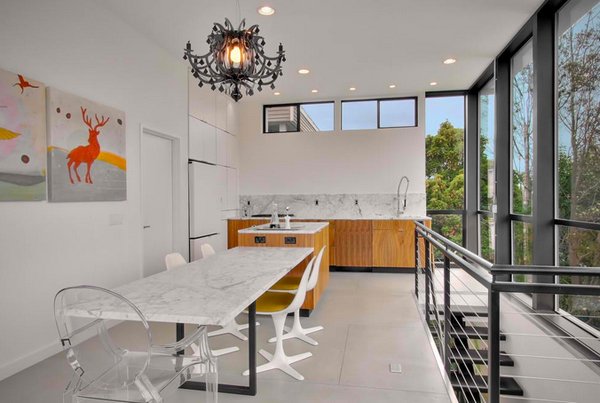 Minerit panels, which are also found on the exterior, make up the floor of the living spaces. Carrara marble was used for the countertops, kitchen island and the connected dining table.
DeLand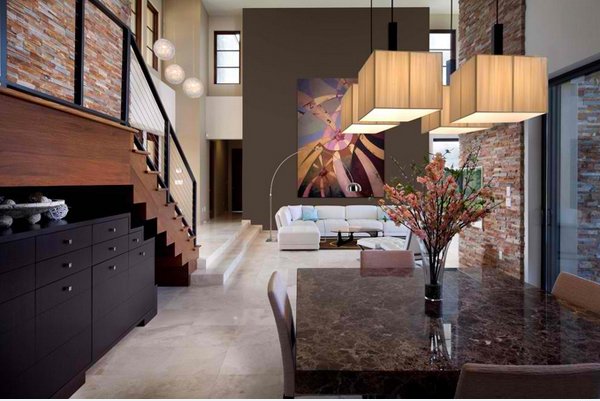 If you notice the storage area underneath the stairs – we love it! It's unique and definitely space-saving! It complements with the table we have here in the foreground. Black granite really contrasts with the white marble used for the flooring.
Houston Patio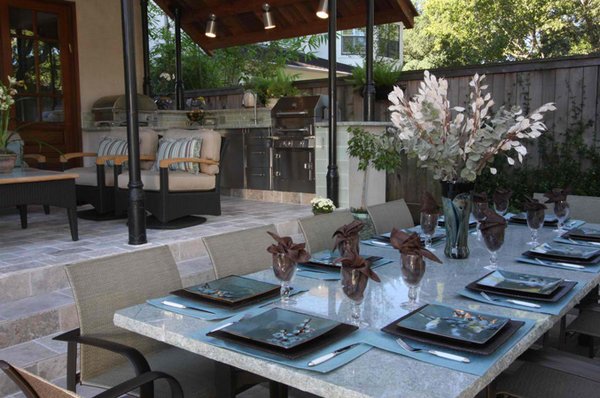 Adding stairs on a deck or patio (just a step down will do) offer an opportunity to designate spaces with different furniture styles.
KCM Residence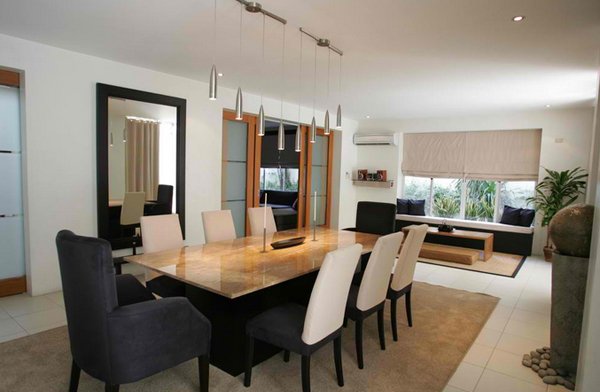 The pocket doors on the farther left is one touch we love about this room and the modern light fixture which complement well with the table is a plus point we love about this dining space.
Lake Minnetonka Dream Home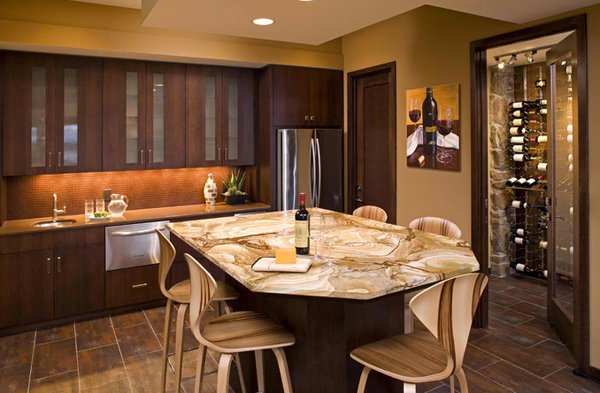 This wet bar kitchen space, just off the wine cellar, features custom cabinetry of rift-cut oak and an island with a Palomino stone top in an antiqued finish. Contemporary bent wood stools add an element of fun.
Larkin Street Residence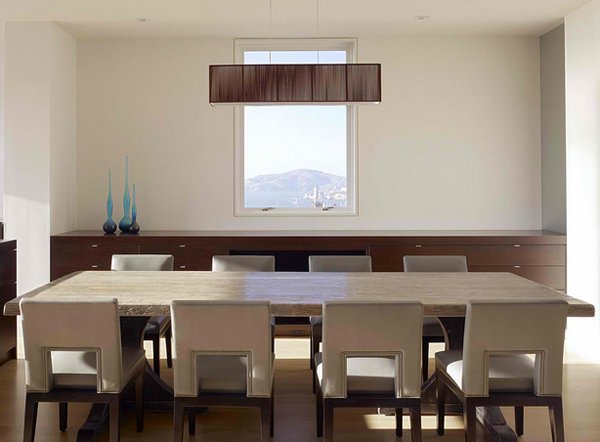 We love seeing long tables which can accommodate a large family meal – but having a dining buffet that come along with it is pretty much a bonus!
Mountain Home Residence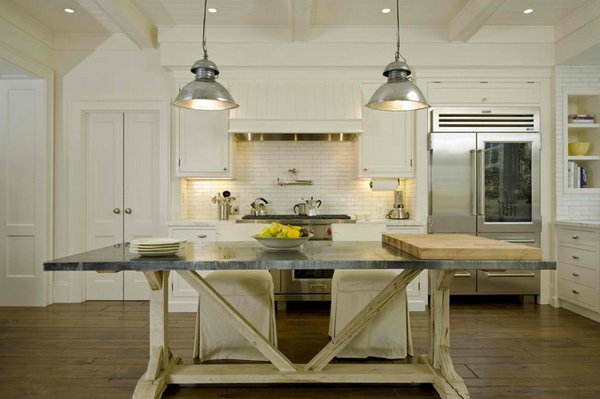 "If you're afraid of butter, use cream." If butter is not your favorite, and you're not feeling crisp white either, consider cream. It's a light neutral that can warm up a kitchen.
North Bondi Project
The family initially had planned to have a table parallel to the existing island. After much debate, Genner decided to rotate the direction and integrate the table into the island. As a result, an awkward walkway was removed, and the new table draws the eye through the room, making the space feel larger.
Los Angeles Contemporary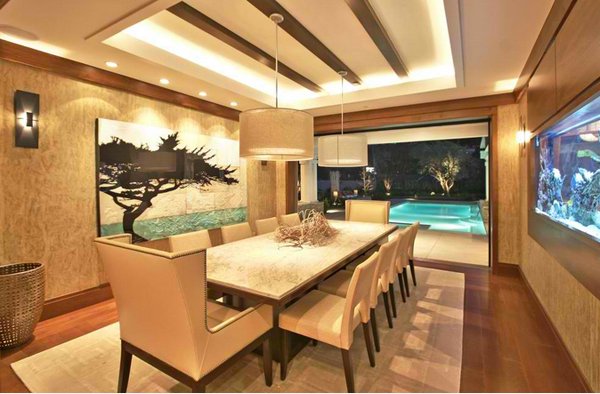 We don't know about you, but this dining room with a view of the swimming pool is pretty stunning. The beautiful dining set complements with the entire space which makes it more glam and fabulous!
Terra Bella Subdivision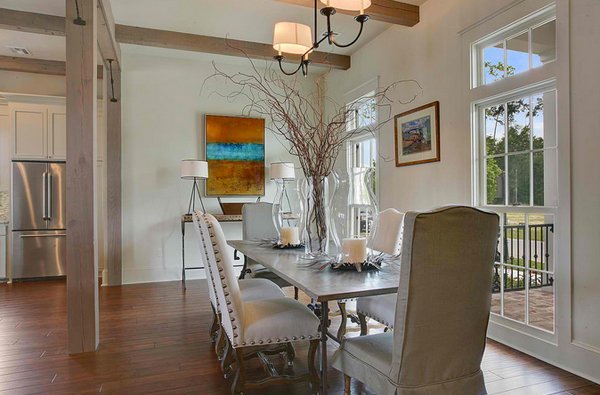 The tablescape is pretty awesome which readily complements the beautiful home you get to see on the background.
How did you find the 15 Stunning Granite Top Dining Room Tables? We like a lot of the samples above because all the colors available to us are all earth-tones and easy to mix and match. Like what we always say about picking the best option for that table we want to purchase for our homes – we have to determine the space we have at home, the number of users and safety – especially if we have kids at home. If you're interested to check out more dining table designs, take a look at the 15 Eye-Catching Black Pedestal Dining Room Tables and tell us what you guys think! More to come on Home Design Lover!