15 Eye-Catching Black Pedestal Dining Room Tables
When we check the psychology of colors, we are told that black is the symbolism for death, mourning or even slimming, although of course, the Ancient Egyptians believed that black symbolizes life and rebirth. Pretty interesting right? But there is a reason why black never goes out of fashion – it's simply because it's too stylish and pretty much goes with anything you mix it up with.
Today, we will be showing you a couple of pictures that showcase 15 Eye-Catching Black Pedestal Dining Room Tables that are representations of lovely tables that we can all choose from for our own dining rooms. These pedestal tables can always be recreated if we can't order them online or can't find them in our local stores. Inspiration is always an inspiration when we see them right? Let's go ahead and check them out!
Formosa Residence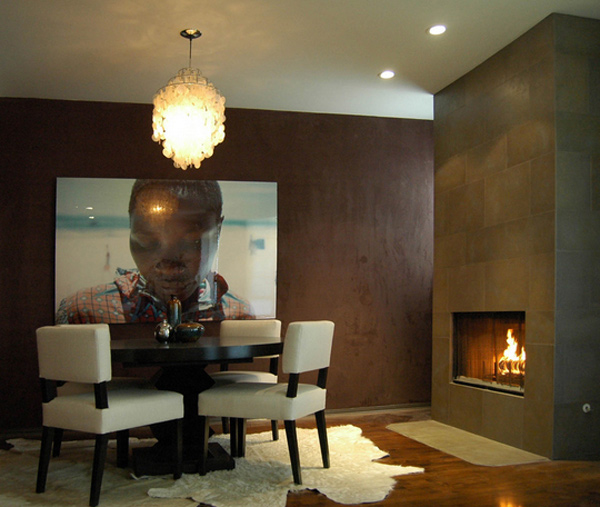 Work with what you have. "This is a piece that my client already had, and we designed the room around the image," says Jennifer Charleston of twenty7 design. "The walls are covered in espresso-colored suede to let the photography stand out and create a dramatic atmosphere."
Redondo Beach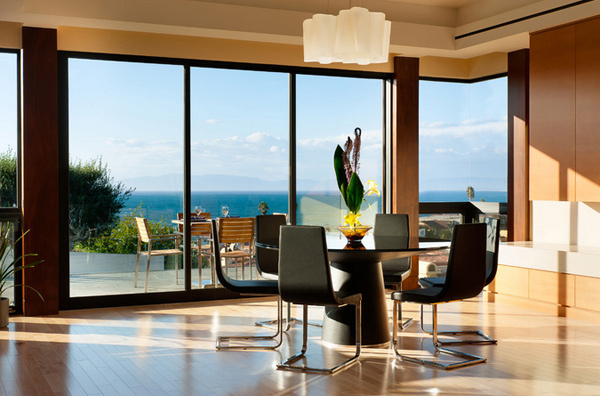 This bay front dining area sure is stunning. Complete with a simple but pretty pedestal table but also with a unique Logico suspension pendant.
Sleek Modern Dining Room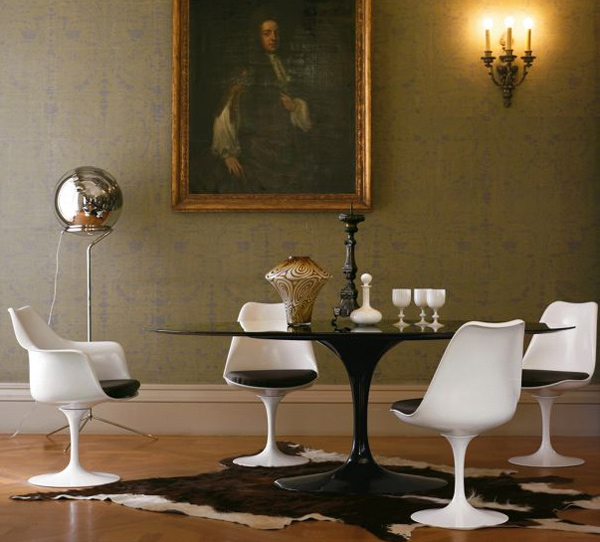 Glossy black-and-white dining furniture, combined with chrome and glass accents, creates an elegant, modern space. Even the faux fur area rug says a lot about the beauty and detail of this dining room.
Littlewoods Statement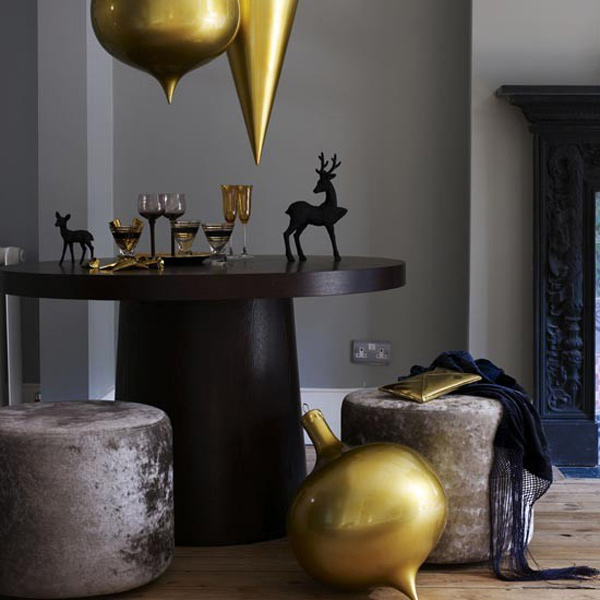 For a classy updated glitz, set one or two giant gold baubles against a sophisticated grey background. The black chunky pedestal table looks great with the soft and shimmering velvet pouffes.
New York Dining Room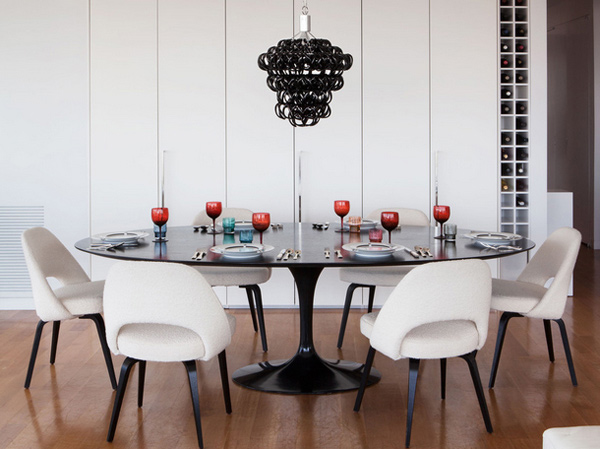 Don't you find it nice when black and white are put together? Just like peanut butter and jelly. White chairs over white cabinets paired with black pedestal dining table and pendant light.
Leather and Glass Dining Area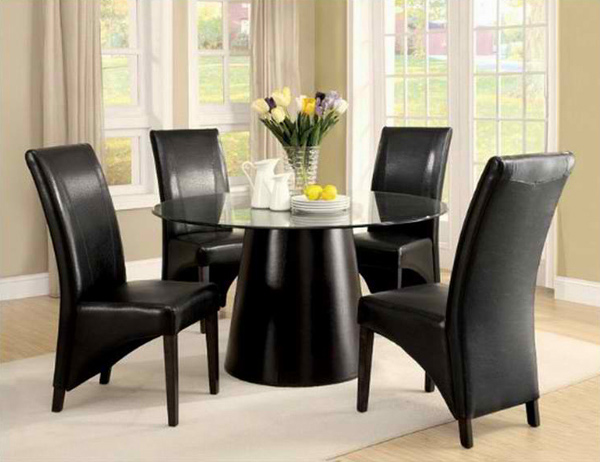 The blue recessed wall panels are super interesting and pretty – it matched the colorful paintings. The black pedestal table is standing tall beside the white seating and grey accent chair.
Melbourne Dining Room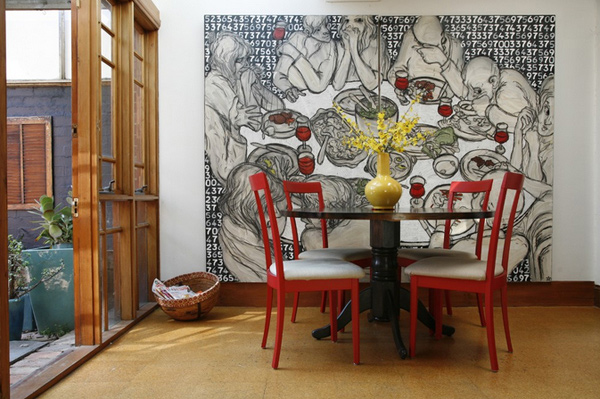 More than the black pedestal table, the red chairs are more interesting and eye-catching. They were personally painted by the designer which was old restaurant chairs according to her.
Parkwood Road Residence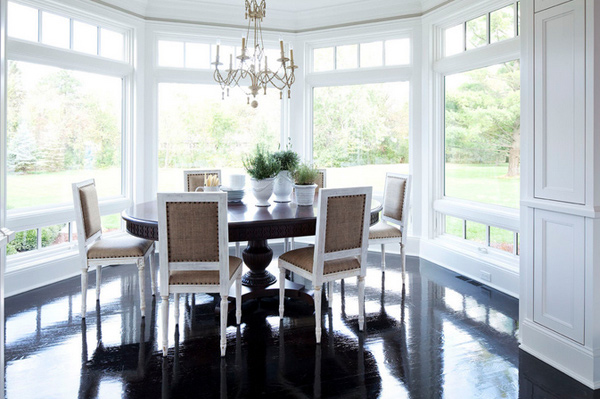 An oval dining room table is not as often used like circular or rectangles, but one advantage of this table is the capacity it is able to accommodate. The table complements the chairs and the white windows.
Twin Twirl Round Glass Dining Table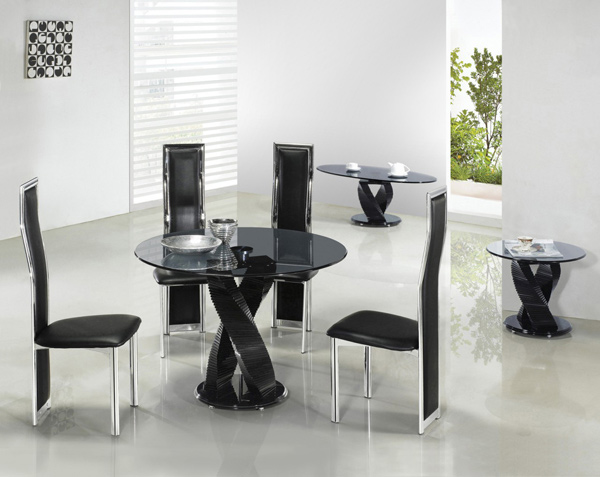 A magnificent glass dining table with a twin spiral glass structure which really stands out.
Richmond Amish Round Pedestal Dining Table
This is a really interesting pedestal dining table – there is a sphere in the middle of the leg of the pedestal. These are made from Maple trees which pretty much complement the walls and the floors.
Wolfram Dining Room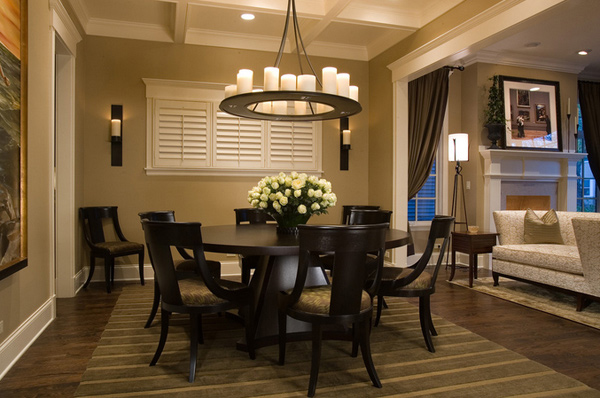 This is indeed a beautiful table matching six lovely chairs. Thanks to the ambiance, we can say that this is definitely the kitchen to live for.
Custom Modern Bachelor Pad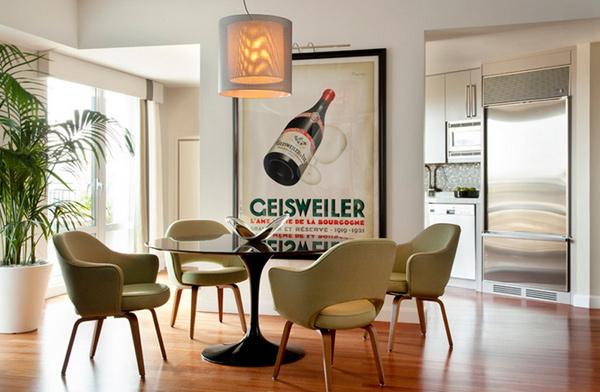 We can see a great dining set but when you look around the space, we can see a bit of loss for maybe an area rug. Do you agree?
Hayes Valley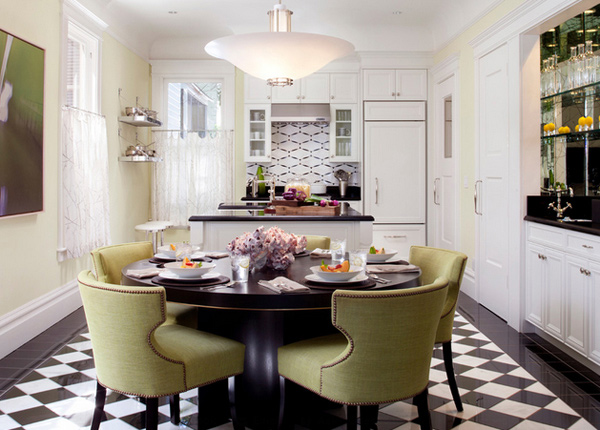 The shape of the pedestal of this black dining table is not as evident, but just by looking at the gloss it has, we are already pretty much bought! We also love the chairs – very comfy and pretty.
Coaster Amhurst Single Pedestal Round Table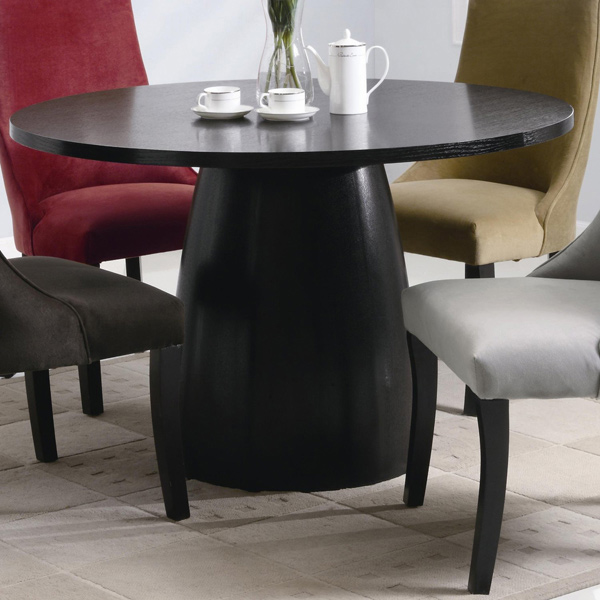 We should always make sure that our dining rooms will be both cozy any and functional. Looking at this dining table, we can definitely say that it hit the mark; paired with comfy chairs, this set is the bomb!
Black and White Dining Set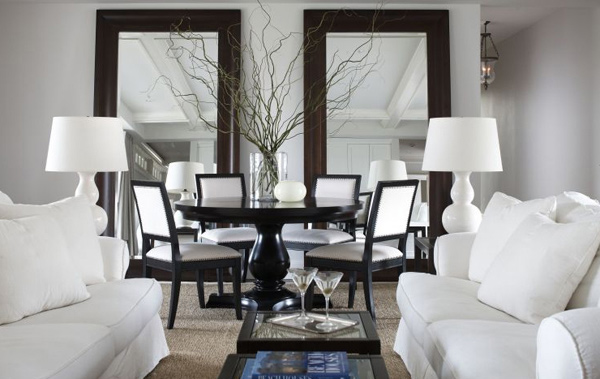 Aside from the stunning dining room set we have in this picture, we can see the white seating for the living area and the white decors and huge black-framed mirrors.
Pretty pedestal tables right? From rectangles to ovals but most of them are really circular since pedestals were practically made for this type of table. If you also noticed, the chairs paired with them were stunning as the tables themselves. The 15 Eye-Catching Black Pedestal Dining Room Tables is indeed a collection we can all look back to when we plan on changing tables in the dining room. For more inspiration and design, check the 15 Black Modern Dining Area Ideas. More from Home Design Lover!