20 Sturdy Sets of Patio Furniture from Cast Aluminum
Metal furniture is one of the many categories of furniture construction. Different kinds of metals are used just like iron, stainless steel but the most abundant of all is aluminum. It is used because of its outstanding quality – a very light material and its aptitude to defy oxidization. In such case, this material is perfectly used as outdoor furniture. It is also easy to clean, polish and add cushion and upholstery to make it more comfortable.
But still, aluminum itself has many classifications – one of which is cast aluminum. The use of this material for outdoor furniture provides to be a finest decor available for your patio. Since aluminum oxidizes then it is far from tarnishing which can be very durable and can withstand in many years. In such case, you can unlimitedly have the benefits of its comfort especially when you spend most of the time in your outdoor.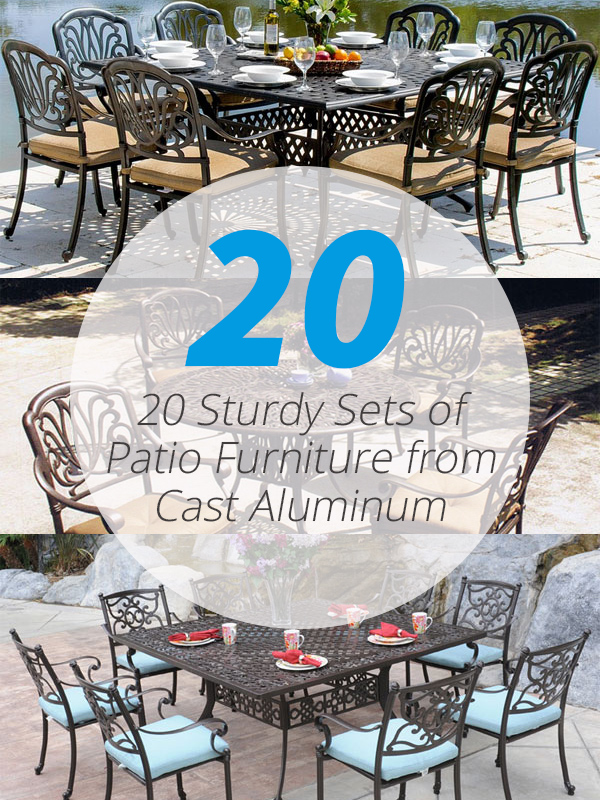 1. Covington Patio Furniture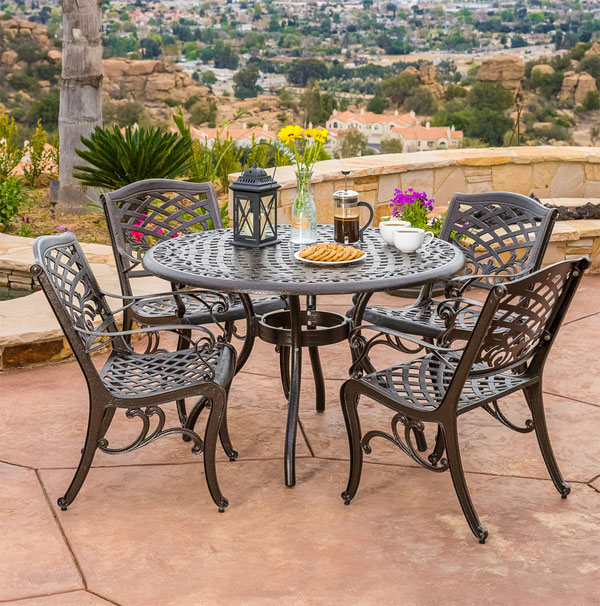 This would be a beautiful outdoor decor that will surely withhold any weather condition.
2. Rosedown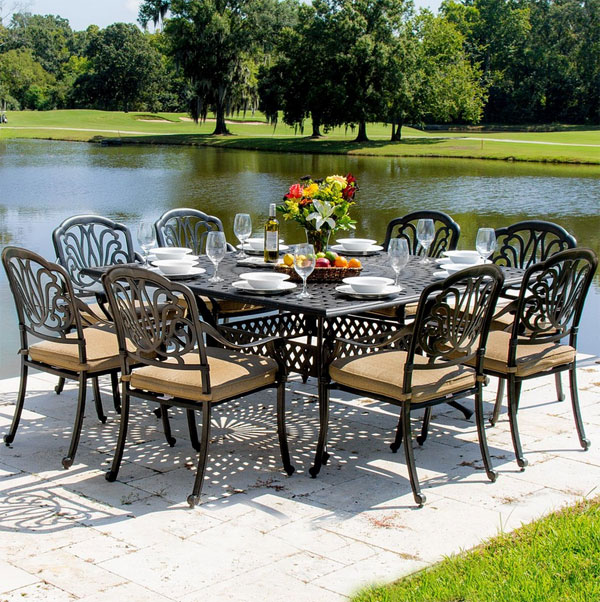 This dining set bursts its complex design that will surely fit as a patio decor.
3. Outdoor Aluminum Resin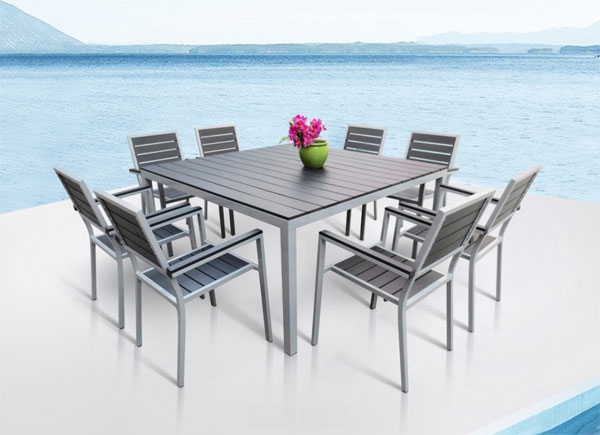 Your friends and family would love to spend their leisure time having this stylish square table.
4. 5 Piece Cast Aluminum Round Dining Furniture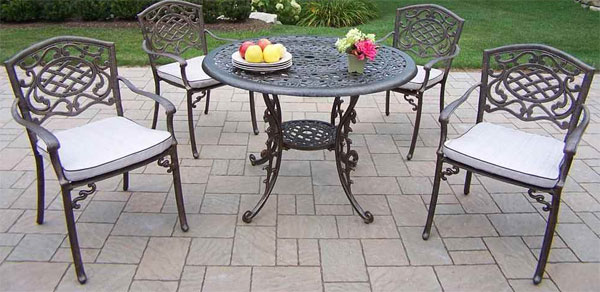 Round tables offer an intimate conversation and interaction during meals.
5. 5 Piece Outdoor Dining Furniture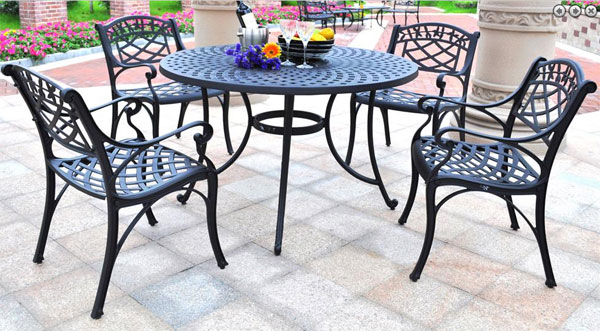 A table that made from metal will look more elegant when added with glass on top.
6. 7-Piece Patio Dining Furniture Set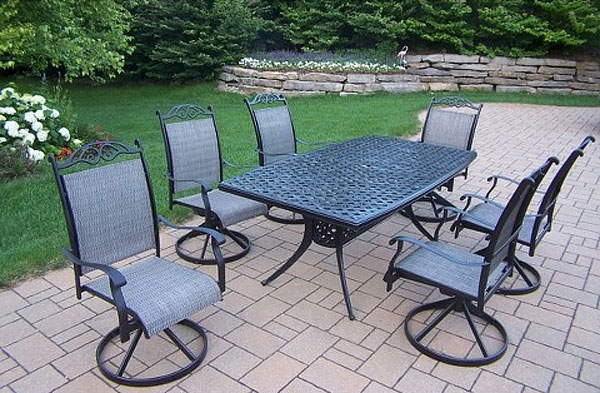 This table displays an extensive size that will surely accommodate lots of your visitors.
7. "Garfield" Cast Aluminum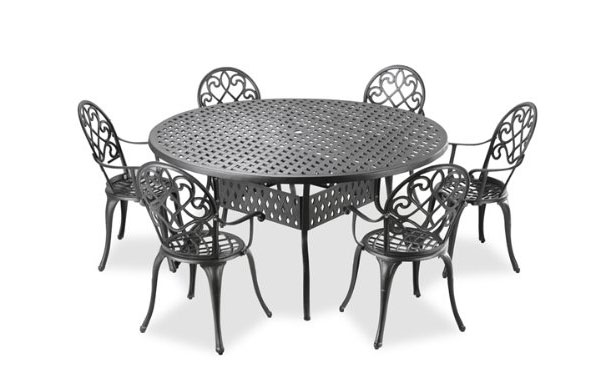 The table appears higher to allow the display of things be more visible.
8. Tuscany Cast Aluminum 7-Piece Patio Dining Furniture Set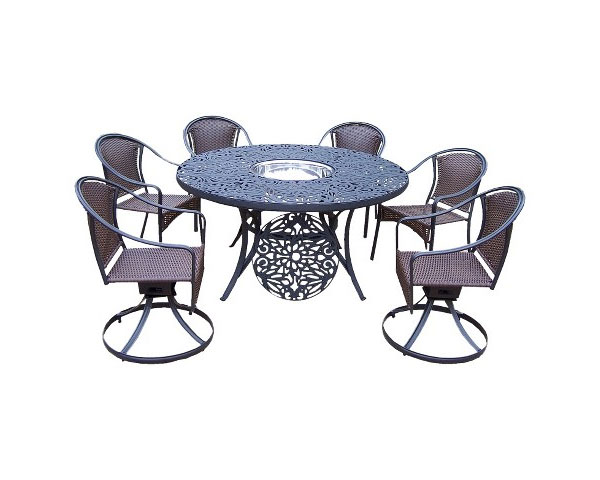 This patio set is very functional where you can enjoy warmer conservation through a built-in fire pit at the center.
9. Vanguard 5-Piece Aluminum Swivel Square Patio Dining Furniture Set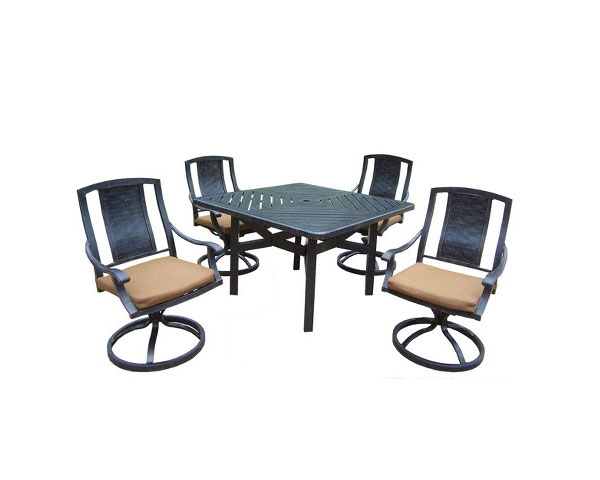 This dining set comes with a swivel chairs to add more comfort when sitting.
10. St. Charles Patio Furniture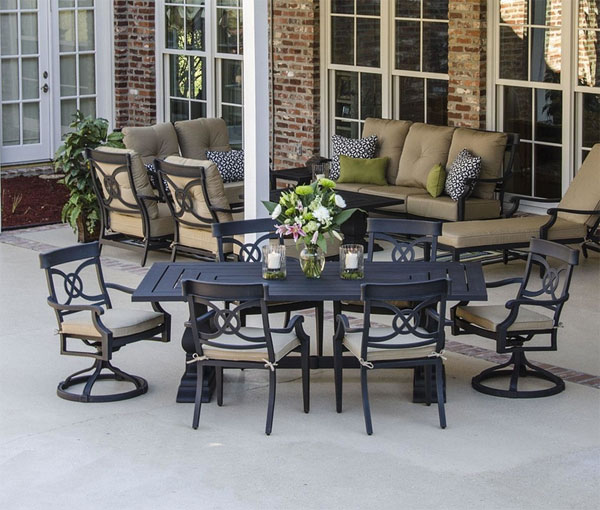 Its design exemplifies a contemporary character and refined style.
11. Outdoor Patio Furniture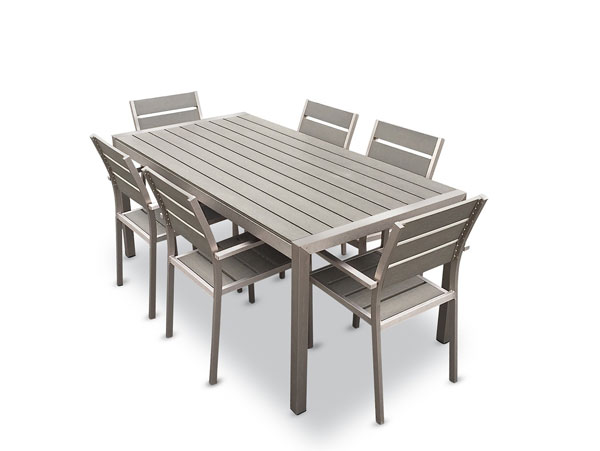 This garden set is an amazing piece for your garden which I know very functional and surely will meet your needs.
12. Elizabeth
It would also be advisable to add umbrella to make t more comfortable.
13. Harper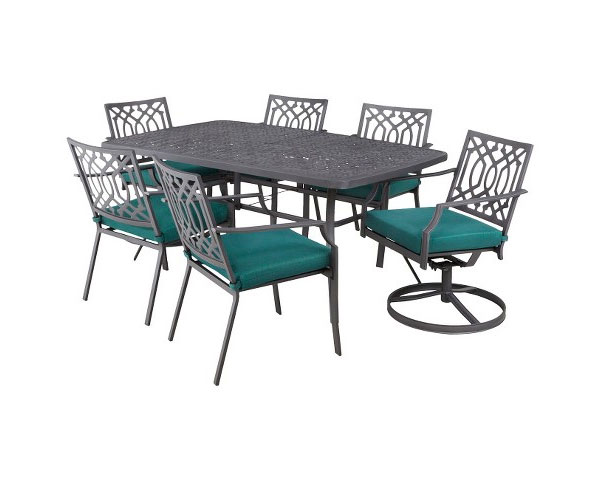 This dining set will surely be useful when you plan to have an outdoor party.
14. Norcross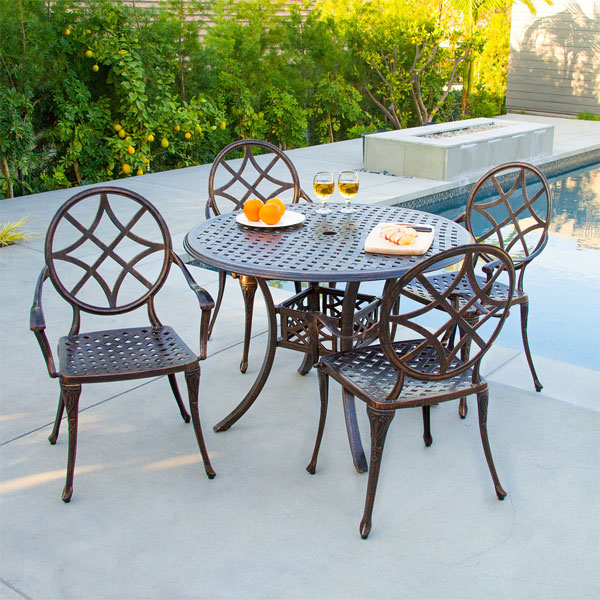 A shoe rack would be the solution for your shoe collections. It is very convenient to use when it revolves keeping your shoes in order and organized.
15. Magdalena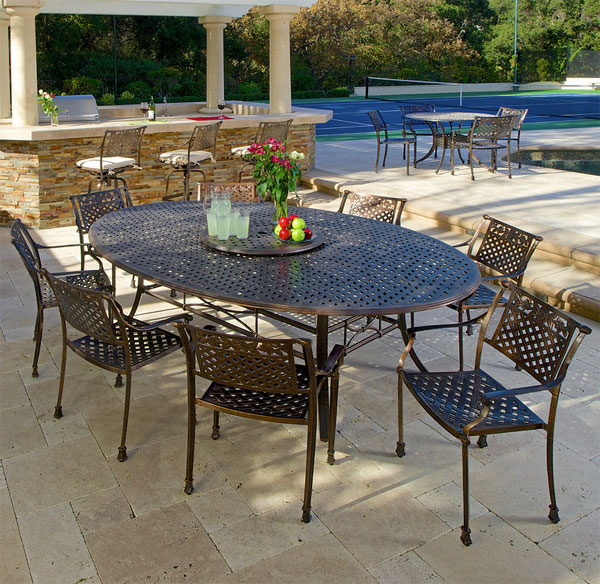 This furniture has an antique copper finish that matches any outdoor decoration.
16. Vanguard 9-Piece Aluminum Stationary Square Patio Furniture Set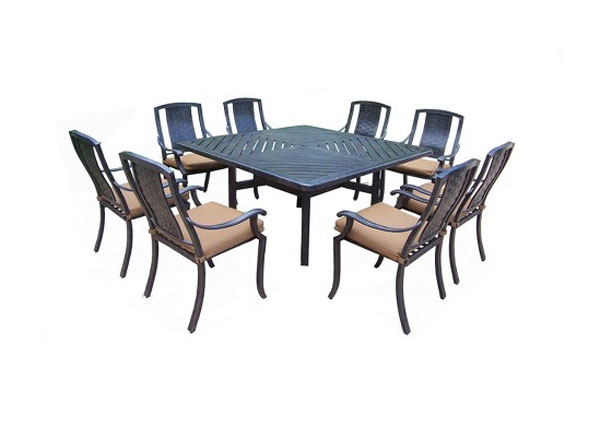 Seat cushion must be added to this type of furniture material for a more relaxing seat experience.
17. Kingston 65 Inch Square Cast Aluminum Patio Furniture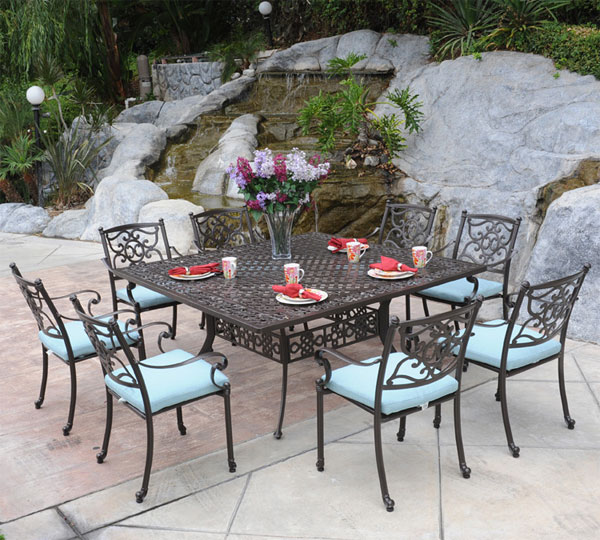 This size of table would surely accommodate great number of guests.
18. Haitian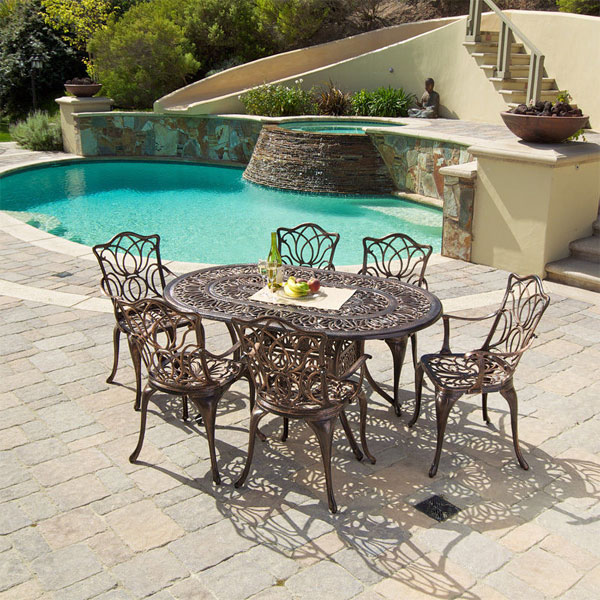 Having this set of cast aluminum outdoor dining set will offer you a comfortable setting.
19. Del Rey Deluxe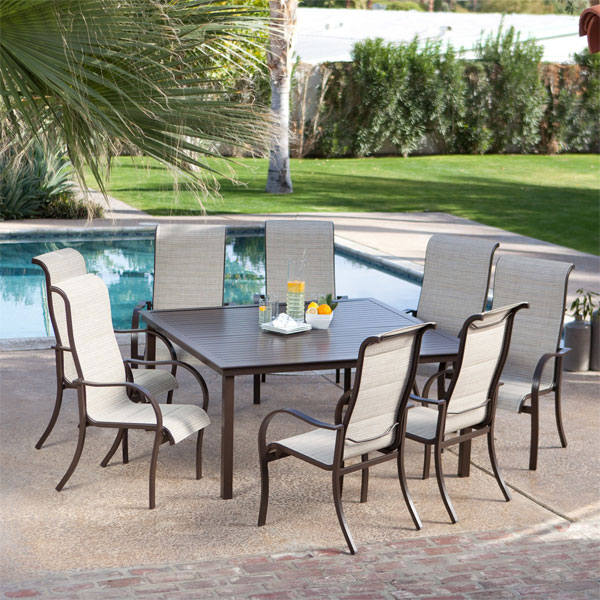 It seems like that the backrest is very flexible making it comfortable to seat.
20. Laurel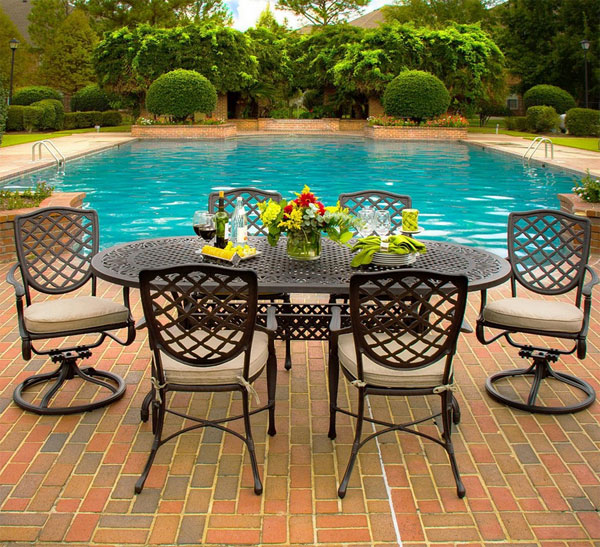 This furniture offers a perfect spot to relax whether chatting with girlfriends or a romantic dinner with someone.
Since we expend too much money to beautify our homes then it would be better that durability would be the main advantage that we can have. And that's what aluminum metal offers us! Of course, there are still lots of materials that you can choose from that can be turned into stunning decor for your homes.