20 Sophisticated Full Beds in Black and White
I am not sure about you, but I personally love to have my bed and beddings in black and white – why not? It goes with anything in the room and honestly, with my pink-walled bedroom, having a black and white bed is kind of awesome. Plus wearing cuties jammies looks great in a black bed that you can always post in your Instagram account.
Today, we have a list of photos of black and white beds – well, you might notice that some of the beds technically seem to have black and white beddings, but note that the base of the beds are actually in black and white. This list is composed of mostly platform beds ideal for contemporary to modern-designed bedrooms, check them out!
1. 400 Thread Count Egyptian Cotton Black White Full Bed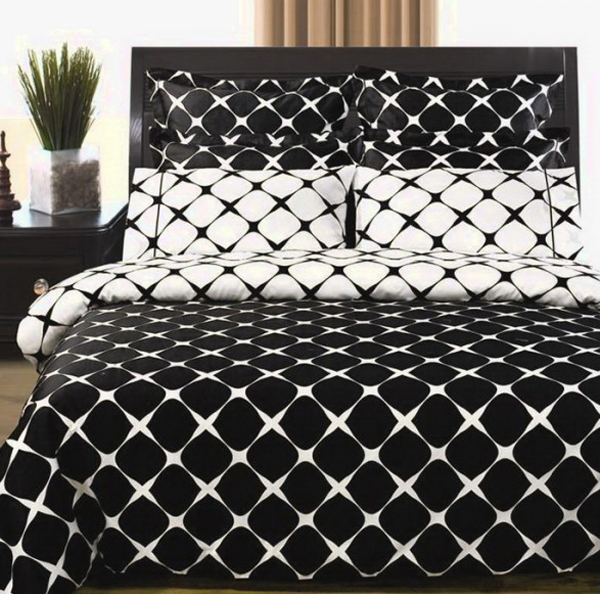 The headboard of this bed looks simple but with the right set of beddings, this bed already looks like a thousand bucks!
2. Black Beds Bedroom Furniture Set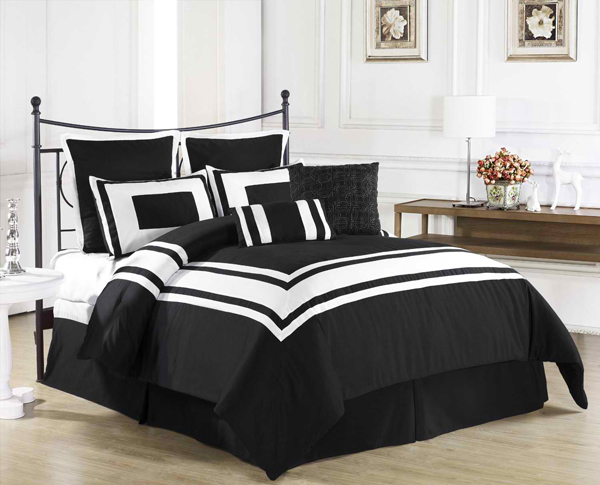 Iron-clad headboards are the most ordinary headboards there is, but with the right details it makes the most beautiful bed there it is.
3. Luxe West Hollywood Residence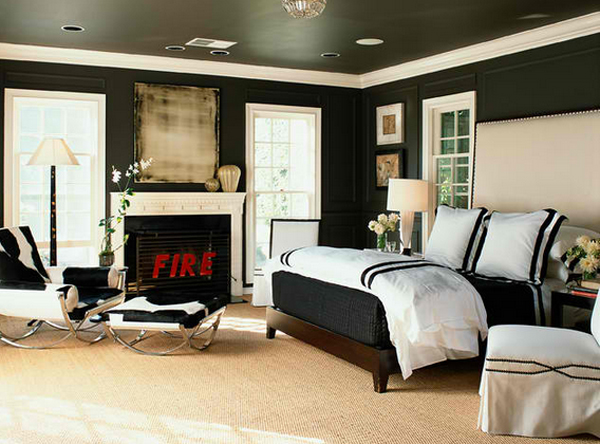 All the cute pillows this bed has, I'm not sure anyone can actually resist staying in this bedroom.
4. Black Colored Platform Bed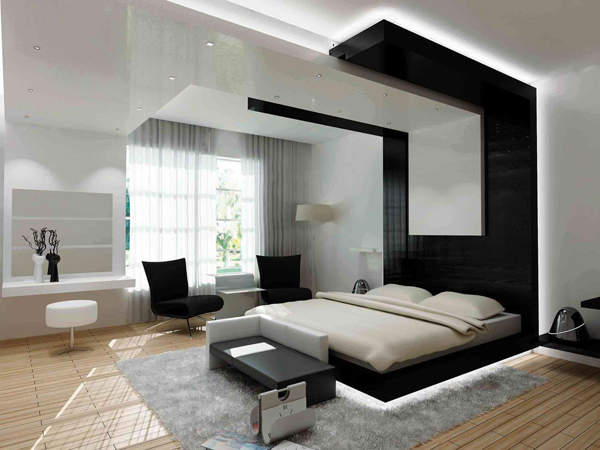 Obviously, with the space in itself – this is indeed a black and white bedroom. Incorporating an awesome black bed with white sure is stunning! This is modern and definitely chic!
5. Black White and Grey Full Bedroom Set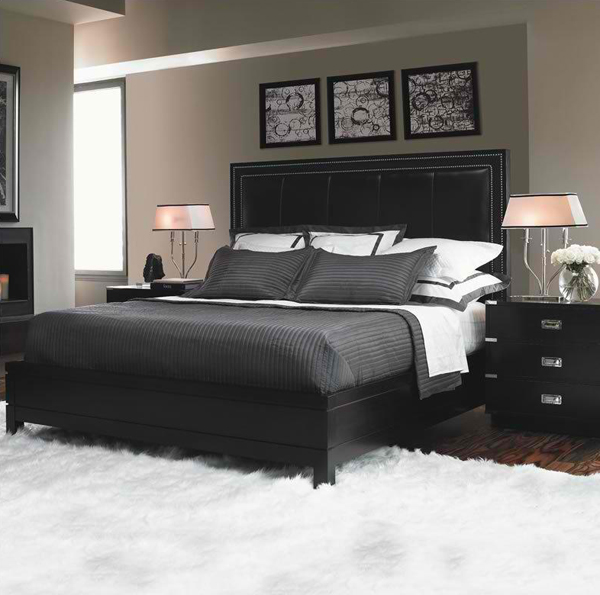 Here is one simple space with an awesome full bed in black and beddings in white. Note the fun factor here, the area carpet.
6. Chequer Black + White Leather Full Bed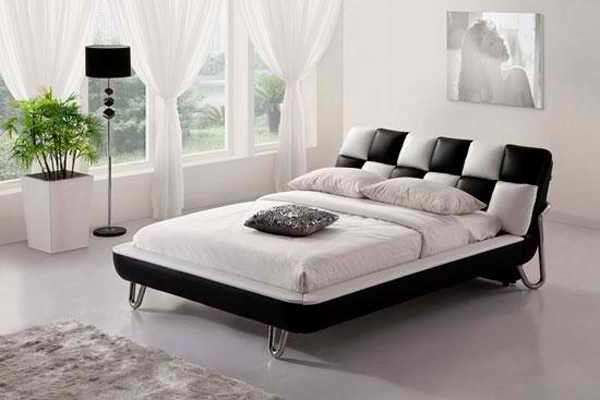 Cutest headboard ever! Well, I mean, in this list really. Paired with a stunning stand lamp this space is super awesome!
7. Surrey House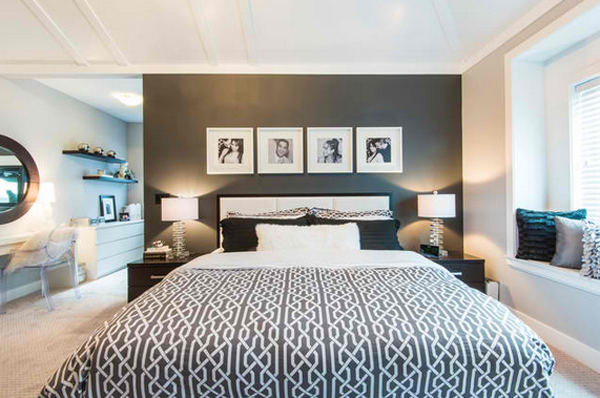 With a black and white and grey color scheme, this space looks a bit sad – but of course with the right amount, the bedroom still looks sophisticated and classy.
8. Contemporary Bedroom with Modern Full Bed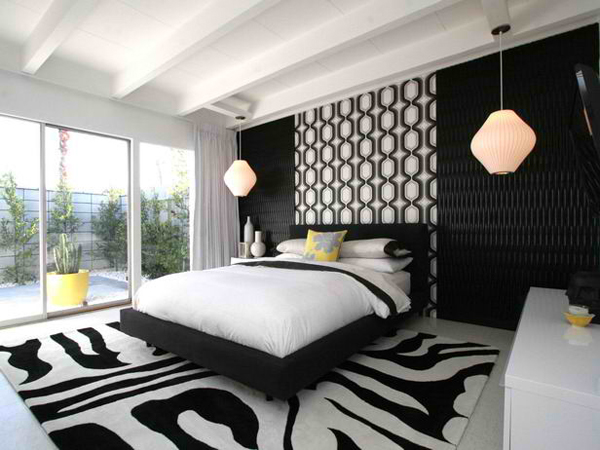 When a color scheme is minimal, it can feel flat if texture isn't included via patterns. A patterned bedspread and rug help give the space dimension.
9. True Residence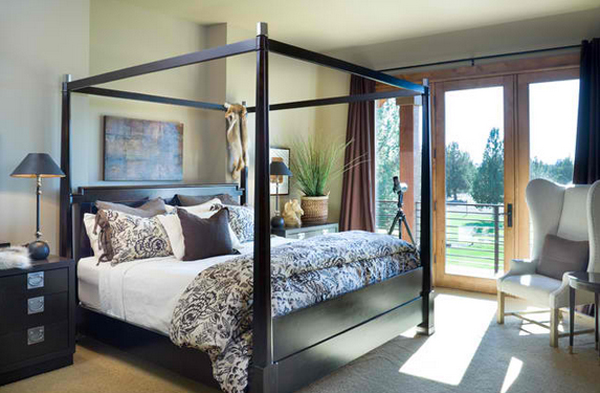 Black on black can sometimes look harsh, so be sure to introduce plenty of textures. This fluffy carpet catches the light, which softens the look without losing the drama, while the woven bedstead and screen add further depth.
10. Full Black and White Buttoned Bed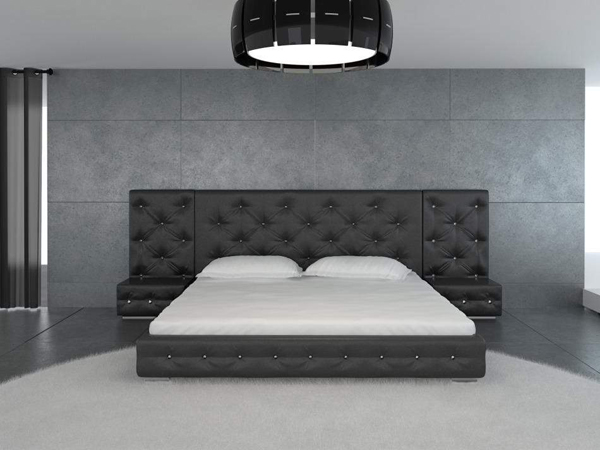 An all-black room with white trim is crisp and classic.
11. Pem America Zeus Bed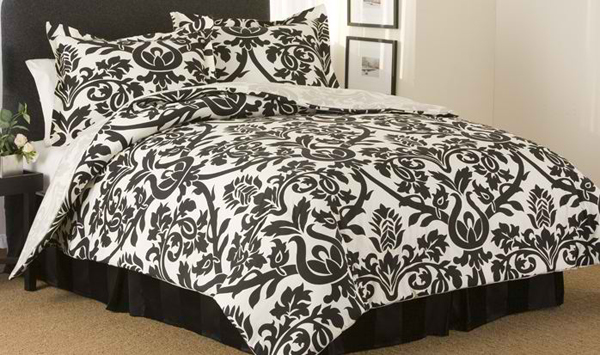 A surprisingly elegant choice for any room, black looks great against most colors. When using black, try contrasting it with crisp white trim and punchy colors in fabrics or rugs. I prefer to see an eggshell finish on walls, and black looks particularly sophisticated in eggshell.
12. Glamorous Black Bed Bedroom Design Furniture Set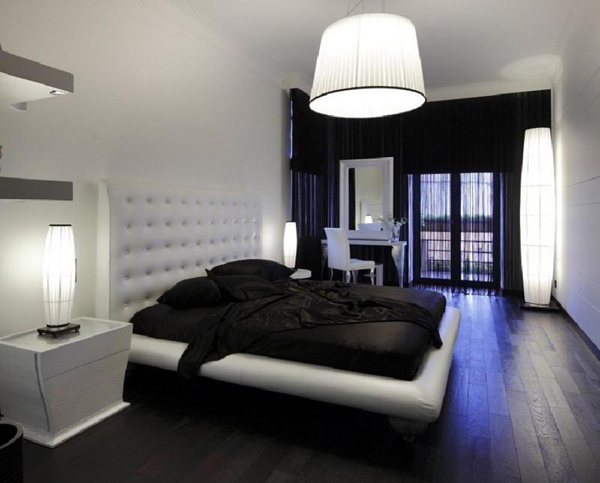 Strike a balance between masculine and feminine by pairing light, gauzy blue and white textiles with stark black painted trim. Diaphanous curtains, delicate ticking stripes, and even vintage lace-edged sheets feel less frilly with a bit of contrast.
13. Hampton Blue Black White Bedroom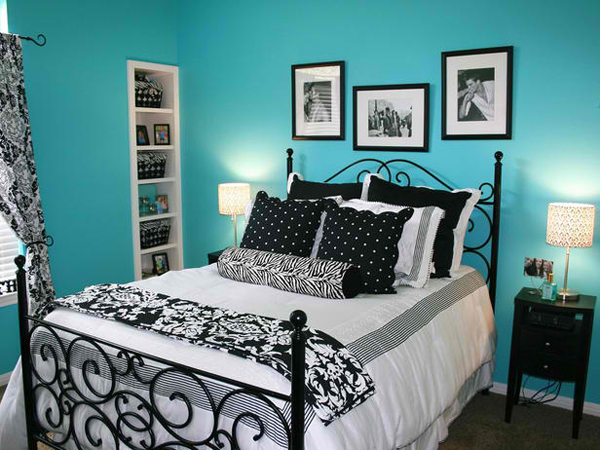 Don't forget about pillowcases: If your pillows are under – or over scale, buy fitted sheets, flat sheets and pillowcases as separates rather than as a same-size set.
14. High Quality Black and White Bedroom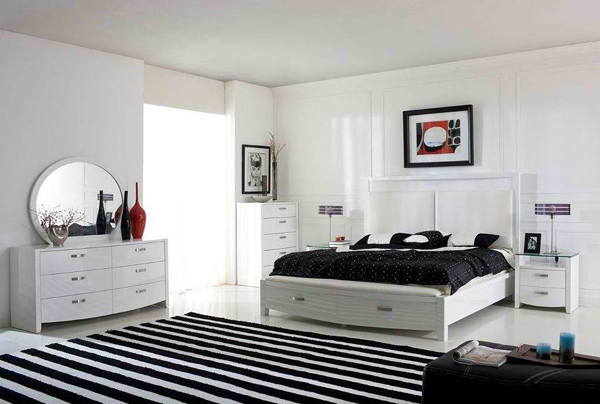 A glossy back wall in an eclectic bedroom is like a piece of art. It's reflective and textured, and it allows everything else to pop.
15. Highly Regarded White Bedding Ideas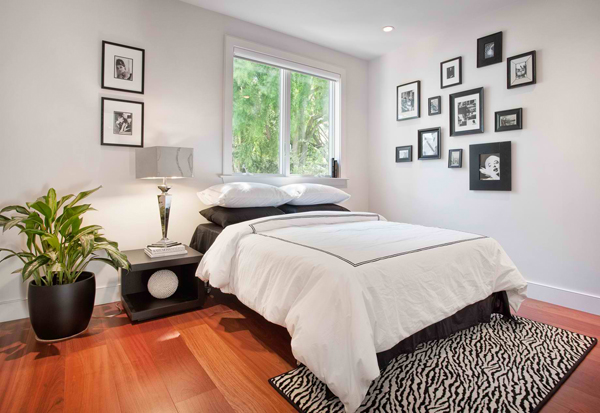 In a home painted with neutrals, black pop with interest.
16. Leather Black and White Full Bed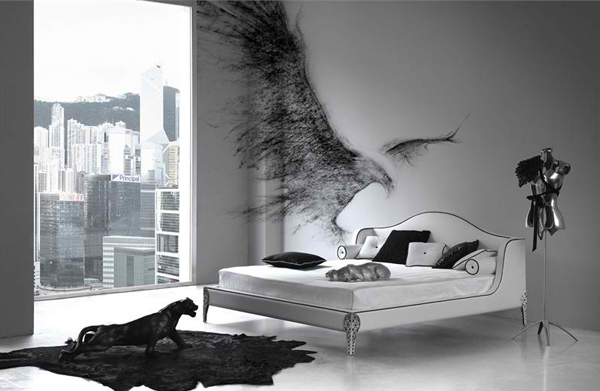 Modern versions of the motif come in all shapes and sizes.
17. Lime Green Floral Wall Decal Bedroom Design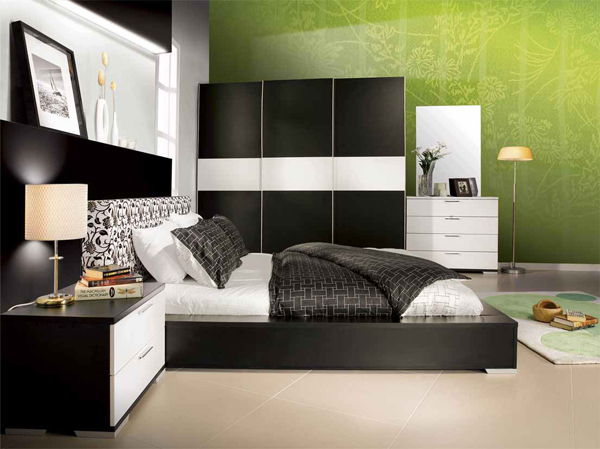 There's also plenty of white and light wood tones in this bedroom to offset the black and lighten up the palette; not to mention the lime accent wall.
18. Turin Bed in Black & White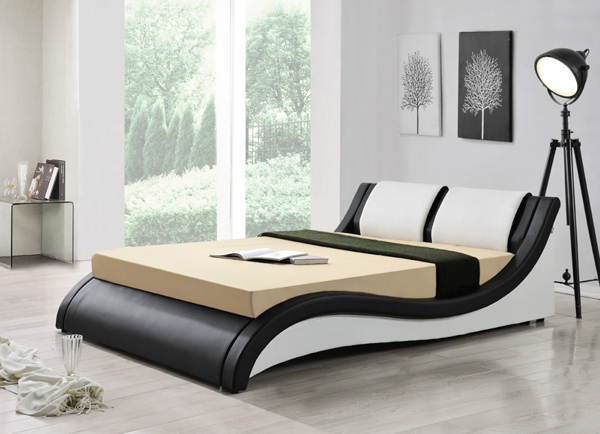 I totally love this bed! It creates an aura that it's pretty masculine but still totally awesome. Notice the lamp, it's just superb!
19. Modern Black and White Bedroom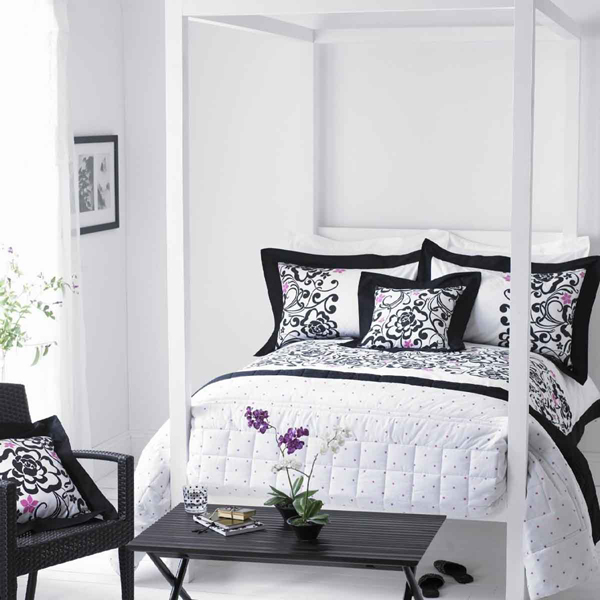 If there's a lot of black elsewhere in the room, a black ceiling can tie things together and create a unified look; but of course, we just lack that ceiling altogether.
20. White and Black Platform Full Bed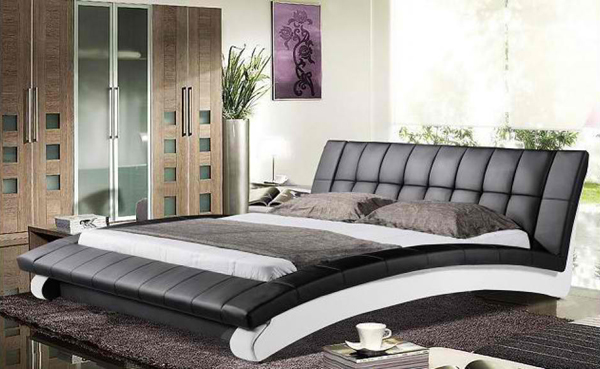 Black is really unexpected in this bedroom, so they just added the bed to be that but the browns bring subtle warmth and a masculine touch to what would otherwise have been a decidedly feminine environment.
Well, there you have it! A list of awesome and gorgeous bedrooms with black and white full beds. There is another list we had before which I think is one stunning list like this one! We love the choices of the beds and how adding the right amount of black or white in the beddings and the pillows, the bed looks as awesome as they are now. We hope you liked them!