20 Wrought Iron Chandeliers
Big, bright, elegant, luxurious or whatever you use to describe the chandeliers that you see, our first impression on it would be- beautiful. There are different types of chandeliers. They may be wrought iron chandeliers, glass chandeliers, crystal chandeliers and antler chandeliers. Well, just a brief description for the types of chandeliers: wrought iron chandeliers are the most common and most known chandeliers wherein the branches of the chandeliers are made of wrought or worked iron. Glass chandeliers give an elegant impression but are much affordable than the crystal chandeliers. Crystal chandeliers, from the name itself, chandeliers are made out of crystal that is why they standout anywhere. Antler chandeliers are the rustic, antique or rugged type but then they are very attractive too.
These light fixtures are used to illuminate areas where they are placed. There are instances that chandeliers are used only as decorative focal point for rooms. Below are pictures of wrought iron chandeliers that might fit your place. Just scroll down and your eyes will surely sparkle by just looking at these photos!
9-Light Shant Rustic-Wrought Iron Chandelier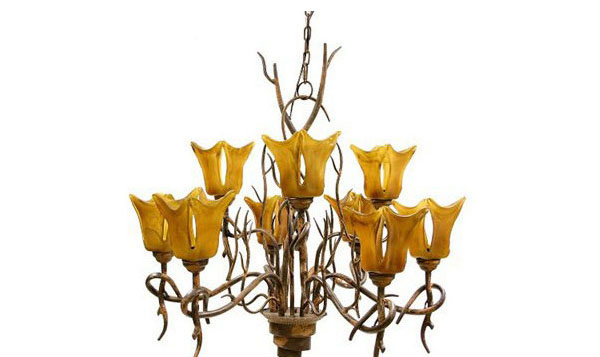 Notice the wooden form of the wrought iron branches, it has a mysterious forest-like impression that our eyes can't get off it.
5-Light Madalyn Rustic-Wrought Iron Chandelier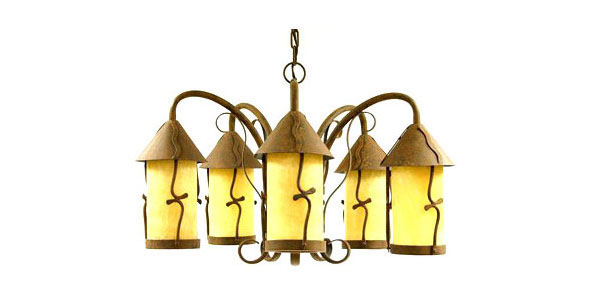 Little lamps paired with the hand forged iron arms make a cute chandelier that would be greatly appreciated by the children.
Ferentino 4-Light Chandelier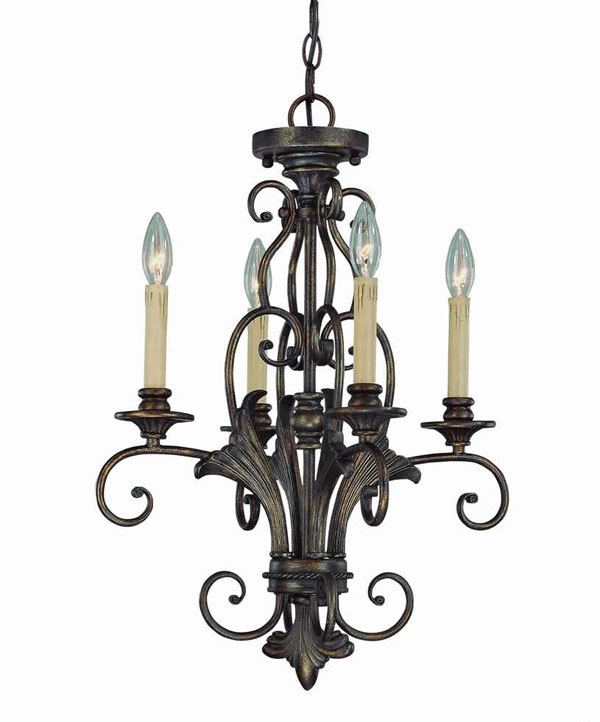 The chandelier says simplicity is beauty. Its curved branches look good with the worked leaf-like iron design.
6-Light Emilion Chandelier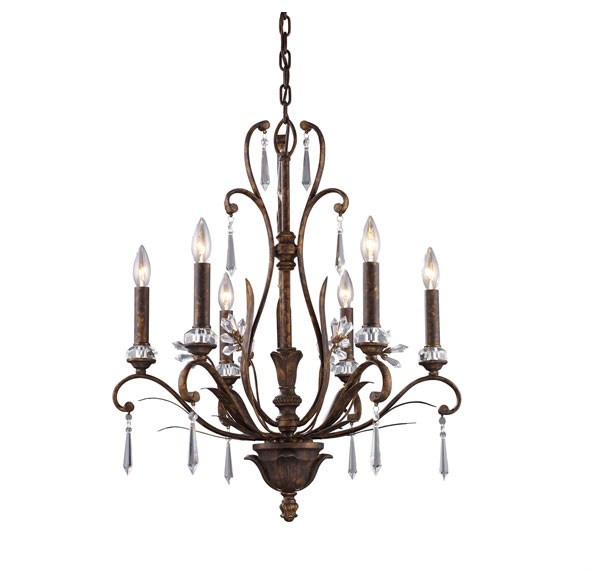 Festooned with crystal drops and artificial candles, this chandelier is undeniably stunning.
Antique Wrought Iron & Crystal Chandelier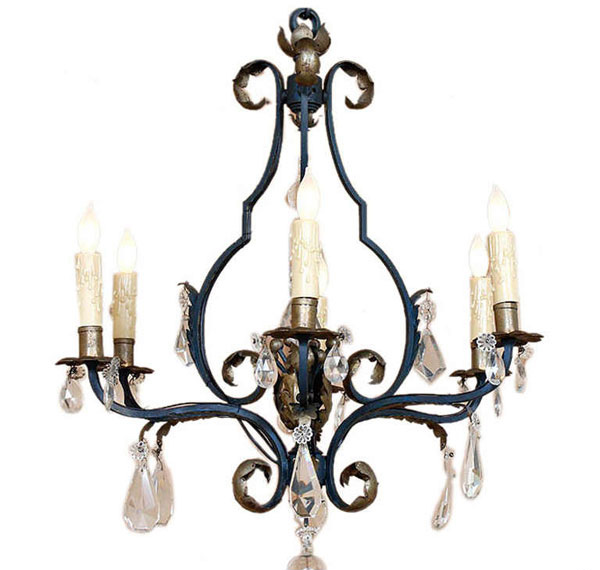 With the touch of Neoclassical style and the crystal prisms that are hanged below, candle-like lights are prettily seen.
A84-724/24 Wrought Iron Chandelier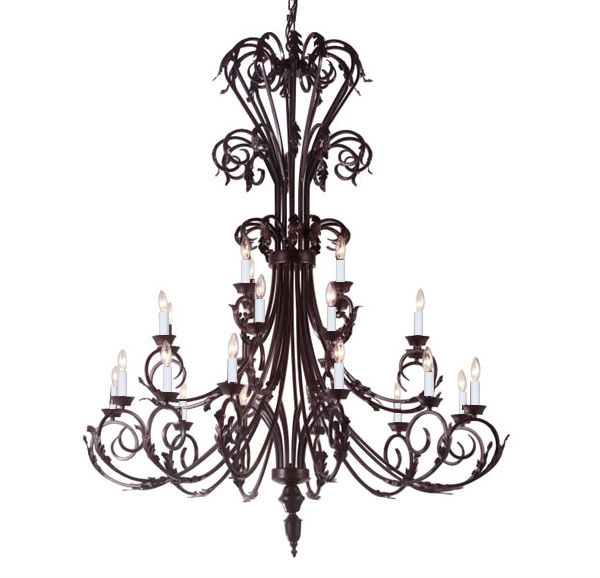 This three-tiered chandelier is designed with little lights to emphasize the branches that are well-curved.
5-Light Wrought Iron Chandelier with Rustic Bronze finish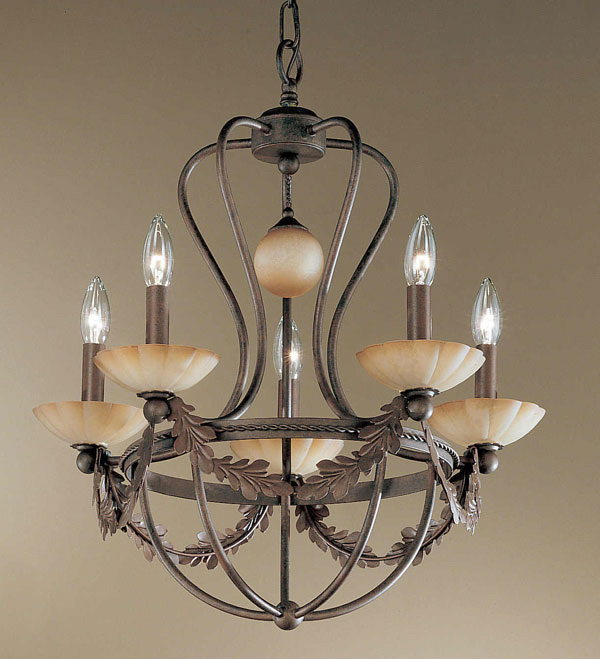 The unique design of the drip pans and the hoop's braided-detail may get the attention of any sight-seer. The former may not catch the drips of wax from the candle, but it adds up beauty and elegance to the chandelier itself.
6-Light Wrought Iron Chandelier with Champagne finish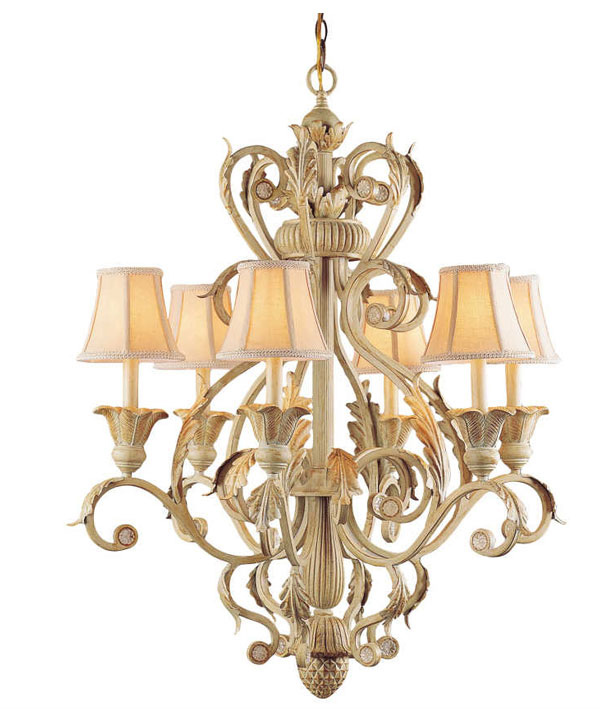 A beige coloured wrought iron chandelier is not commonly seen in many places or in big mansions, but this chandelier proved us that even if it is simple, it can make a mansion look like an elegant paradise.
6-Light Wrought Iron Crystal Chandelier with Dark Rust finish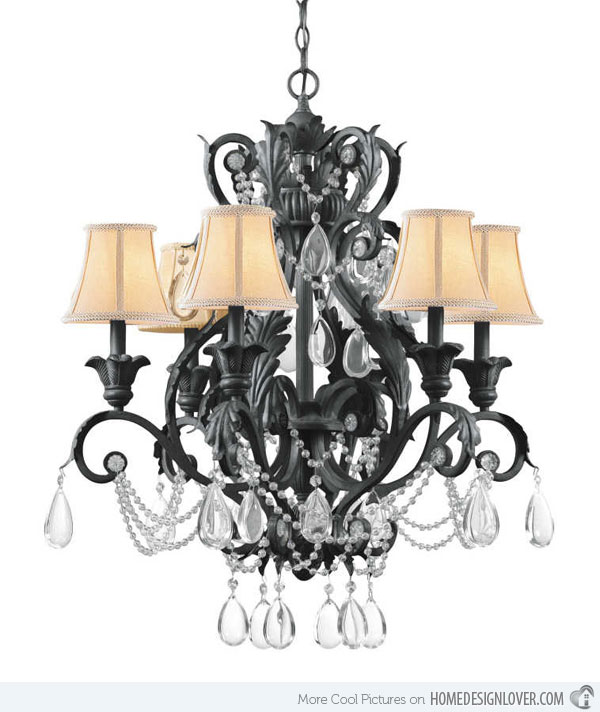 This chandelier is quite mysterious and strong because of its dark colour and complicated design of its branches so the beautifully designed lamps were used to balance the expression of the chandelier.
Valentina Iron Leaf Collection 6-Light Chandelier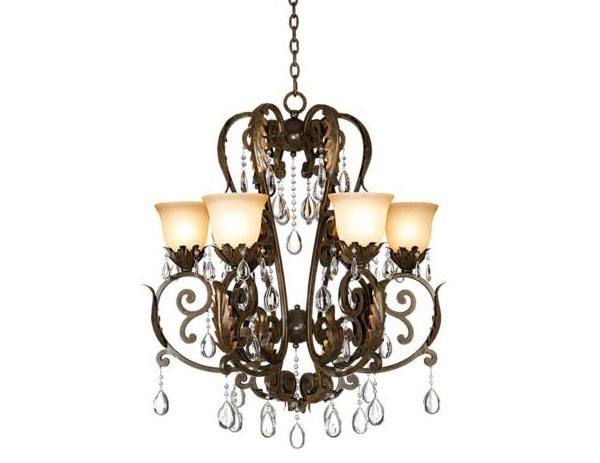 Iron leaves were welded to the branches with meticulous attention in order to produce a jaw-dropping chandelier.
Amber Glass Pattern Wrought Iron Chandelier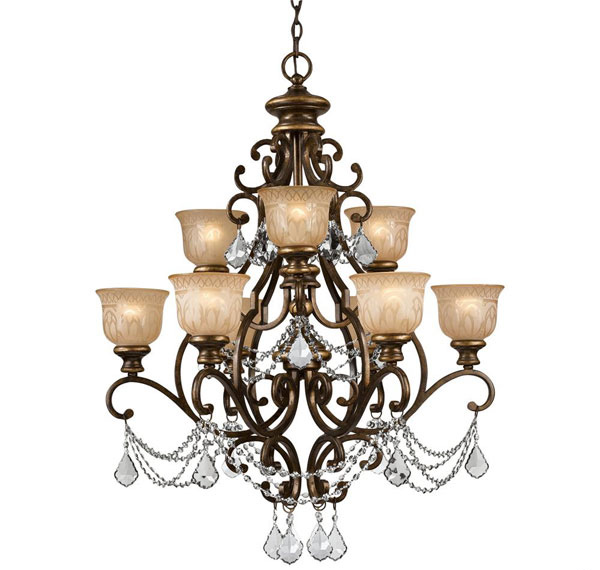 Take a look on the hand painted design on the inverted dishes, it is quite amazing to have a beautiful design on that chandelier.
Florence 8-Light Oval Chandelier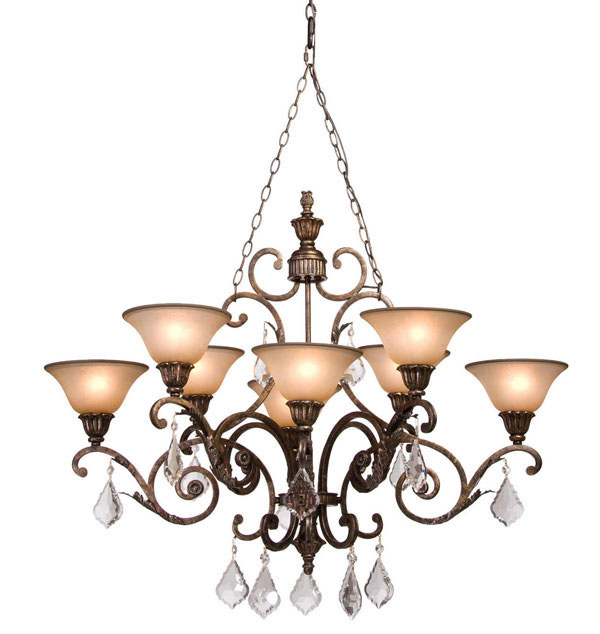 Imagine this chandelier placed in the living room of your house, with these crystal drops sparkling from lights, looks like you already got an awesome place!
Highland Place 6-Light Chandelier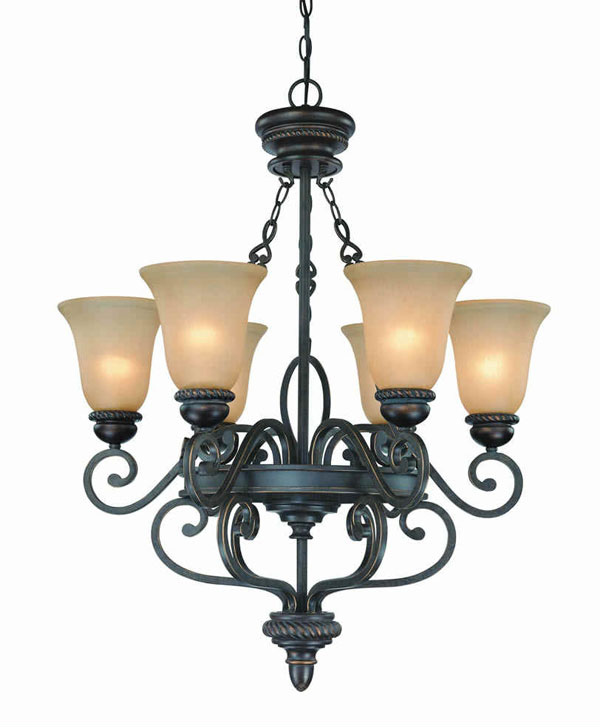 Even the chandelier has simple design, the six inverted shallow dishes with light bulbs are pretty attractive to our eyes that make the chandelier look grand.
Surrey Park 9-Light Chandelier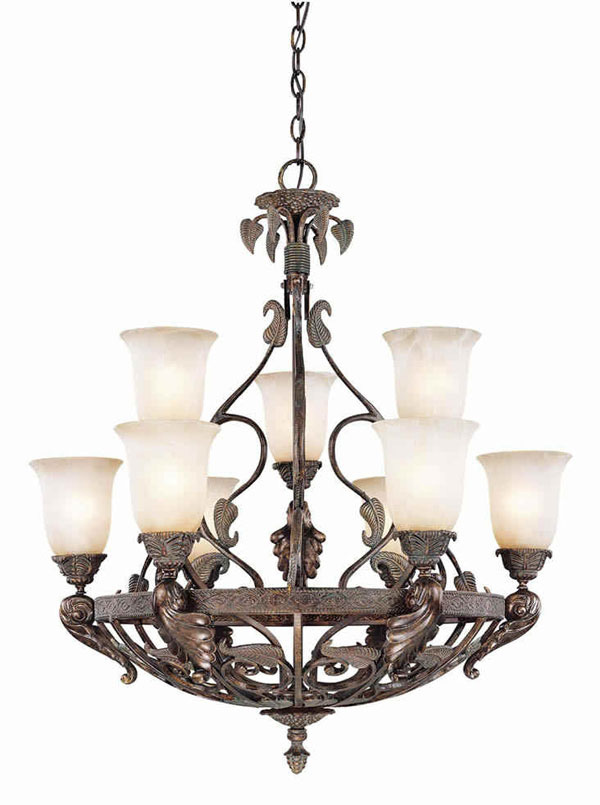 The hoop has details that are very interesting to look at, same with the lamp nozzles that bear little figures which seem like they are carved.
G84-513/12 Wrought Iron Chandelier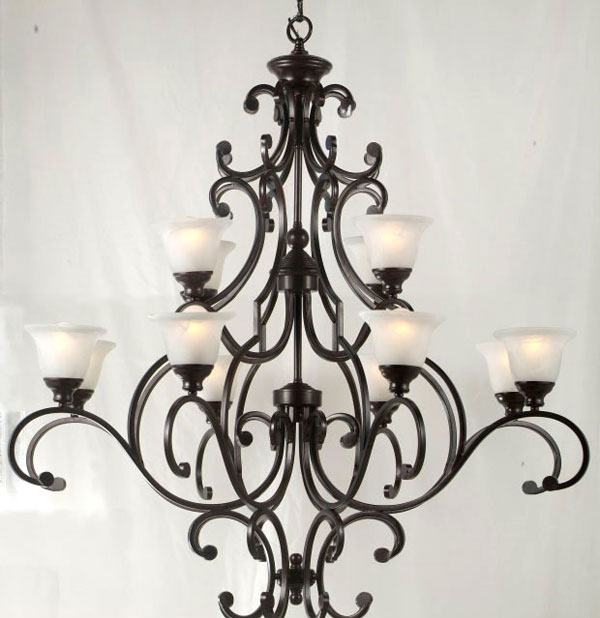 From up to bottom, alternating branch curves look attractive especially when a dark coloured wrought iron is used just like on this chandelier.
Canterbury 12 Light 2 Tier Chandelier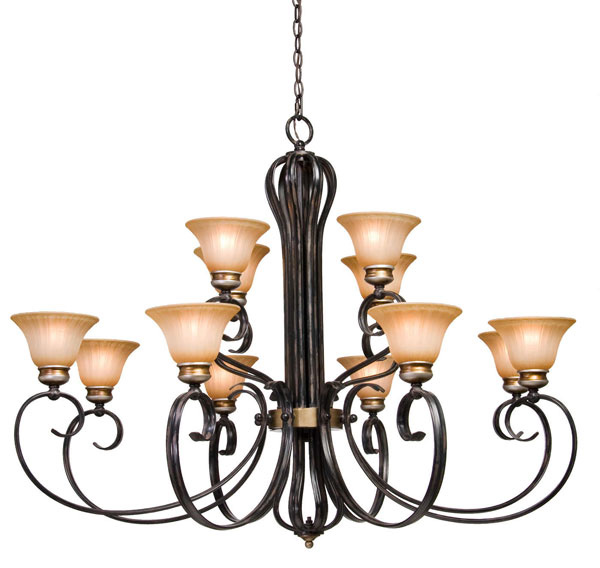 The thick baluster that is connected to the branches serves as the foundation of the chandelier, obviously giving us the impression that it is well-built and is strong enough to be hanged even for a long time.
Roma 13 Light 2 Tier Chandelier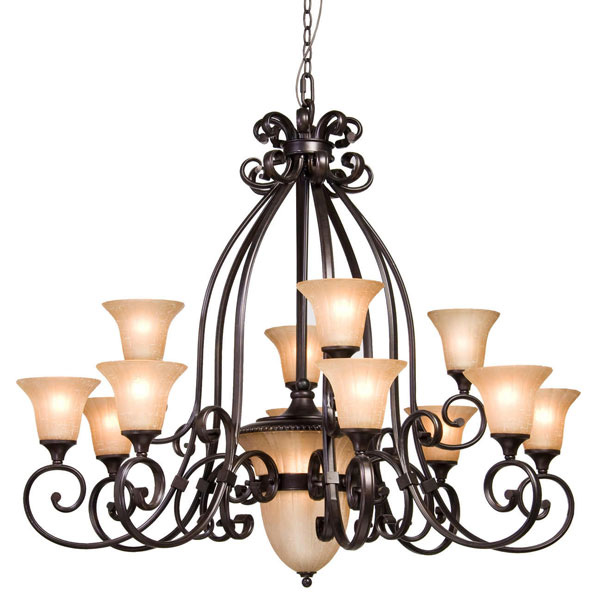 The inverted shallow dish acts as the mother of the thirteen lamps. Guests will be amazed by the features of this chandelier if placed in the living room or in the common area.
12 Light Wrought Iron Chandelier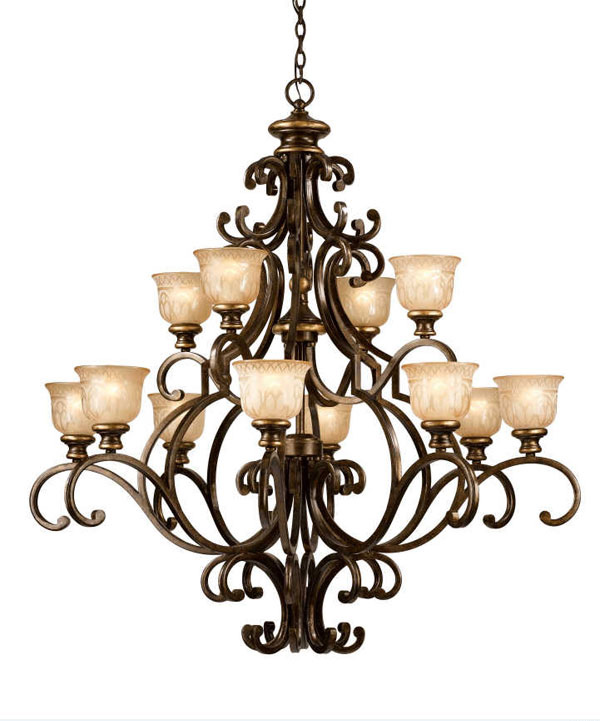 It is about the curved arms of the wrought iron chandelier paired with the inverted printed dishes that make it look gorgeously cool.
3 Tiered Chandelier
Boasting with its three-tiered lights, the chandelier stands aristocratically along with its carefully curved iron branches.
F84-451/15 Wrought Iron Chandelier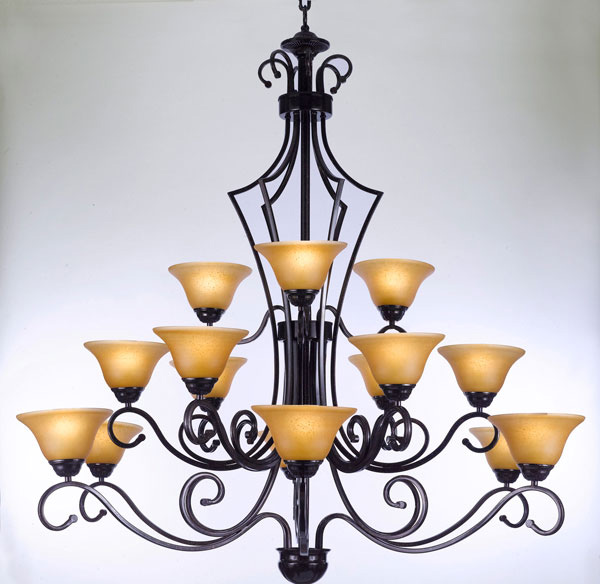 This European chandelier has fifteen lights with a wrought iron frame. Looking at its structure, this may be placed at the grand entrance of the house to give it an elegant look.
Shiny crystal drops, inverted dishes, cute lamps, different light bulbs, and unique structure of chandeliers – these features make it complicated in choosing what chandelier would be best for our place. To have a perfect scene inside the room, the chandelier should also complement the place. For example, if the theme of the living room wherein a chandelier is subjected to be placed is wooden and is suitable to have a dim surrounding, the chandelier should also have a wooden design with lamps that would control the lights. If concerned about the prices, wrought iron chandeliers are affordable than the others. We have already proven that this kind of chandeliers have timeless beauty and elegance through the gathered photos above.
The beauty of the chandelier depends on how and what we see from it. If we just appreciate its big or small details and notice its overall structure, it would not be difficult for us to choose the chandelier that we need. There are many chandeliers to choose from but we have to trust our own taste and think of the things that should be considered. With the chandeliers that we have above, we hope that we have given you the ideas about chandeliers that may fit your place and lifestyle. And now, have you imagined the chandelier that would be perfect for your place?