15 Unique White Vases for a Simple and Minimal Accent
Accessorizing different areas of a house is something that homeowners could enjoy doing. Part of that is buying some stuff that fits one's taste and the home's interior design concept. There are lots of stuff that one can place in a room, may that be in a living room or bedroom or any part of the house. There are so many choices from lighting fixtures, wall decors, vases, carpets and many others. For sure, looking for one could be both challenging and enjoyable.
Vases are one of the most sought after items when one decides to accessorize. It can be used as centrepiece or sometimes placed on top of cabinets, on corners and others. There are different types of vases. There are also varying colors, sizes, shapes, designs, and materials. But if one wants to attain a minimal look, using white vases can be a good choice.
For today's post, we will show you a collection of unique white vases. Most of these vases are made from ceramics and porcelain which doesn't just look good but are also glossy and would give your room a great look. Now, let us take a look at these 15 white vases with distinct designs. Achieve a simple yet elegant look with these vases. Here they are:
90º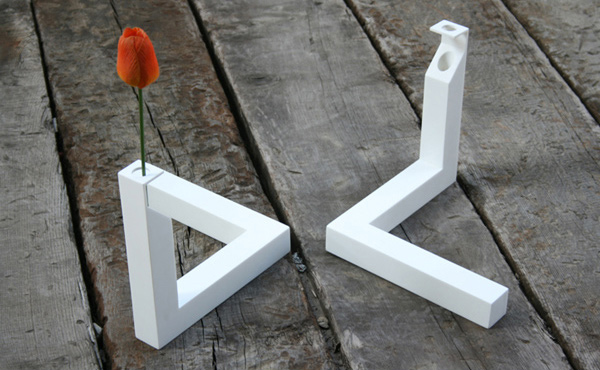 Designed by Cuatro Cuartos, 90 ° is a vase that is based on a drawing and converted to a geometrical shape with volume. Depending on one's point of view, both ends matches and make it look like a closed figure.
Bikini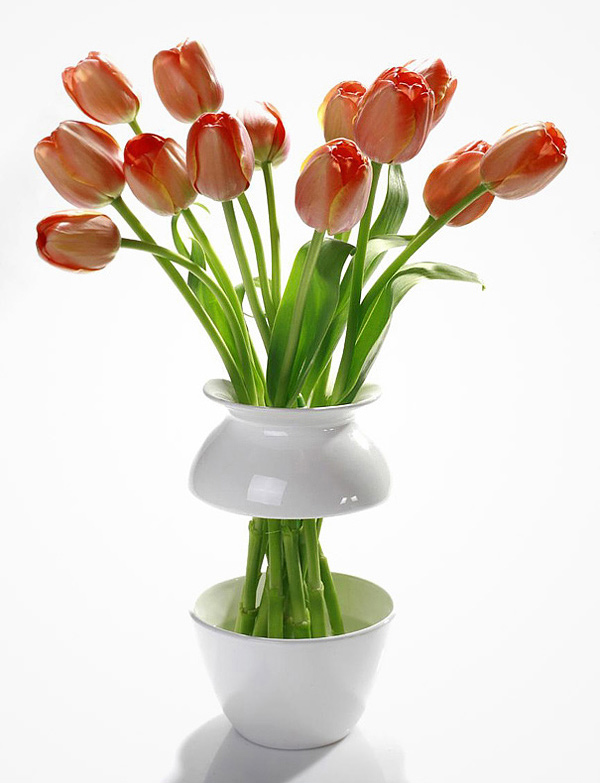 This bikini vase is surely unique with its design that mimic that of a two piece bikini by separating the upper and lower portion.
Rebird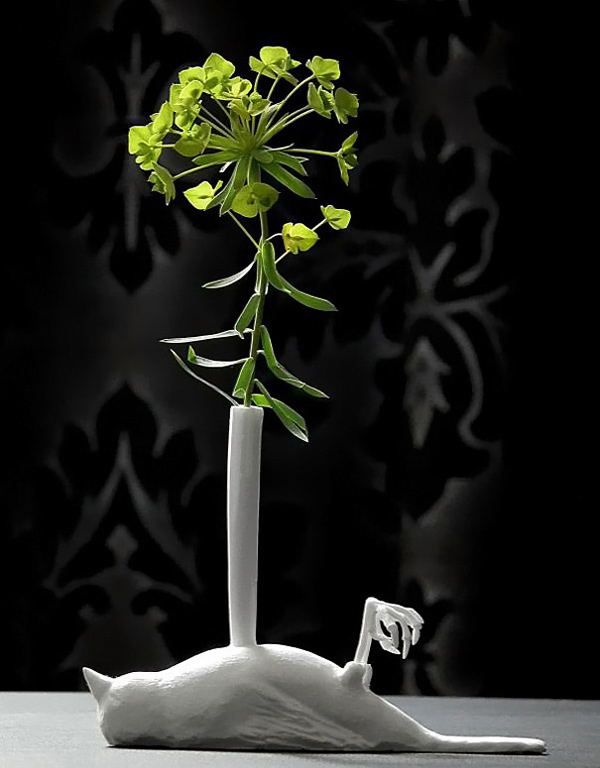 A flower blooms out of a dead bird. This Rebird vase will undoubtedly add a different twist when you use this as centerpiece.
Peaceful Bomb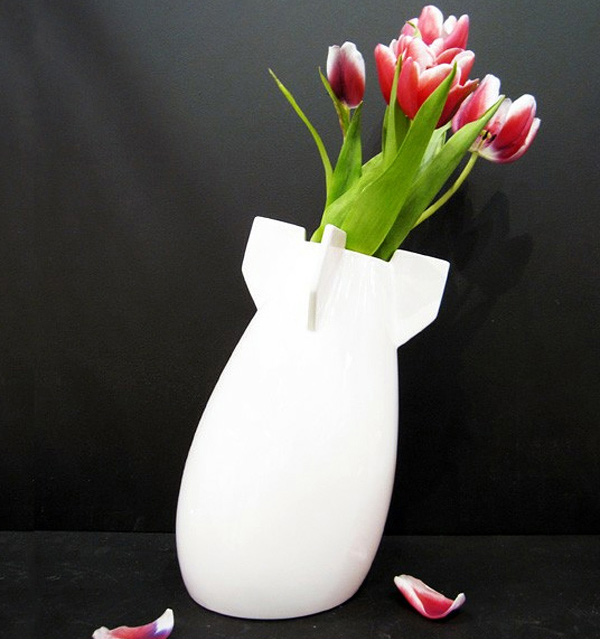 Designed like a bomb, this vase is distinct not just for its shape but also with the impact it can create when used.
Carton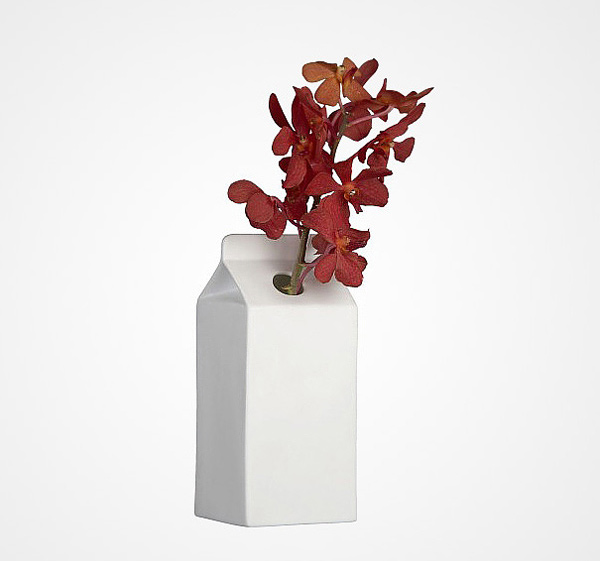 U.K. designer James Burgess pours a dash of whimsy into this white porcelain that is shaped as a milk carton, one can be deceived with this vase thinking that it is really a milk carton except that it has no label.
Dancing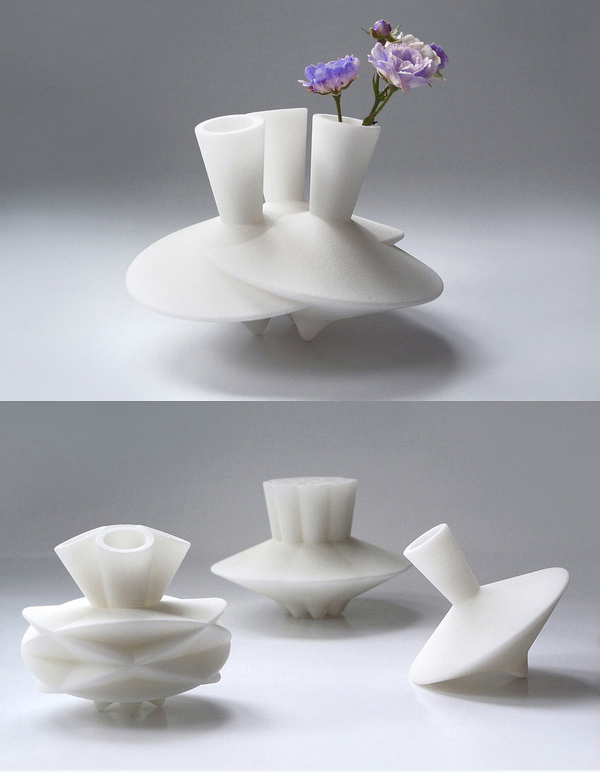 The 'Dancing Vases' is a series of vases based on the shape and movement of a spinning top. The vases show the process of a spinning top as it rotates fast, starts to stagger and finally stops. The vase is a replica of a spinning top that is like frozen in their movement and would need each other in order to remain standing.
Dan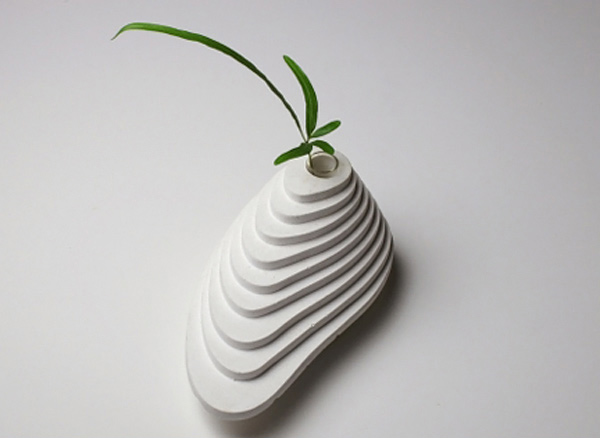 The name of this beautiful vase means "a step of the stairs" in Japanese. Its design is inspired by a topographic map.
Fiorisutra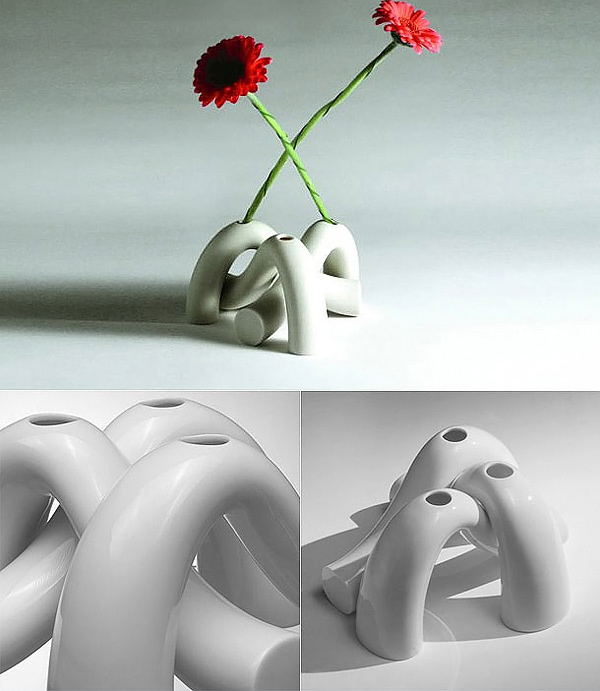 This vase is unique with its crossing curves and three holes for three flower stems. It will surely be perfect for your centerpiece.
Fluid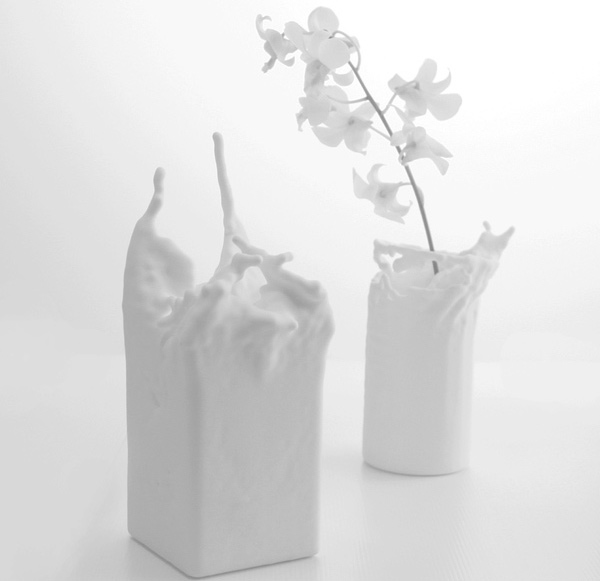 The idea of pouring water into the vase was used for this design. The designer define it as "the process of pouring water becomes the vase itself".
Hula Hoop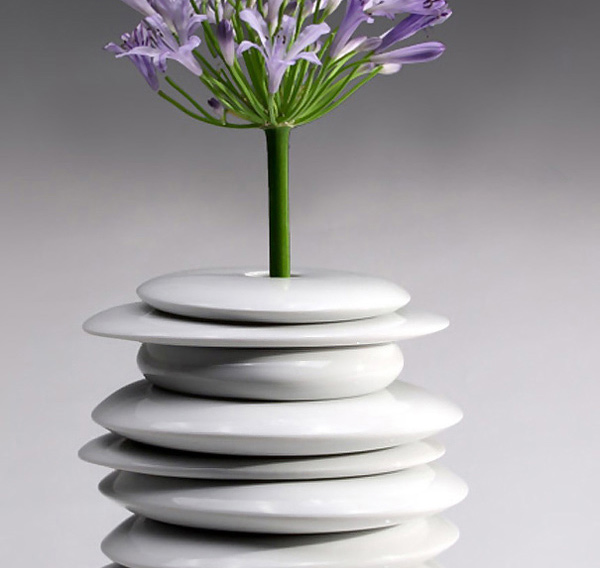 Like a spinning hula hoop frozen while moving, this design can also change its look by rearranging the elements in it. Each element is different in shape and merely by rotating them can give you a new appearance.
Kontur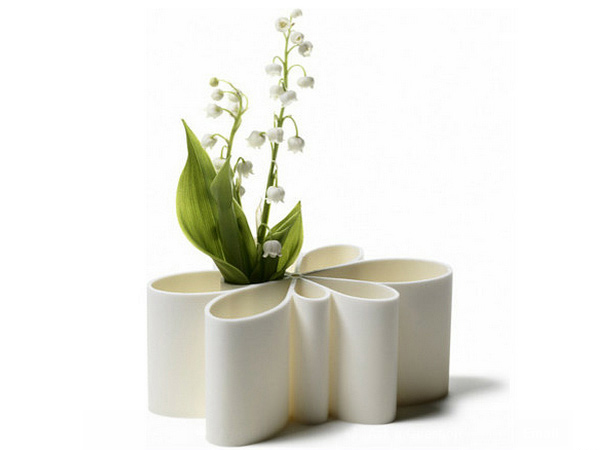 Shaped like flower petals, this vase will surely add beauty to your room with its curves. It is a result of an experiment that culminated into a vase made from silicon.
Northern Vase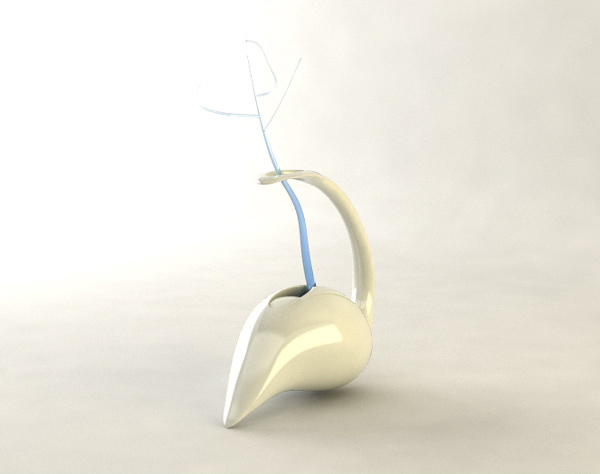 Beautifully designed vase that looks like a swan having a hole in the upper part where you can slip in the flower right into the lower portion.
Open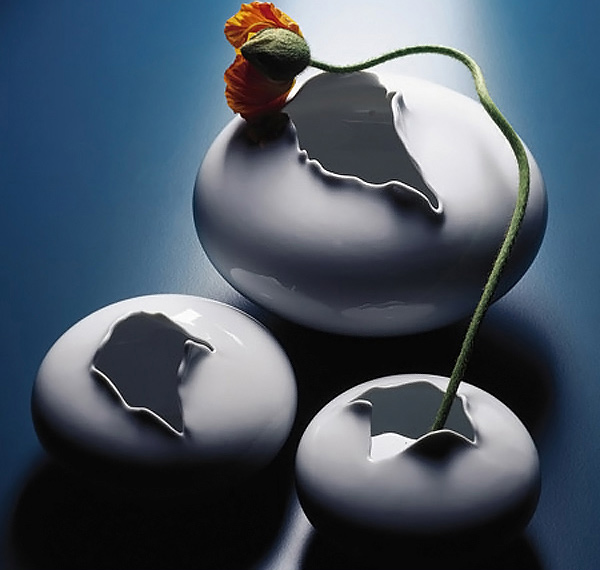 A design inspired by an egg cracked open in order to place a pretty flower into it.
Outline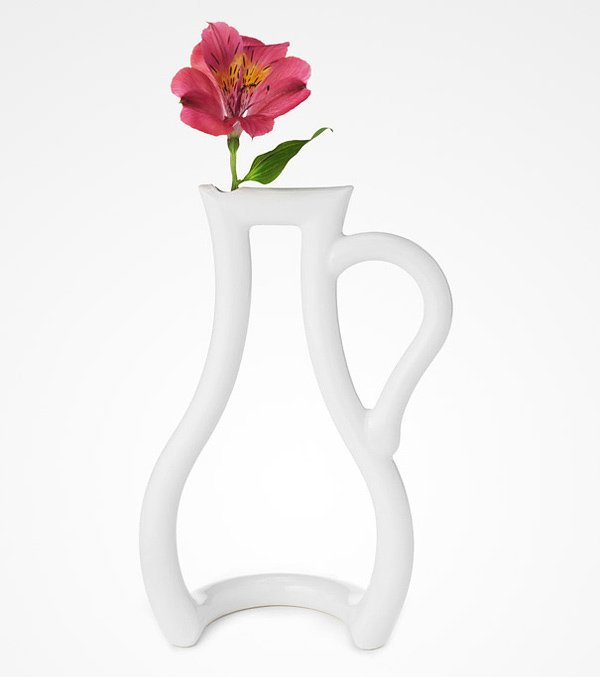 You will be amazed with this porcelain outline of a classic vase that is enough to carry a single flower only.
Zsa Zsa
Other vases have a single hole for the flower but this one has many. A multi-hole vase can also be a good accent to your room.
For sure, you were amazed with the beauty of these vases. You will even be more amazed if you see them with flowers and how it can give your room a different impact. These vases are just some of the so many vase designs that one can see. You can grab a similar vase from your local store and have it placed in your desired room.
This is the first vase collection and you will still see more impressive vase designs in our future posts. We hope that this one inspired you and gave you ideas on what type of vase you can use for your home. You might also want to look into other posts and tips from Home Design Lover which can surely make you love your home even more.