15 Pretty Living Room Lamps
Choosing and purchasing lamps – whether they are stand lamps, table lamps and ceiling lamps will definitely transform your living room space. For example, in the living room; this space is where your family members and maybe friends spends most of their time when they are at your house, but of course, this space is not just about comfortable seating and the latest LED TV. Proper lighting makes the room's design and scheme be more sophisticated and exude the real feel you actually wanted to achieve for your space.
Today, the 15 Pretty Living Room Lamps that we will be showing you are examples of lamps you can actually use for certain tasks like reading, or maybe for entertaining, late afternoon drinks and after dinner coffee and, well, lighting in general. Lighting can be one of the most aesthetically pleasing parts of a design scheme. A single large turquoise stand lamp will certainly go a long way in terms of aesthetics, of that is something you want to actually achieve, but for now, let us go ahead and check the lamp styles we have below.
Aqua and White Living Room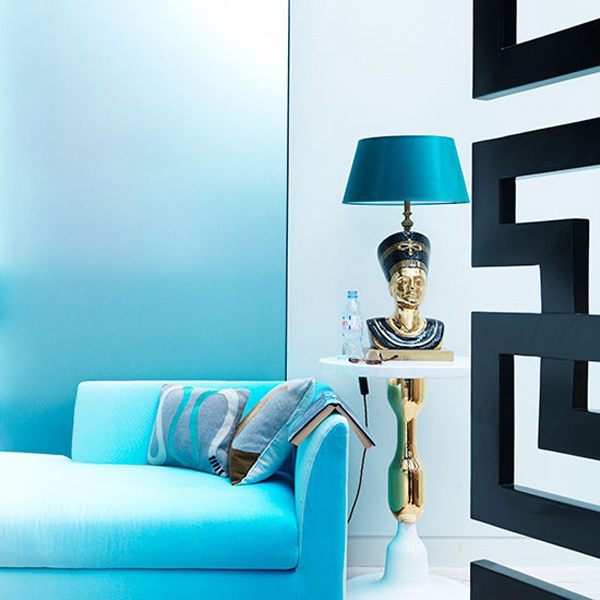 An aqua-hued chaise longue, decorative gold lamp and Greek key screen create an Egyptian-style look in this living room.
Grey Chesterfield Sofa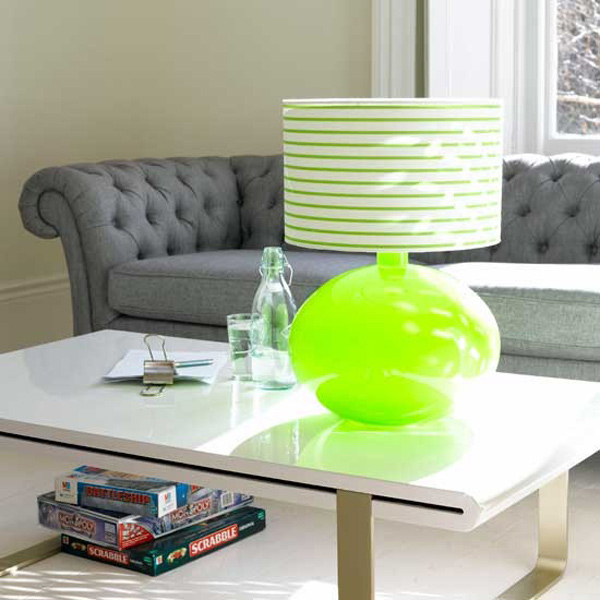 A classic Chesterfield sofa has been given a modern twist in this minimal living room. The smart grey cover gives it a tailored look and a zesty lime green lamp is the perfect contrast.
Contemporary Chair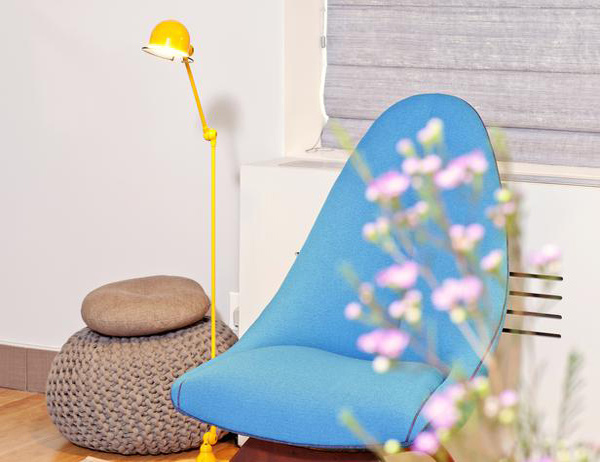 A bright teal chair and yellow metal reading lamp adds a pop of color to the white living room. The soft curves of the furniture also bring a more feminine feel to the space.
Contemporary Living Room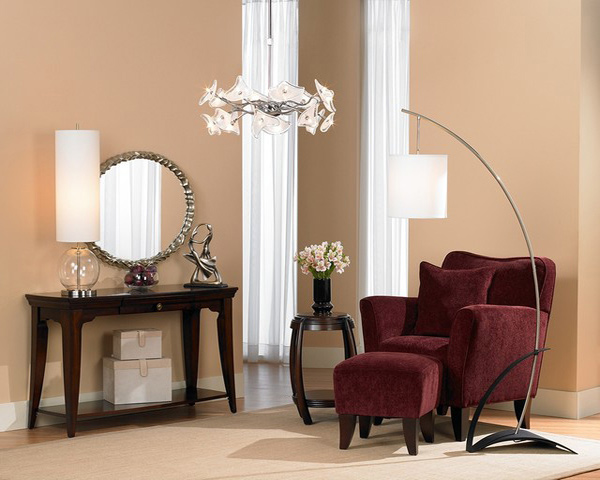 We can see dark colored furniture in this picture that contrasts the light colored walls and flooring. We can see three types of lighting fixtures – the cylindrical table lamp, a stunning chandelier, and a cylindrical stand lamp. A pretty living room indeed.
Grey Pink Living Room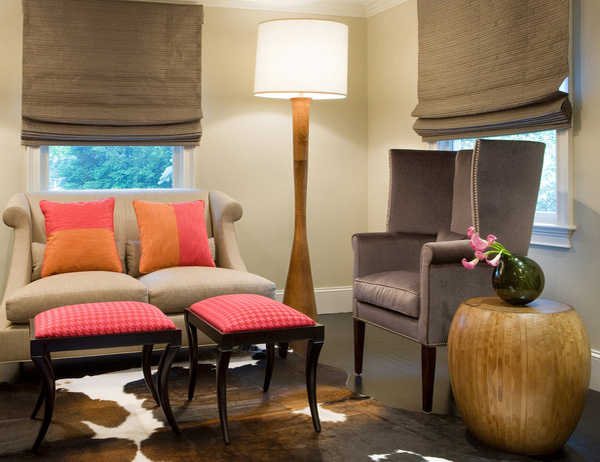 This living room has a great combination of traditional with the wingback chair, contemporary with the grey, orange and pink color palette and rustic with the large scale wood lamp, side table and cowhide rug.
Inviting Living Room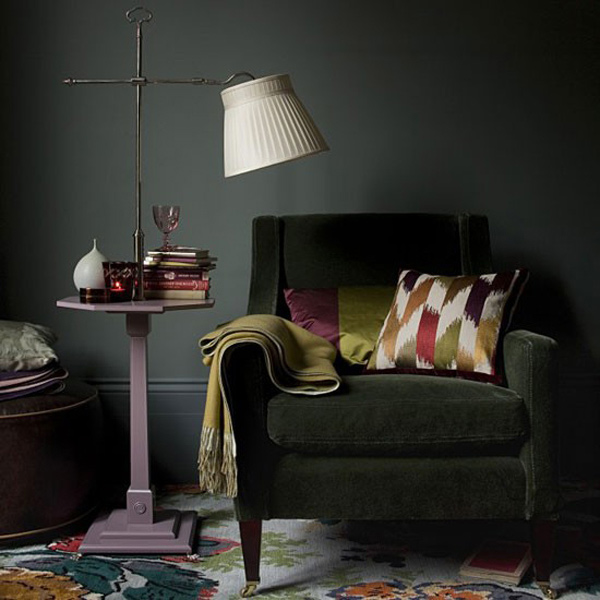 The essential ingredients in any living room are luxurious cushions, atmospheric lighting and accessories within easy reach. Layer cushions and throws to create a comfortable, inviting corner for reading.
Living Room Lighting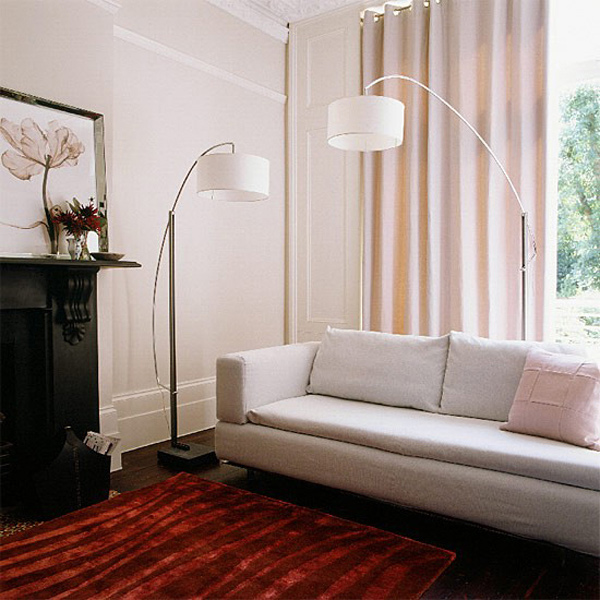 Stylish, extendable floor lamps from Ligne Roset are a focal point in this living room. Match with neutral furnishings and curtains.
Metallic Accents Living Room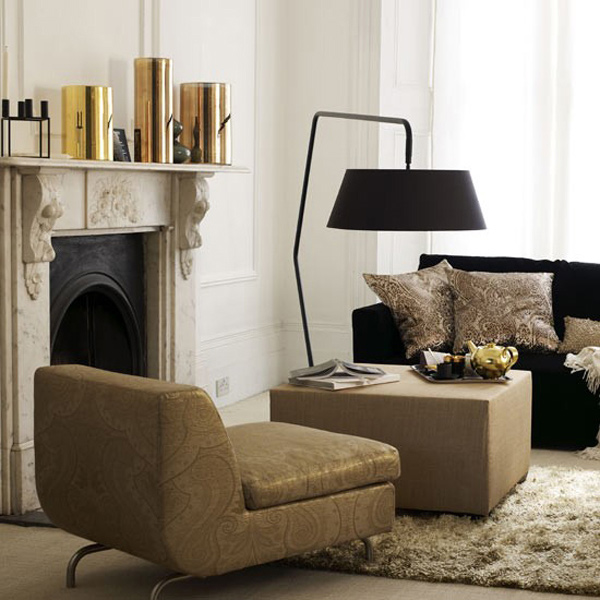 This living room uses gold and metallic accents to create a glamorous look. Soften the look by using the full spectrum, from yellow gold to mink, blending patterns and finishes. A black floor lamp makes for an eye-catching focal point, and adds an interesting mix of old and new when teamed with the traditional stone fireplace.
Modern Red Chairs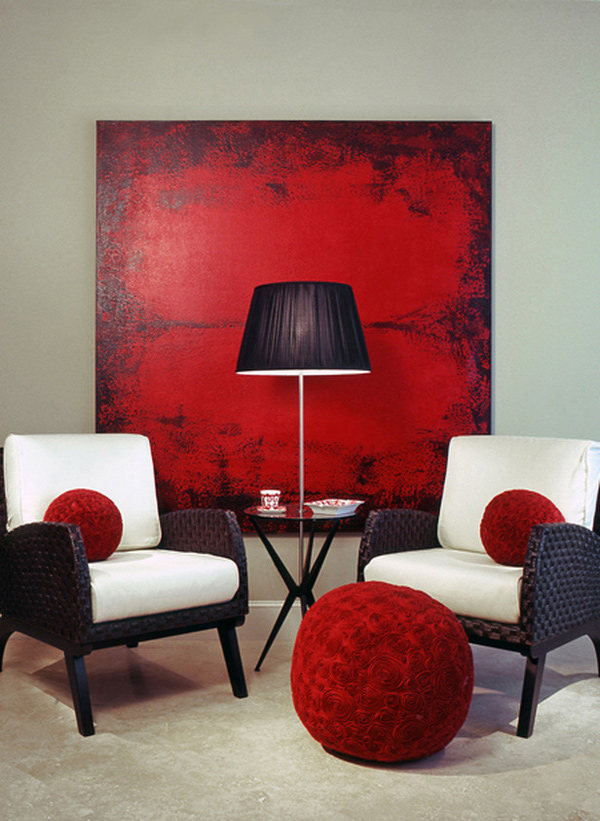 This vignette of a modern Floridian living room bursts with color and texture. Chocolate woven rattan chairs upholstered in cream linen sit next to an iron and glass floor lamp side table placed in front of original oil chosen by the designer for the space. Red velvet rose "poof" pillows and ottoman add a sense of whimsy and playfulness to the elegant space.
Quirky Living Room Light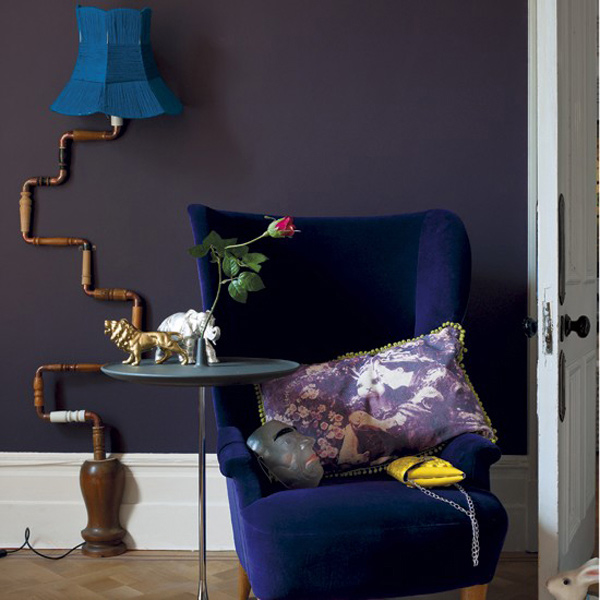 A few eccentric pieces do wonders for a small living room. This half-shade lamp, which is made from recycled table legs, sits flush to the wall making it a stylish, wiring-free update on a traditional sconce.
Contemporary Living Room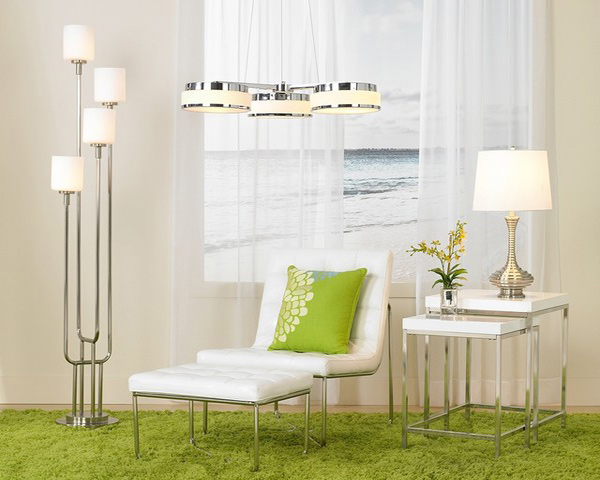 Another stunning staging from Lamps Plus. Three example of lovely white lamps that complement the green accents added to this space – the pillow and the green-colored carpeting.
Striking Living Room Lampshade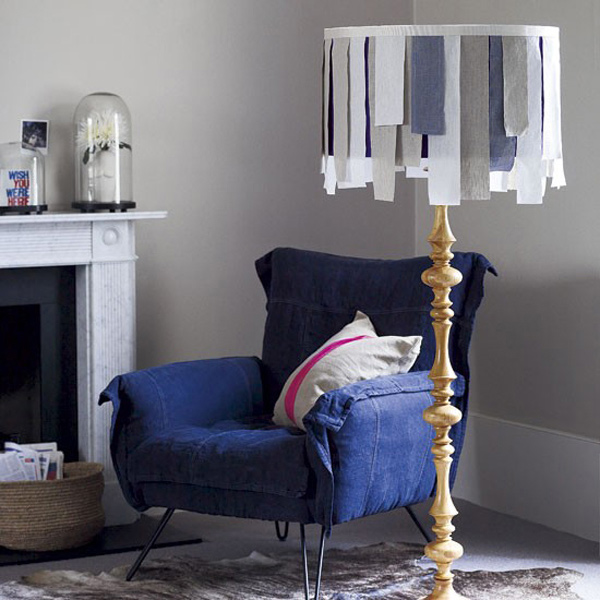 Layer linen strips of different lengths to add a new dimension to a lamp shade, sticking them at the top and finishing with ribbon. Pick up the colors of the walls and furniture for a cohesive look.
Textured Living Room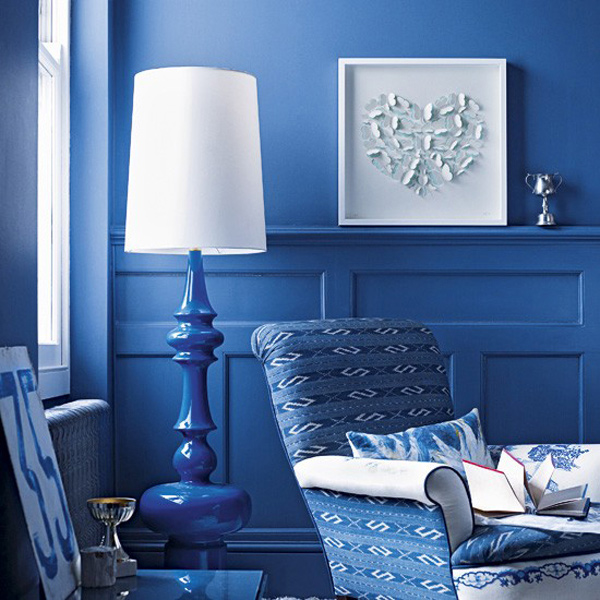 Add a glossy finish to rough-luxe textures to up the glam factor. Here, a curvaceous royal-blue lamp adds sleek contrast to the chair and rug.
Lamp Plus Contemporary Living Room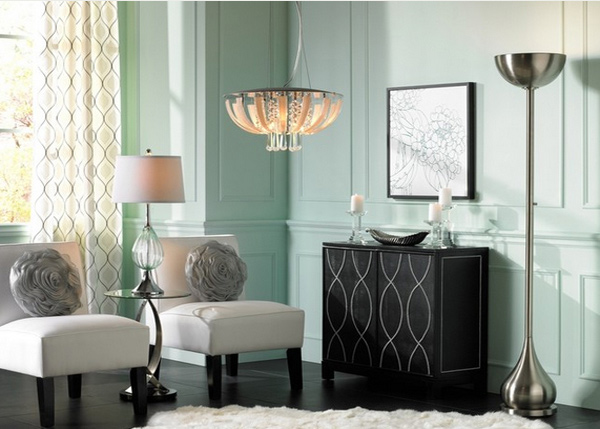 A pretty collection of different designs and styles for lamp designs. One is industrial; the other is somehow vintage; and the other is contemporary – these lamps sure exude a great ambiance of eclectic but still maintains a contemporary vibe.
Gold Modern Living Room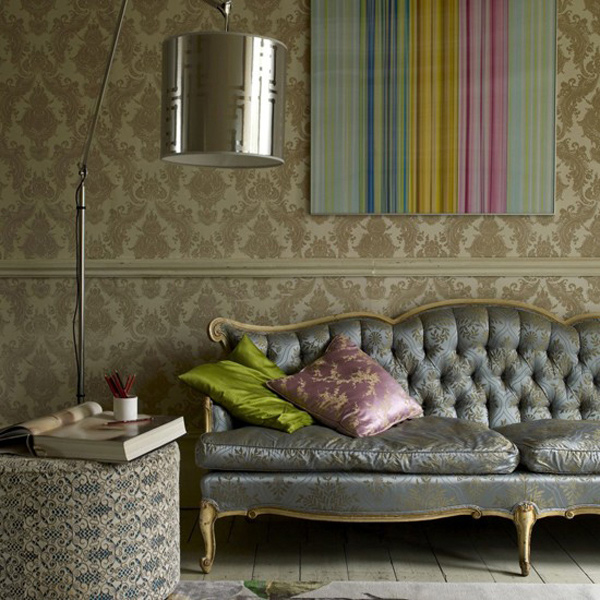 A contemporary painting sits on a wall of vintage, gold patterned wallpaper, while a French style sofa is lit up by a modern, stainless steel light fitting.
All in all, we can say that the 15 Pretty Living Room Lamps was indeed a list worth looking forward to, but before you go ahead and check out other articles here in Home Design Lover like 15 Modern Floor Lamp Designs, we would like to sum a few things in choosing lights for your home. First is, to consider how you use your room; use task lighting to emphasize an area; play with accent lighting; and finally, make sure to choose the right fixture. With that, we are sure you can totally score a 10 for your living room style and lighting!