17 Traditional Wall Mounted Outdoor Lighting
There are times when we dream of actually having a garden outside the house – even when it's just a small area where we can place that teeny tiny table with chairs and a few of the favorite flowering plants we have and few others that we can purchase during those Sunday flea markets!
Today, we will be showing you a list of 17 Traditional Wall Mounted Outdoor Lighting which will help us in showing off the garden we want to have! This list covers the different designs of outdoor lighting that are usually made with bronze – because they are just fantastic and really vintage-looking. Of course, there are some that come in black – let us go ahead and check them out!
Beekman Place Outdoor Wall Mount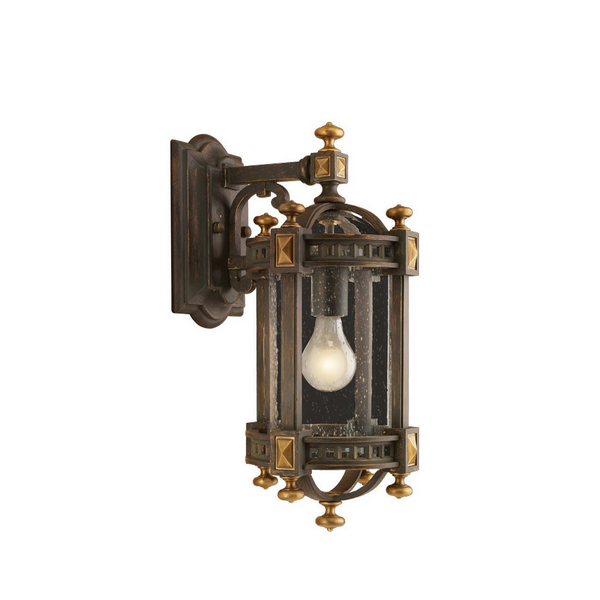 Small yet substantial, this wall-mounted exterior lantern will send a warm welcome to your family and guests. Its hand-blown seedy glass, woodsy weathered finish and solid brass accents make a noble first impression.
Bolla Large Wall Outdoor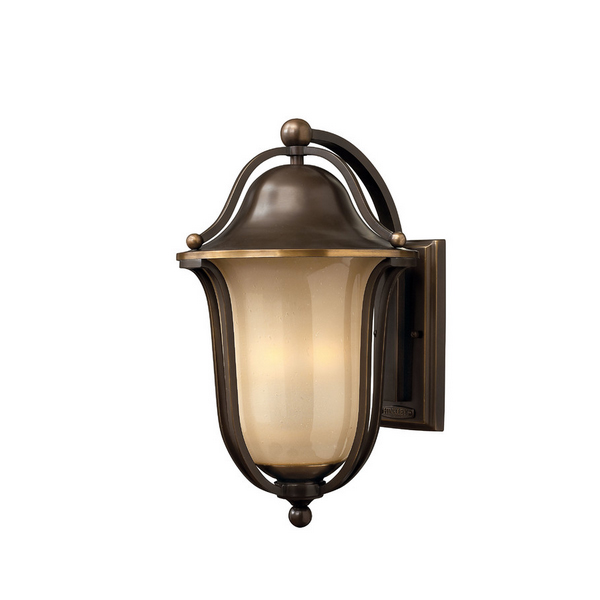 The graceful lines of Bolla create a soft elegance, while heavy cast ball transitions add to its innovative style.
Brynmar Mini Wall Outdoor
Gorgeous details add drama to Brynmar's classic cast aluminum design. The decorative cast leaf and cross-hatch detailing in a Regency Bronze finish complement the stylish amber linen glass.
Chateau Outdoor Lighting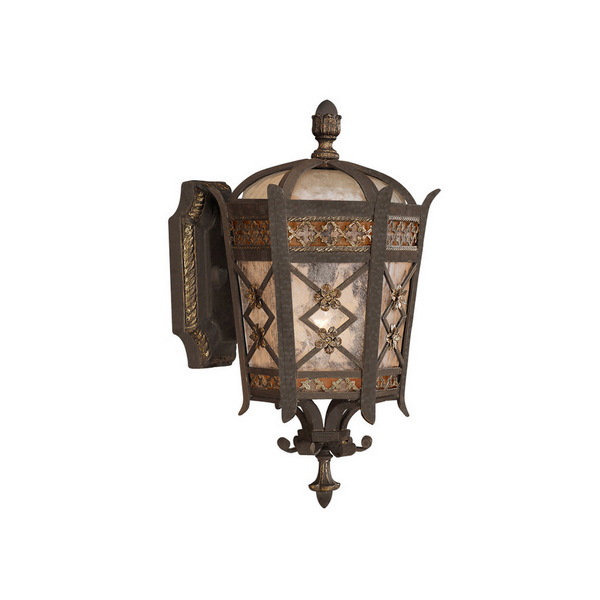 Let this small, superb top wall mount shine a beacon of welcome from your home's facade. Made of solid brass, it features a variegated rich umber patina with gold accents and an antiqued glass shade.
Chatham Gold Stone LED Outdoor Wall Sconce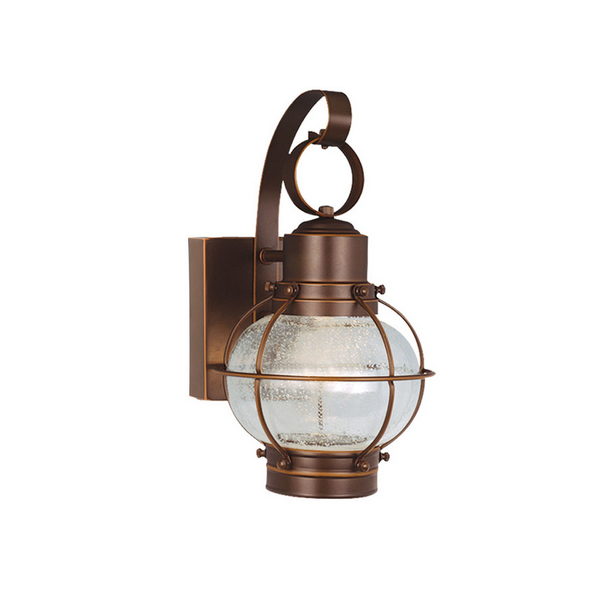 Does Chatham Gold Stone LED Outdoor Wall Sconce reminds you of anything?
Costa del Sol Outdoor Wall Mount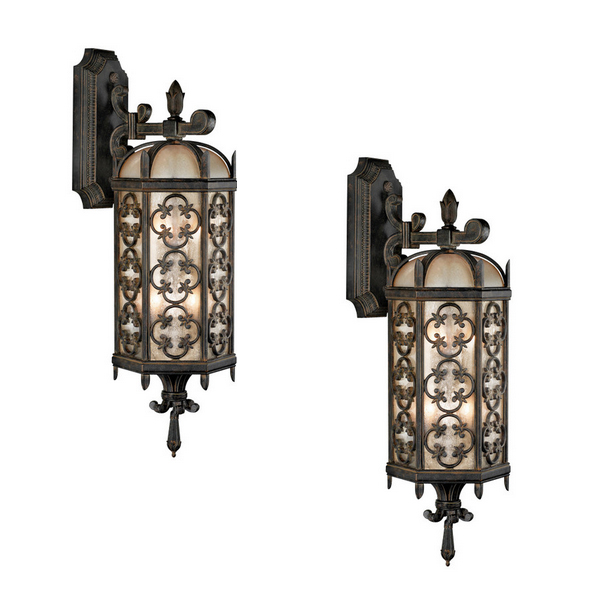 This lantern's decorative wrought iron quatrefoil designs evoke the historic romance of the Mediterranean coast. The subtly iridescent, textured glass gives the light a soft, diffused glow.
Devonshire Large Outdoor Light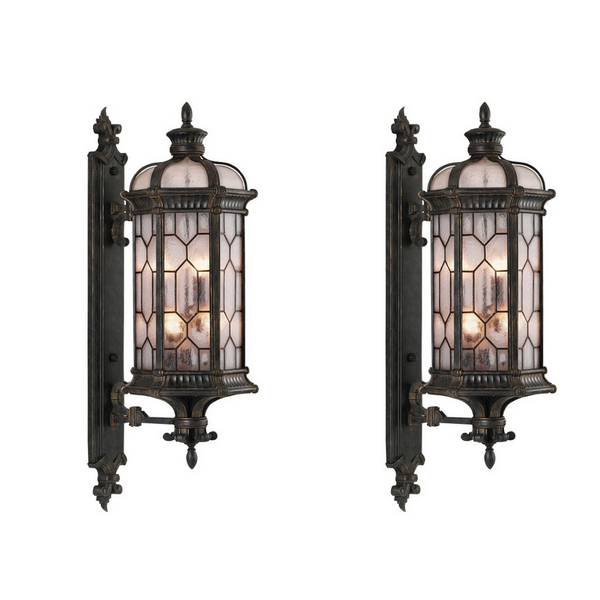 Bring a touch of grand English manor to your home's facade. This small wall mount features textured glass panes and an antiqued bronze finish with subtle gold accents.
Double Costa del Sol Outdoor Wall Mount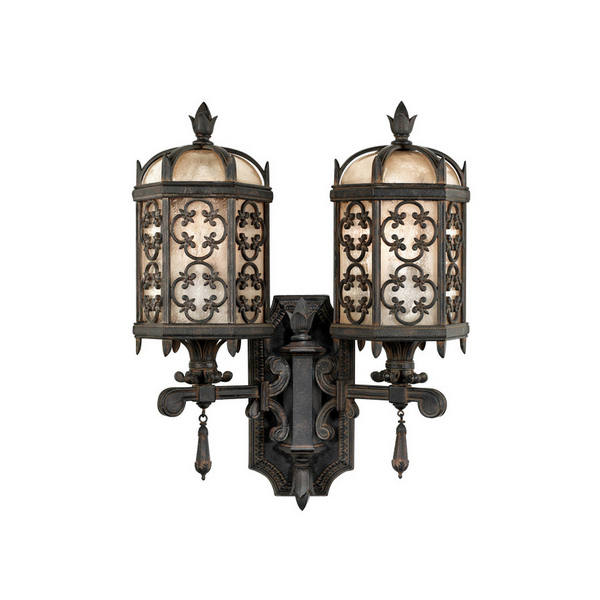 Bring Moorish majesty to your home's facade with this two-armed exterior wall mounts. Iridescent textured glass, stylized quatrefoil design and wrought iron finish work combine for impressive effect.
Franceasi LED Traditional Outdoor Wall Sconce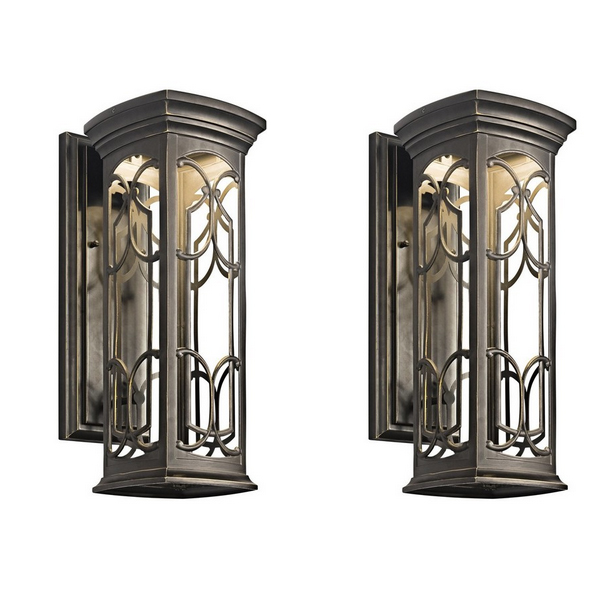 The Olde Bronze panels of the Franceasi family were created with these wonderful windows in mind. The intricate details create delightful shadow patterns on adjoining wall surfaces and walkways.
Gramercy Park Outdoor Wall Mount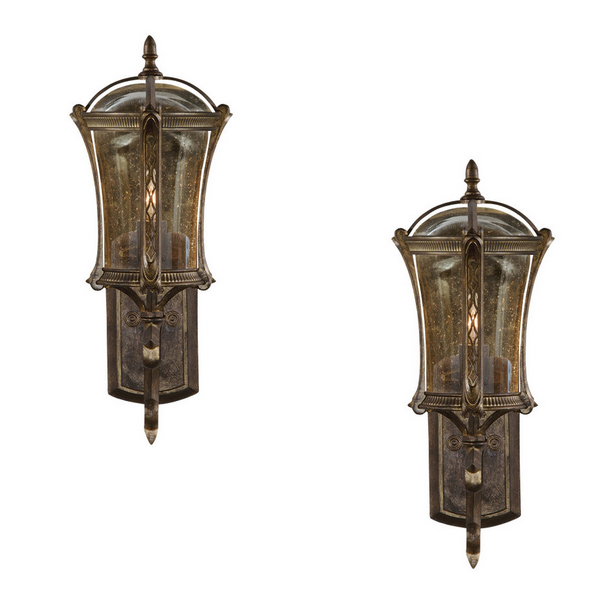 An aged antique gold finish and seedy, amber-tinted glass create a charming effect.
Louvre Outdoor Wall Mount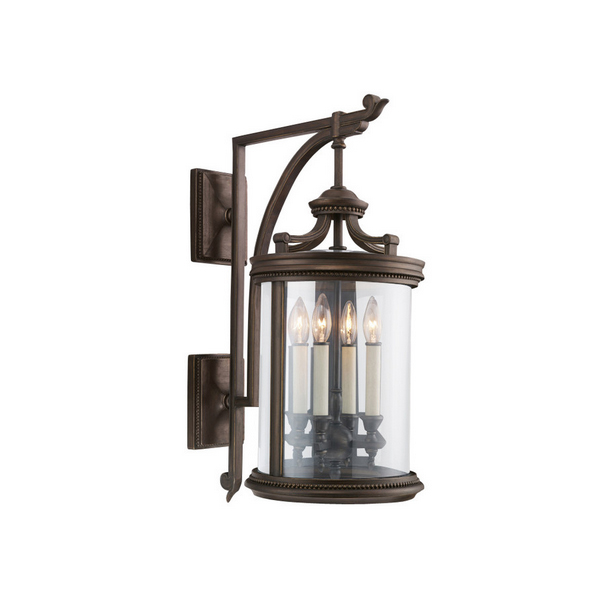 What could be more welcoming than seeing this elegant lantern perched beside your front door or walkway? The warm bronze finish is complemented by a clear, hand-blown glass enclosure and a quartet of antiqued candles, for powerful illumination that's also powerfully appealing.
Monte Grande Outdoor Wall Mount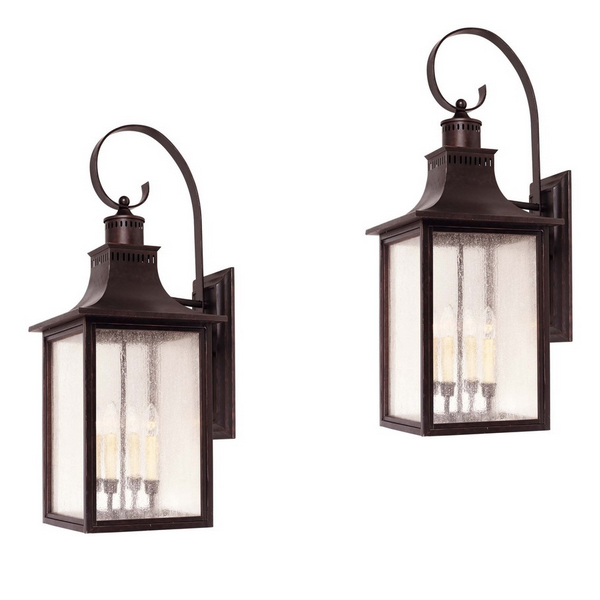 Finished in English Bronze with pale cream seedy glass – these fixtures create an easy appearance of unmistakable exterior elegance.
Oakville EE 1-Light Outdoor Wall Lantern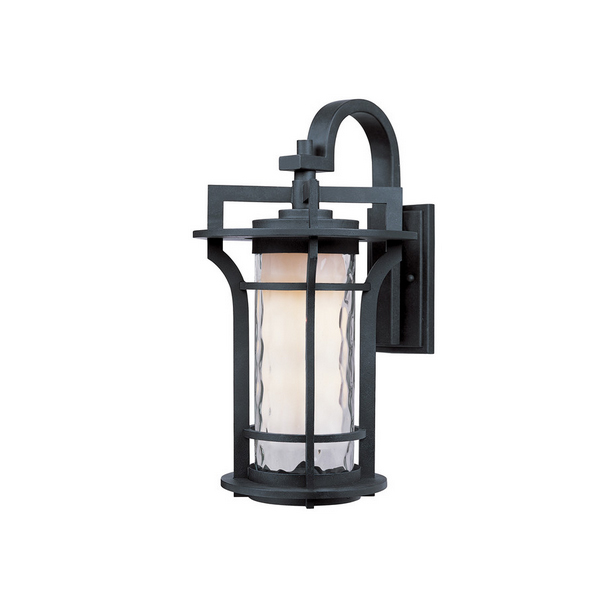 This is a bit a combination of traditional and maintaining a close-to-contemporary design! We love its simplicity and awesomeness!
Odessa EE 1-Light Outdoor Wall Lantern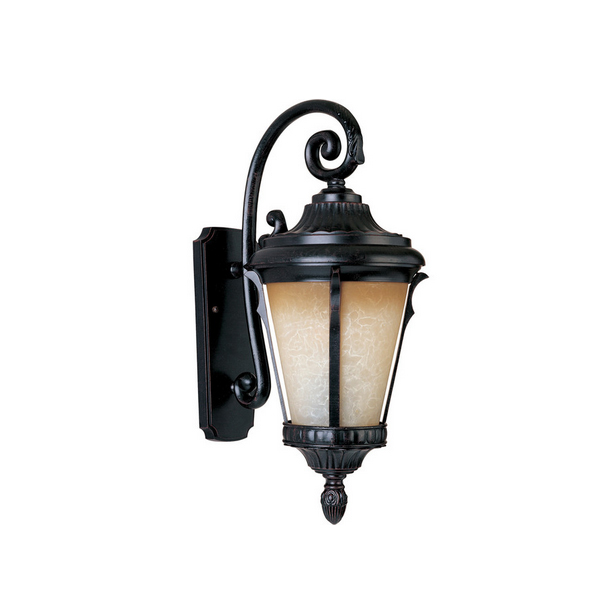 Odessa is one classic design we can pick any day!
Oil Rubbed Bronze Outdoor Wall Sconce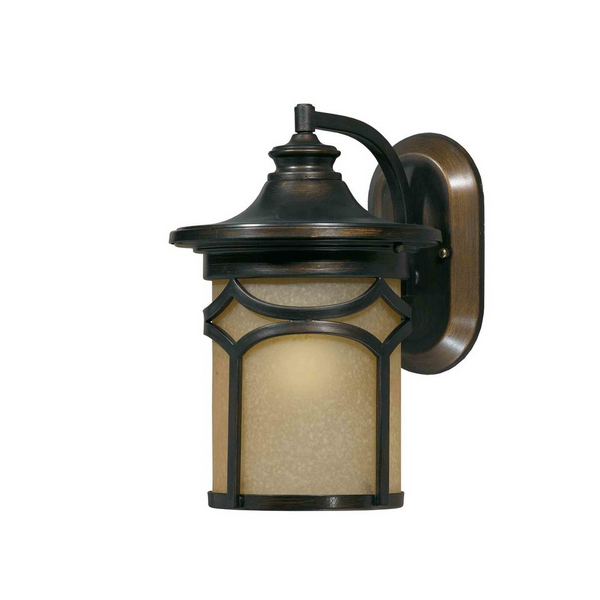 Here is one design from Triarch International that reminds us of designs we can see in some Asian movies which we can always have at home!
Vista 6″ Outdoor Wall Light Royal Bronze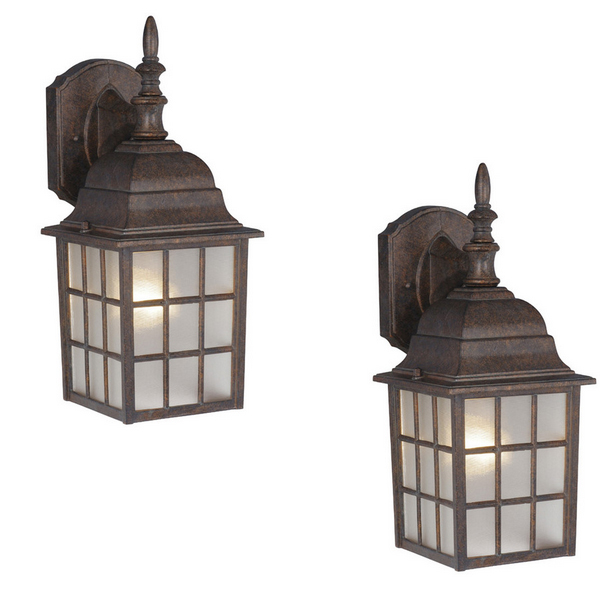 Vaxcel really has its way in introducing products that are not only functional but also beautiful. Like most of their designs, they prove that beauty does not have to be compromised.
Warwickshire Outdoor Wall Mount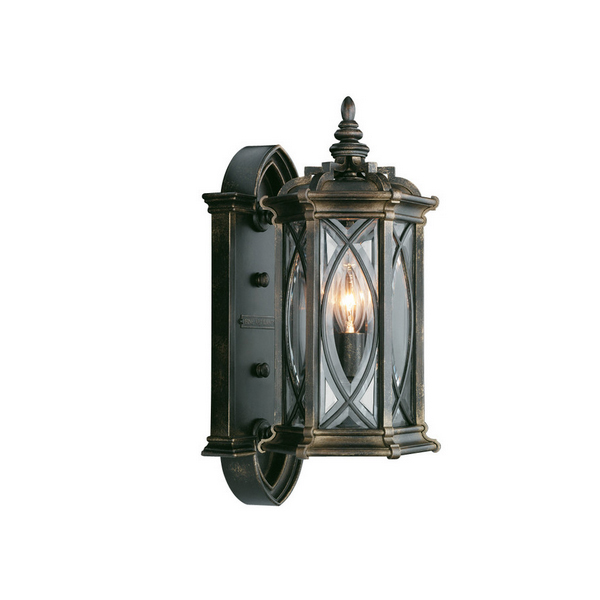 Why not go a bit gothic on your home's facade? This wall-mount fixture features individually beveled, leaded glass panels set in a dramatic dark wrought iron patina.
Isn't this a great list to look back when you actually decide to add one for your home? The 17 Traditional Wall Mounted Outdoor Lighting is just a few of the sample lighting we can pick out in the market or even online! Also, if you have a pool or planning to get one, check out the 15 Enchanting Swimming Pool Lights and show us what lights you actually got! More to come on Home Design Lover!