21 Interiors of Bedrooms with Antique Bed Set
It doesn't really matter what state of mind you are in, when you're in the bedroom – you pretty much have one thing to do – and that is to sleep. Even when people nowadays have already decided to bring their television inside the bedroom, or even worse, their work table – the bedroom has one purpose alone. We all love to have multi-purpose furniture or decor, but as an Architecture student, I would always want to maintain one purpose for the bedroom.
So, for today, we have created a list that will encourage us to have more time to actually sleep in the bedroom instead of doing things that you can actually do at the office or somewhere else in the house. This list is about bedrooms that have an antique bed set or is inspired by one. The designs of the beds and the bedrooms vary for the most part – but one thing is for sure – you will be able to see a lot of metal bed frames or head boards, take a look.
1. Annie Kelly Beach Home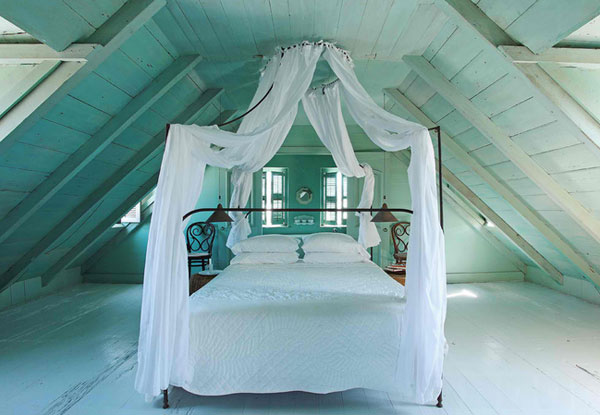 Update your canopy bed with a simple DIY. Use swaths of any inexpensive sheer white fabric to wrap, pin, knot and hang around your canopy bed. Don't worry about getting it perfect – part of the charm of this look comes from its almost accidental feel.
2. Berkshires Estate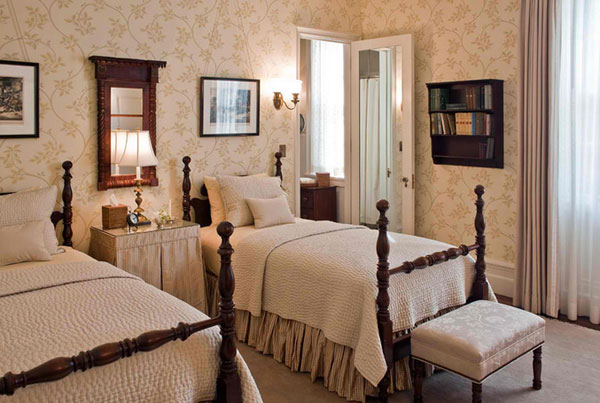 The furniture that doesn't make the cut in our own bedrooms usually ends up in the guest room. If the nightstand is left over from your college dorm or has seen better days, create a skirt for it. If you aren't friends with a sewing machine, throw a tablecloth over it.
3. Boston Traditional Bedroom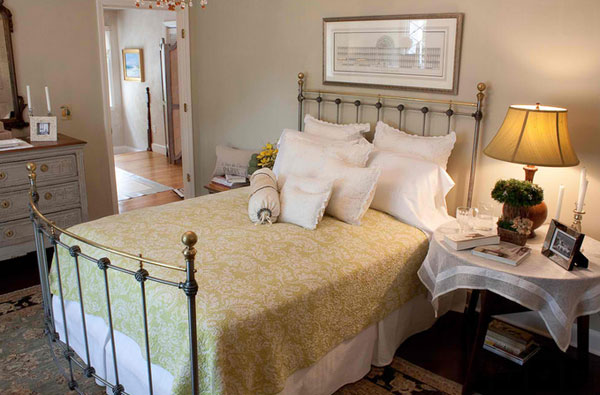 If full-on shiny brass is overwhelming, vary the finish to get the look without going all in.
4. Carlisle House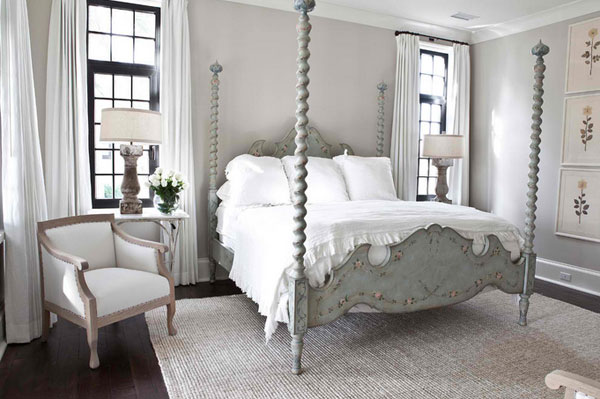 How do you like sleeping in a bed just like this one. It looks like it will not only make you feel like a princess but at the same time vintage! Grand and classy.
5. Charleston Comfortable Luxury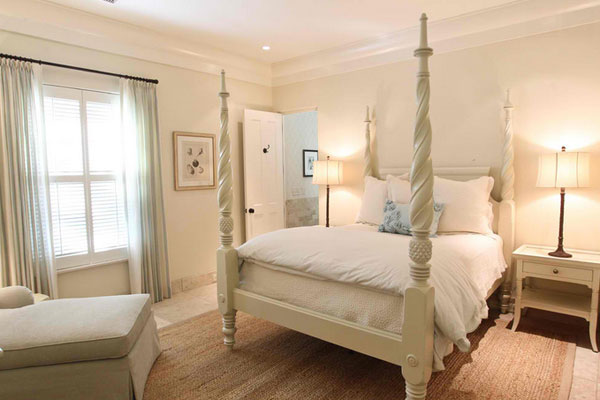 This beautiful, subtle take on carved pineapples adds texture to a monochromatic space.
6. Edwards Residence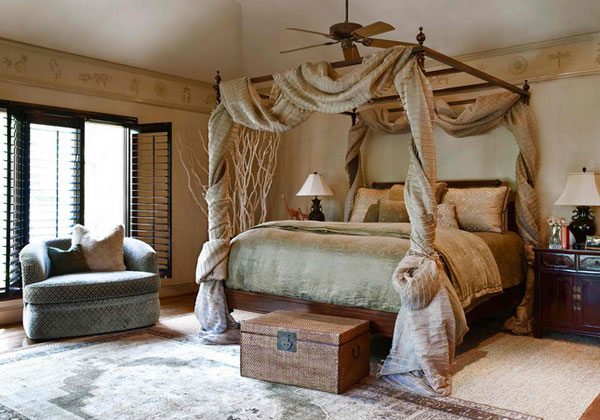 With a neutral palette highlighted by olive green and gold, this master bedroom features a custom painted border of Asian icons. It is just lovely!
7. Ferndale Residence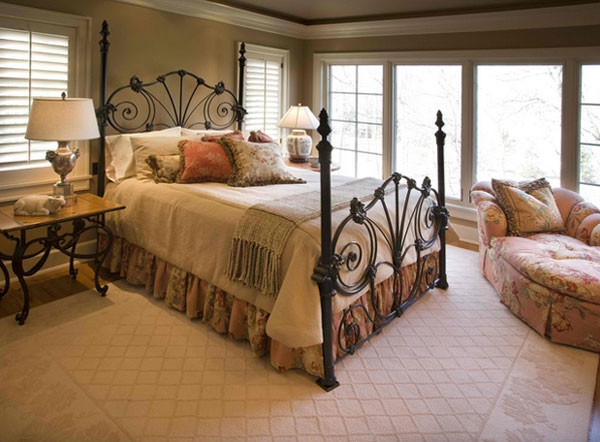 The bed looks a bit old because of the traditional/antique feel this space is trying to showcase. Adding a chaise at the end of the bed makes more room for rest in case someone wants to sleep over.
8. Montage Deer Valley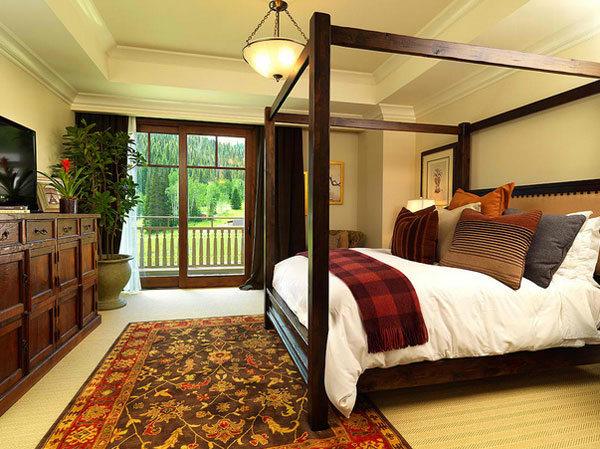 I like how this bedroom is so clean, earthy, and how all color in pillows and rug are just so pretty.
9. Montain Home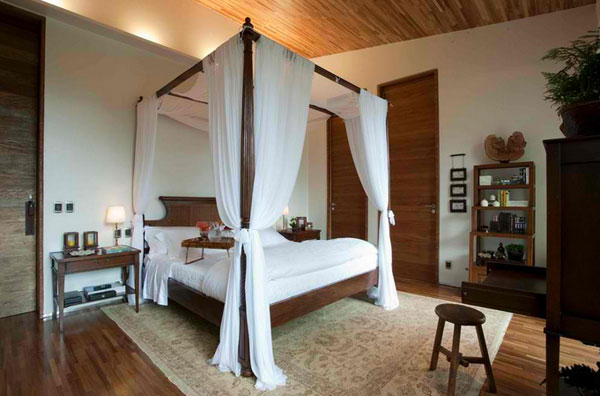 Mix It Up. Don't be afraid to mix it up! This bed combines a loose canopy draped over intermediate canopy rails and dreamy semi-transparent panels tied to the bedposts.
10. Pasadena Traditional Bedroom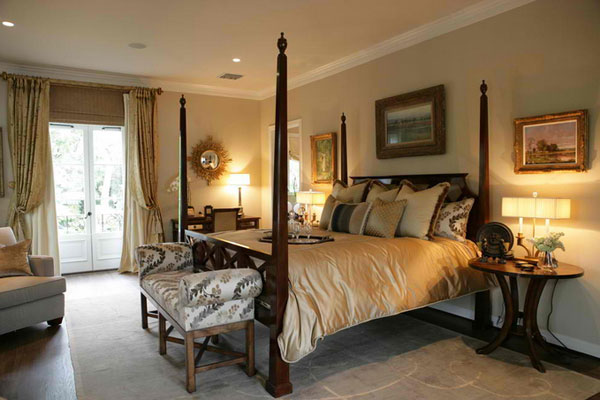 A four-poster bed can provide an air of luxury to your space but can also be visually demanding. Let it stand tall without the bulk by choosing a design that features lengthy legs, and make sure your bedding doesn't fall beneath the frame.
11. Pebble Beach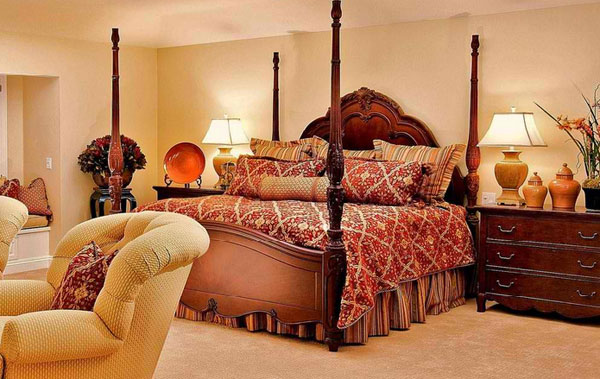 I think, when you look at this picture, just disregard the loud fabrics and you will notice how stunning the contrast is in this bedroom.
12. Portland Romantic Bedroom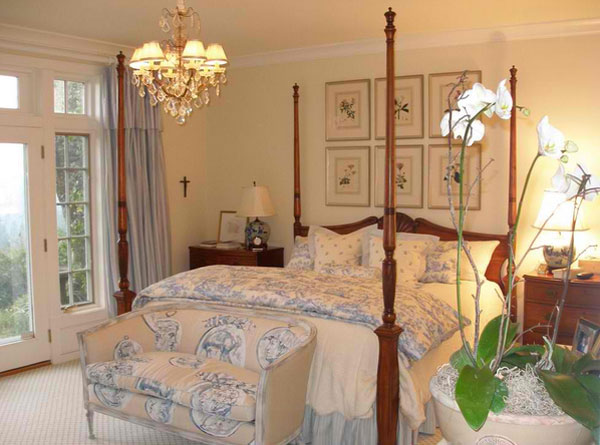 In a bedroom, settees offer an alternative to sitting on the bed. Use this piece to slip on a pair of shoes – or offer it to little visitors who enjoy hanging out in mom's room.
13. Provence Farmhouse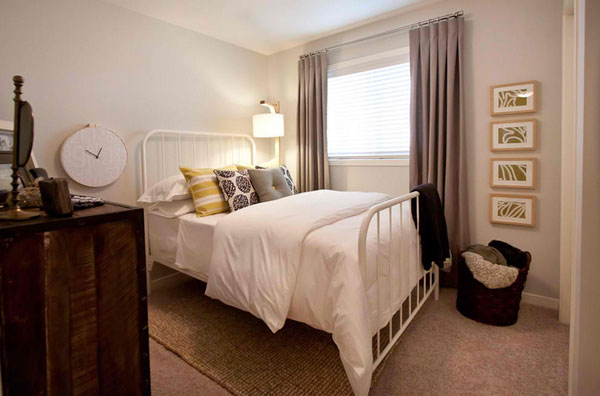 Don't you get reminded of a hospital bed when you look at this white bed frame?
14. Provence Style in Shady Canyon, California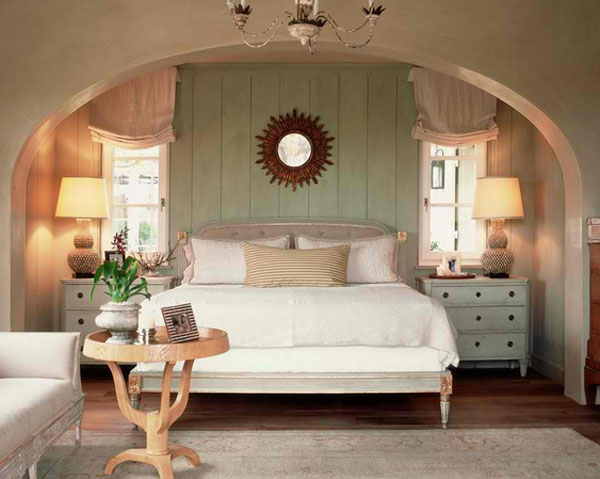 For the charm of painted paneling without committing to the entire room, put it in one spot. The paneling over this bed adds attention to the focal point of the room and creates striking contrast to the walls surrounding it.
15. Ranch House in Austin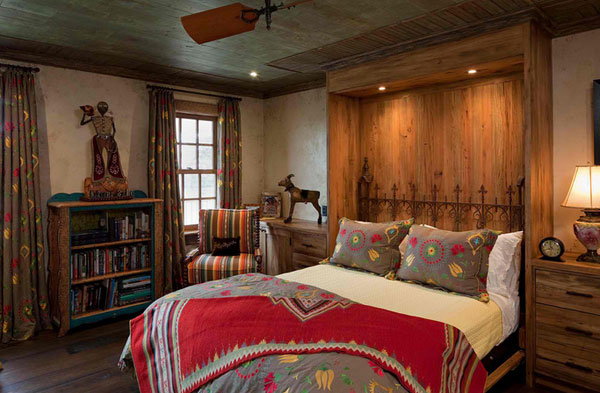 Please note how stunning the iron clad head board which looks exquisite by the way and how cute it looks even this bed is actually a Murphy bed.
16. Rigby & Mac Home Inspiration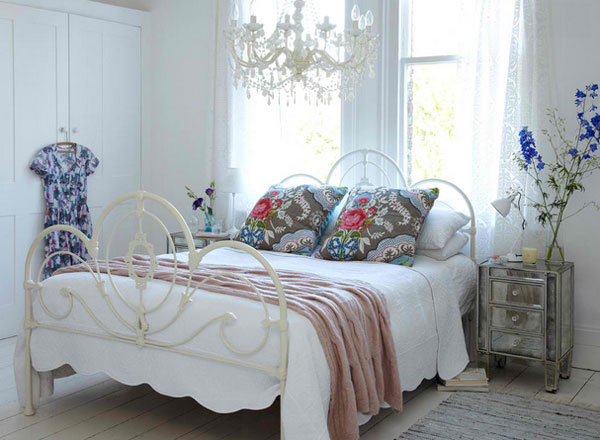 A classic wrought iron bed frame looks softer with a coat of creamy paint. Layer the bed with antique white quilts and floral print pillows, and illuminate the space with a grand chandelier.
17. Santa Barbara Style in Austin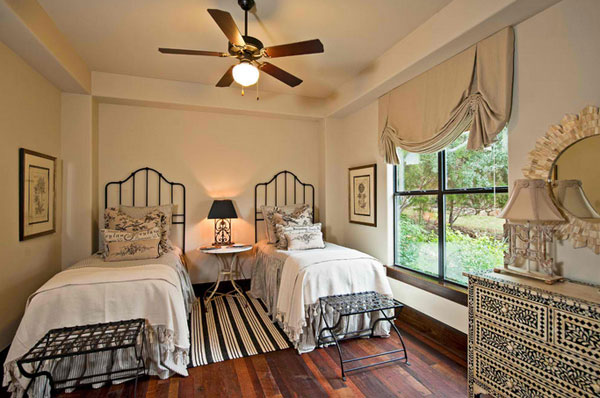 Here are twin beds that looks really pretty in all its glory!
18. Sunriver Family Lodge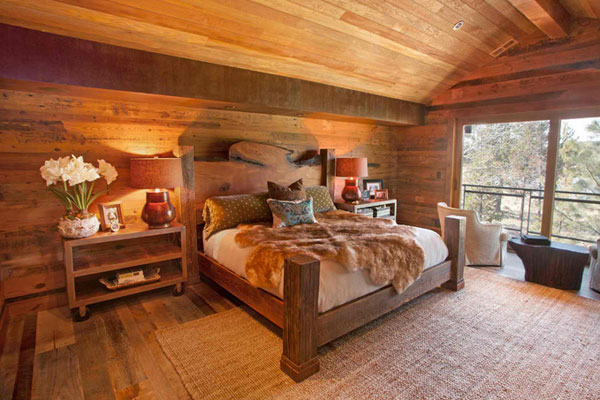 Homes made from wood sure is beautiful especially when done right – just like this bedroom with the fancy bed and simple set up.
19. Traditional Bedroom in Charleston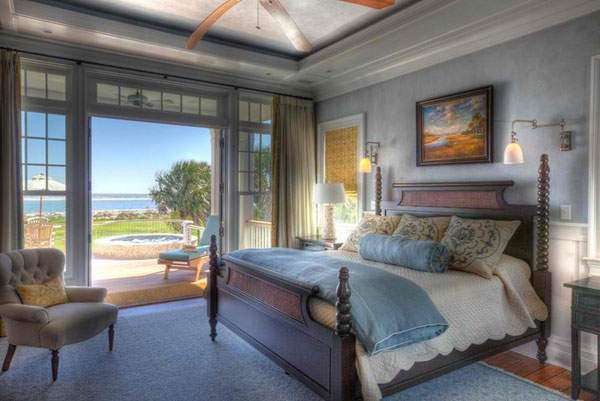 I love the feel of this room; love the sunlight and outside area. Look at the paint color too – just stunning!
20. Traditional Bedroom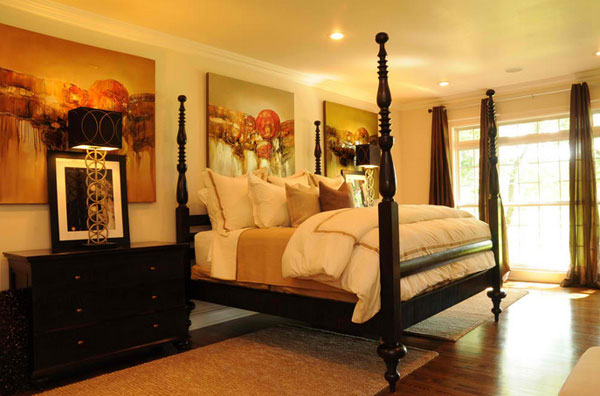 Looking at this bed makes me realize it sure reminds me of a friend of mine who just loves black Gothic things – both in fashion design, art and Architecture.
21. Waterfront Estate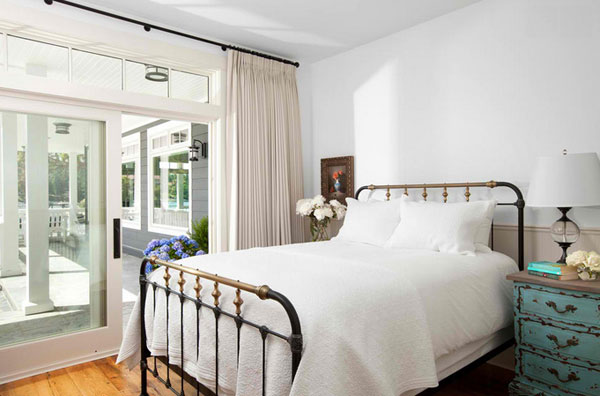 The beauty, strength and value of the iron headboard and base are cherished by all those who own one.
Now, that is one list you can always go back to – just to check if you are doing any justice to a bed you have at home that might have been in your family for a while or if you are planning to get one or make one for yourself. Aside from a bed, you can add an interesting feature in your bedrooms that you will love especially that the weather nowadays invites you to just cave in and cuddle yourself to sleep. More to come with Home Design Lover!