20 Trendy Bedrooms With Geometric Wallpaper Designs
Geometric wallpapers are in, in today's interior design. It gives an up-to-the-minute look without getting boring. Its symmetric nature provides modern and contemporary feel to any interior. It works as an interesting backdrop or accent wall to a room. It can instantly change an ordinary room to a lively ambiance.
In a bedroom design, placing a geometric wallpaper creates a sleek ambiance. It gives your bedroom a fresh and modern appeal that will keep you in style . Sometimes, covering all your walls with geometric pattern can be overwhelming so be wise in picking a design for your bedroom walls. Choose a geometric pattern that will enhance your bedroom appearance while keeping it inviting and calm. If you are having a hard time thinking what to choose, let my list of 20 Trendy Bedrooms with Geometric Wallpaper Designs serve as your guide.
1. Highbury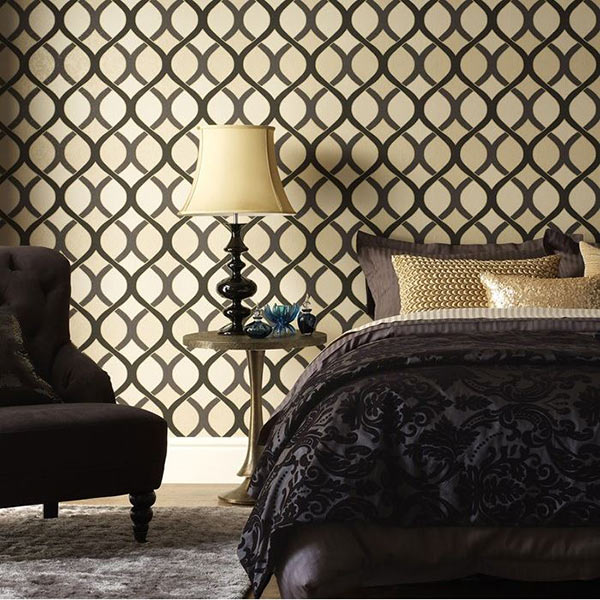 The use of browns with its glitter embellishments in this geometric wallpaper design keeps the space elegant and inviting.
2. Breakfast Point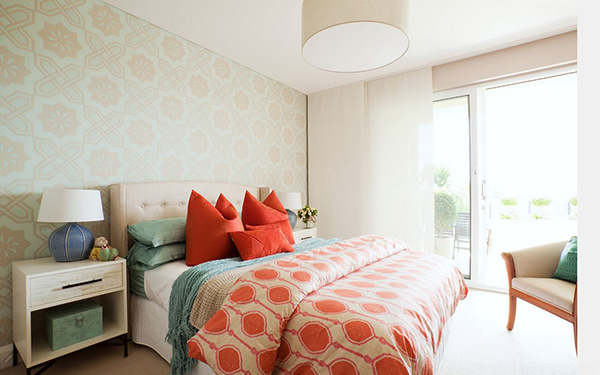 A Moroccan-style wallpaper creates a calming backdrop and exudes an international feel in a bedroom.
3. San Marco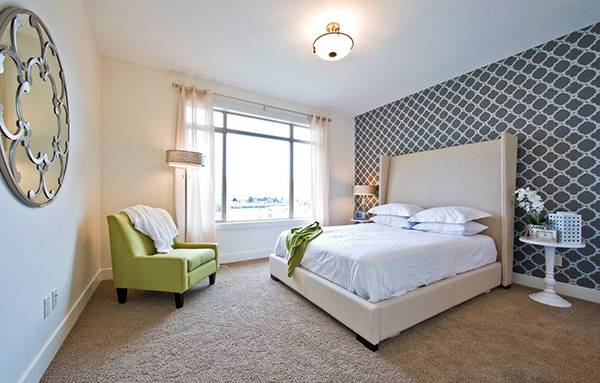 This gray wallpaper, with its beautiful curves, makes a stylish accent wall that fits for a master suite.
4. Glitz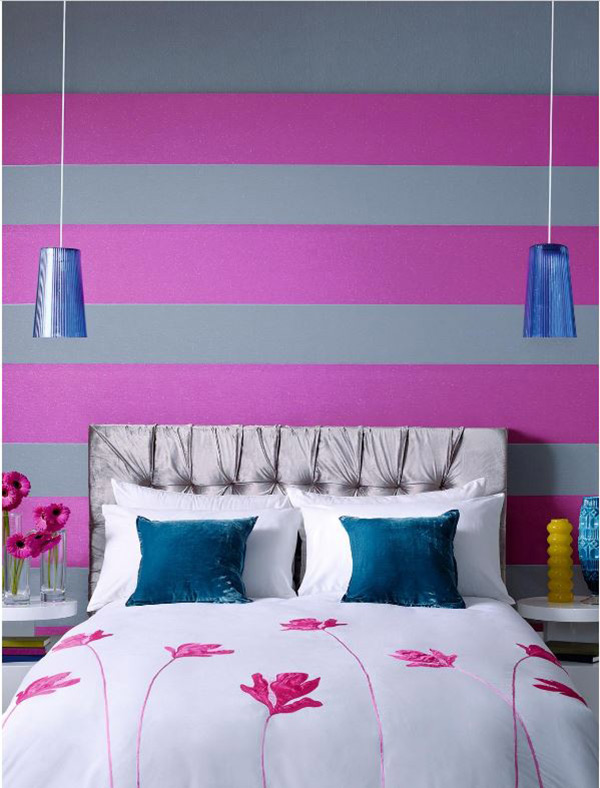 The combination of gray and fuchsia in big stripes create an instant statement for a chic and vibrant look.
5. Kuoo/Architects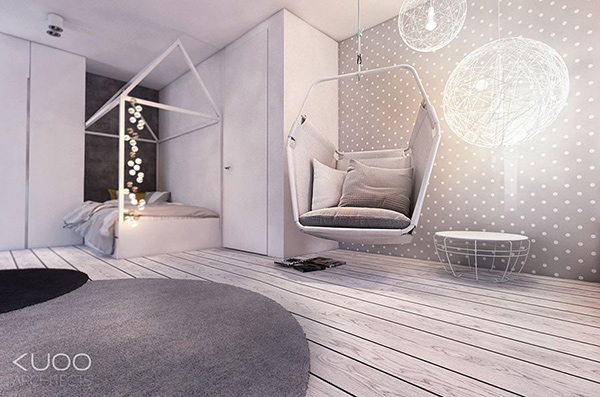 Covering a playful polka-dot wallpaper on a particular wall in a room create an instant division that is fun-ready and soothing.
6. Chicago- Millennium Park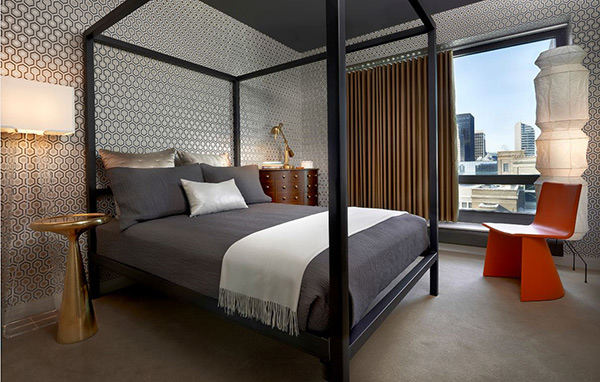 The metallic-geometric-patterned wall covering matches the contemporary furnishings that is modern and stylish while keeping the rest of the colors in deep gray and neutral for a restful ambiance.
7. Spicewood Springs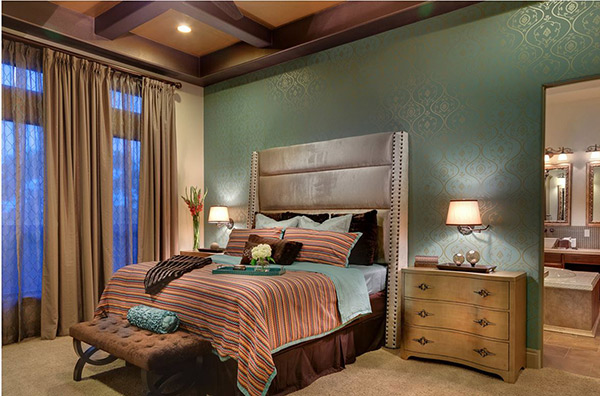 I love this mint and gold metallic wallpaper! It gives sophistication and elegance to this bedroom while keeping it warm and relaxing.
8. Sparkling Gold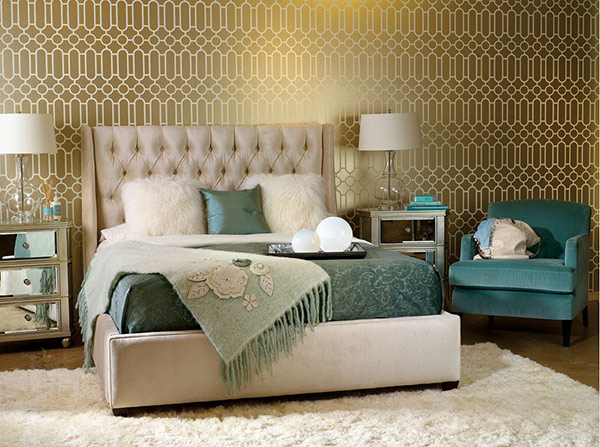 Here is a gorgeous, metallic-geometric-wallpaper in gold that instantly adds glamour to this hotel-like-chic bedroom design.
9. Sleek In White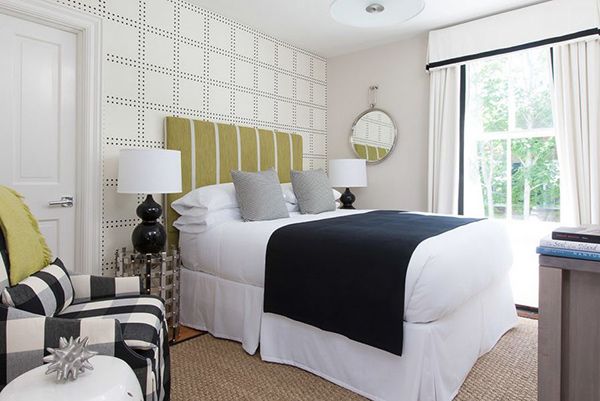 This studded, metallic grass cloth wallpaper creates a sleek and crisp backdrop for this beach style interior.
10. Edgy Vintage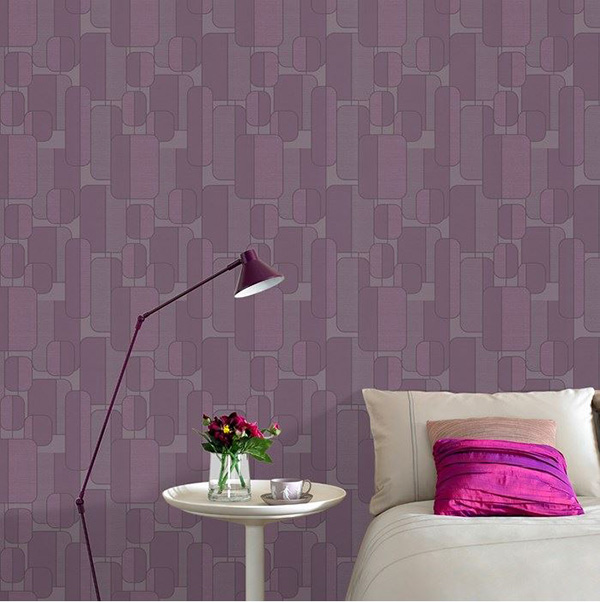 Edgy geometric wallpaper gives a contemporary feel to an elegant-vintage-bedroom design.
11. Gorgeous in Silver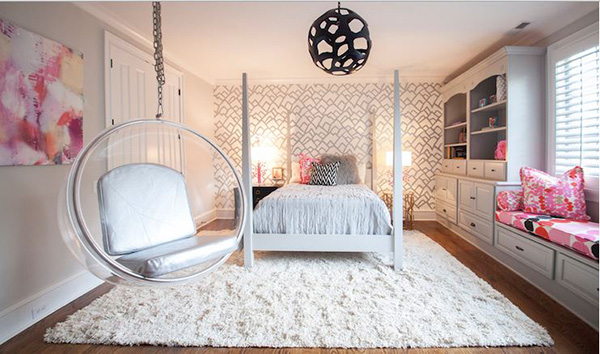 The silver, geometric wallpaper creates a fun yet elegant atmosphere in this chic girl's bedroom.
12. Classic Red, White And Black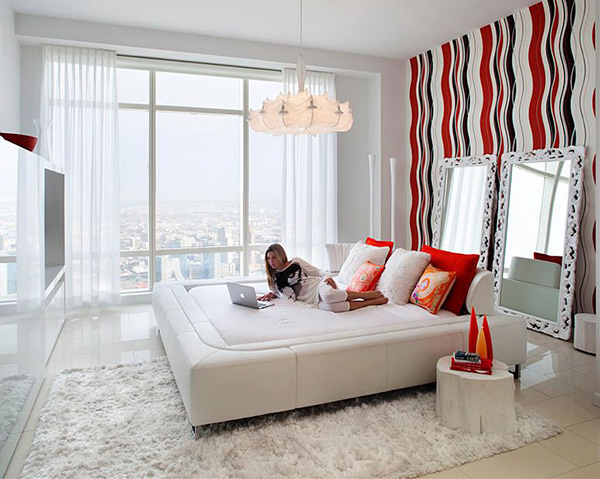 Classic colors red, white and black gives this modern bedroom design a show-off attitude. The focal wall makes this bedroom lively and draw the eyes towards the ceiling making the room seems larger.
13. Neutral Geometrics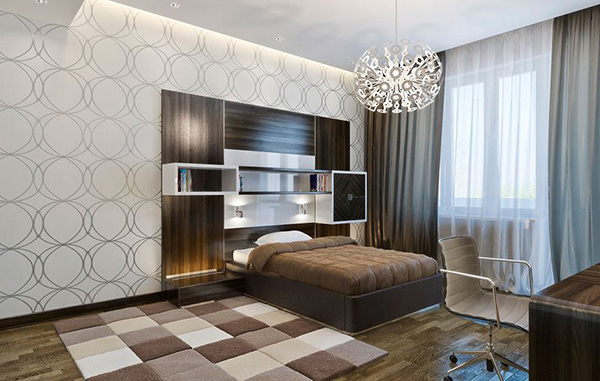 The geometric wallpaper in gray tone works as a soothing backdrop and visual interest in this neutral-modern bedroom design.
14. Dark Geometric
The studded, grass cloth wallpaper in gray creates drama and privacy to this master suite.
15. Feminine in Geometric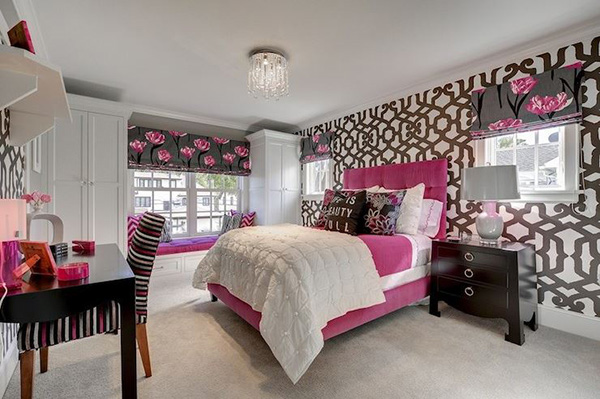 The geometric pattern on the accent wall highlights the hot pink bed keeping its feminine and dramatic style.
16. Pretty Hexagons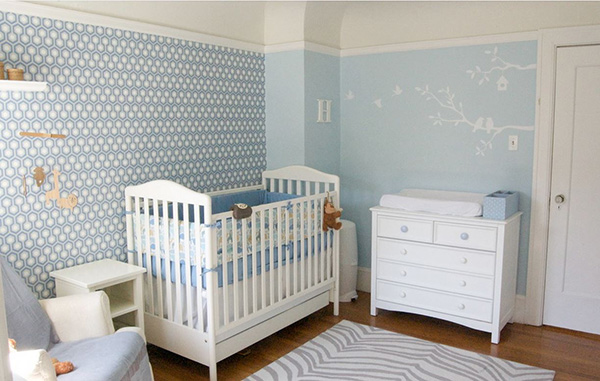 This nursery in eggshell blue has a serene mod vibe while the bold geometric wallpaper makes a great accent wall that can be used for a long run.
17. Squiggle in Red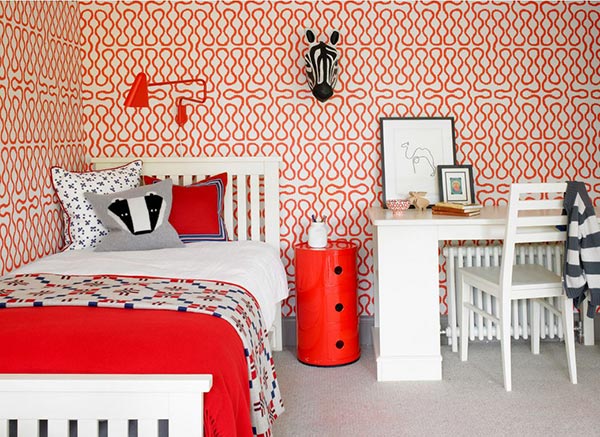 Vibrant colors make a bedroom lively and fun. In this bedroom design the funky, squiggle pattern in red covering the wall keeps this room charming and exciting.
18. Mix And Match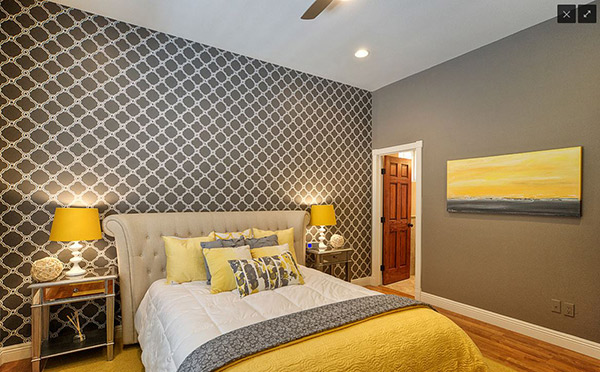 The bold geometric pattern on the accent wall beautifully complements the yellow and gray color scheme in this bedroom design.
19. Strikingly Beautiful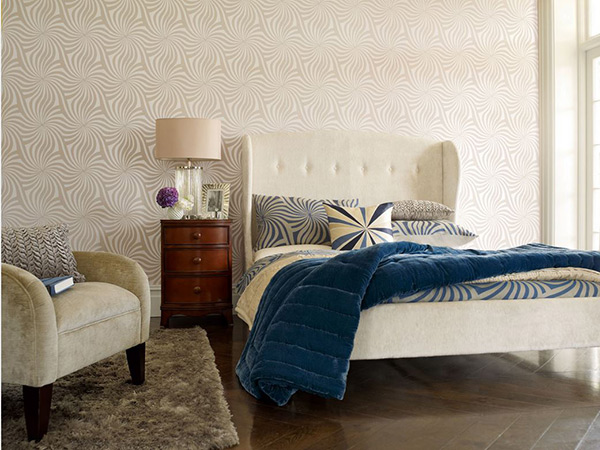 This strikingly beautiful geometric wallpaper can make any room instantly soothing and luxurious. I love the softness of cream and the mix of bold patterns that grace across the room, so inviting!
20. Black And White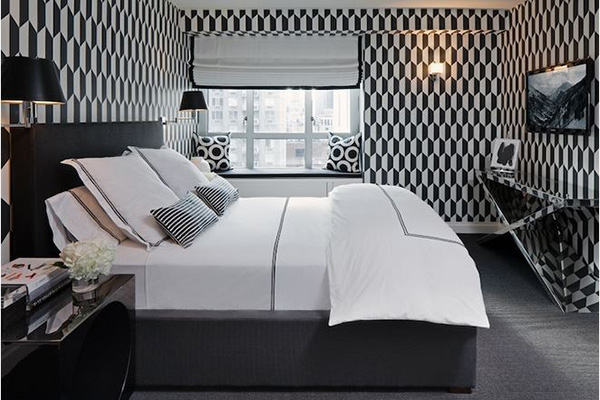 This bedroom design is not for faint-hearted. The wall covering in geometric pattern of black and white makes this ultra modern space anything but boring.
Using geometric wallpaper is a great way of adding life and interest to your bedroom design. It creates texture and exciting pattern that will sure to provide vibrance and contemporary feel to any simple space. It can bring surprising dimensions to your bedroom. It can make your small bedroom seem bigger or make your huge bedroom more private and intimate. It gives a mod vibe and will keep that up-to-date-look in your bedroom. It can also add a beautiful architectural appeal that is worth every penny. I hope you enjoyed looking on these 20 Trendy Bedrooms With Geometric Wallpaper Designs!